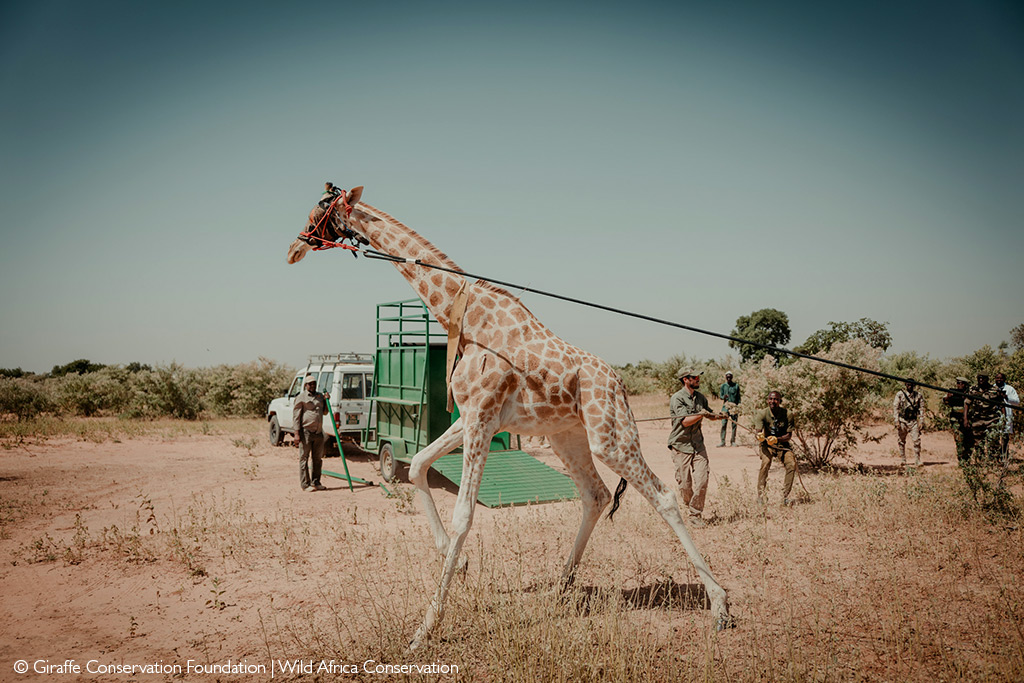 ---
An essential population of West African giraffe in the Gadabedji Biosphere Reserve, Niger, has just been bolstered by the addition of four female giraffes after a daring 800km translocation mission.
In mid-November, the four giraffes were translocated under military protection from Niger's security-stricken 'Giraffe Zone', an area in W Transboundary Biosphere Reserve, east of the capital Niamey. The four females joined a group of eight West African giraffe in the reserve, which were re-introduced to the area in 2018. Before the establishment of this population, the highly threatened mammal was absent from the reserve for almost 50 years.
There are currently only 600+ highly threatened West African giraffe (Giraffa camelopardalis peralta) – a subspecies of the Northern giraffe (Giraffa camelopardalis) – remaining in the wild. This isolated population is restricted to the Giraffe Zone, which is not formally protected. Establishing a second viable population of West African giraffe in the Gadabedji area is key to their long-term survival.
"Operation Sahel Giraffe II", which entailed covering the 800km journey in only 48 hours, was coordinated by the Giraffe Conservation Foundation (GCF) in collaboration with the Nigerien Ministry of Environment, with support from SaharaConservation and Wild Africa Conservation.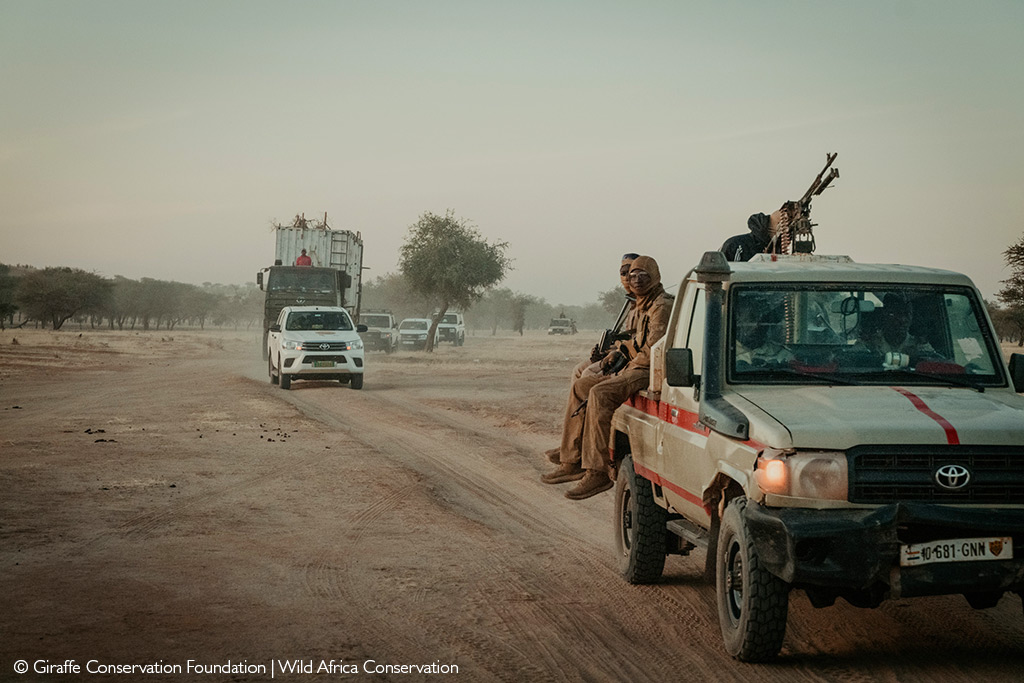 After a year of preparation, the four females were captured in the Giraffe Zone and transferred to a holding pen, where they were kept for several days to prepare them for the long and arduous journey. After travelling by truck in convoy under heavy military protection, the giraffes were successfully released into the reserve and promptly joined the resident population.
In recent months, prior to the addition of the four new females, three calves were born to the Gadabedji population. Conservationists hope the addition of these females will contribute to breeding successes within the population.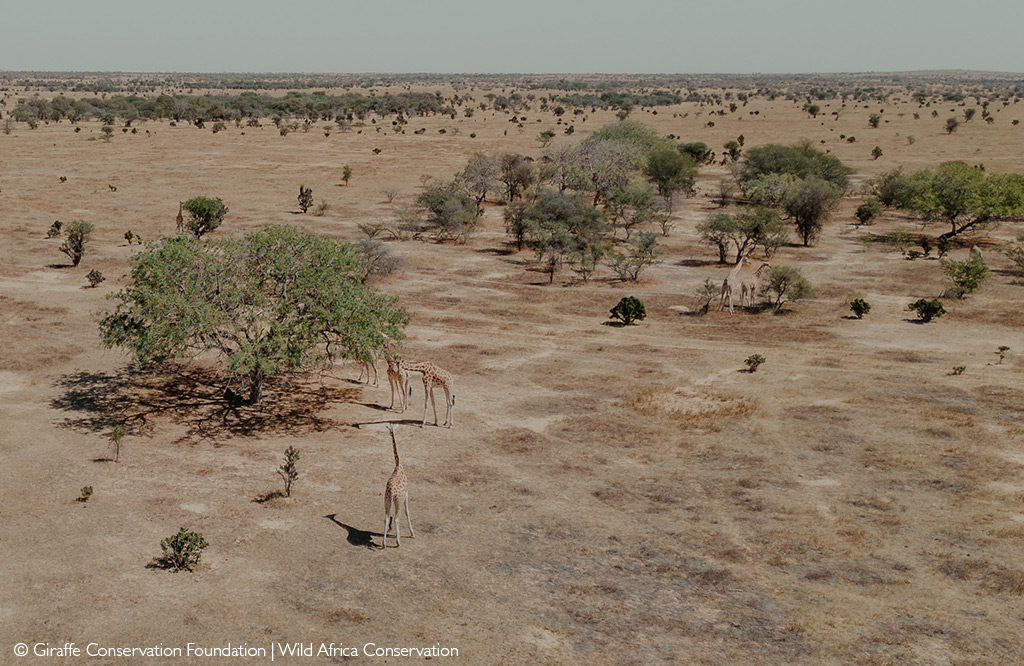 Approximately 50 years ago, giraffes became locally extinct in the Gadabedji Biosphere Reserve due to drought and illegal hunting. Since 2013, Niger's Wildlife Authority, with support from the Niger Fauna Corridor Project/GEF/UNDP, has worked towards restoring the region's wildlife and habitat. The re-introduction has helped to enrich the reserve's biodiversity and contributed to increasing community development and support in the area. Growing this second viable population of West African giraffe outside of the Giraffe Zone is key to their long-term survival.
"While giraffe continue to thrive in the Giraffe Zone, their safety is not guaranteed," says Dr Sara Ferguson, Conservation Health Coordinator of the Giraffe Conservation Foundation.
In the Giraffe Zone, the giraffes share their habitat with local communities and livestock, and compete for space and resources. Their threats include agricultural encroachment, climate change and variability, human population growth, and natural-resource over-exploitation. As a result of a growing giraffe population and increasing human population pressure, giraffe have started to migrate out of the Giraffe Zone, where they find themselves in conflict situations with humans unaccustomed to their presence, and too close to the insecure border areas with Burkina Faso, Mali, and Nigeria.
"Our team took a huge risk in moving these giraffe – specifically from Koure to Gadabedji," says Ferguson. "We captured these giraffe close to the very spot where both Nigeriens and foreign French tourists were killed in a senseless act of terrorism a few years ago when innocently visiting these rare giraffe. It was not an easy mission and keeping both giraffe and the team safe was not an easy task by a longshot. However, the reward of seeing these four majestic animals run free into their new home made it all worthwhile."

In the mid-1990s, only 49 West African giraffe remained in the wild, and as a result, the subspecies was listed as Endangered on the IUCN Red List of Threatened Species in 2008.
Conservation efforts by the Government of Niger, in collaboration with local and international partners, triggered the remarkable recovery to its present-day population of over 600. The population increase resulted in the downlisting of the subspecies to Vulnerable on the IUCN Red List in November 2018.
This re-introduction of West African giraffe to their former range in Niger is just one small but important milestone in the conservation efforts that the Giraffe Conservation Foundation has instigated with their partners.
Resources
Giraffes can be divided into four species and seven subspecies. Read more about these species here.

Giraffe numbers have plummeted by almost 40% in just three decades. This rapid slide now places them amongst the most threatened species on the planet. Read more about the silent extinction of giraffes here.

Despite the staggering plummeting of the species, recent increasing numbers give hope. Read more here.

The Giraffe Conservation Foundation (GCF) concentrates solely on the conservation and management of giraffe in the wild throughout Africa. Read more about GCF and support their work here.
To comment on this story: To protect you against trolls & misinformation, we only permit comments in our app. See how to DOWNLOAD OUR APP below.

---
HOW TO GET THE MOST OUT OF AFRICA GEOGRAPHIC:
Download our APP (mobile phone & desktop) to receive travel discounts, comment on our stories, make safe donations and network with others like you. Find out more here.

Subscribe to our newsletter to receive our best stories in your inbox weekly and for travel discounts. Subscribe here.
Travel with us. Travel in Africa is about knowing when and where to go, and with whom. A few weeks too early / late and a few kilometres off course and you could miss the greatest show on Earth. And wouldn't that be a pity? Search for your ideal safari here, or contact an Africa Geographic safari consultant to plan your dream vacation.
---