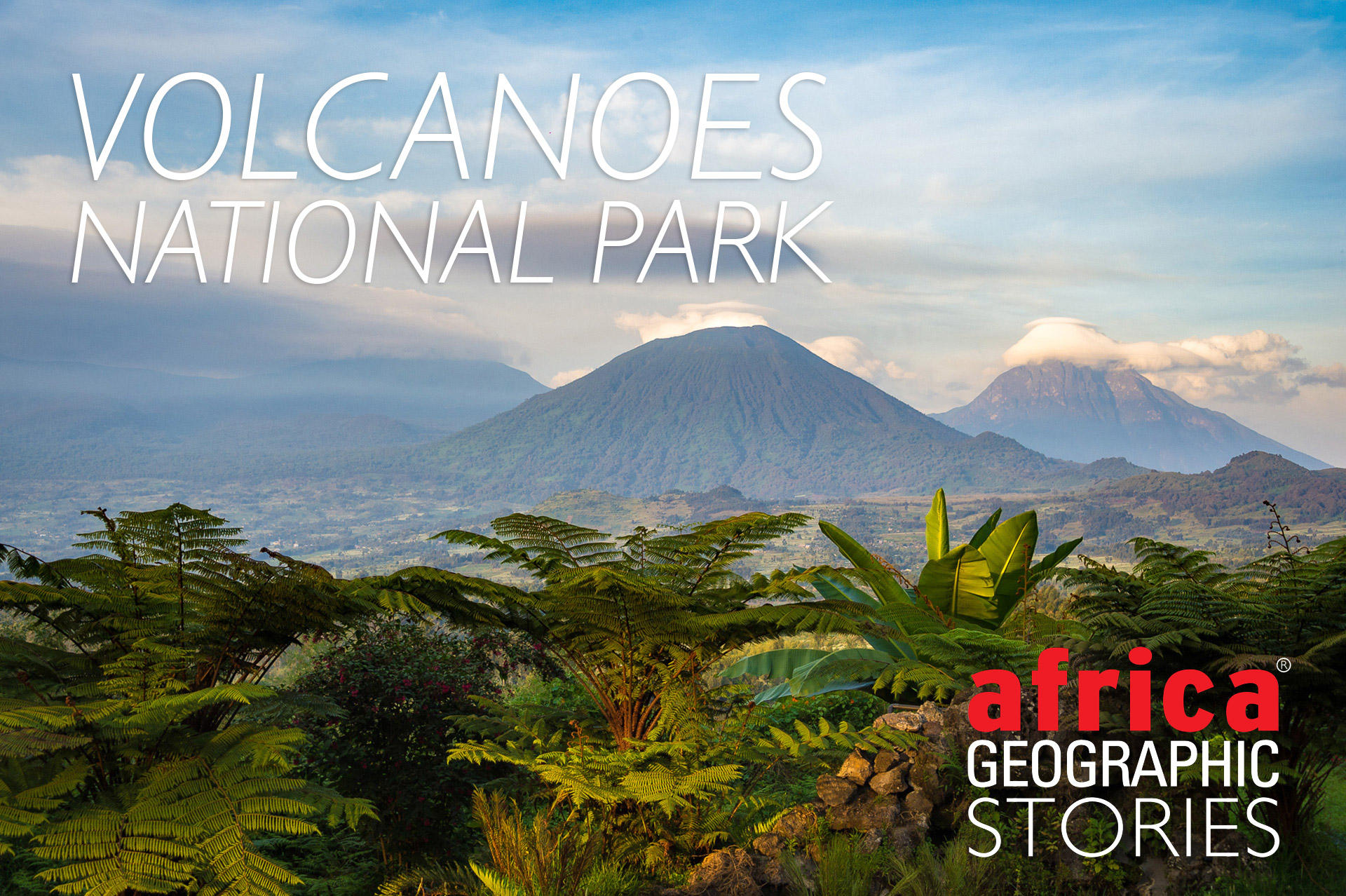 Where primates thrive in the clouds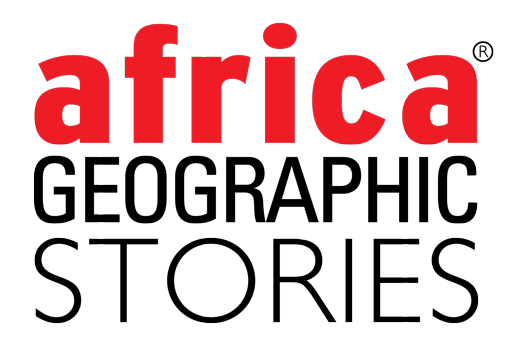 "There is more meaning and mutual understanding in exchanging a glance with a gorilla than any other animal I know. Their sight, their hearing, their sense of smell are so similar to ours that they see the world in much the same way as we do… So if there were ever a possibility of escaping the human condition and living imaginatively in another creature's world, it must be with the gorilla." ~ Sir David Attenborough, Life on Earth: A Natural History, 1979
Sir Attenborough was, as always, spot-on in the narration of his encounter with the mountain gorillas of the Virunga Mountains. Shortly after the ad-libbed but apt summation of his emotional journey, a young gorilla called Poppy grew tired of exchanging glances and attempted to divest him of his shoes. The now-famous scene was filmed in Volcanoes National Park in Rwanda.
Today, Volcanoes National Park is renowned as one of the leading gorilla trekking destinations in Africa – a place where, against so many odds, the critically endangered mountain gorilla has flourished. And while the gorillas may be the stars, visitors are equally likely to find themselves blown away by the breathtaking scenery and astonishing biodiversity of this volcanic landscape.
Volcanoes National Park and the Greater Virunga Ecosystem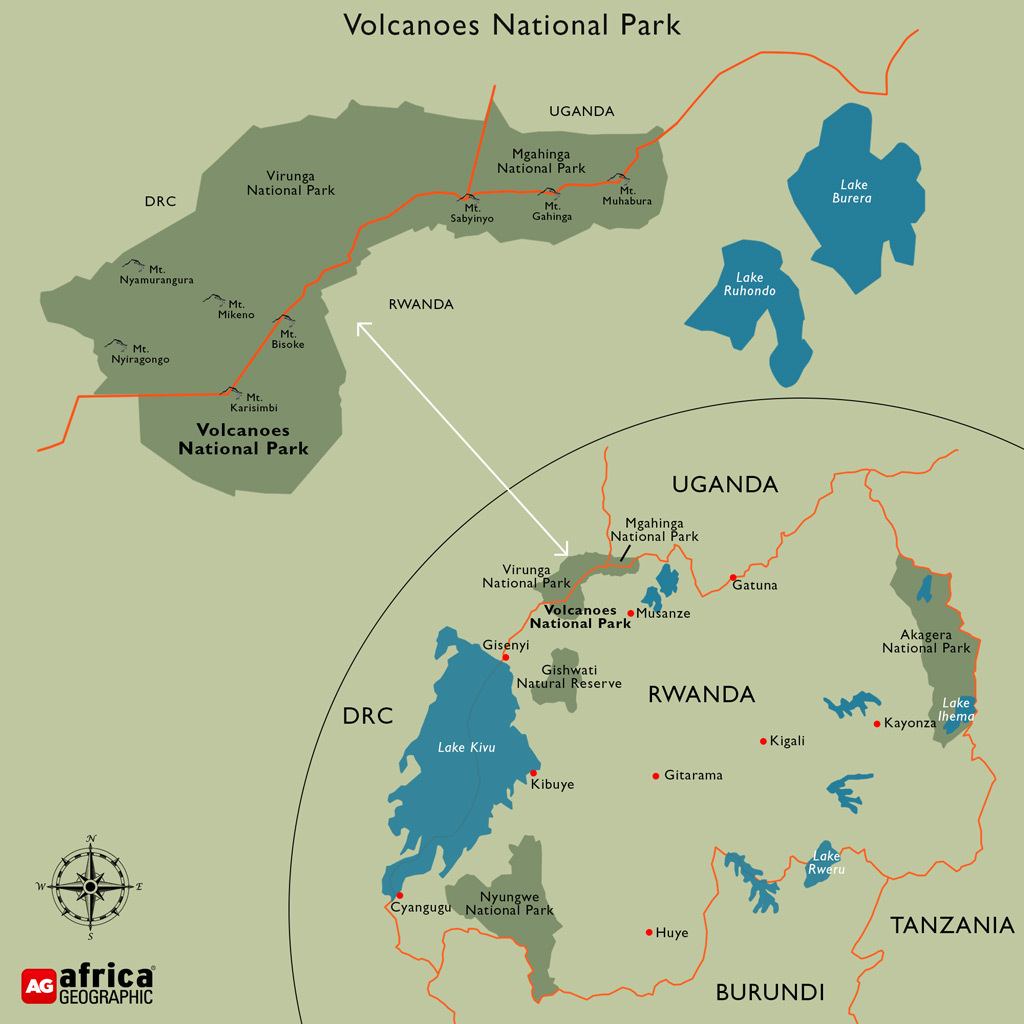 Tucked in Rwanda's north-western corner on the borders of Uganda and the Democratic Republic of Congo, the 160km2 (16,000 hectare) Volcanoes National Park protects the vital Rwandan portion of the Virunga Mountains. The Virunga range consists of eight major volcanoes, of which five are in Volcanoes National Park. With Uganda's Mgahinga Gorilla National Park in the north and Virunga National Park in DRC to the west, Volcanoes National Park is part of the Greater Virunga Ecosystem. This trio of countries acts as the guardians of just over half of the world's remaining mountain gorillas living on the forest-swathed slopes of the imposing volcanoes.
All five of the Virunga volcanoes on the Rwandan side have long since retired from spewing lava (though there are two active volcanoes in the range in neighbouring DRC), but their presence in the park is no less dramatic for their dormancy. Mounts Karisimbi, Bisoke (Visoke), Sabyinyo, Gahinga and Muhabura are the products of ferocious geological forces that shaped this section of the Albertine Rift. The resultant rich volcanic soils laid the necessary groundwork for the astonishing floral (and therefore faunal) lifeforms on display. In addition, scientists believe that much of the eastern Congo basin was an ice age refugia, which explains the unusually high number of species and levels of endemism. These refugia are geographic regions that escaped the worst of the glacial conditions, allowing for the survival of plant and animal species.
Naturally, the visual impact of the jagged mountains looming like teeth is also somewhat breathtaking, though this can be at least in part attributed to the altitude. The park's highest point is the peak of Mount Karisimbi (4,500 metres), and most of the park lies at over 2,000 metres above sea level – not high enough to cause altitude sickness but something that certainly takes some getting used to for unacclimatised visitors.
The significant altitudinal range within the park has also contributed to considerable variation in vegetation types, changing from tropical and bamboo forest types at lower altitudes to montane forests and Afroalpine shrublands at the highest points. Thickets, grasslands, marshes, and small lakes extend between each volcano. This medley of geological and climatic factors has conferred significant biodiversity and conservation importance to Volcanoes National Park. Of course, the park's gorilla residents (and the work of dedicated primatologists) first put it on the safari map.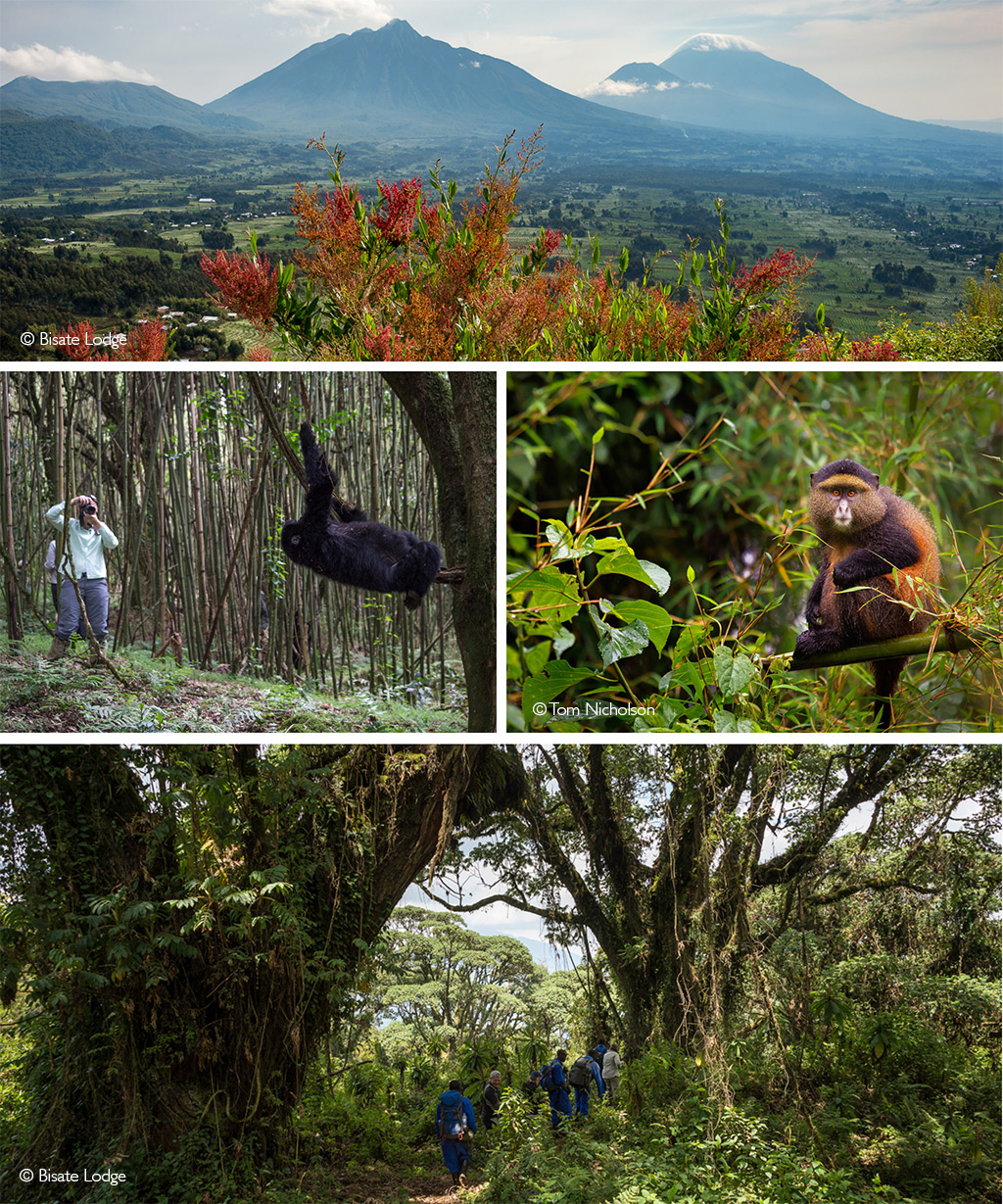 Gorillas in water droplets suspended in the atmosphere
Close encounters with gorillas like the one experienced by Sir Attenborough all those years ago are no longer permitted. Visitors are obliged to keep their distance and attempt to move away from the gorillas if approached. This is an important measure taken to ensure the safety and health of the gorillas. Nevertheless, those who go gorilla trekking in Volcanoes National Park will find their encounters meet or, more frequently, exceed expectations. The strain of an early start and arduous hike (that may go on for hours along slippery, twisting mud paths through stinging nettles) rapidly evaporates when one looks into the unfathomable brown eyes of one of our closest relatives. Though few have the eloquence of David Attenborough to describe the experience, adjectives like "spiritual", "profound", "soul-stirring", "humbling", and "magical" are thrown about like confetti by those able to find them. Others find that words simply fail them.
Twelve gorilla families in Volcanoes National Park are habituated for tourism (other troops are habituated solely for research purposes). These are the Susa, Igisha, Karisimbi, Sabyinyo, Amahoro, Agashya, Kwitonda, Umubano, Hirwa, Bwenge, Ugyenda and Muhoza families. Only six tracking permits are issued per group per day, so time spent with the gorillas is incredibly intimate. Furthermore, 10% of the permit prices are fed back into surrounding communities to develop infrastructure and improve livelihoods. This culture of sustainable tourism is rapidly becoming a proud (and successful) tradition of Rwandan conservation.
For the true gorilla devotee, it is well worth visiting Kwita Izina – an annual naming ceremony for newborn gorillas modelled off a Rwandan tradition of naming children. Conservation champions are honoured with the opportunity to bestow a name upon one of the tiny bundles of primate joy, every one of which is of vital importance to the future survival of the species. Since 2005, 328 gorillas have been named in this way, and the ceremony includes live music, dancing and, of course, essential conservation talks. A well-timed visit allows additional opportunities to speak to gorilla conservationists and park staff. The ceremony usually takes place in September to coincide with World Gorilla Day.
What Dian Fossey would have thought of this ceremony will forever remain a mystery. However, no discussion of the gorillas of Volcanoes National Park would be complete without mention of the Karisoke Research Centre and her work. Though Fossey was a controversial figure, her devotion to her gorilla subjects was absolute, and she eventually gave her life to the fight for their conservation. The abandoned Karisoke Research Centre and Fossey's final resting place remain popular attractions, though they are only accessible on foot after a relatively strenuous 90-minute hike.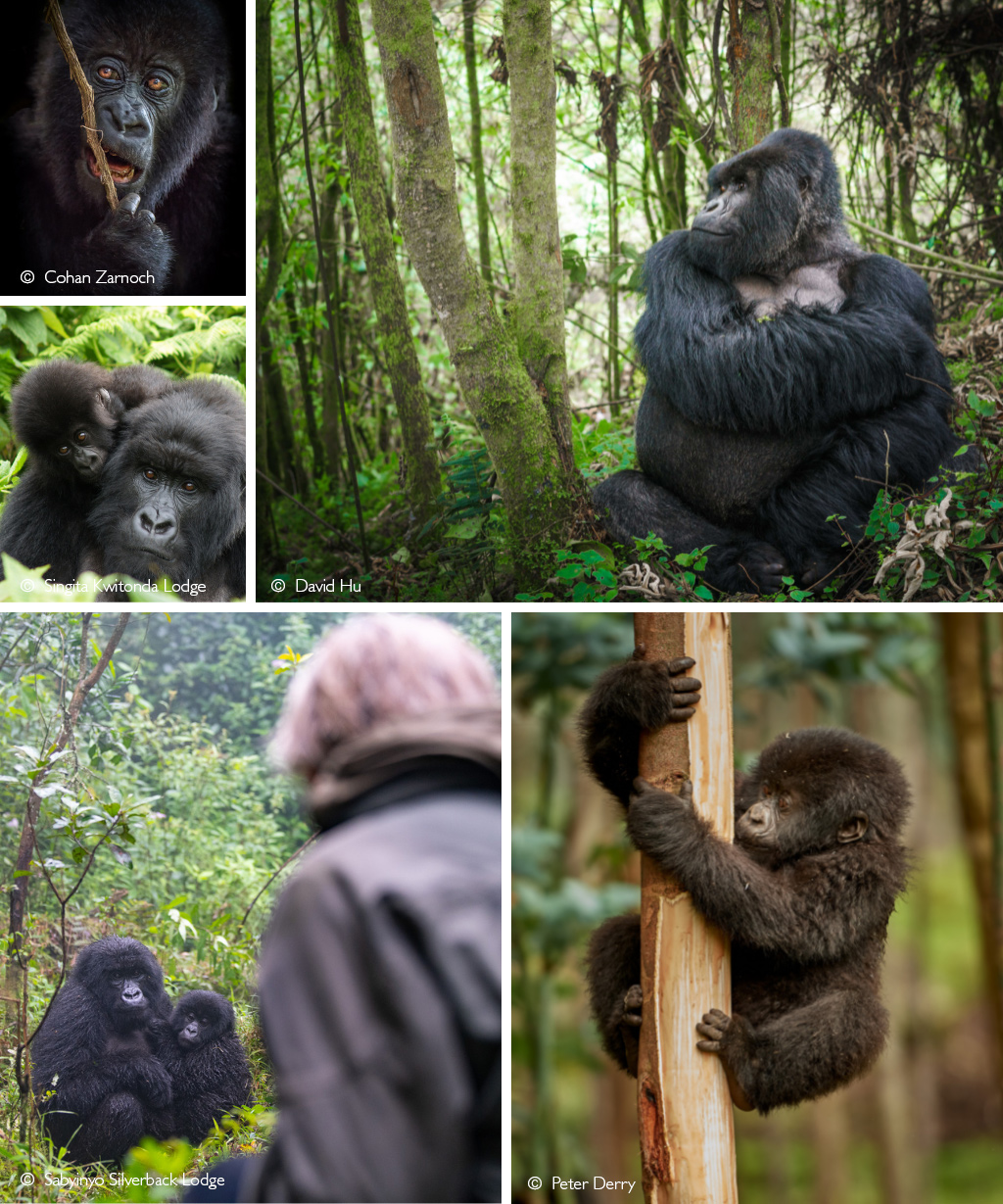 Creatures in the clouds
As remarkable as they are, visiting Volcanoes National Park is not just about the gorillas. In terms of the primates, few people realise that the park is also home to troops of habituated golden monkeys. These charismatic monkeys are almost as scarce as their gorilla cousins and are only found around the Virunga region. With their handsome facial mane, auburn capes of fur, and perpetually surprised expressions, the golden monkeys are the perfect photographic subjects, and their antics are endlessly entertaining.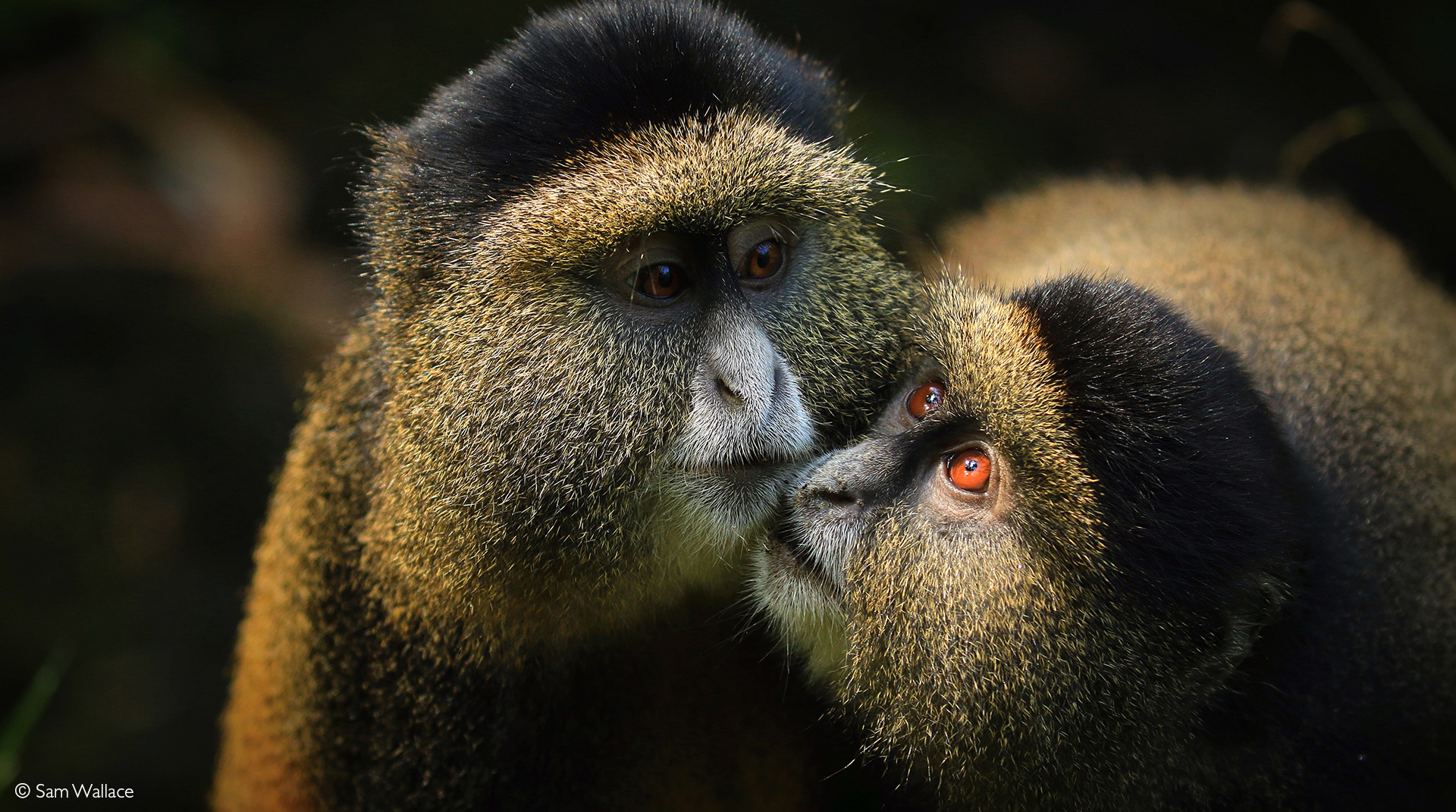 The forest is also home to forest elephants. However, there are probably no more than 50 individuals wandering the park, and they are generally skittish, unwelcome as they are in the surrounding human villages. The best chance of encountering one is on the hike to the old Karisoke Research Centre. Buffaloes occasionally venture into the forests, and smaller ungulates like bushpigs, giant forest hogs, black-fronted duikers, and bushbucks flourish in the dense vegetation.
Like Nyungwe National Park in southern Rwanda, Volcanoes National Park offers some of the best birding in East Africa. High levels of endemism and the challenges of forest birding make this one of the most electrifying places to search for the feathered specials that keep eager birders awake at night. This bird-watching haven has over 200 different recorded species, including 17 Albertine Rift endemics. At the top of Mount Bisoke (more on that later), scarlet-tufted sunbirds flit from lobelia to lobelia, while further down, Shelley's crimsonwings do their utmost to evade the avid attentions of teamAG (and pretty much everyone else). Bright scarlet flashes draw the eye to African pittas and Rwenzori turacos, and handsome francolins make up for their comparatively drab appearance with an impressively loud voice (a family trait). Rwenzori double-collared sunbirds, African green broadbills, Rwenzori batises… the list goes on. Even novice (or dare we say disinterested?) bird watchers will find the excitement infectious.
For those wanting to learn more about the bird and mammal offerings in Rwanda, Christian Boix's (Africa Geographic travel director and one of Africa's top birding guides) book Wild Rwanda is the region's most authoritative "where to find" birds and mammals guide. Its Volcanoes National Park section will be an invaluable tool to set you on the right track to target your most coveted Albertine Rift endemics and learn about this volcanic gem.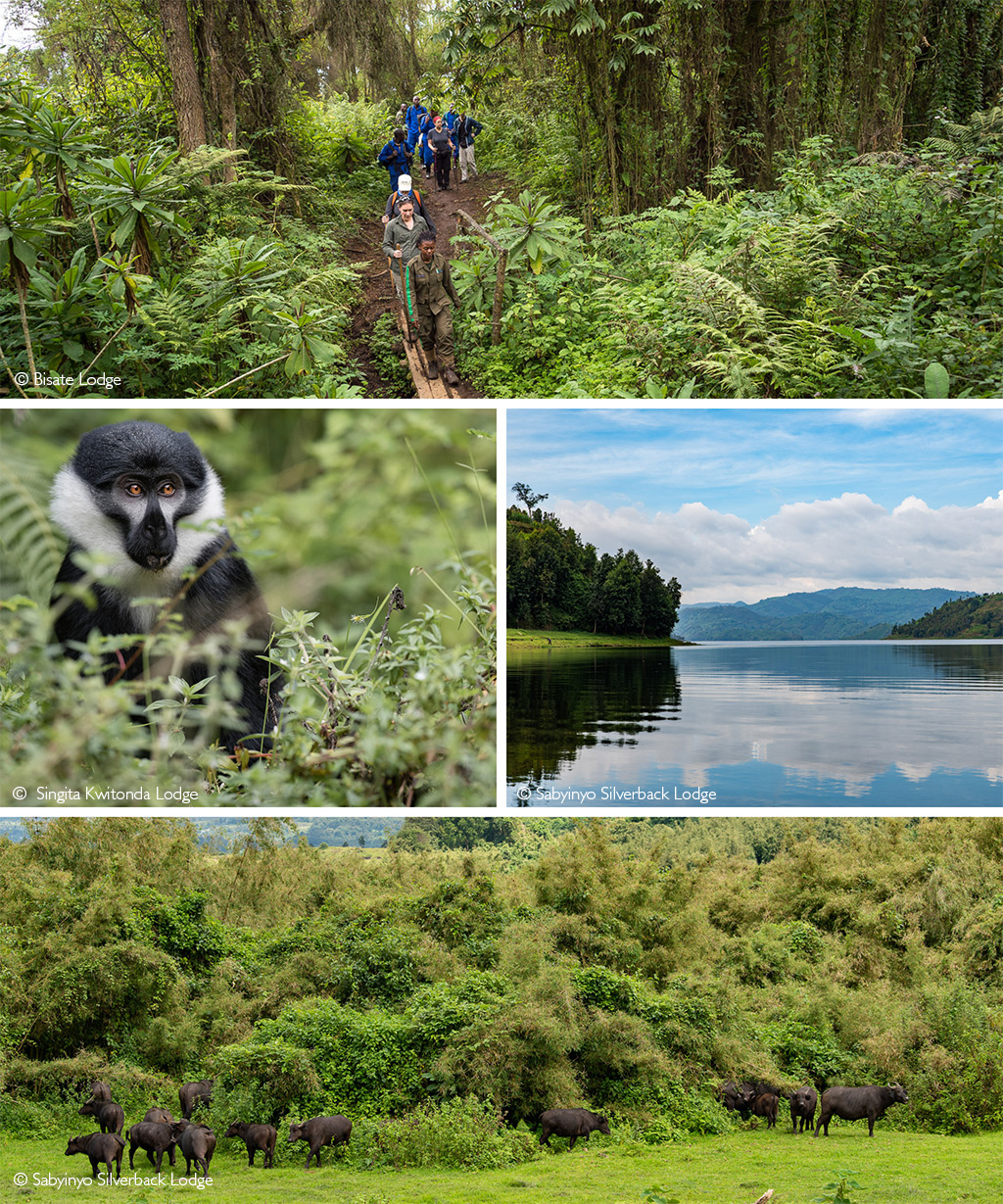 Pathways through the mist
For those whose legs have forgiven them their trespasses (like a few hours chasing gorillas up a mountain), Volcanoes National Park is a hiker's paradise. The truly brave can opt for an overnight route to the top of Mount Karisimbi, the highest point in the park. The name 'Karisimbi' translates as 'white shell' – so-called due to the white cap of cloud that often covers the summit. Equally challenging is the hike to the top of Mount Muhavura to look out across the twin lakes of Burera and Ruhondo (separated by an ancient lava flow). Many visitors choose to explore the almost alien-like Afroalpine vegetation and crater lake at the top of Mount Bisoke (often, but not always, in search of the red-tufted sunbird).
These hikes depend on a certain level of physical fitness, must be booked in advance, and are always conducted in the company of a park-provided guide.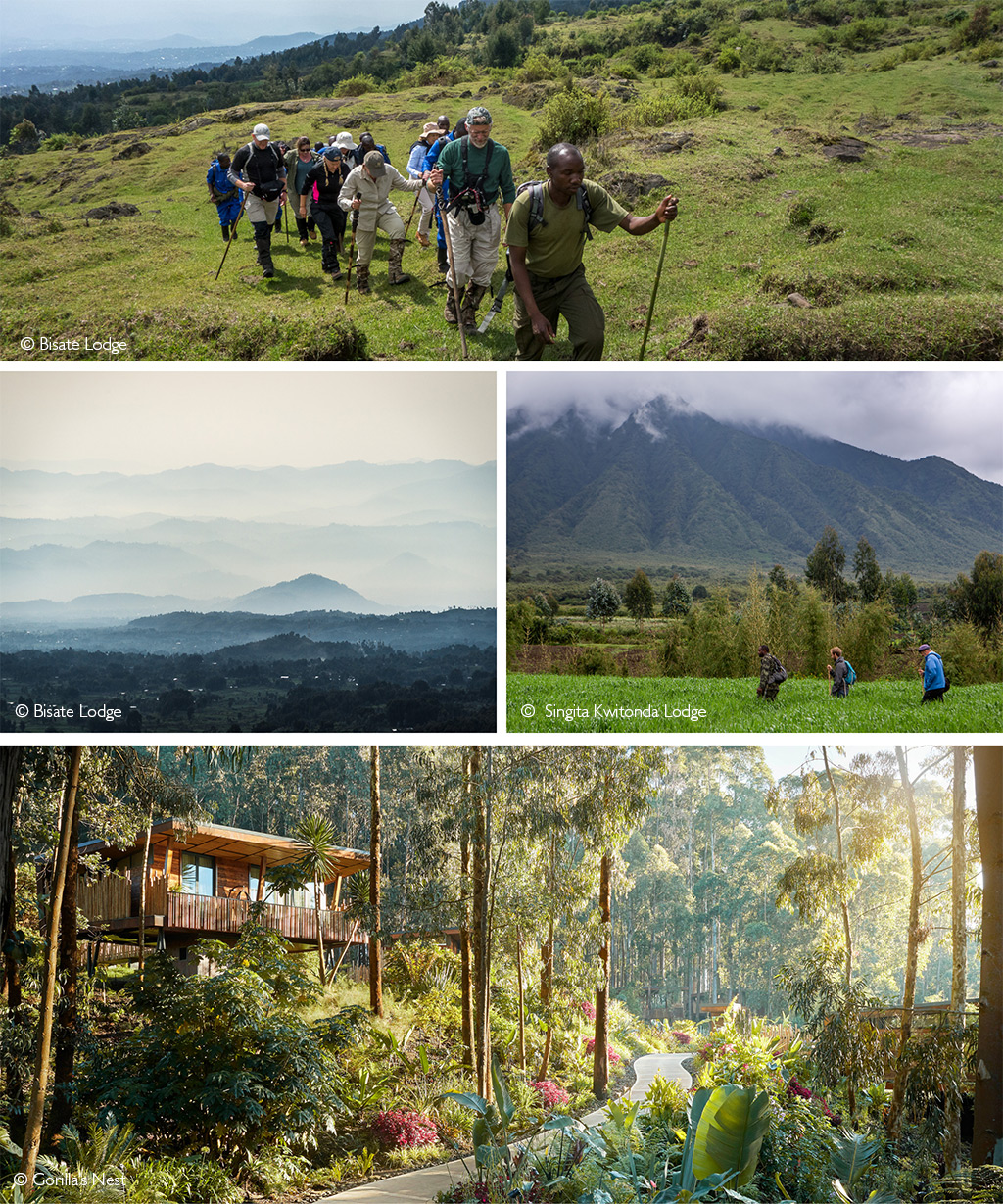 Explore & stay
Want to plan your Volcanoes safari? Scroll down to the end of this story to research and get in touch with our travel team to start the discussion.
The only visitors allowed in the park overnight are those that have booked multiple-day hiking excursions. However, there are many accommodation options ranging from budget hotels to ultra-luxurious lodges on the park's periphery. The park is open year-round, though the "best time" to visit is from June until September – the long dry season. Though the highest rainfall levels occur from March to May and again in October and November, this is an equatorial region, and rain is possible at any time. And, naturally, the famous mists do more than just hide the gorillas. Consequently, it is essential to waterproof all electronics and photographic equipment, and a good pair of non-slip, waterproof walking boots are vital.
The region's magic doesn't end at the park boundaries, and those with an extra day or two can opt to learn more about ancient Rwanda culture at Buhanga Eco-Park. Here the kings of old undertook a series of kingship rituals before being crowned in the park's caves. Cave systems are extensive around Volcanoes National Park, and since it was first opened in 2014, the 2km trail through the 60-million-year-old Musanze Cave has become increasingly popular.
In Rwanda –the "Land of a Thousand Hills" – the steep, forested slopes of the five in Volcanoes National Park are indisputably among the country's most unique offerings.

Resources
Combine a visit to Volcanoes National Park with Nyungwe National Park in Rwanda or Virunga National Park in the DRC to complete the biodiversity experience.
Check out our authoritative guide to the different species and subspecies, to help you in getting to know the gorillas.
Learn more about The Mountain Gorilla: Gentle Giants of the Forests.
To comment on this story: Login (or sign up) to our app here - it's a troll-free safe place 🙂.

---
HOW TO GET THE MOST OUT OF AFRICA GEOGRAPHIC:
Travel with us. Travel in Africa is about knowing when and where to go, and with whom. A few weeks too early / late and a few kilometres off course and you could miss the greatest show on Earth. And wouldn't that be a pity? Browse our famous packages for experience-based safaris, search for our current special offers and check out our camps & lodges for the best prices.
Subscribe to our FREE newsletter / download our FREE app to enjoy the following benefits.
---