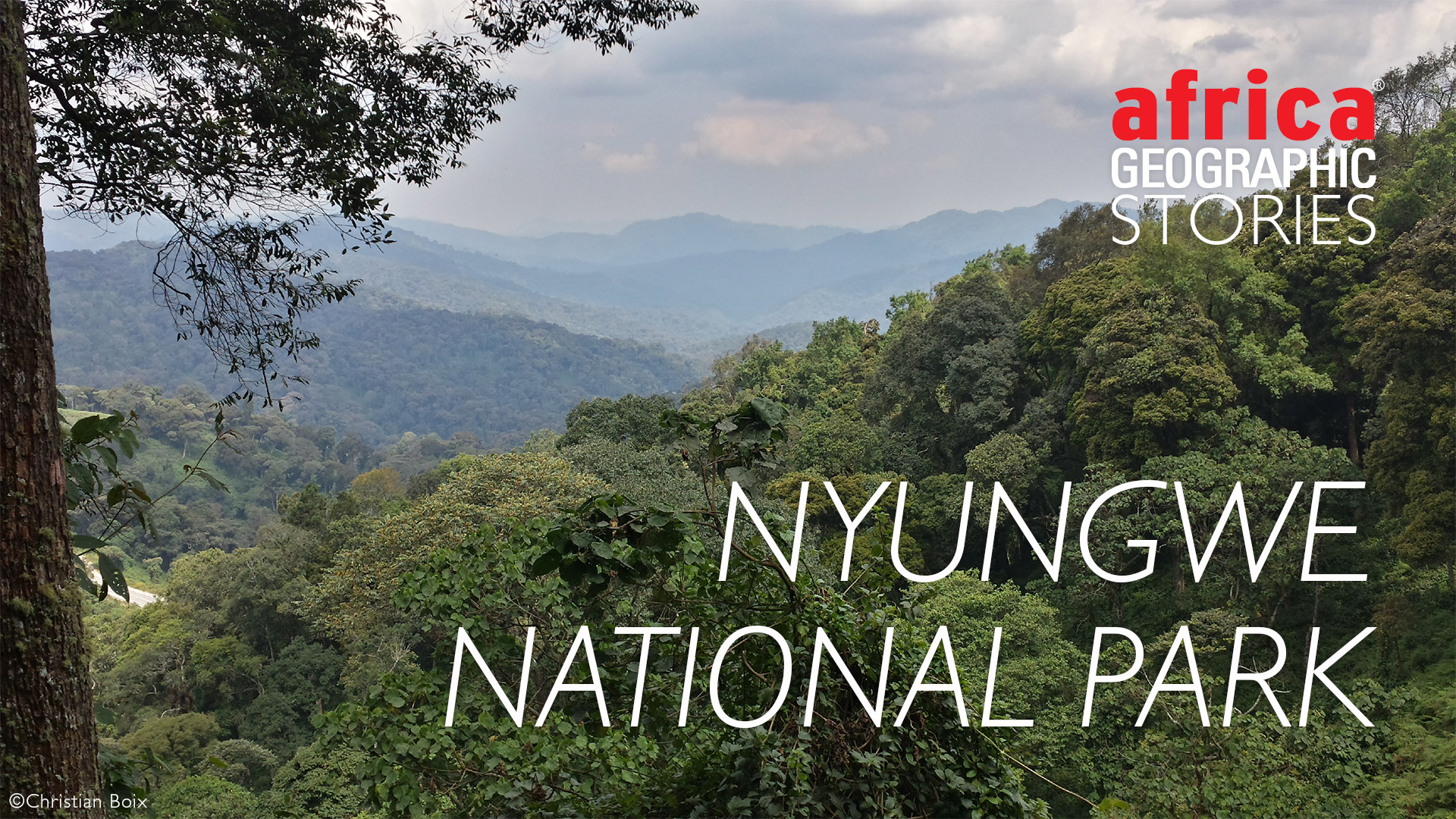 RWANDA'S ENCHANTED FOREST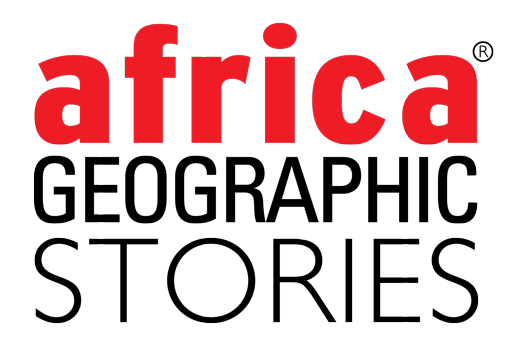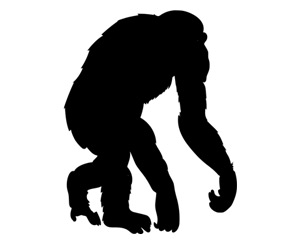 Aptly referred to as the land of a thousand hills, Rwanda is a country that embodies the genuinely remarkable spirit of Africa. Once torn apart by genocide and bloodshed, the Rwandan people have demonstrated a steely determination in both acknowledging their history and refusing to be defined by it. Some call it the Rwandan miracle: the country's economy has grown by an average of more than 7% per year since 2000, and the poverty rate has fallen by 57% percent. Its people have turned hate and fear into the warmth and generosity of spirit that today epitomises Rwanda.
This forward-thinking, disciplined reconciliatory approach has also bolstered the country's conservation reputation, supported by a robust tourism industry that continues to go from strength to strength. While gorilla trekking in Volcanoes National Park or a safari-going in Akagera National Park are both extraordinary experiences in their own right, Rwanda is also home to the most extensive protected tracts of montane forest in Africa – Nyungwe National Park.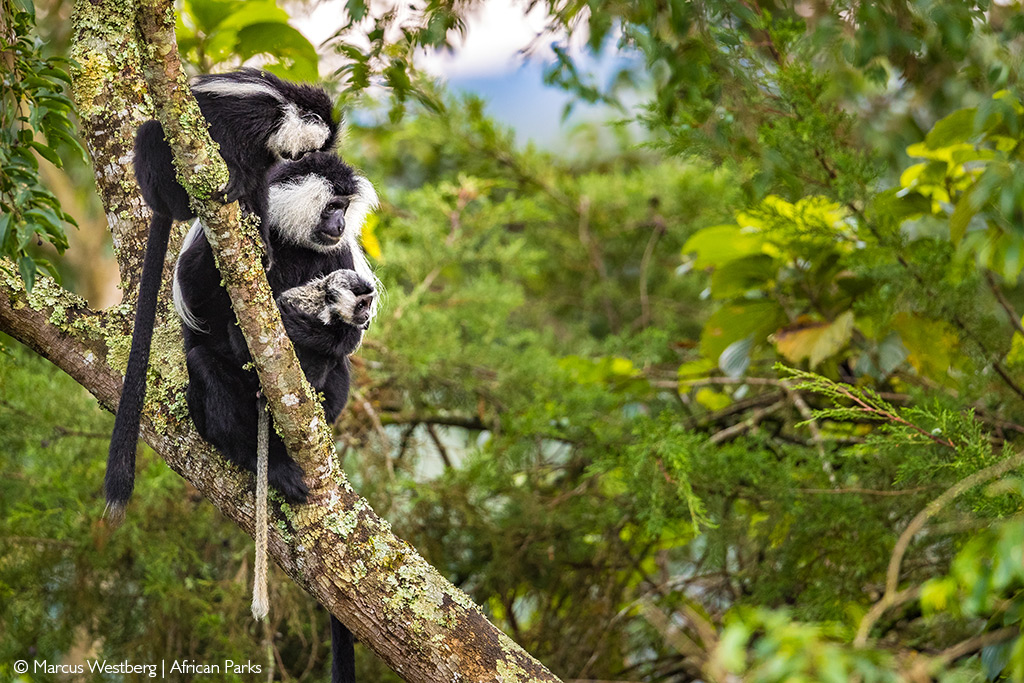 The Park
Nyungwe National Park covers 1,019km2 (over 100,000 hectares) of forested mountains, burbling streams, sun-starved valleys, and extensive swamps seemingly hiding a myriad of new species waiting to be discovered (or rediscovered). Though historically established as a reserve in 1933, Nyungwe National Park was only designated as a national park in 2004. It is tucked in the south-west corner of the country, towering above Lake Kivu and contiguous with Kibira National Park in Burundi to the south. Nyungwe is a biodiversity hotspot bursting with life. As part of the Albertine Rift and ranging in altitude from 1,600-3,000m, it is home to the largest high-altitude montane forest in East and Central Africa – a vitally important habitat in its own right. The land comprises the watershed between the Congo and Nile Rivers and some believe it is home to the most remote source of the Nile River, a stream that originates on Mount Bigugu.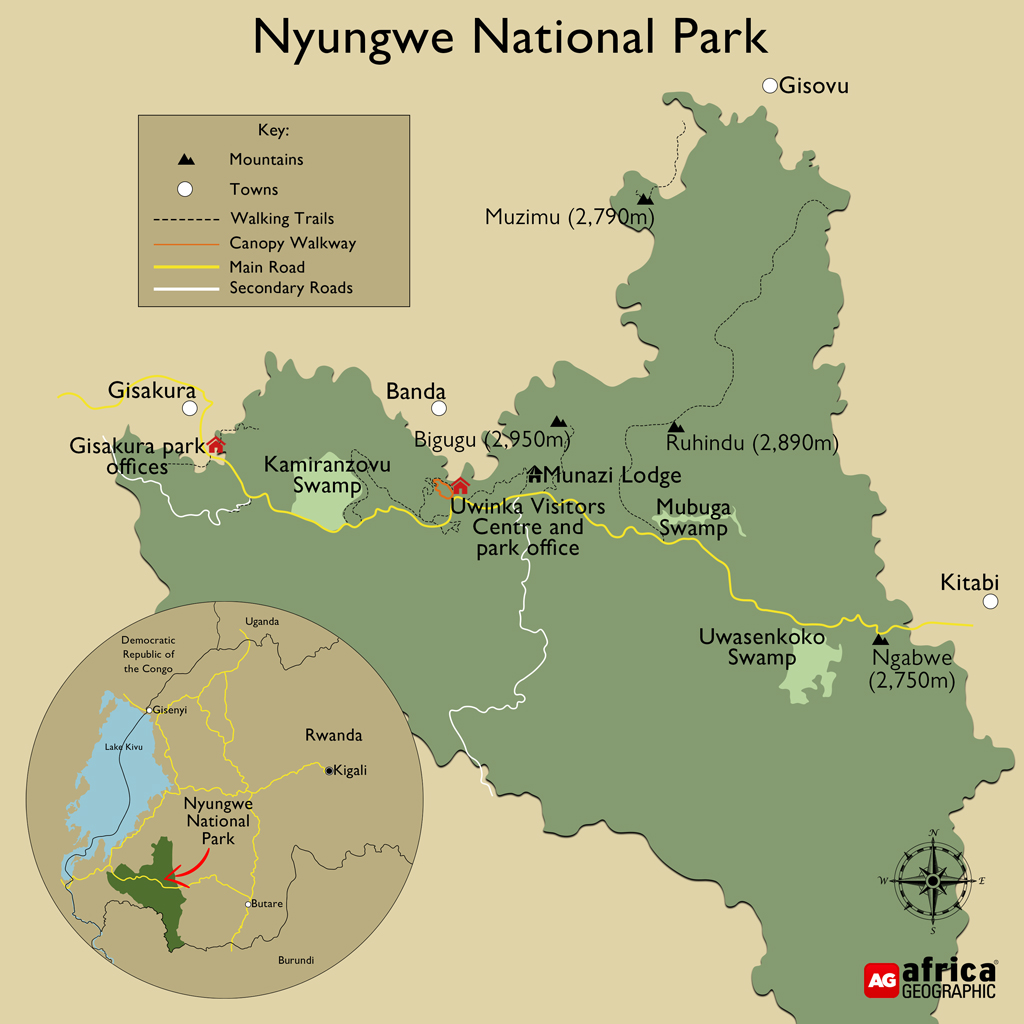 Walking in the canopy
The vast majority of Nyungwe is covered by ancient forests that engender a truly mystical atmosphere and teem with life of every size and shape. In mature tropical forests like those in Nyungwe, the canopy forms a complex aspect of life in the forest. With limited exceptions, human tourists tend not to display the arboreal skills of the primates that they seek and, as a result, were once restricted to exploring the forest floor. However, in 2010, the Rwanda Development Board found a way to lift the tourist experience to new heights by installing a canopy walkway of nearly 160m long which rises over 75m above the ferns below.
For those unaffected by a fear of heights (and even, perhaps, for those searching for a new and innovative way to overcome them), the three separate bridges offer unparalleled views of one of the most scenic national parks in Africa. This extraordinary vantage point forms part of the Igishigishigi Trail (a word that refers to the tree-ferns below but doubles as a tongue-twister), and the forest below is resplendent, often draped in a blanket of cloud that only adds to a sense of the surreal.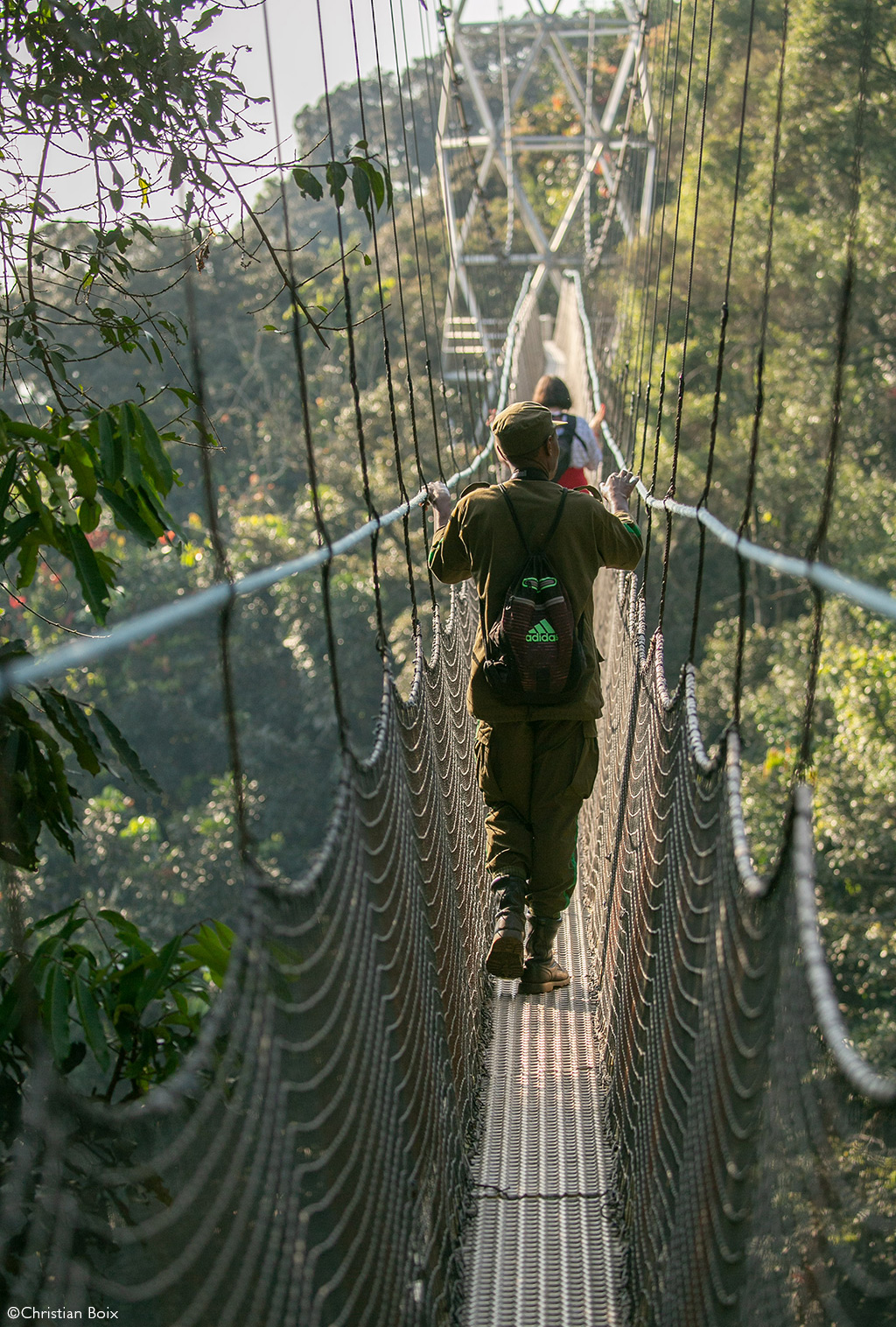 Swinging through the canopy
As a mostly forest-dominated park, it is only natural that one of Nyungwe's significant drawcards is its extensive primate populations and its treetops are dominated by several species of monkey and troops of chimpanzees. There are two habituated troops of chimpanzees within Nyungwe and chimpanzee trekking is popular with visitors. Given the distances chimps can cover at any one point in time, visitors should prepare for an early morning and a long day spent walking through the forest. However, this will be rewarded by an hour spent in close proximity to our closest relatives.
Chimpanzees aside, the other charismatic primates can be equally beguiling and entertaining. The owl-faced monkey was only recently confirmed to occur in Nyungwe, and this is the only population of this rare monkey species to occur outside of the Democratic Republic of Congo. The forest is also home to the largest mega-troop of Rwenzori pied colobus monkeys in Africa, numbering over 400 of these striking black and white monkeys. This well-habituated mega-troop also attracts the company of a myriad of additional primate species such as the grey-cheeked mangabey, L'Hoest's, Grivet's, Syke's, silver, blue, red-tailed monkeys, and the olive baboon. Chimpanzees are also drawn to the colobus monkeys, though for entirely different reasons: food. They hunt the smaller monkey species and an opportunity to witness a chimpanzee raid is a once-in-a-lifetime experience, as the forest explodes into shrieks of terror and the excited howls of the hunting chimps.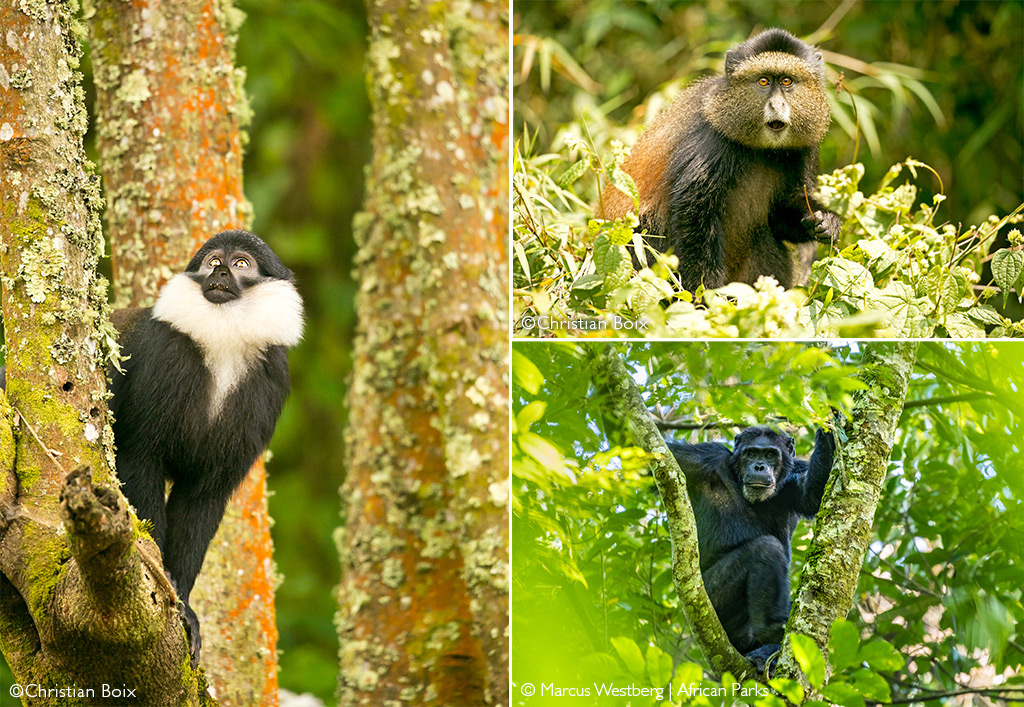 Singing in the canopy
For avid birders, Nyungwe offers the best forest in East Africa for Afro-montane birding. Forest birding is notoriously difficult, which in many ways makes the glimpses of the Albertine Rift endemics even more rewarding (and well worth a slight crick in the neck).  As a recognised Important Bird Area, there are over 330 bird species recorded in Nyungwe, including the Albertine owlet, red-collared mountain babbler, and Rockefeller's sunbird, none of which have been recorded anywhere else on the eastern side of the Albertine Rift. Every year, keen twitchers laden with binoculars, dog-eared bird books and large lenses flock to the park to boost their birding life-lists.
The birding opportunities are spectacular throughout the park. Still, experienced birders confirm that the park's western section, with higher rainfall levels and richer soils, offers the best of them. While the search for the red-collared mountain babbler may prove challenging and require a degree of patience, visitors can tick off the mountain masked apalis, Ruwenzori turaco, dwarf honeyguide, handsome francolin, and Neumann's short-tailed warbler along the way. Nowhere else in the Albertine Rift offers such high densities of relaxed birds on the undisturbed trails. For the truly dedicated, there is always the remote chance of joining the ranks of those fortunate enough to have seen a Shelley's crimsonwing or the Albertine owlet in the wild.
Forest birding is very much dependent on the vocalisations of the various species, which in turn means that a visit to Nyungwe with the intention of bird watching is best timed for when the birds are at their most vocal. This is usually between January and June, with the caveat that certain migratory species will depart around April, which also tends to be the wettest month of the year. Excellent bird guides trained by the Rwandan authorities are at your disposal, including Claver Ntokinyima (author of Wild Rwanda) who resides in, and works for, the park.
Africa Geographic director, and one of Africa's top birding guides, Christian Boix, returned from Nyungwe with an urge to write Wild Rwanda, the region's most authoritative "where to find" birds and mammals guide. Its Nyungwe section will be an invaluable tool to set you on the right track to target your most coveted Albertine Rift Endemics and learn as much about this forest gem as possible.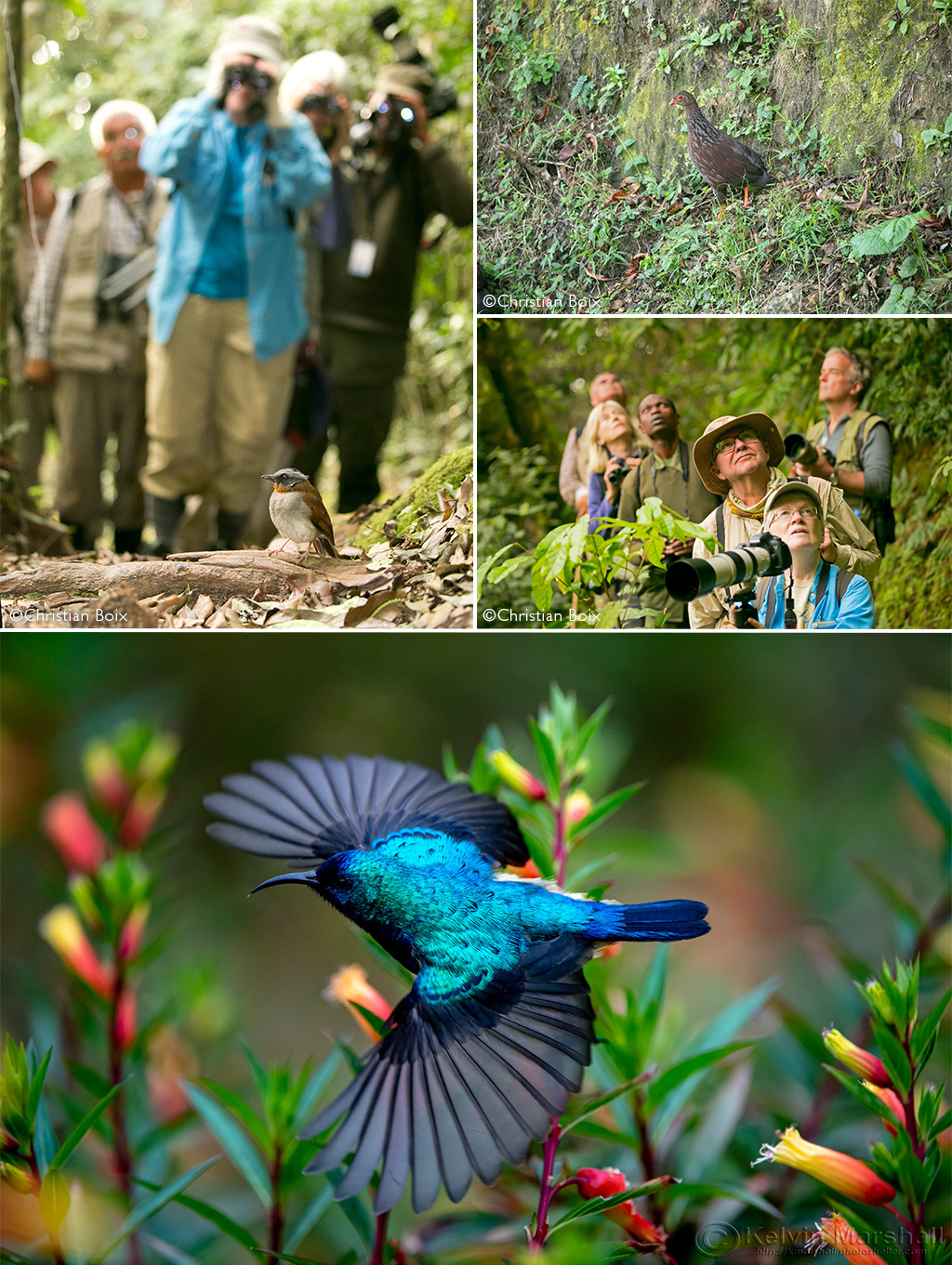 Hidden by the canopy
While the primates and birds tend to take centre stage in Nyungwe, there are in fact over 75 species of mammals wandering the forest paths, climbing the ancient trees, or slinking through the undergrowth. Camera trap studies have revealed that the park is home to an assortment of creatures, from Congo clawless otters to lithe servals and golden cats. Here, even the rodents are fully adapted to arboreal life, and the Lord Derby's scaly-tailed squirrels glide between trees by extending a membrane between their front and back limbs like true flying squirrels. Recent camera trap studies have also revealed that the rare Central African oyan (related to genets) can be found lurking in the canopy.
The park's exceptional biodiversity also extends to the oft-overlooked plant life, and there are over 1,000 different recorded plants, of which 250 are endemic to the Albertine Rift. 140 of these plant species are orchids, which add their splashes of colour to the blanket of green and brown around them.
Just a few years ago, Christian was on safari in Nyungwe with AG clients when he noticed an attractive frog hidden in the undergrowth. This particular frog turned out to be the Bururi long-fingered frog (Cardioglossa cyaneospila), a species once thought extinct and only recently rediscovered in Burundi in 2011. It had never before been recorded in Nyungwe National Park. (You can read more about Christian's frog discovery here.) With its dense forests and impenetrable swamps, there is no telling just how many species are still waiting to be discovered in Nyungwe.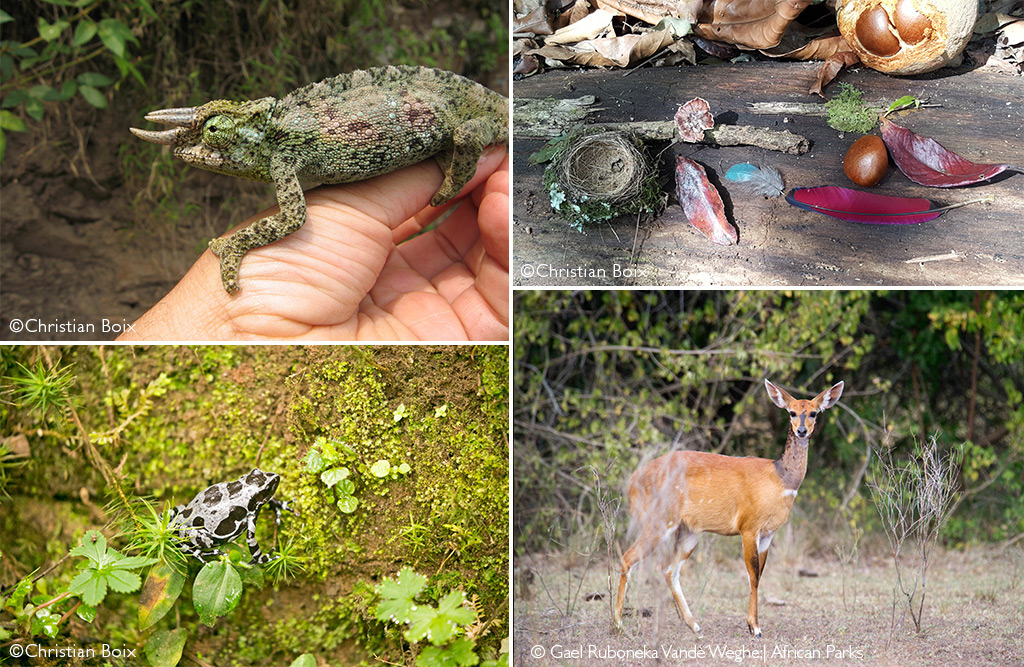 Everyone's cup of tea
Tea is one of Rwanda's largest exports and several major tea plantations – including Kitabi, Gisoyu and Gisakura – are found along the fringes of Nyungwe National Park. Not only do these plantations provide vital employment for local communities and educational experiences for tourists, but they also serve as buffer zones around the park.
Buffer zones are just one part of the Rwanda Development Board's extensive efforts to protect areas such a Nyungwe from illegal logging, poaching, and the collection of herbal plants for use in traditional medicine. A set percentage of annual park revenue from Nyungwe, Akagera and Volcanoes national parks is allocated to communities surrounding these protected areas, and a variety of upliftment and educational programmes have been implemented to safeguard their futures.
There are also several beekeeping cooperatives active near the park headquarters. While beekeeping is a traditional practice in the area, the members of the cooperatives are now producing additional products such as candles, as well as honey, which are sold to visiting tourists. Those interested in learning more about the surrounding communities' traditions can also visit the cultural centres and villages, some of which also offer campsites and other facilities.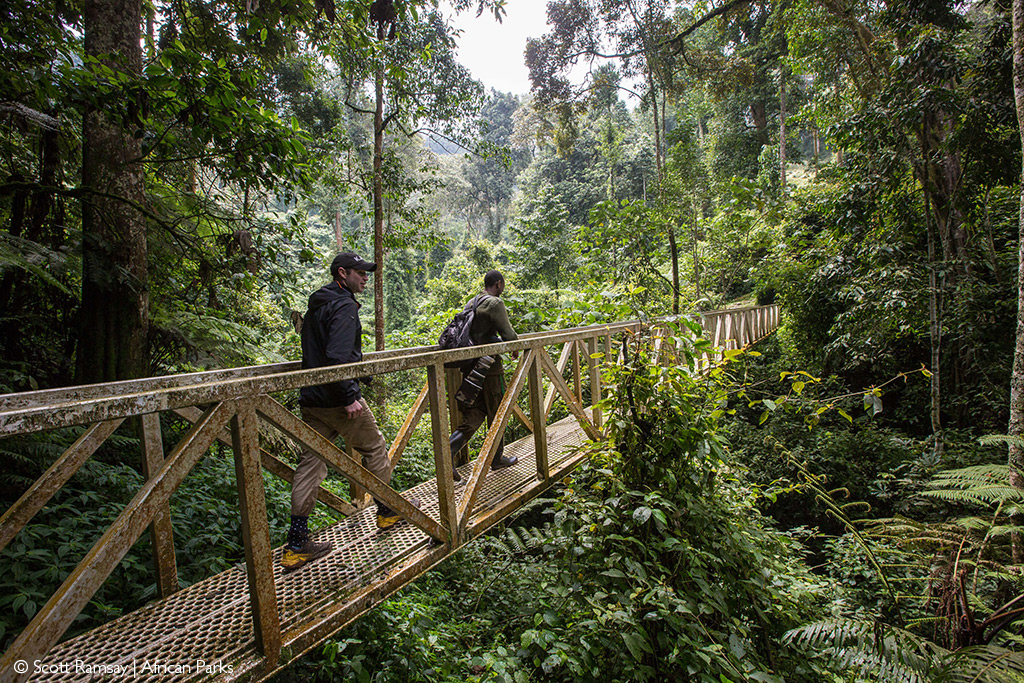 The experience
The dense forests and rugged landscapes of Nyungwe necessitate exploration on foot. An extensive network of immaculately maintained trails offers varying physical difficulty levels, each with its unique attractions, including waterfalls, hidden pools, and breathtaking views. For now, any guest wishing to explore one of these trails will need to book ahead and must be accompanied by one of the professional guides.
---

Find out about Nyungwe for your next African safari. We have ready-made safaris to choose from, or ask us to build one just for you.
---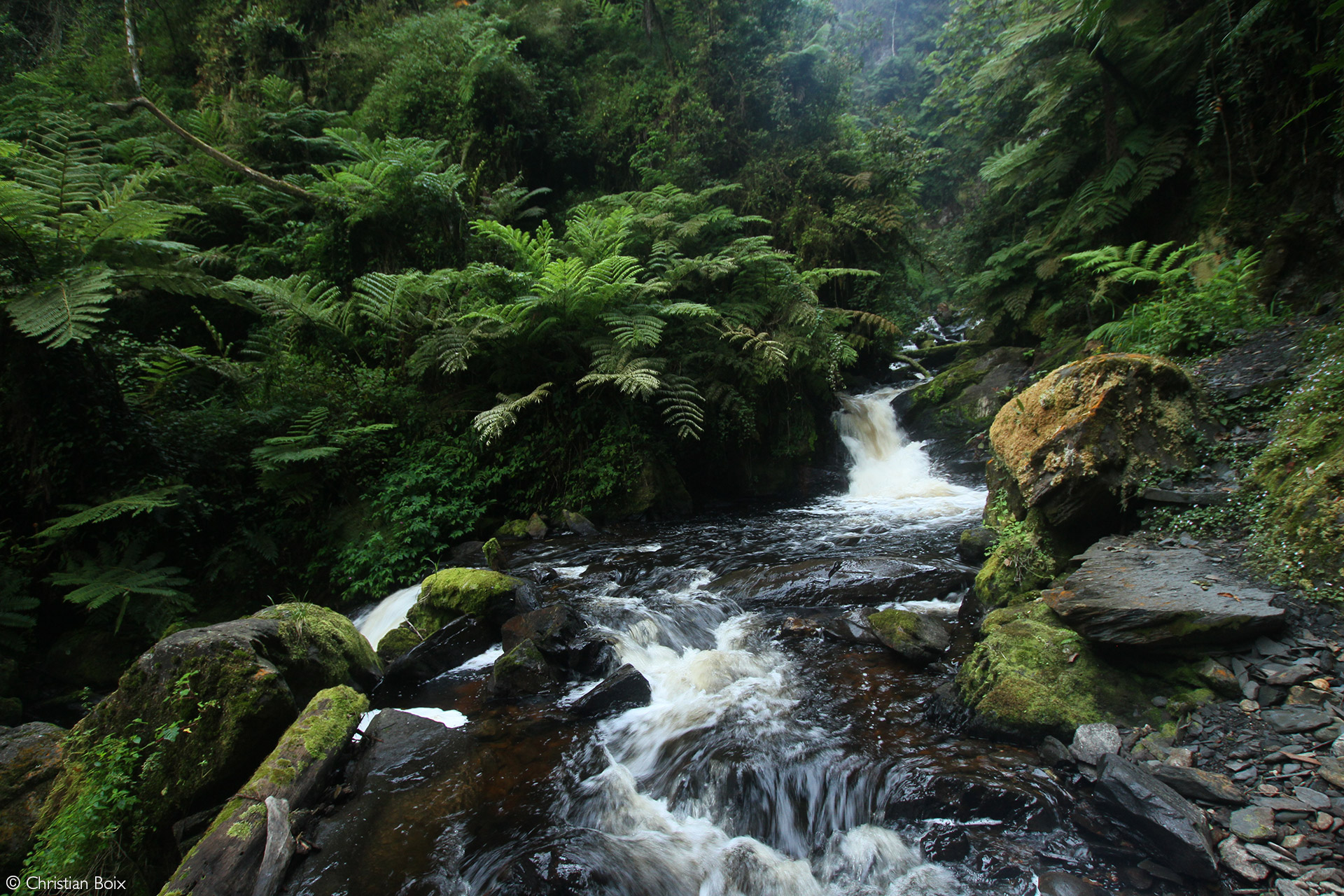 As might be expected for an experience that involves hiking in a rainforest, appropriate footwear is an absolute must – preferably waterproof but, most importantly, worn-in and sturdy. The climate in Nyungwe is relatively mild, with temperatures seldom reaching over 30˚C. Still, it receives high rainfall levels (up to 2,000mm annually), so waterproof gear for valuables is essential. Long trousers and sleeves will protect against the forest's more intrusive insects, and it is worth keeping in mind that the weather can be capricious and high altitudes mean cold temperatures at times.
Accommodation options around the park are varied, and a trip can be tailored to meet every traveller's requirement, from luxurious lodges boasting spectacular views and outstanding hospitality to budget campsites, and everything in between. Intrepid travellers with their own transport could also choose to stay on the banks of Lake Kivu and travel to and from the park on relatively good roads.
Munazi Eco Lodge (currently under construction and due to open in early 2024) will be a fully-catered camp featuring 10 (ten) ensuite chalets set deep within the forests of Nyungwe National Park – the perfect option for immersing yourself in the forest experience.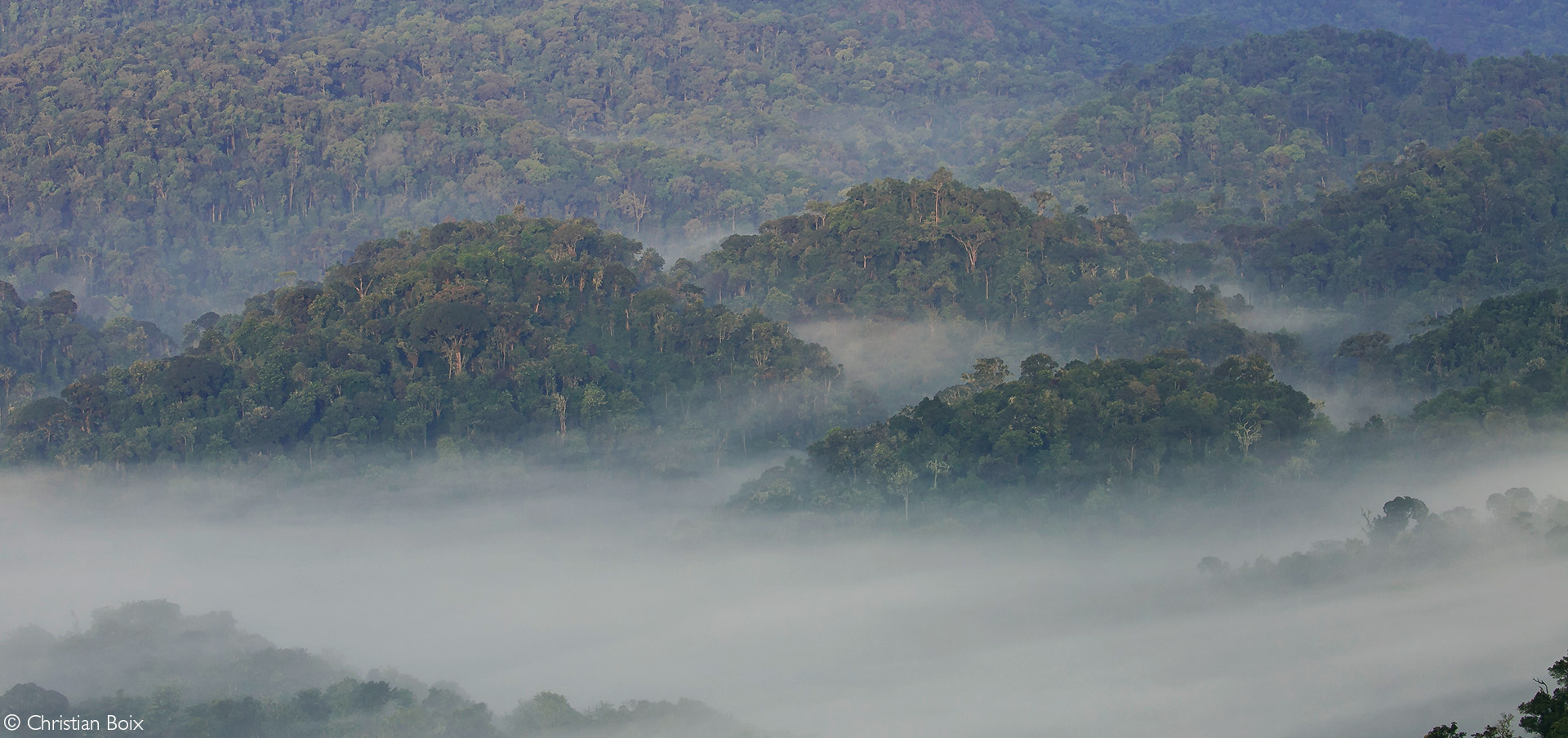 The future of the canopy
The announcement that African Parks has partnered with the Government of Rwanda to manage Nyungwe National Park should see the same success as the partnership in Akagera that has seen tourism flourish over recent years.
The world-famous zoologist and author, Jonathan Kingdon, wrote in his book Island Africa that the mountains of Nyungwe are "Africa's Galapagos Islands – islands encircled by golden monkeys, gorillas and iridescent sunbirds, by giant Lobelias, everlasting flowers, Ruwenzori turacos and all the questions they raise. They deserve greater recognition, protection and study than they have received so far."
Some 30 years after these words were written, that is precisely how the Rwandan people have chosen to protect their precious remaining wild spaces and, as a result, the future of one of Africa's most precious ecosystems – it's irreplaceable canopies, mysterious valleys and colourful creatures – has been secured.
Research tip: Wild Rwanda by Africa Geographic director and safari guru Christian Boix is essential reading for your next Rwanda safari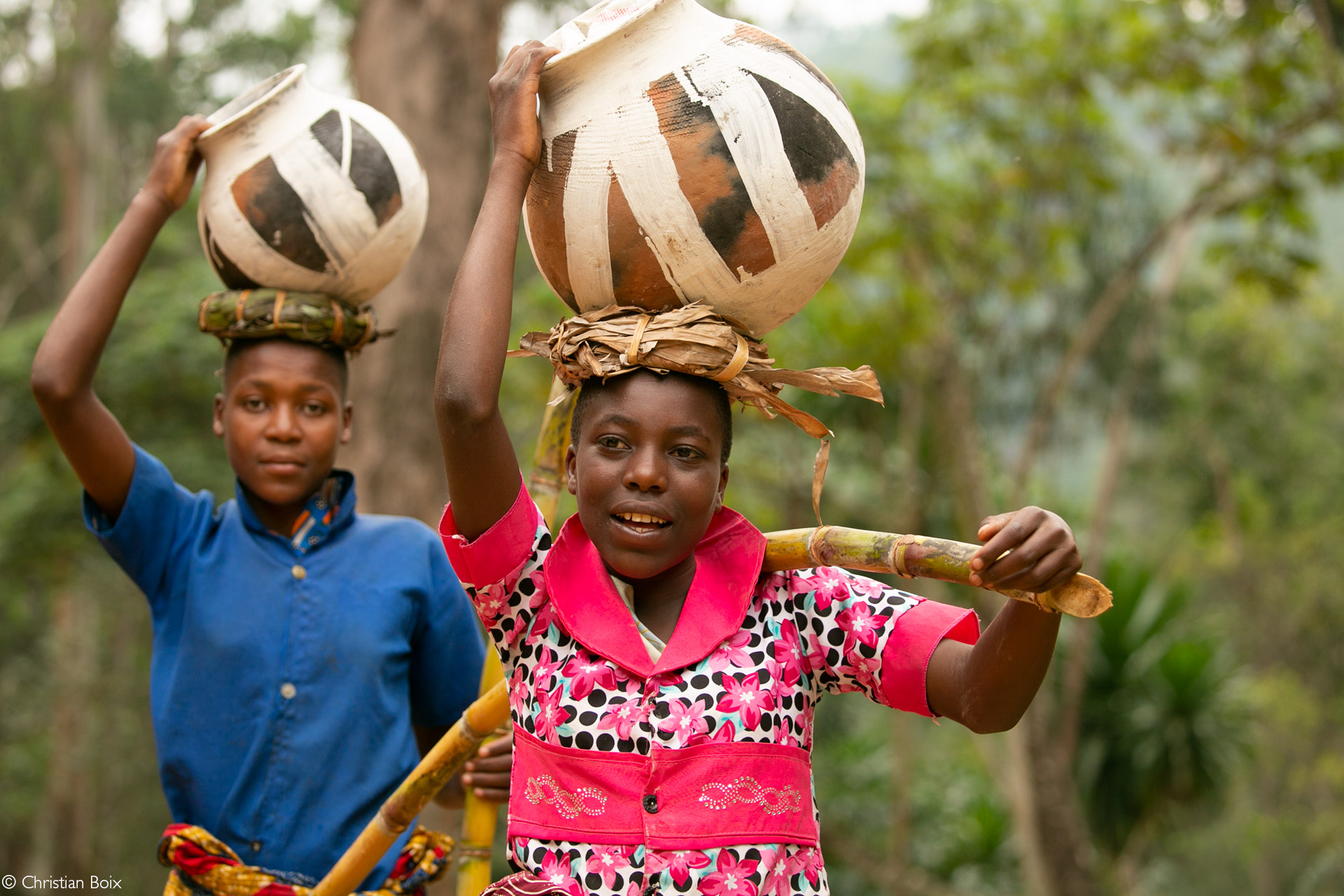 To comment on this story: Login (or sign up) to our app here - it's a troll-free safe place 🙂.

---
HOW TO GET THE MOST OUT OF AFRICA GEOGRAPHIC:
Travel with us. Travel in Africa is about knowing when and where to go, and with whom. A few weeks too early / late and a few kilometres off course and you could miss the greatest show on Earth. And wouldn't that be a pity? Browse our famous packages for experience-based safaris, search for our current special offers and check out our camps & lodges for the best prices.
Subscribe to our FREE newsletter / download our FREE app to enjoy the following benefits.
---