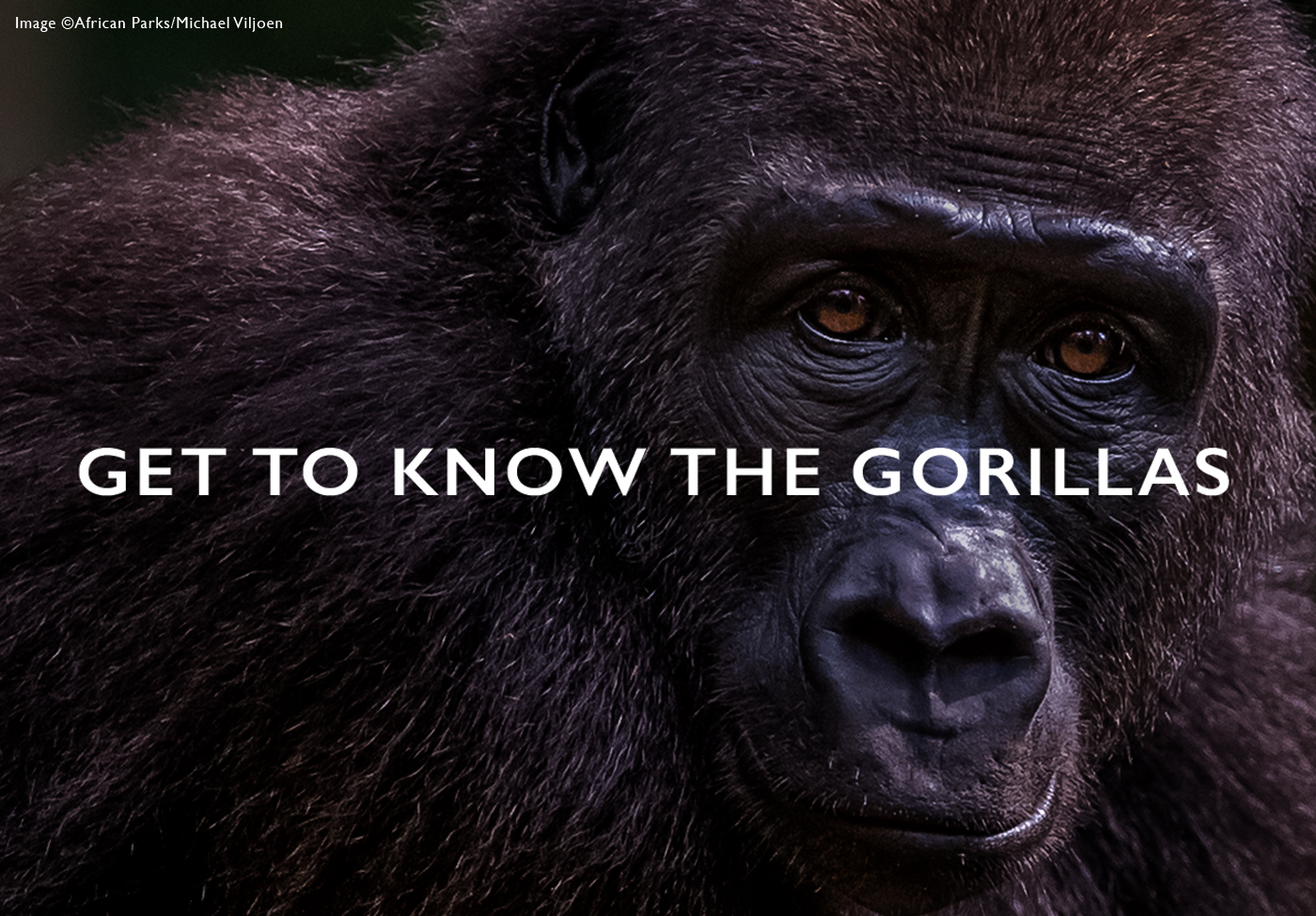 CLEARING UP THE MIST AROUND THE GREAT APES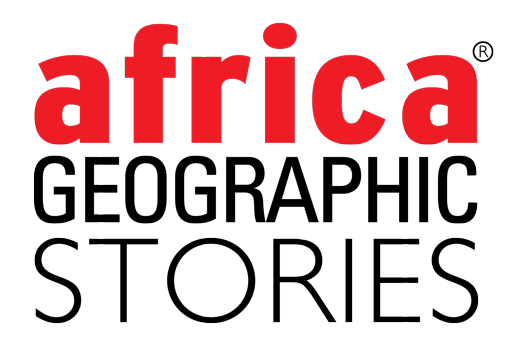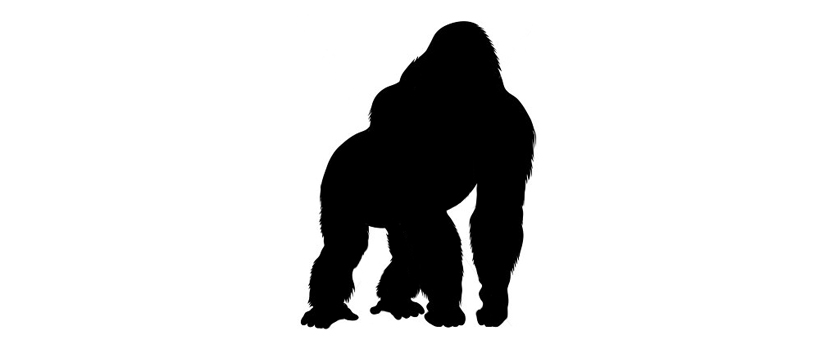 When people talk about the great apes, they probably think of the mountain gorillas that Dian Fossey made famous. The incredible work that she did in Rwanda's Virunga mountains, as well as her unsolved murder, captured the West's imagination. This accounts for a good deal of the mountain gorilla's popularity as a tourist attraction – they are probably the most photographed apes in the world. But they are a subspecies of a much larger and varied gorilla population. All in all, there are two species of gorilla (Eastern and Western) with two closely related subspecies in each:
Eastern Gorilla (Gorilla beringei)
Eastern lowland gorilla (Grauer's gorilla). Population: 2,000-5,000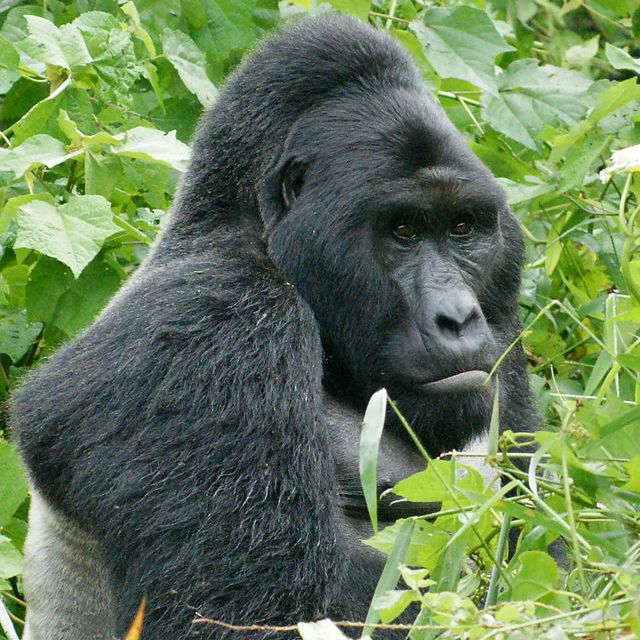 Image ©Fiver Löcker
Distribution
• The forests of DRC to the west of the Mitumbar Mountains and Lake Tanganyika
Population
• Hard to determine due to war. Estimated 17,000 in the 90s. Current estimates says between 2,000 and 5,000 individuals
Distinguishing features
• Largest, Stockiest body of all gorillas
• Longer faces and broader chests
• 17 to 20 individuals in a group
• dark hair
Diet
• More diverse than mountain gorillas. Leaves and pith, rely heavily on fruit which makes up 25% of their diet. When they include insects in their diet, eastern lowland gorillas prefer ants.
Range
• Their home ranges vary from 2.7 to 6.5 km², and they forage between 154 and 2280 meters a day.
Mountain gorilla. Population: about 1,063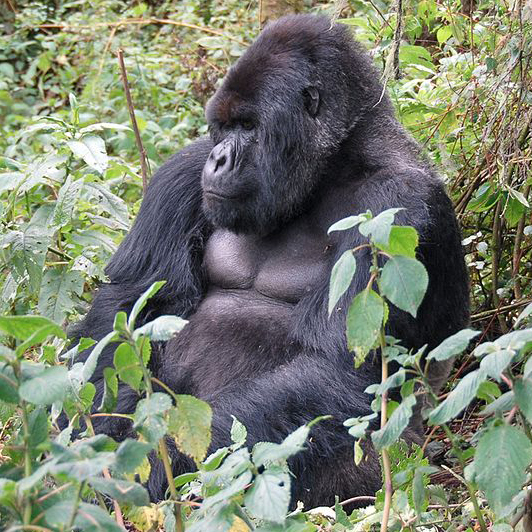 Image ©Dave Proffer
Distribution
• The mountains of Virunga straddling Rwanda and DRC, and Southern Uganda, as well as the slopes of Bwindi forest in Uganda.
Population
• About 1,063 with a stable to growing population.
Distinguishing features
• Longest, thickest hair for warmth in colder high altitude climate
• Groups can exceed 20 individuals (largest)
Diet
• Very little fruit due to high altitude. They rely primarily on plants and roots, with protein (about 3%) from insects, grubs and snails.
Range
• Home ranges between 3 and 15km². They move about 500 meters or less on a typical day due to mountain terrain and readily available food.
Western Gorilla (Gorilla gorilla)
Western lowland gorilla. Population: Uncertain – less than 95,000

Image ©Pierre Fidenci
Distribution
• The forests of the northern Republic of Congo, Gabon and Southern Cameroon.
Population
• Previous assessments have focused on habitat availability to determine western numbers. The commonly cited figure of 95,000 (Harcourt) is based on the assumption that all intact habitat was based on densities typical of Gabon in the 1980s. However, recent surveys show that commercial hunting and outbreaks of Ebola have had a severe impact on numbers in otherwise intact habitats.
Distinguishing features
• Smallest of all gorillas
• Brown-grey/auburn hair on forehead of adult male
• Bigger skulls with pronounced brow ridges
• Shortest hair
• Longest arms
• Best tree climbers(for fruit)
Diet
• Plants and roots, with fruit being a central component of their diet. Termites and ants are also an important part of their diet.
Range
• Home ranges between 7 and 14km². They move on average 1105 metres on a typical day – the farthest ranging of the gorillas.
Cross River Gorilla. Population: 200-300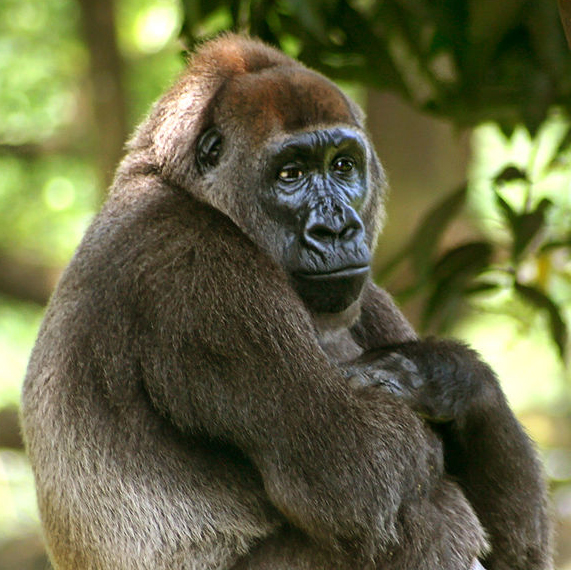 Image ©Julie Langford
Distribution
• A small area straddling the southern border of Cameroon and Nigeria at the headwaters of the Cross River
Population
• Between 200 and 300 individuals
Distinguishing features
• Similar to western lowland gorilla in body size
• Smaller cranium vaults and shorter skulls
• Lives in smaller groups of 4 to 7 individuals
Diet
• Not as well studied as the other subspecies. But studies of their faecal matter indicate a diet which includes fruit, plants and some invertebrates.
Home Range
• Restricted mostly to hill areas with home ranges estimated at 20km².
The Ebola Factor
It is estimated that a quarter of Africa's gorillas have died from Ebola in the last 12 years.
The decline in western lowland gorilla populations led to a change in their conservation status from "endangered" to "critically endangered" in 2007. It is estimated that the total western lowland gorilla population in Odzala-Kokoua National Park dropped from 42,000 to 20,000.
In 2002 an Ebola outbreak killed 130 of the 143 western lowland gorillas primatologist Magda Bermejo had been working with in Republic of Congo's forests, along with thousands of other primates and humans. Click here to read more about the gorillas with whom Magda works (Takes you to another page in this magazine)
A 2004 Ebola outbreak killed up to 95 percent of the western lowland gorillas that frequented Lokoué forest clearing in the Odzala-Kokoua National Park.
The Ebola virus does not threaten other apes and chimpanzees with extinction. Still, it has reduced the western lowland gorilla population to a point where it can no longer sustain itself in the face of hunting, loss of habitat and other influences. Gorillas breed slowly, and optimistic estimates predict it would take the population 75 years to recover from its present situation. Most gorillas that survived were young males, meaning the social structures changed, and smaller groups predominated. This affects the normally strong sense of social cohesion and protection found in larger groups. This also makes them more susceptible to stress brought on by poaching.
It is understood that the Ebola outbreaks in human populations often come from eating the bushmeat of primates infected with the disease.
Bushmeat and the influence of Logging
The commercial logging of Congo's forests has a direct impact on gorillas, not through loss of habitat, as one would think, but due to the pressure from poaching for bushmeat.
The dense, road-less forests made hunting access extremely difficult in the Republic of Congo, and gorilla densities were high. Since the 1980's improvements in transportation infrastructure, devaluation of the regional currency, declining oil stocks, and timber depletion in other tropical regions have led to an explosion in mechanised logging in the forests.
Calculations are that timber production nearly doubled between 1991 and 2000. Previously inaccessible forests have been penetrated by logging roads, providing commercial hunters access to previously inaccessible areas with high ape densities. Much of the bushmeat is transported to commercial markets on logging vehicles, and logging employees eat more bushmeat than the local villagers do. This encourages villagers to hunt commercially, selling bushmeat to loggers.
Gorilla Habituation
Aside from the benefit of tourism revenue directed to the conservation of gorillas, habituation is vital for proper research by scientists. An equally important factor is the education of tourists, journalists, politicians and students. Guillaume Le Flohic, African Parks manager of conservation and research in Odzala-Kokoua National Park, is running a new gorilla habituation program working with primatologist Magda Bermejo and a few other scientists.
"The work before the habituation process – tracking and monitoring a group to the point where we can walk with the group and observe them from a few meters without changing their natural behaviour – is the most challenging because it depends on several factors," says Le Flohic:
• The right area – not too many insects or swamps, and with ease of access.
• The right population – large enough, not too affected by poaching, which has an aggravating effect on gorilla behaviour and stress levels. The more stressed they are, the riskier it becomes for the habituation team.
• The right group – the dominant male (the silverback) must be quiet and not too aggressive.
• Good human resources – trackers, managers and scientists.
One of the most important aspects of habituation is tracker training. Many trackers are recruited from the local population, and the skills they use for hunting can be put to good use. "Trackers need to process a lot of information quickly, and ex-hunters understand the work in the field very quickly," says Le Flohic. "I recruit young and old hunters, so the young can benefit from the elders' experience and be the future "scientific" trackers – being trained and taught to see the forest they know through scientific eyes."
Sources: International Union for Conservation of Nature (IUCN); World Wildlife Fund (WWF); National Primate Research Center, University of Wisconsin – Madison.
To comment on this story: Login (or sign up) to our app here - it's a troll-free safe place 🙂.

---
HOW TO GET THE MOST OUT OF AFRICA GEOGRAPHIC:
Travel with us. Travel in Africa is about knowing when and where to go, and with whom. A few weeks too early / late and a few kilometres off course and you could miss the greatest show on Earth. And wouldn't that be a pity? Browse our famous packages for experience-based safaris, search for our current special offers and check out our camps & lodges for the best prices.
Subscribe to our FREE newsletter / download our FREE app to enjoy the following benefits.
---