Another desert-adapted lion has been trophy hunted in Namibia. The collared lion, known as 'XPL-107' and 'Mwezi' by researchers, was the only remaining black-maned desert-adapted lion in the area. 
The established facts, as detailed below, led to us asking a few uncomfortable questions of a senior representative of Namibia's Ministry of Environment and Forestry (MEFT). We use his replies, evidence gleaned from our sources and deductive reasoning to arrive at serious doubts about the legality of this hunt.   
---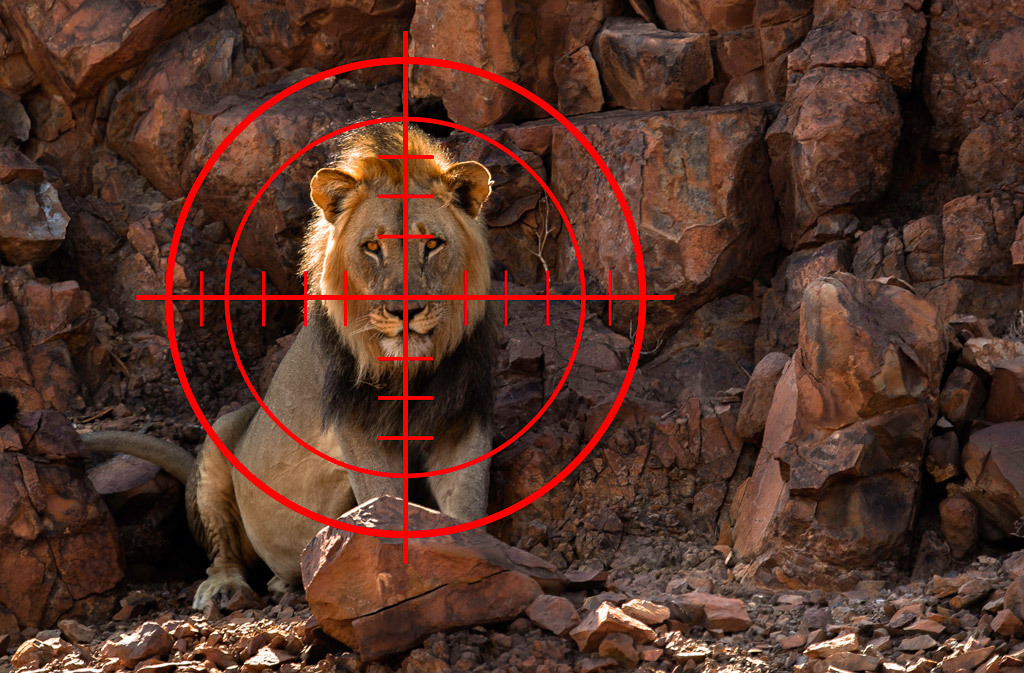 Facts & evidence:
The location of the lion on the day of his demise – as evidenced by data from his collar GPS device – suggests he was hunted either in Skeleton Coast National Park (illegal) or in an adjoining concession operated solely for tourism purposes (unauthorised). The collar provides data every four hours via satellite, allowing for an accurate record of his movements on 11 October 2023 – the day he was killed: 

12h00: XPL-107 was located 4km inside Skeleton Coast National Park. Lions usually rest up in shade during the heat of the day – especially during summer – and only move around or hunt during the cooler hours. He was located within 600m of this position for the eight hours between 04h00 and 12h00.
16h00: failed collar ping. Collar pings have an almost 100% success rate. Failure would suggest that by 16h00, the lion was being transported in the back of a vehicle, GPS device facing the floor.
20h00: XPL-107's body is located at Khowarib hunting camp. This is 99km as the crow flies from his position at 12h00 – along very poor roads that would take a vehicle many hours to traverse. Ironically, this ping also triggered an 'Early Warning System' – designed to notify monitors that a lion has moved into an area of potential human-wildlife conflict. The above location pings suggest that XPL-107 was killed between 12h00 and 16h00. Bearing in mind that lions seldom move great distances during the heat of the day, deductive reasoning suggests that this lion was either killed inside Skeleton Coast National Park (illegal) or in neighbouring community land leased to a tourism company (unauthorised). Also note that if XPL-107 had moved outside of these protected areas, his collar would have sent an early-warning system ping. The only such ping occurred when his carcass was located in the hunting camp.


No designated officials within the relevant conservancies or concession holders were informed that there was a legitimate hunt authorised in the area. We are also informed that neither the Directorate of Scientific Services at MEFT nor the relevant MEFT lion-conflict manager were informed about the planned hunt.

We questioned the MEFT representative during a telephone call as to how the trophy hunting party located XPL-107 in such a vast area and, specifically, whether the collar location data was used for this purpose. Research collars are for the purposes of research and human-wildlife conflict prevention. The representative denied the use of the collar location data by the trophy hunting party. However, we know that one particular MEFT official who did not show prior interest in the location data of any lions, logged in every day from 21 September 2023 (when XPL-107 was named a 'problem-causing animal') until the day the lion was shot. This particular official only looked at XPL-107 data and did not log in again after the day XPL-107 was killed.

Deductive reasoning based on this information and the hunting party movements described below would suggest that the collar data was used to locate XPL-107 for trophy-hunting purposes.

The movement of two vehicles carrying the hunting party (including two foreign nationals and a rifle) and MEFT officials was recorded as follows:  

The two vehicles entered the Palmwag concession at the Aub gate 

On being questioned about the rifle, MEFT claimed they were there for 'policing'. No permit related to a hunt was presented

There is no record of the vehicles leaving the area via an official/manned gate



XPL-107 was declared a 'problem-causing animal' by MEFT around 21 September 2023 – after being suspected of killing livestock on two occasions in July 2023. In the first incident, he was seen by a scout where 14 goats were killed, and data from his collar verified his presence. In the second incident, where a Brahman bull was killed, XPL-107 was not seen, but collar data confirms that he was in the area at the time. There appears to be little doubt that he was responsible for these livestock deaths. There do, however, seem to be doubts about whether MEFT followed the necessary procedures to declare XPL-107 a so-called 'problem-causing animal'. Delhra, a Namibian non-profit working with local farming communities to preserve wildlife within the Kunene region of Namibia, has suggested in various social media announcements that the Minister must, in terms of section 53 of the Nature Conservation Ordinance 4 of 1975, declare a problem-causing animal as such via a notice in the Official Gazette. During our telephone discussion with a MEFT spokesperson, it was confirmed that MEFT had not done so. The same MEFT representative undertook to provide incidence reports related to the two livestock attacks but has not yet done so.
Unlike with other human-lion conflict cases in this area, no attempt was made to use established mitigation measures to avoid killing another desert-adapted lion. A few weeks before this, lion OPL24 was successfully relocated after killing a few goats. Further back, lion XPL131, who caused far greater damage than XPL107, was relocated by MEFT twice before finally being declared a problem-causing animal.

The Ehi-rovipuka Conservancy has been allocated two male lions as trophies this year. The trophy hunting of XPL107 will not be counted as one of these trophies because his killing was enabled under the 'problem-causing animal' provisions. And so, two additional male lions will be removed from the threatened desert-adapted lion population for trophy-hunting purposes.

XPL-107 was seen mating with the last surviving lioness of the Obab Pride from 29 September to 5 October 2023 – as reported by researchers – days before he was shot.  Researchers described him as 'one of the most reproductively successful males in the population'.
Follow the money: According to the MEFT official we spoke to, this trophy hunt generated a total of N$300,000 for local communities and N$20,000 for a fund for conservation and human-wildlife management. The total amounts to approximately US$17,000 – which is about 28% of the likely trophy fee of US$60,000 paid by the trophy hunting client (as per a recent trophy hunting advertising campaign for a 'male lion trophy' in Namibia). The important question is why African communities are continually being short-changed by the trophy hunting industry.
About desert-adapted lions and the communities that share their landscape
Desert-adapted lions occupy an area of approximately 40,000 km2 in Namibia's remote and barren northwest. They share this landscape with about 19,300 humans – mostly small-scale pastoralists for whom drought and predation represent significant threats to livelihoods. Lions account for 20% of livestock losses. 
The population of desert-adapted lions is small – currently about 56–60 individuals. This population fluctuates significantly based on rainfall, prey base and persecution from humans, from a low of perhaps 20 individuals in the late 1990s to an estimated high of 180 in 2015. 
Convincing livestock farmers that lions should occupy the same landscape at all is a tough ask, especially when there are no obvious benefits. The tenuous relationship between communal farmers and lions has engendered retaliatory and preventive killing of lions. Since 2000, retaliatory killings have accounted for 89% of recorded lion (non-cub) mortalities – with more than 130 lions killed during this period.
Some view trophy hunting as one model demonstrating economic benefits to local people – if the industry is managed sustainably and legally. Considerable effort is made to prevent and mitigate livestock losses resulting from lion predation. One such method is to track individual lions using satellite collars, which trigger warning SMSs when the lions are near livestock so that local people can chase the lions away. Another method is the provision of safe fenced areas where livestock can be moved at night.
The desert-adapted lion is not a separate species from lions found in less arid areas. They do, however, display remarkable adaptions that enable them to live in this inhospitable region – which non-adapted lions would not survive.
---
READ MORE about desert-adapted lions and measures to protect them.
SEE MORE photos of desert-adapted lions.
Read about the Desert Lion Conservation Trust here.
To comment on this story: Login (or sign up) to our app here - it's a troll-free safe place 🙂.

---
HOW TO GET THE MOST OUT OF AFRICA GEOGRAPHIC:
Travel with us. Travel in Africa is about knowing when and where to go, and with whom. A few weeks too early / late and a few kilometres off course and you could miss the greatest show on Earth. And wouldn't that be a pity? Browse our famous packages for experience-based safaris, search for our current special offers and check out our camps & lodges for the best prices.
Subscribe to our FREE newsletter / download our FREE app to enjoy the following benefits.
---