There are plans afoot to move 80 rhinos from Africa to Australia as an 'insurance policy' and for 'safekeeping' in grass paddocks amongst the gum trees. Is this a valid conservation project for wild African rhinos or misdirection of energy and resources by a well-meaning Western society?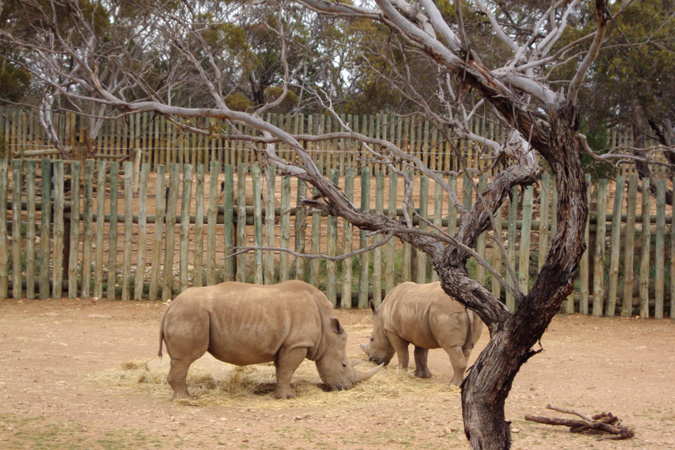 A spokesperson from The Australian Rhino Project (TARP) was refreshingly forthcoming with replies to most of my enquiries, and I have no doubt at all about the good intentions of those who have donated time and money to this cause. Good intentions aside, it's worth assessing whether this effort is likely to impact positively on wild rhinos in Africa.
At the outset, I have to admit that I am wary of the Australian government's conservation commitment – bearing in mind that without buy-in from the government this project is dead in the water (both now and in the future, if future generations of these rhinos are ever required back in Africa). In fact, the Australian authorities have already indicated that they will not permit the import of African rhinos without them being quarantined in a 3rd country. Australia has the 'most animal extinctions in the world', thanks to that government's primary rural focus on mining and large scale farming, at the expense of ecosystems and species. I believe that actions speak louder than words, and 'saving' African rhinos while your own precious species and ecosystems go down the plughole, is an interesting aspect of this debate.
And, as an African, I cringe at how the Western world sometimes frames the African conservation debate. Without wishing to turn this post into a political one, there is sometimes a strong flavour of neo-colonialism and the ongoing 'Disneyfication' of Africa in some of these campaigns and discussions. I found this video on the TARP project particularly nauseating (just imagine you are Grandpa rhino?):
httpv://www.youtube.com/watch?v=IXxyxRHdWnU
My questions for TARP, and their replies (lightly edited for efficiency):
1. Dehorning:
Will you consider the dehorning of the rhinos if it is in the best interest of security, and if so, would you sell these horns if trade were to be legalised?
TARP: Rhinos are generally dehorned for transportation to ensure that they do not injure themselves during the relocation process. The practice of dehorning does not generally occur in Australia, however, all facilities currently holding rhino in Australia are reviewing their security measures post recent poaching incidents globally. Under no circumstances have we considered or would we consider selling rhino horn. The Australian Rhino Project position, and the position of all individuals associated with the project, is that legalisation of rhino horn trade is not the answer to reducing poaching. 
2. Security:
Your website states that "A feasibility study led by a highly experienced curator from the Taronga Conservation Society supported by undergraduates from the University of Sydney Business School in conjunction with global rhino experts identified no such risks."
To clarify, could you confirm that you feel that there is no threat of poaching of rhinos in Australia?
TARP: We take the protection of rhinos extremely seriously and we are committed to building a safe haven for threatened rhinos in Australia with our conservation partner organisations. Australia's legislation in regards to animal cruelty has harsh penalties for any type of incident and the Australian courts will prosecute and convict for such crimes, including jail time and financial penalties. In addition, we believe Australia's tight firearm legislation and strict border control will reduce the likelihood of a similar incident occurring in Australia.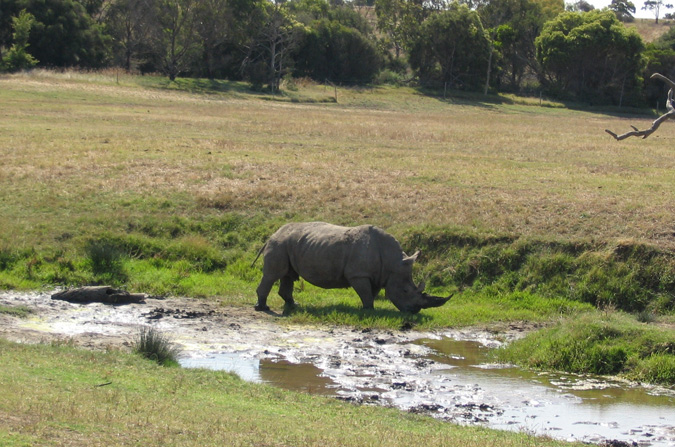 3. Which rhinos?
Your website states that "The first rhinos have been identified and the process for gaining approvals is well progressed."
Where do/will these rhinos come from and will they be wild-caught from national or private reserves, or sourced from intensive rhino breeding farms?
TARP: To ensure the genetic diversity of the breeding population is maintained, rhinos will be sourced based on demographics, genetics and known provenance from South Africa. We will not be sourcing rhino from intensive rhino breeding farms such as John Hume. 
At this stage, we cannot advise where all of the rhinos will be coming from and these discussions are ongoing. We have been approached by many individuals who are keen to move rhinos from their private game reserves due to the cost of security and their personal safety concerns for both themselves and their rhinos.
4. The rhino enclosures:
Your Feb '17 newsletter states that "The team at Monarto has been working on the 500 hectare open plain area preparing for the arrival for the rhinos for several years. The property has been regenerated and planted with vegetation suitable for the rhino population and significant effort has been put into creating an environment that emulates the wild in Africa. The … fencing is well progressed and driving along the boundary fences definitely gives you the impression that you are in Africa."
Could you detail the vegetation species you have planted? 
TARP: The preparation of the open plain area has been conducted over the past 3 years and has been a significant process, including revegetation via 60,000 tube stock planted for 'buffering' the 560ha project site together with 75kms of direct seeding. Perennial Veldt Grass has been seeded in conjunction with tall wheatgrass. Extensive clean-up of existing Mallee vegetation areas on site.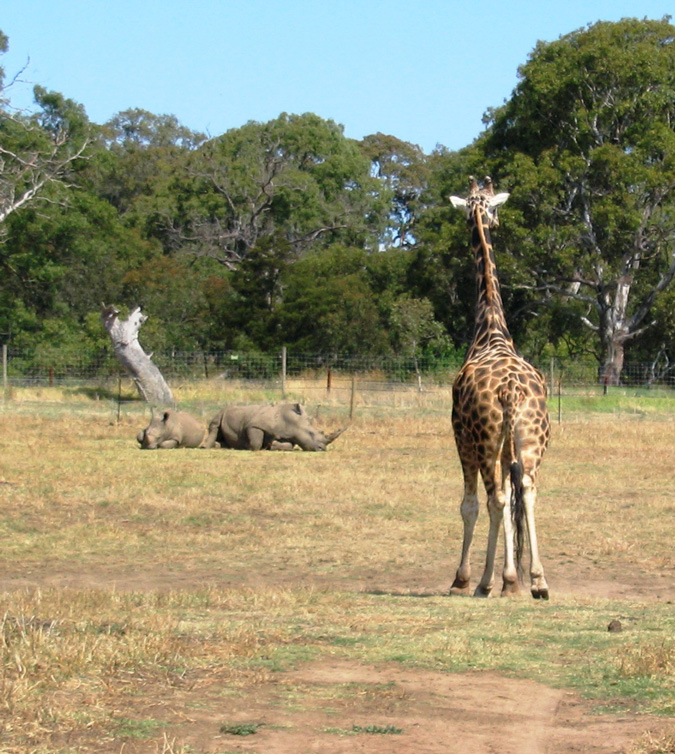 5. Donations:
Your website states that "Your donation goes to the costs associated with relocating and managing the rhinos. "
The 2015 and 2016 financials provided on your website reflect that you have raised almost $1,5m (AUD) and spent almost $900,000 of that during that period. Could you provide more details on what the $900,000 was spent on, and how this reconciles to the above quote that money will only be spent on relocating and managing the rhinos? Also, your website suggests that you will need $8m (AUD) in total, and yet so far you have spent most of the $1,5m raised and have no rhinos. Will you be revising your estimated required amount?
TARP: Costs incurred during the stated financial period are for the following items: Fundraising events, Wild Africa construction costs, part-time project managers, merchandise purchases for our retail store, insurances and administrative fees such as credit card and payment gateways.
All of the directors on the board operate pro-bono and we also have a pro-bono treasurer, company secretary and volunteer team. The Australian Rhino Project is registered with the Australian Charity and Not for Profits Commission, the Australian Securities and Investment Commission and the Australian Taxation Office. We submit audited accounts each year to the ACNC.
6. Expertise:
The gentleman featured in the video (referred to in my introduction) claims that you have experts who 'know everything about the way we live' (he was speaking in the first person as a rhino!). Could you provide the names and relevant track records of those experts?
TARP: Rhino populations have existed within Australia for well over 30 years with a more concerted effort regarding species conservation happening from 1990 onwards. These rhino populations are managed under species management plans that have teams of qualified and trained conservation and species experts who have studied and worked directly with rhino populations for decades.
Many individuals who work alongside these rhino populations have been, in some cases, working with rhinos for between 20 and 30 years. There have been successful births of southern black, southern white, and greater one-horned rhinos in Australia. The expertise that has been developed in rhino conservation is now also contributing to assisting with conservation efforts in other locations including black rhino projects in Zimbabwe, operations of rhino orphanages in Africa and sharing of knowledge conservation NGO's such as the International Rhino Foundation. We do not feel it necessary or appropriate to provide you individual names of these people and details of their employment.
In conclusion, I doubt that the export of 80 rhinos from South Africa to Australia will materially affect local populations. I also have no doubt that these rhinos will be well looked after in their strange new home. But will this project help wild African rhino populations at some time in the future? I seriously doubt it. Could the substantial cash required to fund this project into the future be better spent in Africa, keeping wild rhinos safe? Hell yes.
Also read: Kruger rhino poaching update: 75% population reduction in 10 years
To comment on this story: Login (or sign up) to our app here - it's a troll-free safe place 🙂.

---
HOW TO GET THE MOST OUT OF AFRICA GEOGRAPHIC:
Travel with us. Travel in Africa is about knowing when and where to go, and with whom. A few weeks too early / late and a few kilometres off course and you could miss the greatest show on Earth. And wouldn't that be a pity? Browse our famous packages for experience-based safaris, search for our current special offers and check out our camps & lodges for the best prices.
Subscribe to our FREE newsletter / download our FREE app to enjoy the following benefits.
---