OPINION EDITORIAL:
It is now legal in South Africa to trade domestically in rhino horn, after this country's Constitutional Court recently overturned an eight-year ban on domestic trade, based on a technicality. This will surely help drive rhinos to extinction in the wild.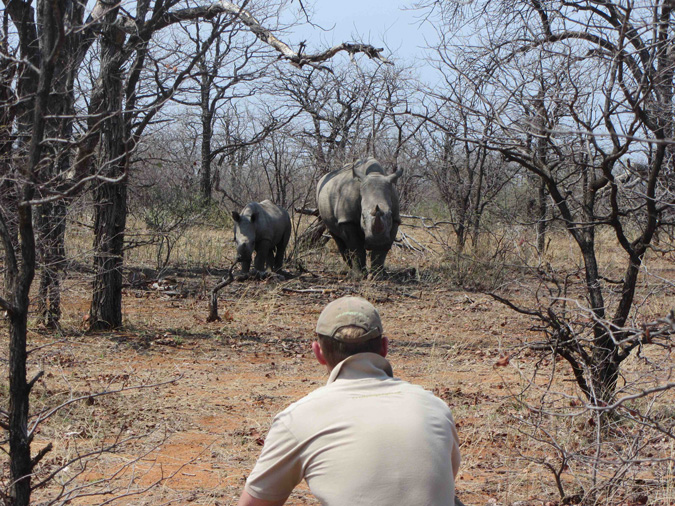 The barn door is now wide open for the legal siphoning of horns out of the country and into the bottomless pit that is the Asian markets, because of new loosely worded regulations with holes large enough to drive a tractor through. For details on how easy it is now to syphon horns out of the country read Rhino Bombshell. Juxtapose that information with South Africa's growing reputation for fraud and corruption at the highest levels, and ask yourself how confident you feel that regulations will be respected.
Some would argue that the demand for rhino horn in South Africa is very low and that local trade won't be strong. Fear not, because human nature is such that a resource sitting in one country will soon find itself in another country if the incentive is strong enough. And we all know that international borders are notoriously porous when it comes to illicit goods. And in any case, local rhino owners can now legally send two horns out for every willing foreign national they can find to carry them out of the country for them (only for their personal use, of course).
And of course, feedlot rhino farmers like John Hume (who according to BBC News owns about 1,400 rhinos) are laughing all the way to the bank. Don't for one minute confuse rhino feedlot farming with conservation of wild rhinos – the two have nothing  to do with one another, despite what the intensive pro-trade PR campaign may have told you. BBC News also claims that Hume has five tons of rhino horn in his vaults from the regular dehorning of his private herd. They also suggest that horn is priced at about $90,000 per kilogram. Even the calculator on my phone can work out that his stock is worth $450 million.
Plans by South African private rhino owners to set up a central selling organisation (like De Beers did, to manipulate diamond prices) and encourage commodity speculators to buy and sell horn puts smiles on private rhino owner faces, and drives terror into the hearts of those who understand how financial instruments disconnect from the underlying commodity and drive processes that cannot be understood or controlled. Let's roll the dice with wild rhinos then.
Hume's feedlot farming aside, my concern is this: Selling farmed horn will not reduce demand for wild rhino horn. It's no secret that the Asian market prefers wild product to farmed product, and so there will be no let-up on the pressures that our conservation teams across the country face from the international criminal gangs that are stripping our wild areas of rhinos. And it's also no secret that creating legal channels will help stimulate demand, and provide a convenient channel through which to launder illegal horn.
I believe in sustainable utilisation that is well-regulated and ethical, when the model holds up to stress testing and will ultimately benefit populations of animals in the wild (as opposed to in feedlots). Rhinos in feedlots are easy to protect, those in the wild are not. Ask any SANParks game ranger.
It boils down to this: Permitting trade in rhino horn will generate extraordinary wealth for a select few private rhino owners who are already rolling in cash. It will also increase poaching of our wild rhinos and hasten this wonderful creature towards extinction in the wild.