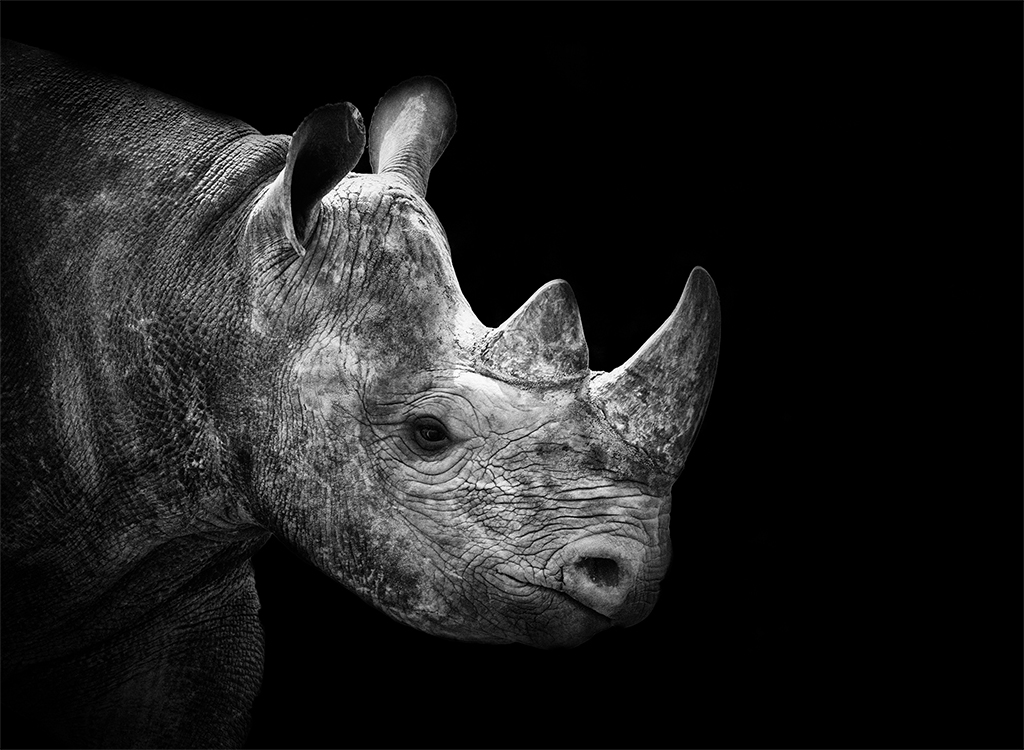 In November 2022, the 19th meeting of the Conference of the Parties (CoP19) to the Convention on International Trade in Endangered Species of Wildlife Fauna and Flora (CITES) will be held in Panama. In preparation, the African and Asian Rhino Specialist Groups of the International Union for Conservation of Nature (IUCN) and non-governmental trade monitoring organisation TRAFFIC were tasked with compiling a report on the status of the world's rhinoceros species. The resultant report's 90 pages contain the most up-to-date and comprehensive analysis of rhino numbers, trends, poaching incidents, conservation measures and trade at a national and international level.
This article summarises the report's main findings on population numbers and poaching statistics, which are accurate up until the end of 2021. Though the report contains information about African and Asian rhino species, we focus purely on the data for African species. All numerical data, such as population counts, should be considered estimates within a confidence interval unless otherwise stated. Poaching rates are based on the number of detected carcasses, adjusted for imperfect carcass detection.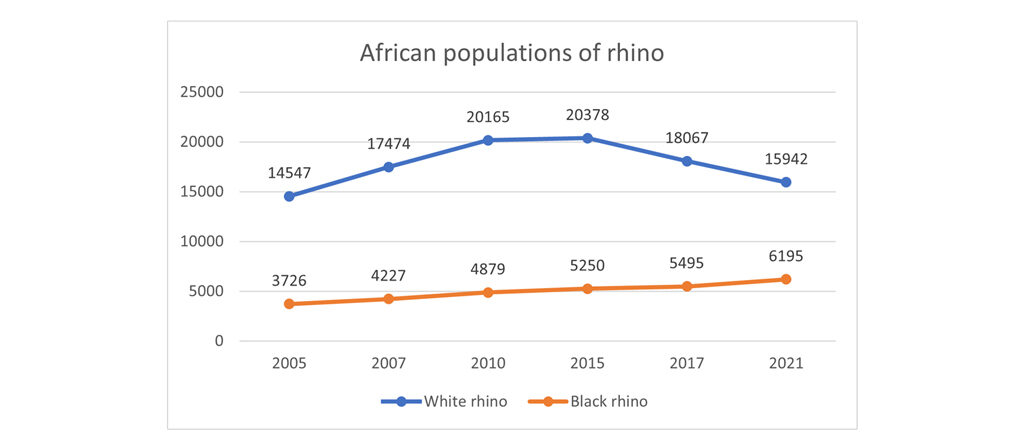 In summary:
There are an estimated 15,942 white rhinos in Africa, 11.8% lower than the 18,067 individuals at the end of 2017. Since 2012, white rhino numbers on the continent have declined by 25.2%.

Four range States conserve the largest proportion of the continent's white rhinos: South Africa (81.3%), Namibia (7.7%), Kenya (5.5%) and Zimbabwe (2.6%).

Total black rhino numbers have risen 12.2%, from an estimated 5,495 in 2017 to 6,195 at the end of 2021.

The four range States that conserve the largest proportion of the continent's black rhinos are Namibia (34.8%), South Africa (33.2%), Kenya (15.1%) and Zimbabwe (9.9%).

2,707 poaching incidents were recorded in Africa from 2018 to 2021. 90% of these occurred in South Africa. This represents an overall decline from 3.9% of the continental population in 2018 to 2.3% in 2021. Peak poaching levels of 5.3% were observed in 2015.

Several countries, including South Africa, recorded a decrease in poaching during the 2020 pandemic but then reported a rise again in 2021. However, the report acknowledges vigorous law enforcement and conservation efforts within several range states.

The number of horns entering illegal trade from 2018 to 2020 was estimated at between 4,593 to 5,186, with over half recovered through law enforcement activities. The 2018 to 2020 figures represent the lowest annual estimate in the past decade. However, this could be partly attributed to the 2020 pandemic.

In terms of illegal trade volume, the seven countries most affected by the illegal trade in rhino horn from 2018 to 2020 are (in order): South Africa, China, Vietnam, Malaysia, Mozambique, the United Arab Emirates and Qatar. (Total weight and number of horns seized in each country, as well as seizures where the country was implicated as part of the illegal supply chain.

Botswana was noted with concern due to the significant decline in the rhino population and unconfirmed reports of high levels of poaching in 2021.

From 2018 to 2021, there were 1,588 arrests made for crimes involving rhinos across Africa. 751 of these cases were prosecuted, and just 300 resulted in convictions. 

South Africa and Namibia reported a total of 236 white rhinos and eight black rhinos legally trophy hunted from 2018 to 2021.

South Africa
South Africa is home to the majority of white rhinos on the continent; as such, the country's conservation contributions exert considerable influence on continental trends. White rhino populations in South Africa declined from 15,625 at the end of 2017 to 12,968 at the end of 2021, the lowest population since pre-2005. More than half of these are privately owned. While the country's white rhinos accounted for 86.5% of Africa's population in 2017, this has declined to 81.3% in 2021. The country's total black rhinos are estimated to number 2,056 individuals, an increase of ten since 2017.
South Africa experienced peak poaching levels in 2014 when 1,215 rhinos were killed, after which poaching incidents gradually declined. 2020 saw a decade low of 394 rhinos killed, which increased to 451 in 2021. As of August 2022, 259 rhinos have been poached throughout the country for the year, most of which were killed in KwaZulu-Natal province. From 2018 to 2020, 1,116 whole horns were seized, representing at least 558 individual rhinos and around 4% of the surviving population in 2021.
Trophy hunting of both rhino species is legal in South Africa and Namibia. During the reporting period, 72 rhinos were legally trophy hunted in South Africa in 2018, 58 in 2019, eight in 2020 and 102 in 2021. This equates to a harvesting rate of between 0.37% and 1.78% of the country's remaining population. Namibia reported that 17 white rhinos were trophy hunted in 2019 and 22 in 2021, along with three black rhinos from 2018 to 2021. The report notes that the revenue raised from these trophy hunts is important in supporting conservation costs, with hunting revenue ranging from US$15,000 to US$300,000 per rhino (black rhino hunts being substantially more expensive than white) in Namibia (South Africa did not report prices for trophy hunts).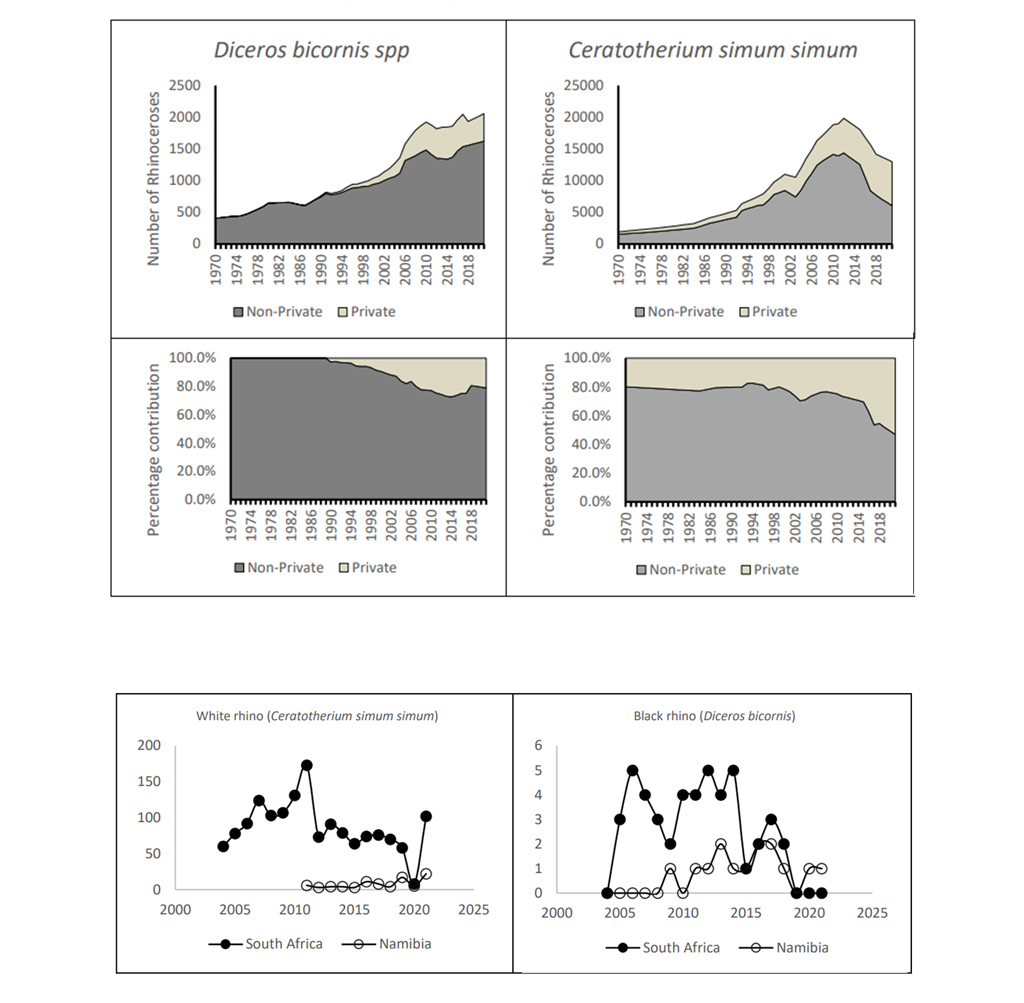 Namibia
Namibia reported an increase in black and white rhino populations over the four-year reporting period, from 975 to 1,234 white rhinos and from 1,857 to 2,156 black rhinos at the end of 2021. After South Africa (which reported 90% of all poaching incidents in Africa), Namibia recorded the second highest poaching figures in 2021 – 40 rhino carcasses detected, equating to 8% of approximately 554 rhinos poached across the continent. At least 93 rhinos were poached in 2018, 56 in 2019 and 40 in 2020. A total of 32 seizures yielded an estimated 57 whole horns from 2018 to 2021. Though not included within the report, recent numbers from Namibia indicate a concerning rise in poaching incidents for 2022, which experts suggest is due to a shift in focus by criminal syndicates. By August 2022, 48 rhinos had been poached in Namibia, 11 of which were killed over two weeks in June.
During the reporting period, Namibia reported an estimated US$1,237,575 raised through trophy hunting. The country has once again submitted a proposal for the downlisting of white rhinos from Appendix I to Appendix II (South Africa and eSwatini are currently the only two countries where white rhinos are listed on Appendix II). This would ease export restrictions for legally hunted trophies and the movement of live animals. The ten-page proposal indicates that the movement of live animals would be conducted only for in-situ conservation.
Kenya
Kenya has the third highest number of rhinos in Africa. At the end of 2021, it was home to 15.1% (938) of Africa's black rhinos and 5.5% (873) of the continent's white rhino, including the last two remaining northern white rhinos (Ceratotherium simum cottoni). Both black and white rhinos have increased overall since 2017, from 745 black rhinos and 513 white rhinos. Kenya's black rhinos are the eastern black rhino subspecies (Diceros bicornis michaeli), making it home to the largest population of the least numerous black rhino subspecies.
There were no known poaching incidents in Kenya in 2020, but six rhinos were poached in 2021. Before that, four carcasses were detected in both 2018 and 2019. Three seizures representing an estimated four whole horns were made from 2018 to 2020.
Zimbabwe
Zimbabwe's rhino populations have increased since 2017, from 367 to 417 white rhinos and from 520 to 616 black rhinos at the end of 2021. Poaching levels peaked in 2019 when 82 carcasses were discovered, followed by 12 in 2020 and four in 2021.  Six seizures were made over a three-year period from 2018 to 2020, amounting to an estimated 19 whole horns. The country is in the process of dehorning its entire rhino population.
Botswana
Botswana did not provide the compilers of the report with information on population breakdowns, poaching data or law enforcement activities for 2021 – the only rhino range state not to do so. Their rhino population has been decimated from 452 white and 50 black rhinos in 2017 to 242 white and 23 black rhinos (a 46% and 54% decline, respectively) in 2021. Poaching incidents began to escalate in 2017 when nine rhinos were killed, followed by 18 in 2018, 31 in 2019 and 55 in 2020. The authors suggest that poaching levels in 2021 were likely similar to those of 2020. Two seizures equating to four whole horns were made from 2018 to 2020.
Despite this, Botswana has also proposed downlisting white rhinos to Appendix II.
Mozambique
Mozambique is an important transit country in the illegal trade of horn, supplied by poaching incidents in neighbouring South Africa. 75% of the seizures in the country (where the destination could be identified) were destined for Vietnam. The report did not mention the recent translocation of over 40 white and black rhinos to Zinave National Park from South Africa in 2022.
Additional country information in rhino populations
A new white rhino population of 30 individuals from South Africa was established in Akagera National Park in Rwanda at the end of 2021. The country's reintroduced black rhino population has grown from 19 at the end of 2017 to 28 at the end of 2021. Zambia's black rhino population grew from 48 to 58 in four years, but the white rhino population is now estimated at just eight individuals. Uganda's rhinos were driven to extinction in the 1980s, but a small sanctuary is now home to a growing population of 35 white rhinos. Tanzania's white rhino population is extinct, but the country reported an increase in black rhinos from 160 to 212. This can be partly accounted for by the translocation of rhinos from South Africa to Serengeti National Park in 2019. eSwatini (formerly Swaziland) has a population of 98 white and 48 black rhinos. The countries above all reported zero detected poaching incidents in 2020 and 2021.
A full breakdown of Africa's rhino populations by country can be found in Table 2 on page 25 of the report.
Final thoughts on the state of Africa's rhinos
The new report by the IUCN and TRAFFIC contains a comprehensive analysis of rhino numbers and poaching statistics across Africa and Asia but also details conservation measures, horn stockpiles, national and international law enforcement efforts, education initiatives and challenges. The exact impact of COVID-19 restrictions on the rhino horn trade is unknown. However, Sabri Zain, TRAFFIC Director of Policy, emphasised that "2020 did represent an abnormal year with low levels of reported illegal activity, law enforcement, and government reporting". As such, the report strongly urges the continued and consistent monitoring of illegal trade.
Furthermore, most of the remaining rhinos are found in small populations, with a median reported population size of nine. 94.7% of Africa's rhino populations comprised fewer than 200. As a result, they are particularly vulnerable to stochastic processes such as droughts and disease. While the overall decline in poaching is encouraging, it remains the single greatest threat to Africa's rhino species, and recent increases are a cause for considerable concern.
Further Reading
For a better understanding of CITES, read this: What exactly is CITES and how does it work?
For more on Botswana's apparent lack of transparency, see Rhino poaching in Botswana – why the smoke and mirrors?
On Kruger National Park rhino poaching: Kruger rhino poaching update: 75% population reduction in 10 years
To comment on this story: Login (or sign up) to our app here - it's a troll-free safe place 🙂.

---
HOW TO GET THE MOST OUT OF AFRICA GEOGRAPHIC:
Travel with us. Travel in Africa is about knowing when and where to go, and with whom. A few weeks too early / late and a few kilometres off course and you could miss the greatest show on Earth. And wouldn't that be a pity? Browse our famous packages for experience-based safaris, search for our current special offers and check out our camps & lodges for the best prices.
Subscribe to our FREE newsletter / download our FREE app to enjoy the following benefits.
---