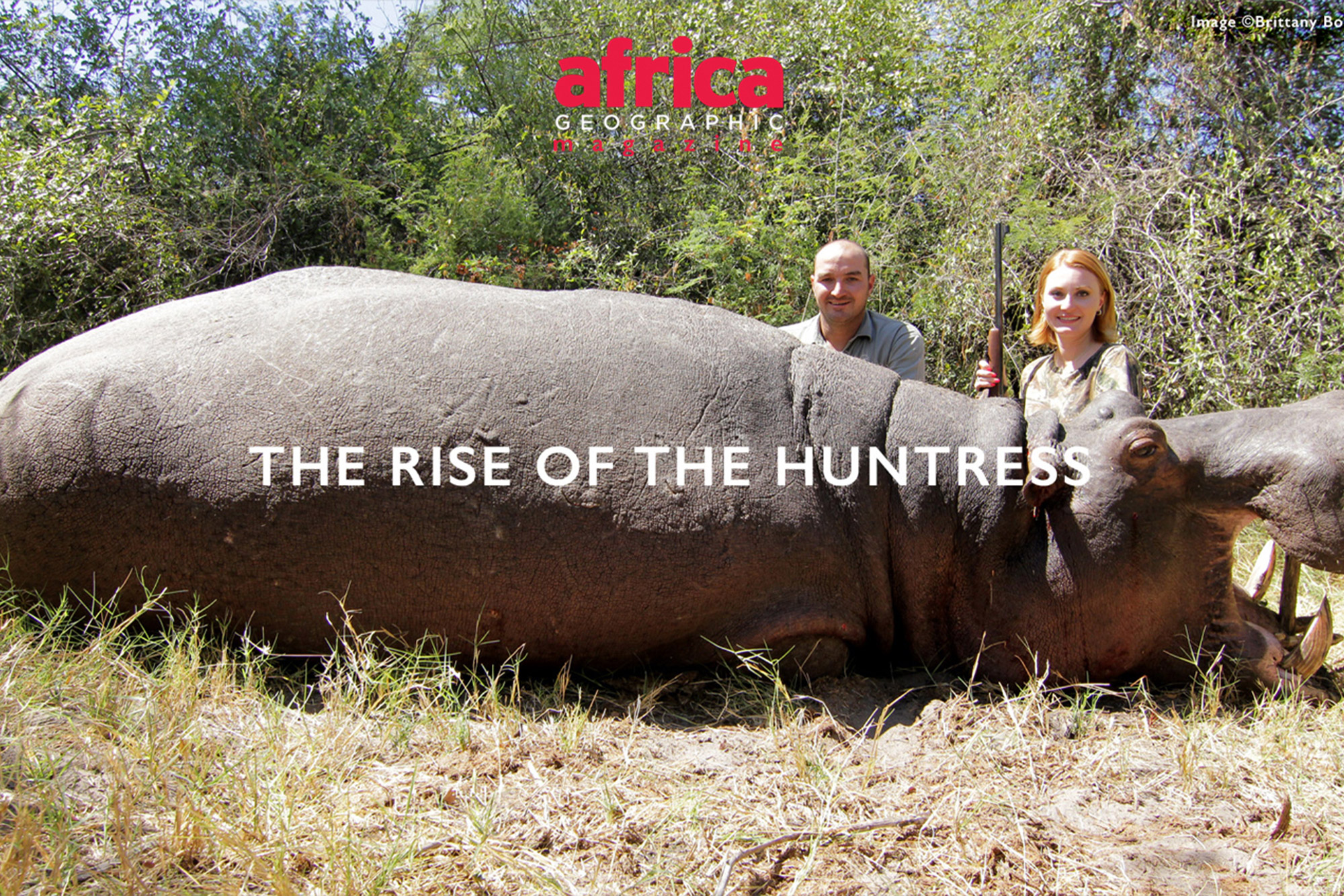 A COMMENTARY ON THE RISING POPULARITY OF HUNTING AMONG WOMEN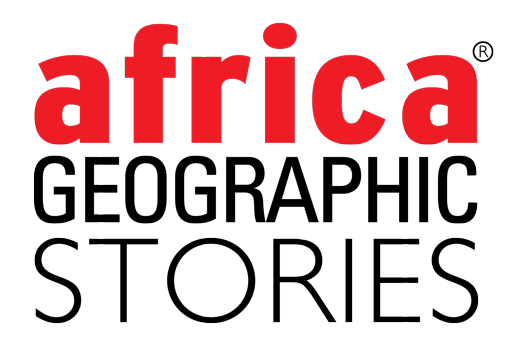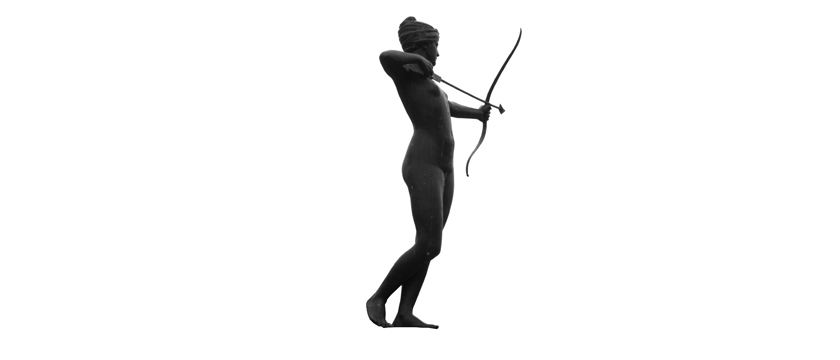 While working at Africa Geographic I have been privy to every side of the hunting debate. Though no-one in the office hunts, and many of us have moral and evidence-based objections to trophy hunting in particular, there are times when we can understand the merits of some forms of hunting.
Leading conservationists have shown how hunting, if managed correctly, can indeed benefit communities and wildlife populations in areas where tourism does not appear to be a viable option. And I can understand why people hunt – the thrill of the chase, a sense of accomplishment, satisfying a primal urge that exists in us all, or to harvest a natural food source. In a Hollywood-esque moment I can even picture myself clad in tight camo, weaving my way through the forest undergrowth, bow and arrow poised while my hair blows in the wind. But that is where my fantasy ends, because looking into the eyes of a magnificent creature, and then killing it, doesn't fit into my movie.
But in an effort to understand women hunters I decided to explore their history and rationale. From women who hunt for food, to those who hunt for the thrill and the trophy, each is truly different; each forms part of the history of the huntress and lends insight into who she is today.
The idea of the huntress is nothing new. In classical times, the goddess of the hunt (Diana to the Romans and Artemis to the Greeks) was not only lauded for her prowess with a bow, but also for her beauty, fertility and vulnerability. Throughout history prominent women have stood alongside male hunters, equipped with bows or high powered rifles. Elizabeth I of England was a keen hunter in the 1500's, as were the ladies of Louis XIV's court and Queen Anne of Denmark in the 1600's; George Washington's wife, Martha, in the 1700's, and so on right up to Sarah Palin, who proudly demonstrates her hunting skills to – perhaps – bolster her image in the rough world of American politics.
To some it may seem that these women fall into affluent societal groups where animal life seems to hold less value, and hunting is an entertaining sport. But many of the women involved in hunting throughout history are seen as bold, brave figures who stood for freedom in an oppressive age, fended for otherwise forsaken families, and lent gravitas to feminist movements and women's rights – and did so with grace and aplomb.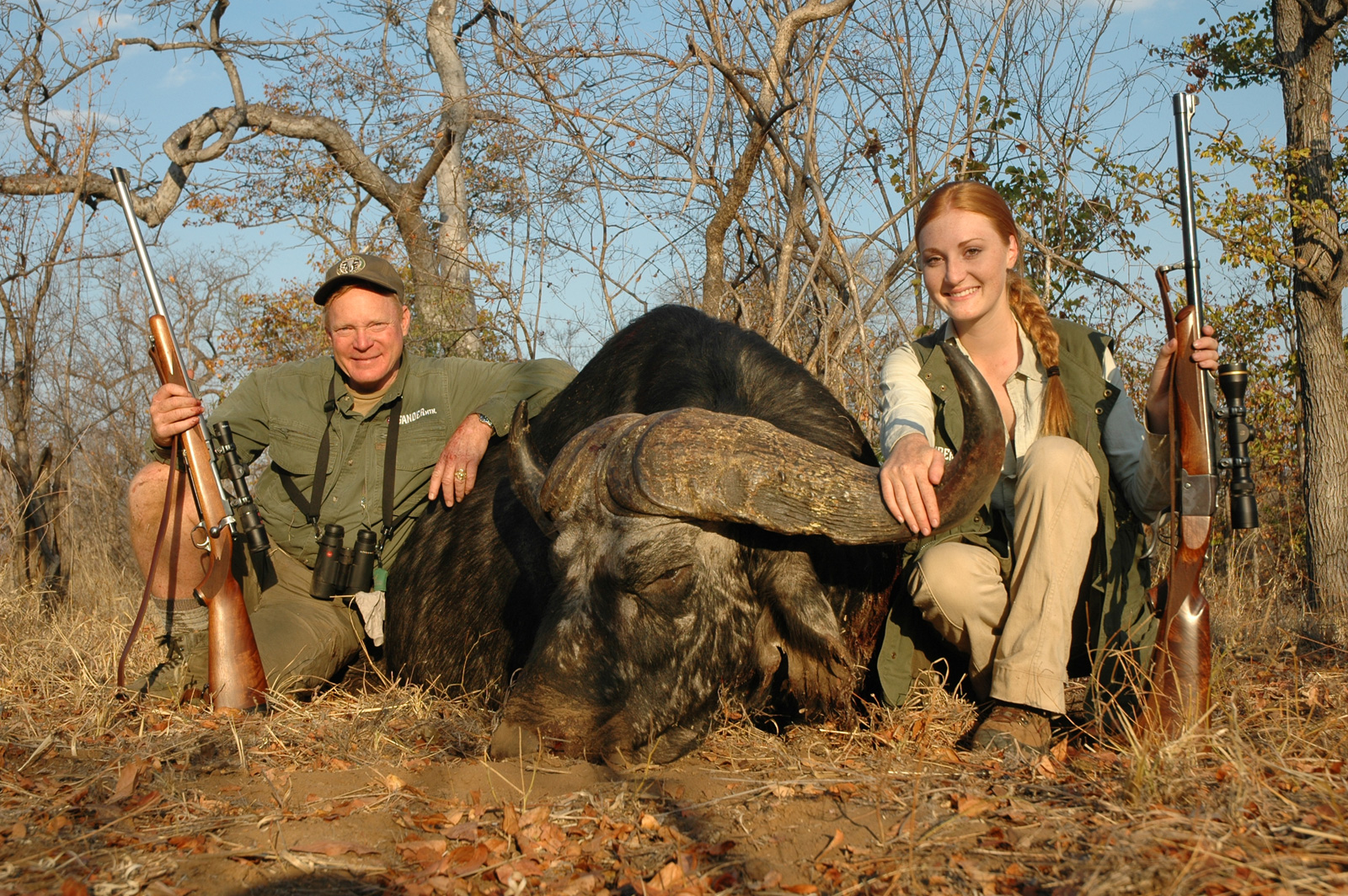 Some women rose to prominence by hunting for necessity. Take Annie Oakley for example. Among many others of her time, she started hunting as a young girl to provide for her family during tough times. And this holds true in the USA even today. Surveys show that the number of women hunting has risen from roughly 1.2 million between 1996 and 2006 to 1.5 million in 2011. Richard Aiken, Natural Resource Economist at US Fish and Wildlife states, 'We are not sure why there was such an increase, but our educated guess is it had to do with the low ebb in the economy. Unemployed and underemployed people had more time to hunt.' And, on the other side of the world, women of the Australia's Aboriginal Martu tribes hunt extensively – mostly, smaller animals that are shared with children and other women to maintain cooperative relationships.
If there ever was a lull in women's hunting it was when men were hunting one another. In her book, Heart Shots, Women Write about Hunting, Dr. Mary Zeiss Stange writes that American women were often featured in hunting publications like Forest and Stream before World War II, but during the war they assumed more traditional roles, nurturing roles.
Read more below the advertisement

But the sexuality of the Diana/Artemis hunting goddess is a familiar archetype in popular culture. Examples include the 1947 release of the sexy DC Comic, The Huntress, followed by the self-sacrificing, rebellious bow hunter Katniss Everdeen in The Hunger Games, and the new-style Disney princesses. Unlike the sweet, subservient Cinderella and other traditional damsels in distress, these strong, taciturn women, like Princess Merida in Brave, have more time for a bow and arrow than a man.
Whether it's the influence these characters have had on real life, or that real life trends have inspired these characters, it is true that hunting, and particularly archery, have become increasingly popular with the fairer sex. In 2013, Jay McAninch, president and CEO of the US-based Archery Trade Association, stated that one third of all archery participants were women.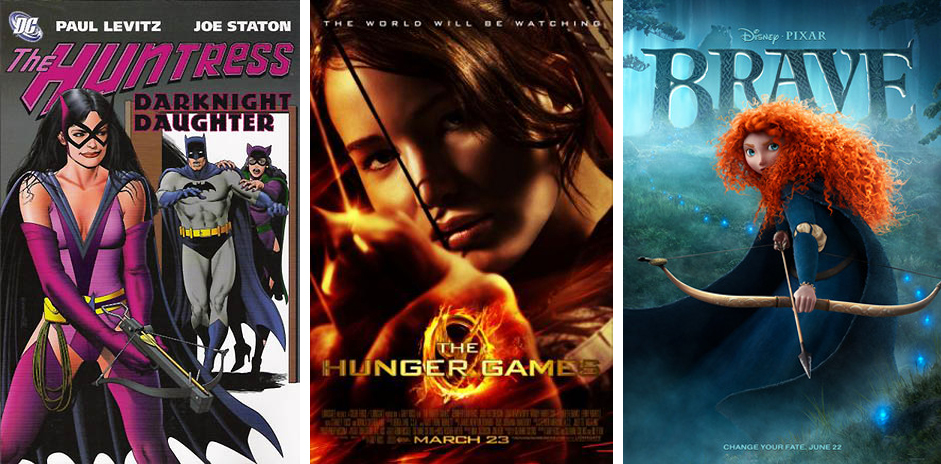 The US Fish and Wildlife Service reported a 25% increase in the number of women that hunted between 2006 and 2011, making up 11% of the total US hunting population, and the Pennsylvania Game Commission found a 20% increase in the number of female hunters between 2009 and 2012. Roberta Owens, the membership manager for the Dallas Safari Club, told me that 25% of their members are female. And it's not just the US that's seen an increase in women hunting. Enter Japan's new hunting buzzword, kari-gaaru, which means 'hunting girls'. According to Japan's Environment Ministry the number of women in the hunting industry grew significantly during the first decade of the 21st Century, despite the overall number of hunters decreasing over these years.
But this trend is nothing new. In his 1877 book Fox-hound, forest, and prairie, Captain Pennell Elmhirst wrote, 'It will, I think, be admitted by everyone that the number of ladies who hunt now is at least tenfold as compared with a dozen years ago.'
The increase in women who hunt has led to the establishment of a number of organisations, such as the US-based Women in the Outdoors, which had over 10 000 members little more than a year after opening in 1998. A 2012 report from this organisation stated that, 'women have become the fastest-growing segment of the hunting and shooting community.'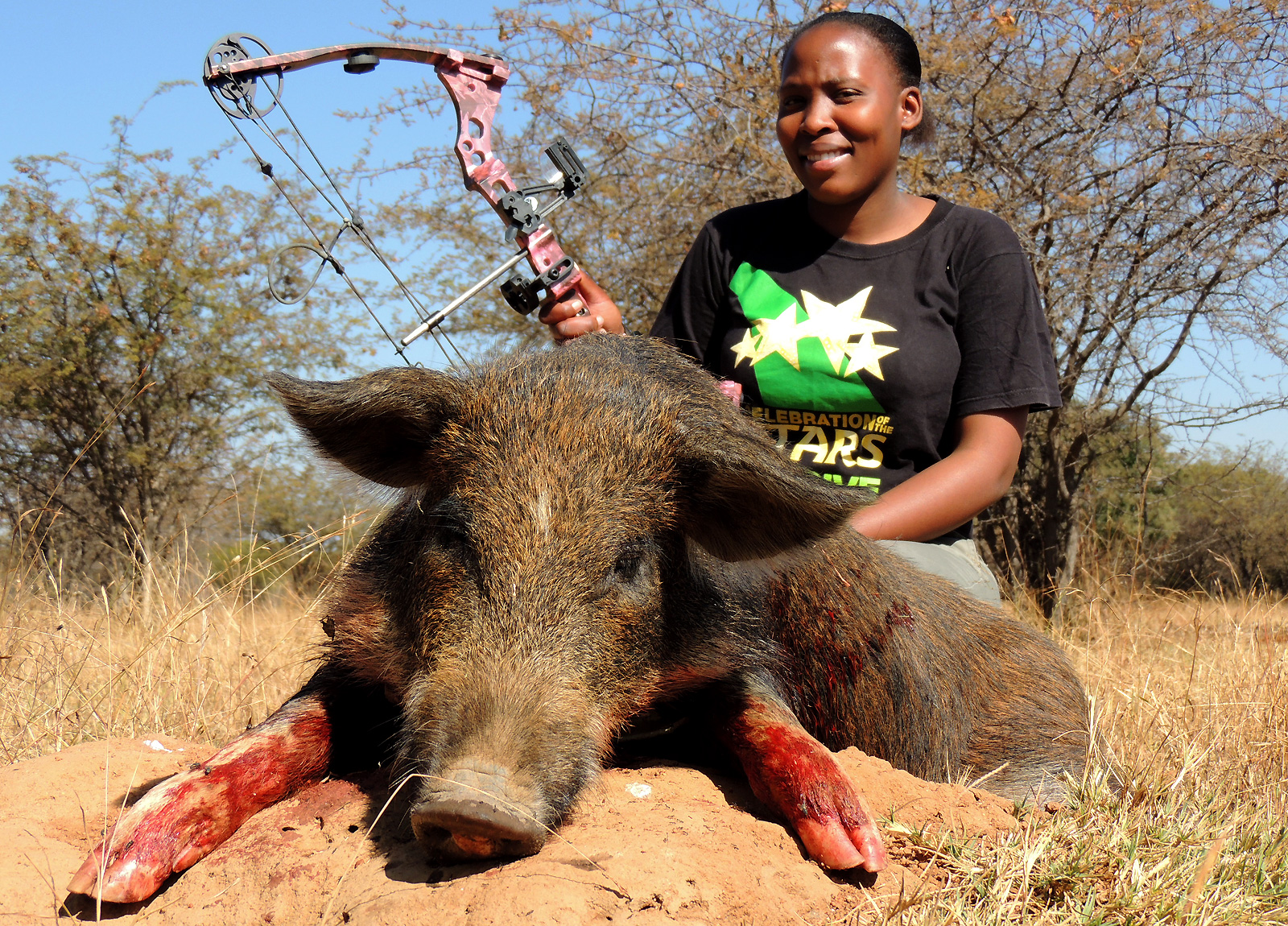 A number of companies now offer women-only hunting classes and trips. One such is Charmaine van Vuuren's Woman Hunt SA, which began operating in 2013. Van Vuuren says that her company is 'also involved in transformation, training of black professional hunters. In the intake for this year [2014] there were three black ladies who had undergone training and were successful in graduating as professional hunters, a first for the industry.'
Pink arrows, bow strings and camouflage are firm favourites
Ladies' hunting gear is now widely available with pink arrows, bow strings and camouflage coming out as firm favourites. Just look at the website Women Hunt Too, where you can buy a camo tee that boldly states, I don't wear bows… I shoot them! One statement I found from a former Mississippi State University student sums it up, 'I love my bow. It's camouflage and has all sorts of pink accessories on it. There are all sorts of colors. You can definitely make bow hunting girly.' A quick Google search will give a girl insights on how to make beer-basted rabbit or springbok pie, while articles like 10 ways to decorate with antlers lie within the same blog as bridal shower ideas and wedding details.
As the above blogs and recipes demonstrate, it's not all rough and tumble in the world of the huntress. There is something about a girl who can take care of herself that is undeniably appealing, but an air of femininity and vulnerability still underscores the huntress.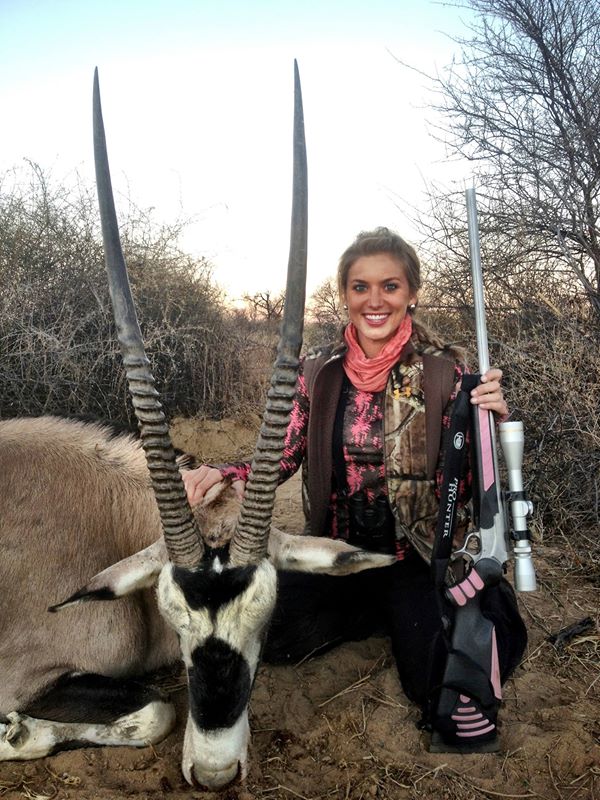 As per the hunting goddesses and Annie Oakleys of this world, and the Martu women who focus their hunts around community and children, fertility and family still seems to play a big role, particularly with subsistence hunters. And this filters down to mainstream movies like The Hunger Games, in which Katniss hunts to provide for her family, but still has respect for the natural world and an empathetic side with which girls all over the world identify.
Interestingly, a 2007 poll by Field and Stream showed that 25% of women hunters had hunted while pregnant. One particular writer on the site Muley Madness went as far as to comment that 'the cutest thing' he had ever seen was his 'wife, seven and a half months pregnant, strolling up a hill packing her Remington .308 with a big ol' smile on her face.'
Author of 'Call to the Mild: Learning to Hunt My Own Dinner', Lily Raff McCaulou, mentions family as an integral part of the hunt, "To hunt and butcher an animal is to recognize that meat is not some abstract form of protein that springs into existence tightly wrapped in cellophane and styrofoam. Meat is life. So I seek out recipes that make the most of it. I cook it with care. I share with friends and family. I make sure every bite gets enjoyed."
Marilyn Kite, Wyoming's first female state Supreme Court justice, and an instrumental player in Wyoming's inaugural Women's Antelope Hunt says it's a sense of fellowship that has women dreaming of the hunt, 'We've found it to be just great recreation, lots of fun, and the camaraderie of it is why you do it, really.'
Tiffany Lakosky of the hunting/outdoor travel TV show, Crush with Lee and Tiffany, echoes these statements in a National Geographic article, 'Women are realising how much fun hunting is and how close it can actually bring them in their relationships with their families.'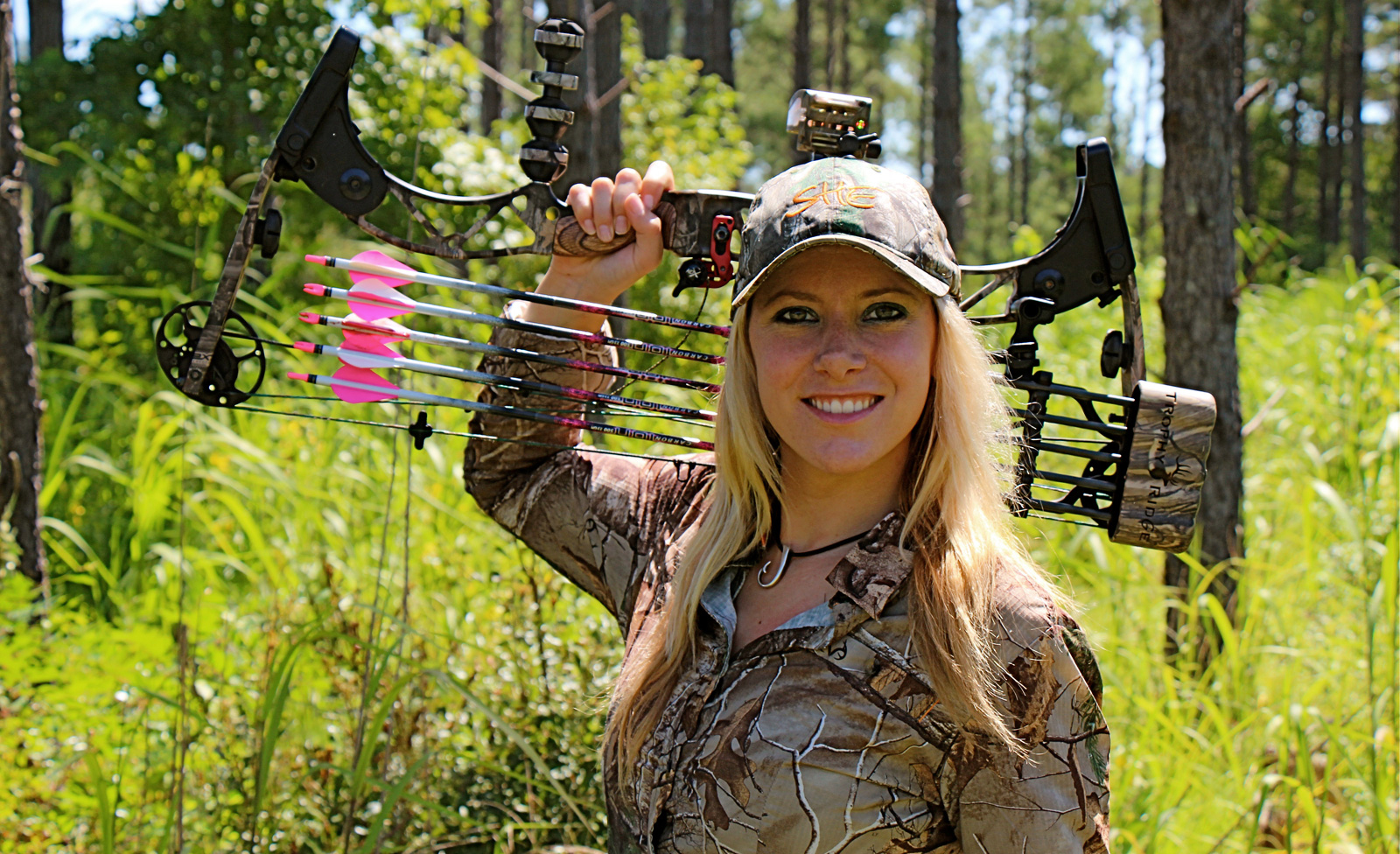 Social media and American TV channels are plastered with women like Tiffany leading hunting shows with titles like Dressed to Kill, Whitetail Freaks and Winchester's Deadly Passion, while Sarah Palin's Alaska sees "the first lady of the outdoors" enjoying some mother-daughter bonding over a spot of hunting and fishing.
For some huntresses, any publicity is good publicity
A sense of bonding and affinity for family don't seem to be the only draw card with trophy hunting becoming a new realm of the huntress. Some outspoken female hunters, such as Kendall Jones and Melissa Bachman, who bare perfect dentition as they pose smiling with fresh lion carcasses on social media sites, have become household names, but also the whipping girls of anti-hunting lobbyists. Jones stated in a recent interview with First for Hunters, 'I find it odd that only women have been targeted by these organisations. Why would these huge, powerful organisations go after me, a woman, a minority in the hunting community and attack me with their anti-hunting rhetoric? I am not the first to go on African safaris yet these groups attack me nonetheless.'
On the other hand, for women like Kendall, it seems any publicity is good publicity. Despite having to remove some of her hunting images from her Facebook fan page as requested by the social media giant itself, she has shot to fame garnering over 685 000 likes on her page since she launched it in February this year.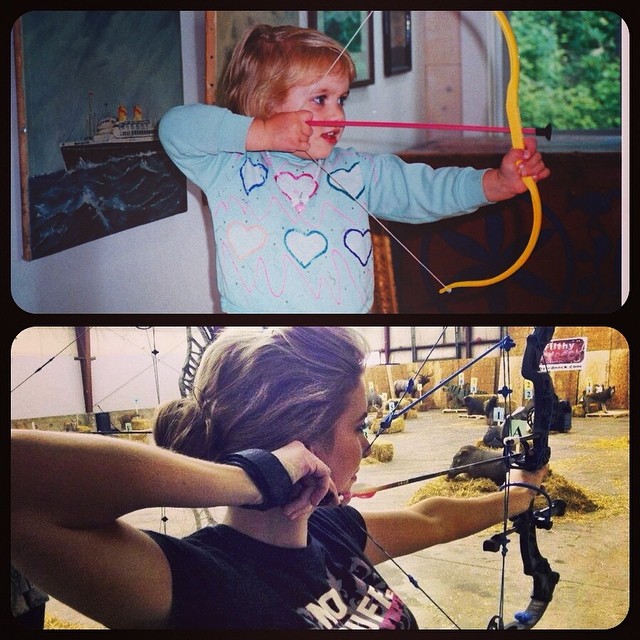 On the rise of powerful huntresses in the media, Larysa Switlyk, host of Larysa Unleashed on the Sportsman Channel and Destination America, says, 'It is a great thing because it is breaking the stereotypes on woman and showing the world we can hunt just as good or even sometimes better than men! Also, it is making it more acceptable to the general population that doesn't understand hunting.'
With movie hits like Hunger Games, shooting a bow now becomes cool and sparks an interest in girls to try hunting. Switlyk herself only started hunting at age 22 and, unlike many other female hunters, was not introduced to hunting by male family members despite having three older brothers. In fact no-one else in her family hunts and they were the first to criticise her when she took up hunting.
'Katniss is a good representation of female hunters. We're not what you expect.'
Brenda Valentine, spokesperson for the National Wild Turkey Federation in the United States put it all into perspective in a National Geographic article, 'Across the board, women are more independent than they've ever been, and they realise they are capable of hunting.'
And Mikayla Lewis, a 15 year-old huntress from Oregon, told CNN why it is that young girls look up to media-born hunting characters as role models, 'Katniss is a good representation of female hunters. We're not what you expect. We can be pretty just like any other girl, even if we're not afraid to get dirty.'
Perhaps we have come full circle to the goddess we worshipped in ancient times, a sensuous, strong woman who flirted and manipulated her way into our lives. It seems today's huntresses still hold the same appeal, no matter if they hunt for food or for fun. Love her for the woman she represents and the ideals she fights for, or hate her for the same reason. Either way, it seems the huntress is here to stay.

Contributors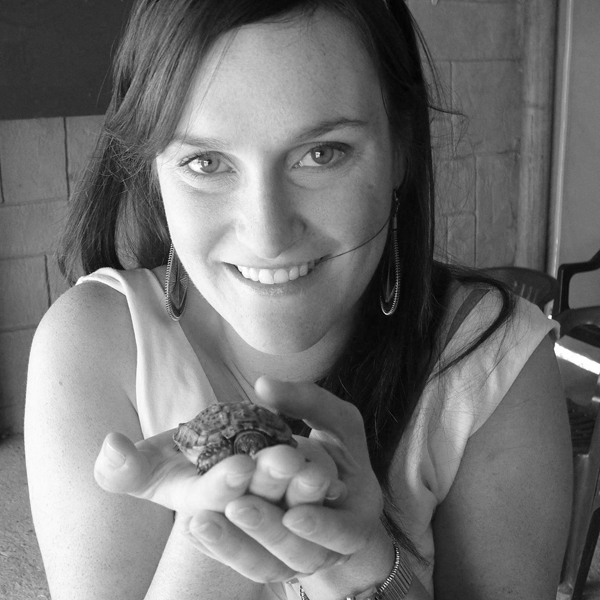 JANINE MARÉ is the first to confess that she has been bitten by the travel bug… badly. She is a lover of all things travel from basic tenting with creepy crawlies to lazing in luxury lodges; she will give it all a go. Janine is passionate about wildlife and conservation and comes from a long line of biologists, researchers and botanists. Janine is a former marketing manager at Africa Geographic.
To comment on this story: Download our app here - it's a troll-free safe place 🙂.

---
HOW TO GET THE MOST OUT OF AFRICA GEOGRAPHIC:
Travel with us. Travel in Africa is about knowing when and where to go, and with whom. A few weeks too early / late and a few kilometres off course and you could miss the greatest show on Earth. And wouldn't that be a pity? Browse our famous packages for experience-based safaris, search for our current special offers and check out our camps & lodges for the best prices.
Subscribe to our FREE newsletter / download our FREE app to enjoy the following benefits.
---