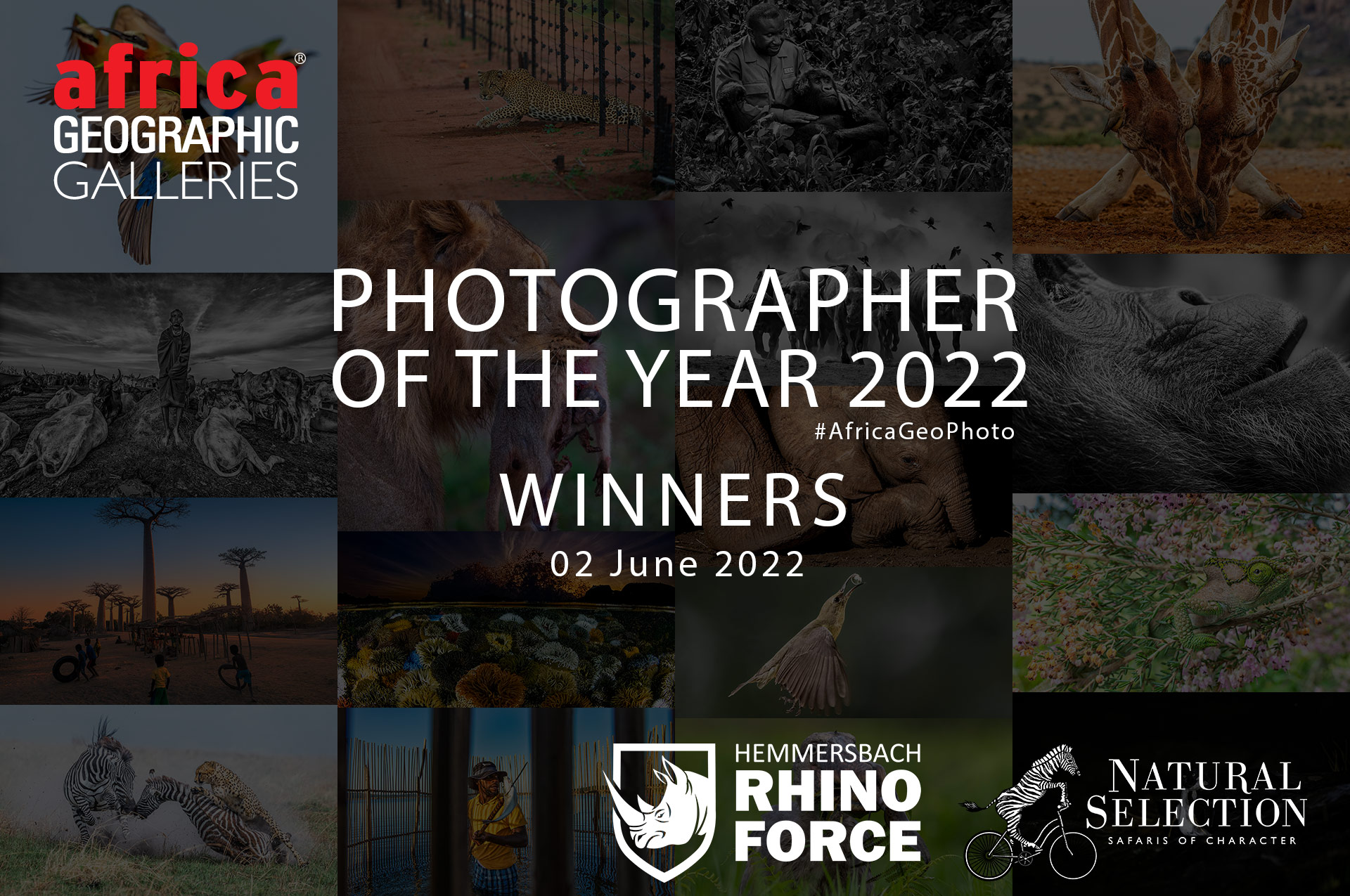 Photographer of the Year 2022 Winners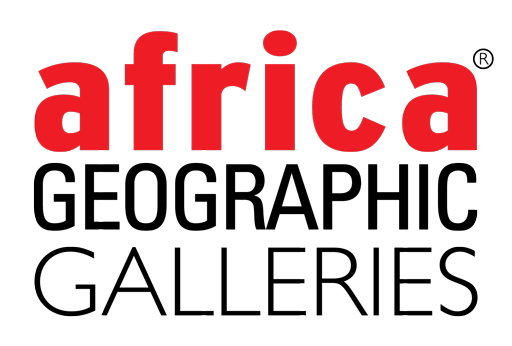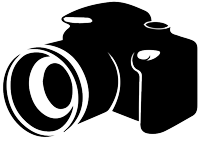 Announcing… ?? the winners of Photographer of the Year 2022 ??! We've waited on this moment with bated breath, and the results do not disappoint. The winner and two runners-up will share the princely sum of US$10,000 and join their partners and our CEO Simon Espley and his wife Lizz on the ultimate private safari in Botswana, where they'll take more wonderful snaps of our wildlife, landscapes and people.
Photographer of the Year is Proudly brought to you by Hemmersbach Rhino Force and Natural Selection.

A note from our editor
What a feat – we have reached the summit of Photographer of the Year 2022 – after traversing 7,389 glorious entries, which rendered 344 images selected in our weekly galleries. We've narrowed these wondrous images down to 14 highly commended, two runners-up, and one ultimate winner.
Over the past few months, we've witnessed authentic Africa come to life. We've been granted rare otherworldly glimpses into the ocean's depths and onto the peaks of the continent's tallest mountains, into rare species, ethereal treescapes, and some uncanny creatures in compromising positions. We've witnessed wondrous wildlife caught in junctures between survival and demise and in moments of calm and affection. We've been transported by visceral images of intimate human rites and rituals, and our understanding of the natural world has been tested and enlightened, igniting introspection and inspiration. From victorious wins to desperate losses, from new life to untimely death, we've realised that the great continent will never cease to surprise us. All of our entrants found themselves in precisely the right place at the right time, and through their skill and creativity, they have brought this magic right to us – and for that, we thank every one of you.
I gush over these enlightening experiences as it bears repeating that the selection process was tough. But our chosen winners are right where they belong. They have evoked emotion, told explicit tales and captured true Africa with artistic and considerate skill. Thank you to everyone who fearlessly laid the wares of your efforts and skill bare so that we may experience Africa as you have.
Lastly, we offer thanks and gratitude to our sponsors, Hemmersbach Rhino Force and Natural Selection, whose epic prizes are the most fitting reward for the endeavours of these excellent photographers.

WINNER – PHOTOGRAPHER OF THE YEAR 2022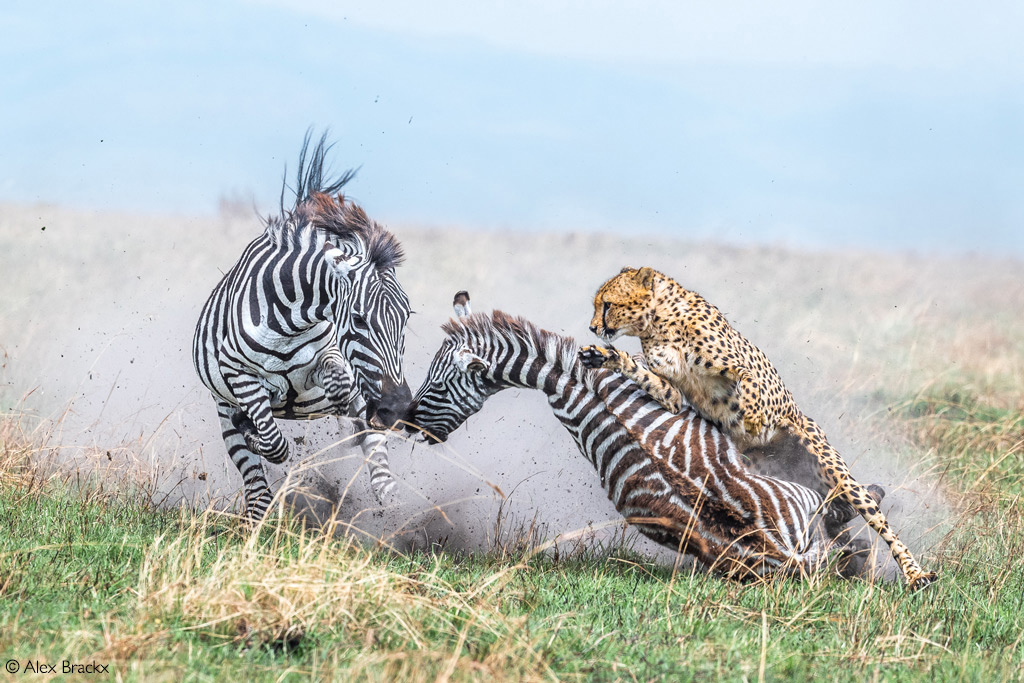 Judges' comment:
There is something about this dramatic capture of a split-second in the lives of this cheetah and zebras that transcends the many predation photos that we receive for consideration. The desperate battle for survival is etched on their faces, and a final goodbye between mother and child emphasises the raw emotional energy of the moment. This is the first predation photo to win Photographer of the Year.
Photographer and photo details – read more
"That morning, we decided to follow four cheetahs on the hunt. We followed them for hours. We passed herds of topis, gazelles, and zebras. We knew something was going to happen. When, five hours later, our Maasai guide whispered, 'they are going for the zebras,' I was convinced they would attack the topis or gazelles dotted across the valley. Seconds later, the cheetahs burst into a small group of zebras. One cheetah ran towards us, clinging onto a foal. In those seconds, I took this picture of the mother zebra launching a last attempt to push her foal away from the attacking cheetah. She failed. I will remember those last seconds for the rest of my life."
About photographer Alex Brackx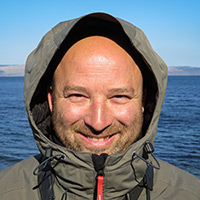 Alex Brackx is a wildlife photographer who teaches languages in Belgium. He started to pursue nature photography in 2010 while travelling in South and Central America. Through further travels in Asia, Belarus, Finland, and again South America, he began to hone his craft, travelling to film and take photos of wildlife. For Alex, it is a thrill to photograph his observations of animals, birds, landscapes, jungles, deserts and oceans.
Instagram: @alex_brackx_nature
---
RUNNERS-UP
(in no specific order)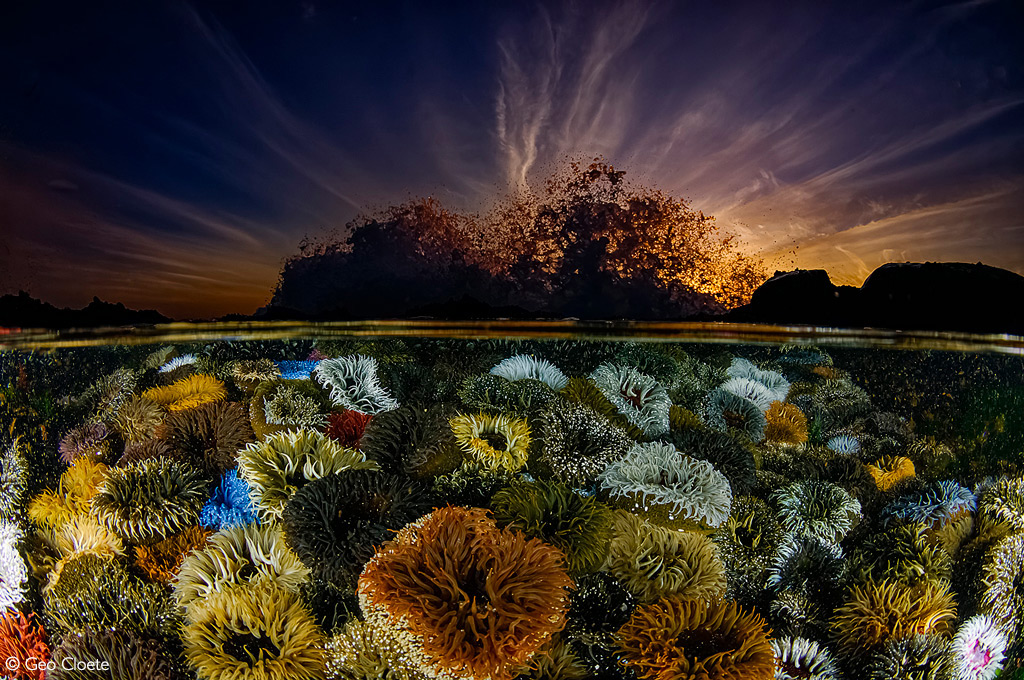 Judges' comment:
The explosion of colour against the restless energy of the waves, with backlighting courtesy of the sun, combine with the photographer's patience and technical skills to create an exceptional capture. The ocean's creatures are largely hidden from us, so otherworldly. This image helps us cross the divide; hopefully, enough of us will listen when we are told that our future depends on healthy oceans.
Photographer and photo details – read more
"Sandy anemones are native to the very shallow waters around the coasts of southern Africa. Those living in rock pools are greatly dependent on tidal and wave action for their survival. These actions bring nutrient and oxygen-rich water to these mostly stationary creatures. When there is not enough 'fresh' water, the anemones will close up, and the landscape will become rather barren-looking. But when these pools are full of water, a kaleidoscope of colours can be seen. It's as if they celebrate life as they are so vividly reminded about the fragile line between feasting and starving with each tidal change."
About photographer Geo Cloete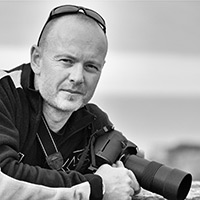 Geo Cloete is a multifaceted artist with a degree in architecture from Nelson Mandela Bay University. His photographic works have been recognised through various photographic competitions. Geo has completed award-winning works in architecture, jewellery, sculpture, and photography. As a life-long "aqua man" with an undying love for the ocean, it's been his passion to share the beauty, splendour and exquisiteness of the underwater world through his photographic projects. Geo strongly believes in the notion that we only love that which we know, and we only protect that which we love. In 2016, in recognition of his contributions to ocean conservation, Geo was selected as a partner for Mission Blue, an organisation that inspires action to explore and protect the ocean.
Instagram: @geo_cloete
Facebook: @GeoCloete
---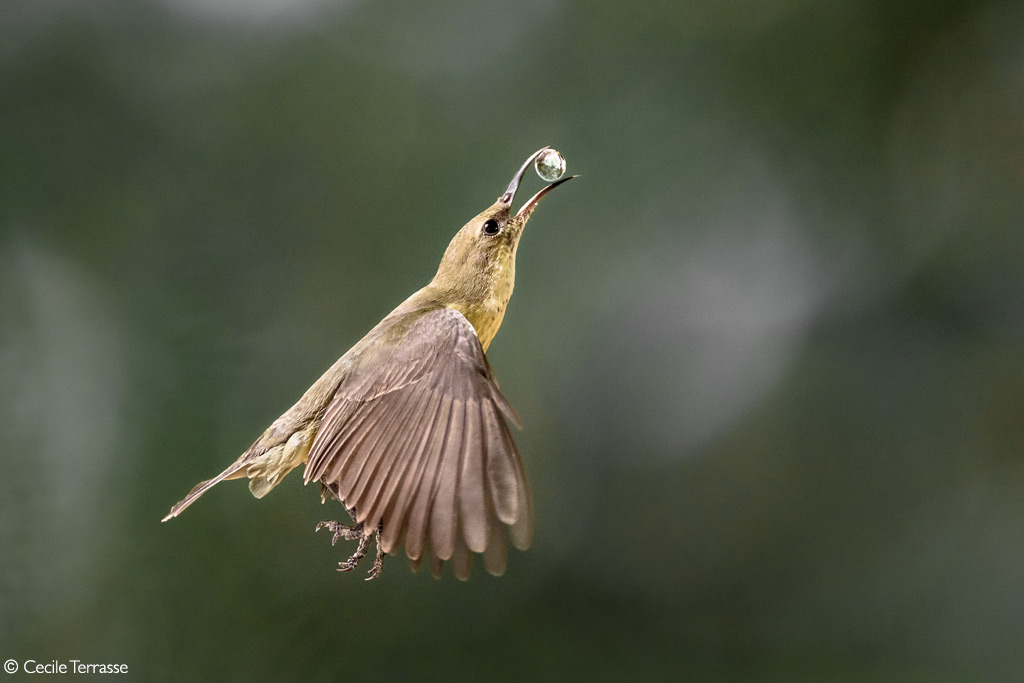 Judges' comment:
The mystical impression that this sunbird is carrying a drop of precious liquid to some sacred place makes this a unique capture. Of course, split-second timing was required, and the photographer spent ten days working the scene.
Photographer and photo details – read more
"I am passionate about bird photos, and during my trip to Senegal, I sprained an ankle. I could not walk for days. But I noticed that sunbirds were regularly coming to drink water at a pipe that had a leak. It seemed as if these birds preferred to drink this 'softer' water, as the water of the Sine Saloum River is very salty. For ten days in a row, I photographed these birds at that spot. Finally, I could capture the perfect moment, as this sunbird took this water droplet into its mouth."
About photographer Cecile Terrasse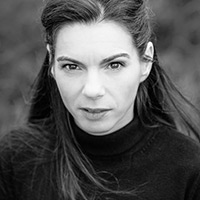 Cecile Terrasse is a French wildlife photographer. Cecile enjoys spending time in nature, particularly observing and photographing birds. She strives to capture beautiful light and ambience in her photographs.
Instagram: @cecileterrasse_wildlife
---

HIGHLY-COMMENDED
(in no specific order)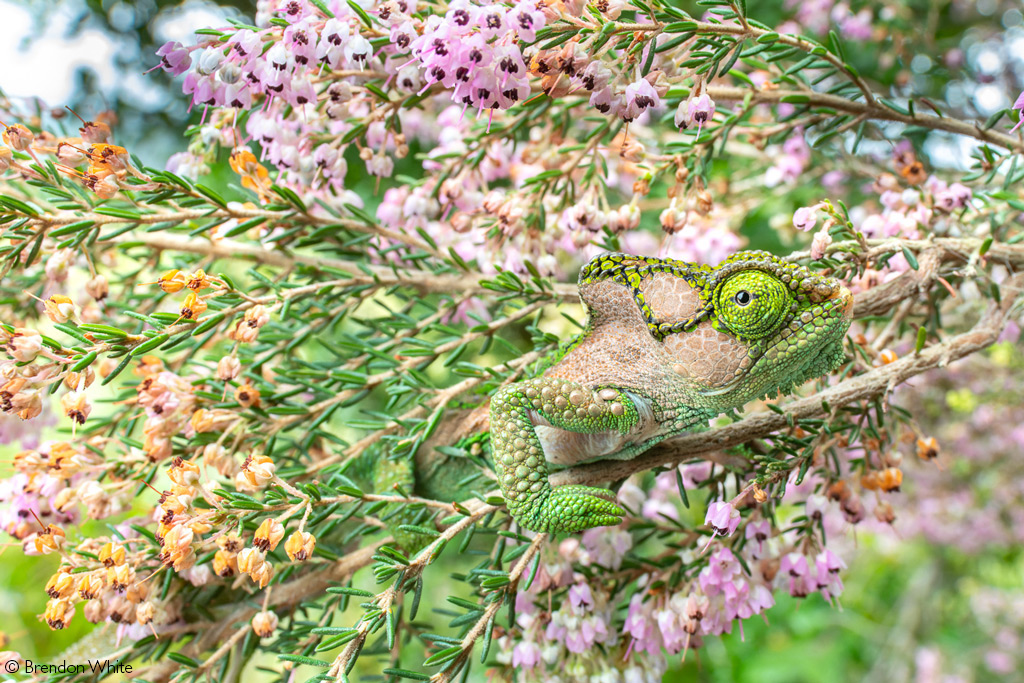 Judges' comment:
The explosion of colours immediately tags this capture worthy of a second look. What a wonderful celebration of a cryptic creature accessible to anybody in the right area with loads of patience. Note the flat (non-arched) posture and lack of dark colouration on the chameleon – it's relaxed.
Photographer and photo details – read more
"A Knysna dwarf chameleon disappears into the vibrant colours of an erica shrub. These chameleons are surprisingly common in the Garden Route Botanical Gardens, although until you get your 'eye in', they can be quite tricky to spot."
About photographer Brendon White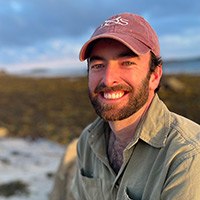 Originally from Francistown, Botswana, Brendon spent much of his childhood enjoying the outdoors. His father's keen interest in birds and bird photography sparked Brendon's passion for the same when he left school. This led him to pursue a degree in nature conservation. After working in a variety of southern Africa's diverse habitats, including four years as a field guide at Phinda Private Game Reserve, he and his wife Zandri moved to the Isles of Scilly in the UK. They now spend their free time searching for rare birds and other interesting wildlife. Without large animals to distract him, Brendon is currently working on photographing the diverse moth species that the UK has to offer.
Instagram: @brendon_white_
---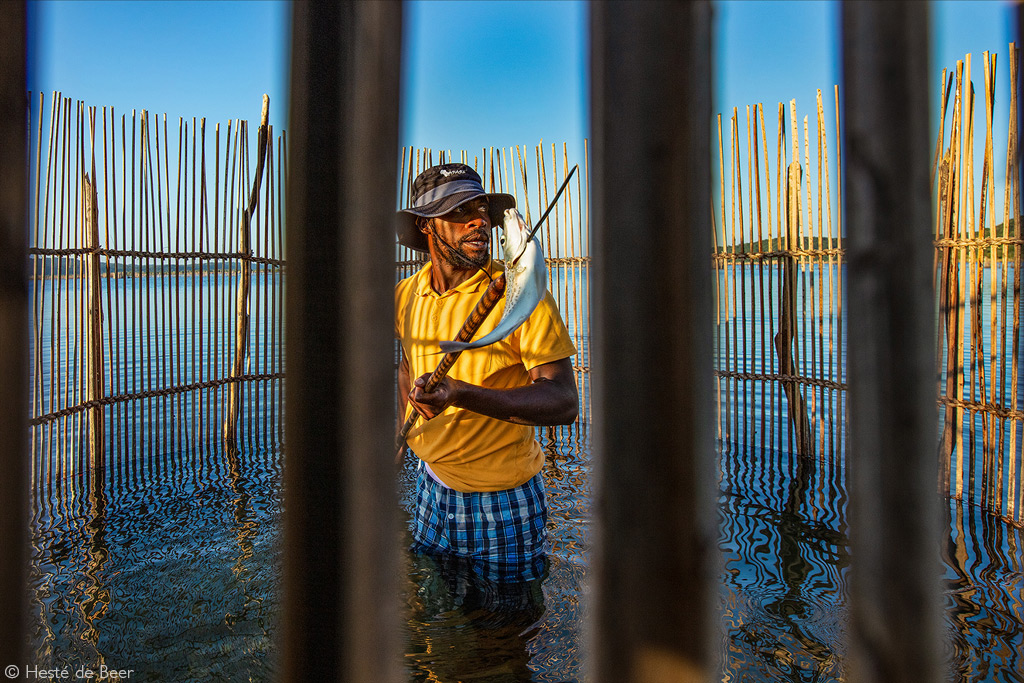 Judges' comment:
Both the fish and the fisherman are caught in a trap. Decreasing naturally functioning habitat means fewer fish and fewer sustainable protein sources and jobs. This is another of Africa's stories – that vital bond between biodiversity and local people.
Photographer and photo details – read more
"Early morning at low tide, this Tsonga man speared a fish in his family's fish kraal, which consists of a guide fence that curves towards a fish trap, allowing fish easy entry, but no escape. The Tsonga tribal authority granted his family this specific site for building the kraal. For centuries, the Tsonga people have fished the Kosi Bay lake system, using a skill passed down from generation to generation. Historically, these fish kraals provided a significant food source. In the 1990s, the numbers of these kraals trebled, leading to overfishing in the area. Today, fishermen in the area struggle to provide for their families because of the dwindling fish population."
About photographer Hesté de Beer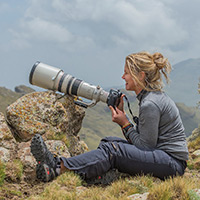 Hesté de Beer hails from a family of skilled photographers, but it was not until 12 years ago that she became interested in the craft. At the time, she asked her father to introduce her to the world of photography. He is still her mentor and strictest critic. Hesté travels with her partner to distant locations around the globe to pursue the most endangered species of the animal kingdom. Through her travels, she has witnessed the adverse effects of the ever-growing human population and technology on the natural world and ancient tribes and cultures. Hesté aims to raise awareness of this plight through her photography.
---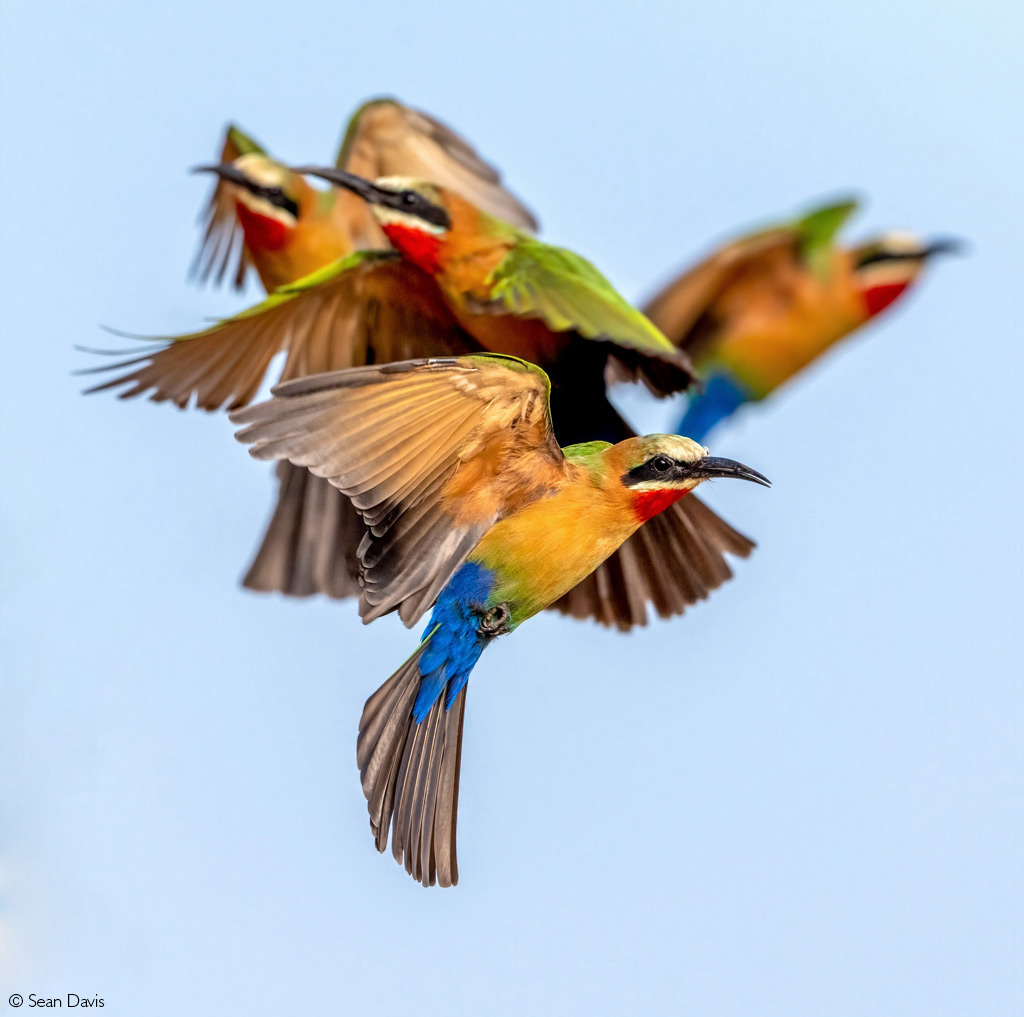 Judges' comment:
This bee-eater stack had us all searching for signs of a composite image! What a celebration of these beautiful birds, movement and grace. Stunning!
Photographer and photo details – read more
"White-fronted bee-eaters are such busy birds and constantly look for insects to feed on. I arrived at the Aloe Farm's nesting wall to find the bee-eaters flying in and out of their nests and settling on perches along the wall. There were ten bee-eaters perched next to each other: some were basking in the sun, others snacking on insects, and many were preening themselves. Suddenly, something startled them, and they took flight – allowing me to capture this image."
About photographer Sean Davis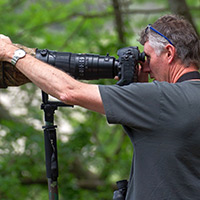 Sean Davis is an amateur nature photographer who has a passion for bird and wildlife photography. Working in the printing industry, he has always had a fascination with photography. In 2015, he accompanied a friend on an outing to photograph birds and the bug bit. Seven years on, Sean has travelled to many destinations in pursuit of honing his skill. He enjoys constantly learning from other inspiring photographers whilst photographing and experiencing the beauty of birds and nature across southern Africa.
Instagram: @sdphotography_za
Website: sdphotography.co.za
---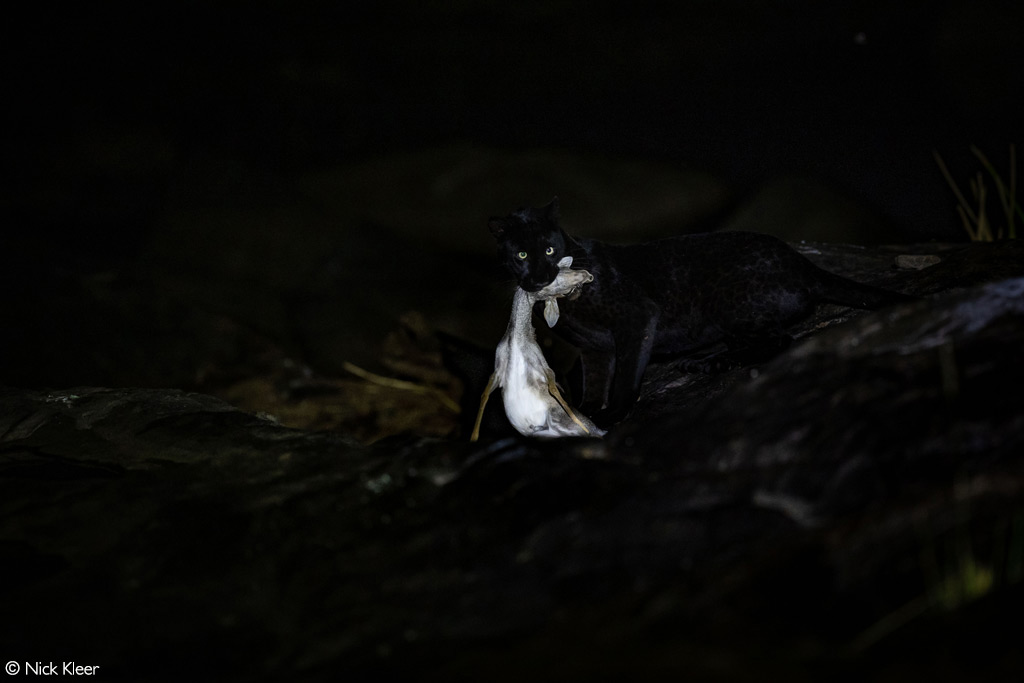 Judges' comment:
The stuff of legends. This breathtaking image is for the countless numbers of wildlife enthusiasts that have tried in vain to see a black leopard, let alone photograph one, and with a kill! No further words are required.
Photographer and photo details – read more
"On the night I captured this shot of a young female leopard, I was hosting a safari with guests to spot her. This was the last of our six nights, and we had been hoping for a good view of her. She delivered spectacularly. We observed her for almost an hour, and she was clearly on the hunt. It is tough to follow a black leopard at night as they camouflage very well. We alternated spotlit scans of the area with periods of darkness in the hopes she would be successful on the hunt. And then we heard it: the unmistakable cry of an animal that had been caught. Silence followed. We scanned again. She appeared out of the shadows, carrying a dik-dik kicking helplessly. The leopard proceeded to carry the then lifeless animal toward a nearby riverbank through dense scrub. We moved to an opening where I captured her dragging the carcass over the rocks. Her eyes and the dik-dik lit up for the briefest moment against the pitch-black background before she disappeared and melted into the darkness. This encounter was beyond privileged, and I count myself extremely lucky to have been able to capture this moment."
About photographer Nick Kleer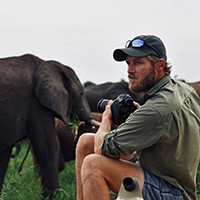 Nick is a wildlife guide who has been guiding for 13 years. Most of his guiding career has been spent in South Africa, where he has worked in public and private reserves. Nick has spent most of this time pursuing his greatest passion: big cats. In his spare time, he searches for big cats outside of the African continent, in destinations such as India and Brazil, searching for tigers and jaguars. For the past three years, Nick has stepped out of lodge-based guiding in favour of privately guided trips. He now travels with guests on safari trips to incredible destinations through Africa and beyond. He aims to inspire a love of wildlife through his photography and raise awareness of the importance of conservation of wild areas to make a positive impact on the world of the wild and all its inhabitants.
Instagram: @nickkleer
---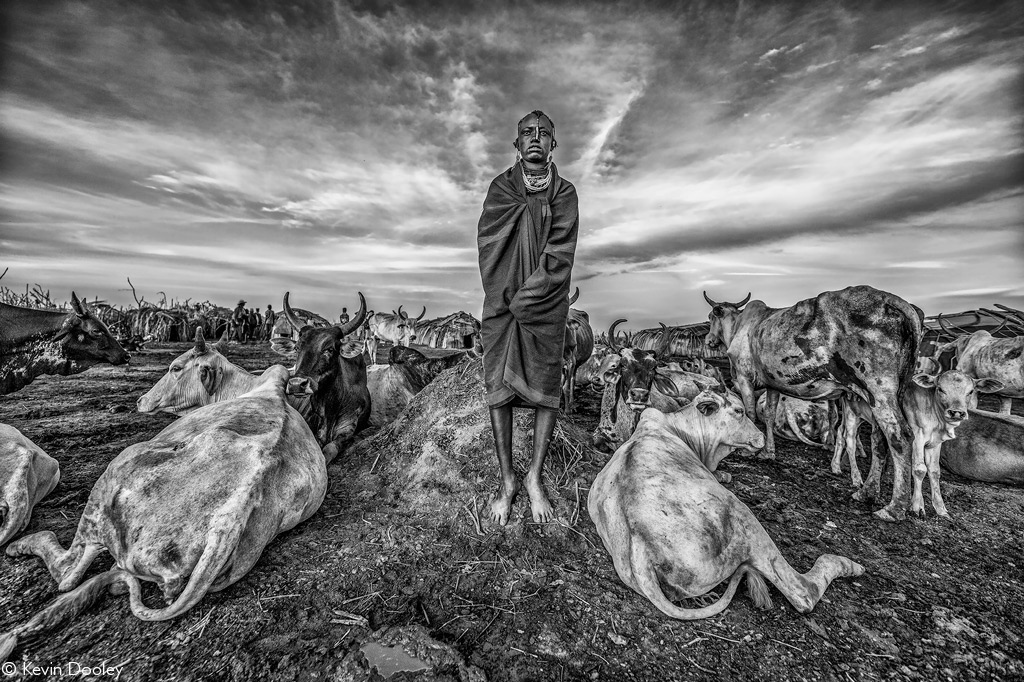 Judges' comment:
Excellent composition and creative post-production make for a striking portrait. The dramatic sky seems to radiate from this herder – to give him wings – and his intense stare adds to the energy of this capture.
Photographer and photo details – read more
"We left camp around 4.30am. Even in the excited anticipation of photographing the remote tribes of Ethiopia, I dozed on and off as we rocked back and forth along the long and dusty road. Our goal was to reach the tribal village before sunrise. We wanted to capture authentic images of the people going about their morning activities. I love photographing people – I have been a professional portrait photographer all my adult life. When we arrived, the men were busy with their cattle, and I saw this gentleman standing on a small sand mound, watching over his cattle. The sunrise was full of dramatic clouds and beautiful textures. The light was flat enough to maintain detail in the man and the sky. I knelt and placed the clouds in perfect alignment. The man glanced over his cows, and I made the exposure. This will always be one of my favourite photographic moments."
About photographer Kevin Dooley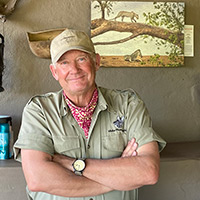 Kevin Dooley is an award-winning wildlife, portrait and wedding photographer who grew up in Placitas, New Mexico. His interest in photography began at an early age when at 14, he was gifted with a 35mm camera. Working as an assistant photographer and darkroom technician in his father's portrait studio, Kevin began his life-long career in photography. After completing service in the US Navy, he returned to New Mexico and opened his photography studio in Albuquerque. During the 39 years the studio has been in operation, he has received numerous awards and been published in many publications. He has also released a photography book: Wild faces in wild places. Africa has always had a special place in Kevin's heart. He thrives on sharing this amazing place with others.
Instagram: @kevindooley_idubephotosafaris
---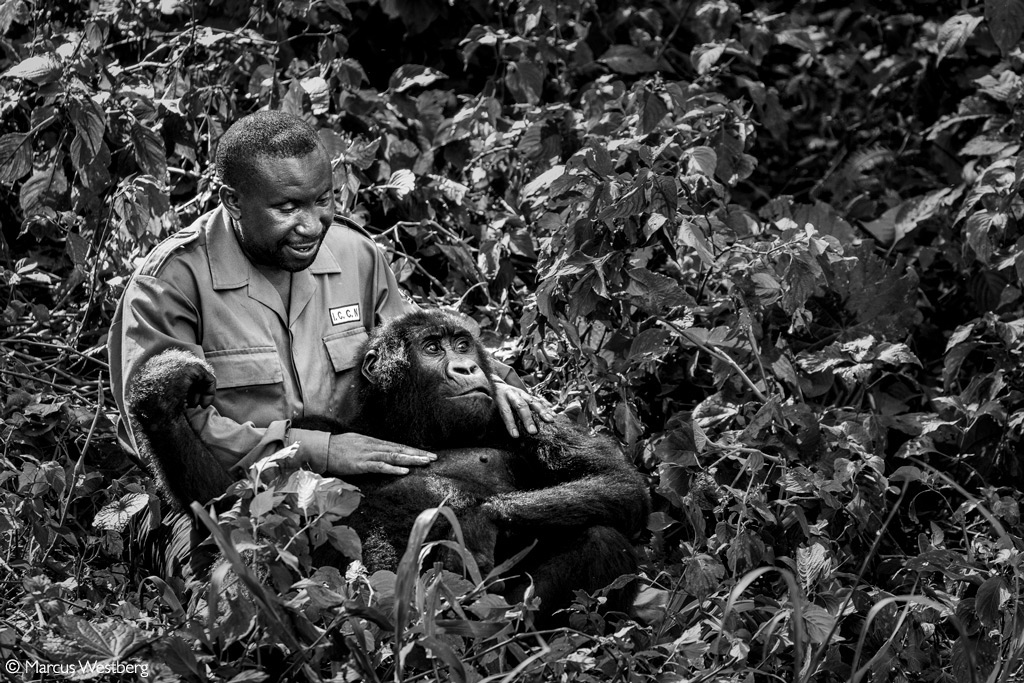 Judges' comment:
This photo tells the story of one of Africa's true conservationists – a man who has dedicated his life to saving mountain gorillas – one gorilla at a time. Unlike many in the greater wildlife industries space, Andre Bauma has realised that for some species, we are down to every individual being vital for population stability.
Photographer and photo details – read more
"Andre Bauma rescued the then two-month-old Ndakasi in Virunga National Park, Democratic Republic of Congo, in 2007. Poachers had killed her parents, and she was still clinging to her mother's dead body when she was found. Carrying her to safety inside his shirt to keep her warm, Andre came to take on the role of both mother and father, sharing Ndakasi's bed, feeding her, playing with her, and comforting her at her new home, the Senkwekwe Mountain Gorilla Sanctuary. Their bond grew stronger, with Andre often speaking of Ndakasi and the other orphaned gorillas as his children. In September 2021, despite access to specialist veterinarians, Ndakasi succumbed to illness and died in Andre's arms, 14 years after he found her."
About photographer Marcus Westberg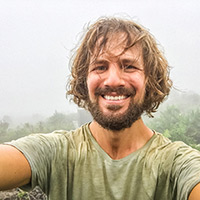 Marcus Westberg is an award-winning Swedish photographer and writer who focuses primarily on conservation topics in sub-Saharan Africa and Scandinavia. He is a photographer for African Parks, and his work is frequently found in publications such as the New York Times, Washington Post, bioGraphic, Vagabond, GEO and Wanderlust.
Instagram: @marcuswestbergphotography
---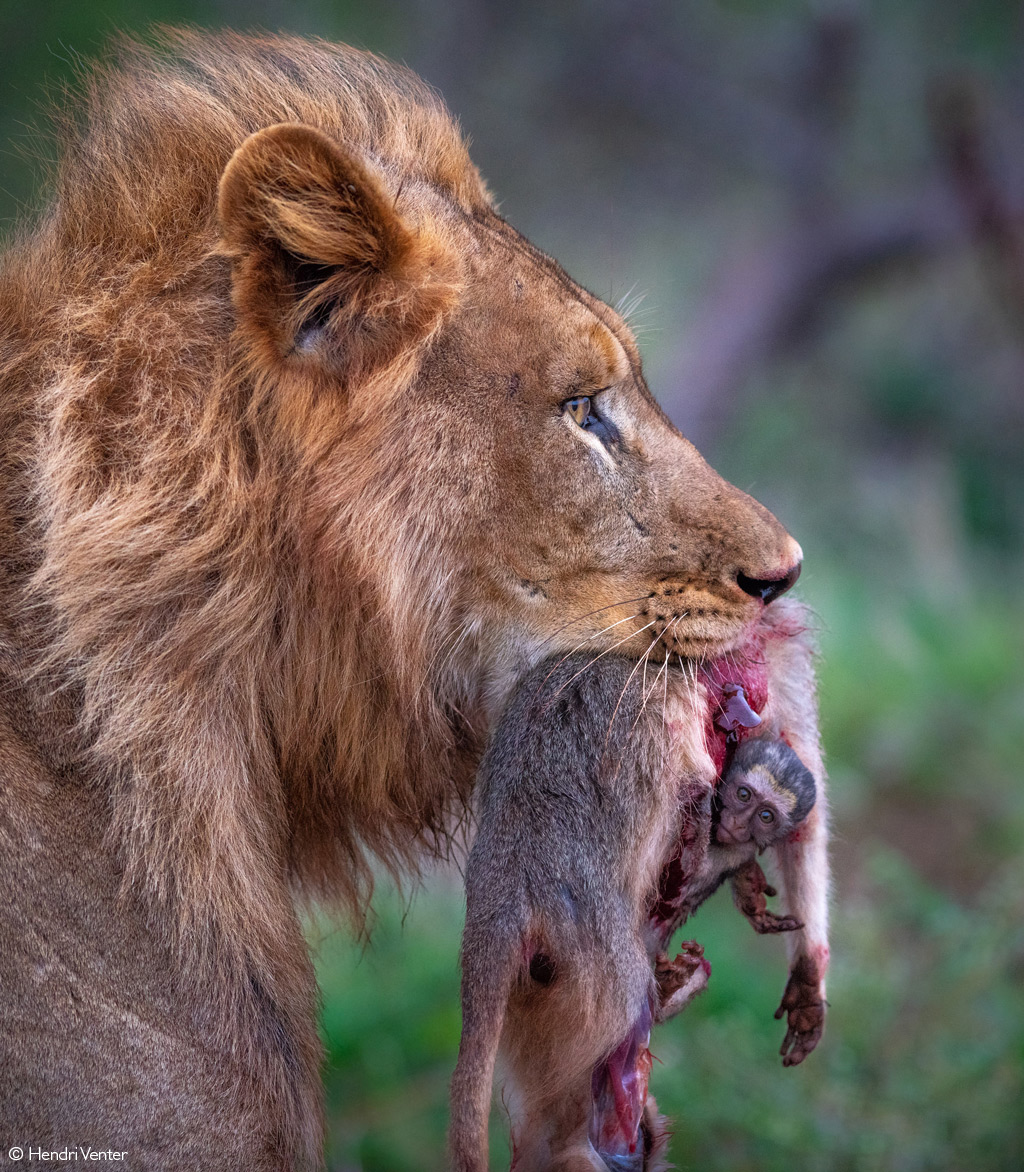 Judges' comment:
This is not an image to gladden the heart. On the contrary, our judges agonised over this depiction of "cruelty". Is this wanton violence; should we suppress it because of the poor baby monkey's lot? Or should we stay the course we chose 31 years ago to also reflect harsh reality? And that, dear reader, is why we chose this image – because the emotional rollercoaster it sparks in our minds leads to a better understanding of how nature works.
Photographer and photo details – read more
"While following a pride of lions in Zimanga Private Game Reserve early one morning, I noticed something attracted the young male lion's attention, and I followed his gaze. He had noticed that a young vervet monkey had wandered away from the troop, foraging on the ground in dense vegetation. The vervets were oblivious to the predator, and he made his move. The noise of his hastened approach alerted the mother, and she turned to rescue her baby. Lion and mother arrived together, and opportunistically the lion turned his attention to the desperate mother. In trying to save her baby, she paid the ultimate price for her maternal instinct."
About photographer Hendri Venter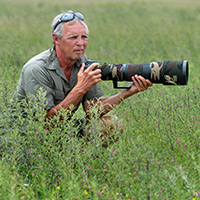 Hendri Venter is a photographic guide at Zimanga Private Game Reserve in South Africa. He has always been enchanted by wildlife and the natural world. Growing up on a farm, he enjoyed spending time with its seemingly endless expanse of wildlife. Exploring nature by horseback and by foot, he formed a strong sense of appreciation and amazement for all things natural. He enjoys taking images that capture the endless ebb and flow of nature.
Instagram: @hendriventer
---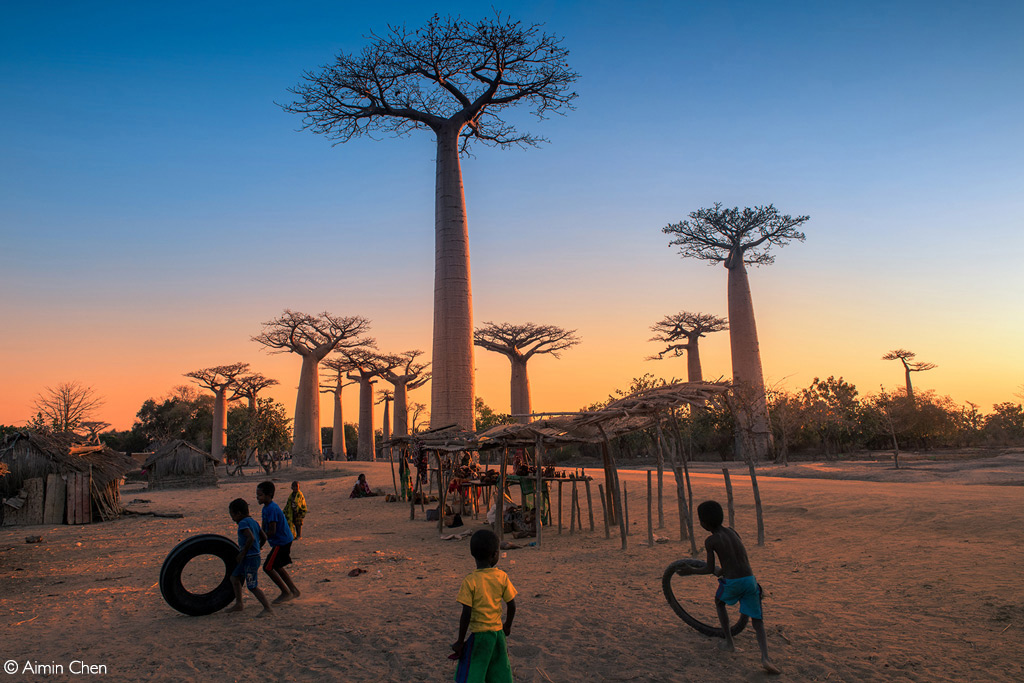 Judges' comment:
The juxtaposition of these massive Grandidier's baobabs and the playing children makes for a telling story. The kids belong to parents that sell their wares to tourists that come to wonder at the baobabs. Without tourism money, those trees will likely go the way of much of Madagascar's natural vegetation, and the rural villagers would have fewer livelihood options. This is one of Africa's most compelling stories – the bond between biodiversity, local people and tourists.
Photographer and photo details – read more
"The photo was taken in August 2018. The name 'baobab' is derived from an Arabic term meaning 'seed-bearing fruit'. As it takes seven years for a small tree to grow only 50cm high, some of the oldest baobabs with thick trunks are regarded as holy trees. Many people come to the trees to pray for children, money, good fortune and illness. In Madagascar, locals regard the baobab tree as sacred, and it is known as the 'tree of life'."
About photographer Aimin Chen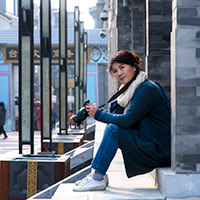 Aimin Chen is an independent photographer who spends much of her time focusing on field photography. Aimin has always loved the life and culture of Africa and hopes to continue to record more wonders of the world with her camera.
---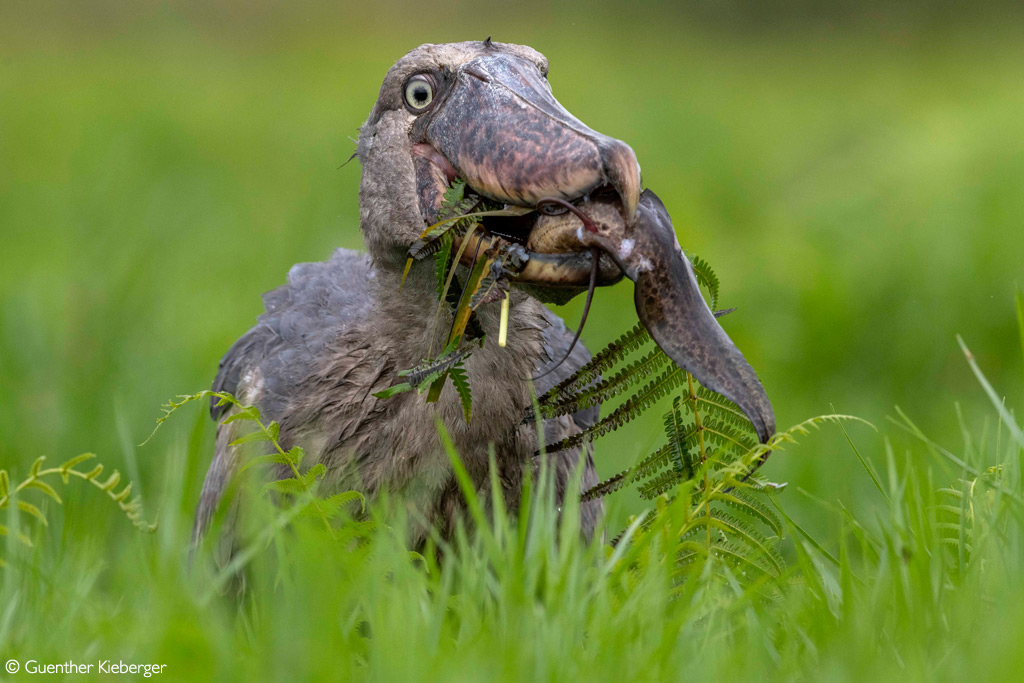 Judges' comment:
You can wait for hours while the dinosaur of birds patiently monitors a lungfish breathing hole on a floating raft of papyrus reeds. And then, nothing. Or, your patience might be rewarded with a brief glimpse of a kill – and a blurry photographic memento. Rarely do you capture the perfect shot of predator and prey. That makes this an exceptional capture worth celebrating.
Photographer and photo details – read more
"The prehistoric-looking shoebill is an iconic bird in Uganda. My dream of photographing this bird in its natural environment led me to Entebbe. I travelled with the guide and boatman on a wooden dinghy to Mabamba Swamp, where we found one bird standing in the swamp vegetation. Our boatman was able to manoeuvre the dinghy into the ideal spot to capture the photo. But the hard work was yet to begin: we were waiting for the bird to hunt. This can take hours, as shoebills – too heavy to chase their prey – stand still for long periods, waiting for unsuspecting creatures to swim close by. But after a long wait, the bird suddenly made an attack, catching a large lungfish – grabbing a beak full of swampy vegetation in the process. It is magical to share this moment with others. What an extraordinary bird!"
About photographer Guenther Kieberger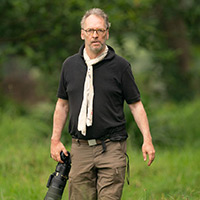 Guenther Kieberger hails from Austria. He picked up his passion for wildlife photography ten years ago. Working as a cameraman on wildlife documentaries, he travels to many destinations on adventures around the world. His photos have been widely published in books and magazines. His photographic pursuits centre around identifying specific wildlife subjects to capture and focusing solely on the species in question throughout a photographic trip. Sharing these images with people who cannot experience these moments for themselves brings him joy.
---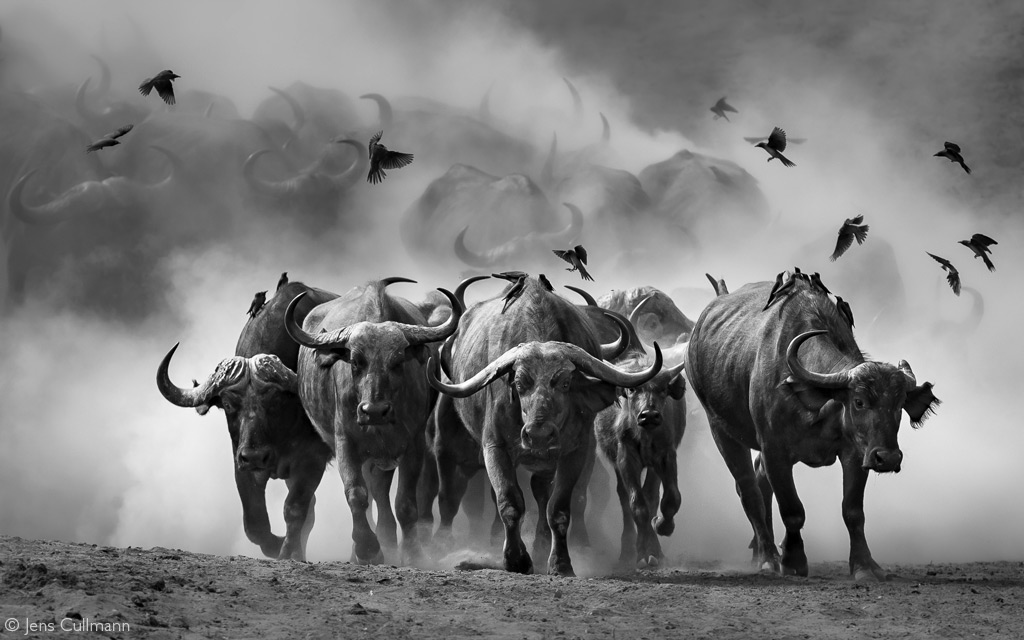 Judges' comment:
If you have experienced the oppressive heat and enveloping, suffocating dust at the peak of the African dry season, you will live this capture with every cell in your body. The desperate search for water is written on every face as this pathfinder leads her herd to the natural spring.
Photographer and photo details – read more
"For the past ten years, I have spent a few months a year in northern Zimbabwe, where, in untouched wilderness, one can still watch nature's dramas unfold. In 2021, at the end of the dry season, I spent a couple of weeks at Chitake Springs in the interior of Mana Pools National Park. With dwindling food sources, soaring temperatures up to 45°C, and the daily need to drink, the buffalo were drawn to whatever water remained. I was on foot when I captured this image as the herd of buffalo arrived at the spring. Given the dynamics and unpredictability of the encounters, there is always a lot to consider when in these situations!"
About photographer Jens Cullman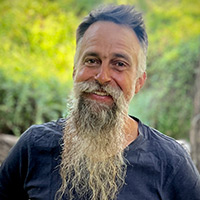 Jens Cullman was born in Nuremberg, Germany, in 1969. His introduction to photography was at age 13, when he received his first camera. As a teenager, he worked with black-and-white film and image developing until he was able to acquire more sophisticated equipment. During a trip to Namibia and Botswana in 2003, Jens' passion for wildlife photography really ignited, and he has grown in stature since then. He has won several prestigious international awards. Jens was the winner of the Africa Geographic Photographer of the Year 2020 and a runner-up in the 2019 competition. He uses his photography to create awareness about conservation issues and preserving natural habitats.
Instagram: @jens_cullmann
Website: jenscullmann.de
---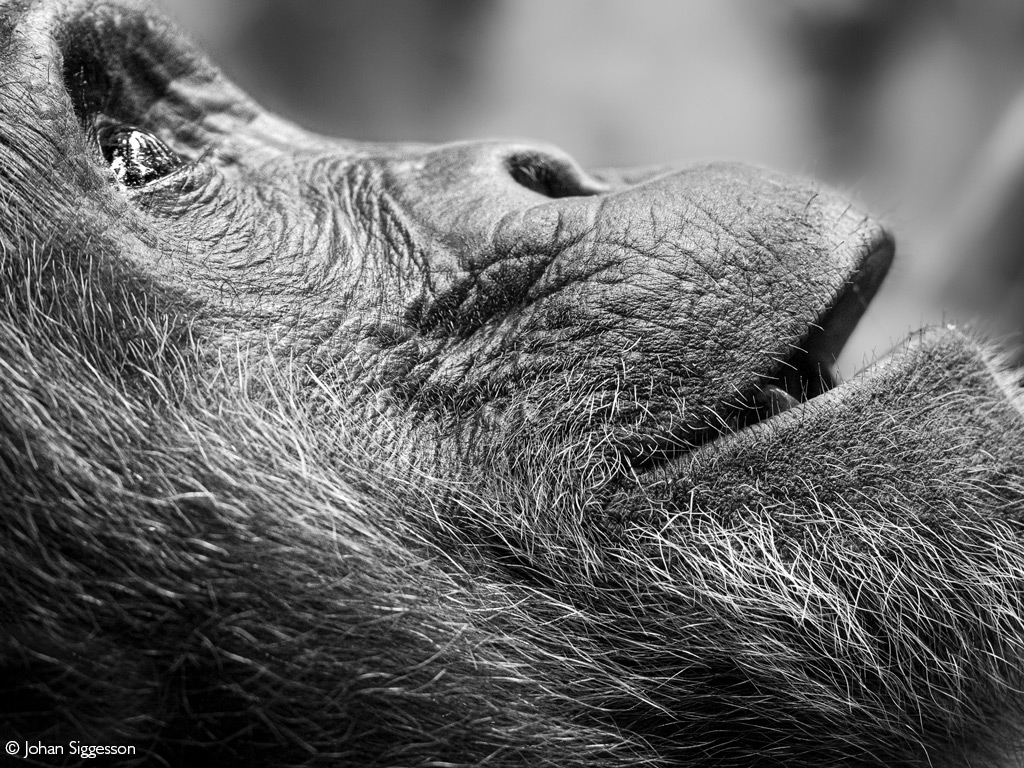 Judges' comment:
A brilliant capture of the moment when a mere glance becomes a ponder, a calculation even. Our genetic similarities aside, this image forces us to recognise another great ape as sentient and thoughtful.
Photographer and photo details – read more
"After two unforgettable gorilla treks in Bwindi Impenetrable Forest, the next step on the expedition was visiting Kibale National Park to see the chimpanzees. We found a large family group and stayed with them for some time. We were able to observe the many different personalities in the group. Some were shy and skittish, whilst others were bold. We came across this individual who was very comfortable in our presence. I felt privileged to be accepted in his presence. Some of the other family members in the group were still in the trees above, and, just like me, this chimp was regularly looking up, seemingly worried that he would be the target of fruit, urine and branches falling from the trees above."
About photographer Johan Siggesson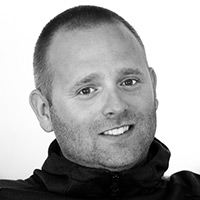 Johan, an award-winning wildlife photographer, was born in Sweden. Since 2001 he has lived on the small Mediterranean island of Malta, where he recently published his first book, on the island's wild orchids. He regularly guides photographic tours around the world. After his first safari to Kenya in 2012, he took up wildlife photography full-time. Since then, he has had great success in prestigious international photography competitions. More recently, he was appointed as a Fellow of the Malta Institute of Professional Photography and an elected member of the Swedish Association for Nature Photographers. In his new home country of Malta, a keen interest in nature is not woven into the island's culture, nor is it a priority in politics. With both his local and international work, Johan hopes to raise awareness and appreciation for the natural world that we are all part of.
Instagram: @johan_siggesson_photo
Facebook: @johansiggessonphotography
Website: www.johansiggesson.com
---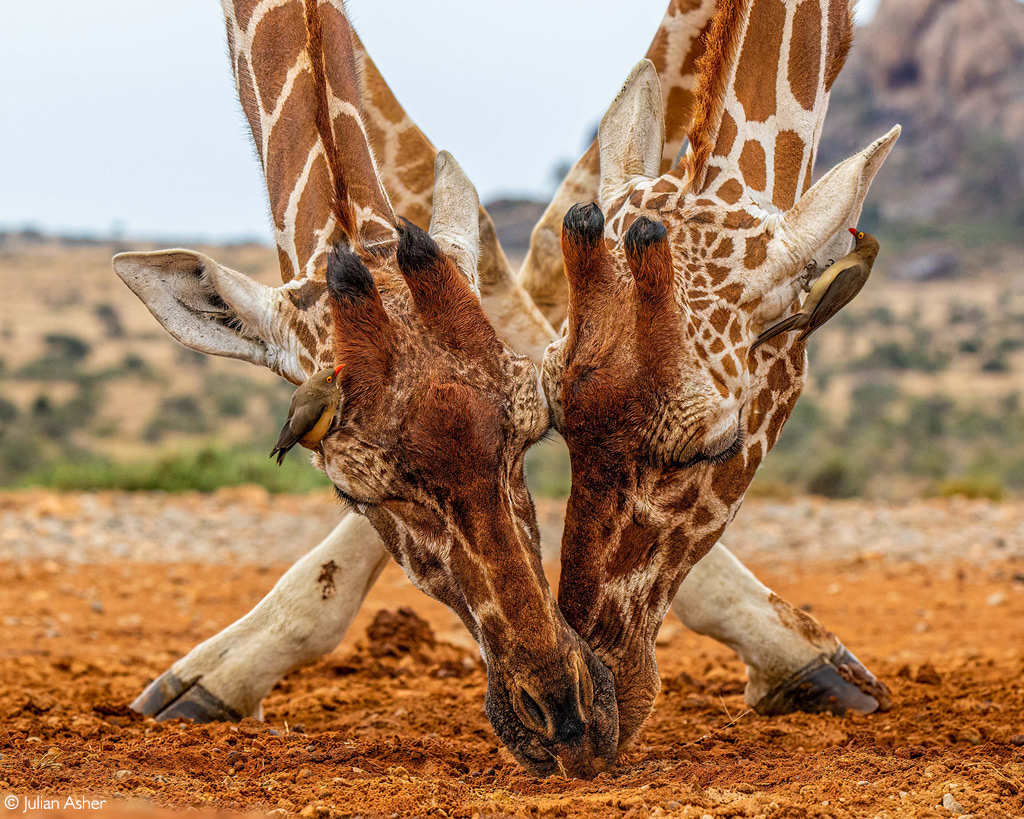 Judges' comment:
What goes where, and who owns what? A bit of fun as we are forced to concentrate for longer than the usual glance at our busy mobile phone feeds.
Photographer and photo details – read more
"I've always been struck by the sense of calm projected by giraffes, and there was something almost meditative about the concentration of these two, and the demure sweep of their lashes and slow grace of their long velvet noses as they nuzzled the soil – as if they were savouring the moment. I chose my angle and held my breath as their heads moved ever closer, and they continued to brush against the earth – until they finally attained a fleeting moment of symmetry."
About photographer Julian Asher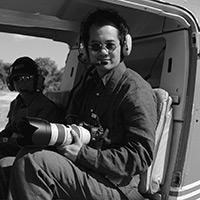 Born in San Francisco and currently based in London, Julian Asher has lived in cities around the world, including New York, Zurich, Berlin, and Cape Town. Julian is an award-winning photographer who will go to great lengths in the name of the perfect shot, including being duct-taped into a doorless helicopter over the Okavango Delta in Botswana. The risks have paid off – his work has won multiple awards and has been exhibited at the Smithsonian Museum of Natural History in Washington, DC. As a photographer, Julian focuses primarily on wildlife and wild places – with a particular interest in predators and their behaviour and in indigenous peoples and their traditions. He spends several months a year in the field in Africa, Asia, and Latin America. He enjoys sharing his love of the natural world by leading photography workshops and planning safaris as the founder of Timeless Africa, a triple-bottom-line sustainable travel company. Julian serves on the boards of several Africa-focused NGOs centring on conservation and education.
Instagram: @pictusafrica
Website: http://www.timelessafrica.com/
---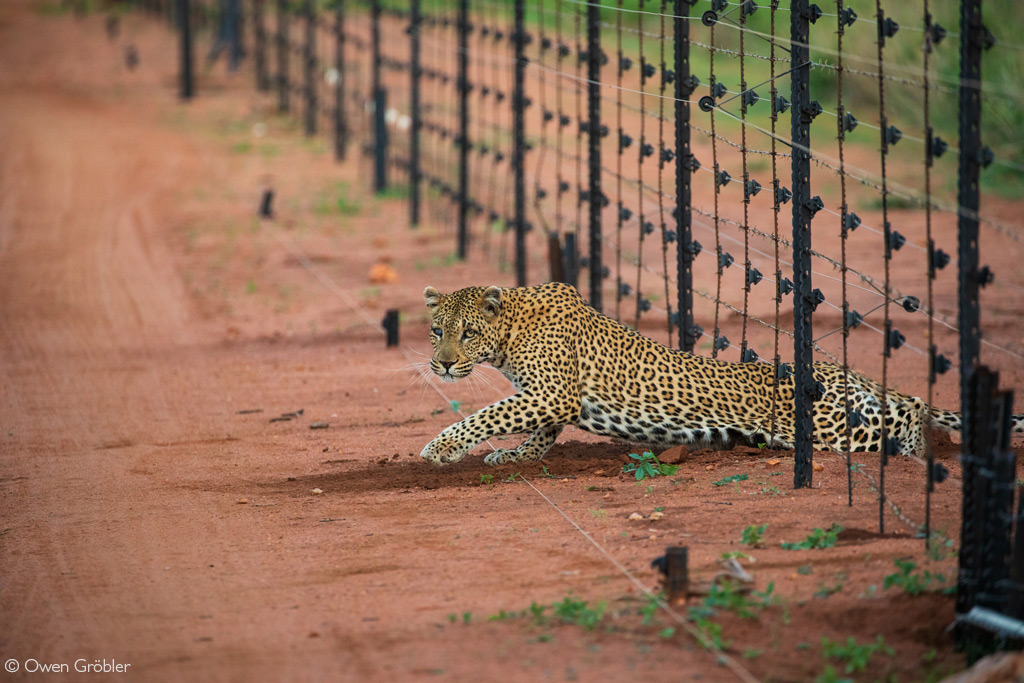 Judges' comment:
This leopard sliding under the electric fence of a residential wildlife estate on the outskirts of a bushveld town is a sensational illustration of peri-urban leopard survival and cunning. It's also a sad depiction of a wild creature "navigating between two prison cells", as one Facebook observer commented.
Photographer and photo details – read more
"The leopardess captured in this image has been the primary subject of a peri-urban leopard identification project that I started over three years ago. Her territory includes a disturbed landscape with a large human presence. Despite this, she has found a way to survive while evading our detection almost entirely and has successfully raised at least three litters of cubs to independence. I was determined to capture an image which showcased her remarkable versatility, so I set out to look for her, day after day, night after night. After almost two years of failed attempts, fortuitous circumstances finally intervened. On a late afternoon game drive, my wife and I spotted the leopardess and one of her cubs outside the perimeter fence line. I reversed the vehicle to a respectful distance and cut the engine. Though these leopards are hypersensitive to human presence, I was certain they had a kill on the wildlife estate, so they would need to enter underneath the electric fence. I waited until the mother leopard emerged from the roadside thickets and effortlessly slid underneath the electric fence. I witnessed the leopard's mellifluous motion through my camera's viewfinder as the firing shutter captured her attention. Then the cub swiftly followed her mother. Now, this resilient peri-urban leopard's story is known by many."
About photographer Owen Gröbler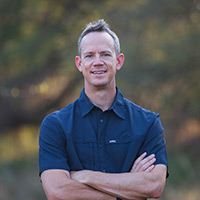 Owen is an aspiring conservation photographer based in South Africa, with a desire to highlight the challenges faced by tenacious peri-urban leopards in the Greater Kruger region. Owen has published a coffee table book, Searching for spots, about the leopards he has monitored through the duration of a leopard identification project he runs on Hoedspruit Wildlife Estate. His goal is to improve people's mindsets toward human-predator co-existence and encourage the protection of the natural habitat. Although Owen has a deep love for leopards, he is a nature enthusiast who enjoys birding and the challenges that wildlife photography presents. Travelling to wild spaces and capturing unique moments is where he feels most at home.
Instagram: @a_bush_Owen
Website: www.searchingforspots.com
---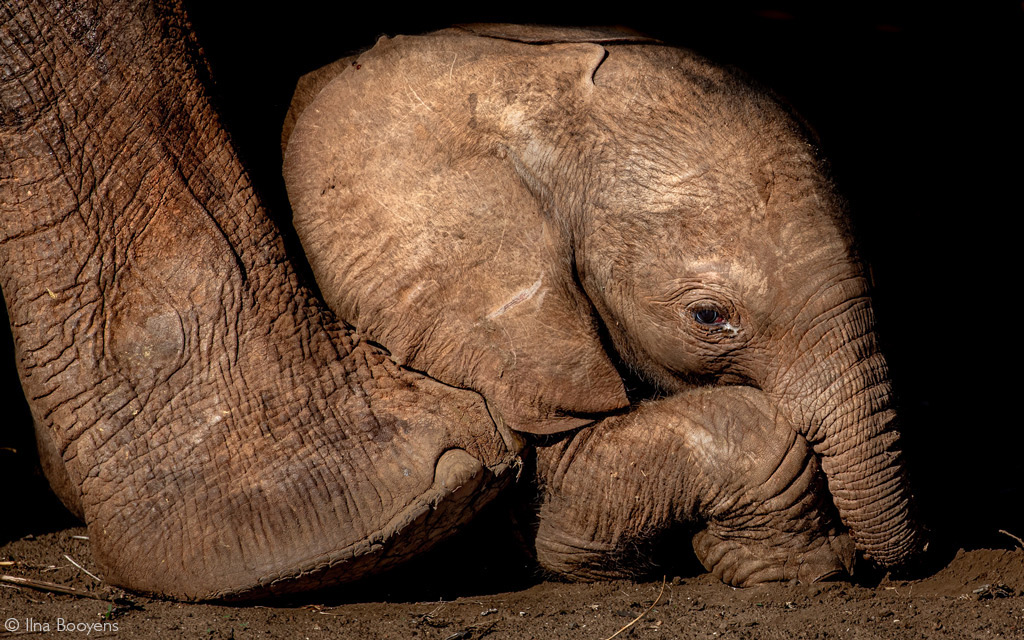 Judges' comment:
Mom's massive foot gently cradling her tiny baby seems to curve around that delicate ear. A touching, tender moment that so defines elephants and makes us want to spend time with them.
Photographer and photo details – read more
"This photo was taken during a visit to Kruger National Park in December 2021. It was a scorching day near Punda Maria when we spotted a large herd of elephants making their way down to the river to quench their thirst and cool off in the water. One female elephant was not interested in joining the fun and was just standing still. At first, I thought she was injured or sick, but as we drove closer, I noticed her tiny calf resting peacefully at her feet in the shade that she provided. An epitome of a mother's love and protection of her little one."
About photographer Ilna Booyens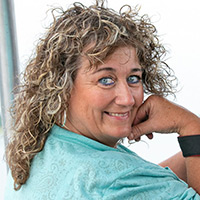 Ilna Booyens is an award-winning wildlife photographer whose work has been featured in numerous publications. She has always been drawn to the bushveld's sights, sounds, and smells. Her passion for wildlife photography started in 2015 when she was gifted with a camera. She enjoys the connection developed with the natural world when photographing its wonders. Ilna spends as much time as possible in the bushveld, testing her patience and perseverance by braving extreme weather conditions and driving for hours to find the perfect subject.
Instagram: @booyensilna

To comment on this story: Login (or sign up) to our app here - it's a troll-free safe place 🙂.

---
HOW TO GET THE MOST OUT OF AFRICA GEOGRAPHIC:
Travel with us. Travel in Africa is about knowing when and where to go, and with whom. A few weeks too early / late and a few kilometres off course and you could miss the greatest show on Earth. And wouldn't that be a pity? Browse our famous packages for experience-based safaris, search for our current special offers and check out our camps & lodges for the best prices.
Subscribe to our FREE newsletter / download our FREE app to enjoy the following benefits.
---