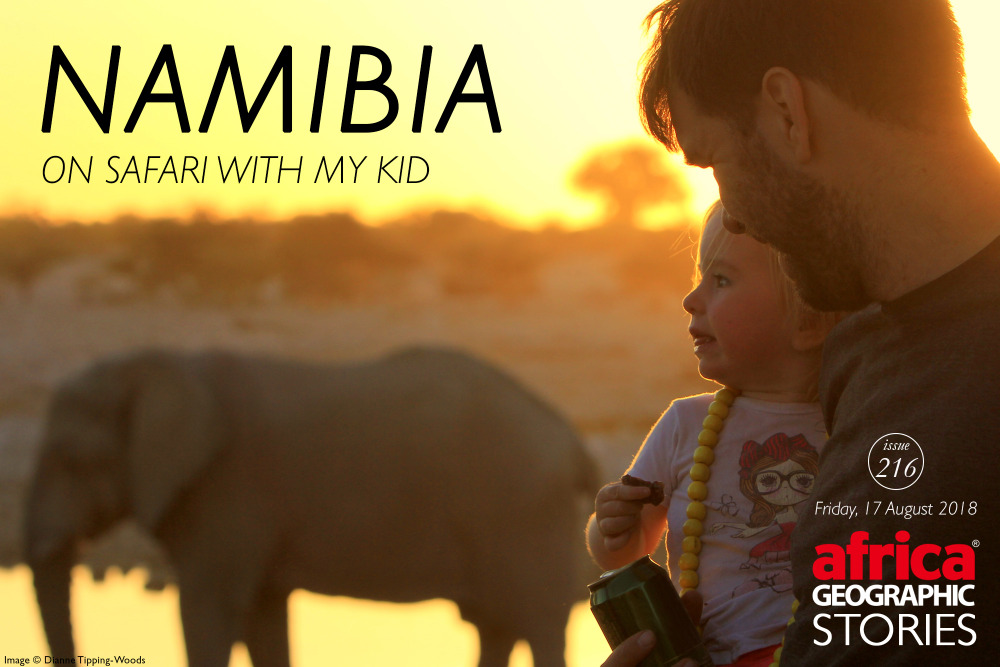 Exploring Namibia on a month-long road trip with kids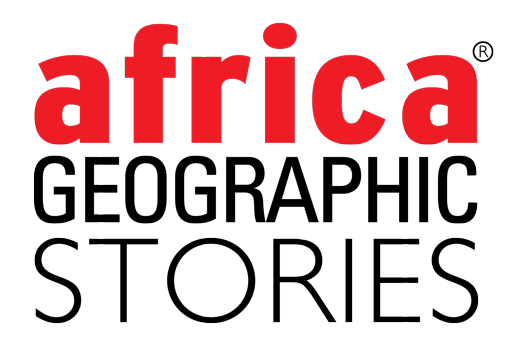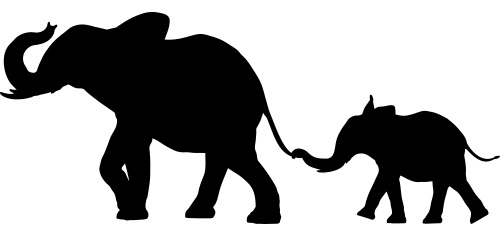 It's a familiar ritual to anyone who has camped at Okaukuejo in Etosha National Park in Namibia in June; it takes some effort to hammer your tent pegs securely into the hard, chalky ground, but it's worth it when the wind blows. Our toddler, Sanne (18 months old), had seen us pitching our tent at the Waterberg Plateau campsite two nights before and she knew the drill, despite the hammer weighing almost as much as her. With each thwack, she kicked up a swirling puff of rose-tinted dust, then looked at us with a proud smile. In the distance, a black rhino ambled down for a drink at the waterhole.
We were six days into a month-long trip with friends through Namibia, and so far their toddler and our Sanne were handling the travel like seasoned pros. They were glowing with the fresh air, and full of curiosity about each of the new places we'd visited so far: Phuduphudu and Kalahari Rest Camp in Botswana, and the Waterberg Plateau in Namibia. After Etosha, we would make our way via Buschberg Guest Farm to Brandberg, Swakopmund, Spitzkoppe and Erongo, before heading home on the Trans-Kalahari Highway – a round trip of about 7,000 kilometres.
Namibia had been a logical choice for an extended camping trip. It's malaria-free and full of wildlife and wild open spaces. It's easy to get around and more beautiful than you can imagine.
As we watched a second black rhino stroll down for a drink, we knew that our instincts had been right; having kids is no reason to avoid the wilds of southern Africa. In fact, it's just another reason to go. At each stop, we would smile as Sanne and her friend Josh (20 months old) helped pitch the tents or unfold the camp chairs, absorbed in the logistics of camp making and the novelty of a familiar-but-new home for the next few nights. They filled every minute of every day with an endless enthusiasm that allowed us to experience the fun of camping and glimpse the wonders of Namibia's wildlife and landscapes through their eyes, as well as our own.
Here are some of the highlights from our month-long road trip through Namibia.
The Waterberg
Hikes, rocks and sand
The Waterberg Plateau campsite in the Waterberg Wilderness, east of Otjiwarongo in northern central Namibia, was a brilliant find. There were rocks to climb, sand to dig in and hikes that are short enough for independent little legs. The private nature reserve borders the Waterberg Plateau Park, but there is no dangerous game around the campsite, making it a fun and safe area to explore on foot.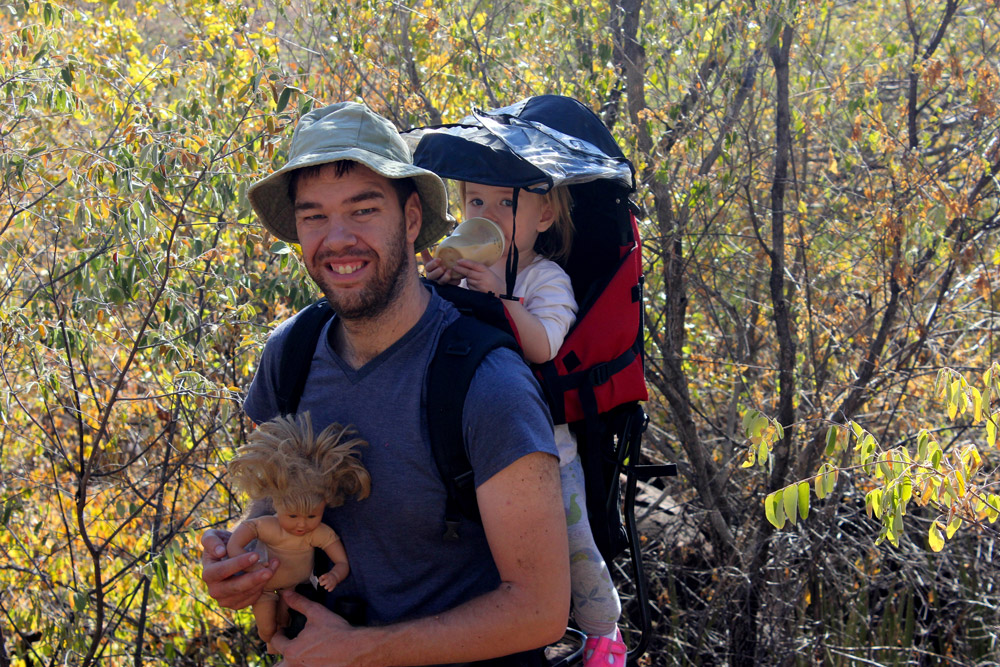 Arriving late, we got the last of the camp's eight spots and in the morning headed out to hike one of the five demarcated trails that start at the camp. The views over the Omaheke plains towards the flat-topped mountain that gives the area its name is spectacular, and we took regular stops to drink them in and to examine ant trails and stones and spiderwebs.
Etosha
Okaukuejo, Halali and Numatoni
The beautiful location of Okaukuejo with its large campsite, nests full of sociable weavers and its waterholes made it an easy place to spend some quality time out of our vehicles. Our delight in the spectacular wildlife that came down to the camp waterhole to drink was magnified by the joy on Sanne and Josh's faces as they spotted anything from elephants to springbok. They especially loved the creatures that came out after dark: black-tailed tree rats, resident white-faced scops owls, black-backed jackals, various scorpions and more, which provided hours of spotlight fun for everyone.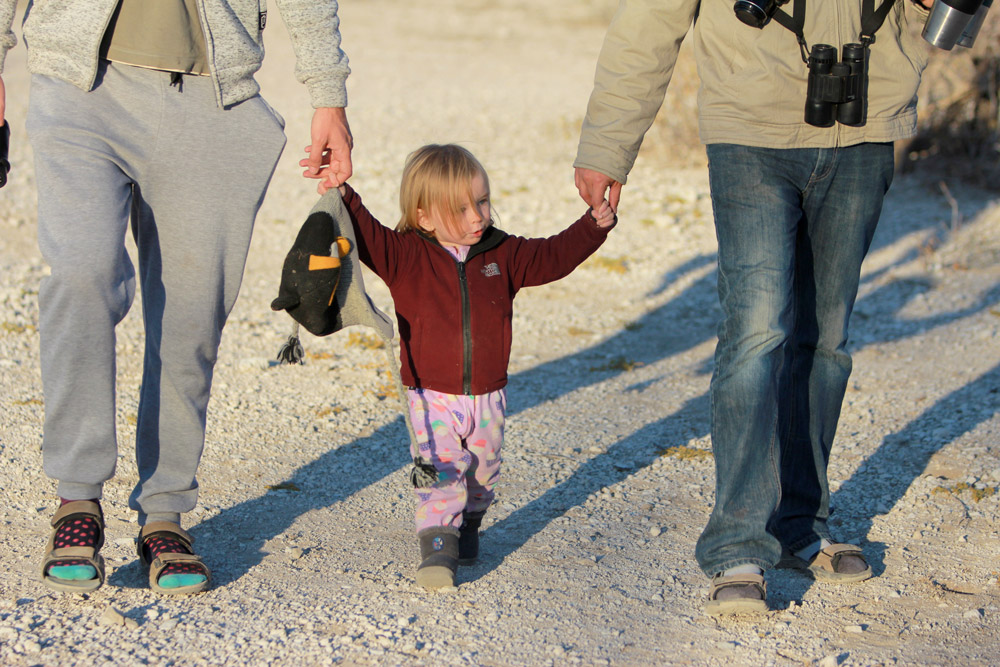 Halali was the least child-friendly of the camps, and we had a few awkward sundowner moments on the camp's spectacular viewing deck when the kids' chatter was met with frowns. Its honey badgers were fascinating, but bigger and bolder than the kids, so we had to pay extra attention to their movements after dark! We did drives during nap times (heat wasn't an issue as we were travelling in winter) and had some of our most rewarding sightings at its floodlit waterhole after Sanne and Josh were asleep; rhino bulls fighting, a leopard making a kill, and thirsty elephants drinking from moonlit pools, then fading into the inky darkness.
Namutoni has a great network of shorter drives around the camp, and we enjoyed spending time in the big, cool swimming pool and on the green lawns around the campsite (Okaukuejo and Halali also have pools). We had our best lion sightings here, and the kids loved listening to them roar in the early hours of the morning and then setting out with flasks of hot chocolate to find them. We also spent a very relaxing morning at Mokuti Etosha Lodge. They serve a killer buffet breakfast, have an interesting snake park, and beautiful gardens to wander around.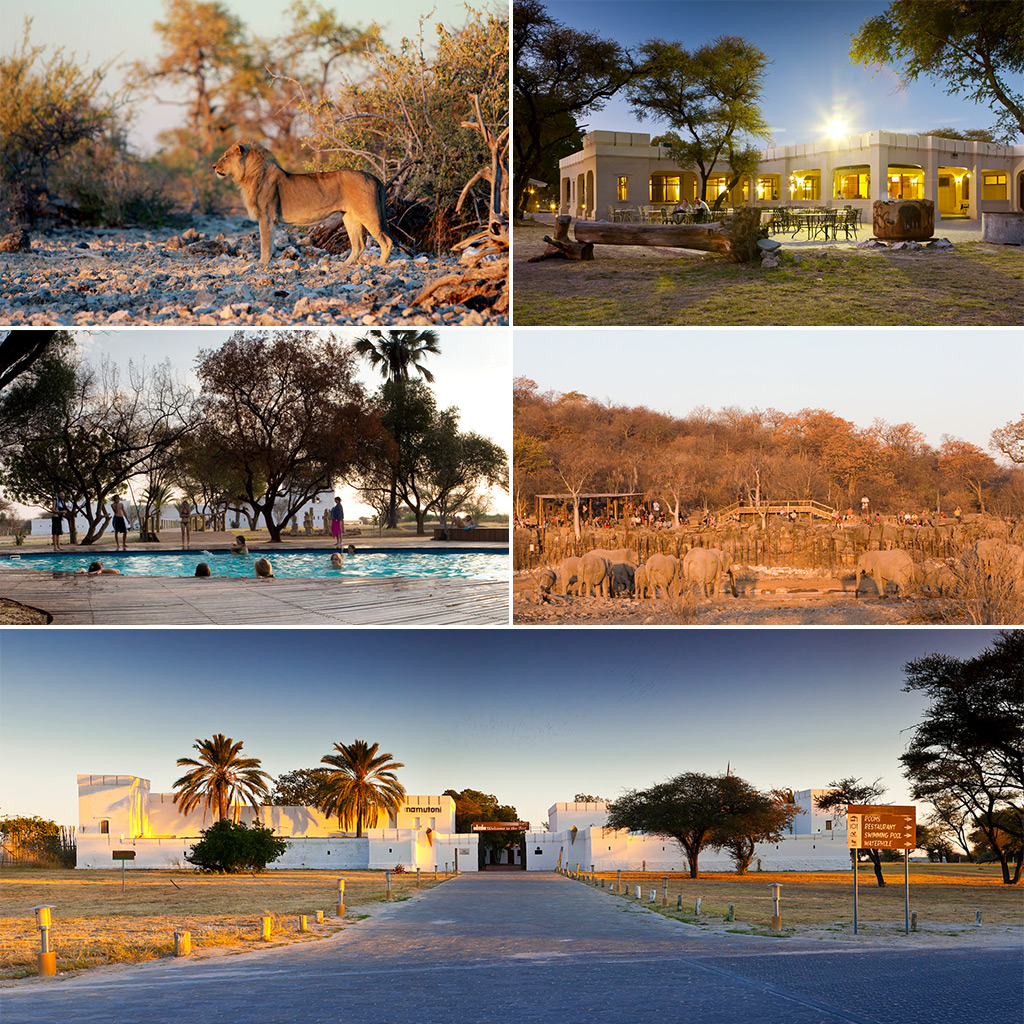 Brandberg
 Meerkats, mountains and rock art
The drive from Etosha to Brandberg, which is near Uis in the heart of Damaraland, winds through dramatic scenery, so it was no surprise that the sprawling campsites at Brandberg White Lady Lodge were spectacular. The area is rural, with free-roaming wildlife and domestic animals sharing the same space, so we had to dodge donkey and elephant dung when picking our tent site.
The thick desert sand provided hours of entertainment for the kids, whose bucket baths with the fire-like mountain in the background, must rate amongst the most spectacular in the world. They also frequently wandered off with the resident meerkat to dig holes in the ground.
While there, we made the short drive to the famous White Lady rock painting site. The hike through a relatively lush and fragrant valley was well worth it as our knowledgeable guide talked about the 2000-year-old paintings (with the pigments bound with blood serum, egg white and casein), the fascinating biodiversity (about 16% of Namibia's plants are endemic) and history linked to the granite monolith, which is Namibia's highest mountain.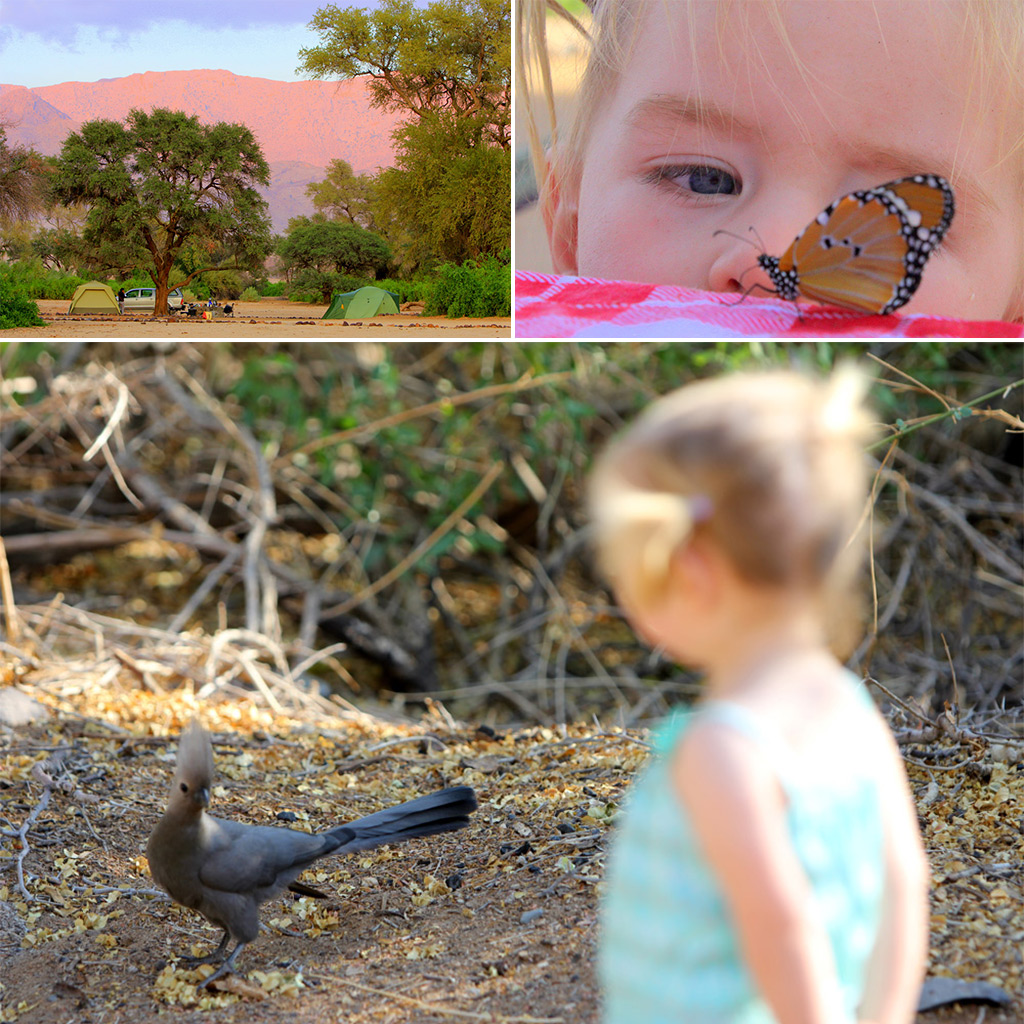 Swakopmund
 Sea, sand and a trip to the moon
After a desert drive from Brandberg to Swakopmund, we stayed in the bungalows at the municipal rest camp, an excellent value-for-money option in an often foggy Swakopmund. This vibey seaside city was lots of fun to explore with toddlers. We visited the aquarium and befriended creatures that thrive in the south Atlantic's chilly Benguela Current, did an historic walking tour, watched people fish from the jetty (built in 1904), played on the beach and in the icy surf, ate delicious local food at several good restaurants (including amazing cheesecake from the institution that is Café Anton) and shed some of the sand we'd collected in the desert, which was replaced with salt.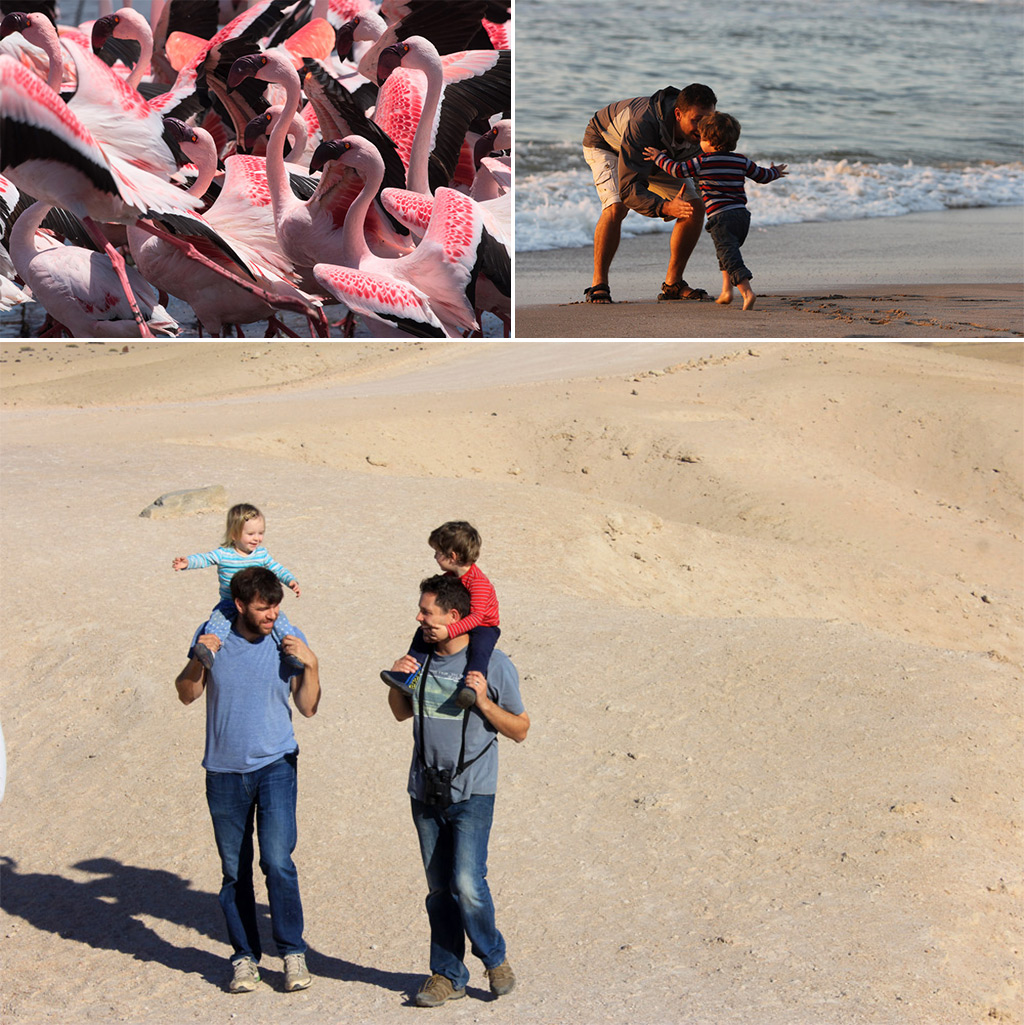 We also visited the well-curated museum, which is full of accessible info on Namibia's fauna, flora, geography and history with some impressive, interactive contemporary displays. We also visited the playground next door and spent a morning looking for welwitschias – desert plants that are thousands of years old.
This took us through the 'moon' landscape just outside of Swakopmund, which we wished we had longer to explore. Next time, we'll go with a guide to find the creatures that have made it their home. Another highlight was the trip to Walvis Bay to see the flamingos; a drive between endless dunes, a moody sea and then masses of pink birds!
Spitzkoppe Campsite
 Stones, stars and sweeping skies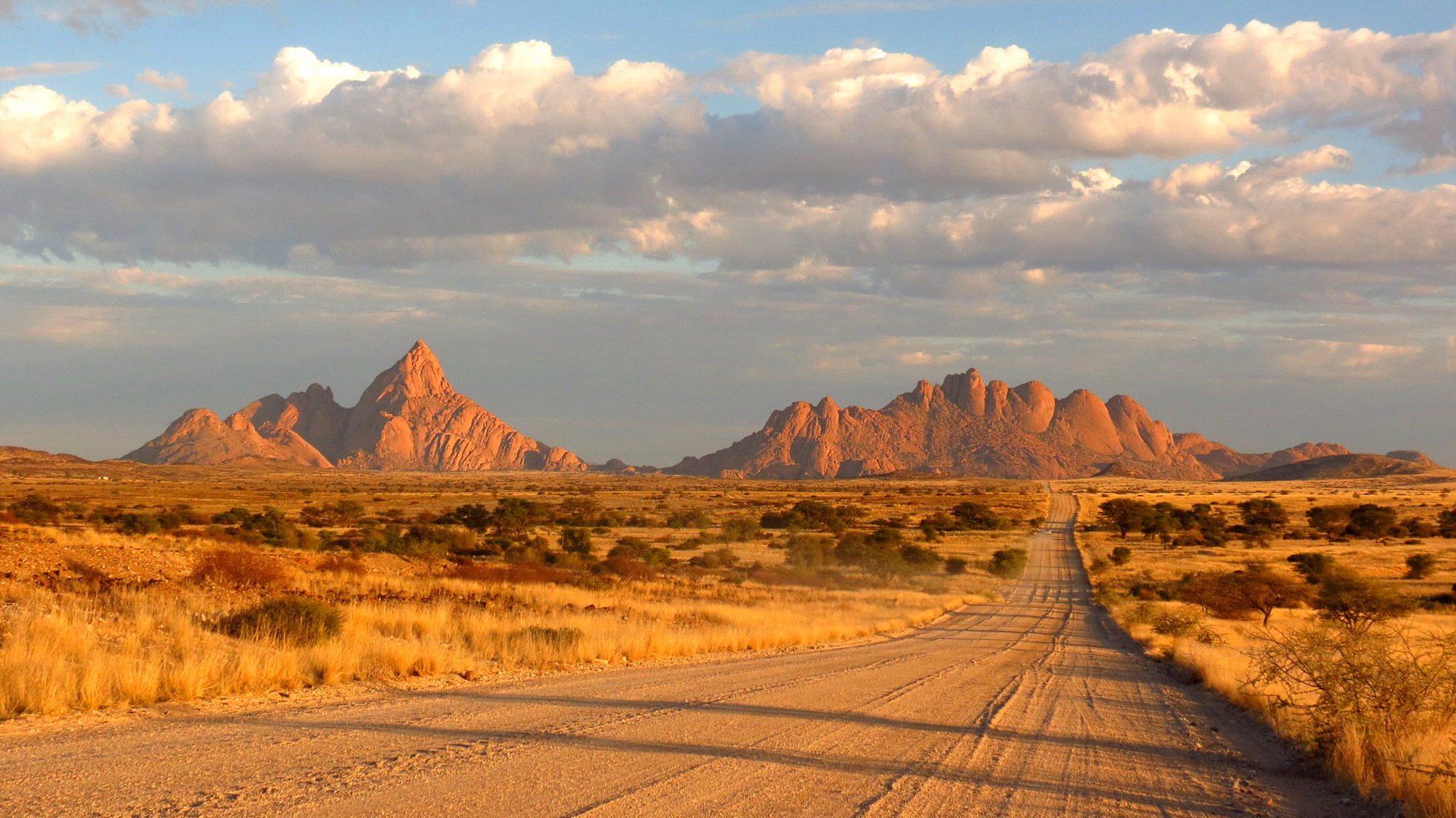 Spitzkoppe is a place of golden light and glowing rocks, with campsites amongst the most beautiful and private of any we have ever stayed at. The community camp feels like the land that time forgot. Scale and space distort and you feel yourself to be a tiny thing in a vast and ancient universe. Wraparound views and a sky of stars that you can almost touch made each hour in the camp a special one. We pitched our tents up against a rock face and lazed with lizards, lingered over sundowners on hot rocks and tried to fathom the fact that the dramatic granite rising from the desert is more than 120 million years old.
While we skipped the hardcore climbs and longer hikes (where you need a guide), there were plenty of shorter walks that were suitable for us with our toddlers in tow. They tackled them like little dassies (rock rabbits) and seeing their confidence taught us a thing or two about tackling challenges head-on.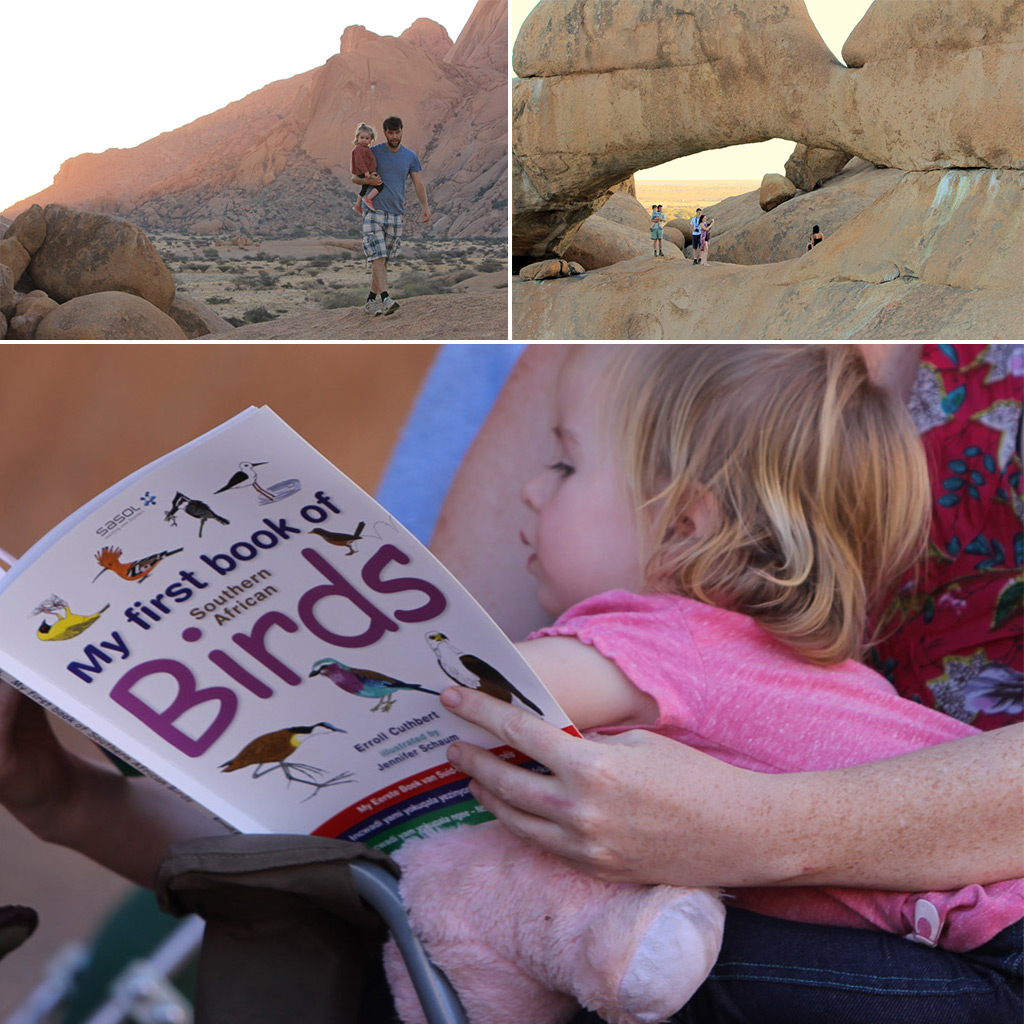 The last part of our journey was spent high up at Erongo Plateau Camp in search of Hartlaub's spurfowl, which we never found, although birding during the rest of the trip was excellent. What we did find was a stark beauty and a tricky hike that we somehow navigated with kids in tow. It was hot and dry and quiet.
Although there was nothing particularly child-friendly about the camp or the area, by then, Sanne and Josh were able to amuse themselves with nothing more than some sand, sticks and stones.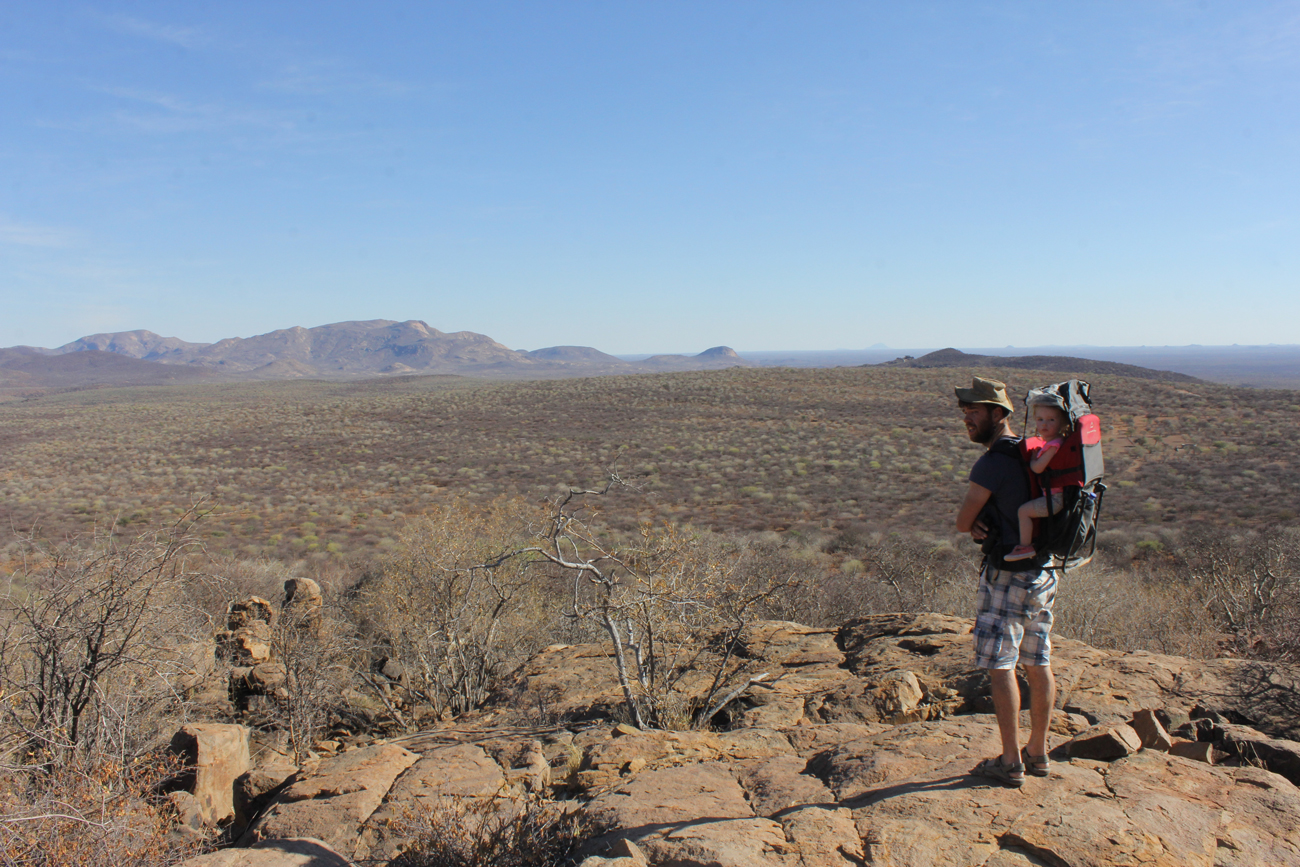 Heading home
When our month was up, we'd covered less ground than we might have without kids, but I think we saw more. We did fewer activities, but our eyes were opened like never before, both to the places we visited, but also to our children.
They literally grew in front of our eyes as Namibia filled them with its colours, smells and sights. We grew too, as friends and parents and travellers. Each time we repacked or unpacked during the trip (shedding items as we went), we were reminded of just how freeing it is to travel like this, not only for us but also for our kids. For the most part, they were resilient, curious, enthusiastic and easy to please. Which, as far as travelling companions go, are pretty good qualities to have.

Children on safari: Tips from our trip
• Temper your itinerary to keep the distances small;
• Take less than you think you need, but don't skimp on your medical kit;
• Don't include too many structured activities;
• Pack bags of toys, books and games;
• Make sure the kids have binoculars also;
• Make sure everyone wears closed shoes at night – there are plenty of scorpions!;
• Take extra sippy cups and snacks that you can pull out when needed;
• Respect other travellers, but don't apologise for your well-behaved kids;
• Give the children (yes, even the toddlers) regular campsite chores;
• Take extra moisturiser for winter trips, as the desert air is very dehydrating;
• Don't worry about stocking up on food before your travel (fresh meat and produce was easy to get);
• In unfenced camps: A little common sense goes a long way. We avoided unfenced camps in areas where there is a high likelihood of having predators move through the camp. In sparse game areas, be vigilant and watch your children.
Medical and potential health issues
• Be proactive before you travel. Speak to your paediatrician about emergency medication you might need.
• Doing a CPR and basic first aid course is a good idea. Otherwise, be aware of potential dangers from snakes and scorpions and find out how the response to these is organised in the places you visit.
• Inform yourself about medical evacuation procedures, local emergency numbers and cellphone coverage. Often the people who run the places you plan to stay at are excellent sources of advice and information. They usually have kids or know people in the area that do.
• Let your medical aid know you're out of the country, and understand what they cover and what they don't. If you're going really off the beaten track, consider a satellite phone.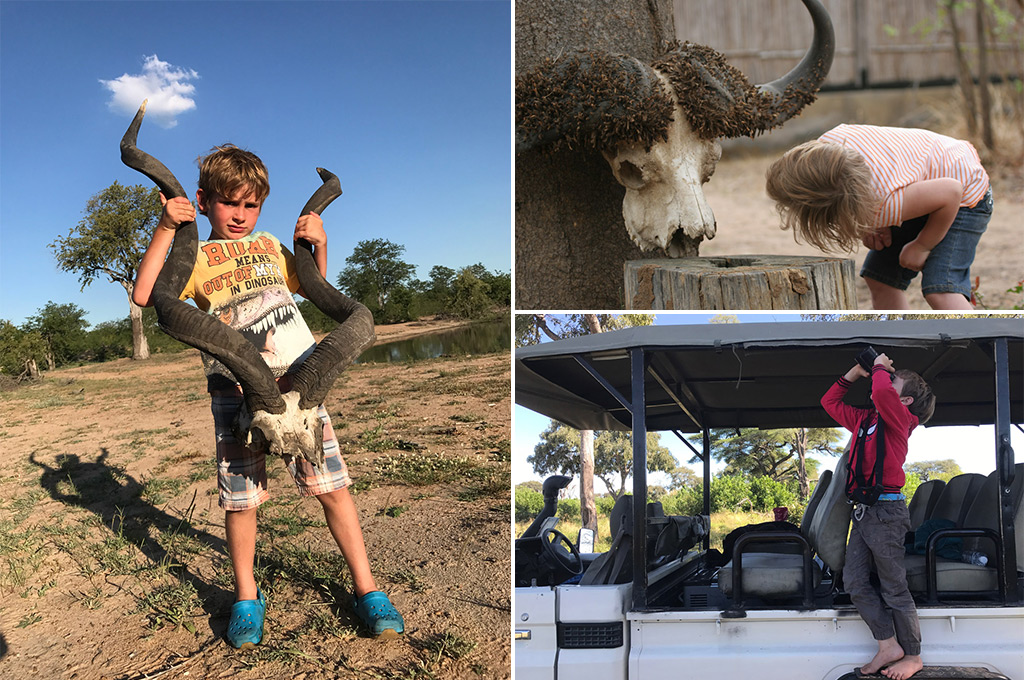 ABOUT THE AUTHOR, Dianne Tipping-Woods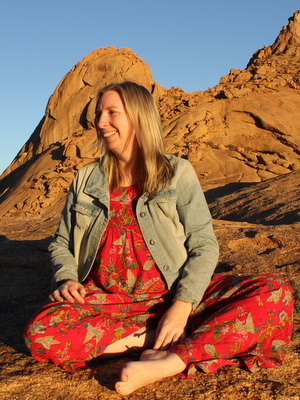 Dianne Tipping-Woods is a Hoedspruit-based journalist who tells stories about conservation, travel and development in South and southern Africa. Working for various international print and online publications, she writes about a wide range of issues and gets to explore some of the world's most wild and beautiful places, sometimes with her two kids in tow. Endlessly inspired by the people she meets and the places she goes, every journey is a privilege and an opportunity to learn, grow and write!
ALSO IN THIS WEEK'S ISSUE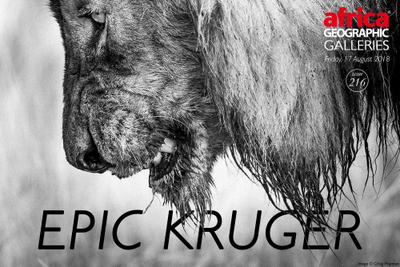 Epic Kruger
The Kruger National Park in South Africa is a photographer's dream destination when it comes to incredible wildlife sightings – with each and every sighting unique and unforgettable. From buffalo bulls aggressively going at each other at a waterhole and an incredibly magnificent elephant bull towering over the landscape to a python strangling its enormous prey and lions giving you the proverbial death stare. These are the epic moments that Kruger has to offer, and fortunately, there are photographers out there who have been able to catch these jaw-dropping scenes on camera.
To comment on this story: Login (or sign up) to our app here - it's a troll-free safe place 🙂.

---
HOW TO GET THE MOST OUT OF AFRICA GEOGRAPHIC:
Travel with us. Travel in Africa is about knowing when and where to go, and with whom. A few weeks too early / late and a few kilometres off course and you could miss the greatest show on Earth. And wouldn't that be a pity? Browse our famous packages for experience-based safaris, search for our current special offers and check out our camps & lodges for the best prices.
Subscribe to our FREE newsletter / download our FREE app to enjoy the following benefits.
---