EXTRACT FROM THE FOLLOWING THIRD PARTY SOURCE: WildAid
China announces 2017 timeline for domestic ivory ban.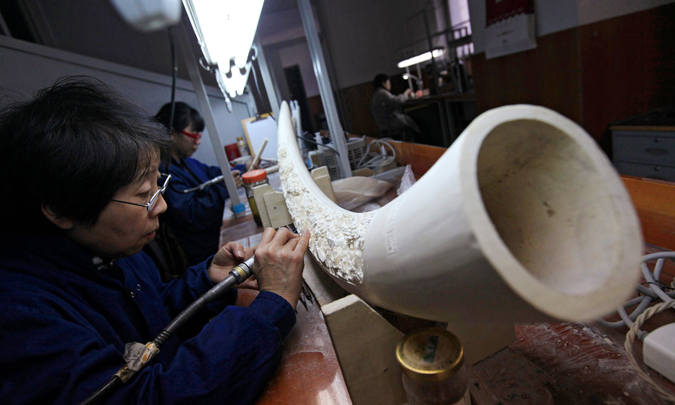 BEIJING (30 December 2016) — The end of the world's largest ivory market was announced today by the Chinese government as it released a detailed timetable for ending its legal ivory trade. Domestic ivory sales will be banned by the end of 2017 with the first batch of factories and traders to close their business by 31 March 2017.
Last year, President Xi Jinping made a public commitment to phasing-out the ivory trade, which may be falling out of favour with Chinese consumers. A recent survey by the conservation group Save the Elephants reported that ivory prices in eight mainland Chinese cities had fallen by half in a two-year period ending December 2015. Anecdotal evidence gathered by WildAid campaigners in China indicates prices may have decreased further this year: Market inquiries in May 2016 found raw ivory prices of around $450 to $900, representing a decrease of 57% to 78% compared with a2014 high of $2,100 per kilogram in mainland China. A ban was first proposed to the National People's Congress by former NBA star, Yao Ming, who also led documentaries on ivory trade for state broadcaster CCTV in partnership with WildAid.
WildAid CEO Peter Knights said, "China's exit from the ivory trade is the greatest single step that could be taken to reduce poaching for elephants. We thank President Xi for his leadership and congratulate the State Forestry Administration for this timely plan. We will continue to support their efforts through education and persuading consumers not to buy ivory."
With China's announcement, international attention is now shifting to Japan, which voted against all CITES proposals to protect elephants and has insisted its trade is not tainted by illegal ivory. However, a recent report by the Environmental Investigation Agency (EIA) found that the nation's elephant tusk registration system widely allows for poached tusks smuggled from Africa to be sold legally in the domestic market.
"Japan is the last man standing as a major legal destination for ivory." Knights said. "If Japan joined the global community on this we could consign the abuses of the ivory trade to history." 
The international commercial ivory trade was banned in 1989, following a decade of out-of-control poaching that decimated African elephant populations from 1.3 million in 1979 to an estimated 609,000 by the late 1980s. As a result of the ban, poaching decreased significantly and ivory prices plummeted. But a "one-off" sale of ivory in 2008 and the legal domestic trade in places such as Hong Kong, China, Thailand, Vietnam and the US have allowed for the laundering of illegal ivory shipments from recently poached elephants.
Subscribe to our newsletter to enjoy more stories like this.
---
TRAVEL WITH AFRICA GEOGRAPHIC
Travel in Africa is about knowing when and where to go, and with whom. A few weeks too early / late and a few kilometres off course and you could miss the greatest show on Earth. And wouldn't that be a pity? Search for 
your ideal safari here
, or contact
 an Africa Geographic safari consultant
 to plan your dream vacation.
---