Notice
: Undefined index: group in
/home/africageographiccom/africageographic.com/wp-content/themes/twentynineteen-child/functions.php
on line
99
Notice
: Undefined index: group in
/home/africageographiccom/africageographic.com/wp-content/themes/twentynineteen-child/functions.php
on line
121
Notice
: Undefined index: group in
/home/africageographiccom/africageographic.com/wp-content/themes/twentynineteen-child/functions.php
on line
145
Notice
: Undefined index: group in
/home/africageographiccom/africageographic.com/wp-content/themes/twentynineteen-child/functions.php
on line
168
Notice
: Undefined index: group in
/home/africageographiccom/africageographic.com/wp-content/themes/twentynineteen-child/functions.php
on line
195
Notice
: Undefined index: group in
/home/africageographiccom/africageographic.com/wp-content/themes/twentynineteen-child/functions.php
on line
220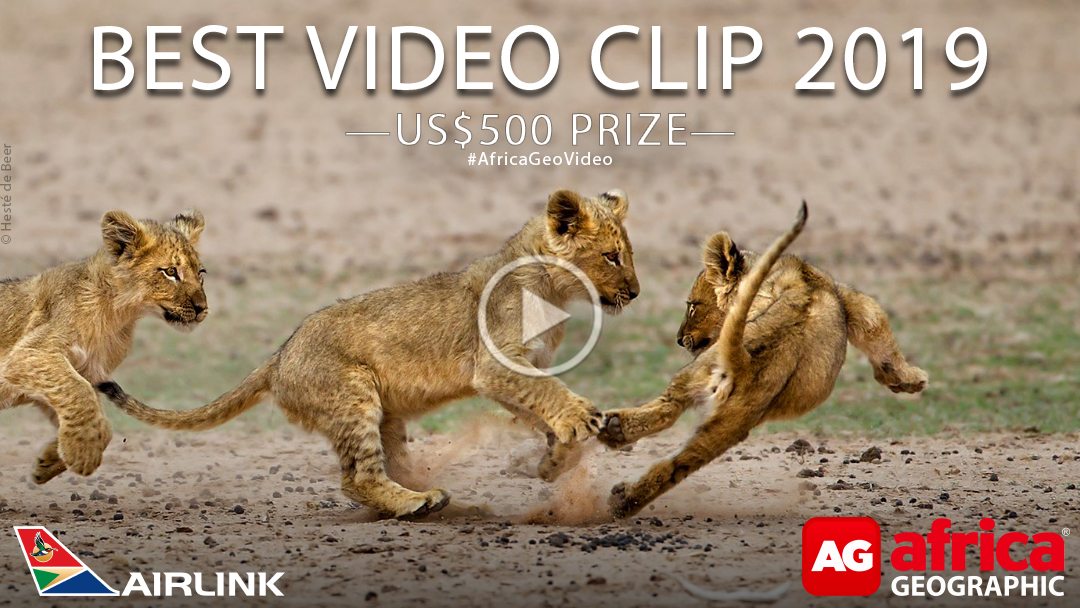 The Africa Geographic BEST VIDEO CLIP 2019 competition, brought to you by Airlink, runs from June to November 2019, and winners will be announced in December 2019.
ENTRIES HAVE NOW CLOSED. THE WINNER WILL BE ANNOUNCED END OF DECEMBER 2019.
TITLES AND PRIZES
Entries will compete for the coveted title of Africa Geographic's Best Video Clip of 2019, and a prize of US$500.
VIDEO CLIP CONTENTS
Entries must reflect our focus on the Celebration of Africa – when she shows off and gets under your skin. Perhaps it was a game drive or walking safari encounter, or a magic moment with someone in rural Africa, or your quiet contemplation as you gazed over that amazing panoramic view.
Focus on seconds of magic, rather than minutes of mediocrity. Videos not meeting our length and submission technical requirements will not be considered (see below for more details). Our selection process is final and not subject to negotiation.
For inspiration see our 2018 winner
SUBMISSION DETAILS
TECHNICAL
• Video clips should be about 60-120 seconds, preferably shorter.
• MP4 format only.
• Include only the original audio, no soundtrack to be added.
SUBMISSION DETAILS
• Send submissions to videos@africageographic.com. For files larger than 5MB send via WeTransfer to the same email address. We will not accept any entries via other channels or platforms.
• The filename must include your name and the location of where the video was taken. This is important for the credits we insert into the video clip.
• Do not edit the clip (other than shortening, if required).
• Remove watermarks and logos.
COPYRIGHT
• By submitting video clips to us you claim to be the copyright owner, and that you have obtained or do not require permission from any other party to submit the video clip and agree to our requirements.
• By submitting video clips to us you claim that you have not sold to any third party, (including any online video platform), or encumbered in any way, your right to grant Africa Geographic and our sponsors use of either the visual or audio elements of the video clip.
WHO CAN ENTER WHAT
• You may enter more than one video clip for consideration, but entries not meeting the specifications detailed on this page will not be considered.
• Entrants must be aged 18 and over.
• Entries depicting any form of wildlife should be of "wild" animals – no video clips of captive wildlife (including farm animals, household pets, petting facilities, big cat walking facilities and zoo animals) will be considered. Video clips of rescue/rehabilitation animals may be considered at the sole discretion of the organisers.
• Individuals employed by Africa Geographic and by the competition sponsors may enter, but may not win any awards or prizes.
USE OF VIDEO CLIPS SUBMITTED
• Entrants grant Africa Geographic and the competition sponsors non-exclusive permission to publish their submitted video clips on their websites and social media channels, without compensation of any kind to the entrant.
• Entrants grant Africa Geographic a non-exclusive, irrevocable licence to reproduce, publish and communicate to the public by any means and exhibit their submitted video clips in all forms of media throughout the world, including event activations.
• Entrants authorise Africa Geographic to edit the video clip/s according to our needs, and to add our own logo plus sponsor logos.
• Africa Geographic and their sponsors regret that they cannot accept liability for the misuse of video clips by third parties and/or failure of any third party to credit video clips.
• Africa Geographic acknowledges that the promotion of the Best Video Clip competition is in no way sponsored, endorsed or administered by, or associated with, Instagram, Facebook or any other third party platform or website.
AGREEMENT OF PARTICIPATION
• By entering the Best Video Clip competition, entrants confirm that they have agreed to the rules of the competition, as described hereon. Any entry found not to comply at any stage with the rules of the competition may be disqualified and any prizes may be forfeited.
• Entrants grant Africa Geographic the right to add their details to the Africa Geographic newsletter subscriber database, from which they are free to unsubscribe at any time, by following the prompt in the footer of each newsletter.
• Entrants agree that they will participate in related publicity and agree to the use of their name and likeness for the purposes of advertising, promotion and publicity of the competition – without compensation.
COMPETITION MECHANICS
The selection process administered by the judges will be as follows:
• The best entries submitted will be published every week or two (based on volume) on our website and on our Facebook, Instagram and YouTube pages, and the relevant entrants notified.
• During the month of December 2019, the judges will consider all accumulated entries and select the overall winner.
• The Best Video Clip award will be made and winner will be notified at the end of December 2019.
• The prize money will be paid within two weeks of the announcement of the winners, either via PayPal or telegraphic transfer. Bank charges and other deductions by any financial intermediary may reduce the net proceeds received by the winner/s, and Africa Geographic cannot be held liable for those deductions.