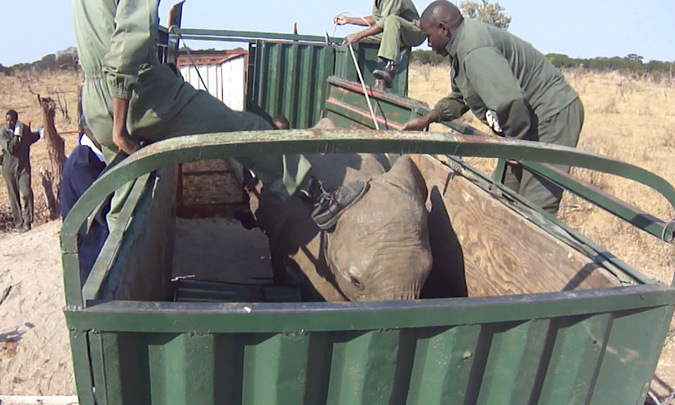 Sourced from third-party site: The Guardian, written by Adam Cruise and Christina Russo
Rare footage of the capture of wild young elephants in Zimbabwe shows the rough treatment of the calves as they are sedated and taken away.
The Guardian has been given exclusive footage which shows the capture of young, wild elephants in Zimbabwe in preparation, it is believed, for their legal sale to Chinese zoos.
In the early morning of 8th August, five elephants were caught in Hwange National Park by officials at Zimbabwe Parks and Wildlife Management Authority (Zimparks).
These captures are usually kept as secret as possible. The Guardian understands that in this case the usual procedure was followed. First, a viable herd is identified. Then operatives in a helicopter pick off the younger elephants with a sedative fired from a rifle. As the elephant collapses, the pilot dive-bombs the immediate vicinity so the rest of the herd, attempting to come to the aid of the fallen animal, are kept at bay. When things quieten down, a ground-team approaches the sedated elephants on foot, bundles them up, and drags them on to trailers.
The footage, a series of isolated clips and photographs provided to the Guardian by an anonymous source associated with the operation, documents the moment that operatives are running into the bush, then shows them tying up one young elephant. The elephants are then seen herded together in a holding pen near the main tourist camp in Hwange.
Finally, in the most disturbing part of the footage, a small female elephant, likely around five years old, is seen standing in the trailer. Her body is tightly tied to the vehicle by two ropes. Only minutes after being taken from the wild, the animal, still groggy from the sedative, is unable to understand that the officials want her to back into the truck, so they smack her on her body, twist her trunk, pull her by her tail and repeatedly kick her in the head with their boots.
Altogether, 14 elephants were captured during this time period, according to the source, who asked to remain to anonymous for fear of reprisal. The intention was to take more elephants, but the helicopter crashed during one of the operations. It is estimated that 30-40 elephants were to be captured in total.
The elephants that were taken are now in holding pens at an off-limits facility within Hwange called Umtshibi, according to the source. One expert who reviewed the photographs, Joyce Poole, an expert on elephant behaviour and co-director of the Kenya-based organisation ElephantVoices, said the elephants were "bunching" – huddling together because they are frightened.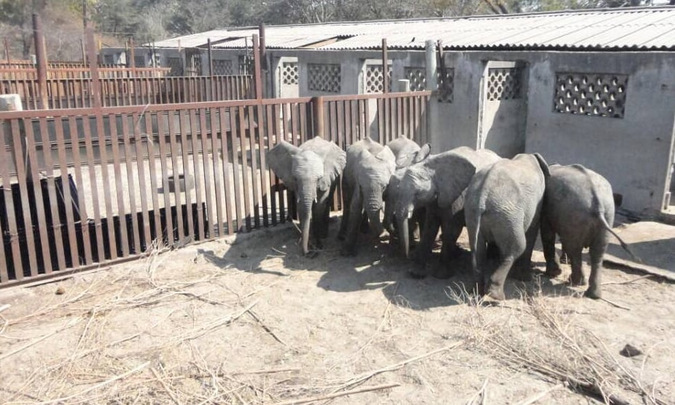 Audrey Delsink, an elephant behavioural ecologist and executive director for Humane Society International Africa, also reviewed the photos and footage. She believed that most of the elephants were aged between two and four. "Basically, these calves have just been weaned or are a year or two into the weaning process." In the wild, elephants are completely dependent on their mother's milk until they are two, and are not fully weaned until the age of five.
A number of the calves, she said, were displaying temporal streaming – a stress-induced activity. "Many of the gestures indicate apprehensive and displacement behaviour – trunk twisting, trunk curled under, face touching, foot swinging, head-shaking, ear-cocking, displacement feeding, amongst others." Zimparks were approached but did not make a comment.
The buyer for the young elephants is a Chinese national, according to inside sources who asked not to be named. Last year he was associated with a case involving 11 wild hyenas, who were discovered in a truck at Harare international airport that had been on the road for 24 hours without food or water and were reportedly in an extremely stressed condition, dehydrated and emaciated and, in some cases, badly injured.
To comment on this story please DOWNLOAD OUR APP. See details below.

---
HOW TO GET THE MOST OUT OF AFRICA GEOGRAPHIC:
Download our APP (mobile phone and desktop) to receive significant benefits including the best prices at Africa's top lodges, ready-made safari packages and networking with others like you. Find out more here.

Subscribe to our weekly newsletter to enjoy more stories like this. Subscribe here.
Travel with us. Travel in Africa is about knowing when and where to go, and with whom. A few weeks too early / late and a few kilometres off course and you could miss the greatest show on Earth. And wouldn't that be a pity? Search for your ideal safari here, or contact an Africa Geographic safari consultant to plan your dream vacation.
---