Clients on one of our 2015 predator safaris in Kenya's Maasai Mara were lucky enough to witness the legendary Musiara Marsh Pride of lions take on a large clan of hyenas that were determined to rob them of a recent Cape buffalo kill.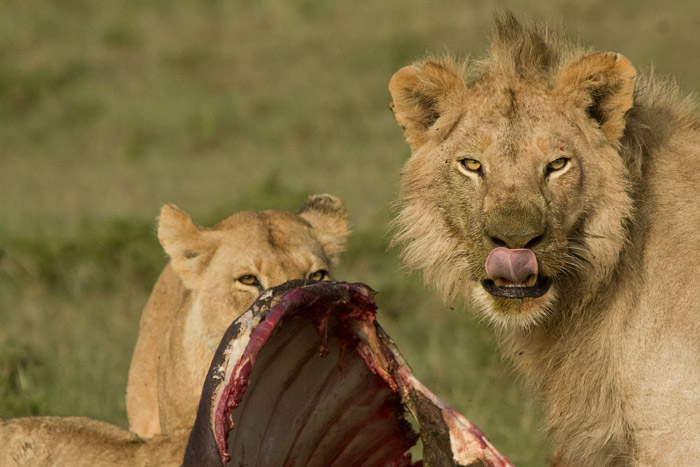 The overnight hunt was an exhausting affair for the lions, with the powerful buffalo seeking refuge in deep pools on several occasions, before eventually succumbing to the determined and experienced lions. The lions feasted well, and in the morning all had bellies full to bursting. Many of the pride members moved away from the buffalo carcass to drink and rest. That's when the clean-up crew of jackals, hyenas and vultures moved in to pick the carcass clean.
The few lions that remained at the carcass were soon outnumbered, as 60 hyenas (not all can be seen in the video) gathered and ripped the carcass to shreds, consuming all remaining meat.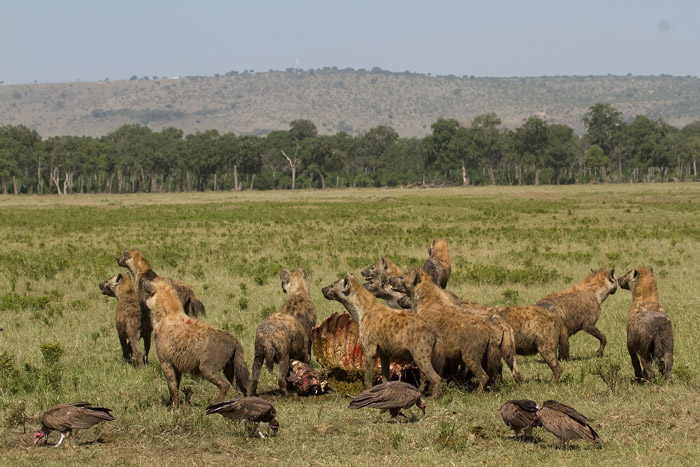 At one stage the brazen and confident hyenas set off in pursuit of one lion and her cubs, but full bellies and the return of a few more lions halted that charge. During the melee, Siena (a lioness famous for killing hyenas) made a comeback attempt, giving a few retreating hyenas a fright as she bowled them over. In the end though, full bellies won the day and each protagonist retreated to safety.
httpv://youtu.be/t7LAcY3skpc
This was an exceptional safari experience and we hope to see more in the coming Maasai Mara safari season! Book your Kenyan safari with us today.