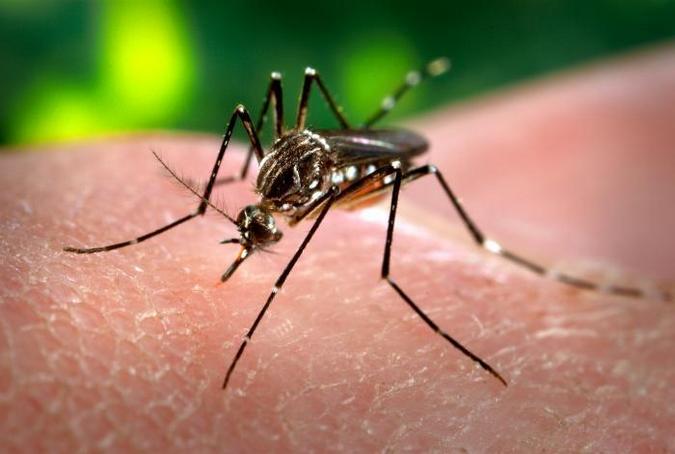 Endemic in tropical areas of Africa and Central and South America, yellow fever is an acute viral haemorrhagic disease spread by the bite of infected female mosquitoes. The 'yellow' in the name refers to jaundice that affects some patients. Symptoms of yellow fever include fever, headache, jaundice, muscle pain, nausea, vomiting and fatigue.
Which African countries are high risk?
According to the World Health Organization, only four African countries have seen cases of yellow fever in 2018, although many more countries carry a yellow fever risk warning (see map below). The four countries are Central African Republic (one new suspected case in December 2018); Democratic Republic of Congo (15 cases confirmed since the beginning of 2018); South Sudan (one confirmed and two suspected cases in December 2018) and an epidemic in Nigeria.
An outbreak of yellow fever in Nigeria prompted the Centers for Disease Control and Prevention (CDC) in the USA to issue a Level 1 Travel Alert (Practise Usual Precautions), saying that "Travellers going to Nigeria should receive vaccination against yellow fever at least ten days before travel and should take steps to prevent mosquito bites while there".
According to the Nigeria Centers for Disease Control (NCDC), the outbreak of yellow fever began in September 2017. Since then, it has spread throughout the country. By the end of November 2018, 14 Nigerian states had reported more than 55 laboratory-confirmed cases of yellow fever; all 36 states and the Federal Capital Territory had reported more than 3,500 suspected cases and several deaths; and Edo State had reported a large number of suspected cases, several of which had been laboratory-confirmed as yellow fever. As of the end of December 2018, no new cases have been confirmed.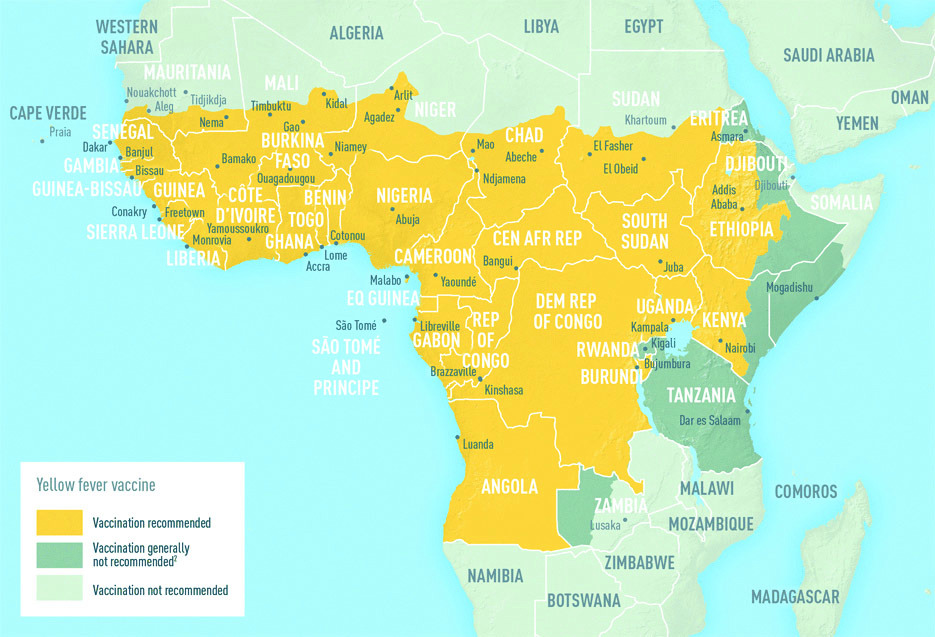 Prevention
Vaccination is the most important means of preventing yellow fever. WHO states that just one dose of the vaccine will provide life-long protection. Booster doses and new vaccination certificates used to be recommended every ten years for people who continued to be at risk of the infection, but this is no longer necessary in most cases – however, some countries do recommend the booster dose if travelling to areas that have a high risk of exposure to the virus, such as Nigeria.
"Yellow fever is prevented by an extremely effective vaccine, which is safe and affordable," says WHO. "A single dose of yellow fever vaccine is sufficient to confer sustained immunity and life-long protection against yellow fever disease. A booster dose of the vaccine is not needed. The vaccine provides effective immunity within ten days for 80-100% of people vaccinated, and within 30 days for more than 99% of people vaccinated."
However, the vaccination is not recommended for the following individuals:
• children below nine months of age;
• pregnant woman;
• people with severe allergies to egg protein;
• and people with cancer or compromised immune systems (due to symptomatic HIV/AIDS or other causes), or who have a disorder with their thymus gland.
Rare cases of serious side-effects
According to WHO, there have been rare reports of severe side-effects from the yellow fever vaccine. These severe 'adverse events following immunisation' (AEFI) provokes an attack on the liver, the kidneys or the nervous system.
The risk of AEFI is higher for people over 60 years of age and anyone with weakened immune systems due to symptomatic HIV/AIDS or other causes, or who have a thymus disorder. However, the risk of these severe side-effects is low, occurring about one in every 100,000 doses of vaccine recipients.
The yellow fever vaccine made headlines earlier this month when Prof. Martin Gore (67), former medical director of the Royal Marsden Hospital in the UK and a renowned cancer specialist, died on January 10 after a routine yellow fever vaccination. Gore suffered total organ failure soon after having the jab.
"His death highlights the increased risks associated with the vaccine for the growing number of older travellers visiting exotic destinations," The Times of London reported.
If travelling in high-risk areas, various precautions against mosquito bites that can be taken include:
• using insect repellent;
• covering legs and arms with long-sleeved shirts and trousers;
• sleeping under a mosquito net in an air-conditioned or well-screened room;
• and avoiding standing in water that may breed mosquitoes.
Also read: Understanding malaria.
To comment on this story please join our PRIVATE TRAVEL & CONSERVATION CLUB. See details below.

---
HOW TO GET THE MOST OUT OF AFRICA GEOGRAPHIC:
Join our private travel & conservation club (mobile app and desktop) to enjoy significant benefits, including the best prices at Africa's top lodges and networking with others like you. Find out more here.

Subscribe to our weekly newsletter to enjoy more stories like this. Subscribe here.
Travel with us. Travel in Africa is about knowing when and where to go, and with whom. A few weeks too early / late and a few kilometres off course and you could miss the greatest show on Earth. And wouldn't that be a pity? Search for your ideal safari here, or contact an Africa Geographic safari consultant to plan your dream vacation.
---