A recently completed 11-month undercover investigation by Elephant Action League (EAL) called Grinding Rhino has exposed the networks, the players and the means by which rhino horn is trafficked into China.
A separate 200-page Confidential Intelligence Brief (CIB) has been prepared for law enforcement only, and it includes detailed information and evidence on 55 identified Persons of Interest involved in rhino horn trafficking in China and Vietnam.
Although completely illegal since 1993, anyone with the desire and means can easily buy rhinoceros horn in China. All you need to do is walk into an 'antiques' shop and ask.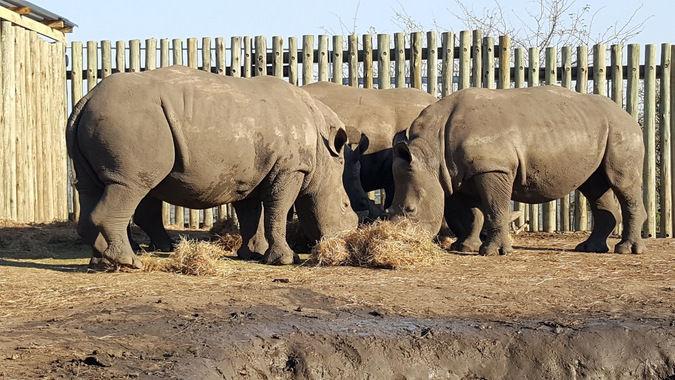 Executive summary
1. The rhino horn trade is an extremely complex web of traffickers, transporters, wholesale dealers, and traders, making law enforcement incredibly difficult;
2. Rhino horn and other wildlife contraband generally moves from Vietnam to the Guangxi or Yunnan Provinces and then to China's primary retail markets (Guangdong, Fujian, Zhejiang, Beijing);
3. Local populations at the China-Vietnam border use the smuggling business as a means to support themselves and their families;
4. Smugglers use individuals to transport contraband across the border; individuals can more easily pass through the border without inspection or detection;
5. Official ports of entry and private border crossings are both used to smuggle goods, but private crossings have weaker security;
6. Most high-crime smuggling occurs via mountain and land routes, but moving goods across the border via boat is still a common practice in some areas;
7. In Vietnam, wildlife dealers claim to have relationships built with shipping companies so that they can ship contraband directly to customers throughout China;
8. In China, many traders offer delivery of illicit goods via registered courier services;
9. Similar routes are used by smugglers for all types of contraband, including illegal arms and narcotics;
10. The corruption exhibited by customs and law enforcement authorities in Vietnamese and Chinese border regions is substantial; fining smugglers and taking bribes is standard practice at most ports of entry;
11. Many illegal wildlife product dealers are involved in the redwood furniture business, or similar art and antiquities businesses, and traditional Chinese medicine markets, with established connections in Vietnam and/or Guangxi.
12. Most dealers do not hold a large inventory of rhino horn (whole, raw, or carved), instead, material is generally sourced on-demand and primarily sold only to familiar customers in order to avoid detection by authorities;
13. WeChat, the mobile application, is used extensively by dealers to connect with buyers and exhibit available rhino horn products; Alipay is used by many to process payment transactions;
14. One contact alleged that he sells rhino horn scrap to a Chinese international pharmaceutical company, Tong Ren Tang, for use in medical products. This is unconfirmed by EAL and denied by another POI that previously worked for the company;
15. A seasoned rhino horn dealer, who is also a Vice President of the local Association of Collectors, alleged involvement with commanders in the Chinese military, where they used him to identify authentic wildlife products (such as rhino horn) for them to purchase, as well as allowed the Chinese navy fleet to pick up and carry wildlife contraband back to China;
16. EAL investigators also found large quantities of other wildlife products such as tiger (teeth, skins and bones), as well as ivory, bear paws, bile and gall bladders, hawksbill turtle shells, helmeted hornbill beaks, snow leopard skins, civet cats, king cobras, wolf skin and teeth, and corals;
17. The price identified was between $26,500 and $40,000/kg for whole raw rhino horn, and between $34 and $70/gram for cut objects (see products list and prices on the report).
Download the 95-page report here.
To comment on this story: To protect you against trolls & misinformation, we only permit comments in our app. See how to DOWNLOAD OUR APP below.

---
HOW TO GET THE MOST OUT OF AFRICA GEOGRAPHIC:
Download our APP (mobile phone & desktop) to receive travel discounts, comment on our stories, make safe donations and network with others like you. Find out more here.

Subscribe to our newsletter to receive our best stories in your inbox weekly and for travel discounts. Subscribe here.
Travel with us. Travel in Africa is about knowing when and where to go, and with whom. A few weeks too early / late and a few kilometres off course and you could miss the greatest show on Earth. And wouldn't that be a pity? Search for your ideal safari here, or contact an Africa Geographic safari consultant to plan your dream vacation.
---