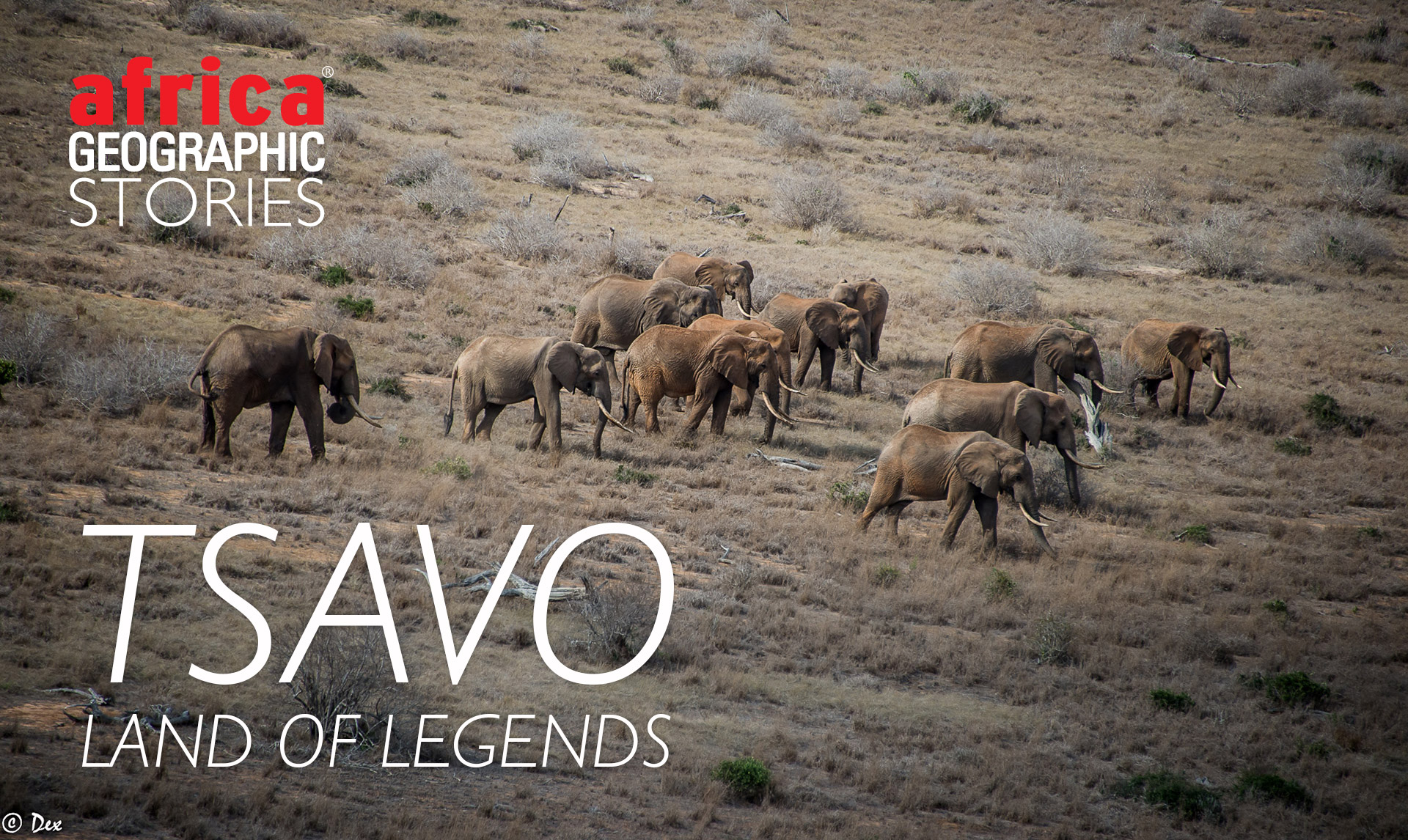 Land of legends & giant red tuskers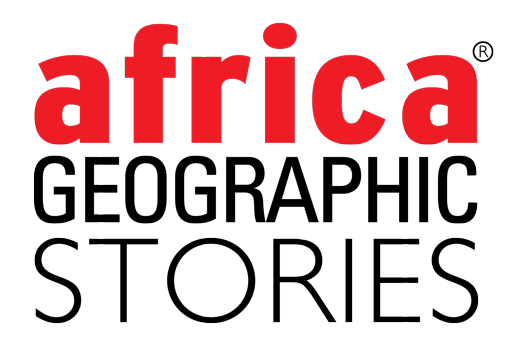 Every one of Africa's national parks and protected spaces comes with its own rich and vibrant history, and some, like Tsavo, have had a more challenging road than others. Shaped by the history of the country, no small amount of luck, and often the blood, sweat and hard work of passionate conservationists, Africa's wild protected spaces are the treasure chests of our natural resources.
Often due to these complex histories, some of these wild spaces engender a kind of mystique, which is especially true for Tsavo East and West National Parks. As part of the broader Amboseli-Tsavo ecosystem, there is something captivating about Tsavo – a feeling of vast space and ancient magic of the truly wild. Thick red soils stain the leathery skins of its sizeable elephant population, and the sight of a herd of red elephants crossing the Tsavo River beneath lush palm fronds is one not easily forgotten. The sometimes-harsh beauty of the landscape captured the heart of Denys Finch Hatton ('Out of Africa' – Karen Blixen's lover) in a way no other wild space (or woman) ever had, and it was there that he was killed when the plane he was piloting crashed.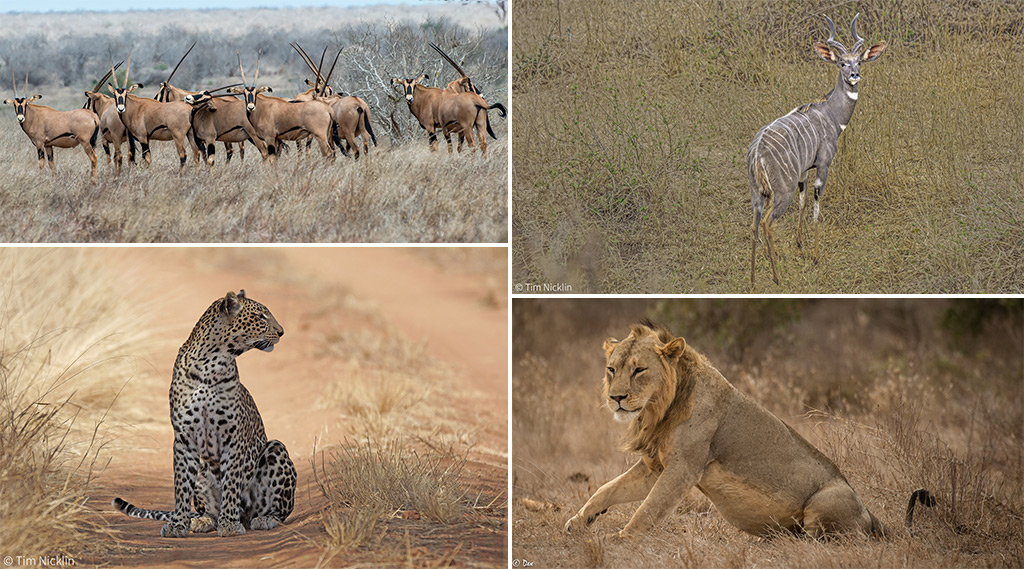 From untimely deaths to man-eaters and poaching wars, Tsavo has not had the easiest road but now, combined, Tsavo East and West account for the largest of Kenya's protected spaces by a comfortable margin, over 20,000km² (2,000,000 hectares), and one of the world's largest protected wilderness areas. Named for the Tsavo River that runs through Tsavo West before joining the Athi River to form the Galana River, this massive Big 5 ecosystem lies directly between Nairobi, Kenya's capital, and Mombasa, the country's main port city. This location is the reason behind the division of Tsavo East and West – they are split by both railways and the Nairobi-Mombasa Road, which sees the movement of around 50% of goods traded in East Africa. The enormous size of Tsavo makes it one of the most biodiverse ecosystems in Kenya, from the red semi-desert of parts of the East to the rainforests of the Chyulu Hills and everything in between.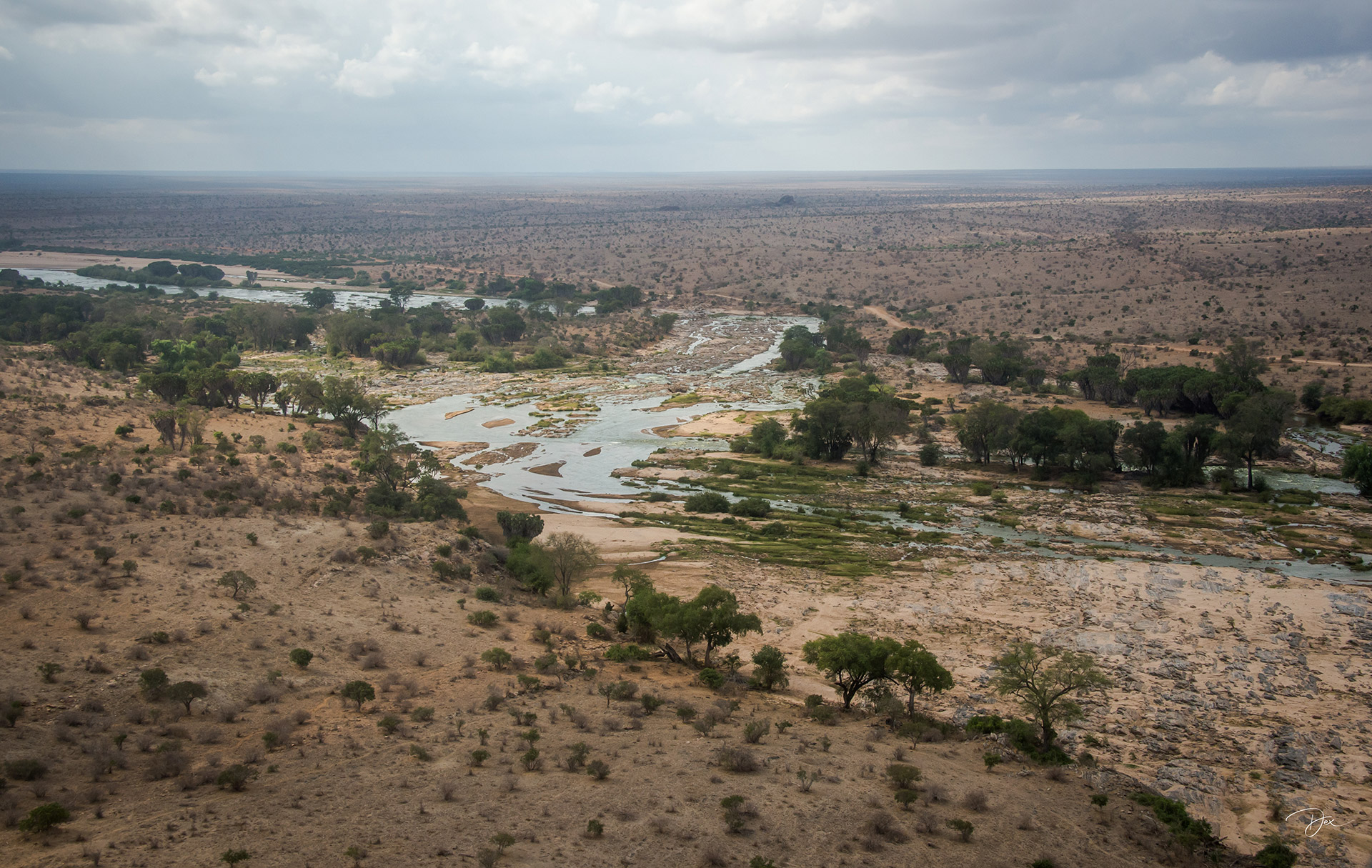 Tsavo East
Tsavo East National Park is the larger of the twin parks, covering 13,700km² (1,370,000 hectares), and is also the more arid of the two. Apart from some crags around Voi and gorges around the Galana River, Tsavo East consists mostly of plains of grassland and savanna that stretch as far as the eye can see. The park receives fewer visitors than Tsavo West, and it is easily possible to spend a day exploring without encountering another soul. The reopening of the "forbidden zone" (closed off during the poaching wars) has added yet another spectacular aspect to an already striking reserve, particularly for those keen to spot African wild dogs (painted wolves).

Geologically fascinating, Tsavo East is home to the Yatta Plateau (the longest lava flow in the world which begins near Nairobi and stretches for over 300km) and Mudanda Rock, which acts as a water catchment and offers visitors the perfect outlook to watch animals arriving to drink there. Wildlife enthusiasts are guaranteed a glimpse or two of the long-necked gerenuks, one of the most peculiar-looking antelope in Africa, and should keep their eyes peeled for the lesser kudu and fringe-eared oryx as well. Apart from the Kenyan-Somali border, Tsavo East is also the only other place to see the critically endangered hirola antelope, which were introduced there to help to save the species. Sightings of black rhino are rare but rewarding, as are sightings of striped hyena. The bird variety is equally diverse with over 500 bird species recorded in Tsavo East, including the golden-breasted starling, African orange-bellied (red-bellied) parrot, vulturine guineafowl and Somali ostrich.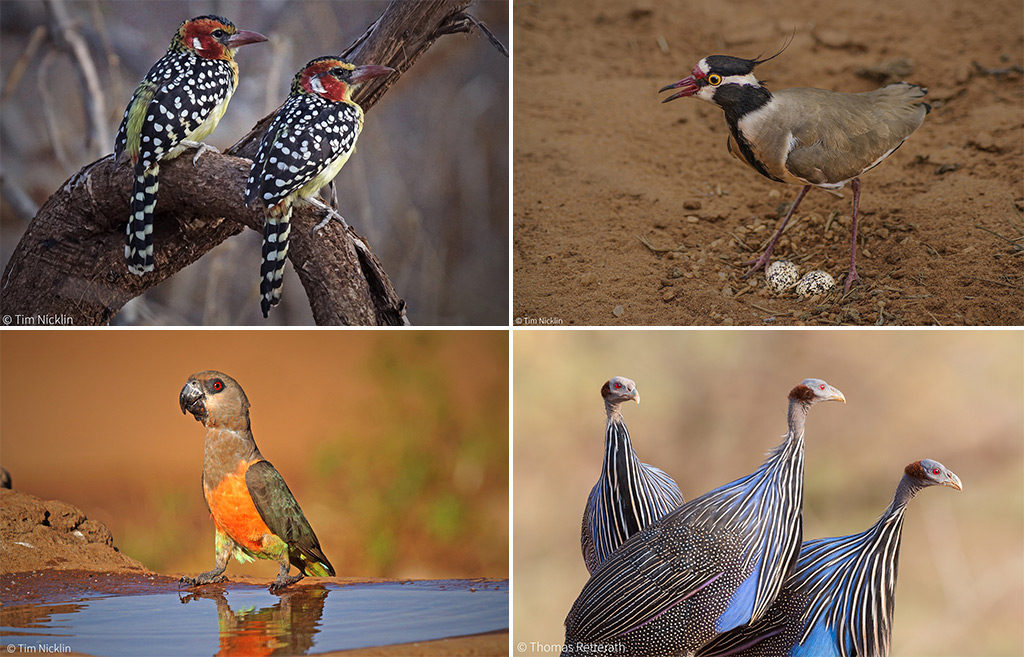 Tsavo West
Tsavo West is more developed than Tsavo East, particularly the accessible area between the Tsavo River and Mombasa highway, and runs to the Tanzanian border. Close to Mount Kilimanjaro, Tsavo West is topographically fascinating, and its dramatic mountains, inselbergs and sheer cliff faces are courtesy of ancient (and relatively recent) tectonic shifts and volcanic eruptions. As a result of a combination of fertile volcanic soils and higher rainfall levels, the vegetation of Tsavo West can be dense in places, which in turn can make the wildlife viewing slightly more challenging but the scenery even more spectacular.
The Mzima Springs are a significant attraction for visitors to Tsavo West. Below the volcanic Chyulu Hills, a natural reservoir of water percolates through the porous rock before eventually emerging, filtered, at Mzima Springs. Here, people can enter a glass viewing chamber to watch the life underneath the surface of a crystal-clear pool – including schools of fish, crocodiles, and the resident hippos. The dense date and raffia palms and an assortment of various other fruiting trees attract a variety of bird and primate life, making the springs a veritable oasis, especially during the drier months.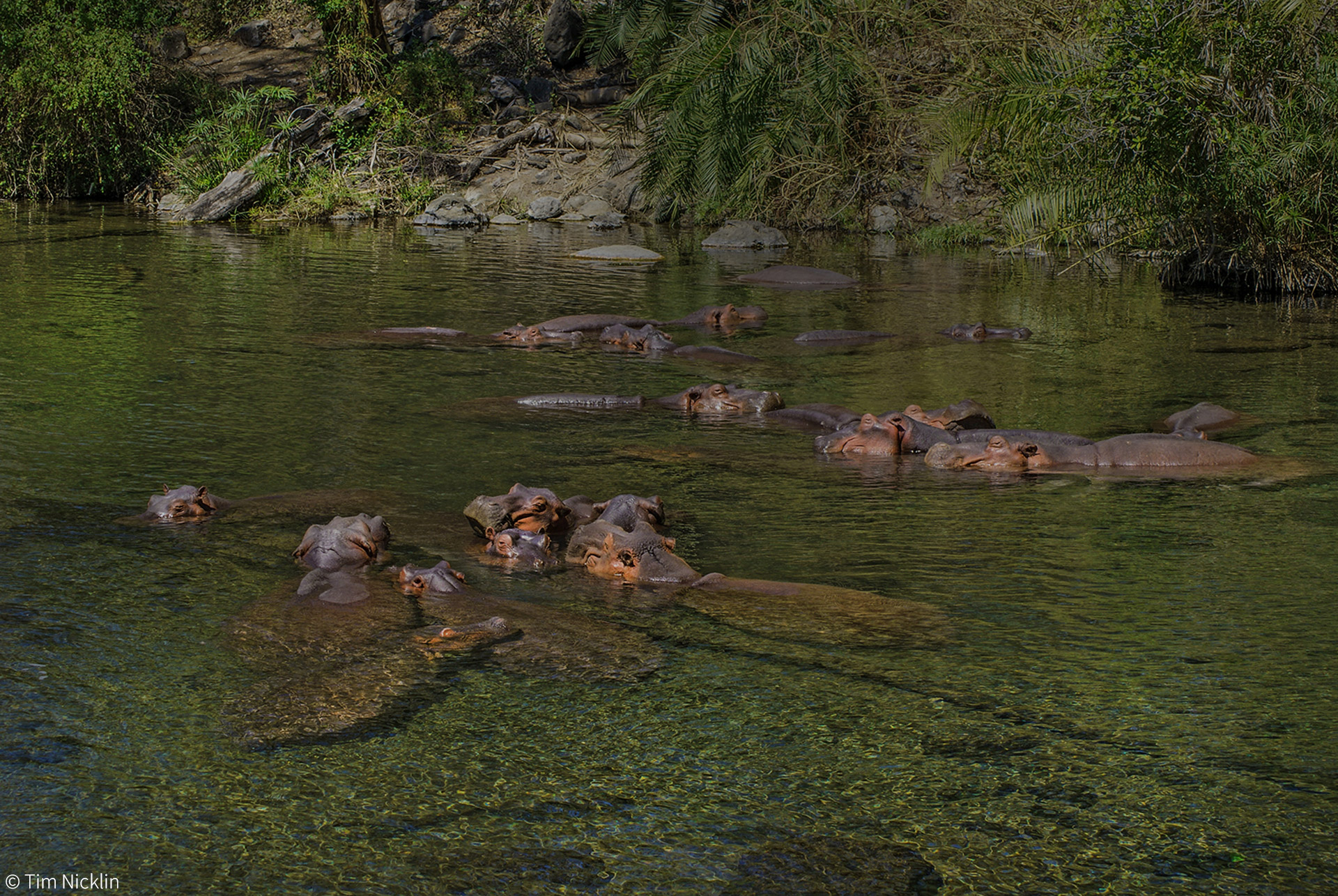 Not far from the Chyulu Gate, the Shetani lava flow is a vast expanse of folded black lava from an eruption believed to have occurred only 200 years ago, now inhabited by nimble klipspringers and ubiquitous hyraxes, and (for the fortunate few), a lounging leopard unfazed by the sharp rocks. The nearby caves, formed by the same volcanic activity can be freely explored, by those brave enough to do so! The name "Shetani" translates as "devil" in Swahili, which gives some insight into just how the original residents felt as they watched the lava flow across the earth.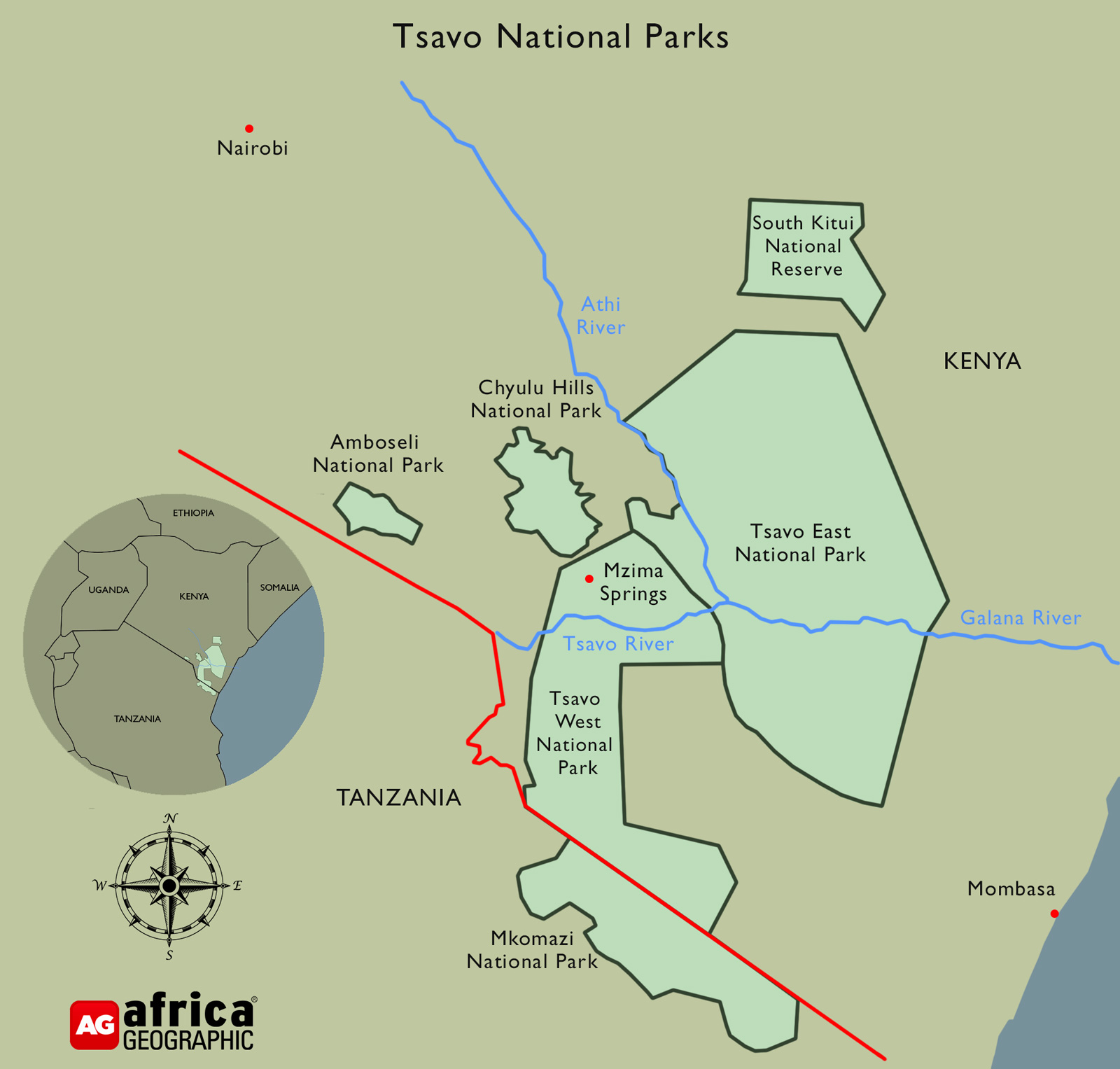 The Ghost and The Darkness
No description of Tsavo would be complete without mention of possibly the most famous man-eaters in history. During the construction of the Ugandan Railway and bridge over the Tsavo River, a pair of male lions, nicknamed The Ghost and The Darkness, stalked and killed many labourers. Despite efforts to keep the lions away from the camps by building large fires and bomas, the lions regularly managed to find a way in and seemed to have no fear of people. Hundreds of workers fled, and construction was halted while Lieutenant-Colonel John Henry Patterson spent his evenings in a platform in a tree, attempting to bait and trap the lions before finally killing both. The number of people killed by the man-eaters of Tsavo is disputed – it seems likely that Patterson's claim that they killed 135 people was exaggerated. Analysis of their fur suggests a number closer to 34 people but could not account for victims killed but not eaten by the lions.
There is no overarching accepted reason as to why those lions behaved in the way they did, and it was most likely due to a combination of different factors and opportunism born of a different age. Certainly, at that point in history, the rinderpest outbreak of the late 19th century would have decimated their available prey, and one was shown to have had a severe infection in the root of its canine.

The experience
Visitors to Tsavo, particularly Tsavo East, should be aware that temperatures can be searing at times, particularly during the dry months between January and February and June to October. These consistently high temperatures are one of the theories put forward as to why all Tsavo male lions have extremely undeveloped manes, though there is a fair amount of scientific disagreement as to the exact explanation. Either way, the baking days should be taken into account by those considering visiting Tsavo.
Many of Tsavo's lodges are famous for their colonial-style luxury and experienced guides are there to ensure their guests experience the best of these remarkable national parks. Tsavo is enormous, and tourist densities tend to be relatively low, so this is not a national park to be explored by novice safari-goers looking to be self-sufficient without adequate preparation. Those adventurous souls that do venture out should ensure that they are fully prepared, especially during the rainy season where driving can be technical. Appropriate supplies of drinking water are a must!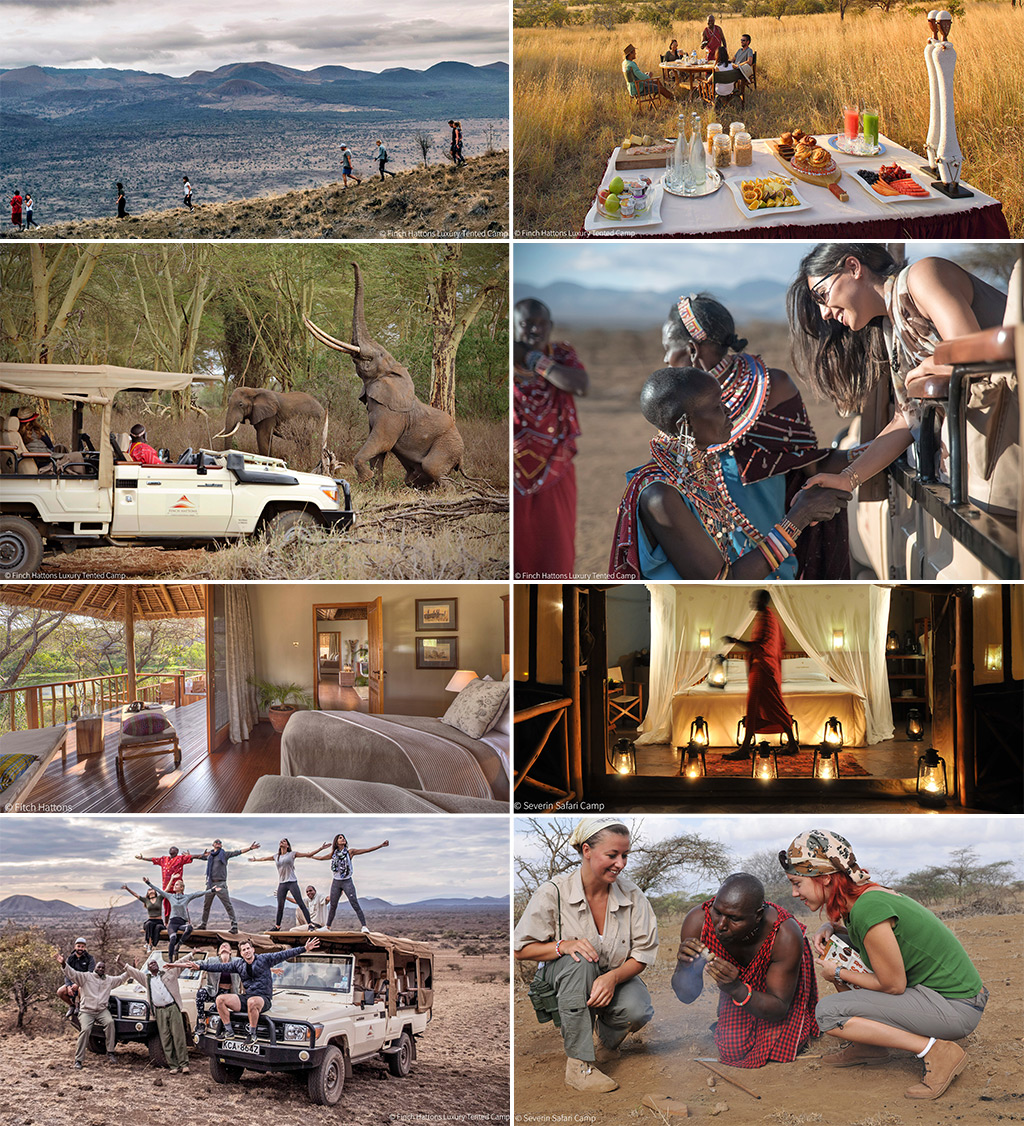 Tsavo is famous for its herds of red elephants, including some of Africa's last big tuskers, and these are a testament to both the resilience of nature as well as the enormous effort that went into protecting them. Historically, Tsavo's incidental proximity to the main transport route to the coast spelt disaster for its elephant and rhino populations during Kenya's poaching wars of the 1970s/80s. Populations dropped to 5,300 elephants in 1988 but thanks to concerted conservation efforts, have since risen to around 12,000 today – one of the largest elephant populations in Kenya. For elephant enthusiasts, a visit to Tsavo is a must.

Those that have visited Tsavo can bear testament to its unique feel and, without being too melodramatic, its profound and indelible impact on the soul. It is difficult to fully capture the Tsavo experience in words – the boundless skies and vast spaces combine with a rich sense of history to create a wilderness experience from a bygone era. For those that seek wilderness and enjoy elephants and bushwalking, try this exclusive safari option: Walking with giants in Tsavo
Want to go on a safari to Tsavo? To find lodges, search for our ready-made packages or get in touch with our travel team to arrange your safari, scroll down to after this story.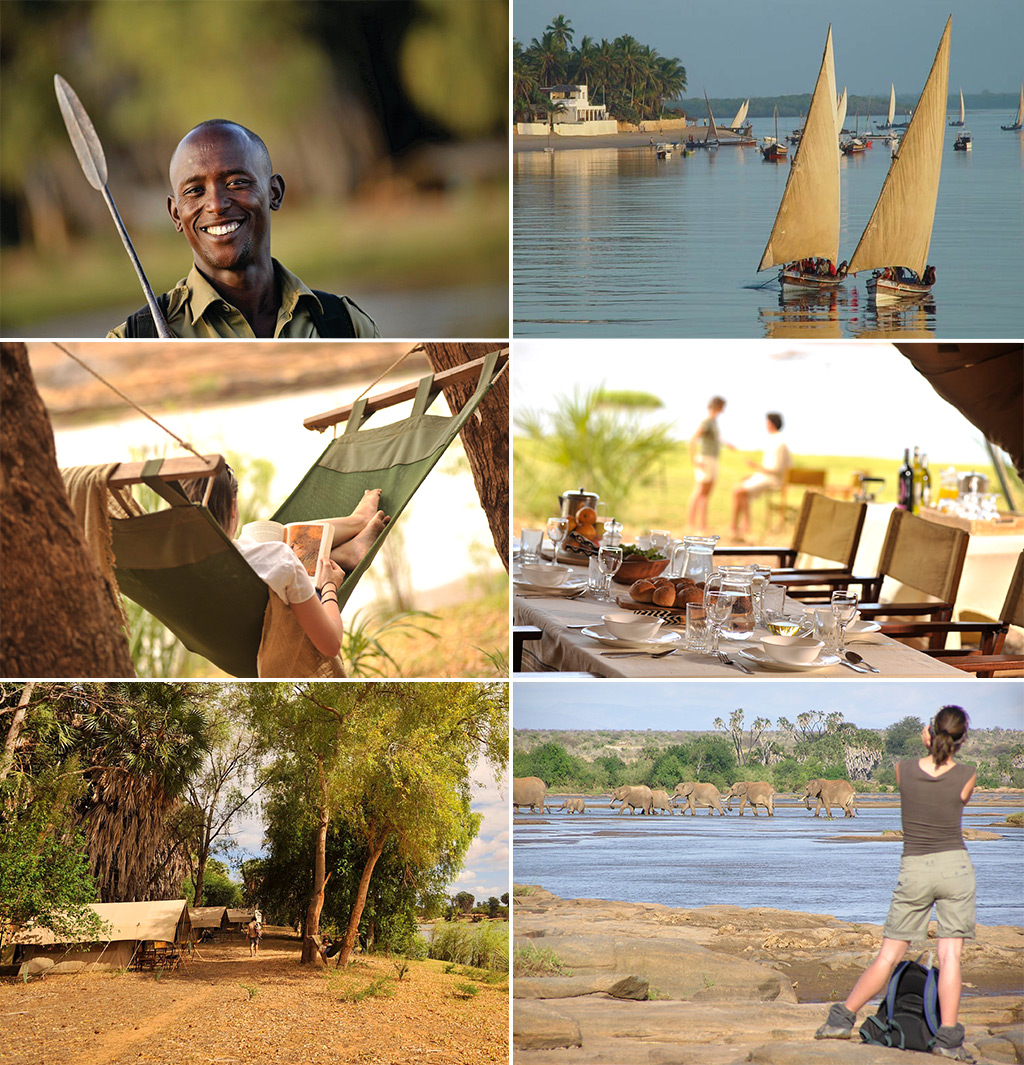 To comment on this story: Login (or sign up) to our app here - it's a troll-free safe place 🙂.

---
HOW TO GET THE MOST OUT OF AFRICA GEOGRAPHIC:
Travel with us. Travel in Africa is about knowing when and where to go, and with whom. A few weeks too early / late and a few kilometres off course and you could miss the greatest show on Earth. And wouldn't that be a pity? Browse our famous packages for experience-based safaris, search for our current special offers and check out our camps & lodges for the best prices.
Subscribe to our FREE newsletter / download our FREE app to enjoy the following benefits.
---