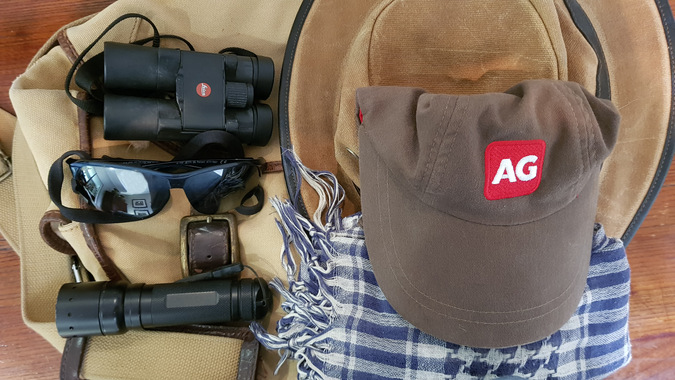 So, what to pack for your next safari? The rule of thumb is to pack light and to make use of the laundry facilities at your lodges and hotels. That said, there are some essentials that you should never be without.
After many years of exploring every nook and cranny of Africa, our travel team has drilled down their list of essentials to the following:
• Good quality sunglasses – preferably polarised
• Light scarf – for hot and cold weather
• Sun hat or cap
• Golf-shirts, T-shirts and long-sleeved cotton shirts – neutral colours such as brown, tan, khaki, green, etc.
• Shorts/skirts
• Long trousers/slacks
• More formal attire for your stay at prestigious city hotels or on one of the luxury trains
• Underwear and socks. Sports bra recommended on game drives as the roads can be bumpy and uneven.
• Good walking shoes (running/tennis shoes are fine)
• Sandals
• Swimming costume
• Warm anorak or parka, scarf & gloves (it can get cold at night and in the early morning)
• Light rain gear for the rainy months
• Camera and video equipment, memory cards and spare batteries
• If you wear contact lenses, we recommend that you bring along a pair of glasses in case your eyes get irritated by the dust
• Binoculars (night vision binoculars are not essential but highly recommended if your safari includes night activities)
• Relevant bird book or app if you are a keen birder
• Personal toiletries
• Malaria tablets (if applicable)
• Moisturising cream and suntan lotion
• Insect repellent, e.g. Tabard, Peaceful Sleep, Rid, Jungle Juice, etc.
• Basic medical kit (aspirins, plasters, Imodium, antiseptic cream and antihistamine cream, etc.)
• Tissues/"Wet Wipes"
• Visas, tickets, passports, money and important documents
• Waterproof/dust-proof bags/cover for your cameras
• A good torch and spare batteries
• Padlocks for your luggage during international and regional flights
• Mobile phone
• Torch and reading head-lamp
Subscribe to enjoy more stories like this.
---
TRAVEL WITH AFRICA GEOGRAPHIC
Travel in Africa is about knowing when and where to go, and with whom. A few weeks too early / late and a few kilometres off course and you could miss the greatest show on Earth. And wouldn't that be a pity? Search for your ideal safari here, or contact an Africa Geographic safari consultant to plan your dream vacation.
---