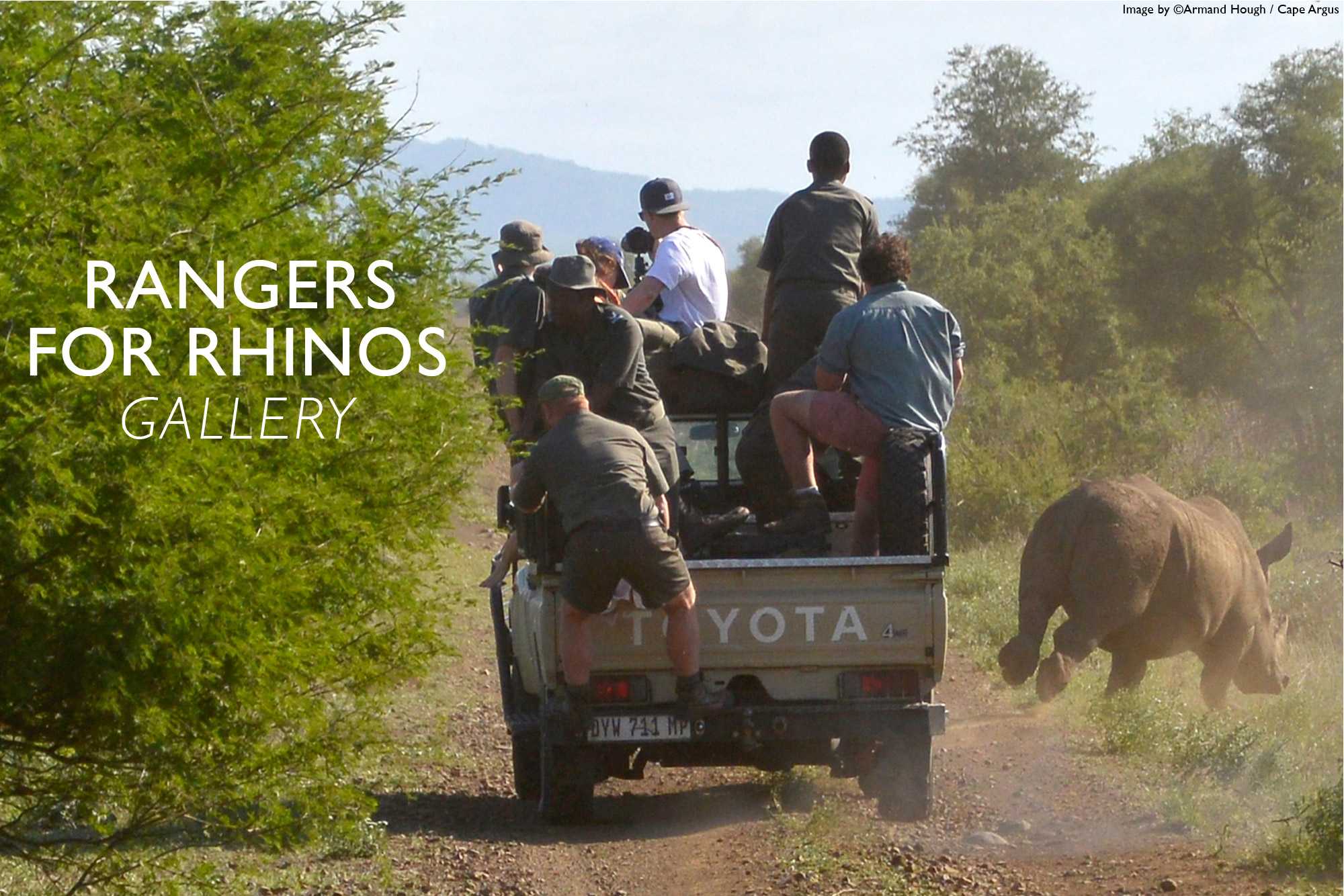 Rangers for Rhinos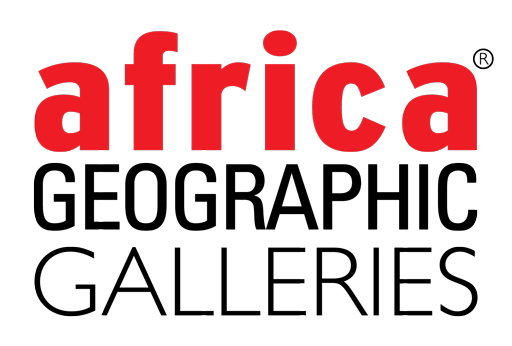 When it comes to the fight against rhino poaching, there are simply too many heroes to mention. They take the form of guides, researchers, vets, rangers and volunteers, and each Rhino Tears wine, I was lucky to brush shoulders with some of these eco-warriors while they gave us a glimpse behind the scenes. I was introduced to the park's canine unit and learned more about the various teams protecting our rhinos.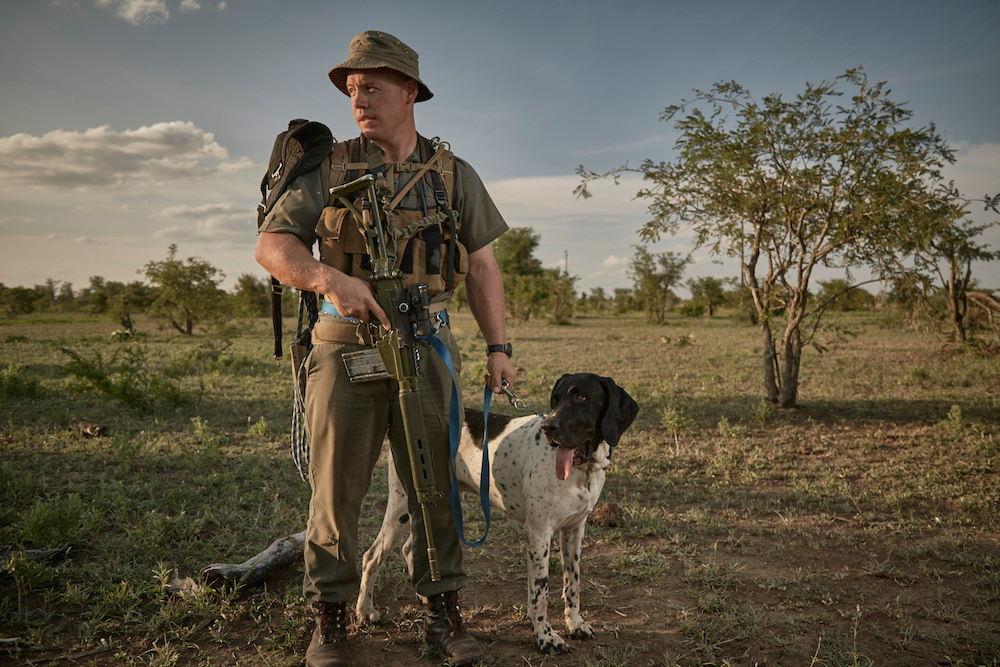 Xolani Nicholus Funda – the main man © Ravi Gajjar, Rhino Tears
As the newly-appointed head of ranger services, Xolani Nicholus Funda has brought some fresh blood and a renewed fire to this dedicated team of more than 700 individuals. He has a sense of community and the bigger picture that not only demonstrates his vast wisdom and know-how but also his compassion for the real heart of this issue. After working as a ranger in his early years, Mr Funda went on to become a lecturer at the University of Tshwane under the Department of Nature Conservation, where he worked for seven years. Apart from his conservation experience, he holds a master's degree in environmental management from the University of Free State.
A quote from the man in charge: "Poverty is a serious threat to conservation and natural resources, and if we don't deal with that, we cannot combat the poaching issue."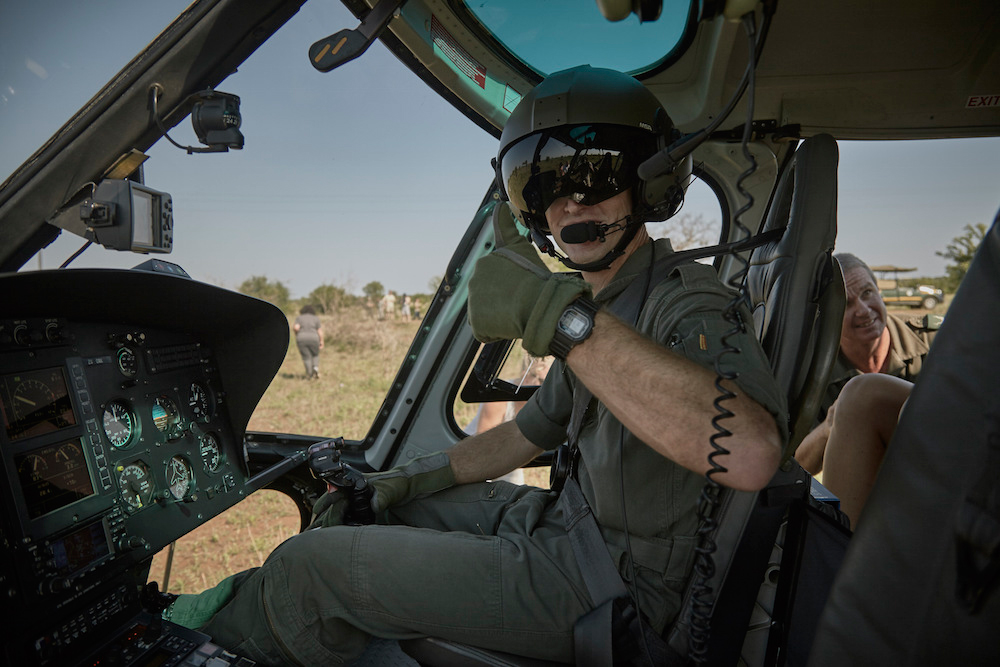 Brad Grafton – Kruger's eye in the sky © Ravi Gajjar, Rhino Tears
Brad Grafton is the new kid on the block regarding Kruger's air services. Brad comes from a military background, and his skills bring an interesting perspective to the party – clearly indicating what Kruger's rangers are up against. Despite a demanding schedule that sometimes sees him running four or five aerial missions a day, Brad always seemed to have a smile on his face. His sheer enjoyment and fascination for his job were evident when he took us up in his helicopter for a quick spin. This helicopter pilot loves life in the bushveld, and I can say that the views he gets to experience each day are worth fighting for.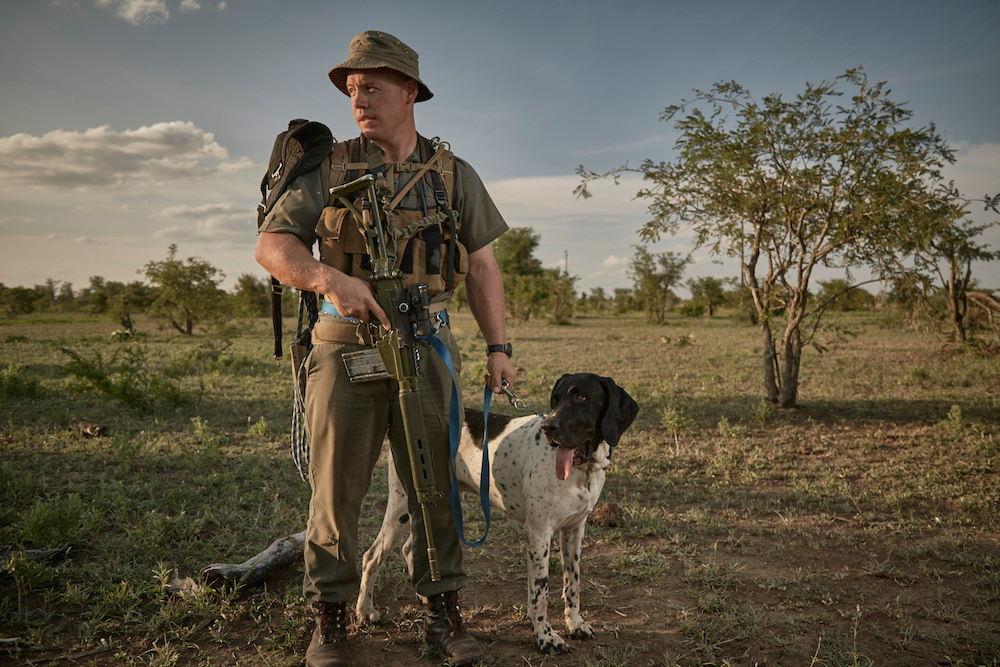 Craig Williams and Badger – a rhino's best friends © Ravi Gajjar, Rhino Tears
Craig Williams is a relatively new addition to Kruger's team of section rangers. He, unfortunately, had to take over a messy wake after his former section ranger at Lower Sabie was arrested, along with two others, for rhino poaching – evidence of just how tempting this illicit trade is. But Craig is definitely up for the job – he comes from Mountain Zebra National Park, where he picked up a Frontier Shield award for bravery for his quick thinking in June 2012 when he managed to save his colleagues from a charging black rhino. Dog Badger at his side is a unique bluetick, and while he may look like the ultimate sweetheart with that lolling tongue and loveable demeanour, Badger is a lean, mean tracking machine.
For Craig, working in the Kruger with Badger at his side has always been a dream, and in his words, "It is a privilege and honour to do what we do."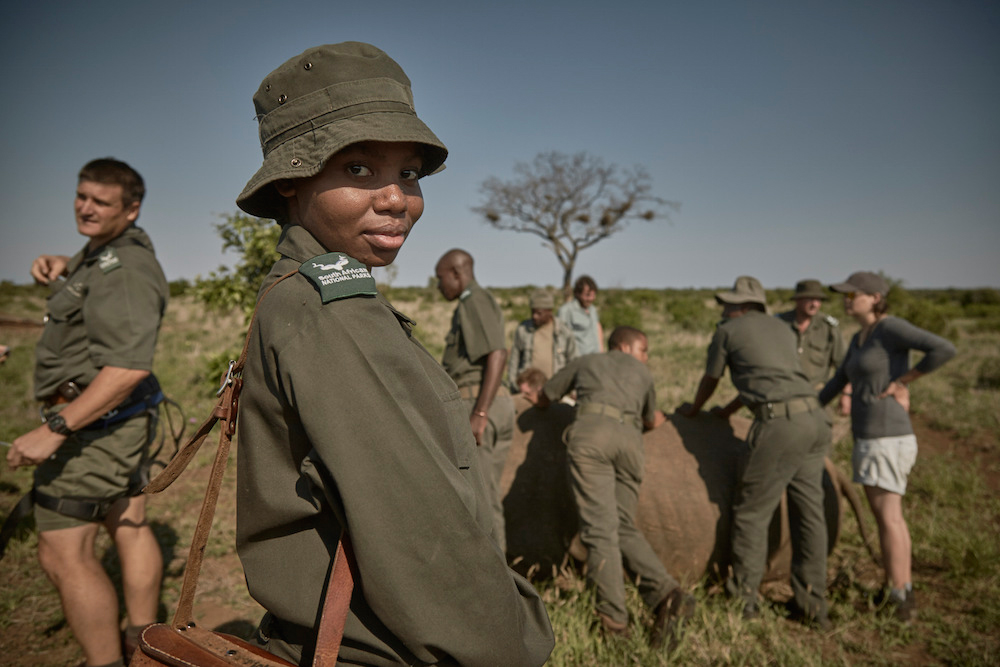 Tebogo Manamela – a strong woman ©Ravi Gajjar, Rhino Tears
A feminine face in a man's world – but no less hardcore. It was clear from the outset that Tebogo is deeply passionate, committed and humble. As an outsider looking on, you could see she was eager to learn, but she also easily held her own and demanded respect from a team of manly green. She was the right-hand woman to head vet Markus Hofmeyr, and she diligently went about her work with the utmost grace, taking blood samples and doing the necessary checks on the rhino that we darted. The guys expect big things from her, and I have no doubt she will live up to the challenge.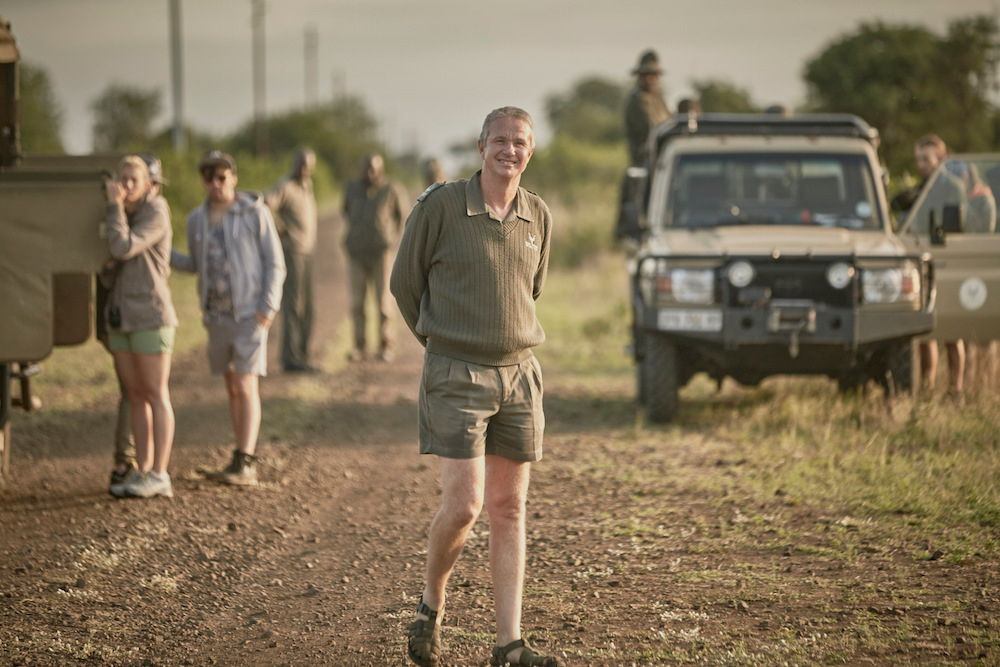 Jaco Buys – a guide with a plan © Ravi Gajjar, Rhino Tears
Jaco was one of our guides for our Kruger trip, and I think it's safe to say that his keen sense of humour is matched only by his vast bush knowledge. I can attest firsthand that if an elephant ever charges you, Jaco is the man you want out in front of you. As a Level 3 trails guide, trainer and assessor, Jaco also has experience in safari management services and the management of private lodges, and he was recently selected as one of the top six in the Safari Guide of the Year 2016 competition. His utter dedication to his job extends above and beyond the call of duty, and he has even started his own campaign, challenging Kruger fans to get involved in the fight to save our rhinos by sponsoring a dog for the park's canine unit. A quote from Jaco: "I believe that as South Africans, we can be better, we can affect change positively, and we can channel our energies positively."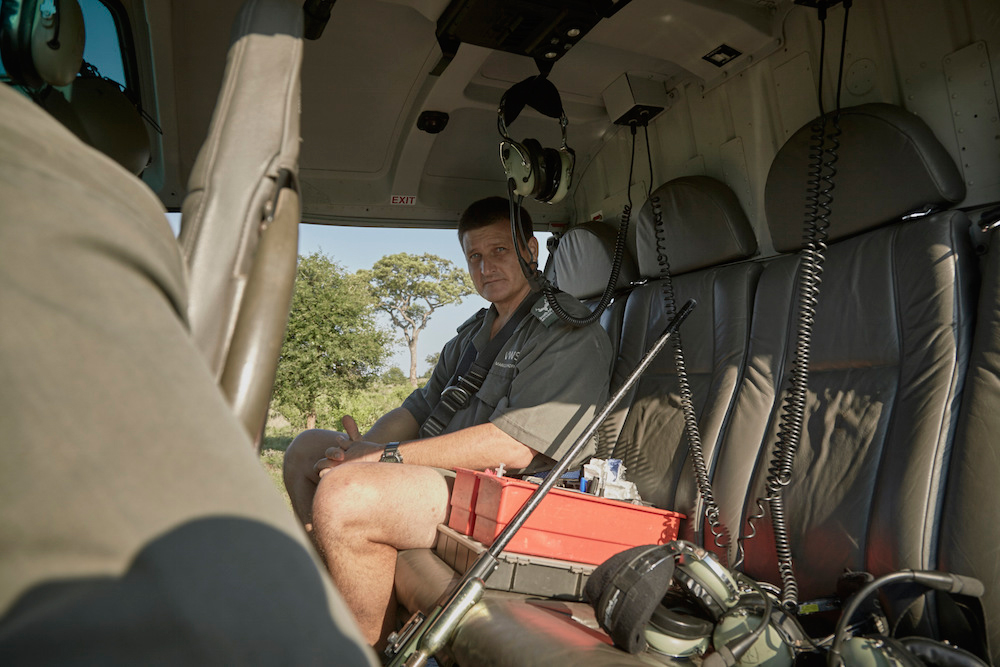 Markus Hofmeyr – more than your average vet © Ravi Gajjar, Rhino Tears
Dr Markus Hofmeyr is the head of SANParks Veterinary Wildlife Services – a job he takes very seriously. He has a rich background in veterinary work and played a part in setting up the gorgeous Madikwe Game Reserve. While his job may sound like a dream come true, with great things comes great responsibility – he holds the life of the park's wildlife in his hands. His work includes rhino translocations, establishing new techniques and best practices, monitoring of animal populations in the Kruger-Limpopo Transfrontier Conservation Area and operational management. His eternal optimism must see him through each day as he no doubt witnesses the worst of the worst.
In the words of the brave Markus Hofmeyr: "We are not at the point of no return (and) can still see a turnaround in South Africa."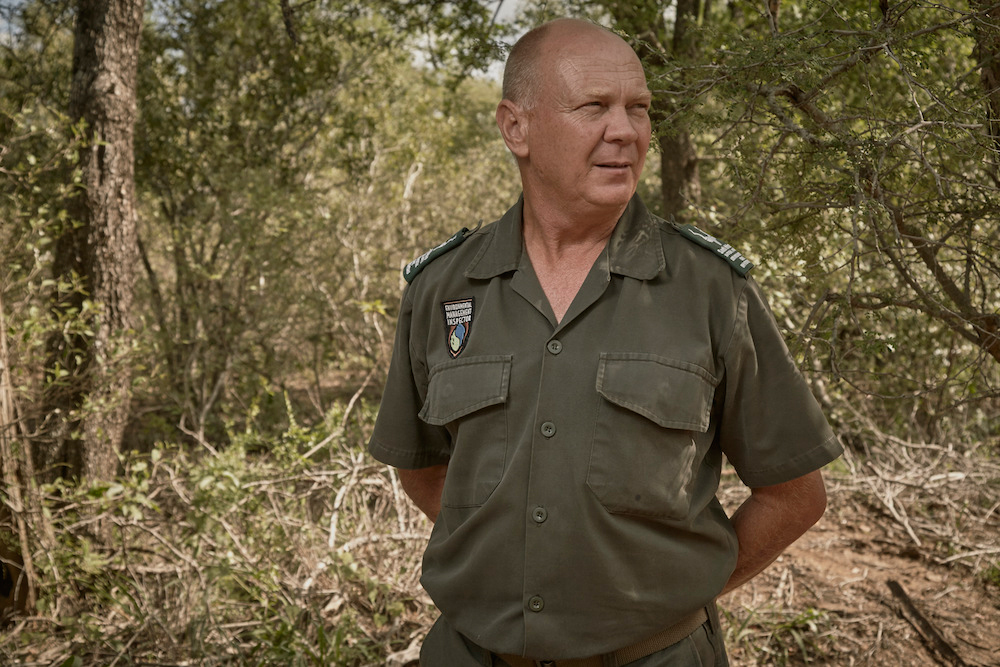 Frik Rossouw – the no-nonsense investigator © Ravi Gajjar, Rhino Tears
The serious and dependable Frik Rossouw cuts to the chase, and, as the senior investigator at the Environmental Crime Investigations unit in Kruger, one can see where his firm hand comes from. The unit he runs is responsible for analysing rhino poaching crime scenes, forensics, evidence interpretation, investigations (both reactive and pro-active) and cross-border liaisons. He works with dedicated prosecutors, and he and his team have been responsible for some serious arrests, particularly in recent months. His role is to make sure that poachers don't do it again or never get a chance in the first place. And he had me quivering in my boots!
A message from Frik: "Our strategy and commitment are beginning to bear fruit; the poachers are increasingly becoming unsuccessful."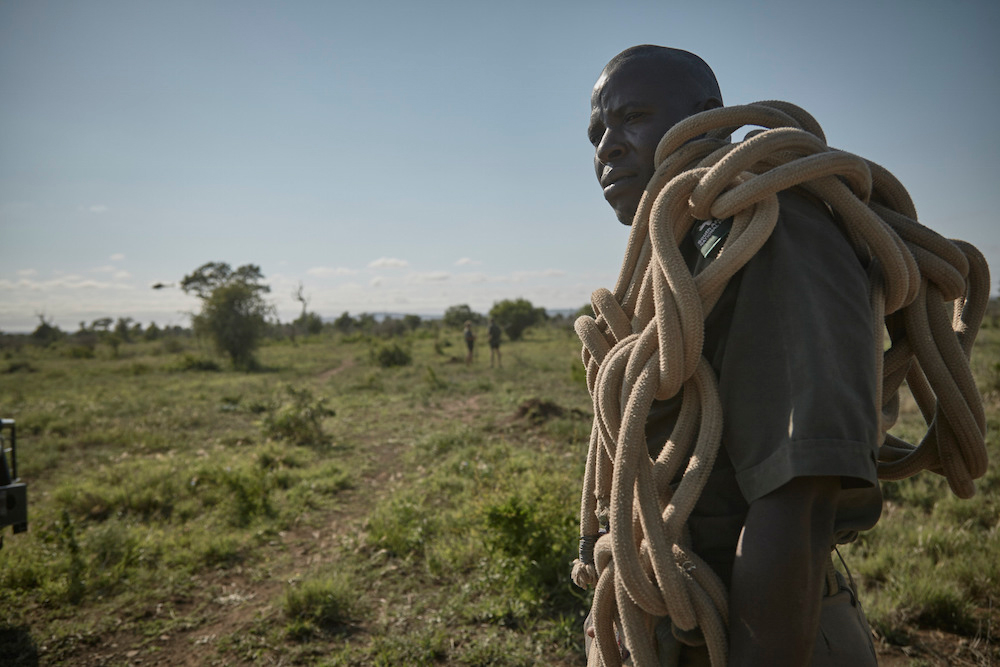 Patrick Tembe – a sentry in a world of chaos © Ravi Gajjar, Rhino Tears
Standing next to Patrick while his colleagues rallied around the darted rhino, taking samples and measurements, was like standing in the eye of the storm. As one of the first on the scene, his job was to make sure the rhino was safe and secure and that her movements were limited – ensuring the safety of the vets that crowded around her. As the hustle and bustle ensued all around him, Patrick stood firm in his duty. He demurely smiled at the camera, blushing at being the centre of attention while keeping a trained, watchful eye on the rhino and the scene behind him. That rhino had 100% of his focus, and I have no doubt she was safe in his hands.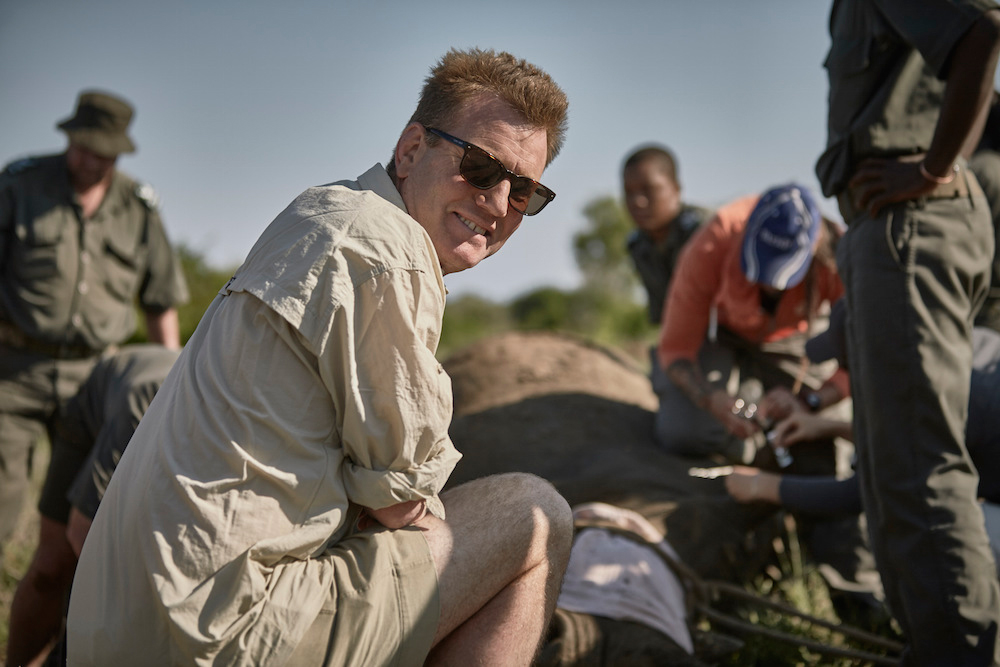 John Hooper – a warrior with wine © Ravi Gajjar, Rhino Tears
John Hooper of Klapmunts-based wine cellar Mt Vernon Wines may be a businessman and winemaker, but his passion for rhinos hits all the right notes. The idea for Rhino Tears – a wine that could raise money for anti-poaching efforts – was borne around a dinner table in Hoedspruit when John decided that he could marry his love for wine with his passion for the bushveld. From every bottle of his Rhino Tears wine – be it the chenin, red blend, or rose – ZAR15 goes directly to the SANParks Honorary Rangers and helps in the fight for our rhinos. And in its first year and a half, John has already raised more than ZAR700,000 for the cause. A quote from John: "The anti-poaching war is expensive, and the men and women involved need all the help they can get against a ruthless enemy."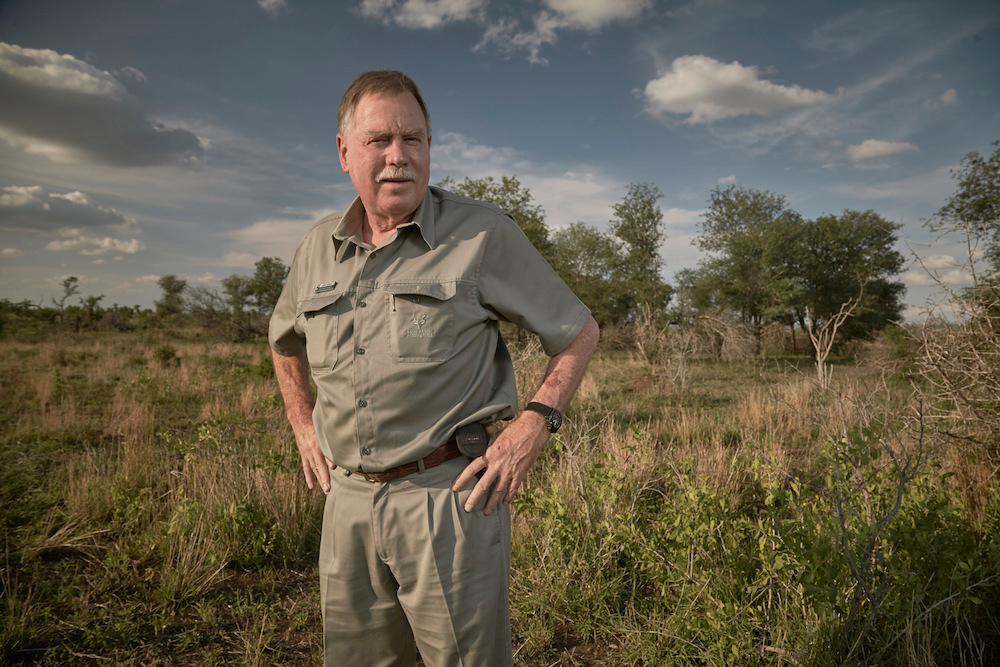 John Turner – the fundraising father figure © Ravi Gajjar, Rhino Tears
The legendary John Turner chairs the SANParks Honorary Rangers Counter-Poaching and Ranger Support Services National Project. John's primary concern is to raise funds to support the anti-poaching units with the necessary equipment through the Honorary Rangers. All monies raised by the Honorary Rangers go directly to the cause and are not redirected into admin fees or hidden costs – a responsibility John takes very seriously and a feather he can wear in his hat with pride.
Some of his most successful fundraising initiatives include sunset serenades at Letaba and Mopani and the introduction of annual Mokhohlolo camps in which lucky visitors are given a glimpse into the behind-the-scenes efforts of the rangers. It was at one of these camps that I was introduced to John and where I came to see him as the father figure who considers each of the rangers as his children – with everyone finding a special place in his big heart.

Those who shall not be named ©Ravi Gajjar, Rhino Tears
My favourite ranger of all, a bloodhound-doberman cross and a relatively new addition to the team, stands next to his accomplished handler. Responsible for eight poacher arrests in just three weeks, the dog pictured here is born to track and is so good at his job that he can follow the scent of a poacher for 20 kilometres. His badass handler is beside him every gruelling step of the way, keeping control while putting his life on the line. His handler's face cannot be shown due to the potential for threats to his life and family.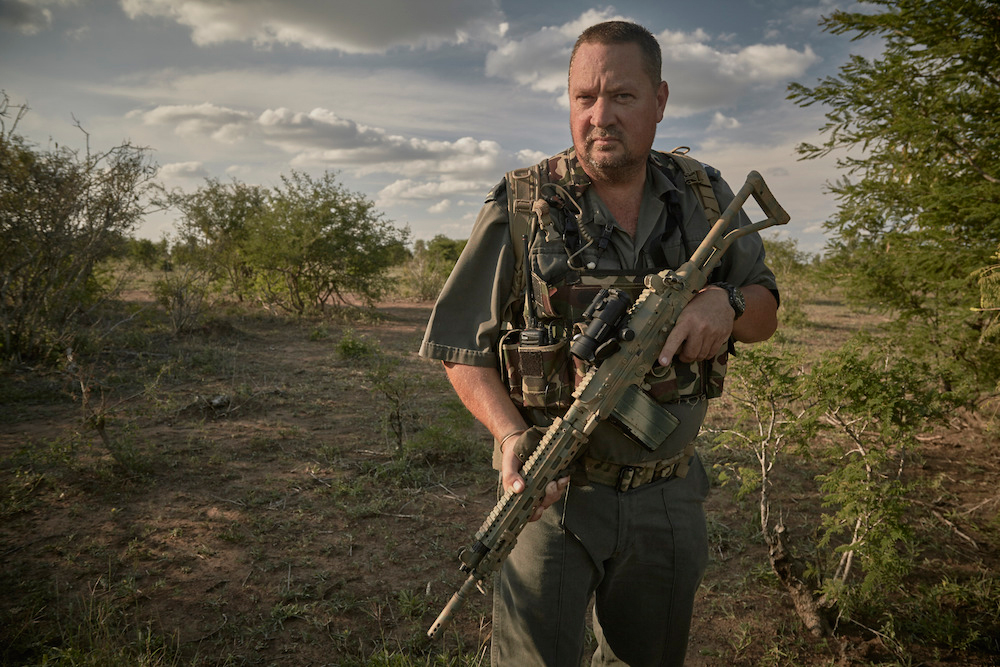 Neels Van Wyk – a revered leader © Ravi Gajjar, Rhino Tears
Never have I met a man more dedicated to his position than Neels van Wyk. You can see that his title as Crocodile Bridge section ranger is so much more than a job to him. He commands respect, and he deserves it. Despite taking the lead in what can only be a heavily taxing role, Neels still had the time to sit down with us and explain the trials and tribulations of his day job. This turns out not to be a day job at all but instead, an around-the-clock passion that sees him on his toes chasing poachers, relocating big cats, managing a team of rangers in an intensive poaching zone, and calmly trying to explain the needs of the park to pestering journalists – all at the same time.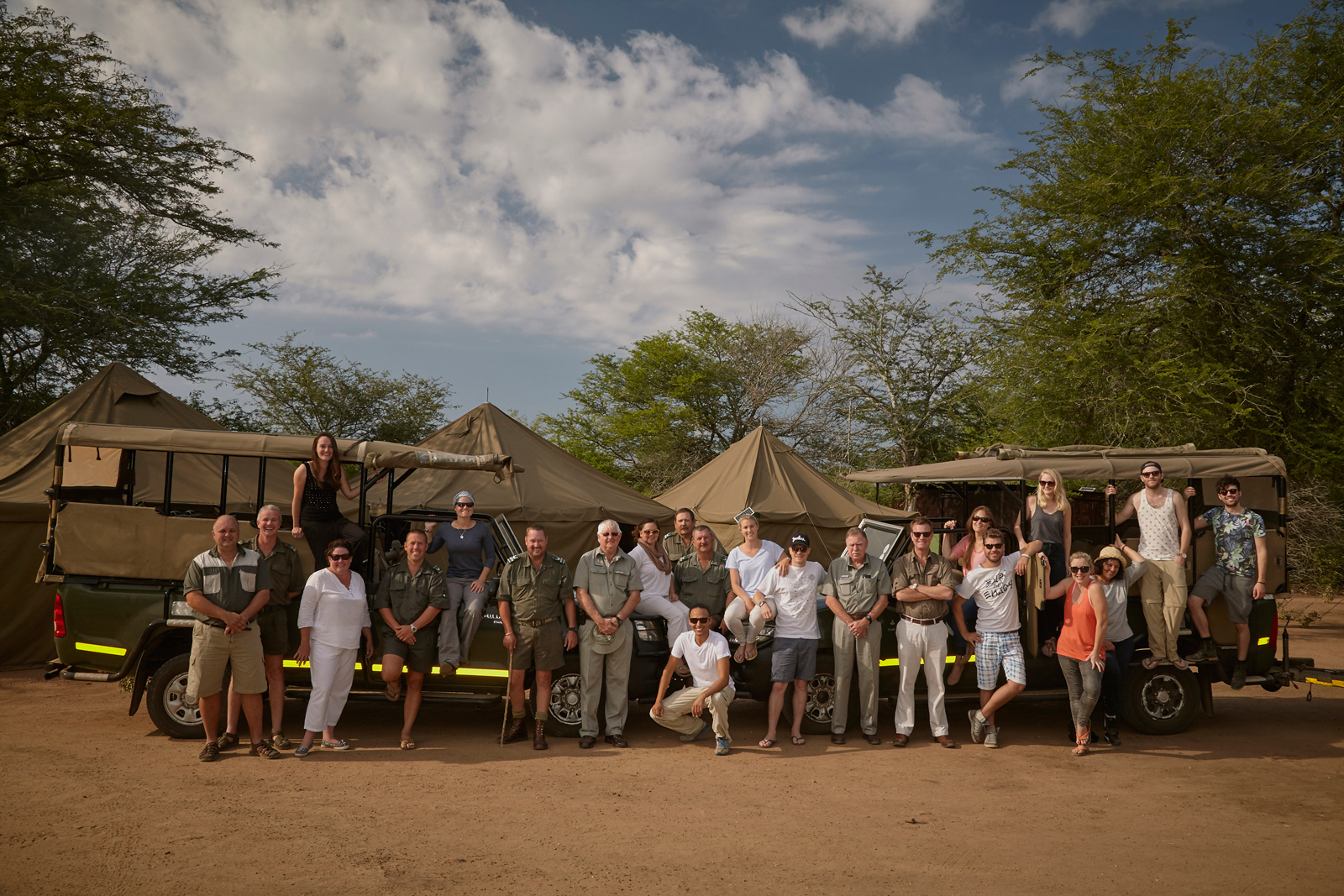 A group photo at Mokhohlolo camp © Ravi Gajjar, Rhino Tears

This gallery was compiled by teamAG member Janine Avery. Janine met the inspiring men and women featured here while staying at Mokhohlolo camp. The SANParks Honorary Rangers organised her stay to give Kruger lovers a look behind the scenes at their favourite park while contributing financially to the cause.
The stay involved bush walks alongside passionate field guides in the lesser-explored areas of Kruger National Park, an exploration into the sides of the park not normally open to the public, and the opportunity to observe the hard work done every day by the rangers and vets you have met in the last few slides. The camp lets like-minded people come together to discuss the issues facing the park, and it often results in pledges being made for specific projects – especially after a refreshing drink or two around the communal campfire.
The non-permanent Mokhohlolo camp is booked out as a group and accommodates 20 guests. Enquiries can be made by emailing John Turner. The trip was sponsored by Rhino Tears Wines, which donates proceeds from every bottle sold to rhino anti-poaching efforts. Learn more about the great work this wine is doing to save rhinos on their Facebook page.
To comment on this story: Login (or sign up) to our app here - it's a troll-free safe place 🙂.

---
HOW TO GET THE MOST OUT OF AFRICA GEOGRAPHIC:
Travel with us. Travel in Africa is about knowing when and where to go, and with whom. A few weeks too early / late and a few kilometres off course and you could miss the greatest show on Earth. And wouldn't that be a pity? Browse our famous packages for experience-based safaris, search for our current special offers and check out our camps & lodges for the best prices.
Subscribe to our FREE newsletter / download our FREE app to enjoy the following benefits.
---