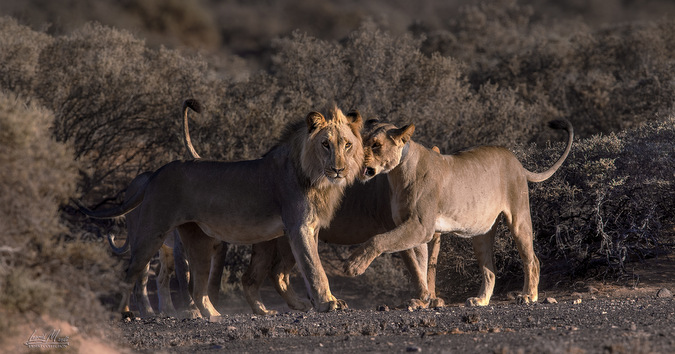 Written by Dr Ingrid Mandt (Namibian born and bred)
AN OPEN LETTER TO THE MINISTER OF ENVIRONMENT AND TOURISM – HONOURABLE POHAMBA SHIFETA
I refer to the recent human-lion conflict incidents in the Kunene region in Namibia where over 250 livestock have been killed by marauding lions over the past week.
With reference to the press release by Mr Romeo Muyunda on behalf of the Minister or Permanent Secretary I have the following concerns.
1) I quote: "The MET has taken a decision to capture and translocate this pride of ten to fifteen lions to areas where they will not cause any conflict with people".
• Considering the logistical challenges, cost and the low historic success rates proven and obtained through translocation of lions, is this option feasible? By comparison, would it not be more effective to identify key lions in conflict-prone prides and dart and collar them with VHF/GPS collars? Would this not be more likely to become a "blanket solution" in conjunction with preventative measures like kraal upgrades and good husbandry by farmers?
Removing the lure of easy pickings through the aforementioned and adding the early warning/monitoring system and chase-offs by response units will surely be effective. Primarily "problem" animals, e.g. like baboons being fed by humans, are "cultivated" as such and without the temptation/lure simply do not develop an interest in human settlements.
2) I quote: "If there are challenges in capturing specific individual lions of this pride, then such individuals will be destroyed, but our first priority is to translocate these animals".
• As mentioned above, capturing and darting a pride of 10 to 15 lions will be practically very, very challenging and the likelihood of challenges arising from capturing them is high. This translates to the very real possibility of having to shoot some or many of them which in turn poses the possibility of the exercise turning into a bloodbath which will not resonate well in the tourism industry.
Also, killing them indiscriminately without consideration of social standing in the pride purely based on "challenges posed through capturing" will have a knock-on effect of its own. All in all, even if you bait them, it might turn into a logistical nightmare, whereas singling out two or three and darting/collaring them should be far easier and likely to succeed.
3) I quote: "We will continue to keep to other ways to prevent and mitigate such conflicts and therefore manage the situation. A variety of approaches can be implemented in order to manage the conflict efficiently and effectively. These include prevention strategies which endeavour to avoid the conflict occurring in the first place and take action towards addressing its root causes, and protection strategies that are implemented when the conflict is certain to happen or has already occurred, as well as mitigation strategies that attempt to reduce the level of impact and lessen the problem … Response to the conflict should be quick … Population numbers should be maintained to scientifically accepted carrying capacities".
• With all due respect, and correct me if I'm wrong please, NONE of the above-mentioned actions has been executed by the MET, at least in the Kunene region, and it remains just empty promises and this had been the case for many years now, hyping up frustration and criticism aimed at your office in the process.
• Based on which scientific recommendations do you suggest the numbers to be maintained? Is it not so that the current researcher's reports are outdated and not relevant anymore in terms of currency? Also, why should it be necessary to manage population numbers in an open system like the Kunene region? Surely, by removing livestock predation through effective HWC management, prey density should govern predator populations naturally and in harmony with nature?
• Is there any truth in the theory that surfaces more and more frequently that creating problem animals is part of a strategy to provide trophies of iconic species to the likes of the Dallas Safari Club and others? Even the researcher has referred to such exploitation in his 2010 report on gender skewing through the hunting of lions.
It is feared that this would be the ideal strategy to circumvent restrictions pertaining to proof of sustainability of species and avail high-priced, rare, desert-adapted animals to the hunting fraternity. This is fast becoming a serious concern to the non-consumptive tourism industry stakeholders and tourists. How can you reassure them? Just what does the agreement with overseas hunting institutions entail, what undertakings had been given by Namibia against what reciprocation and how is it structured?
4) I quote: "The Ministry of Environment and Tourism takes issues of Human-Wildlife Conflict Management seriously … if not addressed … and managed effectively, can harm if not destroy conservation efforts and tourism benefits for the country. We recognise this threat and in this regard, we are currently finalising the review of the National Policy on Human-Wildlife Conflict … Under this policy, a Human Lion Conflict Management Plan for North West Namibia has been developed and will be implemented fully".
• Although we see and read of many, many meetings in this regard, with all due respect we are not aware of ANY tangible proof and has not seen any action undertaken in this regard. The policy-making and HWC Plan has received much media coverage but up to now I have not read about nor seen anything in the area undertaken or implemented by the MET with regard to its undertakings and mandate in this respect.
Surely the MET could in the interim, pending the promulgation of the new policy, act on the previous HWC Policy as it stands and execute it? Many farmers will agree that the reason they have killed/shot/poisoned lions was because of the lack of commitment and support from the MET which compelled them to take matters into their own hands. If needed I can come up with quite a number of statements corroborating this from them. The help they got from us, was up to now, all they got, even though it was not encouraged or recognised by the MET. Why is this?
• It sometimes occurs to me that there might be parties that do not want to see HWC Management/Prevention/Mitigation succeed as it would impact on their interests, being the opportunities arising to obtain trophy permits from "problem animals" generated by the failure of HWC prevention. This is in line with the policy to rather "derive value" from a problem animal by selling the trophy than "waste it", which would ring logic if the lines did not seem somewhat blurred by the window of opportunity it affords and the potential for exploitation and abuse like we have seen recently in the Ugab valley pertaining to the shooting of Kambonde and Tusky.
Could the honourable minister please put our minds to rest regarding this? Our questions directed to the MET remains unanswered regarding this despite promises that it would be answered.
A response to this letter would be prudent and appreciated as it reflects the concerns of many citizens of Namibia as well as a large number of visitors to Namibia.
To comment on this story: Login (or sign up) to our app here - it's a troll-free safe place 🙂.

---
HOW TO GET THE MOST OUT OF AFRICA GEOGRAPHIC:
Travel with us. Travel in Africa is about knowing when and where to go, and with whom. A few weeks too early / late and a few kilometres off course and you could miss the greatest show on Earth. And wouldn't that be a pity? Browse our famous packages for experience-based safaris, search for our current special offers and check out our camps & lodges for the best prices.
Subscribe to our FREE newsletter / download our FREE app to enjoy the following benefits.
---