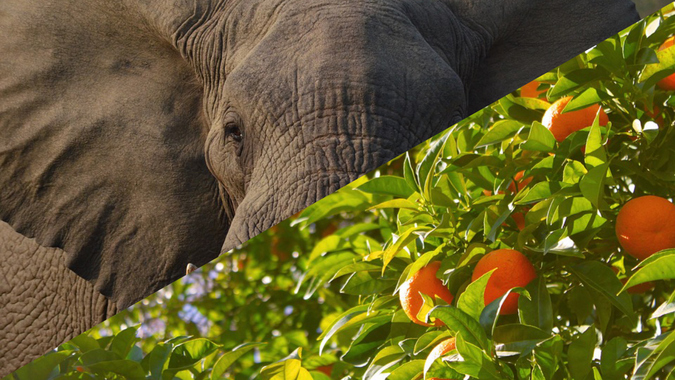 A citrus farming enterprise has purchased a small but ecologically pivotal farm on the border of the Klaserie and Timbavati private nature reserves (Greater Kruger) near the town of Hoedspruit, and plans to develop a citrus orchard in this vital game reserve area. Private reserves in the area have submitted their opposition to the development via formal channels, and they would appreciate your help to prevent an ecological disaster on the Kruger border.
After reading the information below, please register your feedback with the Limpopo Department of Economic Development and Tourism (LEDET), by way of email Comms@ledet.gov.za or on Twitter. LEDET is responsible for assessing the application and is currently busy with that process. Note that LEDET is not an adversary in this process, they are the governing authority that has to make difficult decisions such as this, balancing the needs and rights of various stakeholders.
The farmer
The applicant, Soleil Mashishimale (Pty) Ltd, is an affiliate of Soleil Sitrus (Pty) Ltd, a company specialising in the production, packing and exporting of citrus, currently exporting approximately one million cartons of citrus per annum. The farm in question was recently purchased specifically by Soleil for the purpose of developing a citrus orchard.
The farm
The farm borders the Klaserie River and shares its northern border with Klaserie Private Nature Reserve. The farm will also border the Timbavati Private Nature Reserve on Timbavati's western border if and when an application by a private reserve for inclusion into Timbavati is accepted. Both Klaserie and Timbavati are included in the Greater Kruger ecosystem, with animals free-roaming between them and the Kruger National Park. The farm includes previously-cultivated land, and the proposed plan is to develop 120ha as a citrus orchard.
The area
This area is typically devoted to game reserves, as it is categorised as a Critical Biodiversity Area 2 (CBA 2), where developments need to be environmentally sensitive, should blend in with the environmental characteristics and processes of the area with little to no compromise to the ecological integrity and to threatened species.
The property is important in terms of corridors and connectivity, falls within the buffer zone of the important Klaserie River and within the natural distribution range of the Cape, hooded, white-backed and white-headed vultures and bataleur, martial and tawny eagles – all threatened species.
The property is within the SANParks Kruger National Park buffer zone, and therefore important for the long-term plan to safeguard as much land surrounding Kruger as possible.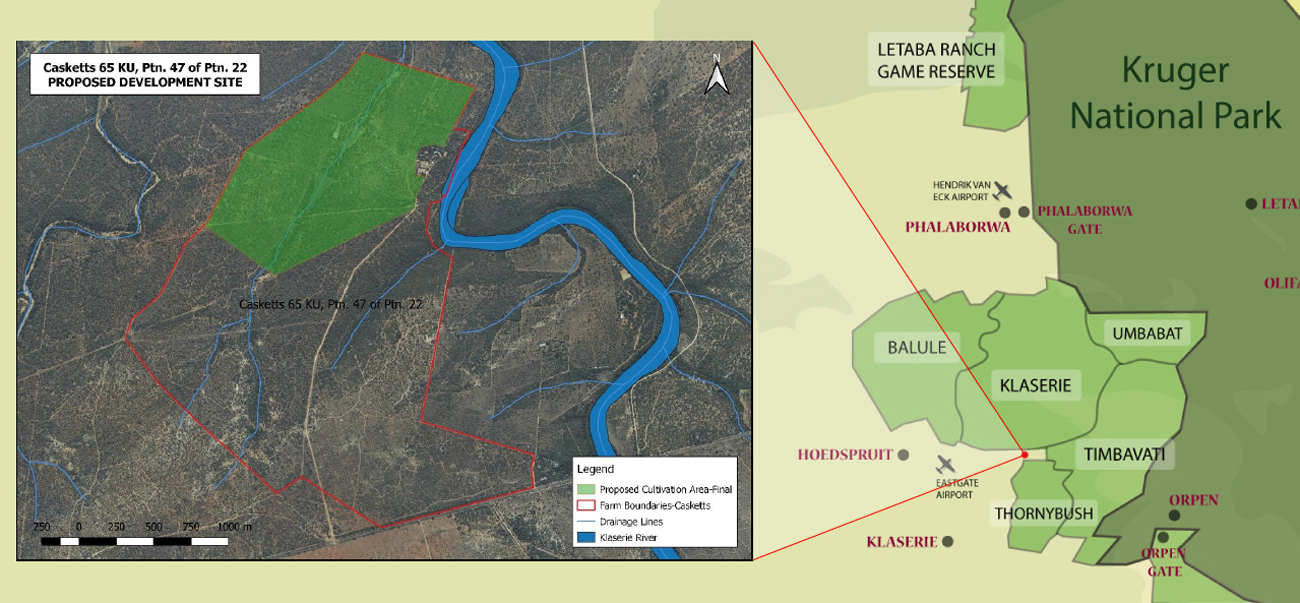 Major concerns
Major concerns already submitted to LEDET by neighbouring reserves and landowners include the following:
1. Elephants are known to relish citrus fruit, particularly during the dry season when natural food sources are limited. The likely scenario is that Kruger elephants will frequently break through the fences separating the Greater Kruger from the farm, to get to the fruit. This will lead to human-wildlife conflict, and life-threatening encounters for both humans and elephants, and the destruction of property. Employees from the neighbouring reserves will be hard-pressed to react timeously to these break-outs, and the likely result will be that the farmer will most likely apply for permits to have the elephants declared 'problem-causing animals' and killed;
2. Other animals likely to be attracted to the fruit include baboons, monkeys and birds, and many will in all likelihood be killed – again as 'problem-causing animals';
3. Neighbouring reserves will incur significant additional costs as a result of having to deploy teams every time an elephant goes through a fence, reducing the available financial resources to combat poaching;
4. The farm has water rights for 120ha, equating to an estimated 1.2 billion litres per annum of water to be extracted from the Klaserie River (10 million litres per hectare per annum). The Klaserie River is a key tributary of the Olifants River, so this water extraction will impact significantly on Kruger. This area is in the grips of an extended and serious drought, with areas of the Greater Kruger and the Kruger National Park denuded of edible vegetation, and the animals battling to survive. At the best of times, this area enjoys unreliable rainfall of 300-700mm per annum, with about 65 rain days per year – mainly via thundershowers.
5. There will be significant chemical pollution due to the citrus farming operations, including the use of poisons, herbicides and fertilisers;
6. The noise pollution of farm machinery and the visual pollution of a monoculture crop in an otherwise peaceful and biodiverse bushveld setting will be significant;
7. The insertion of a citrus farming operation into a bushveld game reserve environment is not compatible with existing land-use, and will compromise the further expansion of the Greater Kruger and SANParks plans for a core buffer zone around the Kruger.
To comment on this story: To protect you against trolls & misinformation, we only permit comments in our app. See how to DOWNLOAD OUR APP below.

---
HOW TO GET THE MOST OUT OF AFRICA GEOGRAPHIC:
Download our APP (mobile phone & desktop) to receive travel discounts, comment on our stories, make safe donations and network with others like you Find out more here.

Subscribe to our newsletter to receive our best stories in your inbox weekly and for travel discounts. Subscribe here.
Travel with us. Travel in Africa is about knowing when and where to go, and with whom. A few weeks too early / late and a few kilometres off course and you could miss the greatest show on Earth. And wouldn't that be a pity? Search for your ideal safari here, or contact an Africa Geographic safari consultant to plan your dream vacation.
---