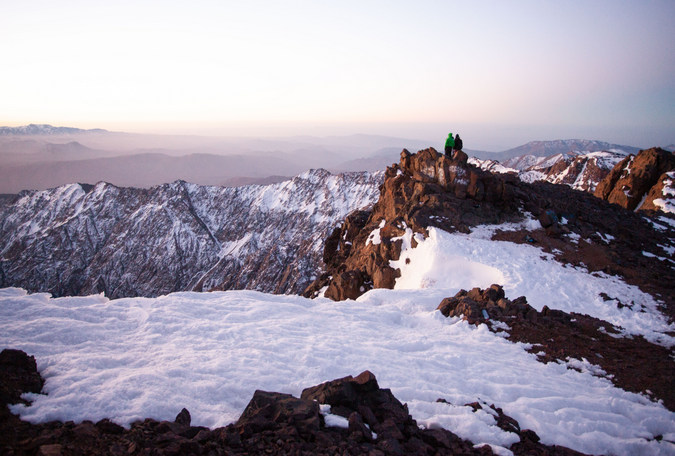 The imposing Atlas Mountains of north Africa stretch thousands of kilometres, creating an almost impenetrable barrier between the Atlantic and the mighty Sahara. The High Atlas, referred to as Idraren Draren by the Berbers who have made this hostile environment home for centuries, means "Mountains of Mountains". Of these it is Jebel (Mount) Toubkal that rises over all and the reason for our visit.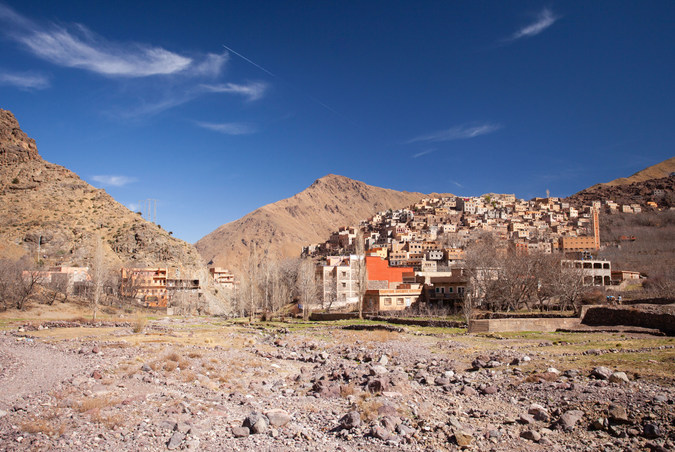 The Red City (Marrakech) grew ever smaller in our rearview mirror as we sped due south with our trusty Berber driver, Rashid, who spoke no English and even less French. But it didn't matter. He knew where he was going.
After finally dissuading him from stopping at all the usual tourist traps along the way selling Argon Oil, famous to the region, we reached the town of Imlil, the unofficial gateway to this part of the Atlas mountains. We did not linger, our journey continued up steep hairpin bend roads with sheer drop offs to the village of Aroumd.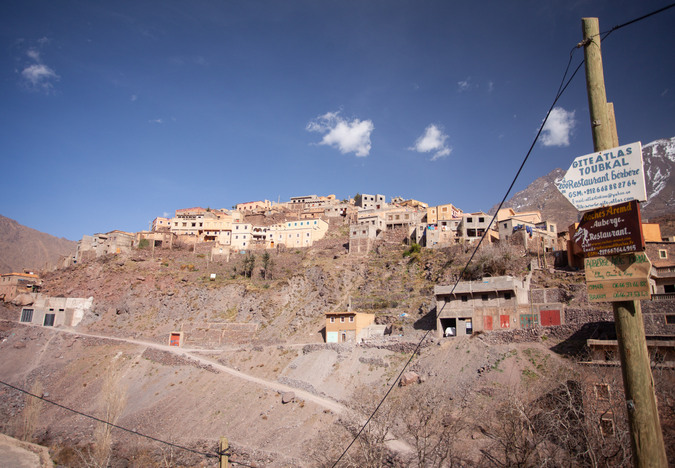 Aroumd was quiet and positively diminutive, built on the edges of a rocky floodplain dotted with apple and walnut trees. Lunch was served at our hotel (Mount Toubkal Lodge) with breathtaking views over the valley leading up to the snowy summits of Toubkal.
We spent the afternoon exploring the steep, winding pathways of Aroumd and as we climbed higher we finally left the village behind. On a large lookout point we sat side by side and surrendered to the heat of the sun as contemplated our adventure to come.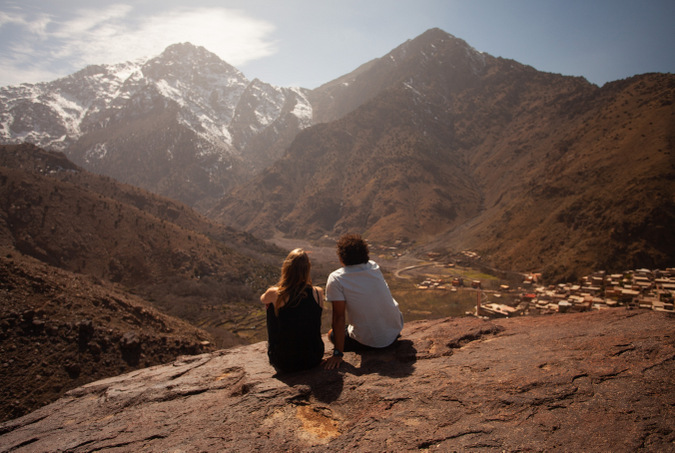 Light only reached our valley after 8am in the morning. We set off with our guide Ibrahim, a man stocky in nature who had climbed the mountain over 400 times. We were in good hands but he left us to it for long stretches of the day as he caught up with friends along the hike.
It was of no consequence, the route is simple to follow, slowly winding its way up the side of the valley that culminates at the three refuges. Along the way we passed numerous police checkpoints on the way up, a response by the Moroccan authorities to the tragic incident that occurred in late 2018. The 11-km hike took us a steady four hours and saw us gain over 1,000m in altitude.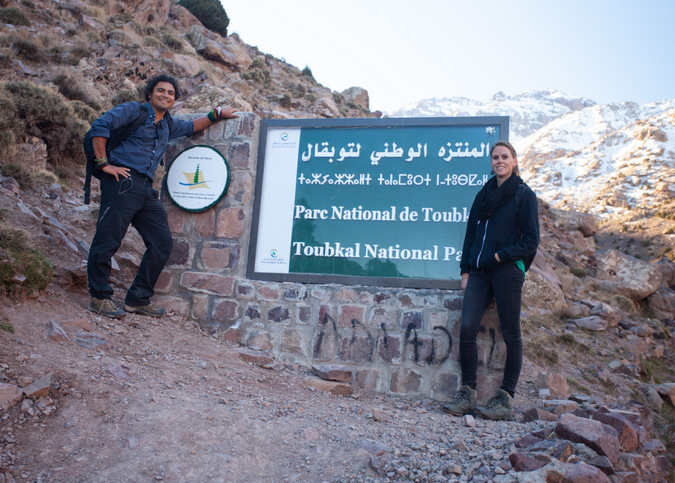 While there were three refuges available, all run by different organisations, we had elected the Refuge de Toubkal CAF (booking ahead advised, altitude 3,207m). The refuge was absolutely bursting at the seams with climbers and skiers from all over.
As the sun dropped behind the neighbouring peaks the temperature plummeted. We found shelter inside the refuge and drank sweet tea.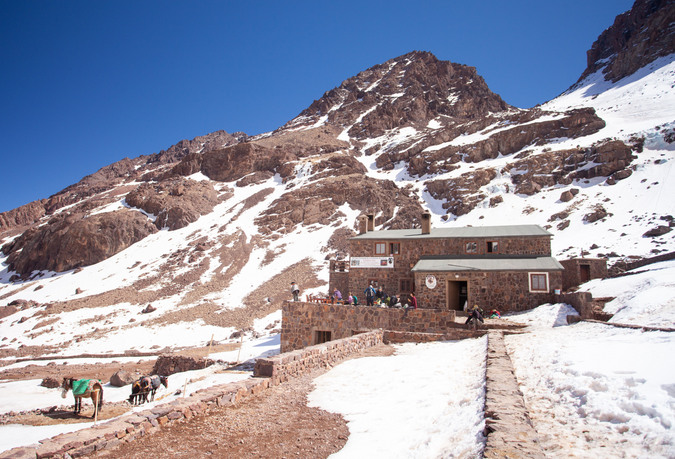 Our aim was to summit Toubkal at sunrise. We set our departure time for 5am. In a dorm room with 16 people, however,  sleep did not come easy.
Frustrated by the outrageous snoring going on I turned to Jorien lying next to me, "Why do we even do this?".
The alarm erupting at 4:30am came as a relief and soon the whole refuge descended into a flurry of chaotic activity.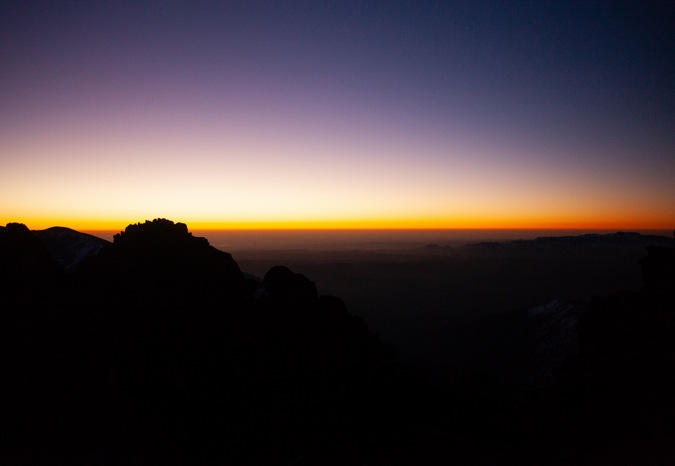 There was hardly a moon as we stepped onto the virgin snow with our cramponed shoes. Ice axe at the ready we were the first to head up.
Soon, however, a scattering of 40-50 lights were dancing in our wake. We kept our pace steady to stay ahead of the multitudes. The night was bitterly cold and standing still was not an option. Or so we thought…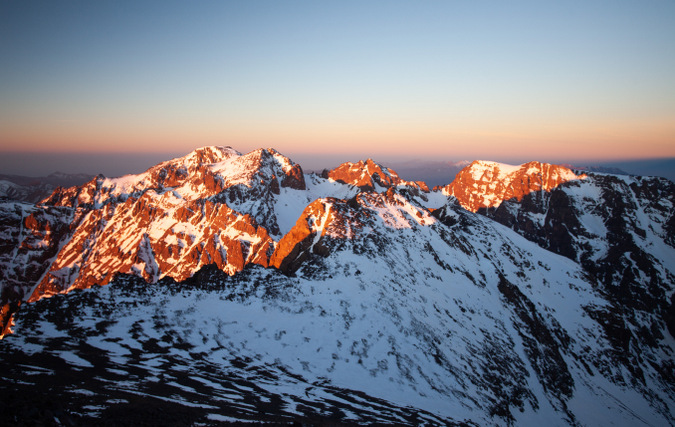 Ibrahim slowed to a stop, "We stop here for 5 minutes. I pray, Ok?"
He wasn't joking, I checked. I cursed under my breath. I had lost feeling in my toes an hour ago. I checked my watch. It was 6am. After what felt like an hour, but was only a moment, we continued. We were desperate to get blood flowing again.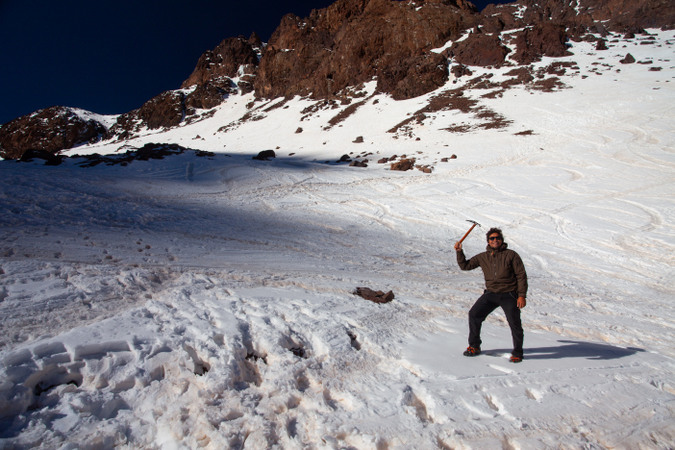 The sun breached the horizon as we arrived at Tizi'n Toubkal (south col at 3,940m). We ditched our crampons as we navigated the boulder field up the summit ridge. Still, a nervy snow traverse just below the summit made me question the wisdom of that act.
Suddenly the summit triangle loomed ahead of us, announcing an altitude of 4,167m.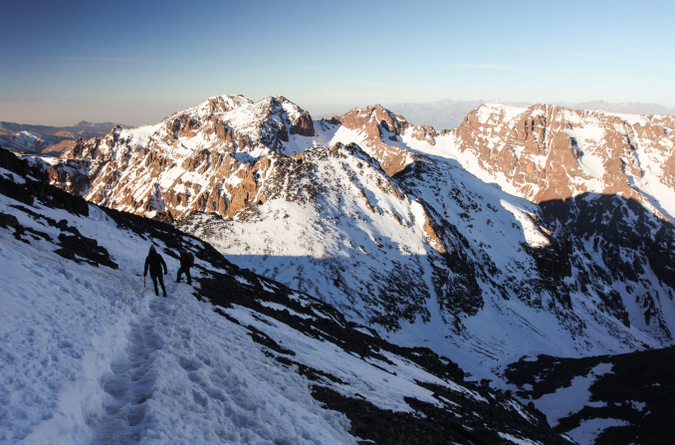 There was no one but ourselves on that beautifully windswept morning. We looked out over Morocco, the Sahara to the southeast, the Atlantic to the west.
A glorious morning in an incredible landscape.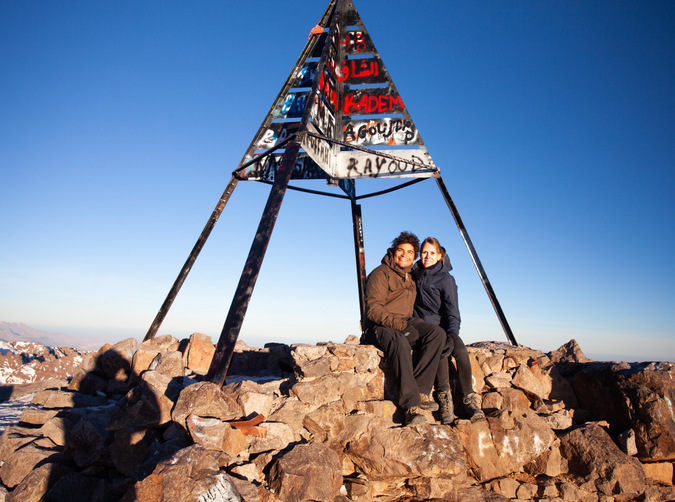 To comment on this story: To protect you against trolls & misinformation, we only permit comments in our app. See how to DOWNLOAD OUR APP below.

---
HOW TO GET THE MOST OUT OF AFRICA GEOGRAPHIC:
Download our APP (mobile phone & desktop) to receive travel discounts, comment on our stories, make safe donations and network with others like you. Find out more here.

Subscribe to our newsletter to receive our best stories in your inbox weekly and for travel discounts. Subscribe here.
Travel with us. Travel in Africa is about knowing when and where to go, and with whom. A few weeks too early / late and a few kilometres off course and you could miss the greatest show on Earth. And wouldn't that be a pity? Search for your ideal safari here, or contact an Africa Geographic safari consultant to plan your dream vacation.
---