The US government has changed the rules relating to lion trophy imports. I have attempted to summarise their report of circa 64,000 words into 1,700 words, including 27 important facts about lions and trophy hunting that everyone should know.
The US government's Fish and Wildlife Service (USFW) recently reclassified the subspecies of lions occurring in southern and eastern Africa to 'Threatened' (likely to become 'Endangered' in the foreseeable future) and the subspecies occurring in the rest of Africa and India to 'Endangered' (on the brink of extinction). At the same time, USFW changed rules relating to the import of sport-hunted trophies, to address a perceived shortcoming in the sustainability of trophy hunting of wild lions.
In arriving at these conclusions, USFW considered a raft of information from scientific sources, which they presented in a lengthy and absorbing report. I would encourage you to set aside a few hours and read the USFW document as it contains many informative facts that I have excluded out of necessity, or at best considerably shortened.
Here, then, is my summary:
1.     Historical lion ranges included most African countries from Greece through eastern Europe, the Middle East and India.
2.     The lion has since been extirpated from all of Europe, the Middle East and North Africa and now occurs only in the Gir Forests of India and in some countries of sub-Saharan Africa.
3.     In Africa, lions now occur in 8% of their historical range and are restricted mainly to protected areas and surrounding conservancies.
4.     Lions are difficult to count – due to low densities, extensive ranges, cryptic colouration, nocturnal and wary habits. The earliest estimates of lion abundance in Africa were educated guesses made during the latter half of the 20th century, as follows:
i)    Myers (1975) wrote: "Since 1950, their numbers may well have been cut in half, perhaps to as low as 200,000 in all or even less."
ii)    Ferreras and Cousins predicted lion abundance in Africa in 1980 to be 75,800.
iii)    Riggio et al. (2013)—estimated lion population sizes ranging from 23,000 to 40,000
iv)    Bauer et al. (2015) estimated the lion population in Africa to be between 18,841 and 31,394 (although many believe that 20,000 is closer to the mark).
v)    In 2015, the Government of Gujarat completed its latest census, estimating 523 lions in India.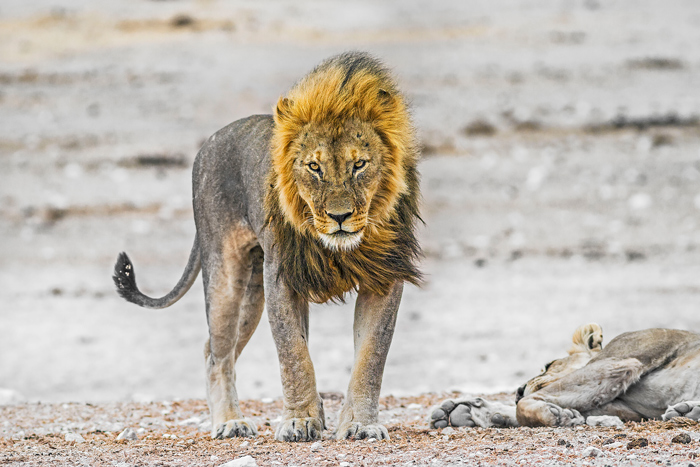 5.     Sample populations were measured between 1993 and 2014, with results that varied greatly, but broadly suggest that unfenced populations declined rapidly and fenced populations did not.
6.     Lion populations in all but five countries are estimated to have dropped by 60% between 1994 and 2014, while populations in five countries (India, Botswana, South Africa, Namibia and Zimbabwe) are estimated to have increased by an average of 12% over that period.  These numbers are rough estimates.
7.     The largest lion population in Africa is found in Botswana's Okavango Delta, which experienced a reduction over that period, and it is estimated that even this area will lose a further one-third of its population over the next 20 years.
8.     In East Africa, the lion population of the Serengeti is the only one not to have decreased over that period.
9.     Trophy hunting was included in the list of the four main threats that lions face – the others being habitat loss, loss of prey base and human-lion conflict. Other related factors include harmful effects due to small populations and climate change, inadequate regulatory mechanisms and weak management of protected areas.
10.  Documented declines in lion populations of Africa are a result, in part, of mismanaged trophy hunting (numerous studies listed).
11.  As of May 2014, approximately 18 countries in Africa allowed legal hunting of lions for trophies (although hunts only took place in nine of those). Of these all but three experienced rapid population declines between 1994 and 2014.
12.  Where trophy hunting occurs, quotas are set by the government. The scientific community has raised two primary concerns about the current lion quotas. These are that (1) existing quotas are set above sustainable levels, and (2) the data used for setting quotas is inconsistent and not scientifically based.
13.  Of the nine countries allowing trophy hunting of lions in 2013, eight have quotas set higher than current recommendations.
14.  South Africa's lion hunting industry is predominantly of captive-bred lions, with little impact on wild lion populations.
15.  Proponents support trophy hunting as a conservation tool for the lion if it is practised in a sustainable and scientifically based manner because it can provide incentives for the conservation of large tracts of prime habitat and funding for park and reserve management, anti-poaching activities, and security activities.
16.  As habitat loss has been identified as one of the primary threats to lion populations, it is notable that the total amount of land set aside for hunting throughout Africa exceeds the total area of the national parks and accounts for approximately half of the amount of viable habitat currently available to lions.
17.  When the value of lions in areas outside national parks is diminished, those areas are likely to be converted to forms of land use less suitable for lions, such as agriculture, livestock pastures, or areas of resource extraction, making lions even more vulnerable to expanding human settlement
18.  The report identified six key trophy hunting practices undermining sustainable management of lions:
i)    A lack of scientifically based quota that results in excessive harvests;
ii)    A lack of enforcement in age restrictions, which leads to unsustainable harvests, increased rates of infanticide, and population declines;
iii)    Hunting of female lions in Namibia, which decreases reproduction success, thereby reducing males available for trophy hunting;
iv) The use of fixed quotas (fee has to be paid regardless of whether a lion is killed), which encourages hunters to be unselective in their take of a trophy (i.e., they will kill younger, less desirable males); 
v)    A lack of minimum hunt lengths or minimum lengths that are too short to allow hunters the time needed to be more selective in their take of trophies;
vi)    General problems associated with management of trophy hunting, including corruption, allocation of concessions, and lack of benefits to communities and recognition of the vital role they play in conservation.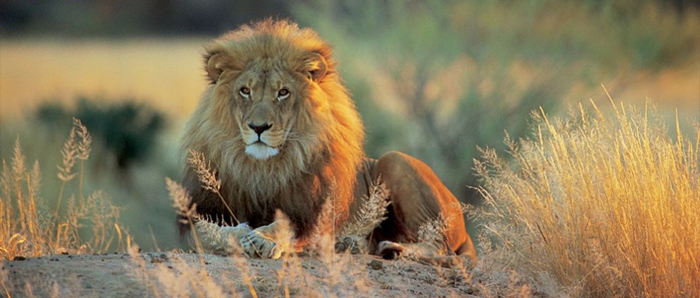 19.  As individuals who display certain characteristics (such as largest size) are more likely to be harvested by trophy hunters, this type of selective removal will bring about genetic change in future generations, as those individuals are no longer contributing to the gene pool.
20.  Trophy hunting concession areas are leased to operators without regard for the operators' track record in conservation.
21.  The main problem with mismanaged trophy hunting stems from excessive harvests and impacts associated with removal of males.
22.  Male dispersal plays an important role in determining the level of inbreeding in lion populations. The fewer number of males present to contribute genes to the next generation, the more inbred the population will be. Therefore, not only does dispersal impact inbreeding, so does the loss of male lions due to excessive trophy hunting and infanticide.
23.  Unless reforms are made to the current management of trophy hunting, excessive harvests will further contribute to declines in the species across its African range.
24.  Certain aspects of the current lion bone trade suggest that the potential for the trade to impact wild lion populations may be high.
25.  Evidence also indicates "well established" links between South Africa's legal lion bone trade and the Xaysavang Network, an international wildlife trafficking syndicate that is also involved in the illicit rhino horn trade in South Africa.
26.  Although current lion bone trade is predominantly from captive-bred lions, evidence suggests the incentive to poach wild lions for the bone trade may currently exist.
27.  Based on the effect of the tiger bone trade on tiger populations, if current conditions continue unchanged, there is considerable potential for extensive poaching of wild lions to meet demand.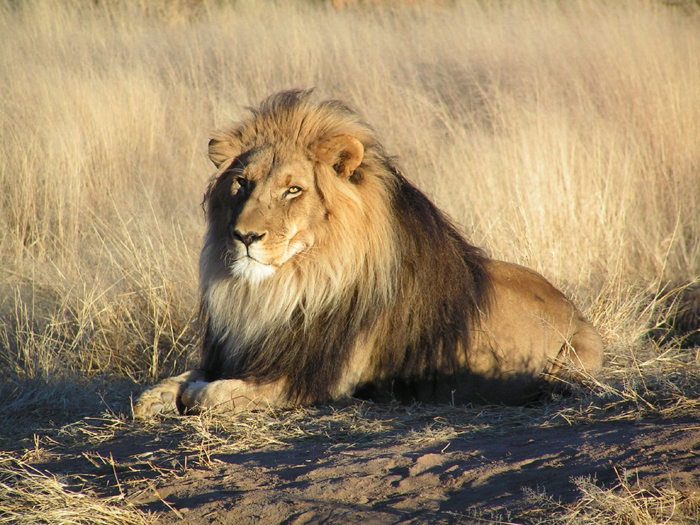 Some of my thoughts:
These are my thoughts and do not represent those of Africa Geographic or any of the passionate team that work with me.
There is no doubt that this is a complex issue. But, as is so often the case, it is possible to rise above the emotion and complexities to single out the elephant in the room.
When it comes to wild lions, it has become clear that the theory of a well-managed and sustainable trophy hunting industry is just that – theory. In practice, except for a few well-managed areas, the trophy hunting of wild lions is speeding up the demise of wild populations across Africa. Please do read the USFW report if you would like further evidence for this.
Surely it's pointless going on any further about how trophy hunting could contribute to a lion conservation strategy. We know for sure that lion populations are crashing, and that trophy hunting is playing a role in that crash. In other words, trophy hunting of wild lions has become part of the problem. Again, I'd highly recommend reading the USFW report if you have any doubts about this.
Perhaps it's time to recognise that a total ban on trophy hunting of wild lions should be put in place until the wild populations recover. Or even forever. I'd like to think that humans have evolved and no longer see the need for this relic from the distant past.
It's clear from the past few years that the rules of engagement have changed and that trophy hunters and their families will increasingly be targeted for special treatment – often by aggressive activists, but increasingly by Joe Soap, who just doesn't buy the "trophy hunting is conservation" story any more. It's also clear that lion populations are not what they used to be – and that the trophy hunting industry needs to start to recognise that fact.
We all need to recognise this need for change and to adapt to modern-day dynamics and realities. Perhaps, mainly due to seismic events such as Cecil the Lion, we are seeing the beginning of massive change in an industry that needs a good shakedown.
Keep the passion
To comment on this story: Download our app here - it's a troll-free safe place 🙂.

---
HOW TO GET THE MOST OUT OF AFRICA GEOGRAPHIC:
Travel with us. Travel in Africa is about knowing when and where to go, and with whom. A few weeks too early / late and a few kilometres off course and you could miss the greatest show on Earth. And wouldn't that be a pity? Browse our famous packages for experience-based safaris, search for our current special offers and check out our camps & lodges for the best prices.
Subscribe to our FREE newsletter / download our FREE app to enjoy the following benefits.
---