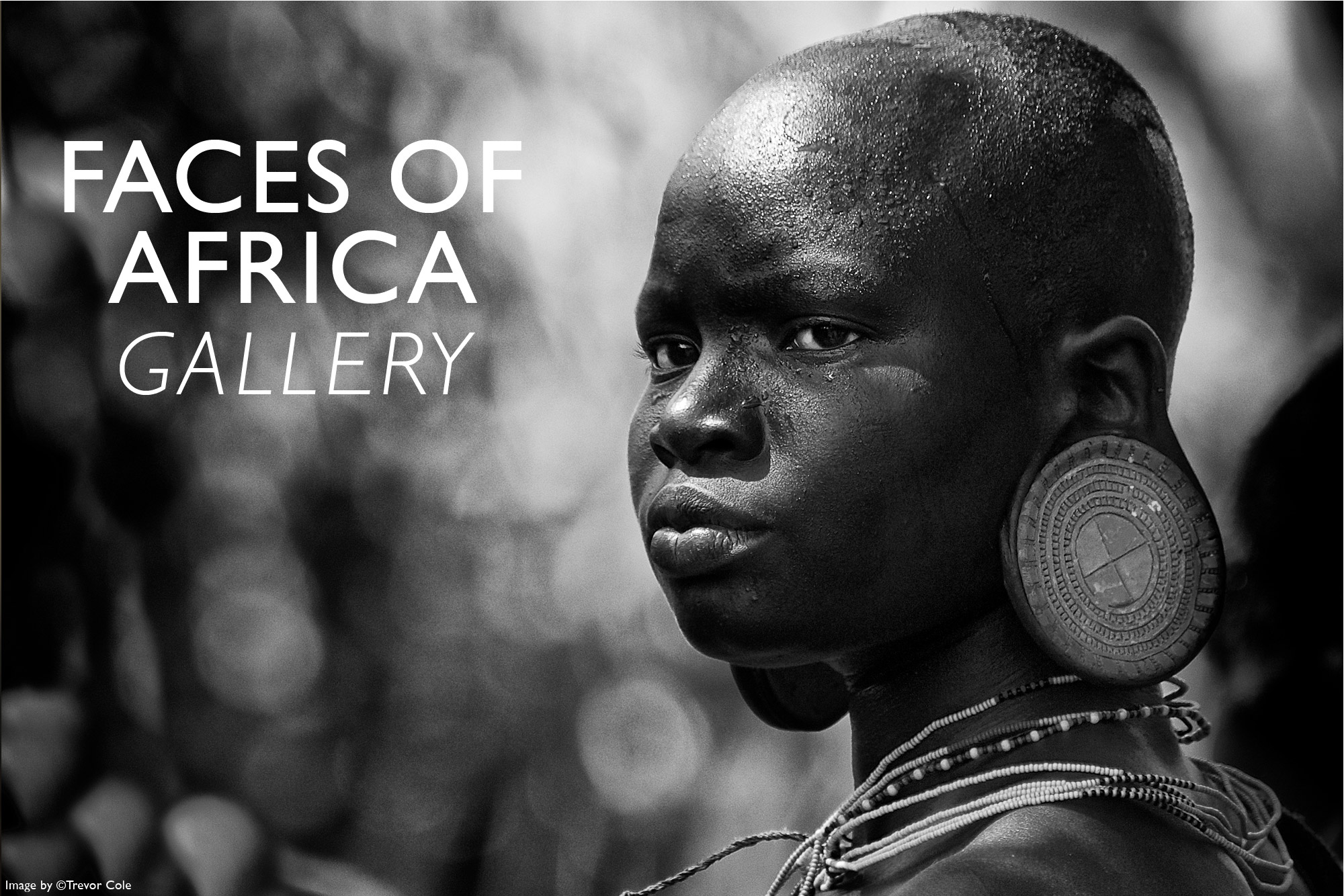 Faces of Africa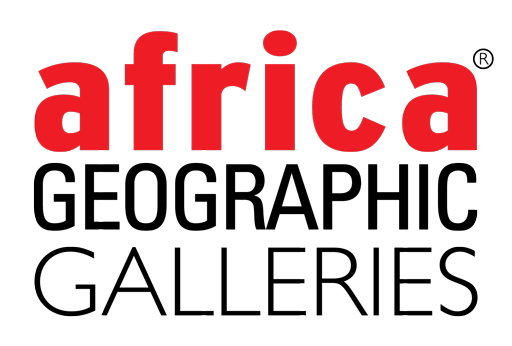 This gallery Faces of Africa by the photographer Trevor Cole consists of several portraits taken in Ethiopia, Somaliland and Namibia. Trevor has a passion for indigenous people and how they live in such a connected way to their environment.
Portraiture is something that enables Trevor to see the person and relate to them. He feels that photography should be an interactive moment that captures the subject and offers an insight into their character. He aims for his images to portray a feeling or a connection, or perhaps even summon empathy.
As a result, some of his images are candid and spontaneous, while others may be posed but seek to expose an inimitable moment nevertheless. Trevor sees beauty in all, and he finds lifelines in the old, as well as the innocence of youth, enticing. He also seeks to convey somehow how people live, as well as their cultures and traditions. He feels that a portrait can reveal a hardship or happiness, and he has often noticed strikingly similar traits in communities, due to numerous environmental factors as well as genetics—Trevor endeavours to capture these common characteristics through alternative perspectives.
Trevor believes that taking portraits of people in the marketplace, street or a tribal village requires interaction. At times he discretely takes clandestine shots with a longer lens, but most of the time he likes to get to know whomever he is photographing. When it comes to portraiture, he always asks for permission and, if rejected, he respects personal choices, which may be based on conservative cultural or religious beliefs. However, in his experience, he does often find that spending a little time and using a little humour can yield a positive response.
Trevor notes that photographing tribal people requires a different approach. For example, a good guide is vital when it comes to photographing the Himba in Namibia. He has found that taking some provisions to the village and presenting them to the headman makes a huge difference and enables an amicable atmosphere that involves the whole village. In contrast, he has encountered a different ballgame in Ethiopia where there is the additional precedent of paying villages or individuals. However, Trevor always prefers to give to the village instead of a person because he feels that otherwise, there is a tendency to favour the most photogenic!
Trevor is very sensitive to the impacts that tourism can have, so he will always try to avoid treating a village like a zoo. He feels that it is all a delicate balance and a good guide can help to decide how best to go about things. For example, when he stayed in a Suri village, he wandered around without a camera to become a familiar sight as he believes that interaction is what can make the moment count. And at that moment he wants to capture light, colour, emotion, character and spirit. He tries to shoot in the golden hours or at least where there is shade from the intense African sun. In the right light, at the right time, with the right connection, Trevor believes that the ordinary becomes extraordinary, and that is something he strives for in his work.
Cover image of a Suri girl at a wedding ceremony in the Kibish region of the Omo Valley in Ethiopia.
---

Find out about our ready-made safaris for your next African adventure – or ask us to build one just for you.
---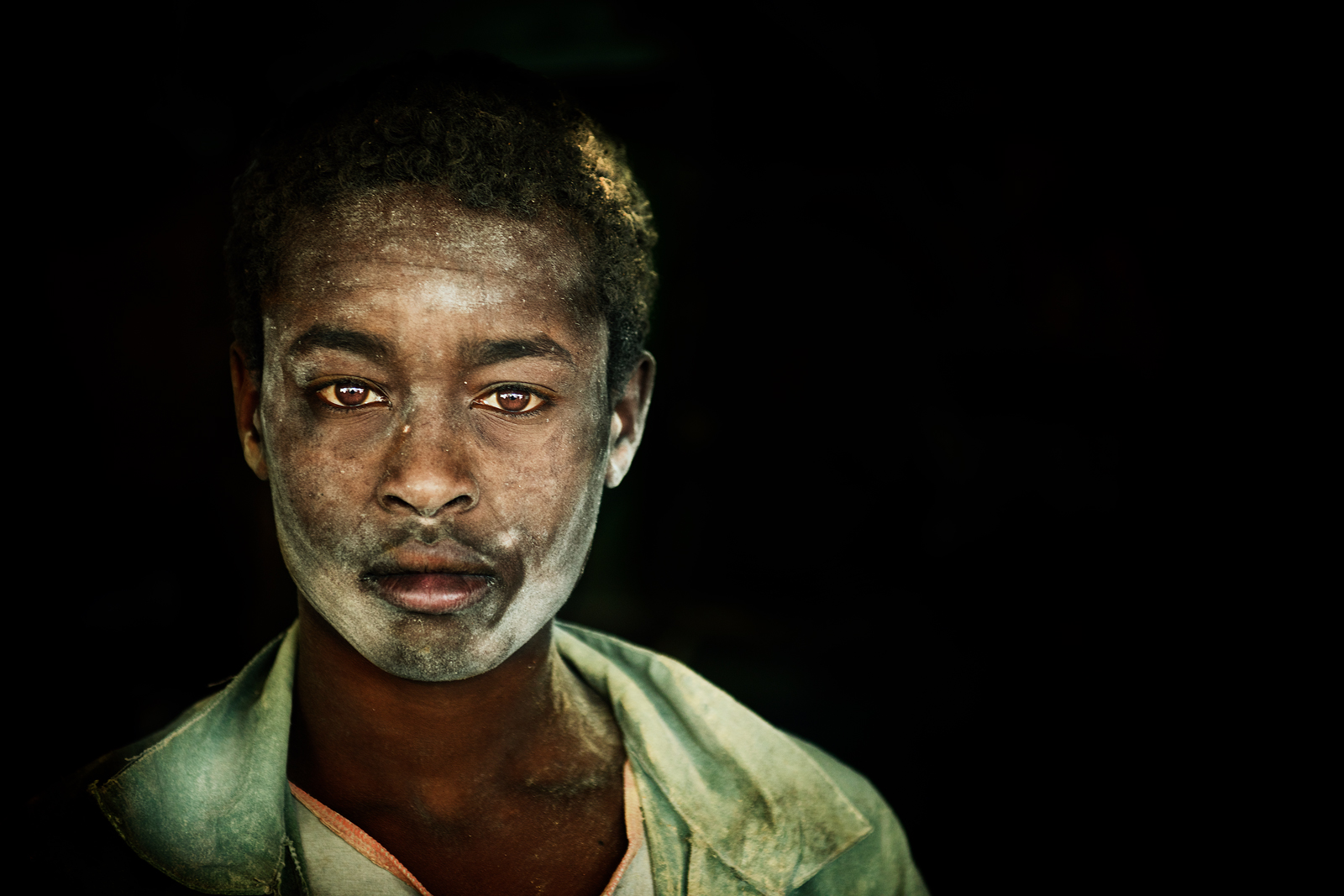 'The miller' © Trevor Cole
A young man emerging from the flour mill in a small town in eastern Ethiopia. The flour and dirt on his face, his eyes, and his candid expression make this image stand out. His portrait contrasted against a dark doorway makes a further visual impact.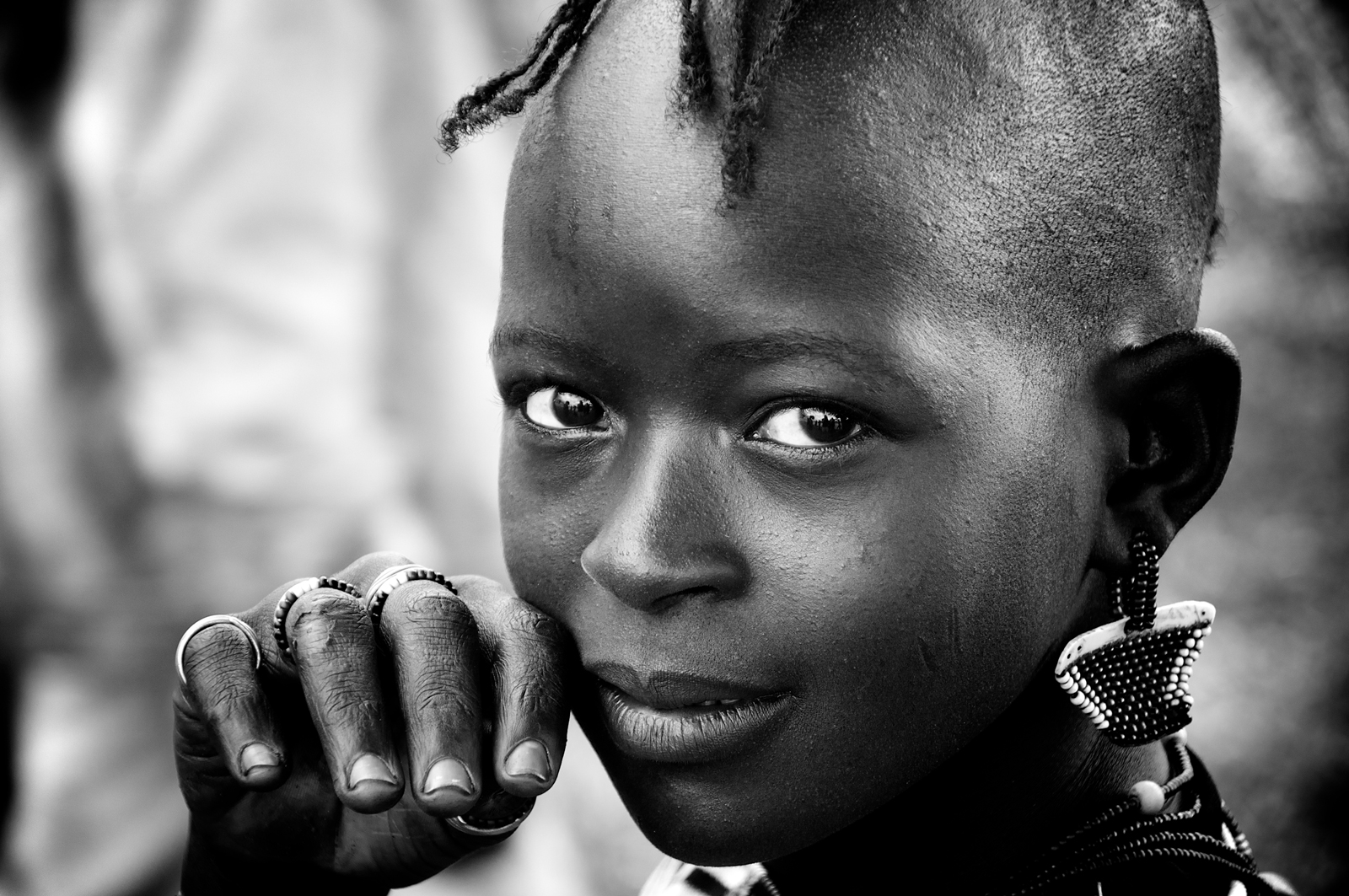 'Hamar beauty' © Trevor Cole
A young girl of the Hamar tribe, which is one of the largest tribes in the Omo region of Ethiopia. They are culturally strong and still adhere to many of their ancient traditions.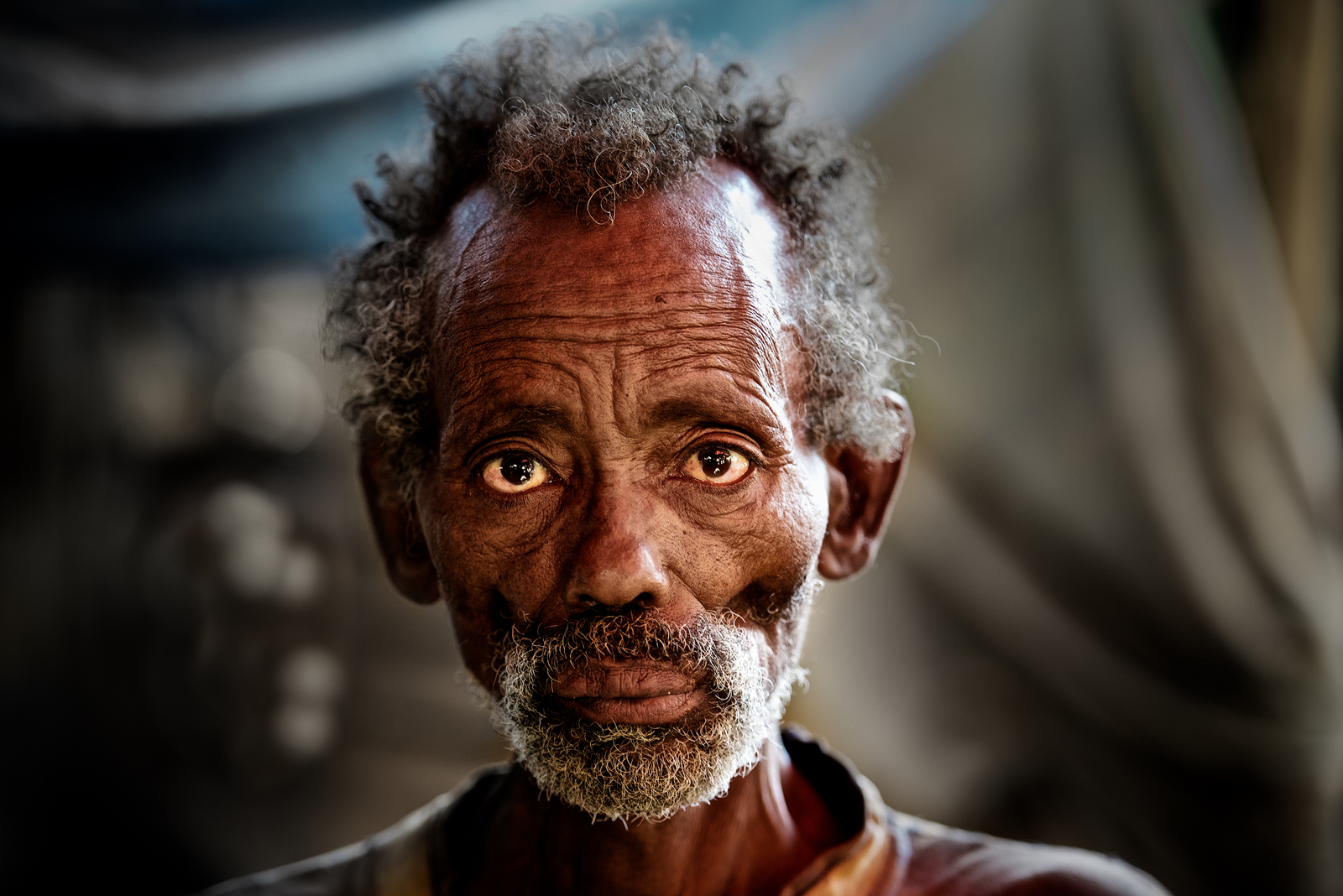 'On the edge' © Trevor Cole
An Ethiopian man in the town of Harar, is living on the edge of existence. His expression and somewhat startled look drew me in to capture the moment. His face portrays a life of struggle and hardship, and his gaunt look adds to the impact of the image and highlights his impoverished state.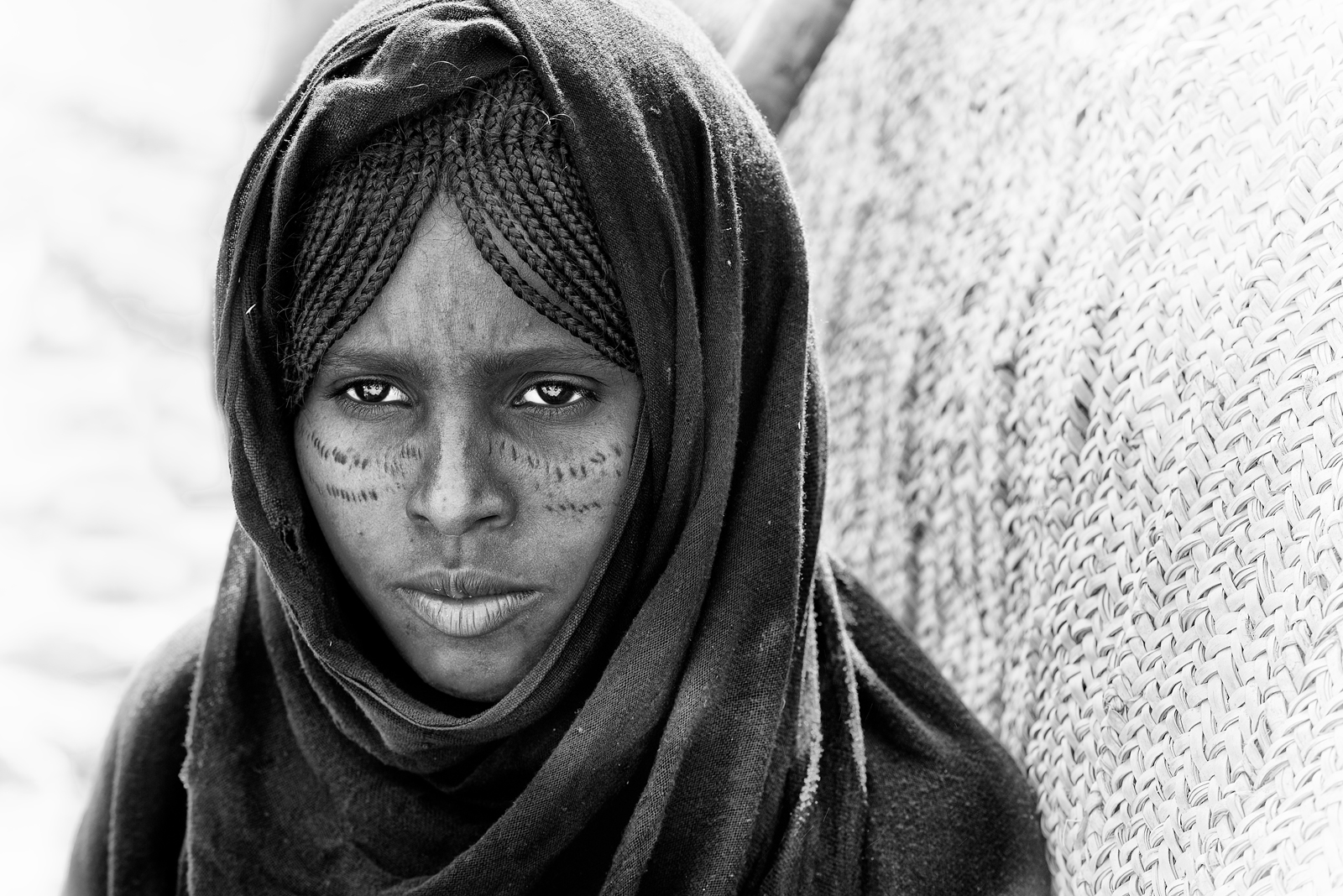 'Girl from Afar' © Trevor Cole
A young girl from Afar in the Danakil Desert area of Ethiopia. The Afars are complicated to photograph, but occasionally the opportunity materialises. The girl had facial tattoos, which are commonplace in the women of the tribe. They lead a very tough life and are resilient people, but the women often engage in traditional practices that are difficult for westerners to comprehend.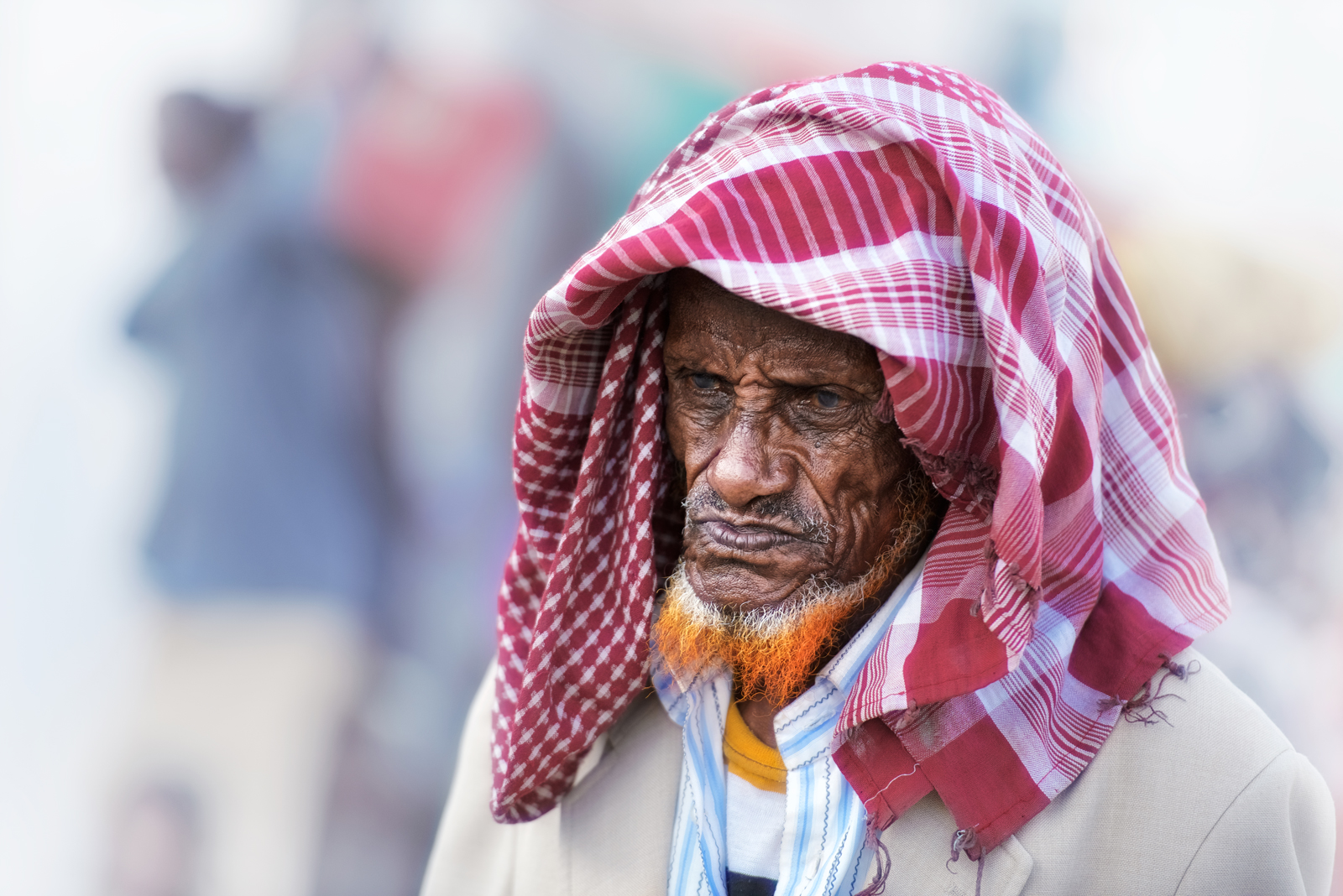 'On the path' © Trevor Cole
A man from Harar on his way to the Mosque. Clearly, his mind and focus were elsewhere, as he was oblivious to the candid image being taken of him on the streets of Harar in eastern Ethiopia. Harar is the fourth city of Islam, hence the devotion of its populace. The old man had an interesting face, which was a reflection of not only his walk to the mosque but also his journey through life.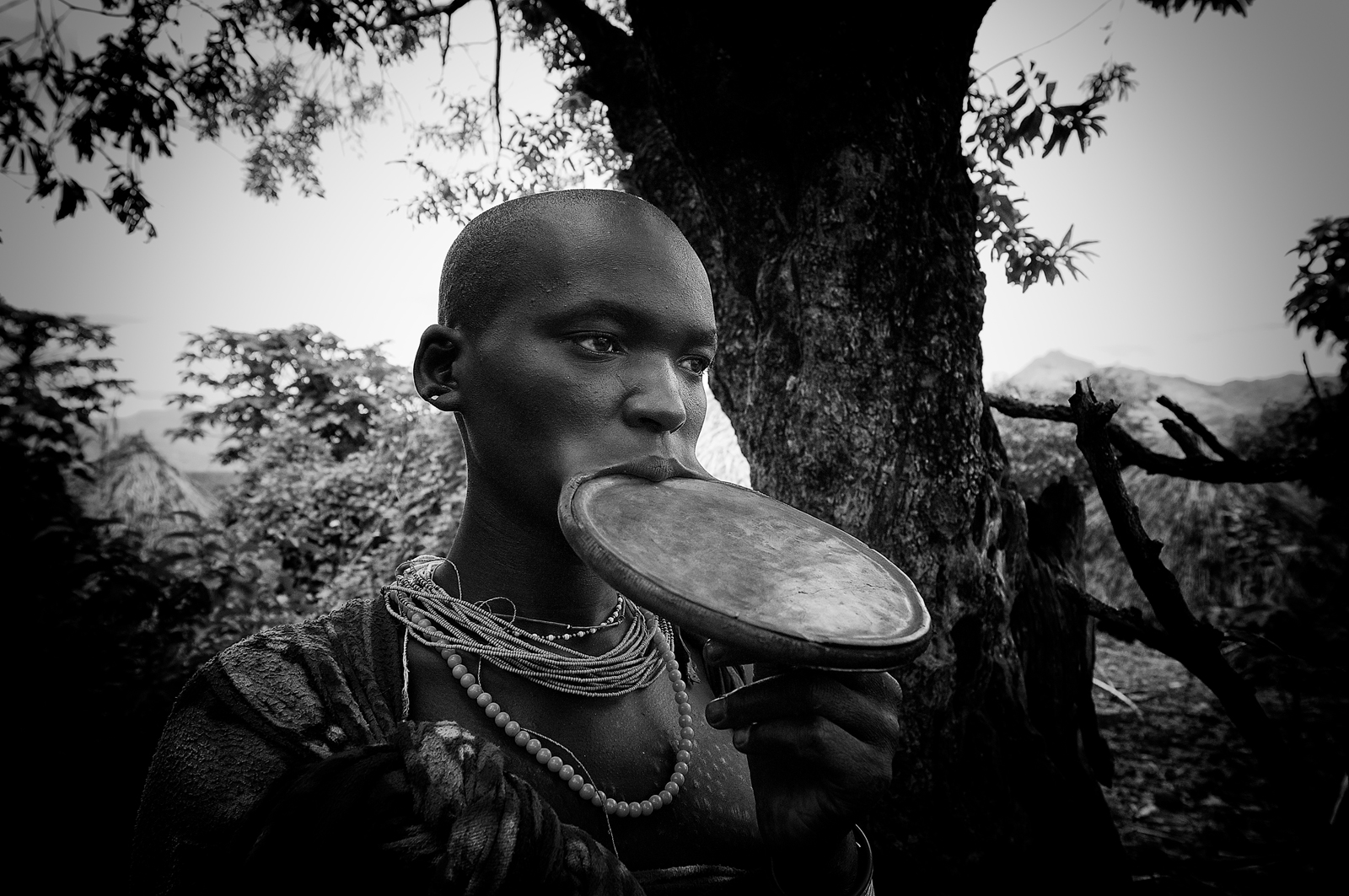 'Suri tradition' © Trevor Cole
A young Suri woman with a large lip plate. Younger women are now being discouraged from putting in lip plates, but the tradition does still exist in more remote areas of the western Omo Valley in Ethiopia.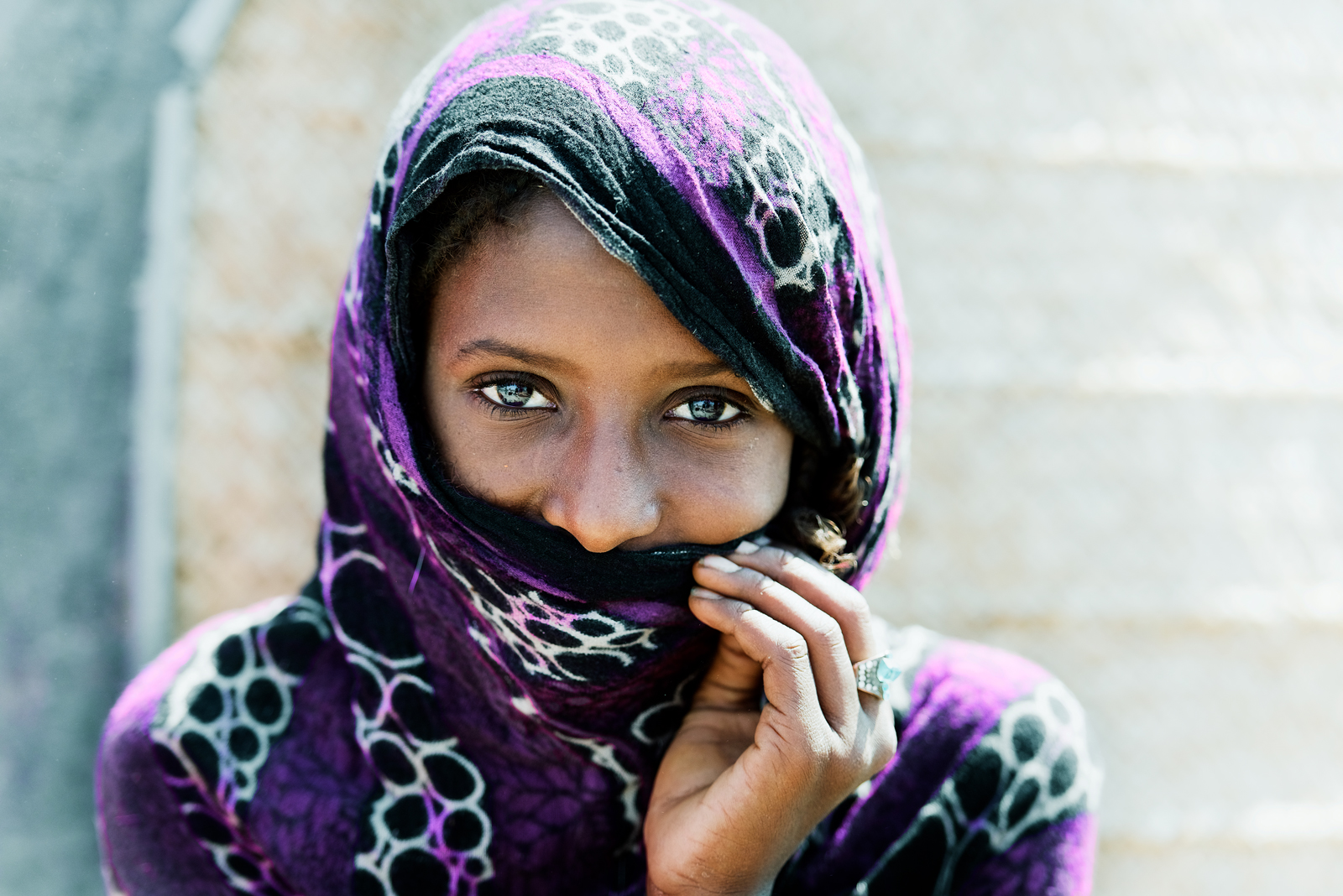 'Beauty in Afar' © Trevor Cole
A beautiful young Afar girl in the Afdera region of Ethiopia. Afars are Muslim, so their attire tends to be conservative. Women wearing the hijab, or headscarf, can be seen in many parts of the world, but unmarried girls from Afar noticeably tend to enjoy colourful attire. They also braid their hair in a very distinctive manner and adorn themselves with beads.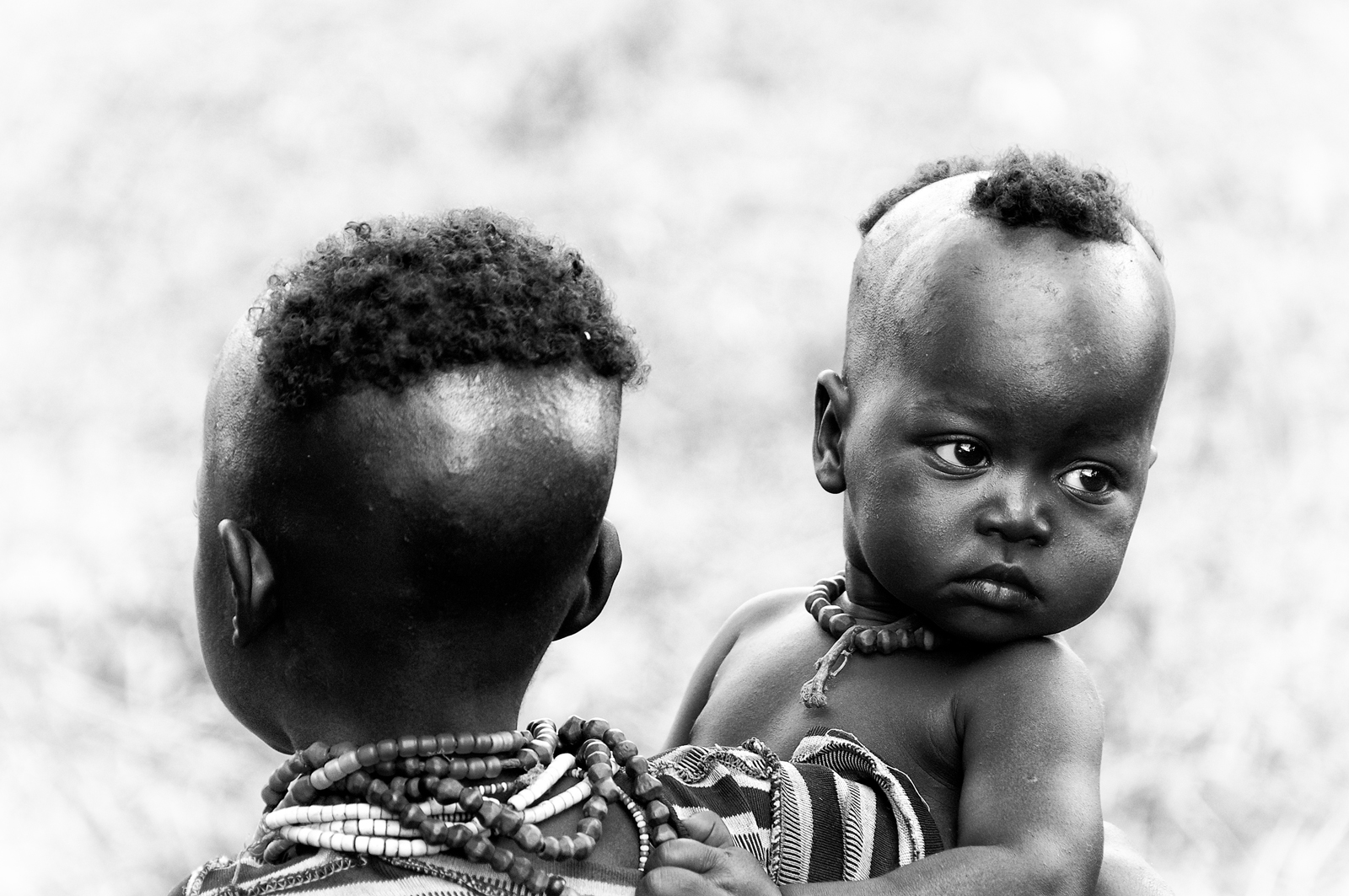 'Hamar siblings' © Trevor Cole
There is an inextricable bond between Hamar siblings in the Omo Valley of Ethiopia, as many take on responsibility for younger family members at an early age. Brothers and sisters have a very special relationship, which can be particularly noticed during the bull jumping ceremonies that are a rite of passage for young boys when they come of age.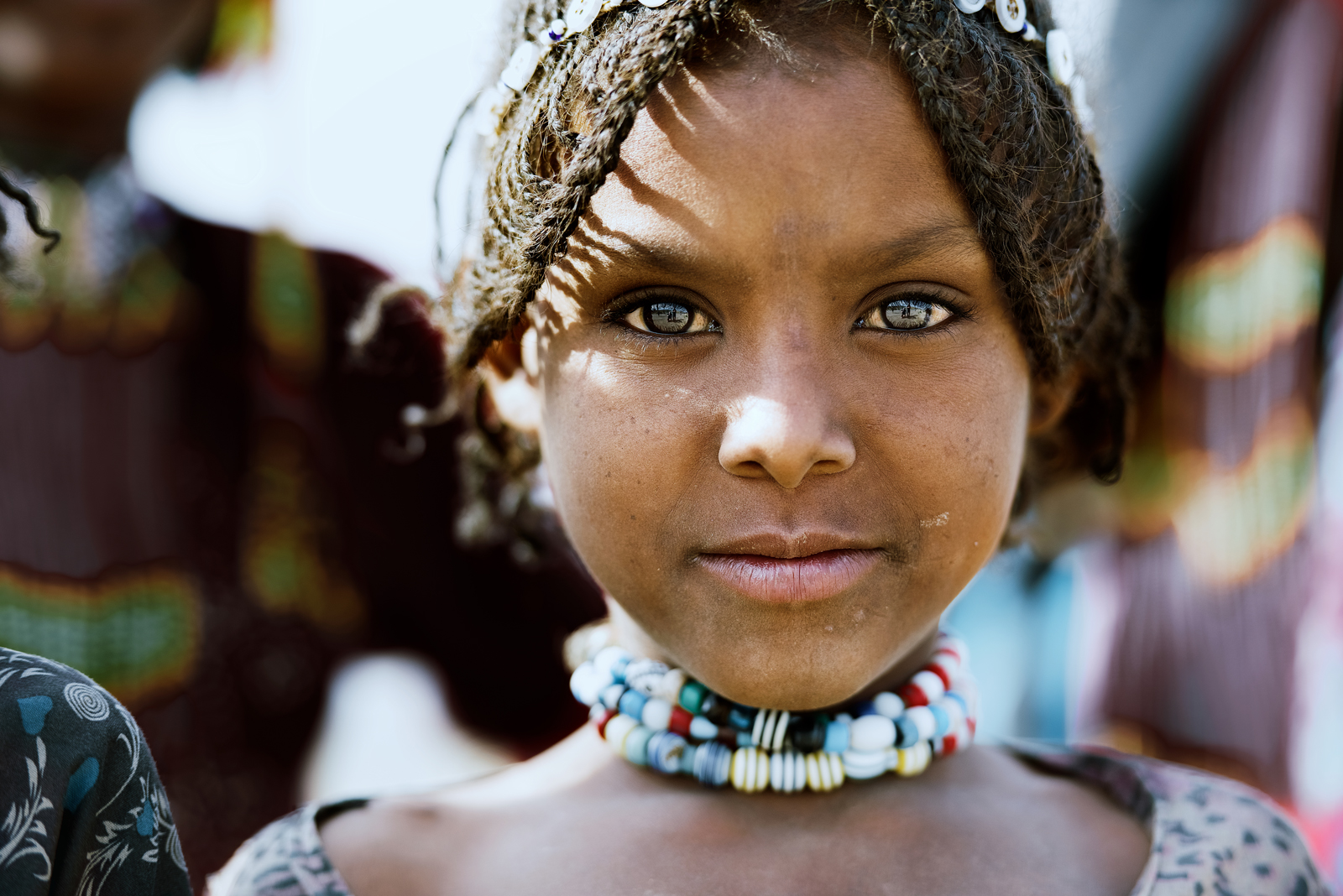 'Afar vision' © Trevor Cole
A young girl from Afar in traditional attire with eyes that reflect and draw in the viewer. Despite living a hard life, the people of Afar are very proud and resilient in their isolation. This particular girl has a very serene face with an inimitable allure.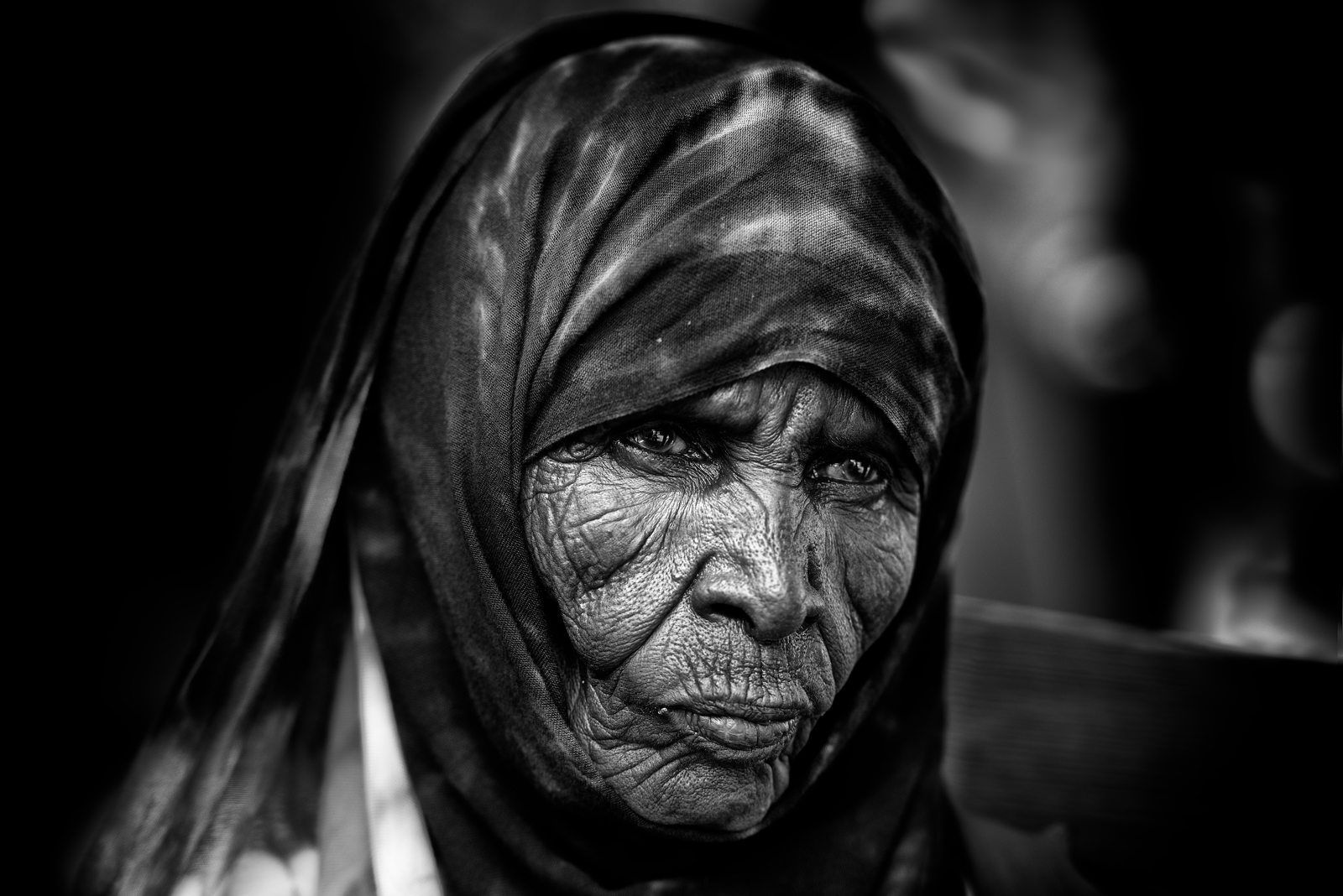 'The old woman of Berbera' © Trevor Cole
An old woman, who has lived life and was still doing so, on the streets of Berbera – a coastal port in autonomous Somaliland. It is an important seaport because it is the only sheltered harbour in the southern part of the Gulf of Aden.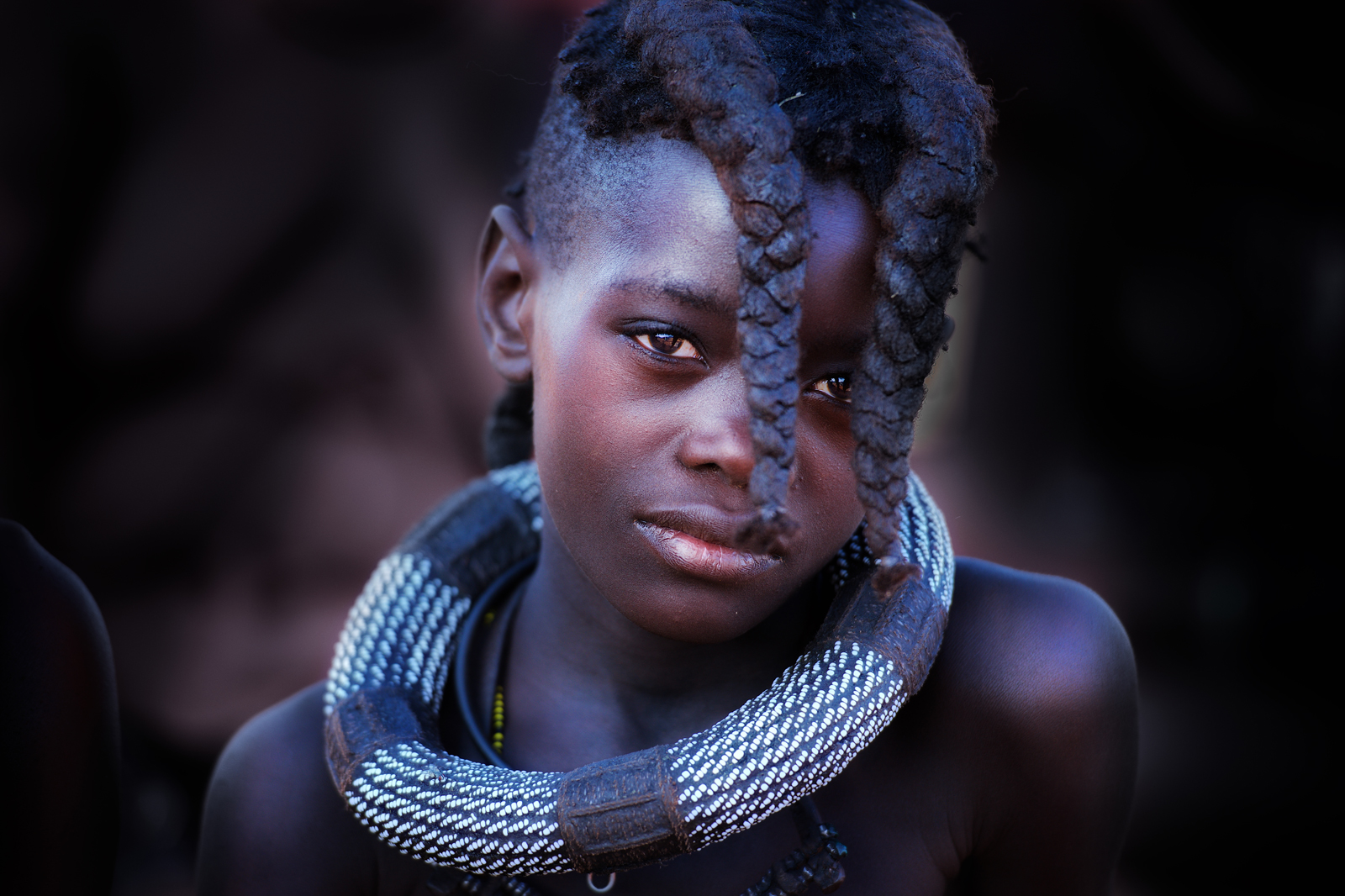 'Himba braids' © Trevor Cole
A young Himba girl with striking features and beautifully braided hair in the Kunene region of Namibia. Young Himba girls typically have two braids, which come forward over the face. These are called ozondato and are covered in wood resin to stiffen the braiding. Each style is determined depending on the paternal clan.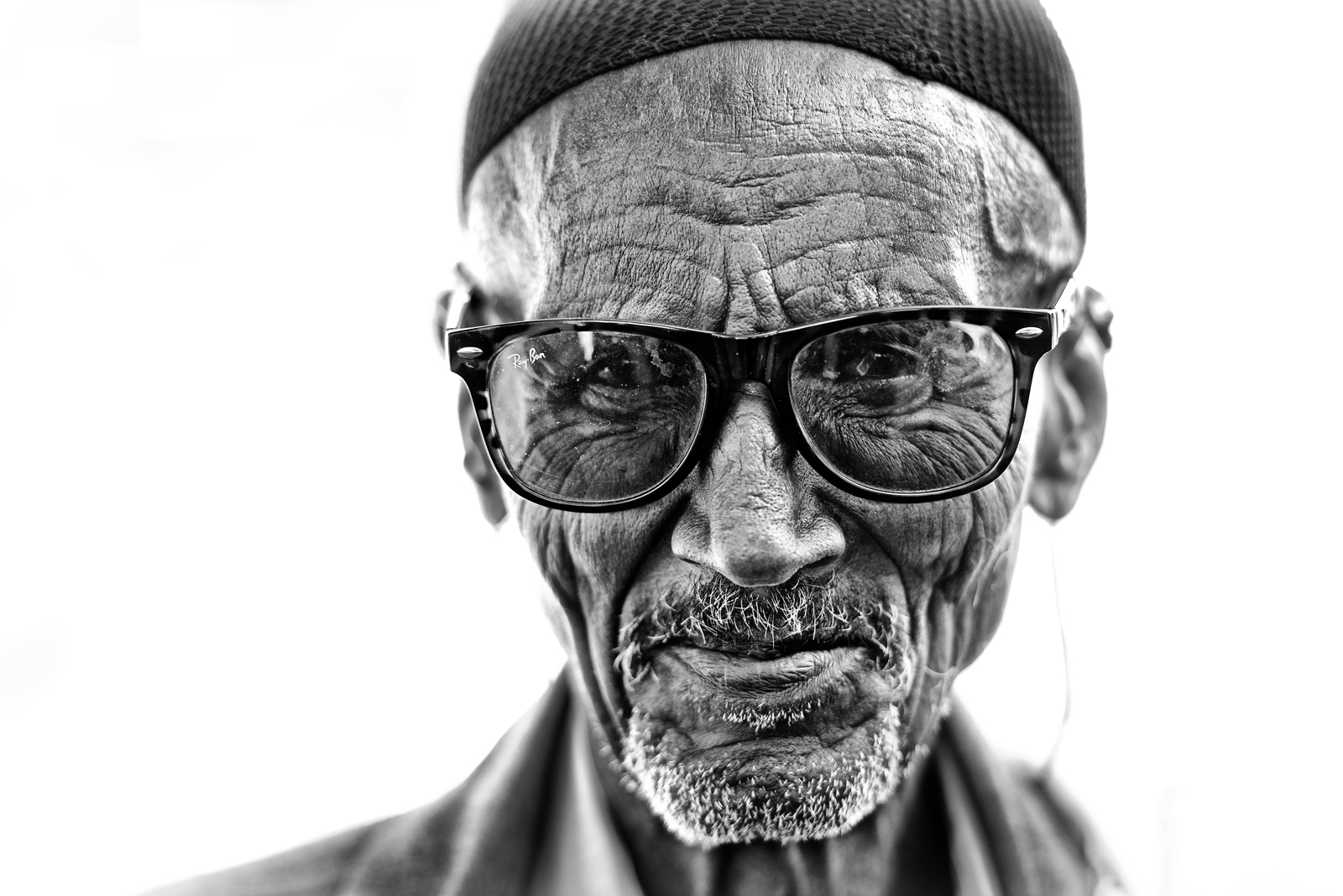 'The Somalilander' © Trevor Cole
An old man in Hargeisa in Somaliland, who was wearing rather cool Rayban-esque frames. Somaliland is an independent nation that is internationally recognised as an autonomous region of Somalia, but its sovereignty is only accepted by Ethiopia and Djibouti. The people are proud of their nation and resolute in their right to independence. Despite perceptions to the contrary, it is a safe, if rather adventurous, place to travel.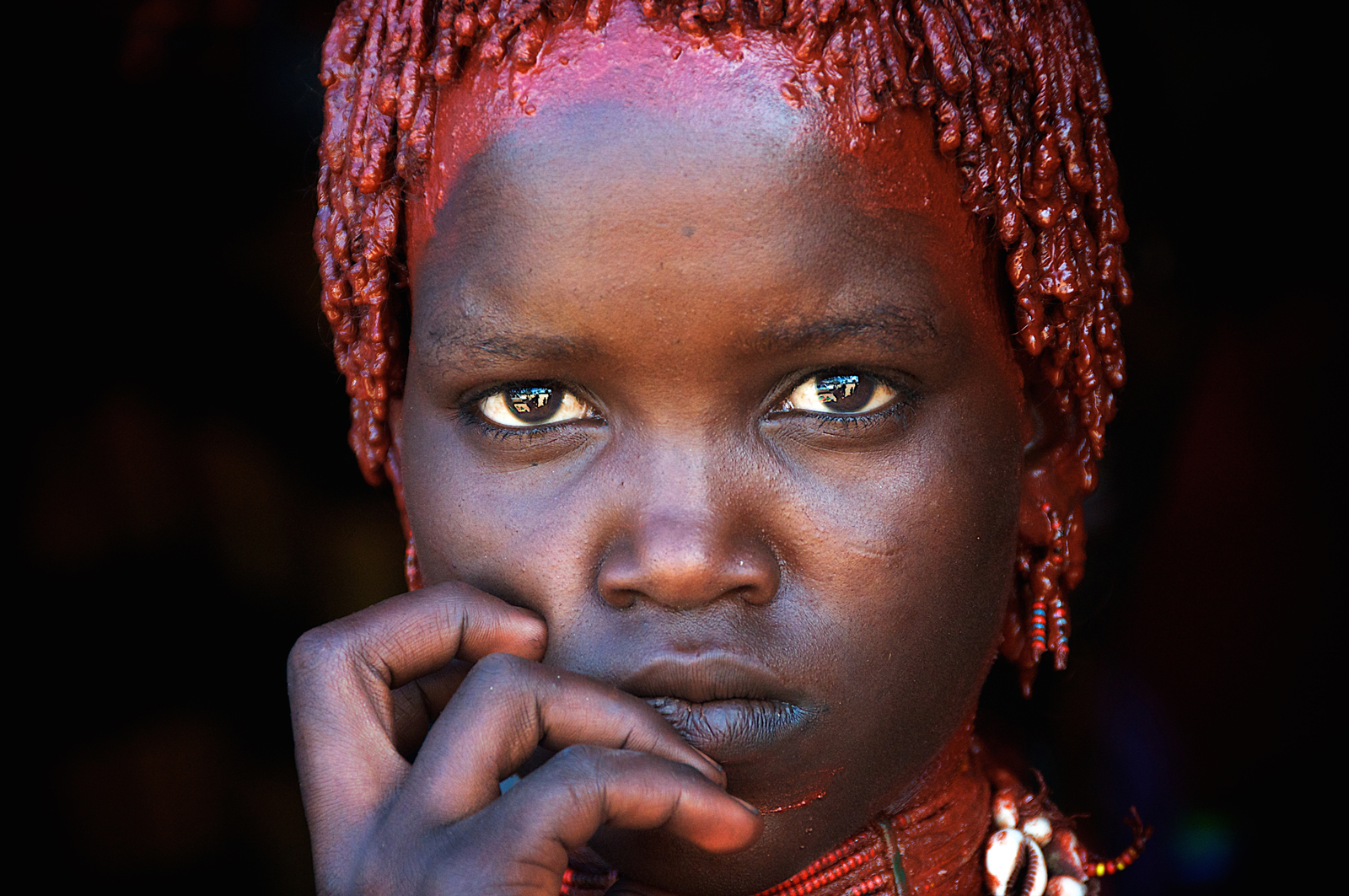 'I am Hamar' ©Trevor Cole
A Hamar girl at the market in Turmi in the Omo Valley of Ethiopia. The girls take pride in their appearance on market days as they get to meet and interact with others in the marketplace.
About the photographer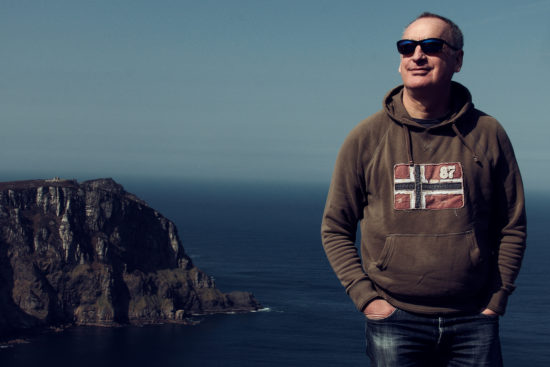 Trevor Cole aims to capture people, landscapes – and the interactions between them – in a world that is constantly in transition. As a 'geographer photographer', his goal is to capture the unique moments that will never materialise again.
Trevor has lived in England, Singapore, Togo, Italy, Ethiopia and Brazil but has recently returned to Ireland, his country of birth.
Photography and travel are two of his life's passions. His photography focuses on culture, landscapes and wildlife – images that reflect a spatial and temporal journey through life, which try to convey a need to live in a more sustainable world. He seeks the moment and the light in whatever context, before using his photographic acumen to turn the ordinary into the extraordinary.
Trevor aspires to have an alternative vision for tomorrow, and he believes that photography can capture those moments that empower us to make a positive change in our world.
His photos have been exhibited in London, Ethiopia, Switzerland and Ireland, and he has had great success in various photo competitions. His images have also been featured in The Guardian, The Telegraph, National Geographic, and La Republica, as well as numerous photographic publications.
To comment on this story: Login (or sign up) to our app here - it's a troll-free safe place 🙂.

---
HOW TO GET THE MOST OUT OF AFRICA GEOGRAPHIC:
Travel with us. Travel in Africa is about knowing when and where to go, and with whom. A few weeks too early / late and a few kilometres off course and you could miss the greatest show on Earth. And wouldn't that be a pity? Browse our famous packages for experience-based safaris, search for our current special offers and check out our camps & lodges for the best prices.
Subscribe to our FREE newsletter / download our FREE app to enjoy the following benefits.
---