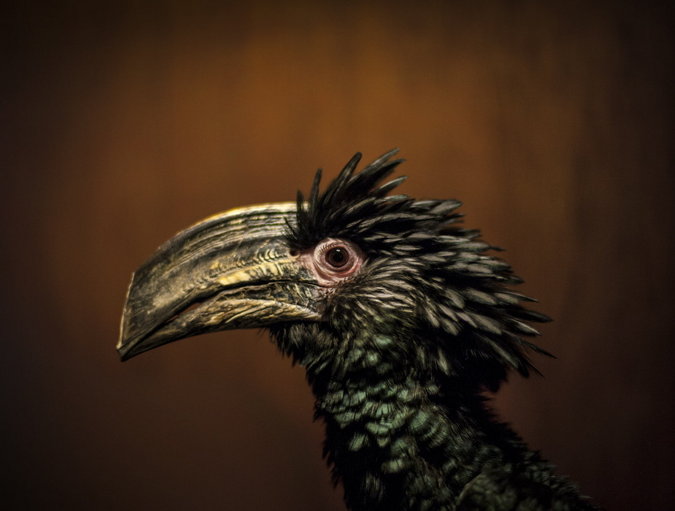 Six out of eight Ghanaian forest hornbill species have shown significant population declines due to uncontrolled hunting, according to a long-term research project.
The large forest hornbills of west Africa are now popular targets of the rampant bushmeat industry now that most mammal species have been all but wiped out in certain areas. Large hornbill species are also targeted for their unique casques (a hollow helmet-like structure on the bill, used for decorative purposes) and suffer population declines due to habitat destruction – but in this case the primary cause for population reductions is hunting for meat.
The Upper Guinean rainforests are a biodiversity hotspot because of the wide range of species found there, and they are on the front lines of the current global extinction crisis. Species such as large hornbills, with restricted habitat requirements and slow reproductive rates, are particularly vulnerable.
The research project was carried out in 26 forests from 1990 to 2014 – covering a range of key areas, from national parks to logging concessions. Of concern is that the hornbill species were already locally extinct or rapidly disappearing – even in the relatively protected national parks with largely intact forests. Encounter rates during the period of the research dropped by up to 88% for certain species.
Depleted populations of large hornbills persist mainly in two large and relatively well-protected wildlife reserves – Ankasa Resource Reserve and Kakum National Park. Contrastingly, the five largest species of the nine hornbills known to Bia Biosphere Reserve, a UNESCO World Heritage Site, have vanished completely.
The researchers conclude that uncontrolled hunting is the major driver of the recent drastic forest hornbill population declines and local extinctions. They call for urgent conservation action to prevent further declines and impending extirpations of forest hornbills and other wildlife in West Africa.
List of Ghanaian forest hornbill species
• Red-billed dwarf hornbill (Lophoceros camurus)
• African pied hornbill (Lophoceros fasciatus)
• White-crested hornbill (Horizocerus albocristatus)
• Black dwarf hornbill (Horizocerus hartlaubi)
• Black-casqued hornbill (Ceratogymna atrata)
• Yellow-casqued hornbill (Ceratogymna elata)
• Black-and-white-casqued hornbill (Bycanistes subcylindricus)
• Brown-cheeked hornbill (Bycanistes cylindricus)
• Piping hornbill (Bycanistes fistulator)
Full report: Biological Conservation, Holbech, L. H., Annorbah, N. N., Phalan, B., & Arcilla, N. (2018): Uncontrolled hunting and habitat degradation decimate and extirpate forest hornbills in Ghana, West Africa , 223, 104-111
To comment on this story please join our PRIVATE TRAVEL & CONSERVATION CLUB. See details below.

---
HOW TO GET THE MOST OUT OF AFRICA GEOGRAPHIC:
Join our private travel & conservation club (mobile app and desktop) to enjoy significant benefits, including the best prices at Africa's top lodges and networking with others like you. Find out more here.

Subscribe to our weekly newsletter to enjoy more stories like this. Subscribe here.
Travel with us. Travel in Africa is about knowing when and where to go, and with whom. A few weeks too early / late and a few kilometres off course and you could miss the greatest show on Earth. And wouldn't that be a pity? Search for your ideal safari here, or contact an Africa Geographic safari consultant to plan your dream vacation.
---