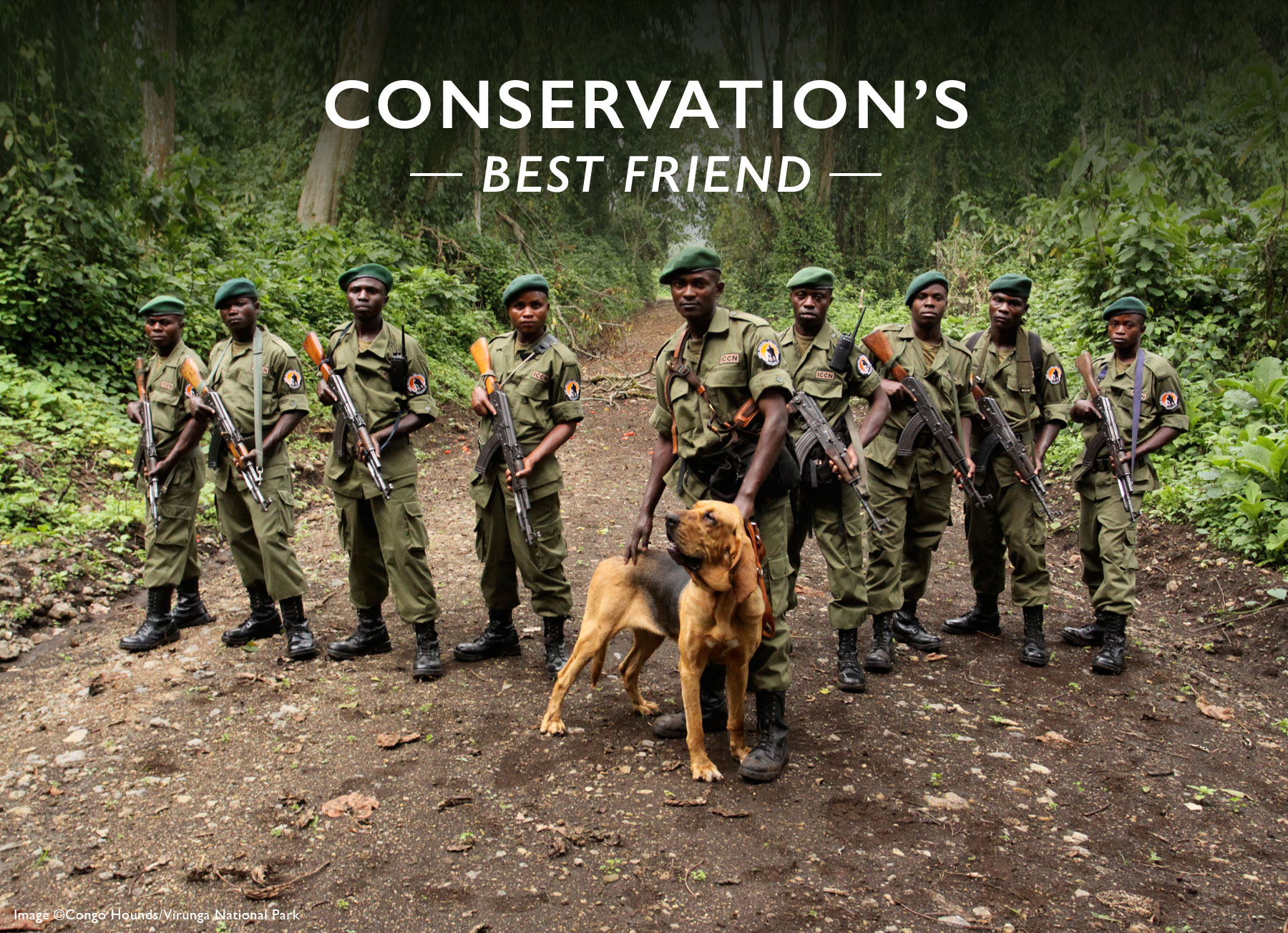 THE DOMESTIC DOG AS PROTECTOR OF THE AFRICAN WILD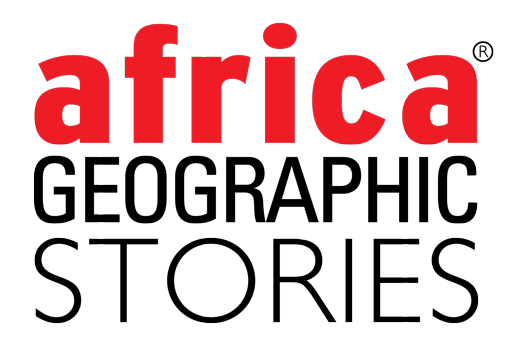 One of Aesop's fables tells of a vixen taking her numerous pups out for an airing. She comes across a lioness proudly carrying a single cub. 'Why such airs, haughty dame, over one solitary cub?' sneers the vixen. 'Look at my healthy and numerous litter here, and imagine, if you are able, how a proud mother should feel.' The lioness lifts her nose and says, 'Yes. I've only one. But remember, that one is a lion.'
Haughty indeed, but such is the hierarchy of the wild. Most recently, a dog named Vixen had a more violent confrontation with a lioness. In this case, Aesop's fable would be overturned for honour favours the dog. She was a rare East German shepherd. Her back was straighter, and her temperament more persistent and alert than the common German shepherd. She was trained to track and apprehend poachers on a private game reserve bordering the Kruger National Park and worked alongside her devoted handler Jonas, who also happens to be a pastor.
After a night patrol, Jonas was driving back with Vixen at his side. It was one of their last patrols together before she was to be put into a breeding programme. Jonas stopped at the game reserve gate and talked with the gate guards.
The lioness became aware of Jonas as he left the vehicle
An injured lioness that had been displaced from her pride was lurking nearby. She'd been drawn to the light of the guard hut and the smell of food from the nearby community. There, skinny and starving, she had watched the guards and contemplated an easy meal. She became aware of Jonas as he left the vehicle. And Vixen became aware of her.
Vixen immediately put herself between Jonas and the beast. The lioness attacked classically, clamping her jaws around Vixen's throat and suffocating her.
There was little Jonas could do but call for backup. As the hungry lioness fed on Vixen's hindquarters, the K9 team tried to force her off by advancing toward her with the vehicle. Finally, they poured water on the lioness – for there are few things a cat hates more – and she ran off, leaving them time to recover Vixen's body.
Jonas owes Vixen his life. She was buried at her home and training facility. Flowers were laid on her grave, and Pastor Jonas led the ceremony.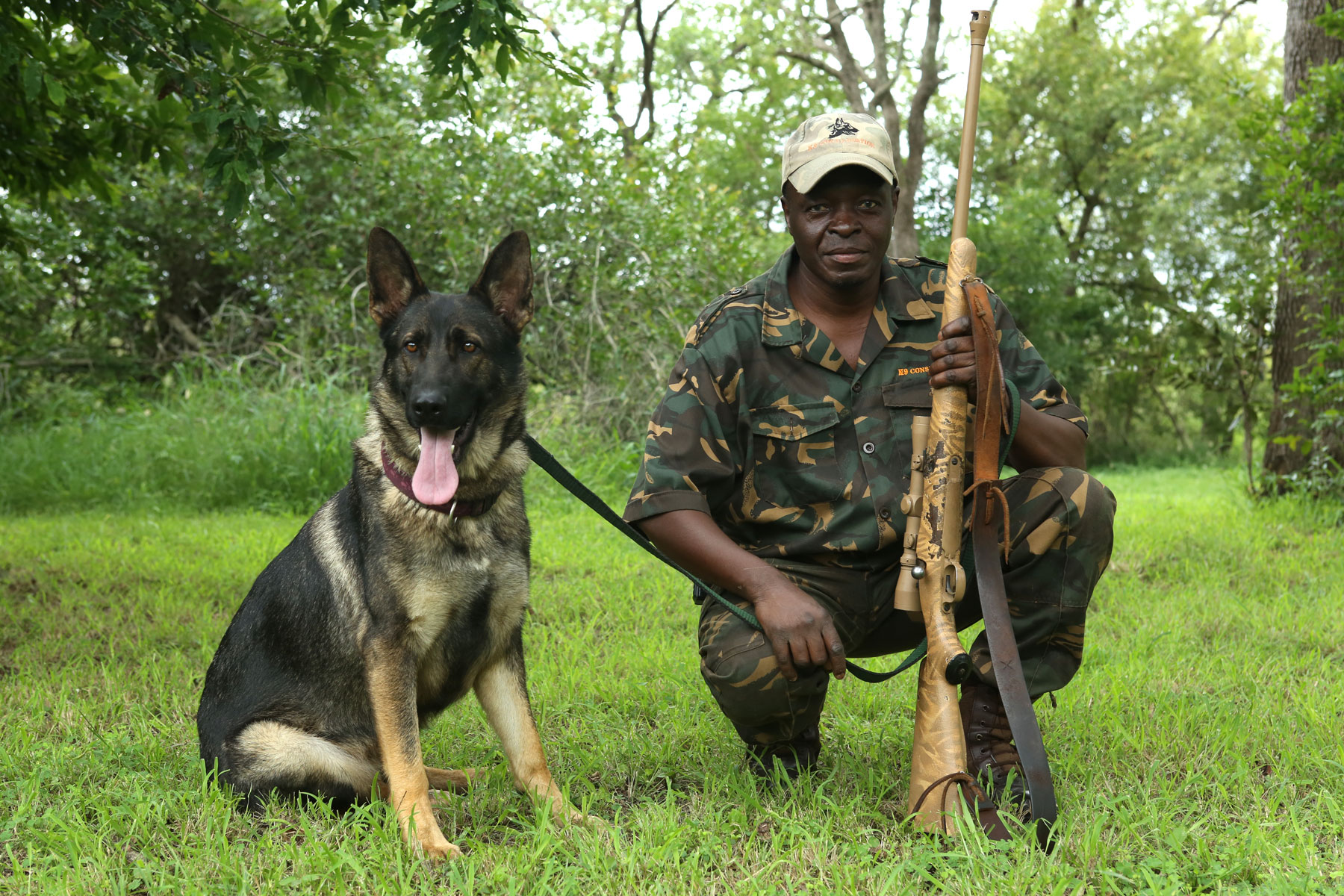 Since the first canid tentatively accepted food from a human, dogs have been an integral part of our lives. Our best friend, protecting and serving, often just loving. By our hands, many dogs have had the wild bred out of them. But the most progressive step in our manipulation of the dog is to rekindle their friendship with the wild. In essence, dogs like Vixen now play a role in protecting endangered species, even lions.
K9 Conservation has been operating since 2011 and has more than ten such dogs working on game reserves near Kruger National Park, a region that has seen some of the worst rhino poachings in Africa. As well as German shepherds, they work with and train weimaraners and Belgian malinois. Weimaraners are 300-year-old German dogs bred for tracking and hunting stag and other large game. Their refined hunting instincts enable them to be essential in locating animals injured or killed by poachers. This complements the malinois' more aggressive nature, endurance, agility and superior skill in tracking humans, so the two breeds are often used in tandem. When a poached animal is located by the weimaraner the malinois takes over, picking up the scent of the poachers so tracking and apprehension of the culprits can begin.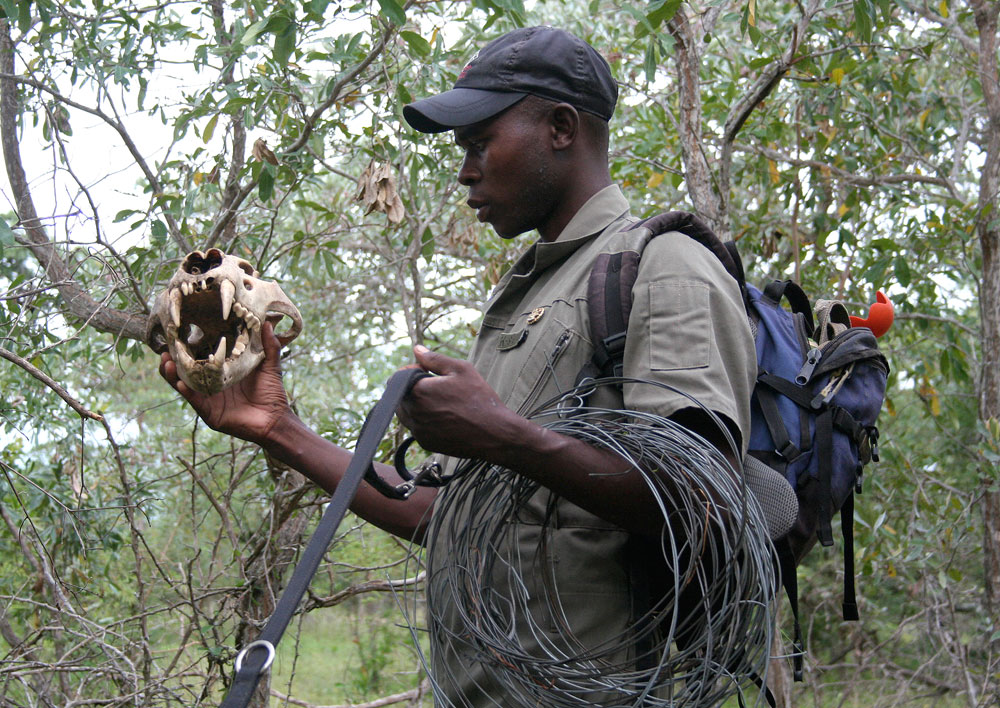 'Not one rhino has been lost in over a year and a half'
'The poachers are very weary of patrol dogs and are more willing to give themselves up in a confrontational situation if there is a dog with gnashing teeth in the equation,' says Director of K9 Conservation, Conraad de Rosner.
There are many arrests in the Kruger National Park region, but unless suspects are found with evidence, they can only be charged with trespassing. Often poachers throw their guns into the bush when they realise they will be caught. But the dogs serve another role by finding those guns and the bullet casings near the poached animals. Fingerprints on weapons and ballistic evidence can lead to stronger convictions. 'In the areas we operate in, not one rhino has been lost in over a year and a half,' says co-founder Catherine Corrett. Eight arrests of rhino poachers have been made over that time, and the intelligence from the arrestees has led to more arrests higher up the chain. K9 Conservation is expanding its operations to other key wildlife areas in South Africa. It is developing and consulting on using working dogs in Kenya, Malawi and the Central African Republic.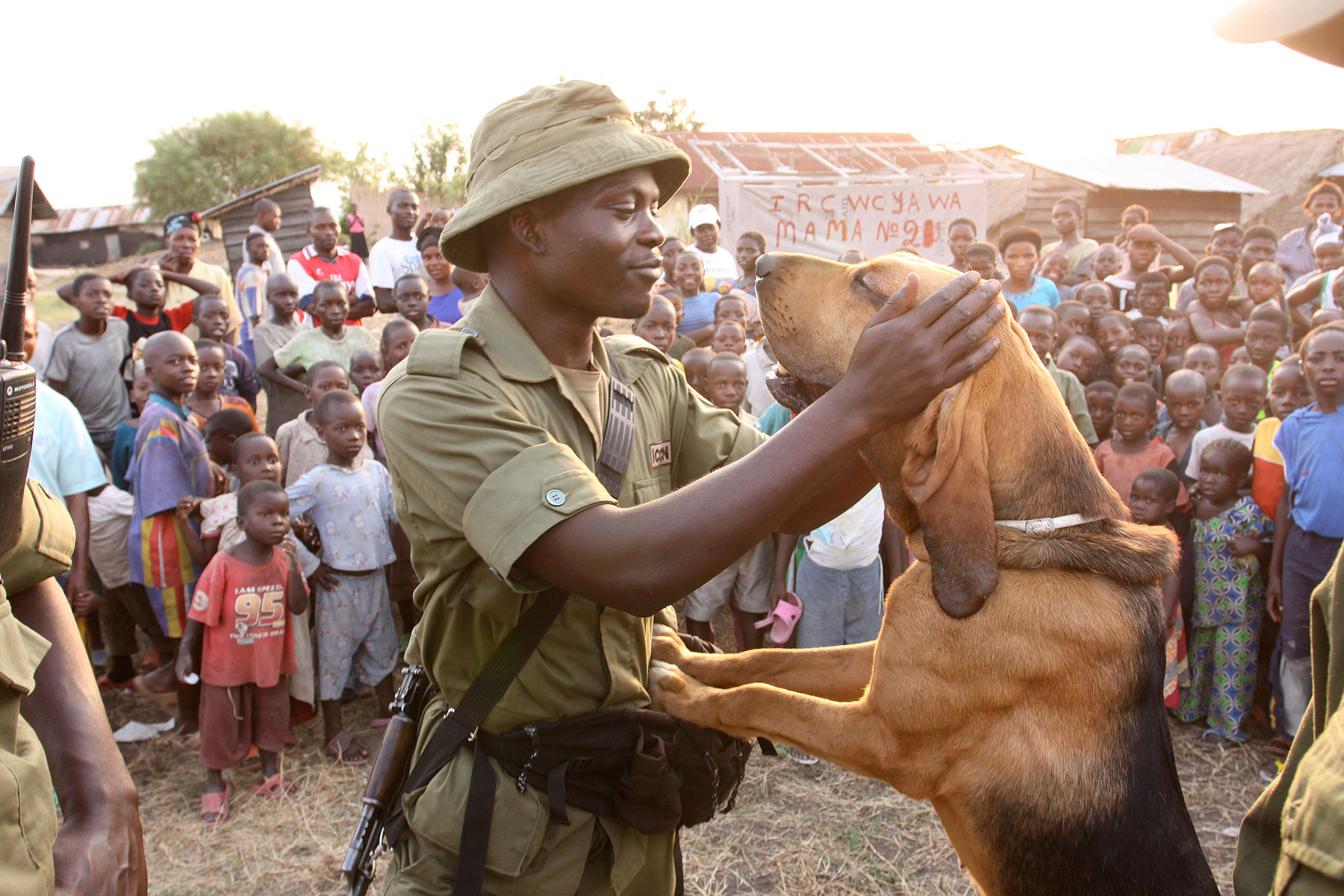 The Virunga National Park in the Democratic Republic of Congo is a world heritage site. It's also a hot zone for poaching and war, and 150 rangers have been killed there in the past 17 years. The Congo Hounds Canine Unit, which has been operating since 2011, consists of three bloodhounds and two English springer spaniels. In such a densely forested region with difficult terrain, the bloodhounds are extremely useful because they can follow trails that are days old. They can locate injured rangers or track down poachers intent on killing endangered mountain gorillas and elephants. But that's where their work stops, as they are too gentle to get involved in actual apprehension. The spaniels are specially trained to sniff out ivory, bush meat and other contraband, so they are used to search vehicles and villages in the region.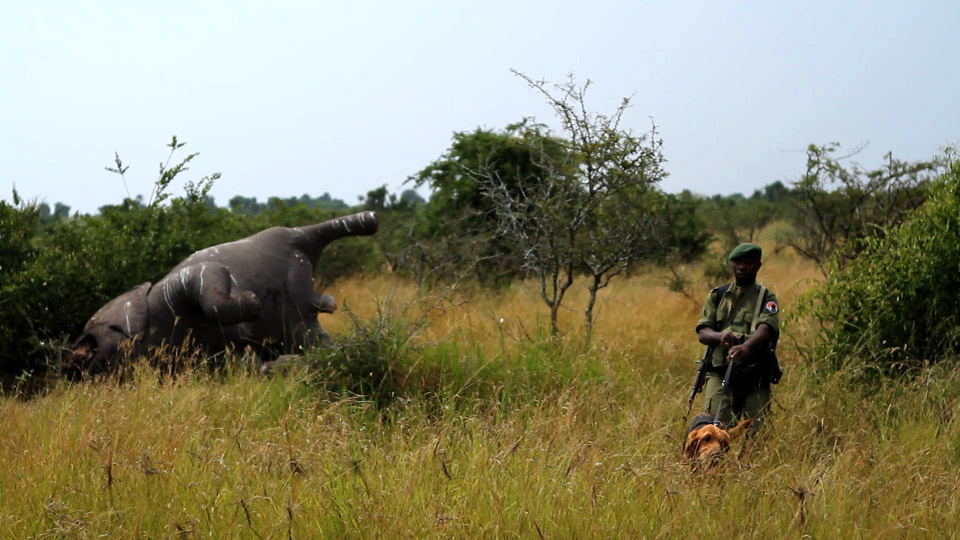 The Big Life Foundation operates on the wildlife-rich plains of East Africa. Launched 4 years ago by British photographer Nick Brandt and Kenyan conservationist Richard Bonham, the foundation now employs 300 rangers in 31 outposts in Tanzania and Kenya. One of their most effective anti-poaching initiatives, the first in Tanzania, is a canine unit comprising German shepherds and German shepherd mix breeds used to track and apprehend poachers. A recent addition to the team is Didi, an abused Nairobi stray Bonham picked up from the ASPCA. With care and training, she has proven herself invaluable, already bringing in 6 poachers and finding two lost community members. Says Leyian, one of her handlers: 'When we are on the track, we can switch off our minds, Didi is our eyes, and we trust her; she will take us where we want to go.'

Further north within sight of Mount Kenya is Ol Pejeta Conservancy and the last six northern white rhinos on earth. The last of the breeding males died recently, and the fact that he succumbed to natural causes and not a poacher's gun might well be thanks to Ol Pejeta's canine unit.
Equipped with camera systems and body armour, this is the dog of the future
The unit comprises two bloodhounds, a black malinois assault dog, and 11 younger Dutch malinois introduced as puppies in 2013. The dogs and their handlers are being trained intensively with British ex-military dog instructor Daryll Pleasants and his White Paw organisation. The focus is on creating multiple roles for the new malinois recruits. Referring to Diego, the son of assault dog Tarzan, Pleasants describes how he is trained to search, track and attack. 'Not only is Diego part of a new strategy in which one dog can accomplish three roles, but he is also fully approachable. In a conservancy where the general public is free to enjoy the fauna and flora, there is no place for an animal that cannot be controlled.'
But poachers will find these dogs far less approachable. 'Equipped with state-of-the-art dog surveillance head camera systems and bullet/stab proof body armour, these are the dogs of the future,' says Pleasants, 'The dogs that are set to give the conservation world the edge in the war against poaching.'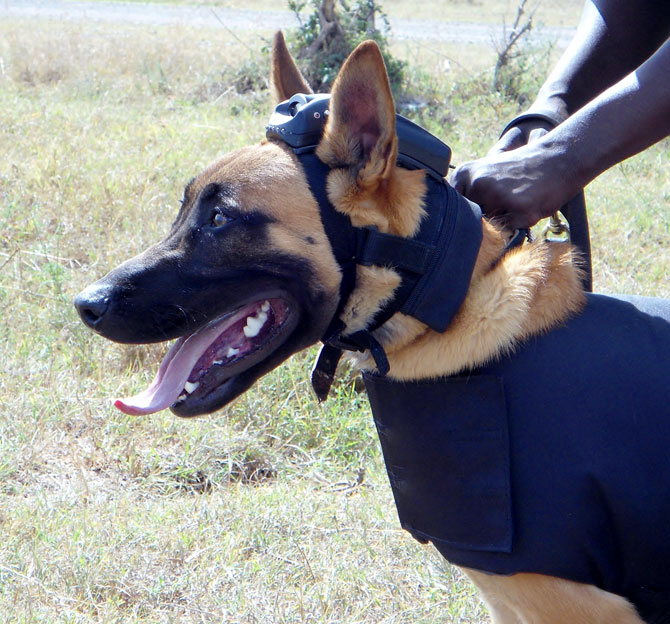 On the periphery of this war, the domestic dog still performs its classic role of friend to domestic animals. Far to the southwest in the arid lands of Namibia, dogs are protecting livestock from predators. Poaching is low in this region, and Namibia's holistic approach to land use means that livestock and wild animals often cross paths. Because they occasionally prey on livestock, cheetahs and leopards are seen as economic threats and are sometimes killed by farmers. The Cheetah Conservation Fund aims to resolve this conflict using Anatolian shepherd dogs. The dogs, introduced to goat herds at a very young age, have minimal contact with humans, so they grow into devoted protectors of their adopted herd.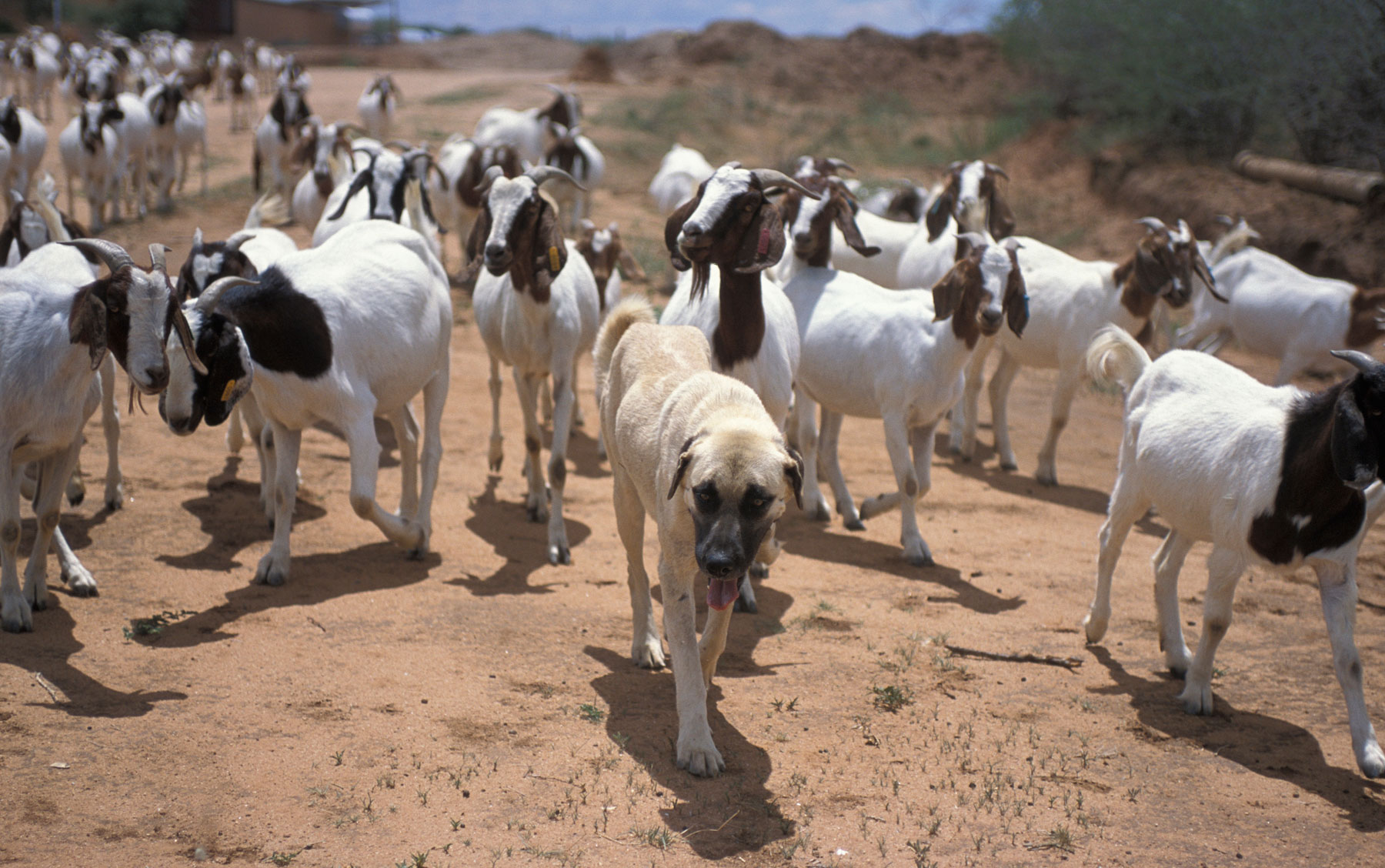 Anatolian shepherds are not herding dogs and do not move livestock, which can trigger a predator attack. Rather, they place themselves between the livestock and the threat, barking loudly. If the predator persists they do attack, but often their presence is intimidating enough. Since 1997 over 400 dogs have been placed on farms, with 92% of farmers reporting no loss of livestock or at least a significant reduction.
Working with the Ruaha Carnivore Project, the CCF recently introduced young Anatolian shepherd dogs to Barabaig herders near Ruaha National Park in Tanzania. Here, the greatest threat to livestock is not cheetahs and leopards but those haughty lions. The Barabaig people have traditionally protected their herds or even retaliated for kills by spearing and poisoning the cats. But, once the Anatolian shepherd dogs have bonded to the herds and are successful in warding off lion attacks, they may be the lions' best friends. Perhaps Aesop needs to do a bit of a rewrite.
Contributors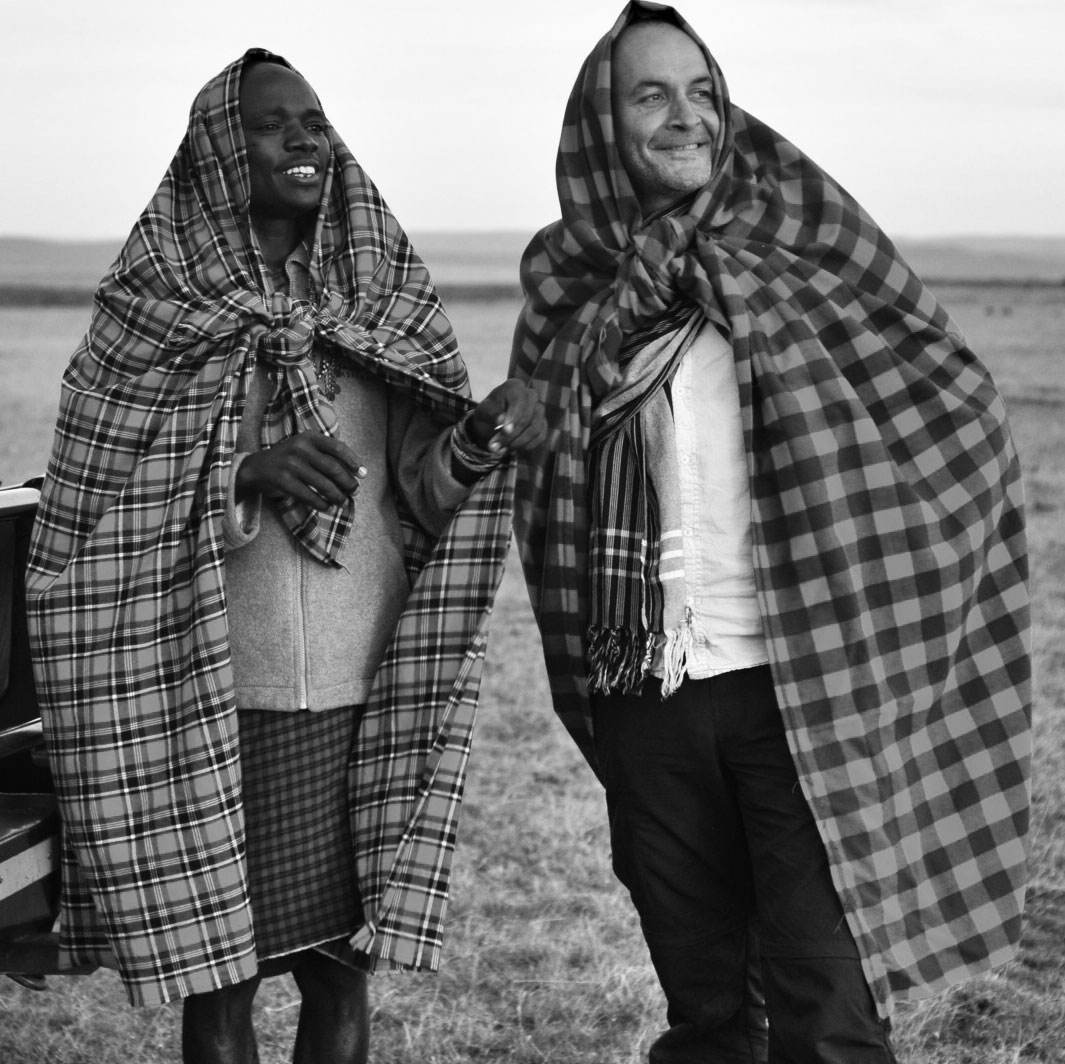 ANTON CRONE quit the crazy-wonderful world of advertising to travel the world, sometimes working, and drifting. Along the way, he unearthed a passion for Africa's stories – not the sometimes hysterical news agency headlines we all feed off, but the real stories. Anton strongly empathises with Africa's people and their need to meet daily requirements, often in remote, environmentally hostile areas cohabitated by Africa's free-roaming animals.
To comment on this story: Login (or sign up) to our app here - it's a troll-free safe place 🙂.

---
HOW TO GET THE MOST OUT OF AFRICA GEOGRAPHIC:
Travel with us. Travel in Africa is about knowing when and where to go, and with whom. A few weeks too early / late and a few kilometres off course and you could miss the greatest show on Earth. And wouldn't that be a pity? Browse our famous packages for experience-based safaris, search for our current special offers and check out our camps & lodges for the best prices.
Subscribe to our FREE newsletter / download our FREE app to enjoy the following benefits.
---