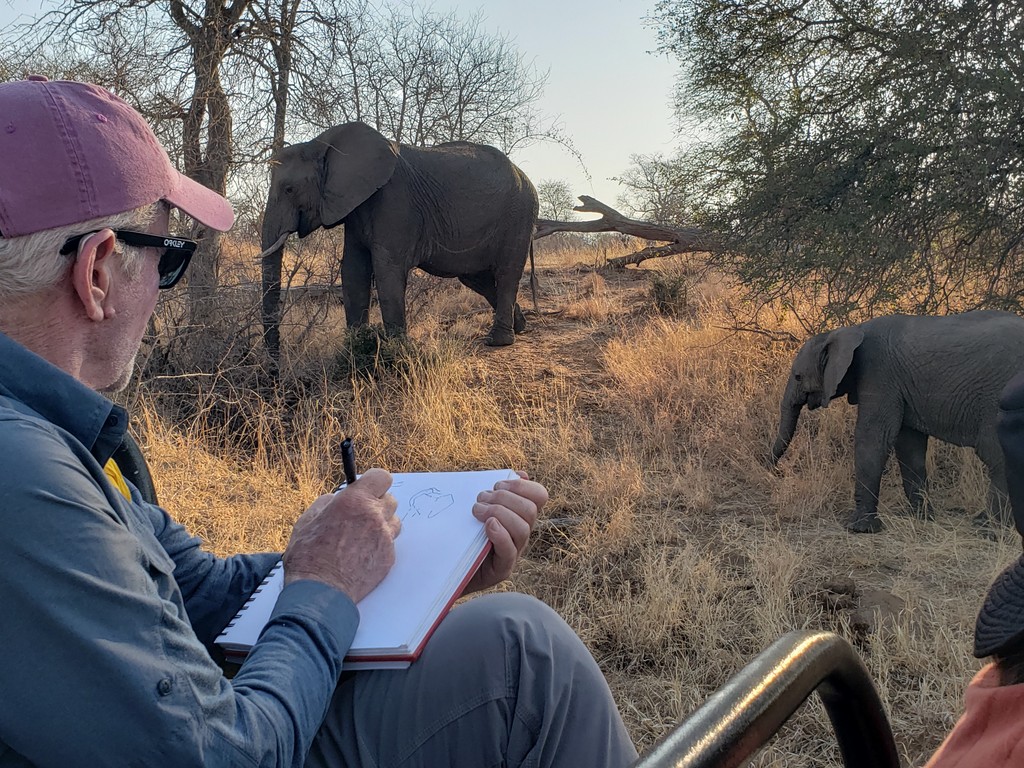 What is an art safari? It's a safari where you learn to sketch wildlife quickly and confidently. It might seem a little intimidating, but it's amazing how much your sketching can improve when you spend several hours each day practicing. There are only six guests on each safari and artists with any level of experience are welcome. We sketch from our private vehicle on our twice-daily drives and I lead sketching and watercolour workshops at the lodge during the middle of the day. It's a great way to improve your sketching, enjoy an amazing few days watching South Africa's iconic wildlife, and meet like-minded travel companions. Non-sketching friends and partners are also welcome.
Take a look at the end of the article for more information about our upcoming 2020 art safaris in the Greater Kruger.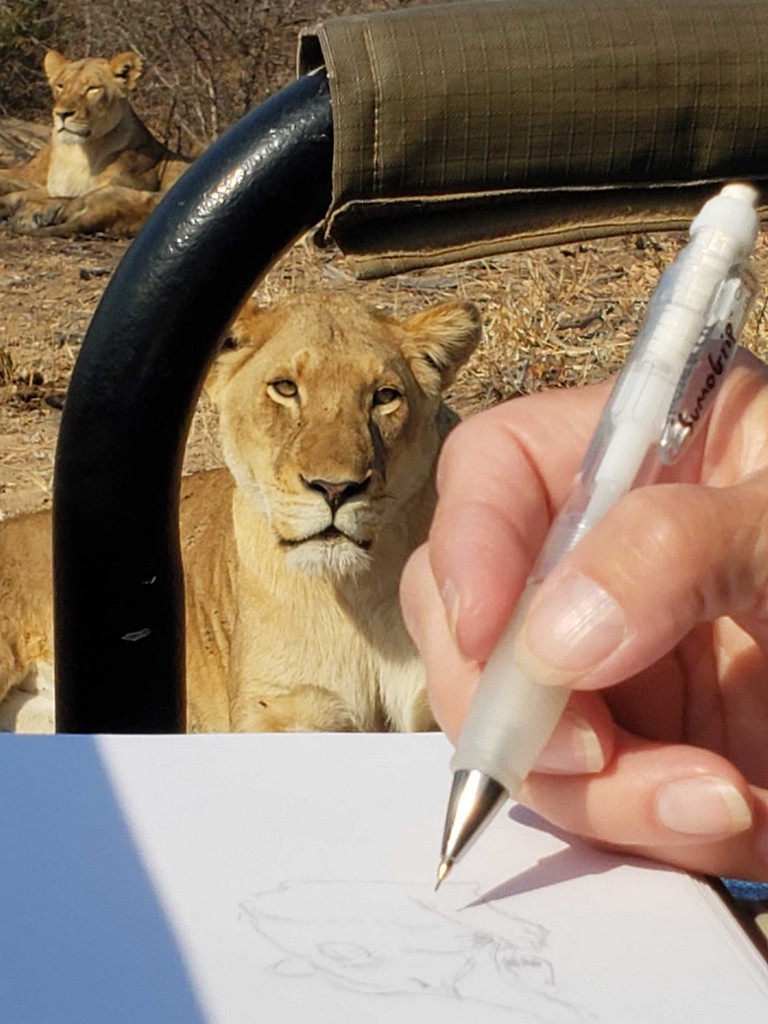 The following is a selection of guest reviews from our 2019 art safaris:
I really can't say enough good about the art safari; it was FABULOUS! All that I had hoped and more, and I am still reveling in the memories and reliving it through my sketches. I have no suggestions for improvement, because I thought it was perfect. Thank you so much! ~ Melissa F. 
I have just experienced the adventure of a lifetime. Africa Geographic and Alison Nicholls have put together a trip for Africa rookies and old timers alike… I could not have created a better forum for Africa and my art. ~ Kelly G.
After a wonderful first two legs of my trip (Cape Town and Victoria Falls), I honestly thought that the trip could not get any better. Boy was I wrong. The art safari was one of the greatest experiences. ~ Sarah L.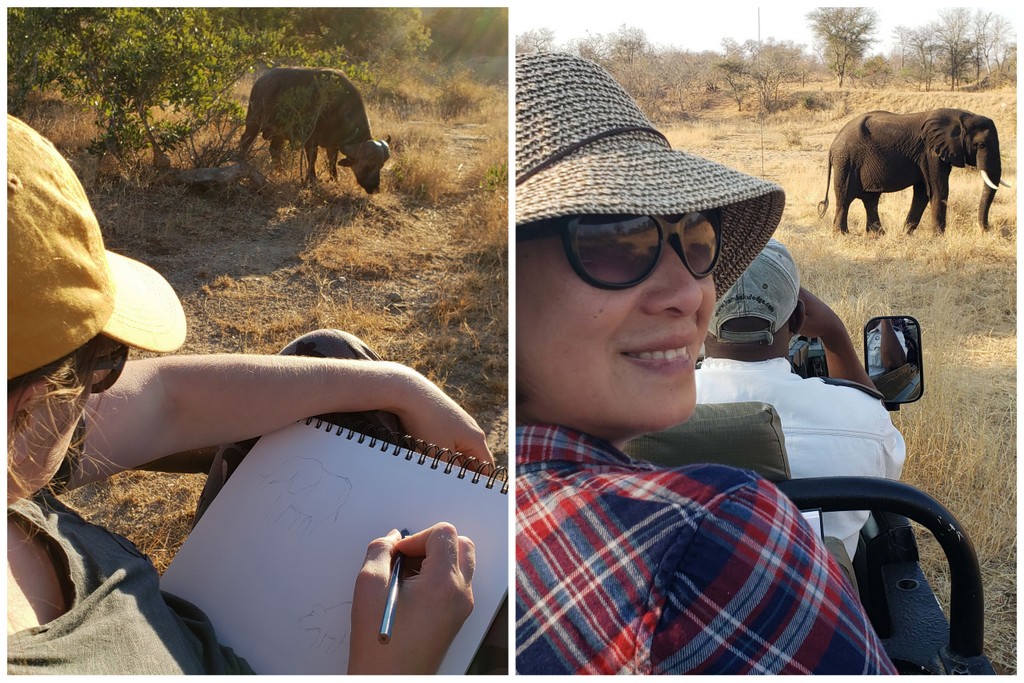 Kambaku is a beautiful lodge. The staff were all wonderful and helpful. The safari drives were such amazing experiences and I will cherish those sweet memories forever. ~ Emily S.
The art safari far exceeded my expectations. The accommodations were top-notch, and the game drives were truly a lifetime experience. ~ Betsy W.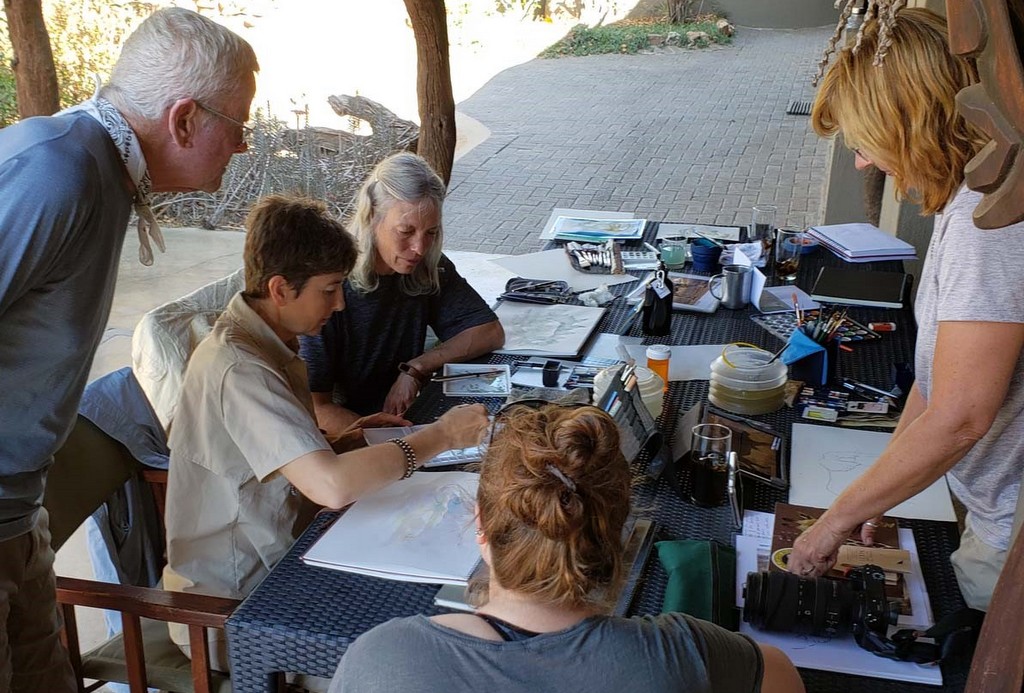 Thanks for such a wonderful workshop! I have more confidence now than before, for sure. I also love Alison's demonstrations of watercolour painting with her unique style. ~ Emily S.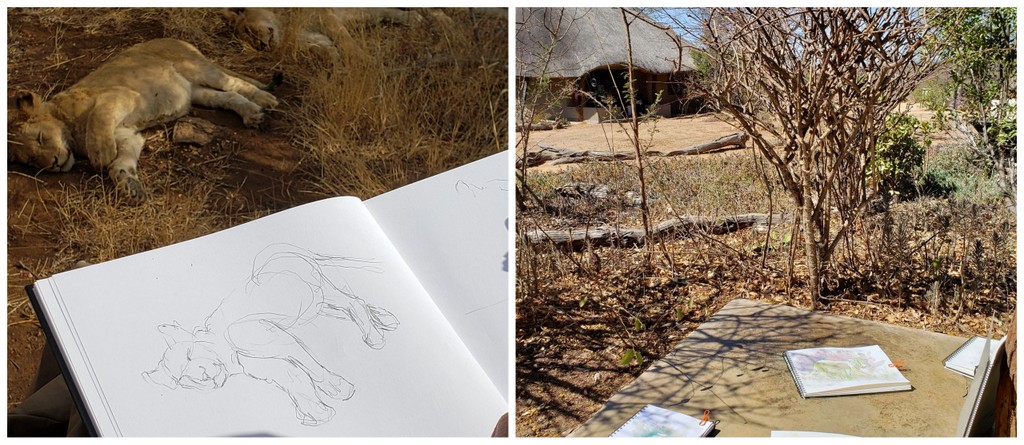 Alison asked us each individually what our goals were, and I shared that I really just wanted to try to sketch profiles of the animals and try to master that. However by the end of the safari, I found myself enjoying sketching from life much more than from pictures, and really trying to sketch the animals from different angles. I really had such a wonderful time attempting this. ~ Sarah L.
Alison was a patient and versatile teacher. She did a great job of catering to students of different levels. ~ Betsy W.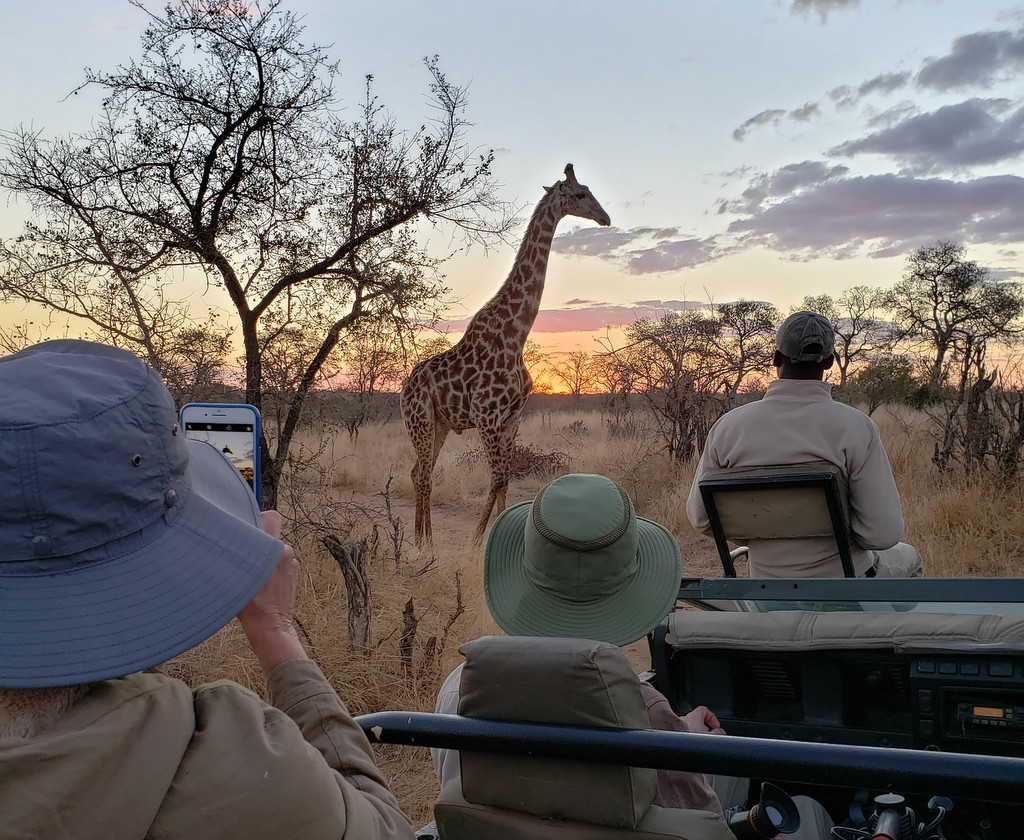 The other members on the safari, I now consider friends. I plan to keep in touch with everyone, and look forward to seeing everybody's art. I left the art safari very sad that it was over, but also very happy because I now consider myself an artist. I plan to continue with my sketching, as well as experimenting with watercolour. The art safari is something that I would love to do again, and I would suggest to everybody I know to do something like this. ~ Sarah L.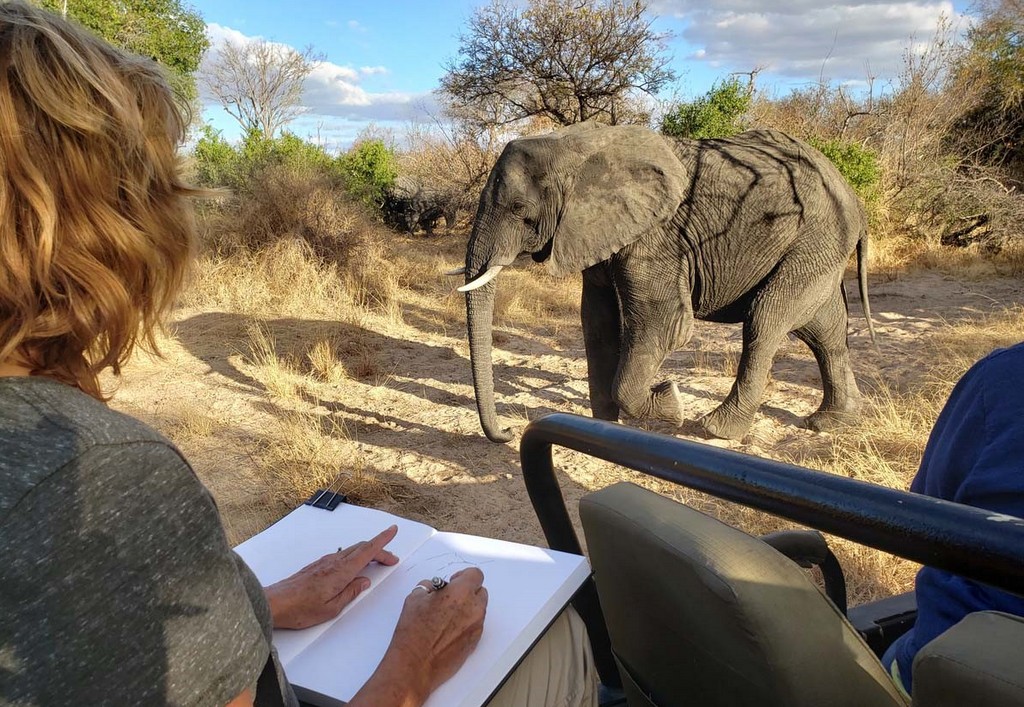 The art safari with Alison Nicholls was one of the most amazing experiences I have ever had! I grew so much as an artist and learned so much about art and African animals and birds. I really appreciated Alison's approach to teaching art. She is very knowledgeable about the animals, birds and plants in South Africa. She was able to easily identify the areas where my sketching needed to improve. She had quick tricks and skills that made my ability to sketch moving animals much better. ~ Linda M.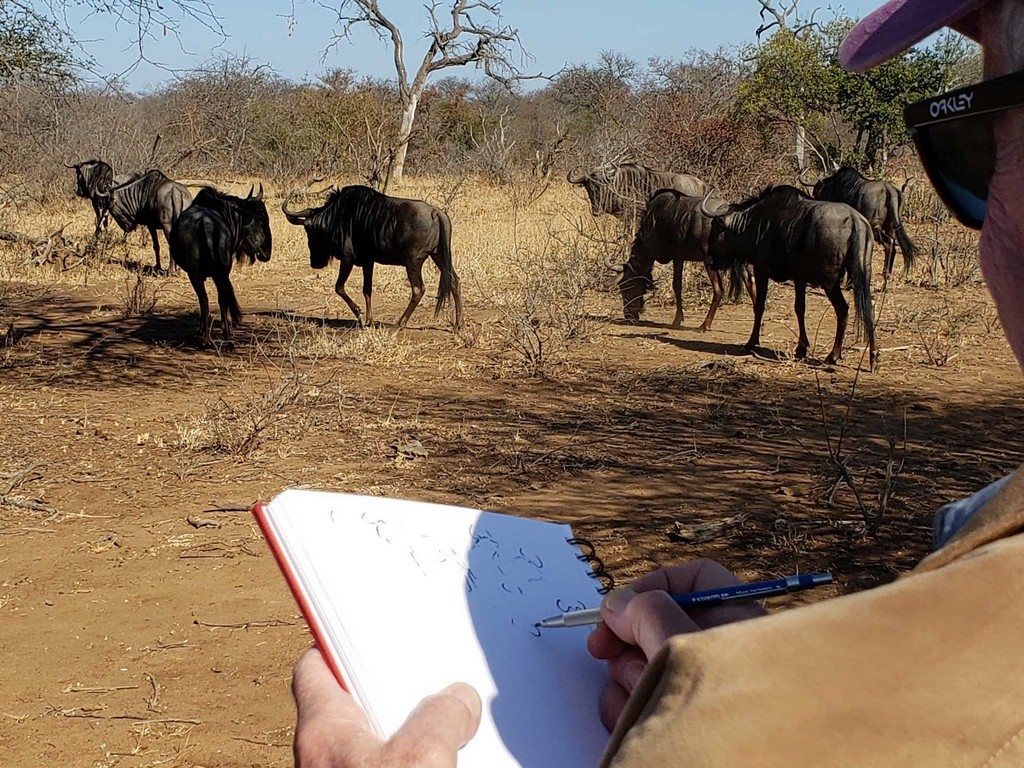 2020 ART SAFARIS IN SOUTH AFRICA
22nd – 26th September 2020 – FULL
Pungwe Bush Camp
ZAR 31,570 (approx US$2,150 per person sharing)
27th September – 1st October – 1 place remaining
Kambaku Safari Lodge
ZAR 40,600 (approx US$2,760 per person sharing)
Booking and payment details: If you would like to join an art safari, you will need to contact Africa Geographic for a booking form.  Reservations can only be confirmed by the completion of a booking form and the receipt of a deposit. As our groups are small they can fill up quickly.
Africa Geographic handles all reservations and payments, and will be delighted to help you with any other travel arrangements you may require in Africa. They can also arrange private, custom art safaris.
Can't attend next year?
Our safaris are small and can fill up very quickly, so if you are interested in a future art safari, please contact Alison Nicholls or Africa Geographic. We can then ensure that you, along with other interested guests, receive future itineraries before they are made available to the public on our websites.