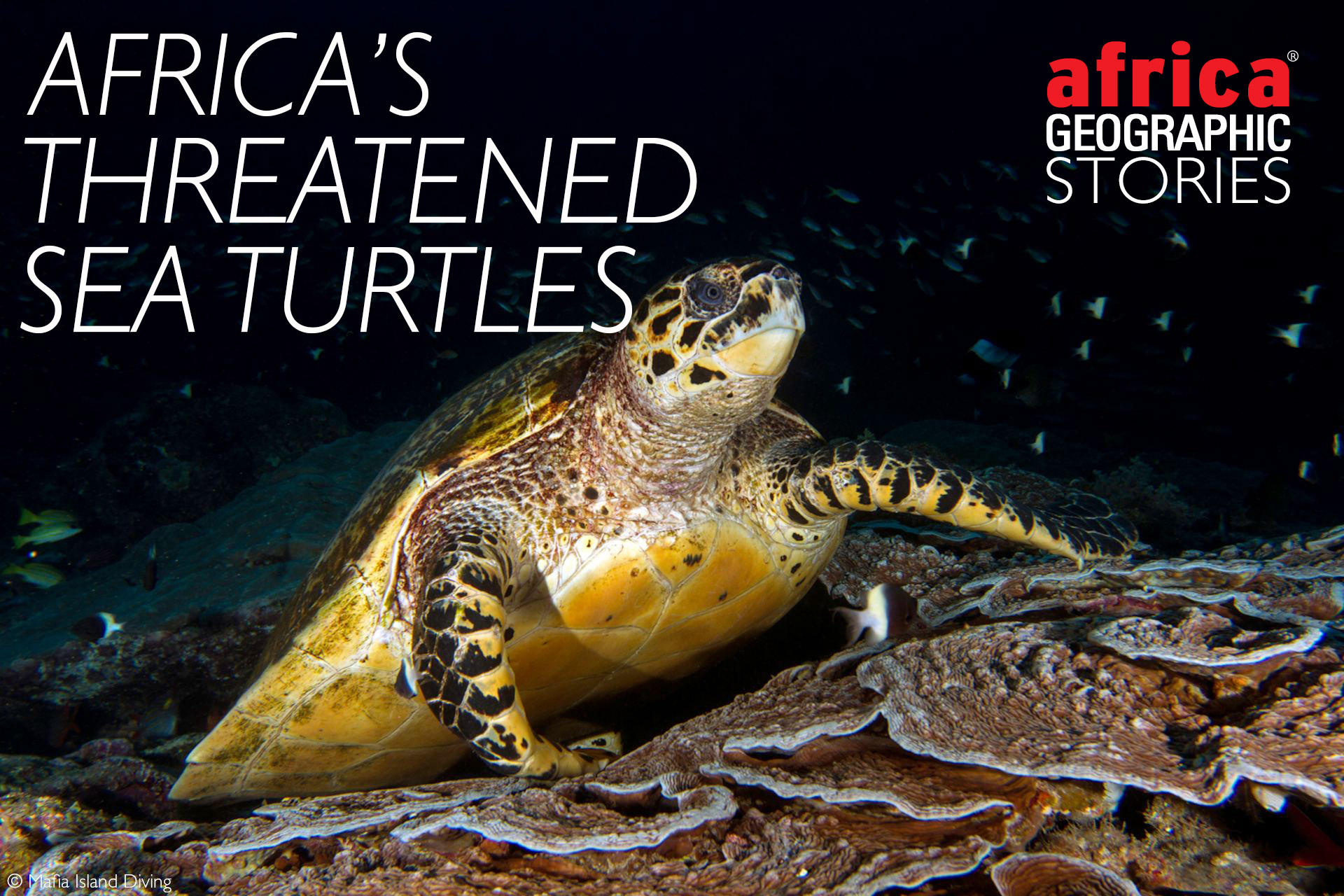 Enigmatic reptiles of the sea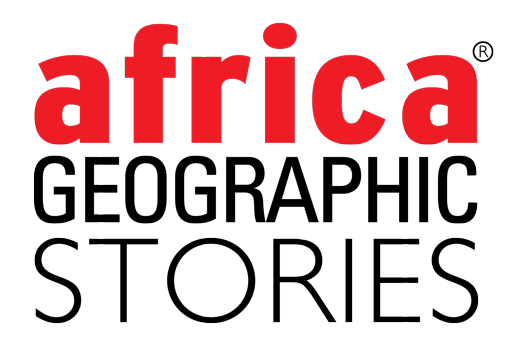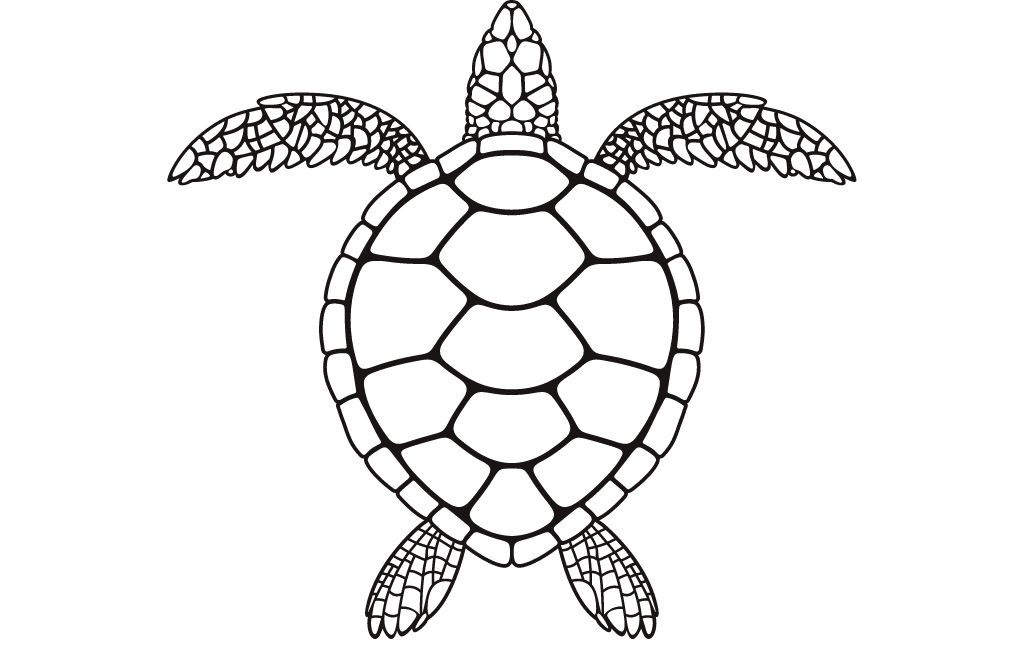 Africa is bounded by seemingly limitless turtle habitats, from the Atlantic and Indian Oceans to the Mediterranean and Red Seas. Five of the world's seven sea turtles (leatherback, olive ridley, green, hawksbill, and loggerhead) inhabit these waters and nest on Africa's shores. Sea turtles are amongst the most widely ranging creatures on Earth, and many that nest outside Africa still spend time in African waters.
All African sea turtles face anthropogenic threats, and pressure from humans has taken an enormous toll on populations. Although most coastal African countries have enacted laws specifically to protect sea turtles, and while local NGOs and communities lead conservation and research, there is still much to be done.
I have travelled the islands of northern Tanzania, the Mozambican archipelagos and coastline, and the islands of Reunion and Mauritius. In all these places, I have seen, swum with and watched sea turtles in their natural environment, learning about the threats they face.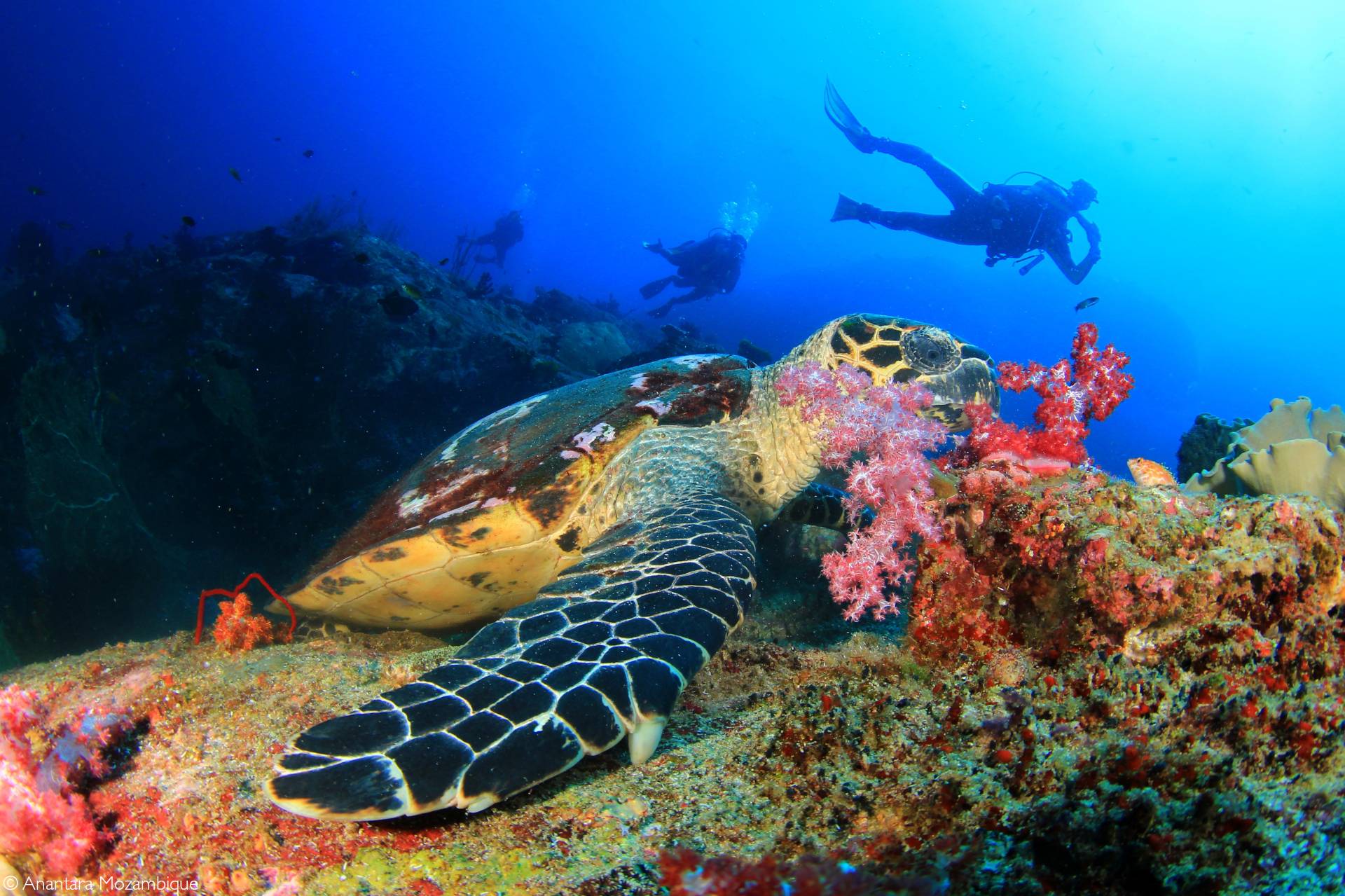 A trip to Juani
We climbed aboard a traditional wooden dhow on Mafia Island for a 30-minute voyage to nearby Juani Island. Mooring at the base of some of the biggest baobabs I'd ever seen, we set off on foot across the island through dense rainforest till we reached the island's eastern shore. We were there to witness and count newly hatched, endangered green turtles. Plastic waste littered the white sand beach. This was not local rubbish, but litter carried on ocean currents from far away. Every wave brought in a few more pieces of plastic: straws, bottles, a single flip flop, a worn-out toothbrush, a couple of earbuds, and various other unidentifiable detritus. High up on the beach, community volunteers, trained by NGO Sea Sense, stood protectively over a patch of uneven sand. They gestured us over, telling us that tiny turtle hatchlings would start to emerge at any moment.
We waited and watched. At first, nothing. Then what looked like mini 'eruptions' started. First, one miniature head, then another, started to break through the sand. Flippers flapping wildly, like windup toys, the pocket-sized babies dug their way up and out of the sand.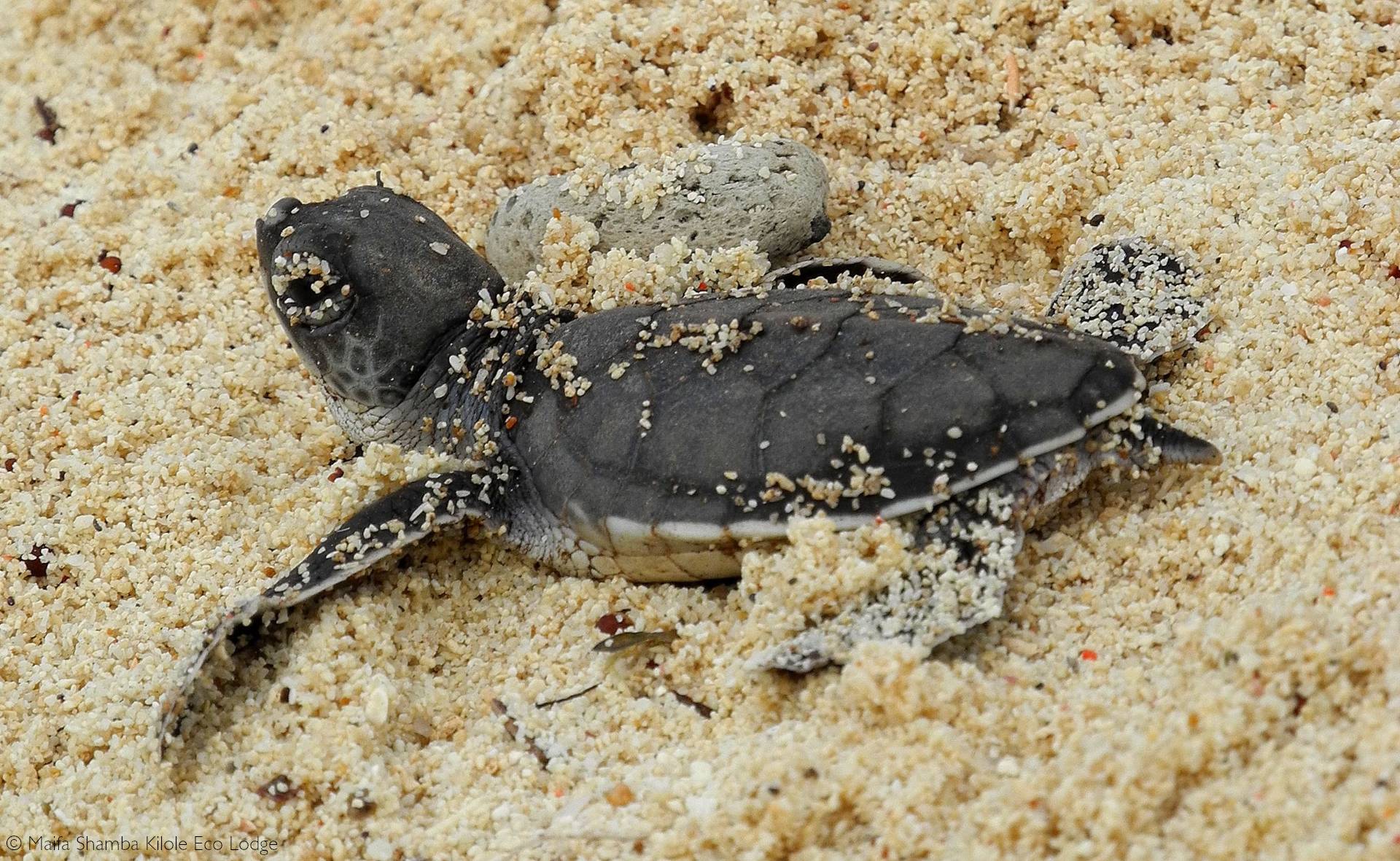 That afternoon we counted 87 newly hatched turtles making their instinctive and erratic scramble down the white, sandy beach into the warm Indian Ocean waters. The waves proved a formidable obstacle, and a number of the hatchlings were deposited back up the beach to try again. A few started having second thoughts, and halfway to the water, turned around and tried to head back to the nest. It was tempting to reach out a helping hand and set them back on track, but it is strictly forbidden to touch or interfere with them in any way. Eventually, they came to their senses, and we felt like proud parents at a school athletics day as they finally reached the shoreline before disappearing out to sea.
Only one in every thousand of these little turtles will survive to adulthood, but those that do, will return to the waters around the islands to mate, and, in roughly 30 years, the females will lay their eggs on the very same beach where we watched them take their first steps.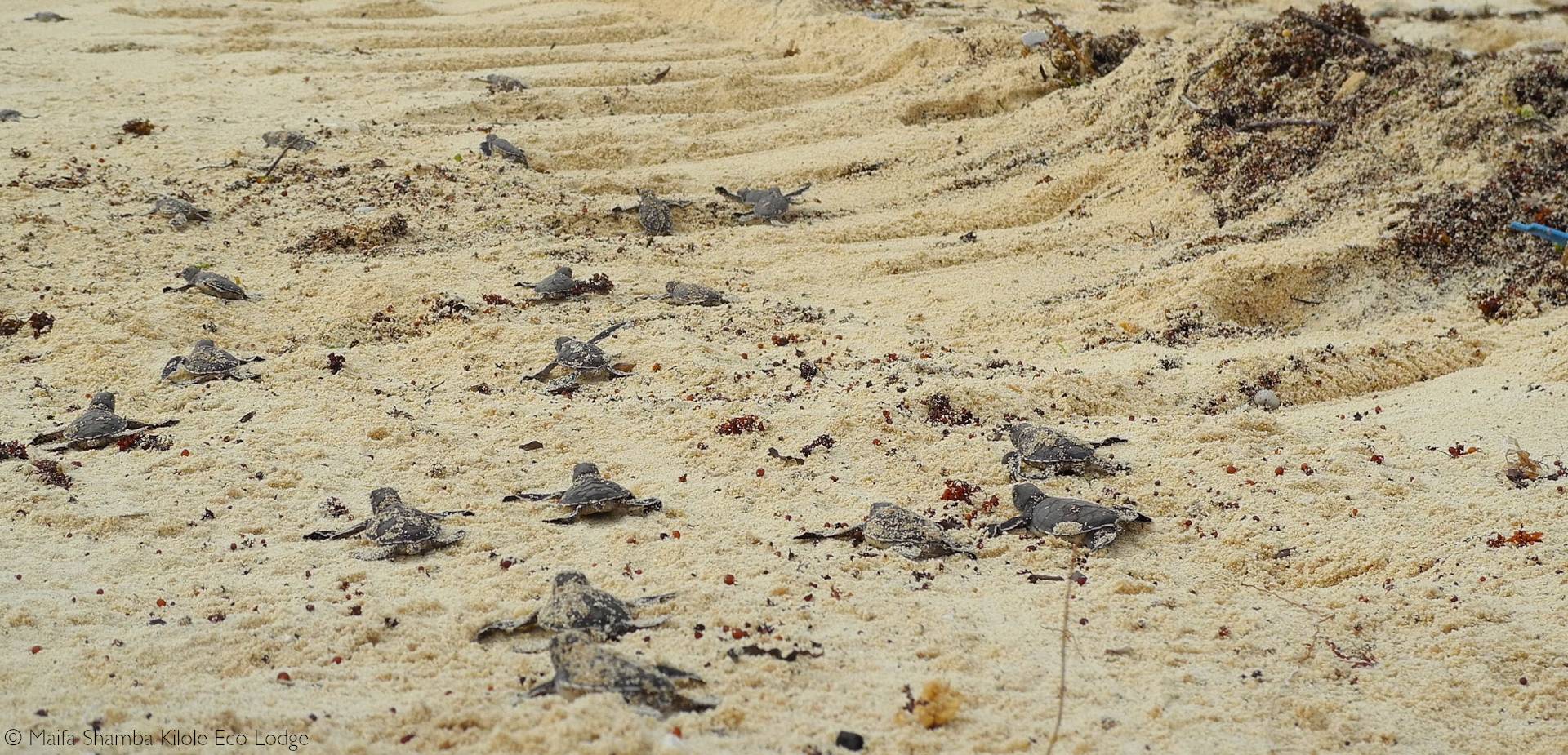 A rich history
Sea turtles have been nesting on what are now Tanzanian beaches for more than 150 million years. Between June and September, it is possible to see this amazing phenomenon for yourself. But if it wasn't for the vital conservation activities of Sea Sense, this might not be the case. Sea Sense supports and trains community conservation officers who, in turn, play an important role in the conservation of nesting sites. Each conservation officer undertakes a daily foot patrol of their local beach, looking for evidence of sea turtle nesting activity. 'Tractor style' tracks in the sand are an indication that a female has come ashore the previous night. Each nest is checked to confirm it contains eggs and is allocated an identification number. If the nest is at risk from predators, poachers or the tides, the conservation officer will carefully relocate it to a safer spot.
Each nest is monitored for the approximately two month incubation period. After hatching occurs, the conservation officer calculates the success rate by excavating the nest and counting the number of empty shells, rotten eggs and failed embryos. This data is centrally stored and used to identify important nesting sites, determine nesting seasonality and assess trends in nesting activity.
Sea Sense, now in its 20th year of operations, has protected over 6,400 turtle nests, enabling 502,000 green and hawksbill hatchlings to safely reach the sea and begin their long journey to adulthood.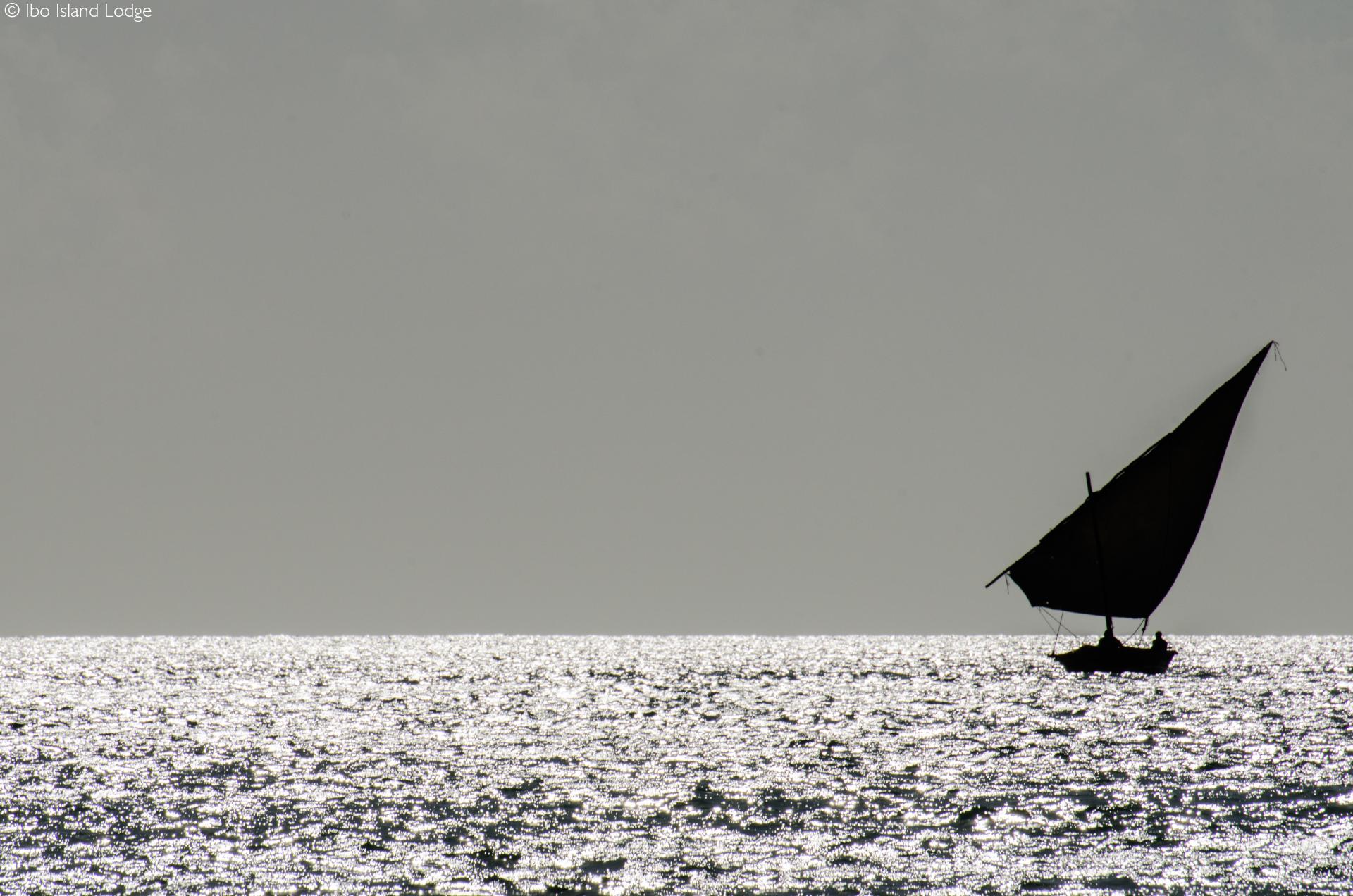 Quirimbas
Five hundred km south of Mafia, in the far northeast corner of Mozambique, is the Quirimbas Archipelago and the Quirimbas National Park. This is the largest marine protected area in Africa, stretching 110 km along Mozambique's Indian Ocean coast. We travelled the length of the Quirimbas, north to south, and were amazed at the incredible beauty and diversity of the underwater wonderland. The marine park is home to dugongs and dolphins (including rare humpbacked dolphins), and migrating humpbacked whales pass through the archipelago with their young, while bull (Zambezi), hammerhead and tiger sharks are all found around the reefs.
After several days of sailing on a traditional wooden dhow and camping on local beaches, we arrived at the gorgeous Quilálea Island. The waters around the island form the Quilálea Marine Sanctuary, the first marine protected area in the Quirimbas Archipelago. From this sanctuary, the 500,000 hectare Quirimbas National Park grew. Just off the island, a stunning coral reef teemed with colourful fish, rays, nudibranchs, starfish and more. We spent a few days submerged here on the reef, either scuba diving or snorkelling, and every time we put our heads underwater; we saw turtles, some swimming, some resting on the sandy seabed, and some hiding in caves and crevices amongst the coral.
When we were back on dry land, we circumnavigated the island on foot till we reached Turtle Beach, where several green turtles bobbed up and down in the waves, each eyeing the beach for potential nesting spots to lay their eggs in the night. Quilálea is an important site for green and hawksbill turtles, both of which nest here. Under cover of darkness, a female will crawl out of the sea and, using her front flippers, drag herself up the beach to a nest site. Here she will excavate an egg chamber and spend up to an hour laying a clutch of leathery-shelled eggs. Once the eggs are laid, she will refill the chamber with sand and, three or four hours after emerging from the water, crawl back to the ocean, exhausted.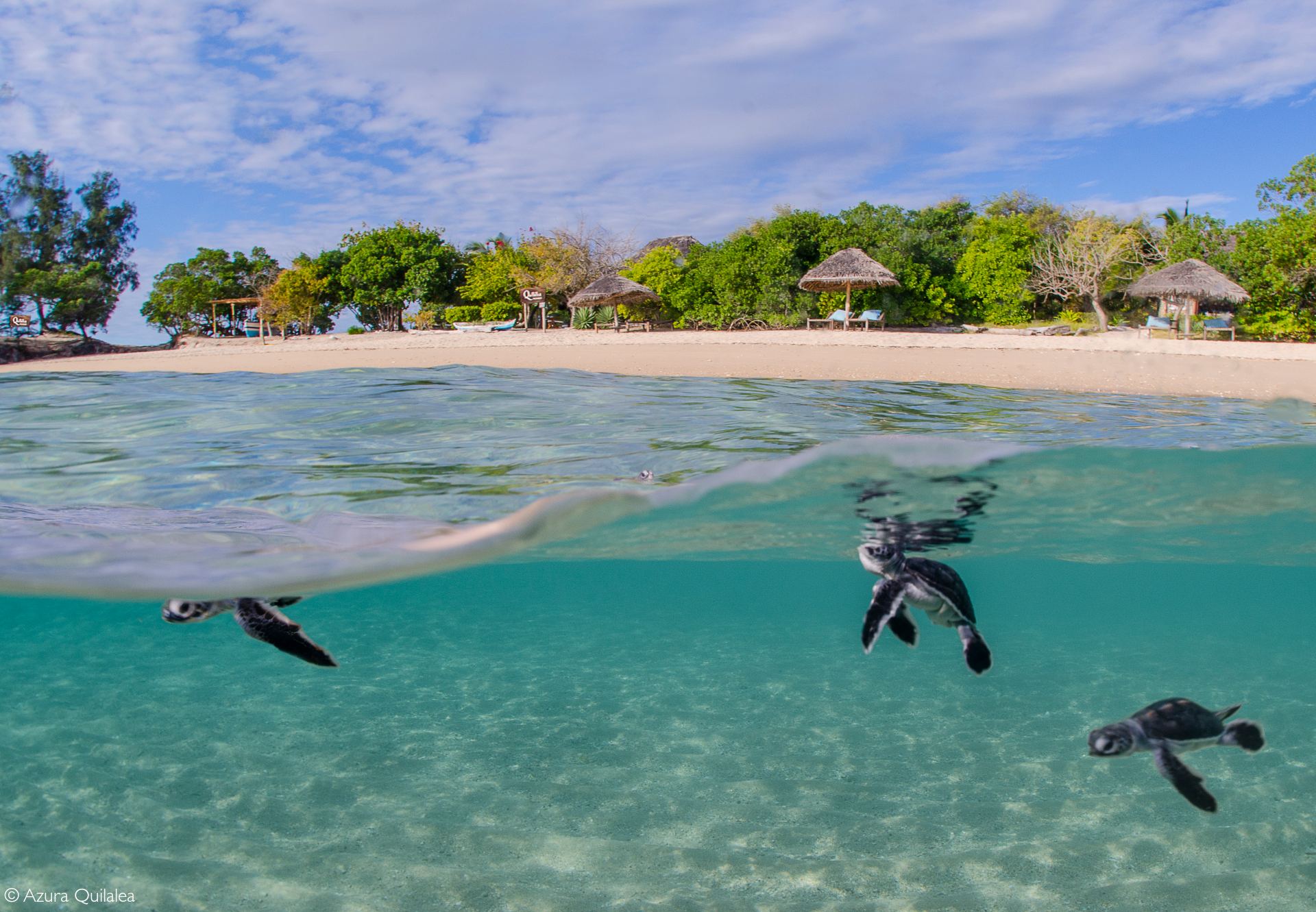 Peril
Sea turtles are a fundamental link in marine ecosystems, but they are under increasing pressure despite legislative protection. Climate change, overharvesting, pollution, habitat loss, fishing nets, illegal trade, nearby towns and villages, and burgeoning tourist developments present threats to the turtles and their habitats both on shore and at sea. Today, nearly all sea turtle species are classified as endangered, with three (including the hawksbill) being critically endangered.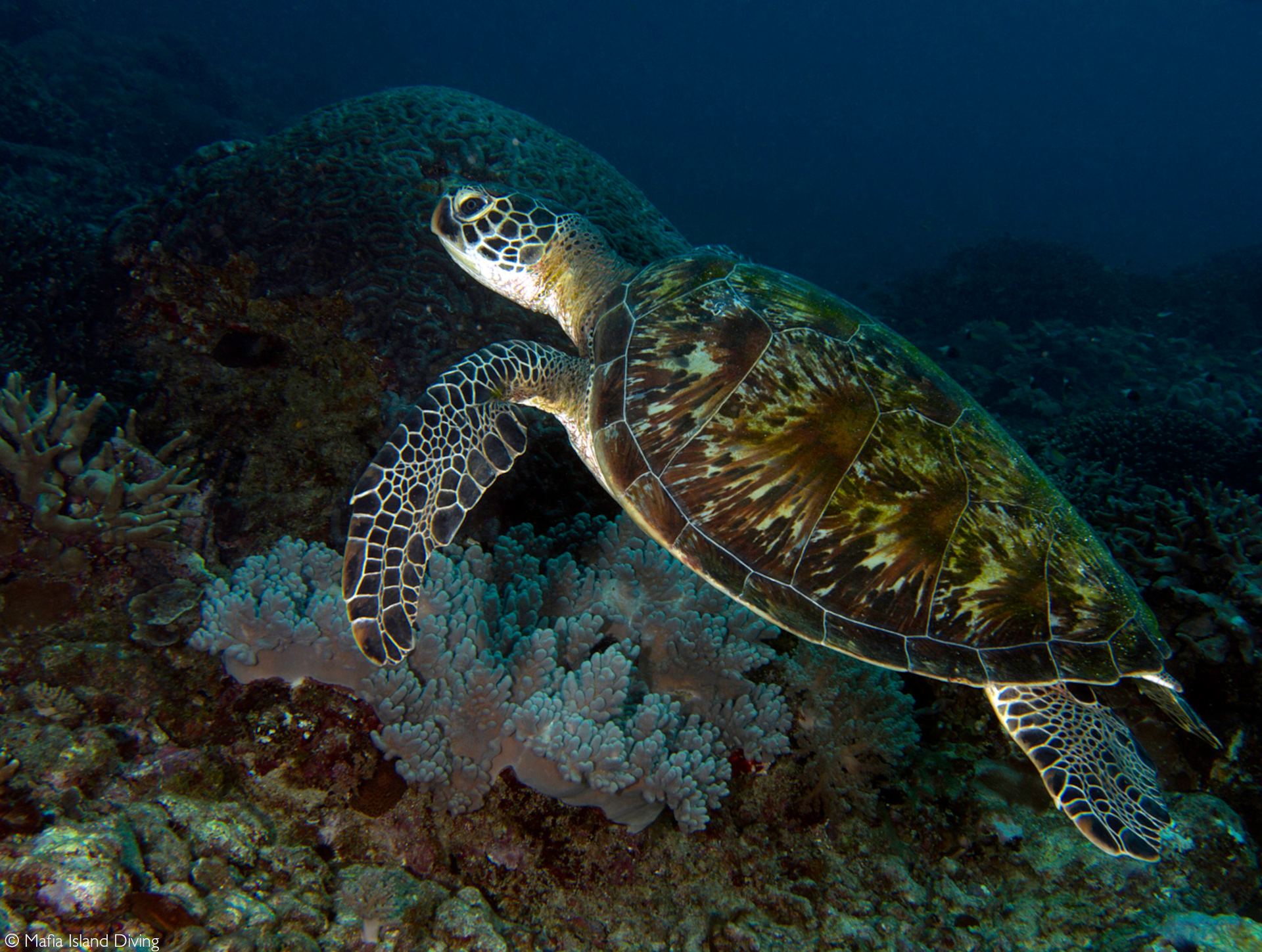 SEA TURTLE BREEDING INFORMATION
At around 30 years of age, turtles return to the beaches on which they were born to lay their own eggs, some swimming more than 2,600 kilometres to reach their breeding grounds. This ability to return to their birthplace is known as natal homing. Males also have this 'homing instinct' and return to their birthplace to mate.
The incubation temperature within the nest determines the hatching time and sex of the babies. Hatchings occur more quickly in warmer nests, and nesting sites with temperatures of 28-29 degrees Celsius tend to give an even mix of male and female hatchlings. Nesting site temperatures above 30 degrees favour the development of more females, and those with lower temperatures tend to produce more male hatchlings. An egg's position in the nest also affects sex determination, with eggs in the warmer centre of the nest tending to hatch as females.
Scientists are worried that, in addition to the rise in global temperatures, plastic, particularly microplastics, can change the composition of beaches where marine turtles nest. Microplastics may increase the sand temperature, especially if the plastic pigment is dark. This could affect turtle nesting environments, biasing the sex ratio of hatchlings towards female and influencing reproductive success.
After about 60 days incubation, the babies begin to pip or break out of their shells, using a small, temporary tooth located on the front of the snout. In a natural hatching situation, anywhere from 25-30% of the hatchlings will be taken out by predators on the beach (birds, crabs, lizards etc.) and some will even get stuck inside their eggs, never to emerge. The hatchlings, which are about 4cm across at this point, make their way to the water in a coordinated group effort, orientating themselves to the brightest horizon. The hatchlings face a 90% hatching rate and only a 75% chance of surviving their trek to the sea. Once they reach the water, they begin a 'swimming frenzy', which may last for several days and gets them away from the dangerous shoreline where predation is high.
Once the hatchlings reach the water, their 'lost years' begin and their whereabouts can be unknown for as long as a decade. When they have grown to about the size of a dinner plate, these juvenile turtles return to the coastal areas, where they forage and continue to grow. Experts estimate that only 1 out of 1,000 hatchlings survive to adulthood.
Want to go on a turtle safari? To find lodges, search for our ready-made packages or get in touch with our travel team to arrange your safari, scroll down to after this story.
To visit the turtles on Juani Island, contact Mafia Island Diving http://www.mafiadiving.com/
For information about Azura Quilálea Island, contact https://www.azura-retreats.com/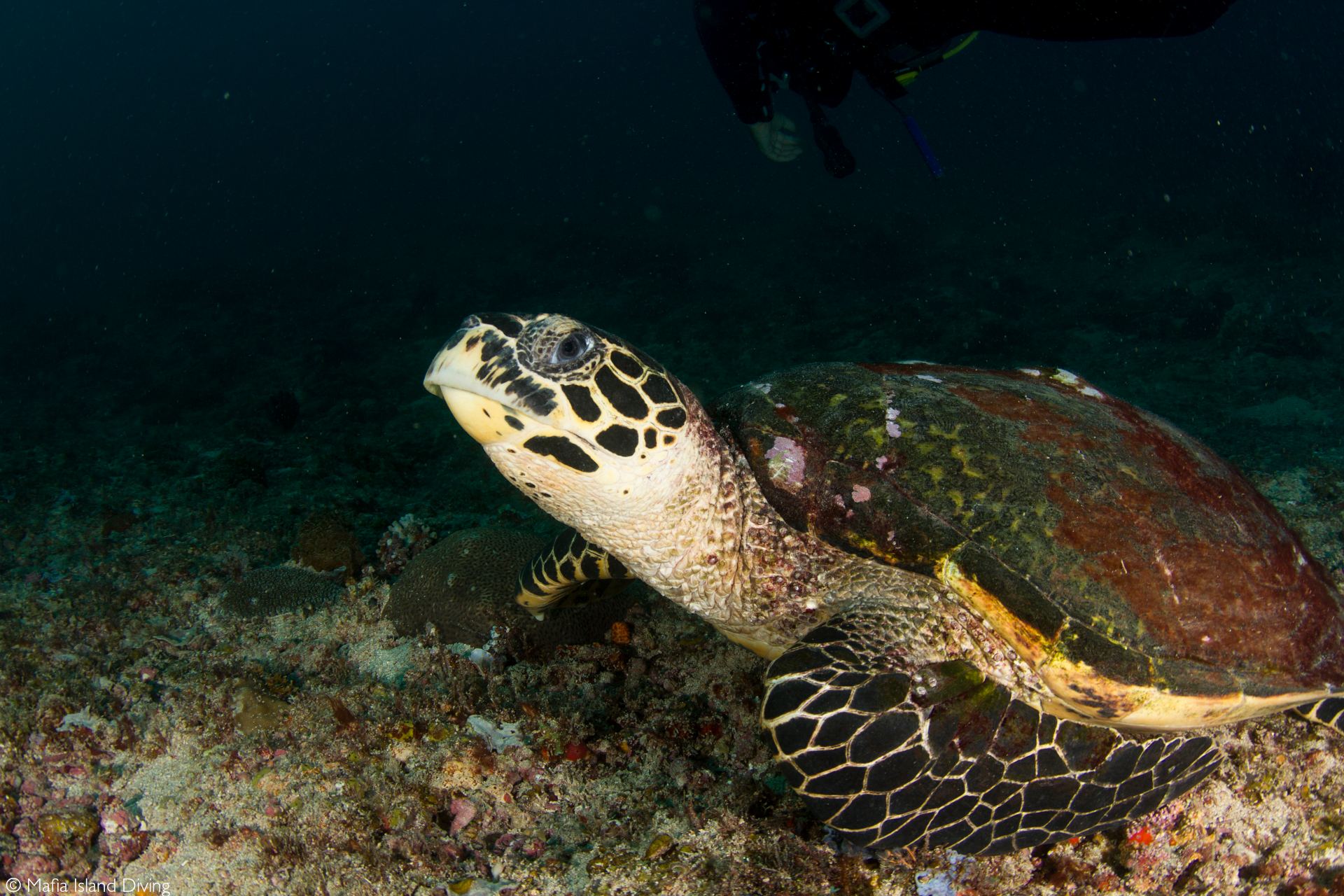 ABOUT THE AUTHOR, SARAH KINGDOM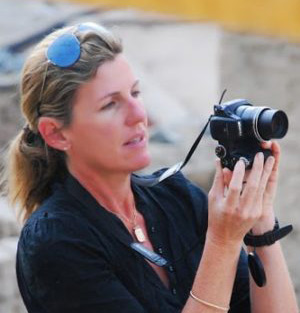 Travel writer, mountain guide and mother, Sarah Kingdom was born and brought up in Sydney, Australia. Coming to Africa at 21, she fell in love with the continent and stayed. Sarah guides on Kilimanjaro several times a year, and has lost count of how many times she has stood on the roof of Africa. She has climbed and guided throughout the Himalayas and now spends most of her time visiting remote places in Africa. When she is not travelling, she runs a cattle ranch in Zambia with her husband.

To comment on this story: Login (or sign up) to our app here - it's a troll-free safe place 🙂.

---
HOW TO GET THE MOST OUT OF AFRICA GEOGRAPHIC:
Travel with us. Travel in Africa is about knowing when and where to go, and with whom. A few weeks too early / late and a few kilometres off course and you could miss the greatest show on Earth. And wouldn't that be a pity? Browse our famous packages for experience-based safaris, search for our current special offers and check out our camps & lodges for the best prices.
Subscribe to our FREE newsletter / download our FREE app to enjoy the following benefits.
---