Written by: Francois van Heerden
Africa Geographic Travel's maiden predator photographic safari to Savuti could not have been more spectacular or rewarding. Images and feedback from the trip, plus the already frantic efforts of participants to secure their spots for the next departure dates, speak volumes.
Tour leader and award-winning photographer Francois van Heerden had this to say about the trip:
The first Savuti Predator Photo Safari has come and gone, and what an unforgettable trip it was. When we arrived in Kasane and saw warthogs running down the main road through town, we knew this was going to be an experience we would all remember!
After settling in and meeting all participants on our first afternoon, we set off on a leisurely boat cruise down the Chobe River. We were soon elated to watch herds of elephant and buffalo crowding on the river banks to quench their thirst. Pods of hippo snorted and sprayed as we floated by, and massive crocodiles that were basking on the banks watched us carefully as we approached and left them behind.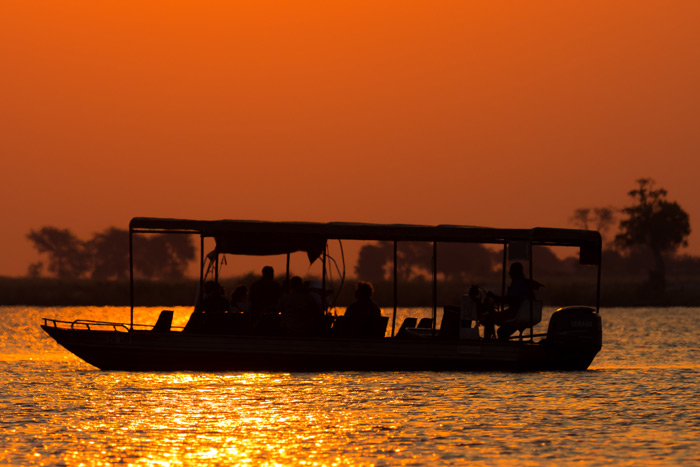 Early the next morning we set off for Savuti, taking in the sights along the way and stopping for a packed lunch in the middle of nowhere. Upon arrival at our private campsite, we were excited to note that we were superbly positioned next to the Savuti Channel. The excitement was palpable as everyone realised what an idyllic and productive base this would be from which to explore this surreal wilderness. Our first drive served as an excellent taste of what was to come, as we saw two leopards with a kill up a big old camel thorn tree!
The evenings in camp were accompanied by an orchestra of sounds as the bush came alive around us with smaller predators calling incessantly. The barred owl, the white-faced scops owl, the pearl-spotted owl and the African scops owls even modelled for the odd photo shoot! Every single night we heard the territorial calls of lions and leopards around camp, and a leopard strolled through camp twice in plain sight, without a care in the world. We were also visited by an endearing honey badger one evening after dinner!
Dinner was, without exception, simply amazing! The camp staff provided excellent bush cooked meals, including an utterly decadent chocolate cake cooked in a pan over the open fire. The staff, guides and cooks at our exclusive mobile tented camp did an awesome job, seamlessly keeping the mood upbeat and the element of surprise alive. There is not enough praise to commend their efforts in making us feel simultaneously at home and pampered whilst in the bush – they truly re-defined 'glamping'.
Every drive had its highlight but the first morning set the tone for the rest of the trip, as a big sandstorm gave us the unusual photographic opportunity to watch and photograph several bull elephants drinking against an eerie, ghostly white backdrop.
We managed to locate lions on almost every drive and it was such a pleasure to photograph the well-known Savuti Marsh Pride. Years ago when the Savuti Channel dried up, this pride survived against the odds by learning to take down elephants, as game was hard to come by with such little water available.
The harshness of Savuti cannot be easily explained, it has to be experienced. Fortunately for the lions and the elephants, the channel started flowing again and the general game returned to the area, providing the predators with easier hunting opportunities.
After an awesome week of fantastic sightings around every corner – we managed to see spotted hyenas on a few occasions and even endangered African wild dogs – the only thing we were missing was a sighting of one the area's iconic male lions. And, as if on cue, on the last morning drive before we had to head back to Kasane, we were spoilt with two of the dominant male Marsh Pride lions feasting on a buffalo that had been hunted the night before. Watching these two kings was just a perfect send-off and we could not have asked for a better grand finale.
All in all, it was a truly memorable trip for many reasons, but most particularly thanks to the passionate, dedicated and enthusiastic group of people who I can today call friends. It was the perfect combination of guests with a great sense of humour and a seasoned understanding of the bush, and great support staff and facilities, as well as endless photographic opportunities to extend portfolios.
Personally, I am counting the sleeps before I can head back to Savuti next year!
To book your spot or learn more about the dates and prices of next year's Savuti Predator Safari with Francois van Heerden, please click here.
And in case you needed any more convincing, here's what some of our guests had to say:
"This trip lived up to its name and we enjoyed exceptional sightings and photographic opportunities, including the elusive leopard as well as lion and hyena on many occasions. We even spotted the Savuti wild dogs. Elephants drinking in a dust storm, the exceptional birdlife, baobabs at sunset and the diversity of game were all very special highlights. Each evening we sat around the campfire and listened to the resident leopard roaring as she circled the camp, stunning and never to be forgotten, and in between we photographed the beautiful owls that visited." –  Justin Mason, UK
"There is an energy and heartbeat in Savuti unlike anything else I've ever experienced. The cherry on the top was meeting the incredible individuals that were on the trip. Francois is an incredible guide, photographer and friend, and Alex too was such a star. As for the crazy twitchers and photographers – what a fabulous group! By far my best trip in Africa; it topped the Serengeti by a good margin!" –  Sarah Drake, RSA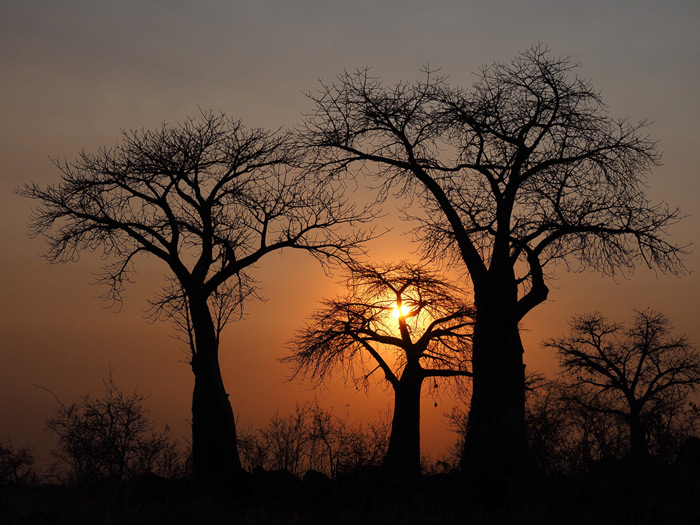 "Along with the spectacular landscapes and the best of Africa's sunrises and sunsets, the abundance of birds and other mammals made this a truly spectacular and amazing safari – without doubt one my best experiences to date.  The camp was about as wild as it comes, with nightly calls from hyenas, leopards and lions, and in a couple of instances a leopard walked straight past the camp. A honey badger scurried around the back of the tents one evening to our delight. Daily doses of huge elephant bulls at the waterholes, and warthogs and wildebeest kept us amused and provided great photo opportunities.  A perfect photographic safari, and one of the most amazing learning experiences I have had so far." –  Joe Knapman, UK
"I arrived back from this incredible adventure yesterday, and I am still struggling to process what I experienced.  Firstly, the camp and staff were all superb. How those guys managed to feed us delicious three-course meals cooked on a fire in a cast iron pot is just beyond belief.  Getting a chocolate cake cooked in a pan on the fire was just amazing! Alex, our guide, was the best possible guide. He was so tuned in to Francois' needs as a photographer. He was fun, knowledgeable and mindful at all times.  A TOP CLASS guide indeed! Francois, I consider my friend now.  I purposely have not gone on any other photographic safaris with other guides because he is a hard act to follow.  There are not enough superlatives to describe his guiding, teaching and photographic skills." – Karen Van Rensburg, RSA