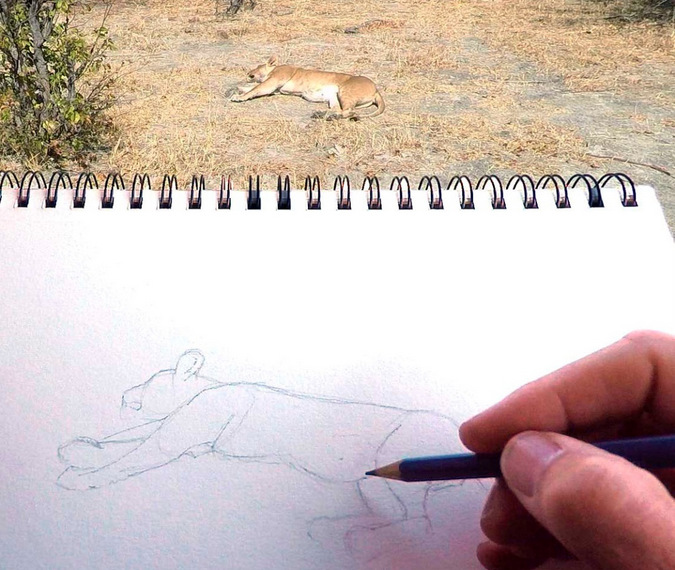 Sleeping lions can make great sketching subjects – especially when they choose to lie out in the open, like this lioness in Botswana's Chobe National Park. Looking down on an animal can look unnatural in a sketch, but I was far enough away from this lioness that the angle wasn't a problem.
It took me exactly 5 minutes to create the pencil sketch and I added the watercolour later in the day, from memory and imagination. I also added some vegetation, which makes the finished piece look more natural.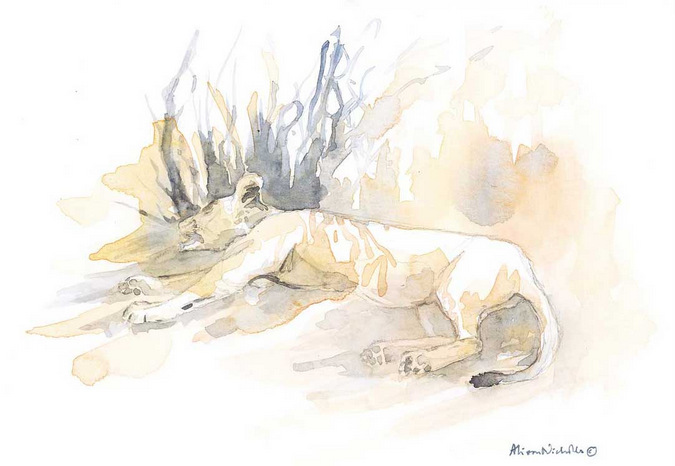 In case you are wondering, I filmed this with a GoPro, attached to my sketchbook with a Jaws Flexclamp.
The nice thing about videoing your sketches is that you can look back and see how you sketched, what you would change, and exactly how long each sketch took.
Want to learn my techniques for sketching animals from life? Then join me on an Africa Geographic Art Safari. The 2019 art safaris at Kambaku Safari Lodge (Timbavati) are both fully booked, but drop me an email if you want to receive details of future trips before they go public on the website.
Want a glimpse into an African Art Safari? Have a look at Africa Geographic's Art Safari video, with Alison Nicholls, below