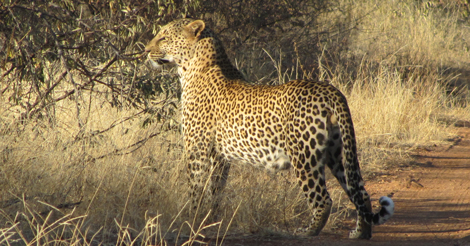 A female South African tourist was mauled by a male leopard on 4 January 2018 at the Matopi campsite in the Kgalagadi Transfrontier Park, Botswana. She is badly injured and being treated in Upington Mediclinic hospital, South Africa. The tourist was inside her tent when the attack occurred. 
UPDATE: See here for PHOTOS OF THE LEOPARD in question investigating the campsite shortly before the attack.
According to a Facebook post made by the victim's husband, the group of four friends were camping at Matopi – one couple in a ground tent and the other in a rooftop tent. After dinner the husband spotted a leopard nearby and and the group watched the leopard, which started moving towards them. The group backed away to the other side of their camp, and watched the leopard  move around their camp – totally relaxed and ignoring the group. At about 23h00 the husband started his vehicle to try to encourage the leopard to move away, which it did, but only a short distance.
The group retired to their tents, confident that the leopard would not bother them inside their tents. They were wrong. At about midnight the husband woke up to find his wife screaming in terror, with the leopard ripping into her leg and trying to drag her out of the tent. The husband struck out at the leopard, trying to stab his fingers in the leopard's eyes. The leopard then let go and ran off.
A short while later, while the husband was assessing the horrific damage to his wife's leg, the leopard came back and started stalking them from about 10m away. The husband grabbed a spade and rushed at the leopard, chasing him away, while his wife managed to get into their vehicle which was 5m from their tent.
The group then threw their belongings into their vehicles and drove to Nossob Campsite on the South African side of the park – in the pitch dark. They arrived at Nossob to find it locked, and drove another 165km to Twee Rivieren campsite, where we were finally met by an ambulance. A two-and-a-half hour drive to Upington followed, where thankfully there was an orthopaedic surgeon on duty at the time.
Miraculously, though both tendons on either side of the artery were severely damaged, the artery was unharmed. The victim is currently in hospital with a crushed heel requiring screws and severe wounding requiring plastic surgery.