Etosha is undoubtedly the feather in Namibia's safari cap. It's a unique and dramatic destination that may spoil you for life with its fascinating smorgasbord of wildlife – and its unique way of viewing them.
Etosha National Park is largely flat with vast grasslands surrounding its famous Etosha Pan. The bush is scanty and the animals that call this area home have adapted to these arid conditions. Most of the year, they have to rely on the numerous waterholes (some natural, some man-made) that are dotted throughout this vast reserve.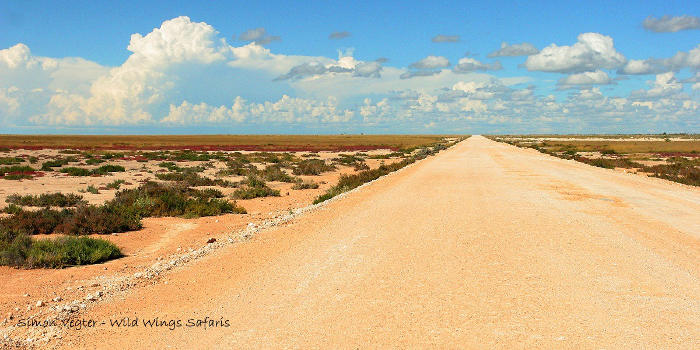 It has been said that the best way to view game at Etosha is at these many waterholes. By day you can find one that looks promising and wait – the game will come to you. By night, sit at the floodlit waterholes at any of the camps or private lodges and watch a nightly theatre parade unfold – with every likelihood of spotting the shy black rhino and even an elusive leopard or two. The waterhole at Etosha's main camp, Okaukeujo, is famous for its frequent nightly sightings of black rhino, lion and elephant. It's a wildlife photographer's dream … one you don't even have to leave the camp for!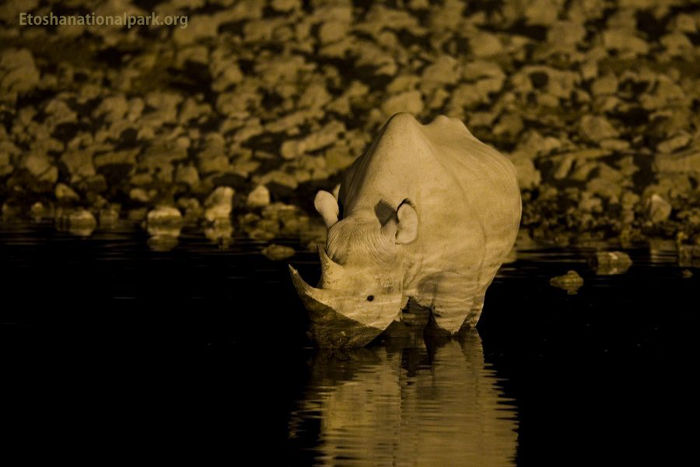 Handy photography hint: A long lens of at least 400mm is recommended as you'll be able to get some great distance sightings, too.
Accommodation within Etosha National Park
There are three traditional main camps on the route between Anderson Gate in the south and Von Lindequist Gate to the east: Okaukeujo, Halali and Namutoni. All these camps offer camping, double rooms and chalets and have restaurants, shops, petrol stations, swimming pools and floodlit waterholes.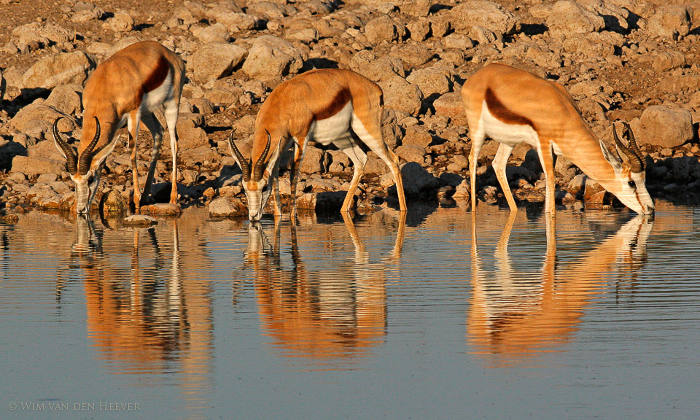 More recently, two new lodges, Onkoshi and Dolomite, have been opened, offering a more luxurious experience in areas of the park that were previously restricted to the public. Dolomite Camp has 20 luxury safari tents set on a hillside in western Etosha, overlooking an active waterhole. Onkoshi has 15 units set on wooden walkways on the edge of Etosha Pan, in the north-eastern sector – an idyllic spot from where to view the millions of flamingos, pelicans and herons that flock here in the rainy season.
The newest addition is Olifantsrus camp which is exclusively for campers looking for a rustic, real bush experience.
Here are six ways to go on safari in Etosha:
1.     Self-drive
Etosha is arguably one of the easiest self-drive safari options, just a five hour drive from Windhoek. Its flat, wide open roads are easy to navigate with almost any vehicle – except in the height of the rainy season (January to March) when the roads can become virtually impassable and 4WD is a necessity.  With self-drive you can also be more flexible about the types of accommodation you prefer, from basic camping to luxury lodges. Accommodation is often fully booked months in advance, especially at peak seasons, so booking in good time is highly recommended.
2.     Self-drive/guided combo
A popular way to get the best of Etosha is to combine self-drive with the guided, open vehicle game drives that are offered at all the camps (except Olifantsrus). Morning, afternoon and evening game drives accompanied by qualified rangers are available. These should be booked well in advance as they fill up.
3.     Combination of Etosha National Park and private reserve safaris
There are three private reserves on Etosha's borders: Onguma to the north-east, Ongava to the south-west and Mushara to the south-east. Between them, they have a range of safari lodges that vary in appeal and degrees of luxury to suit a wide range of safari tastes – from family-friendly lodges to the ultimate in exclusive romantic hideaways at Little Ongava, which has just three suites perched on a hillside overlooking the expansive plains below.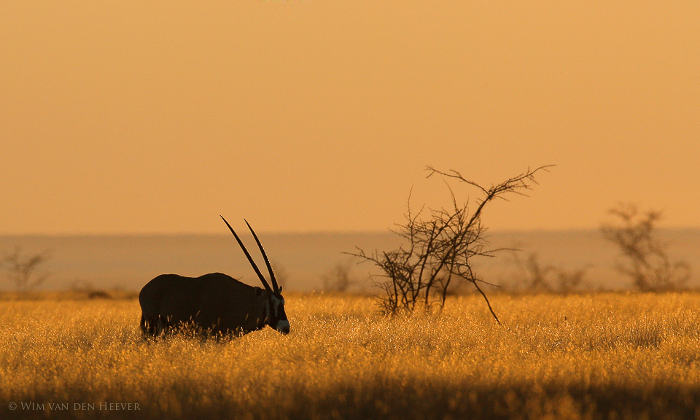 4.     Private reserve safaris
The three private reserves (and their variety of luxury lodges) are strategically placed within easy striking distance of the national park. All these reserves also provide game drives into the national park as well as having their own concession areas to give you a well-rounded safari experience of Etosha as a whole. If you prefer a more organised, stress-free safari where you're well taken care of, this is your best choice.
5.     Scheduled tours
These generally include Etosha as part of an overall Namibian safari experience, taking in a combination of Namibia's top safari and iconic tourist destinations. Again, there are many great options available ranging from cheap and cheerful overland camping safaris where you participate in camping duties, to high-end fly-in safaris where the vast distances of Nambia are easily swallowed up by a lodge-hopping light aircraft. In the mid-range, there are a host of road-only tours as well as a mix of road/air options.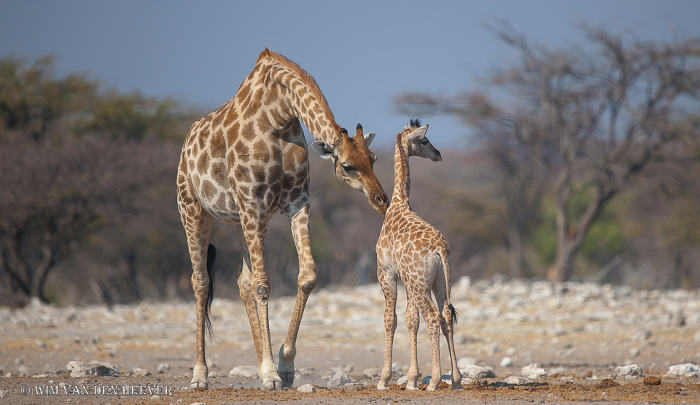 6.     Custom high-end tours
These are perfect for small group safaris where a family or few good friends have a specific itinerary in mind or an occasion to celebrate. Most of the tour operators will gladly help you plan and arrange a tailor-made safari tour that will suit your preferences, time constraints and budget.
Etosha quick facts
– Etosha National Park is open all year round and is accessible by all vehicles (except after heavy rains).
– It spans a vast  area of 22,300 km².
– It centres around an extensive salt pan of 5,000km², the breeding ground to over one million flamingos in the rainy season.
– Etosha is home to a surprising variety of animals – four of the Big Five and some unusual endemics like the endangered black-faced impala, Hartmann's mountain zebra and the world's tiniest antelope, the Damara dik-dik.
– The reserve has healthy numbers of springbok, gemsbok (oryx), blue wildebeest, red hartebeest, Burchell's zebra, giraffe, desert-adapted elephant, brown and spotted hyena , lion, leopard and cheetah.
– Etosha has one of the largest populations of black rhino in the world; supposedly also the most stable.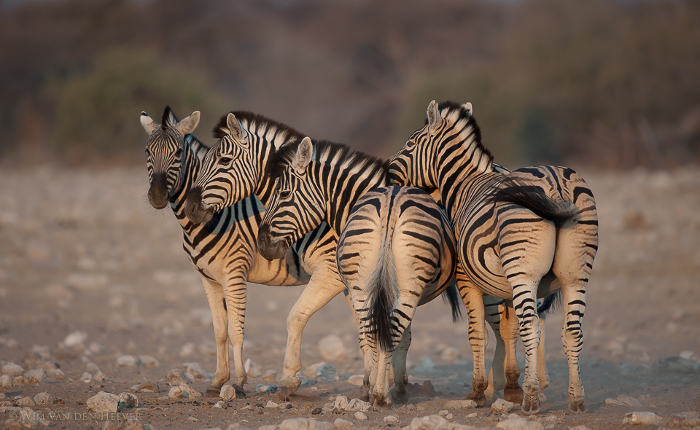 Seasons of Etosha
January – March: Peak rainy season, 4WD is necessary, newborn animals and migratory birds – especially flamingos – are in abundance.
April – May: Still chances of rain in April. Impala and springbok may still be birthing.
June – August: Busy season (European vacation time). Park is becoming drier and animals head to remaining waterholes. Mornings and evenings are chilly, but days are sunny and balmy.
September – November: Best game viewing season. Peak of dry season before the rains and animals gather around waterholes.
December – January: Rains arrive, transforming the white, dry desert into a bright green and wild-flower bedecked canvas. Animals are frisky and active, welcoming the new grazing. Migrating flocks return to the ever-filling pan, especially in the eastern sections.