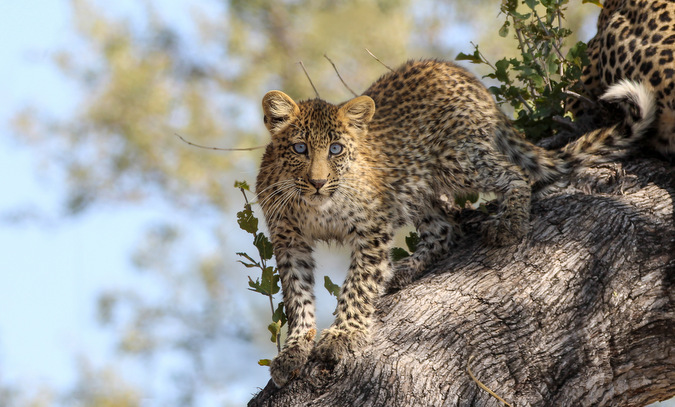 Written, and photographs, by Joshua Tough
Ever since I can remember, seeing a leopard cub in the wild has been very high up on my list. I have a huge soft spot for seeing young animals and especially cubs whilst on safari, but who doesn't? I think it's their big eyes and playful mannerisms that get to me. So setting off on safari in late August, also called the 'baby season', in Botswana, I knew there was a possibility of spotting some young animals.
After two nights in Moremi Game Reserve on our three day tour, we started to make our way through the Khwai concession area. We were already very satisfied with our sightings as we had seen numerous animals during our time here, including lions, leopard, and elephants.
However, on our way out, whilst inspecting some unused wild dog dens, we stumbled across a young leopardess minding her own business about half way up a leadwood tree.
This would have been a great way to end this safari, but the sighting didn't end there. Just as I set my lens on her, out of nowhere and straight into my focus a young male cub of a couple of months came clambering down from above her in a very quick and clumsily manner, I couldn't believe it!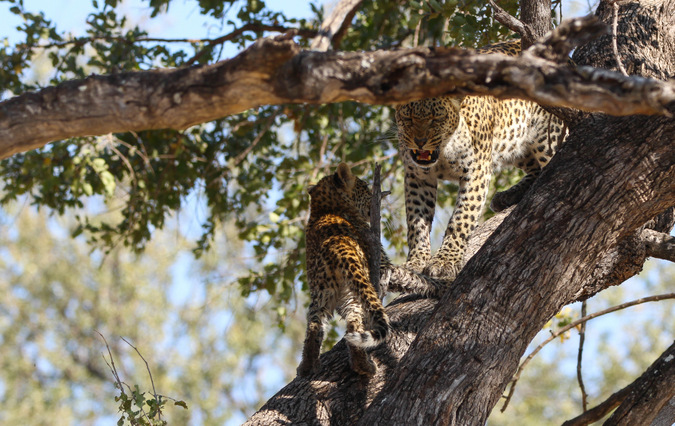 The sight I'd been waiting for – a leopard cub! What a feeling!
If you think back to that feeling you would get as a young child on Christmas Eve, waiting up through the night with very aggressive butterflies in your stomach, that's how I felt at that moment.
It was truly fascinating, nothing had made me feel like this since I was a child – the excitement and anxiety was eclipsing me. I was so nervous as I wanted to make sure I got the right shot, but I was enjoying myself so much I even put my camera down for a few moments just to enjoy the scene.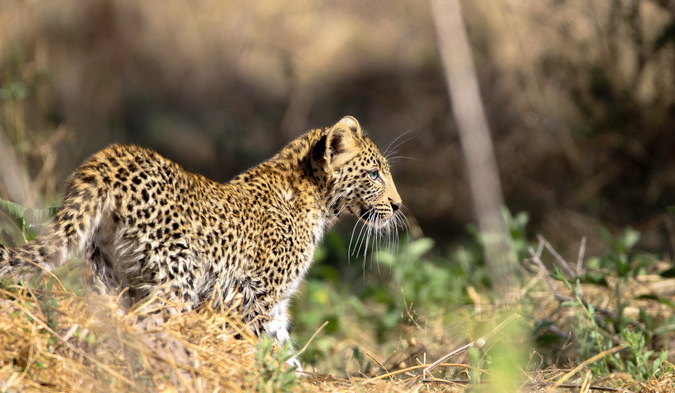 He was quite young and must have still been new to trees as he seemed so excited and curious. He would run up and down the trunk where he could, jump across to other branches and climb over mum every single time too. You could tell she was fed up, but that made for a better sighting!
And then I finally got it – the shot I was looking for. As the cub had clambered past his mother, he came down a few more feet, perched on an overlaying part of the trunk and looked right at me. I was literally lost in his eyes, his fantastic big, blue eyes.
As we drove away, I left with a huge grin on my face and a warm feeling within myself, my companions said I was still smiling for about an hour after we left, but I bet it was longer.