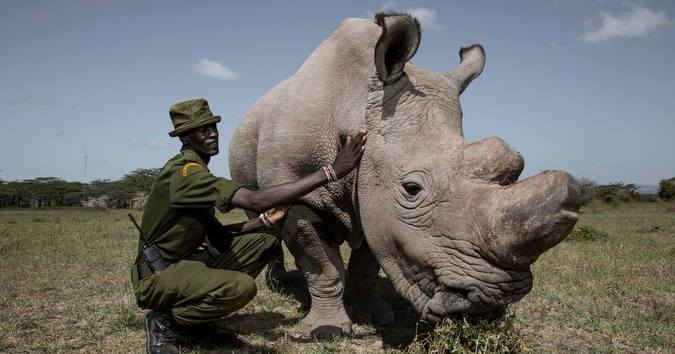 Sudan, the last male northern white rhino on the planet, is showing signs of deteriorating health according to a statement released by Ol Pejeta Conservancy conservationists.
On Thursday, Ol Pejeta conservationists posted on their Twitter and Facebook pages that Sudan was "starting to show signs of ailing" and that "his future is not looking bright".
Towards the end of 2017, Sudan developed an uncomfortable age-related infection on his back right leg. A team of veterinarians from around the world assessed the infection and Sudan responded well to the treatment. He resumed his normal movement and foraging habits from January up to mid-February, his demeanour and general activity improving significantly.
However, a secondary and much deeper infection was discovered beneath the initial one. This was treated, but unfortunately the infection is taking longer to heal and the team are now concerned about his health, saying that they "do not want him to suffer unnecessarily".
Sudan arrived at the conservancy in 2009 and was made famous last year when the 45-year-old rhino featured as a Tinder profile after Ol Pejeta Conservancy partnered with Tinder to raise awareness of the dying breed. Sudan was dubbed "The Most Eligible Bachelor in the World" and users were directed to his donation page when swiping right on his profile.