In this week's news wrap Hong Kong customs have seized a record haul of pangolin scales bound for Vietnam; camera-trap technology has captured what is suspected to be the last elephant in Knysna forest; the South Africa parliament has attacked the Kruger agreement with neighbouring private reserves; Uganda seized ivory and pangolin scales worth an estimated $8 million; 20 endangered vultures die of poisoning near the Maasai Mara; thousands of baby flamingos have been rescued in South Africa as drought has put their breeding ground in peril; and a new widow spider species has been discovered – the first in 29 years.
Hong Kong customs seize record haul of pangolin scales bound for Vietnam (full story: Reuters)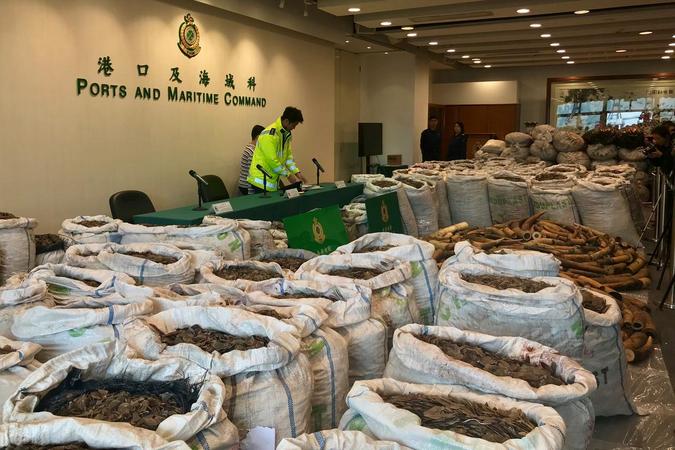 Hong Kong customs busted a massive endangered species smuggling operation from Africa, seizing a record quantity of pangolin scales along with more than 1,000 ivory tusks, as authorities step up the fight against illegal wildlife trafficking.
The value of the seized goods – which equates to around 500 elephants and up to 13,000 pangolins – was over HK$62 million, ($7.90 million) officials said on Friday. Originating in Nigeria, the shipment was bound for Vietnam, they added… (Continue to full story here)
Research confirms female elephant in the Knysna forest (full story: SANParks)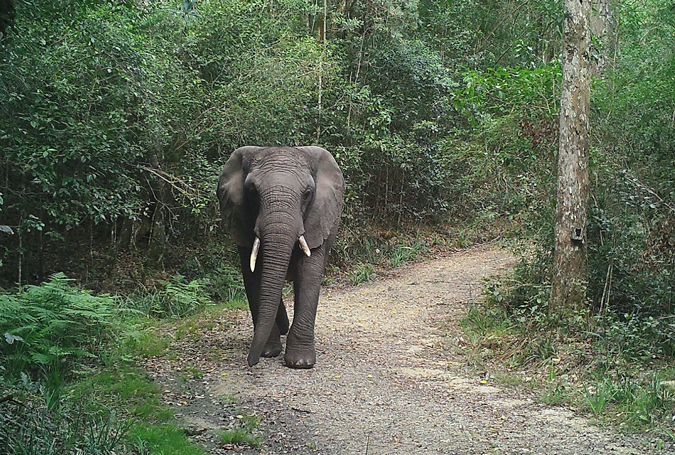 Research conducted by SANParks scientists has confirmed the presence of a female elephant roaming the Knysna forest. Lizette Moolman, SANParks scientist says "the Knysna elephant is of the same subspecies as all the other elephant populations in South Africa, namely Loxodonta africana. The elephants that roam in Central African rainforests are of a different subspecies, namely Loxodonta cyclotis."
The latest Knysna elephant survey used camera trap technology which covered the whole elephant range. She says "because elephants move along defined elephant pathways, we placed our cameras on these paths and covered the elephant range evenly, with spaces between camera traps no larger than the smallest range recorded for elephants. In other words, an elephant would not reside in a gap area, between camera trap locations, for the duration of the survey. The cameras were all active for 15 months, and during this time the same female elephant was identified in 140 capture events, always by herself. No other elephants were photographically captured".
There is now more information about the elephant such as her age and behaviour. "She is about 45 years old and moves in the indigenous forest and fynbos areas on SANParks and neighbouring private land," says Moolman. Her reproductive status is uncertain… (Continue to full story here)
Parliament attacks Kruger agreement with neighbouring private reserves (full story: AG News Desk)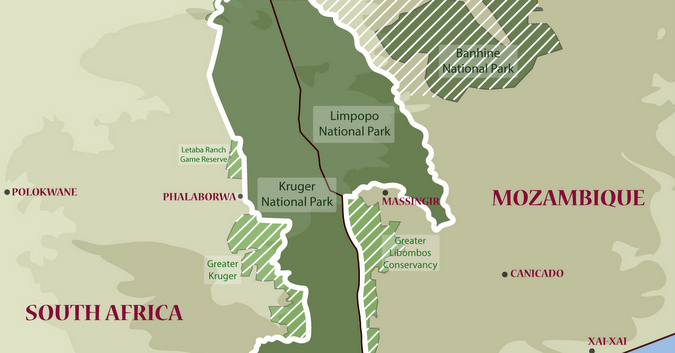 The South African Parliament has strongly criticised South African National Parks for signing a formal agreement on 5th December to ratify a long-standing cooperation arrangement between Kruger National Park and several neighbouring private and community game reserves, which together form an area known as "Greater Kruger". The arrangement resulted in fences between Kruger and the reserves coming down and wildlife roaming freely over the expanded conservation area. Some of these private and community-owned reserves allow trophy hunting of wildlife that roams from Kruger into the reserves. This agreement is a vital aspect of Kruger's 10 year management plan.
The Parliament session included presentations by several anti-hunting and community rights organisations. The Portfolio Chair announced the following towards the end of the session:
• That SANParks defied Parliament by going ahead with the signing of the Agreement. He is demanding sanctions against members in SANParks;
• That the signed Agreement not be recognised and be treated as "draft";
• That the Agreement be presented to Parliament and via public hearings, and aspects such as trophy hunting and community and land claimant benefits be scrutinised… (Continue to full story here)
Uganda seizes ivory, pangolin scales worth an estimated $8 million (full story: Reuters)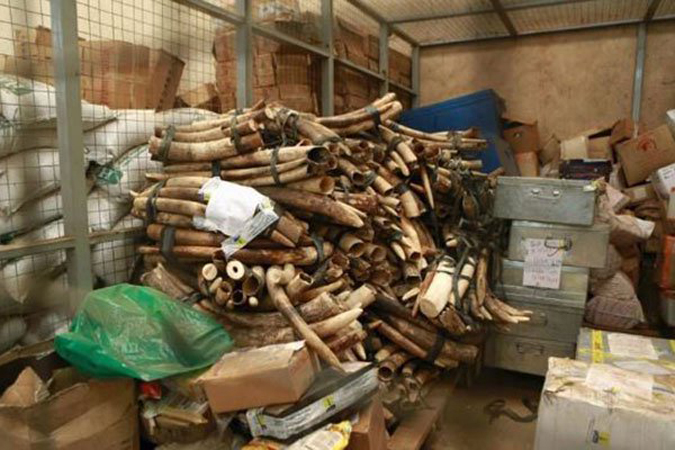 Uganda seized a contraband shipment of ivory and pangolin scales saying it was the largest the country had ever taken, with a market value estimated at more than $8 million.
The haul originated in neighbouring Democratic Republic of Congo and passed through South Sudan before entering Uganda at a crossing on its northern border, Vincent Seruma, a spokesman for Uganda Revenue Authority said.
Ugandan authorities started monitoring the cargo from the border while it was on its way to the capital, Kampala, on January 24. The elephant tusks and pangolin scales were concealed in hollowed-out logs packed in three containers, which authorities opened on Thursday… (Continue to full story here)
20 Endangered vultures die of poisoning at Maasai Mara (full story: The Star)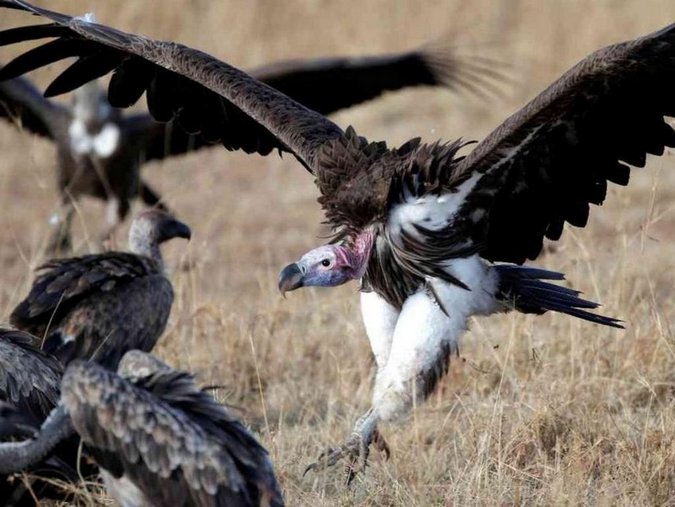 Twenty endangered vultures have died near the Maasai Mara National Reserve after poisoning.
Five others that were critically ill were treated with Atropine and later released after a researcher at the Mara Conservancy Eric Reson discovered the deaths on January 27. According to him, all vultures had fed on a poisoned spotted hyena at the periphery of the reserve.
Reson immediately mobilised personnel from Kenya Wildlife Service, Kenya Bird of Prey Trust, Nature Kenya among others to avert some of the deaths. The group immediately burnt the hyena and the poisoned vultures to decontaminate the scene.
"The work of multiple partners has ensured that mortalities from poisoning events are at a bare minimum. This work will eventually stamp out wildlife poisoning altogether," Nature Kenya Executive Director Paul Matiku said.
Vulture Conservation Manager for Birdlife International Rebecca Garbett said illegal wildlife poisoning is a huge problem for the future survival of vultures and carnivores across the continent… (Continue to full story here)
Special airlift for flamingo chicks in peril (full story: AG News Desk)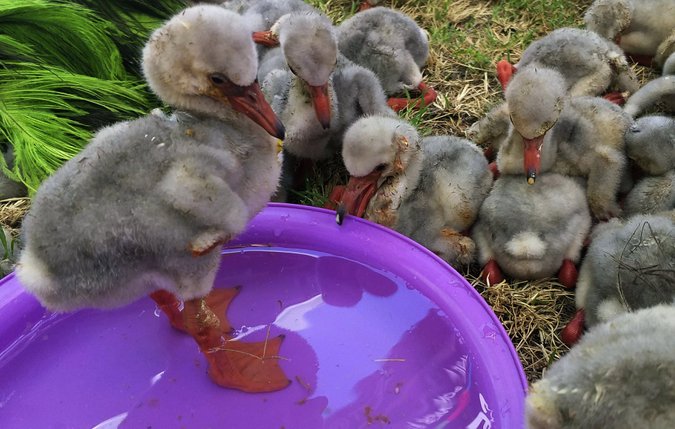 A special airlift for thousands of baby flamingos is under way in South Africa as drought has put their breeding ground in peril.
A reservoir that hosts one of southern Africa's largest flamingo populations is drying up. The flamingo eggs are losing their cool, moist protective cover and their inner membranes are hardening, making it difficult for chicks to peck their way out. Predators such as meerkats, dogs and hawks are nearby, waiting for the exhausted chicks to emerge.
The site is littered with the bodies of hundreds of dead chicks. The cheeps of chicks trapped inside overheating eggs can be heard.
Local and national groups, along with environmental authorities, have stepped in for the rescue operation swiftly organised online and by word of mouth. Bird experts and veterinarians have pitched in… (Continue to full story here)
First new widow spider species discovered in 29 years (full story: AG News Desk)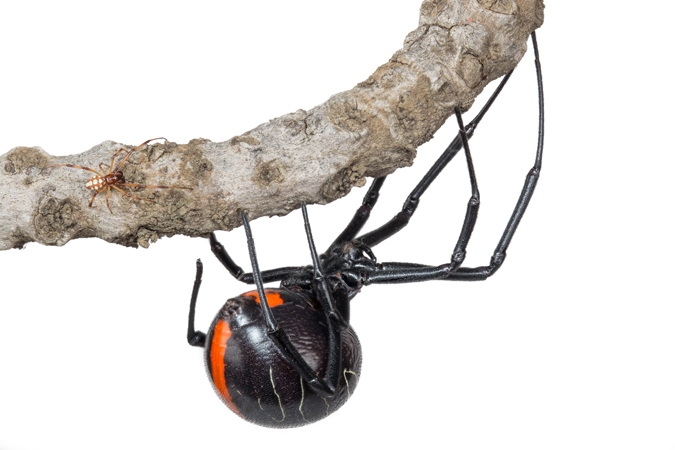 The Wild Tomorrow Fund has announced the discovery of a new spider species, the Phinda button spider, in the critically endangered sand forest of South Africa. Closely related to the infamous North American black widow, the Australian redback, and the katipo from New Zealand, it is the first new widow spider to be discovered in almost three decades, and potentially the largest widow spider in the world.
There are 31 recognised species of widow spiders globally, with eight recorded on the African continent. This discovery, once officially described, will make it the ninth widow spider on the African continent (known locally in South Africa as the button spider).
Barbara Wright, who works for Wild Tomorrow Fund in South Africa, was passionate about proving this spider is a new species.
"In the arachniverse, this is a big discovery", said Wright. "To find a spider in a critically endangered habitat really highlights the importance of its protection. The Phinda button spider is a red flag to raise awareness of the importance of habitat protection"… (Continue to full story here)