Over 1030 bird species have been recorded in Uganda, a veritable birder's paradise. In addition to the species resident in its diverse habitats, Uganda is blessed with being on the migratory routes for dozens of other species.
And taking part in a bird count with NatureUganda is a great way to get close to these visitors, as I found out one January.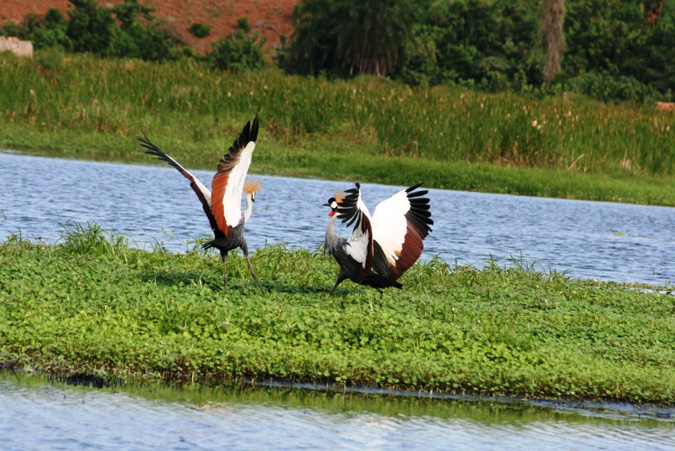 Lutembe Bay is a secluded backwater at the mouth of Lake Victoria's Murchison Bay, between Kampala and Entebbe. This Ramsar site is approximately a one-hour drive from Uganda's capital and twenty minutes or so from Entebbe.
It took a few minutes to get comfortable on the hard plank seat of our rickety wooden boat. The water was quite choppy and the boat leaked. With me sat Achilles Byaruhanga, Executive Director of NatureUganda who told me the purpose of our trip to Lutembe: To carry out the biannual Wetlands International Waterbird Census, which take place at thousands of sites across the world in January and July every year.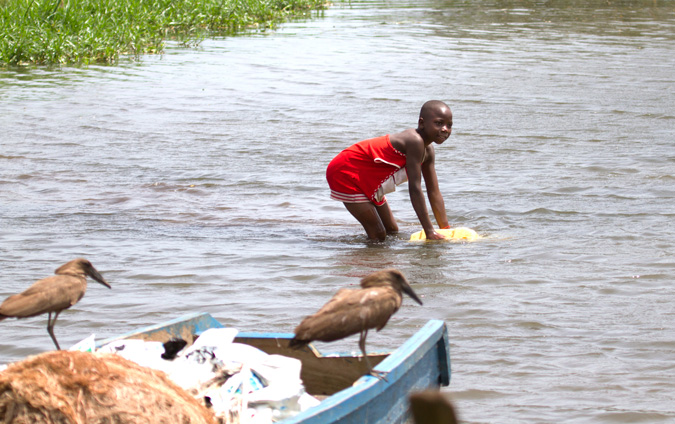 As we discussed the Wetlands International project, our boatman shouted and pointed to our left. A long green snake was swimming through the lake towards us. It was at least a metre and a half long.
"It must be a green mamba!" exclaimed Roger. "That has made my day," he added.
Next it was time for the serious business of counting the hundreds and thousands of birds swirling around us. Everywhere we looked there were huge flocks of birds.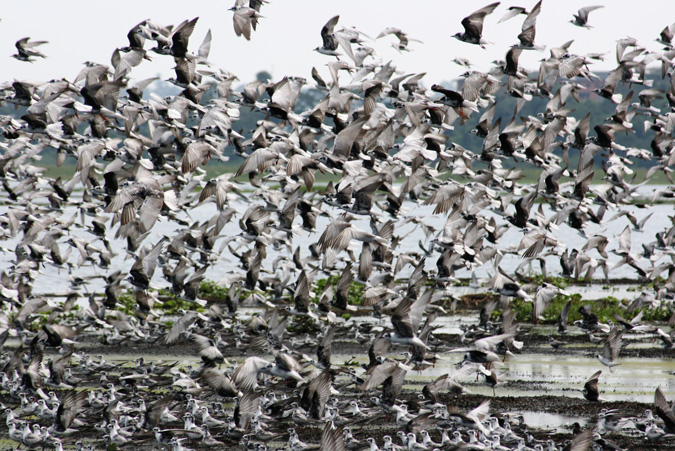 Greenshanks, curlew sandpipers, spur-winged plovers and marsh sandpipers shared the mudflats with hundreds of grey-headed gulls and black-backed gulls swirling around them.
Two gorgeous glossy ibis and an African open-billed stork appeared to our left. At one point, we saw four squacco herons on the lakeshore together.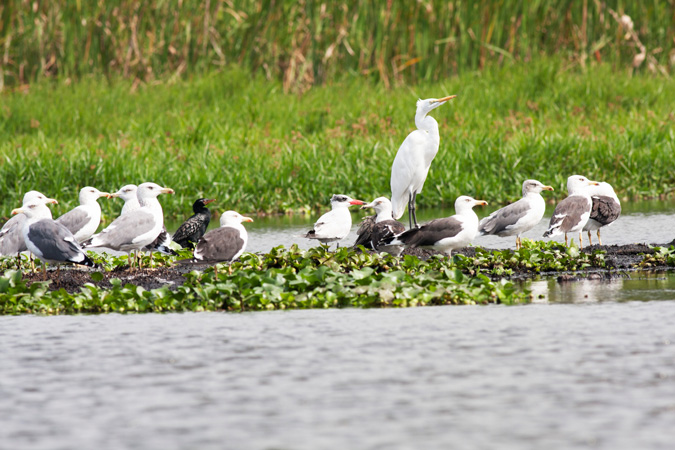 "I've never seen so many black-headed gulls!" exclaimed Roger. He was beside himself with excitement, looking for explanations.
His guess was that they had probably flown into Uganda from Russia (where it would be a chilly -20°) and would be in Uganda until March before migrating back to Europe.
It's amazing to be among so many birds.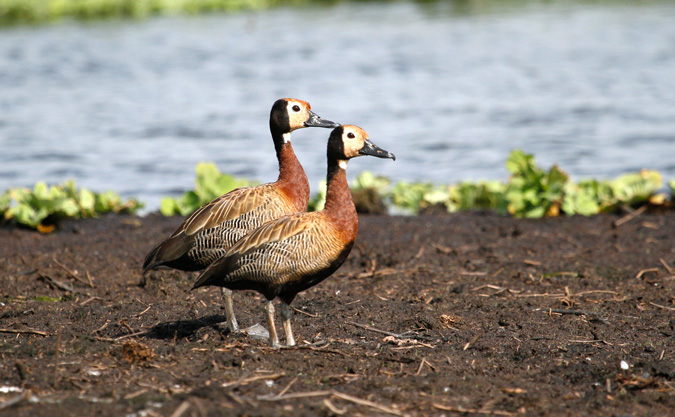 As we approached the thin strips of mud that sit a few metres in front of the papyrus, we saw thousands of white and grey backs of these graceful gulls and white-winged black terns. How on earth were we going to be able to count them all?
Judith pointed, Roger counted and Michael noted down all the details on a sheet. Achilles confirmed Roger's sightings and zoomed in on the birdlife with his telephoto lens – while bailing water out of the boat.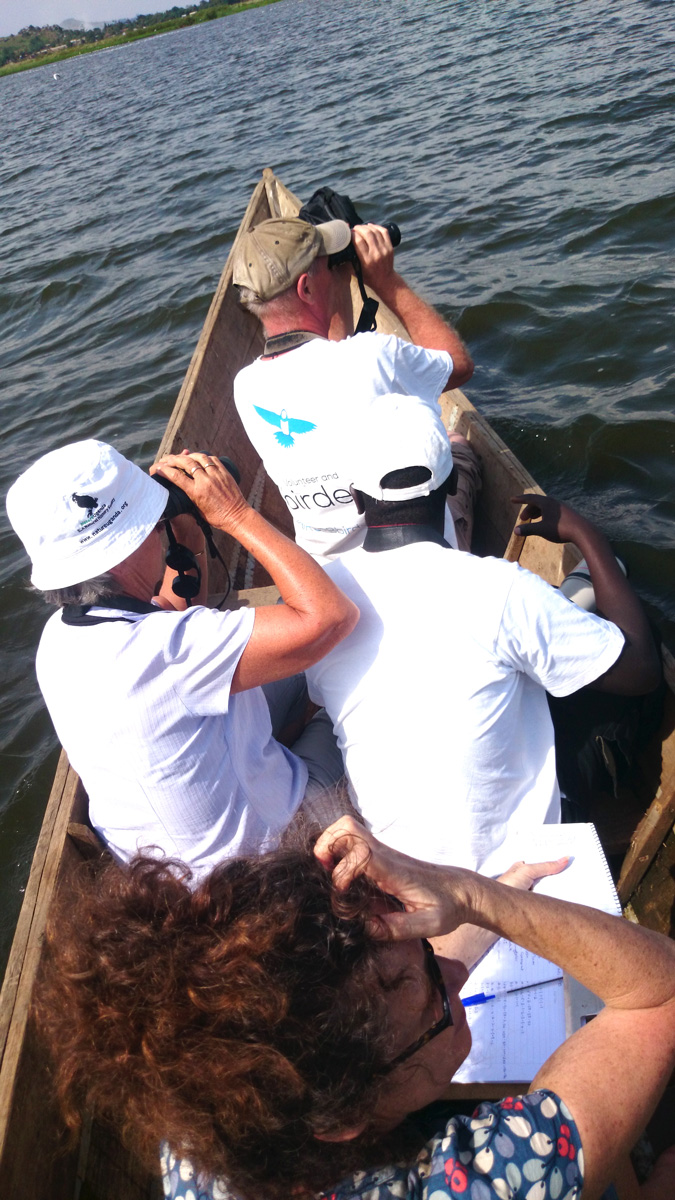 Judith had already excitedly told us about the shoebill they had just spotted near her house.
Roger seemed to be able to keep track of which mud banks we had counted and which we had yet to count. The terns flew off in huge flocks, dipping and receding, swooping and swirling in unison. Behind them on the mudflats, the cormorants stood still.
A pair of vibrant green blue-cheeked bee-eaters appeared. One sat high on a reed with a dragonfly in its beak, while its mate flew around it. As the bee-eater swirled above our heads, there were flashes of gold visible underneath its wings.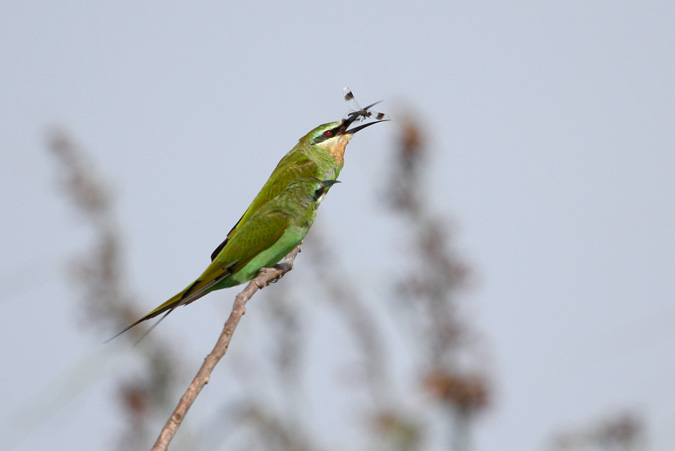 We were under orders to finish the count before we went in search of "Judith's shoebill".
We managed to spot the shoebill – its distinctive head at least – in the papyrus directly below Judith's house on the swamp. We each took it in turn to (gently) stand up in the boat and peer through our binoculars to get a closer look.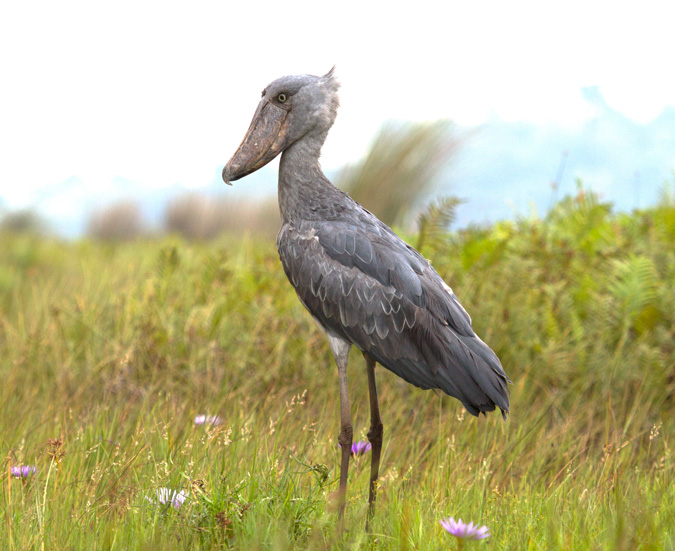 About NatureUganda: NatureUganda monitors birds at 30 sites across Uganda. Birds are observed in January when most species migrate from the cold winters of Europe. The same 30 sites are monitored again in July to see whether the same species are present or not. This helps ascertain whether the birds we see in January are actually migrants or permanently resident in Uganda.
NatureUganda is a membership organisation which strives to create a nature-friendly public through public talks, nature walks and excursions to promote the understanding, appreciation and conservation of nature. I was delighted to have been able to tag along on one of their counts!