Located along the escarpment of Africa's Great Rift Valley lies Lake Nakuru National Park  – one of Kenya's most spectacular wild places. It is a land of staggering panoramas, stunning biodiversity and it's home to millions upon millions of lesser flamingoes. Well, sometimes.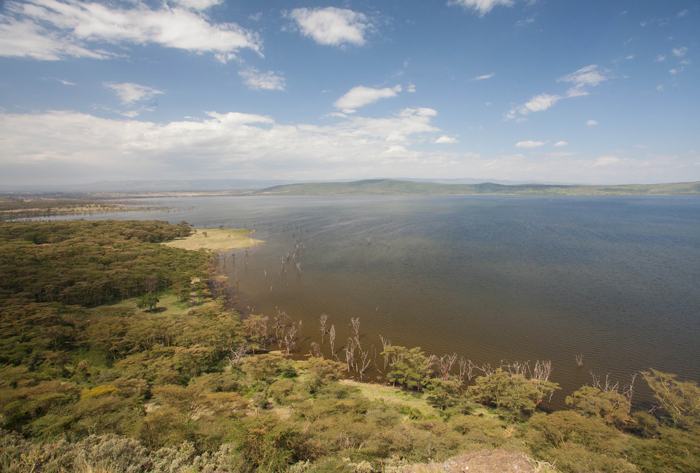 "What do you mean there are no flamingoes?"
A silent shake of the head and a pitying look on the officer's face suggested that I should have done more research before embarking on my four-hour road trip from Nanyuki to Lake Nakuru National Park.
I was incredulous. "Well, where are they then?" I asked as the officer.
"They have gone to Lake Bogoria." My dreams were shattered. I had had this romanticised image in my head of driving to the lake shore and photographing herds of rhinos with millions of pink flamingos in the background as the sun set. I decided to accept defeat and get on with my trip anyway, especially considering that I'm not much of a birder .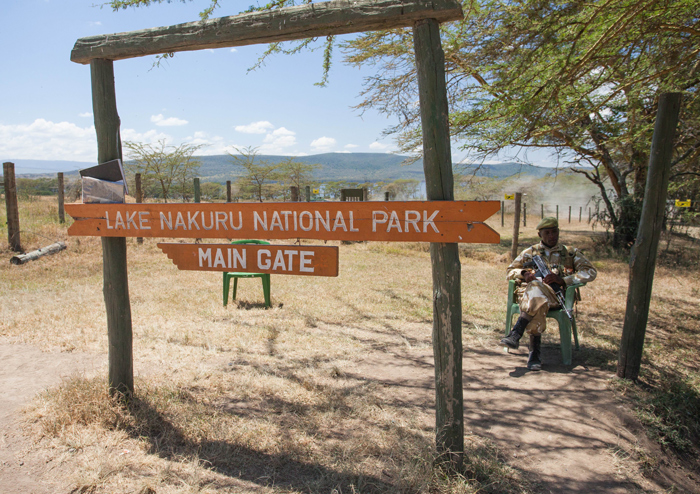 Lake Nakuru National Park, originally gazetted as a bird sanctuary in 1960 for the 450 bird species known to frequent these parts, received full national park status a few years later. The lake was officially designated as Kenya's first RAMSAR site in 1999, as well as an Important Bird Area. It's small, covering only an area of about 180km², of which the lake takes up approximately one third.
The lake is what is known as a shallow soda lake, harbouring an enormous productivity of algaes (and this what makes it prime habitat for the 'millions upon millions' of absent lesser flamingoes). The lake is surrounded by marshes woodland and grasslands, but it is the ancient fever tree forests that steal the show, casting dreamy beams of light onto the Earth while the baboons dance in the treetops.
As I drove in, I was feverishly googling "missing flamingoes of Lake Nakuru" and learnt that "rising water levels in 2014 forced the park's famous flamingos to flee, but water levels are prone to fluctuation and depending on the time of your visit, they may be back in residence". I was out of luck. The lake seemed to be reclaiming its ground and then some  –  so much so that the park's headquarters had to be moved as snorkels and fins aren't standard issue for desk jobs.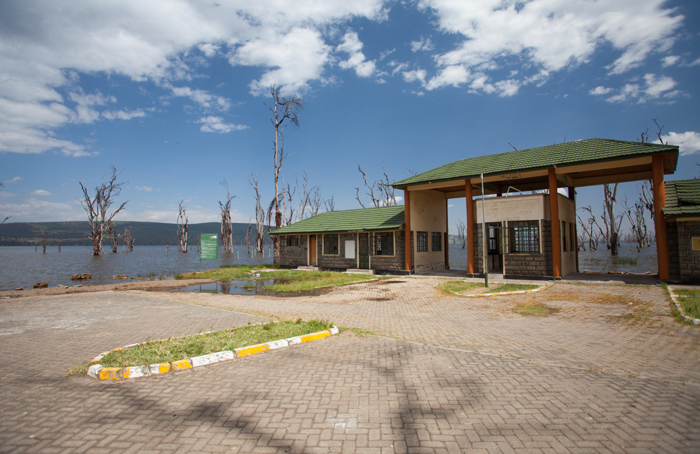 What Lake Nakuru lacked in flamingoes it made up for in stunning views over central Kenya's Rift Valley. It's only from up high that you truly appreciate how incredible this little park is. An island of conservation surrounded by an ocean of humanity that is ever encroaching and demanding more from our last remaining wild places.
Then there were the buffaloes  –  I don't think I have ever seen that many in one place. The KWS estimates the population to be at 4,500, which means the park must have one of the highest densities anywhere in Africa. Even the anthrax outbreak in 2015, which killed over 300 individuals in the park, hasn't made much of a dent, which is fantastic news.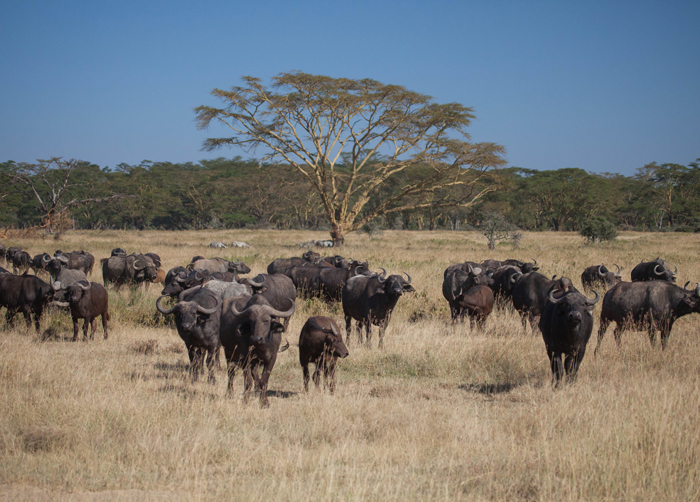 As the shadows started to lengthen and the day gradually drew to a close, I had covered about one side of the park (fully circumnavigating the lake takes about two to three hours). I made my way to Makalia Campsite – the only public camspite in the park, which also happens to be home to the Makalia Falls. They're no challenge for the waterfalls in the Aberdares in terms of grandeur, but they were a pleasant surprise all the same and the ideal location for that well deserved sundowner.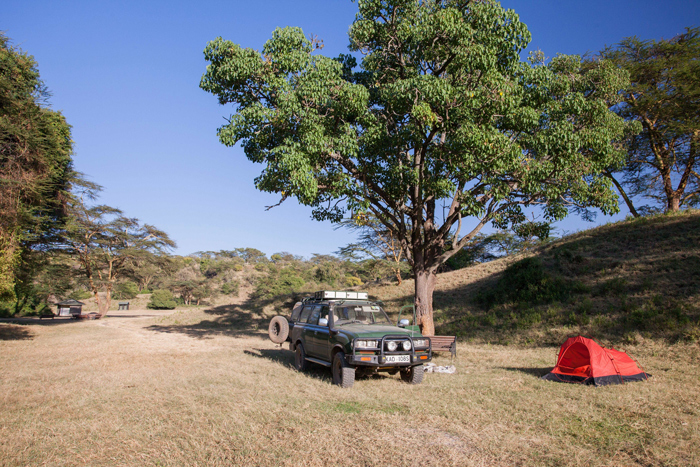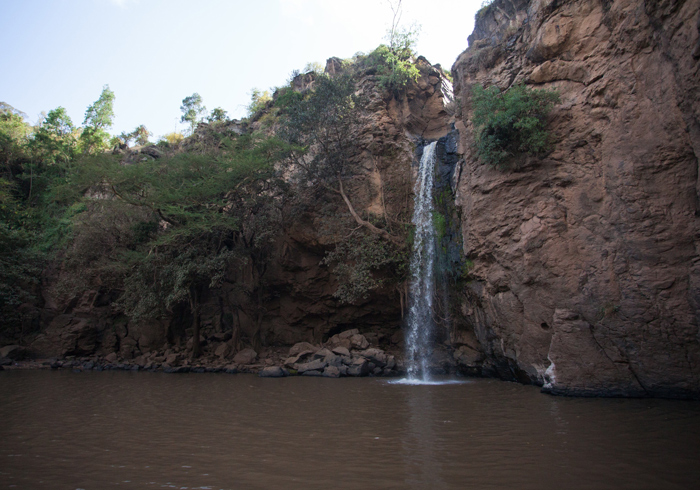 While I would love to claim that I slept soundly, the herd of buffalo right outside my tent for much of the night made sure I didn't get much sleep. They were a raucous bunch, stamping and snorting all over the place. By morning, the generous helpings of buffalo dung were starting to mature and it was time get going.
I headed deep into the fever tree forest using roads that I don't think had seen many a tyre in the last few years. I came across a stunning herd of Rothschild's giraffes – one of the world's most endangered species with only 1,500 individuals estimated to be remaining in the wild. Lake Nakuru, along with places in Uganda, are the remaining stronghold for this species. As giraffe populations in general are in free fall across the continent, it is refreshing to see them at peace in Lake Nakuru. Another reason why the park is such a critical habitat.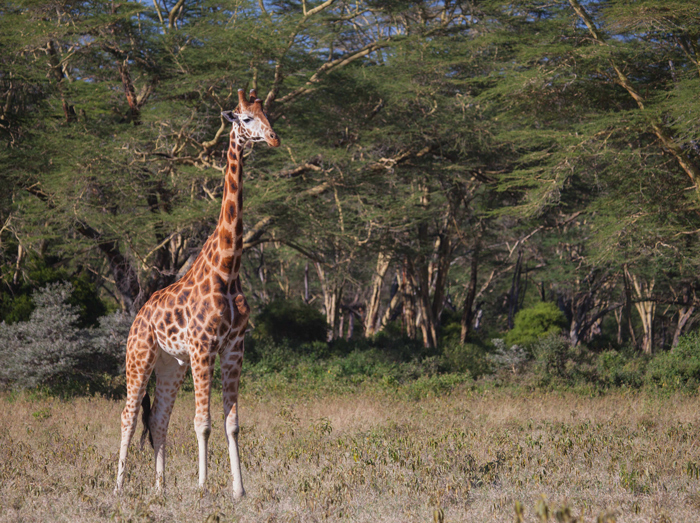 This brings me to the birds. As mentioned Lake Nakuru is a birder's paradise. My frequent basic exclamations of "bird!" – mostly to myself since there was nobody with me – would have probably sent the majority of my ornithology professors into an early grave.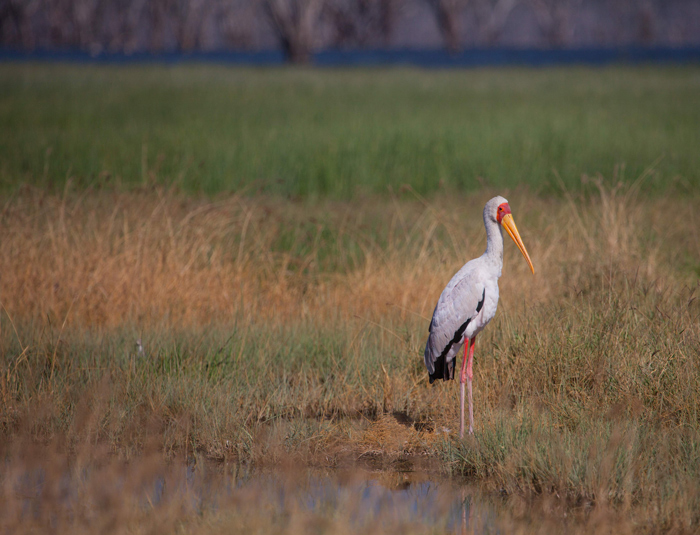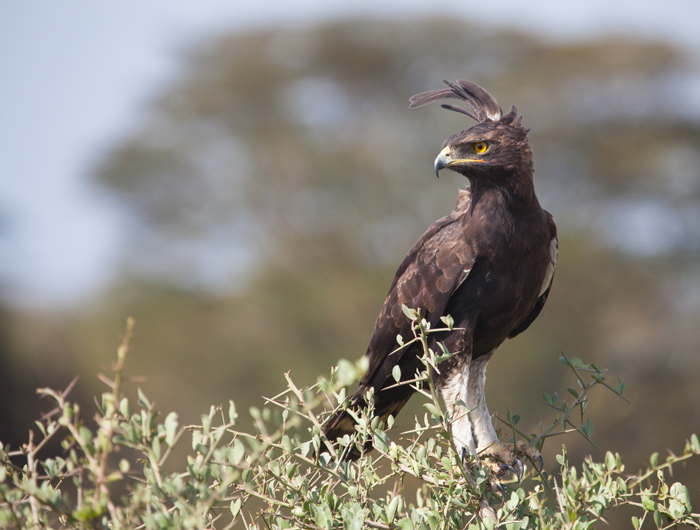 As far as birds go, there were some spectacular specimens on display, not least the pelican I captured in full flight. There were maybe less than a hundred lesser flamingos in the shallows but they were too far away to take a picture since the lake has reclaimed the majority of the lakeshore roads.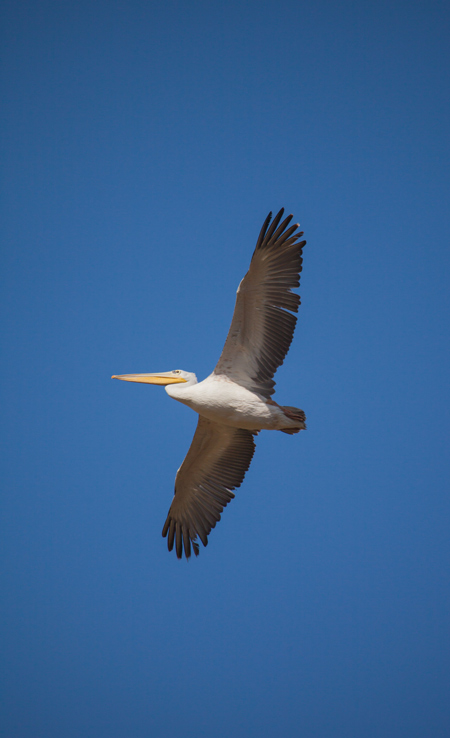 Apart from the flamingos,  it is the rhinos for which droves of tourists flock to the park. While I have the exact statistics of how many rhino there at Lake Nakuru in front of me, I won't repeat them here  – let's just say it's a healthy concentration of rhinos with respect to Kenya , and I was desperate to see one! Brought in as part of a rhino rehabilitation project in 1983, the rhinos have done so well that they have even started transferring them to other parks and conservancies across the country over the last few years. As luck would have it, I came across this male rhino as he causally crossed the plains. He didn't stick around too long, however, and was soon lost in the fever tree forest.
While I was disappointed to not get the chance to witness the spectacle that is the splash of pink across the lake, having seen the rhino was special in its own right and it gives me a reason to return! Lake Nakuru is a little gem of a place  – don't hesitate to visit , especially if you like birds!