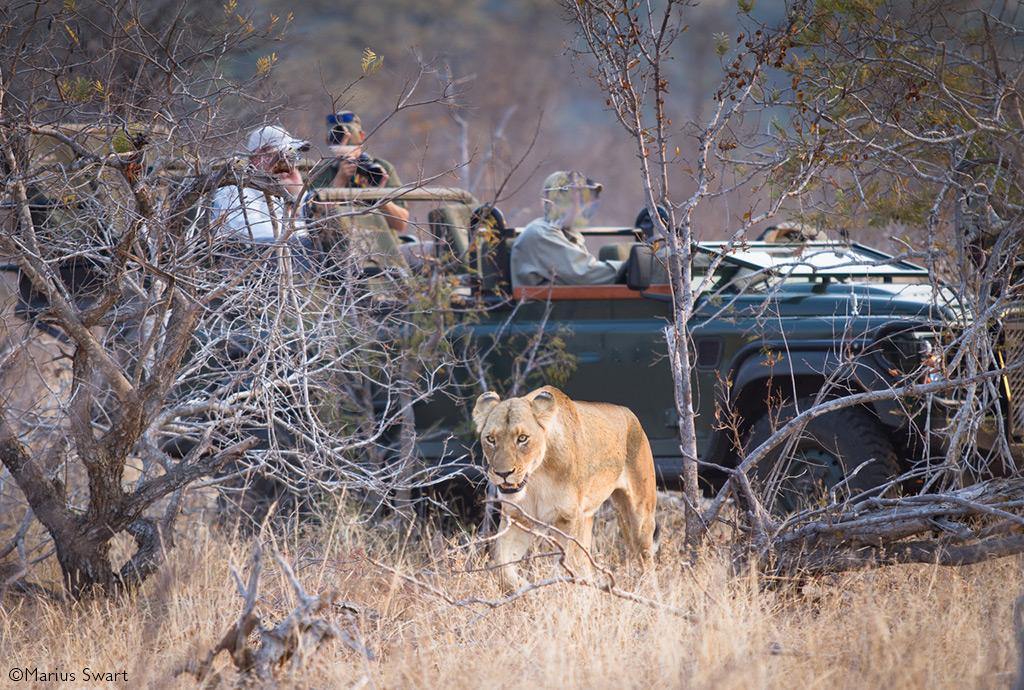 At 20 years old and new to the guiding fraternity, I followed the lead of more experienced safari guides, quickly adopting the conduct status quo of the time. For years there was an attitude of "almost anything goes" when it came to finding and getting close to as many of the Big 5 as possible on every drive. Little to no consideration was given to consequences of this attitude of impulsively taking from nature, as and when the opportunity or desire arose. And no one asked questions…
At the time (28 years ago), as safari guides, our knowledge and communication skills were of primary concern and not once, at any of the numerous camps I worked at, was ecologically sensitive conduct a topic for discussion amongst guides (bar extraordinarily callous extremes). We did what was expected to get our job done. From suspending my Land Rover on shrub mopane trees in an attempt to access a pride of lions to the constant hounding of a female leopard just to witness her hunt an impala, this was all in a day's work. Indignation, outrage, and disgust are all eagerly employed when condemning "others" from a self-proclaimed moral high ground. Yet, it was a far less comfortable retrospective awareness that forced my ignominious personal admission of ignorant complicity.
The gradual awakening from my ignorance was born of guiding burnout which led to a hiatus. For 12 months, I exchanged my Land Rover for a tractor and launched myself into "habitat management" on the reserve. This comprised of road relocation to combat accelerated erosion, alien-plant control, the creation of firebreaks, and encroachment control on artificial clearings.
Observing how the scars from indiscriminate off-road driving at a leopard sighting, months earlier, had eventually deteriorated into accelerated erosion and deep dongas made me think twice about the impact of vehicle traffic on various soils. Simultaneously, my new-found mindfulness prompted an awareness of the subtle (and occasionally not-so-subtle) body language cues of the animals being viewed or pursued by vehicles on a game drive. From the slight flattening of the ears towards a perceived threat (such as a vehicle following too closely) to the flicking of a tail or stern stare when annoyed at the unnecessary close proximity of a vehicle – these indications of unease became increasingly apparent until, eventually, I was unable to unsee or ignore them.
Though I did return to lodge guiding, these revelations had an indelible impact on my convictions and would eventually lead to a parting of ways with the private lodge industry. The following are examples of some of the experiences at camps, ranging from rustic bush camps to 5-star lodges, that prompted my somewhat abrupt departure.
During my induction drive with a head-guide at a new camp, a large elephant bull came into view. It was clear from his body language that he was entirely relaxed and could not have cared less about our presence. Slowly, we made our approach until we reached the point that I felt was the perfect spot to stop. But we didn't – onwards we continued, ever closer. I was shocked as my legs involuntarily kicked against the floor in an attempt to stop the vehicle. I felt deeply uncomfortable with our imposition on the bull's personal space. The realisation that many guests had previously suffered similarly under my own "guidance" left me embarrassed and disappointed…why had it taken so long for me to become sensitised to the consequences of my actions?

Eventually, we stopped a mere 15m from the bull, who was still feeding placidly. I started questioning my violent reaction to the proximity, given that the elephant was not bothered by it. What has changed within, I wondered, to render previously acceptable conduct suddenly so upsetting? An evolution was afoot, and it was becoming more about my relationship with my surroundings than just outright impact.
During that same drive, someone found a female cheetah with three sub-adult cubs. They were walking across a clearing only 15m from the road. Sticking to the road on the edge of the clearing would have given them the requisite space and avoided unnecessary off-road impact. Instead, the three vehicles went off-road onto the clearing, following so closely behind the cheetahs that they were walking with their ears turned back towards us. The herd of impala they were stalking way up ahead noticed the line of vehicles driving slowly and paid closer attention, saw the cheetahs, and darted off…
The next incident took place with another guide when we encountered three rhinos only 20m from us on a shrubby open area. As the guide saw the rhinos, he immediately turned the steering wheel without slowing down and veered straight towards them off-road. The crashing and twanging of whipping twigs on the suspension sent the cow and two calves scrambling… "Tsk…these rhinos are very skittish today," is all the guide uttered before returning to the road and continuing.
Another incident occurred on a concession inside Kruger Park, where off-road driving is forbidden, and sensitive soils are prevalent. On a guide training drive during the rainy season, we noticed the stunning yellow flower of a mouse-whisker plant (Cleome angustifolia) about 5m off the road. The deputy-head guide stopped the vehicle, reversed, turned, and drove the 5m off-road on soggy soils to park next to the blossom. No one, not even the head guide sitting next to me on the rear seat, said anything. Disbelief and anger started welling up inside me like a brewing volcano. Then he leant over and plucked the flower, laid it on his camera bag next to him, snapped a photo, picked it up, said "wow, this is really stunning", before chucking it overboard and driving off.
Recounting these details is not so much a criticism of the conduct of other guides as it is an indictment of my very own behaviour until then. I too, for many years, was asleep at the wheel. There are also untold accounts of disrespectful guests asking/demanding to get closer for that perfect picture or sensationalist experience. This induced pressure, especially on younger guides, is unjust and can manipulate their still pliable resolve.
However, we should never outsource accountability when it comes to ethical conduct, and it is incumbent on every person to take a respectful stand. In many lodges now, there is a strong ethos of ethical behaviour and ecological sensitivity, with guides responsible for holding themselves and each other to high standards. Pragmatically, mistakes happen, and lines of acceptable behaviour can be blurred. Still, open conversations are the only way to redefine what is appropriate and prompt an evolution in the approach taken by guides and guests.
If necessary, guests need to be able to speak up when they are uncomfortable with a situation and would prefer to adopt a more sensitive approach or leave the sighting altogether. Guides, in turn, need to be comfortable enough to declare that there is a line they are not willing to cross due to ethical considerations, where respect for wildlife is paramount to sustainable guiding as well as conservation as a whole. Guest experience and ethical guiding are not mutually exclusive, but finding the balance is everyone's responsibility, and this cannot be done under a cloud of ignorant complicity.

Marius Swart
About Marius Swart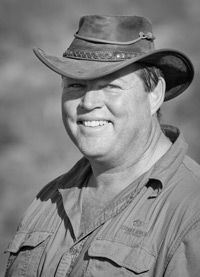 A passionate naturalist and consummate enthusiast, Marius has been sharing his wonder through guided adventures, since 1992. Spending the first decade working in the private lodge industry in the Timbavati and Sabi Sands (among others) provided a solid foundation which prompted personal growth, awakening and evolution. With a penchant for the visceral experiences afforded by on-foot explorations, he truly believes that being out in the wilds allows us to see rather than look, hear rather than listen and feel rather than think.
"If what a tree or a bush does is lost on you…you are surely lost" – Robert Wagoner.
"Please join me on a journey of discovery, not only of Nature's treasure-chest…but of yourself!" – Marius Swart
To comment on this story: Login (or sign up) to our app here - it's a troll-free safe place 🙂.

---
HOW TO GET THE MOST OUT OF AFRICA GEOGRAPHIC:
Travel with us. Travel in Africa is about knowing when and where to go, and with whom. A few weeks too early / late and a few kilometres off course and you could miss the greatest show on Earth. And wouldn't that be a pity? Browse our famous packages for experience-based safaris, search for our current special offers and check out our camps & lodges for the best prices.
Subscribe to our FREE newsletter / download our FREE app to enjoy the following benefits.
---