When it comes to sustainable and responsible tourism, many feel that luxury travel and sustainability are polar opposites, and that luxury is all about wasteful indulgence. However, the fact is that luxury, executed with a conscience, can have an immense positive impact.
Luxury properties have a larger staff to guest ratio, can afford to have individuals attending training without disruptions to teams and schedules, and often have a larger budget and more capacity to implement projects both on and off-site.
Luxury properties also attract a large proportion of international visitors, many of whom are very conscious of how and where they spend their money when visiting a county with high levels of poverty.
Let's look at some of the desired outcomes of sustainable tourism: job creation, skills and career development, environmental considerations and community investment, at a few different luxury properties.
At Spier, a 4-star hotel and wine estate outside Stellenbosch, community investment and upliftment has always been high on the agenda. Through a variety of initiatives, hundreds (if not thousands) of people are assisted to create a livelihood and reach for their dreams.
Tree-preneurs is a Spier project in partnership with Wildlands, where people (currently ranging from five to 93 years of age) are taught how to grow indigenous trees and plants. Seedlings are provided by Spier and, once they have reached 15cm, the tree-preneurs can "sell" them back in exchange for vouchers for food, clothing, tools or school fees.
The trees are subsequently planted in the region, forming part of an environmental restoration project. Spier also supports aspiring artists to reach for their dreams. Through the Spier Art Academy and Creative Block projects, artists are provided with skills and mentoring as well as material to create their art. Much of the art displayed at Spier comes from these projects.
Sabi Sabi, a 5-star safari reserve in the Sabi Sand, employs more than 200 people. Of these, over 85% come from the nearby rural communities. With a dependency ratio of 1:7, this means that Sabi Sabi indirectly supports around 1,200 people in the local communities. They also invest heavily in skills development and career management for their staff, through mentoring and training. Many middle and senior managers started their careers in entry-level positions and have been given ample assistance to develop their potential and achieve their goals.
Three Trees at Spioenkop, a luxury lodge close to the Drakensberg, has gone to great lengths to reduce their overall environmental footprint. Large investments have been made to install low-energy light bulbs, insulated buildings to reduce heating and cooling needs, and install solar water heating and a solar cooker. All drinking water provided is from an onsite aquifer (rather than using bottled water). Three Trees is also investing considerable amounts of time and resources to developing a permaculture garden and an Environmental Learning Centre at the local community school.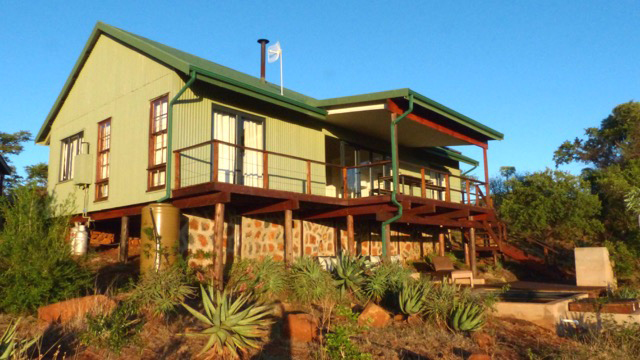 Luxury properties often lead the way in developing trends, and those that decide to invest in sustainability usually do so at a level that is hard to emulate for others. At these properties, just as no expense is saved to create the ultimate guest experience, sustainability is taken to a level that has deep and profound impacts.
Spier, Sabi Sabi and Three Trees are all Fair Trade Tourism certified establishments. For information on these destinations and other travel options in the Fair Trade Tourism collection, please visit www.fairtrade.travel.