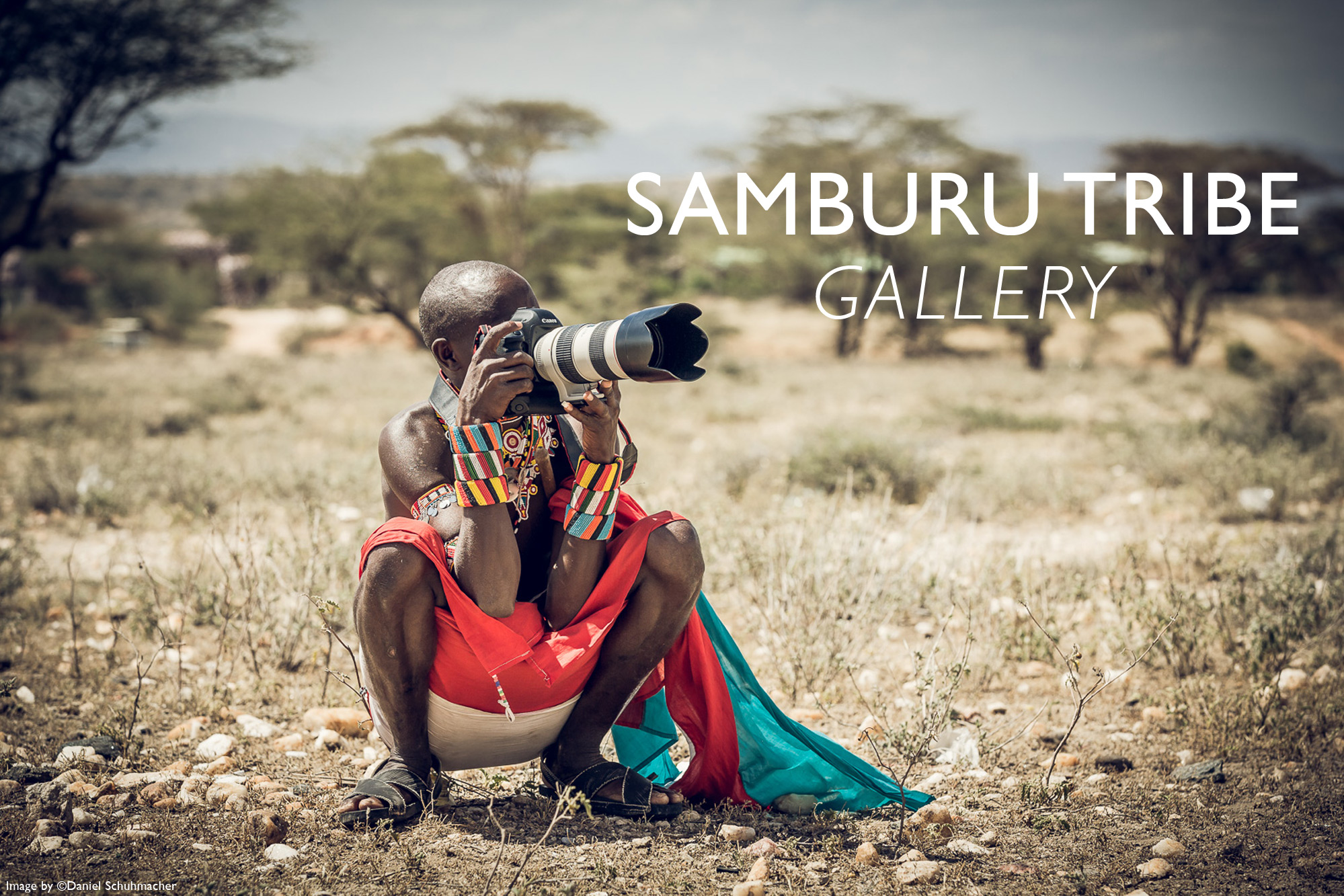 Samburu Tribe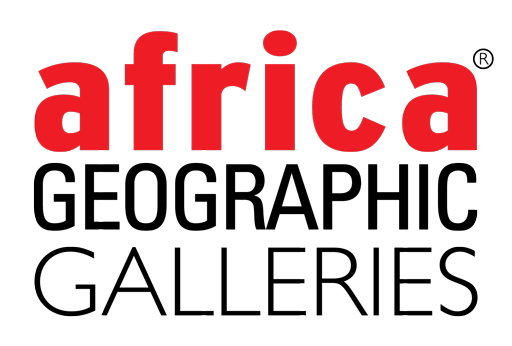 Photographer Daniel Schuhmacher recently visited the Samburu National Reserve in Kenya, where he had the opportunity to spend time with a local Samburu tribe, as well as enjoy the incredible wildlife safaris that the region has to offer. A local guide took Daniel to a Samburu village where he was welcomed by the tribe, which showed him around the village in exchange for a bit of money. The local guide explained that any money earned from tourism is then shared with the rest of the village and a big part goes towards the education of children.
The Samburu are related to the Maasai and share a few traditions, but they inhabit Kenya's north-central plains whereas the Maasai are concentrated in the region surrounding the Maasai Mara. Both tribes are thought to originally have come from Sudan in the 15th century, but they parted ways when the Samburu settled just north of the equator in Kenya's Rift Valley area, while their Maasai cousins moved further south. The Samburu language is similar to the Maa language spoken by the Maasai, and both tribes are semi-nomadic pastoralists who value cattle. However, the Samburu are thought to adhere more to cultural traditions than their Maasai kin, as their more remote location means they are slightly less affected by modern trends.
The members of the village that Daniel visited showed him their houses and animals and demonstrated their traditional dances, which are a significant part of the Samburu way of life. While Daniel was in the Samburu village, he was allowed to take a few pictures – the results of which he put together in this photography series.
Cover image by ©Daniel Schuhmacher, daschu MEDIA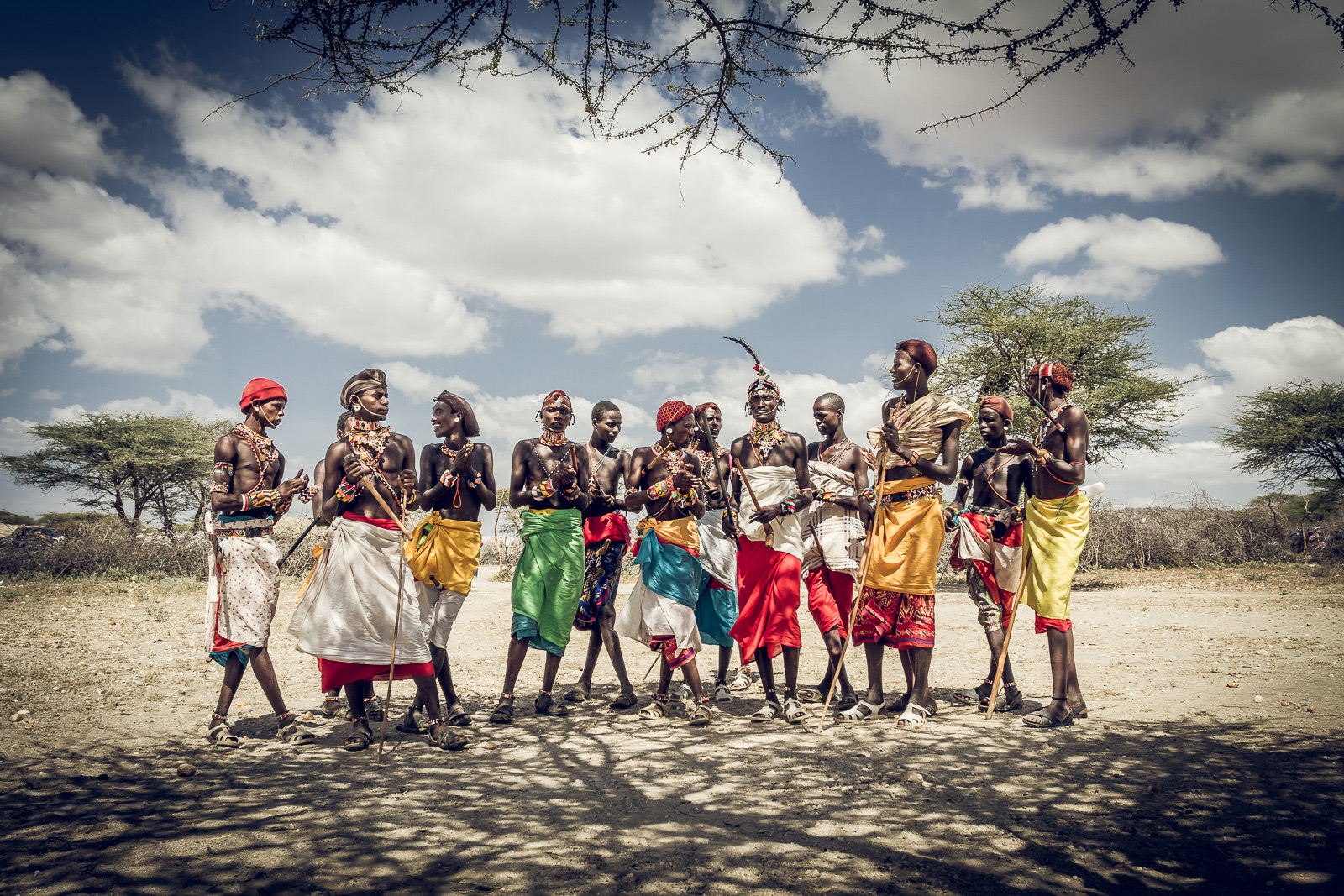 📷 © Daniel Schuhmacher, daschu MEDIA
Upon Daniel's arrival, he received a warm welcome from the Samburu men in front of their village, and this photo symbolises his introduction to the different way of life of this brightly attired tribe.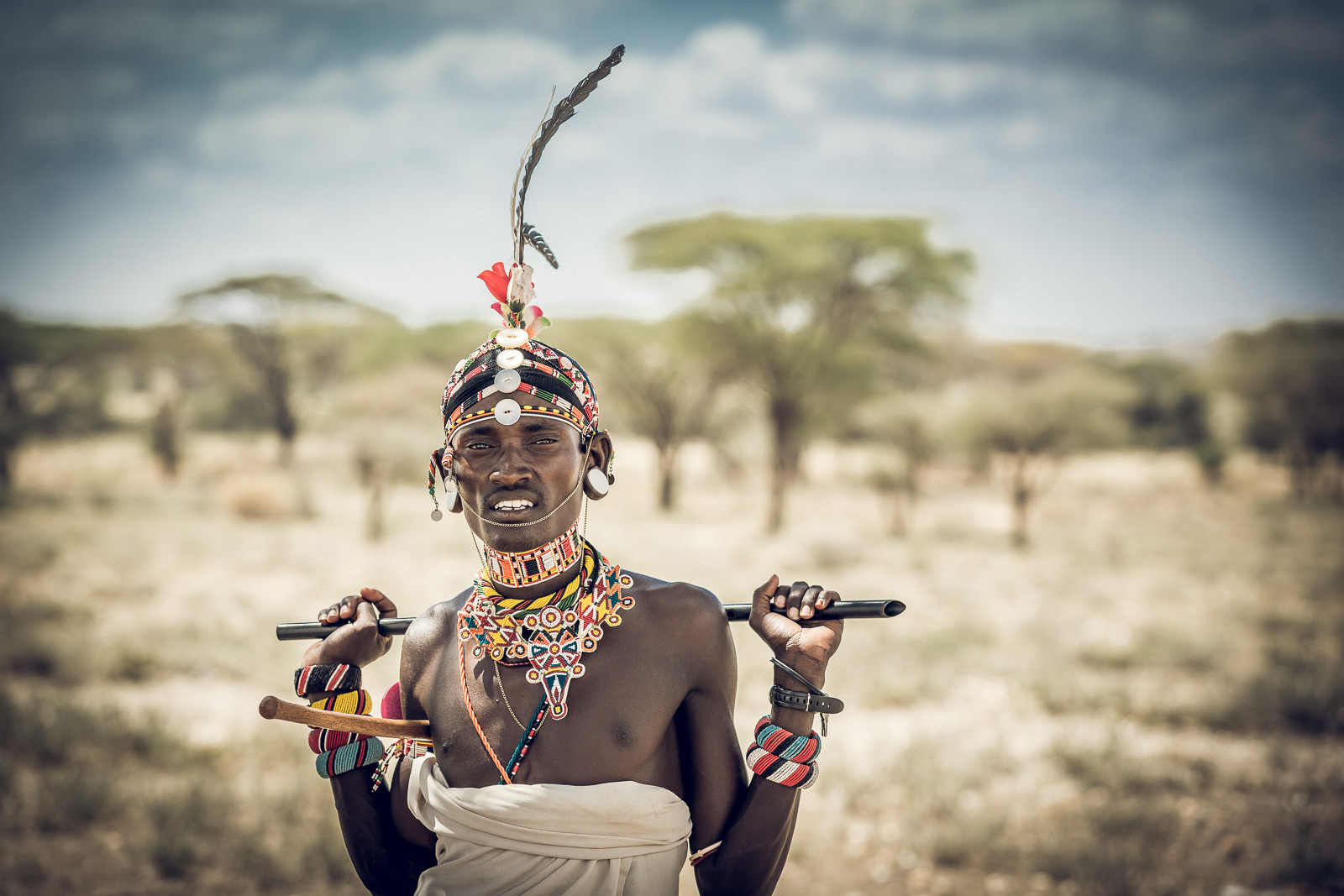 📷 © Daniel Schuhmacher, daschu MEDIA
This photo is of the tribal leader, who was happy to pose for this great portrait.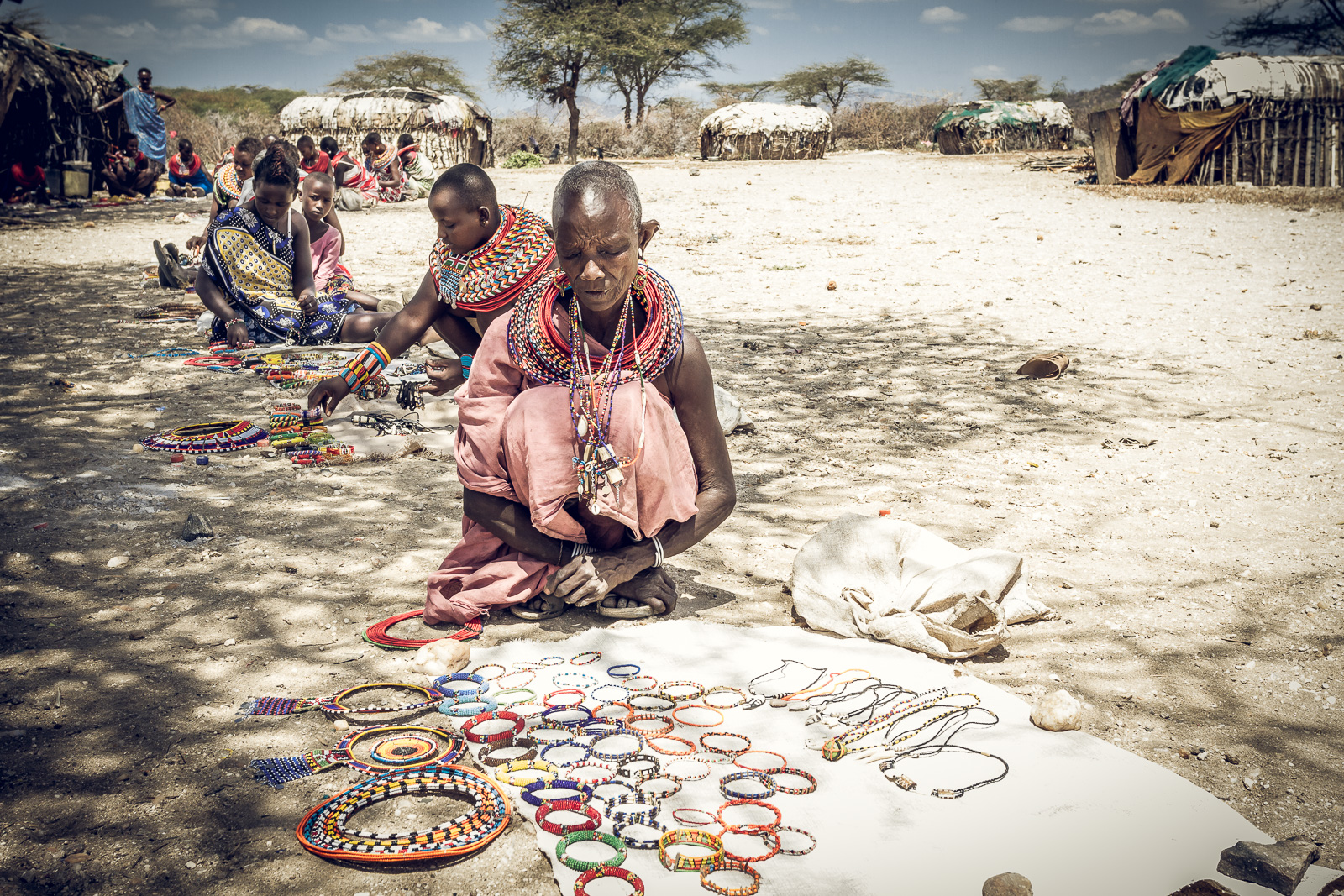 📷 © Daniel Schuhmacher, daschu MEDIA
The Samburu and Maasai tribes are known for their beautifully beaded jewellery, and both men and women adorn themselves with earrings, bracelets, anklets and necklaces. The number of beads or necklaces that a woman wears is said to be indicative of her beauty, wealth and status.
This photo shows an older woman selling some of her handiwork to tourists to earn money to support her community. Traditionally the Samburu depended on their cattle to survive, but the impacts of drought on livestock numbers have meant that the tribe, like their Maasai cousins, has become more involved in the tourism sector.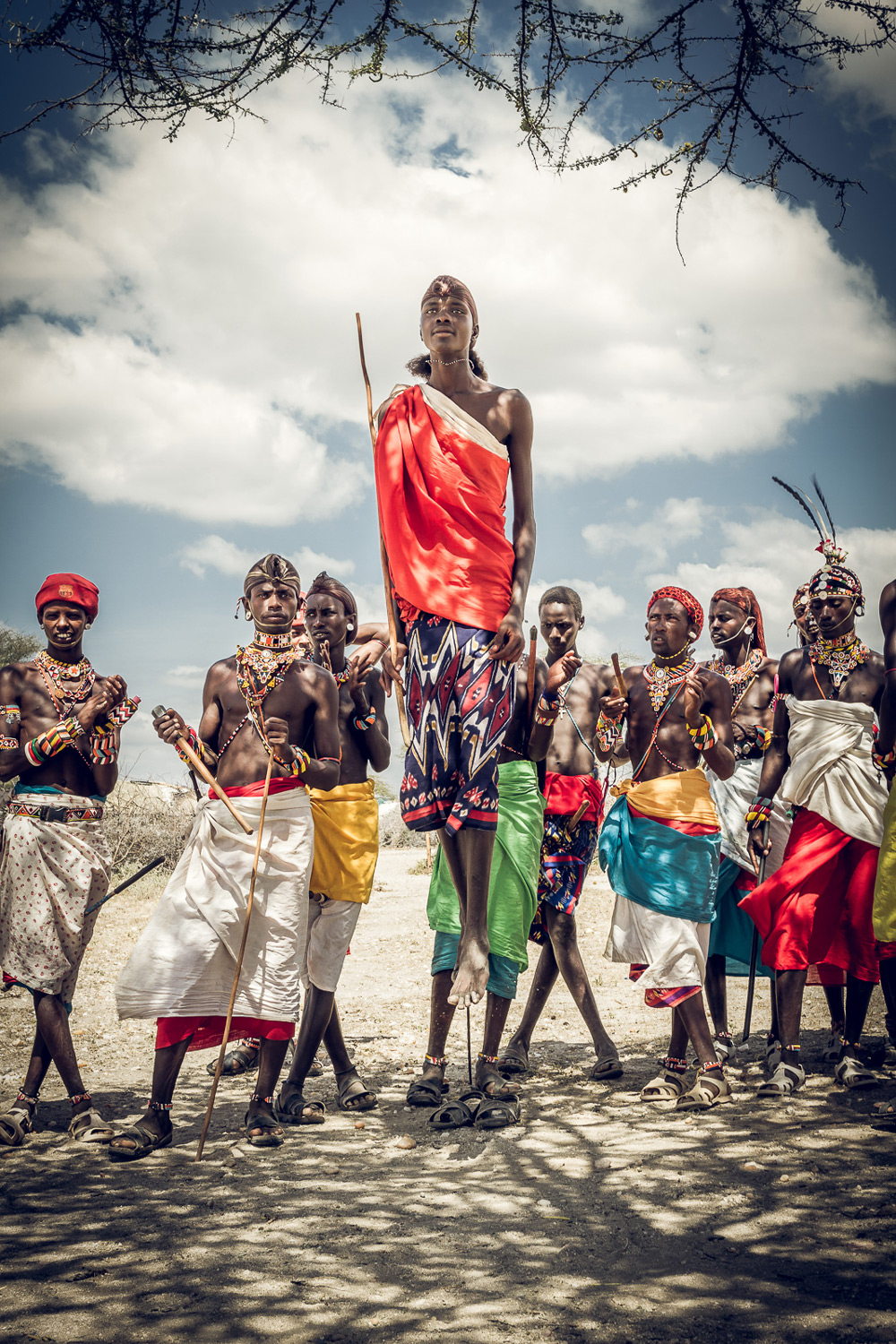 📷 © Daniel Schuhmacher, daschu MEDIA
The Samburu warriors jump very high when they dance as a way of showing their strength. While they do this, the women of the tribe sing and dance in the background to support the warriors' efforts.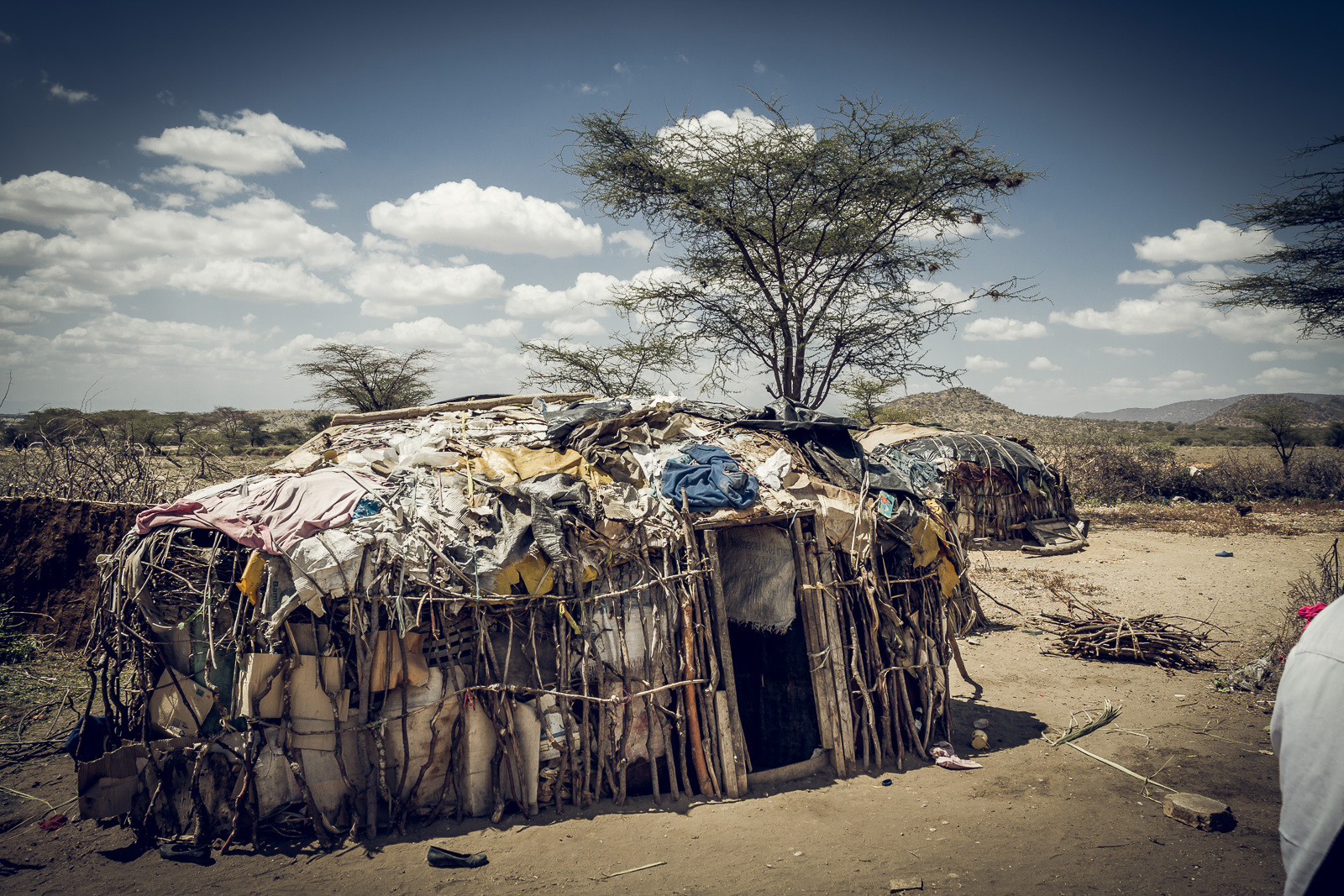 📷 © Daniel Schuhmacher, daschu MEDIA
The houses of the Samburu tribe are built from materials that can be sourced locally, such as sticks, mud and cow dung. They also tend to use bits of plastic – collected from waste products – to offer additional protection from the rain.
The manyattas (settlements) cater to the Samburu's polygamous system of marriage, and each manyatta is home to about four or five families, with each wife having her own house. The manyatta is then protected by acacia thorn bushes to protect the families and their cattle from any roaming predators.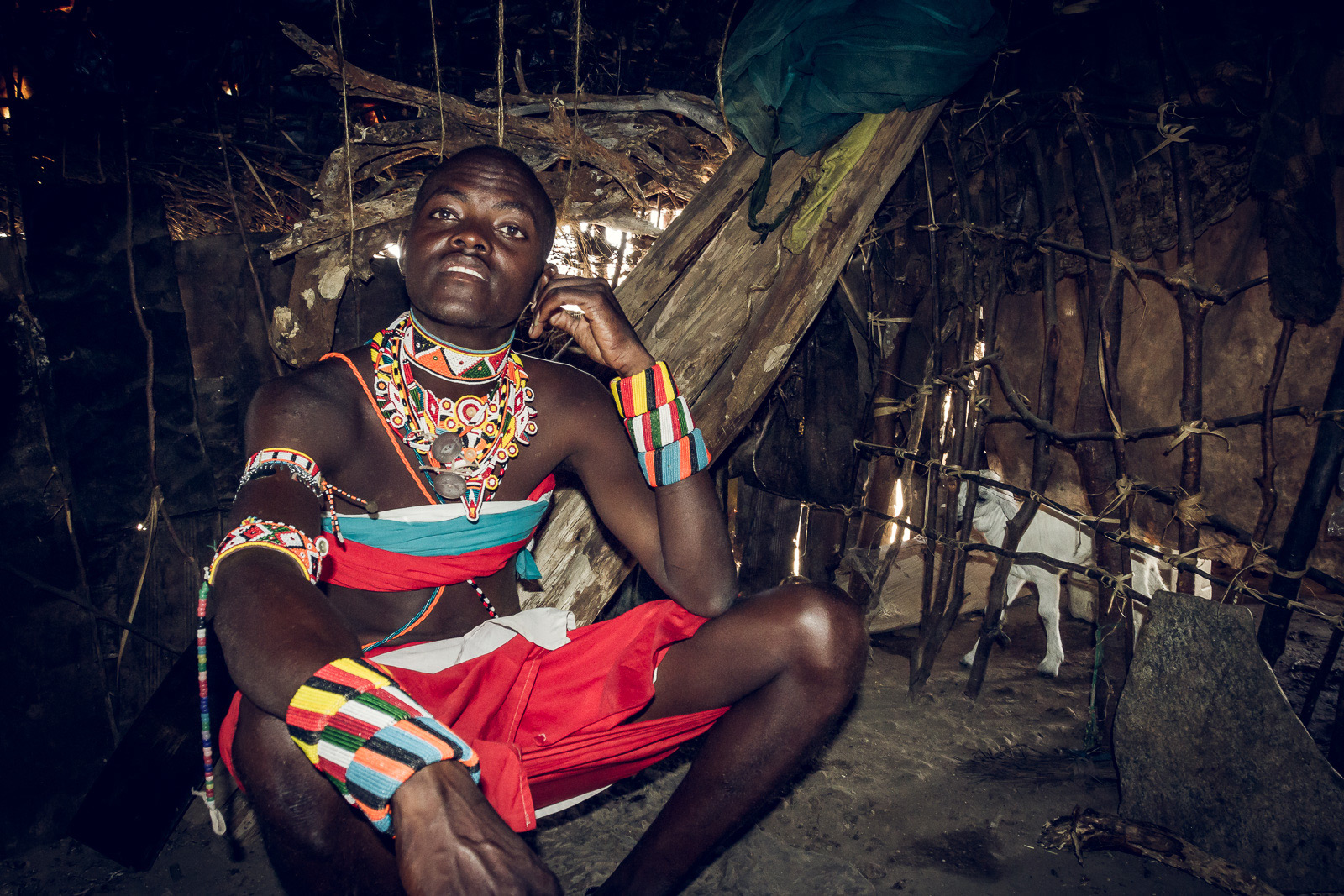 📷 © Daniel Schuhmacher, daschu MEDIA
During his visit to the tribal village, the community showed Daniel how they live. This man took him inside his house so that he could see what it looked like on the inside – it had a bed, a kitchen and a small goat.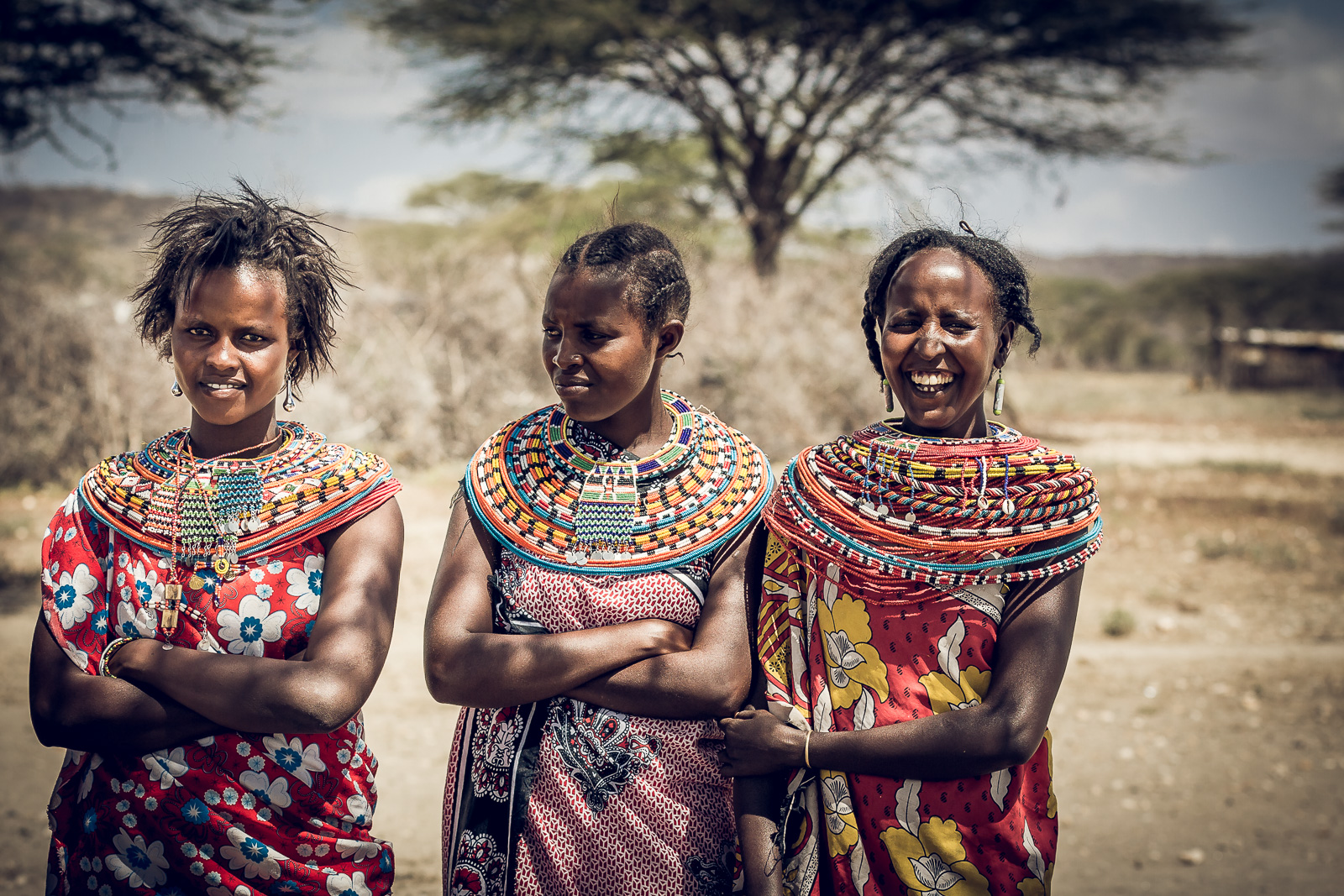 📷 © Daniel Schuhmacher, daschu MEDIA
The Samburu tribe has a patriarchal system wherein the elders decide how many wives a man can have. Generally speaking, the women take care of collecting food and firewood, cooking, child-rearing and craftsmanship, while men are responsible for cattle herding and security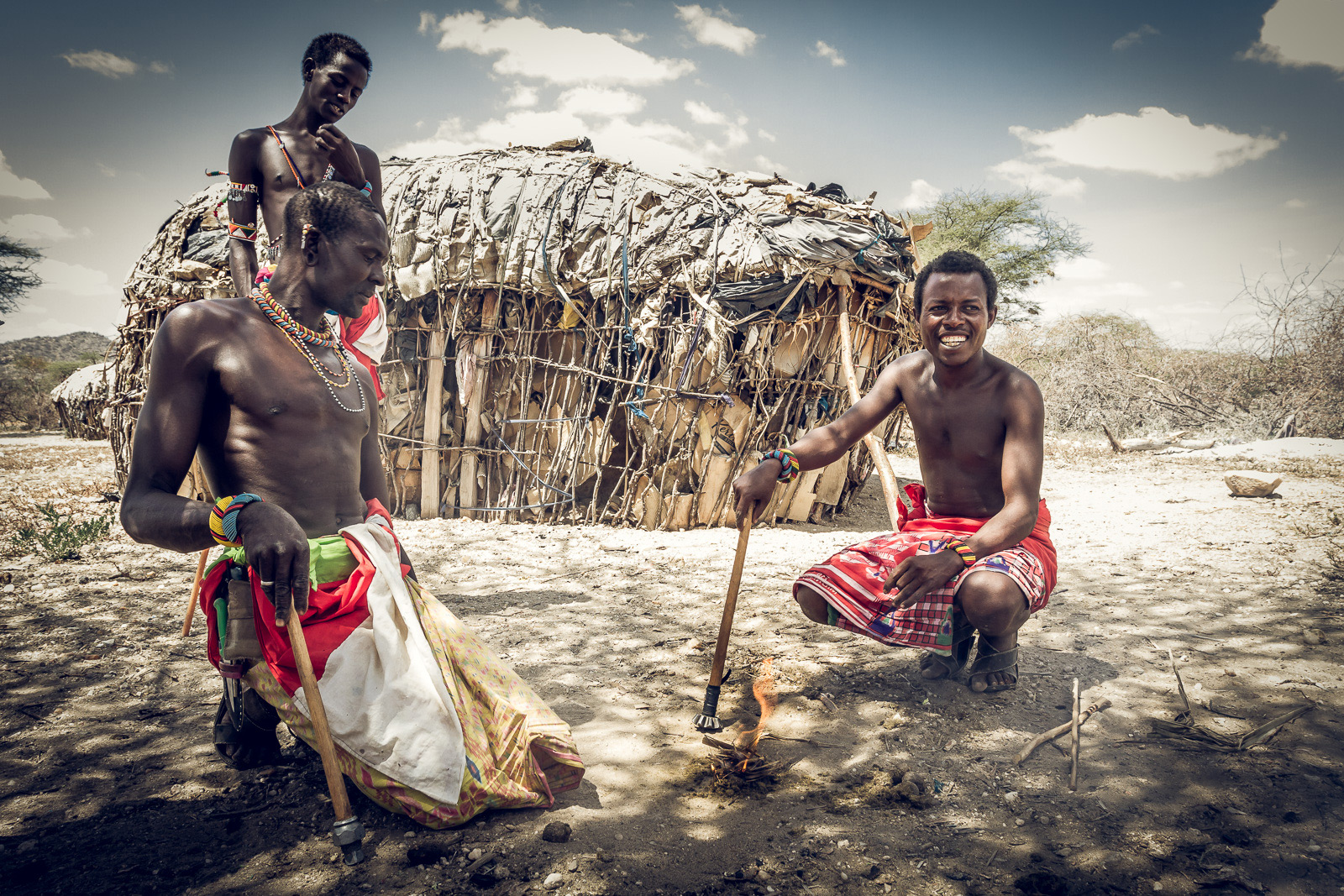 📷 © Daniel Schuhmacher, daschu MEDIA
Some of the men showcased their survival skills with regards to making a fire from scratch.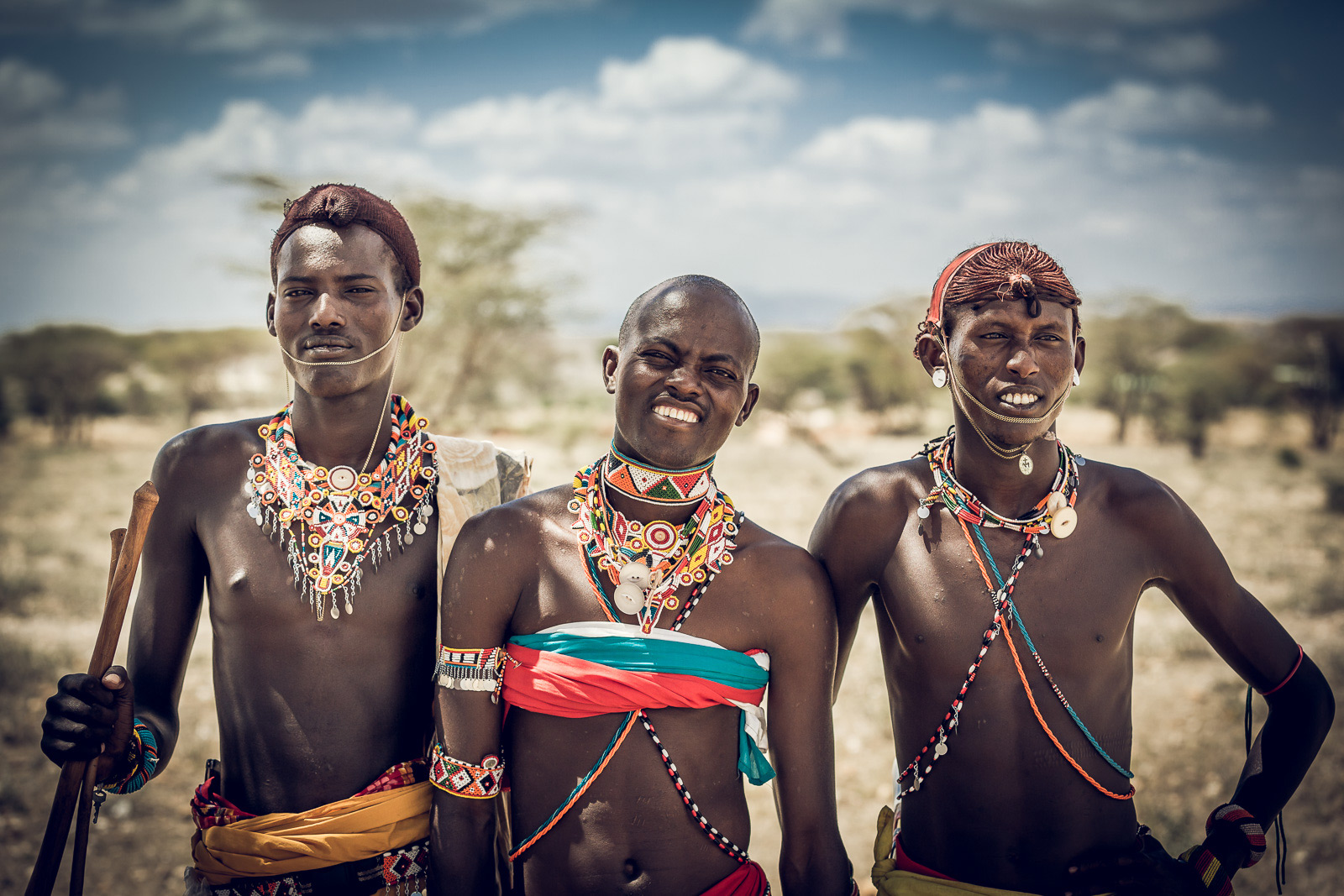 📷 © Daniel Schuhmacher, daschu MEDIA
During his visit, Daniel found that many of the young warriors enjoyed posing in front of the camera, which was great for him as a photographer.
ABOUT THE PHOTOGRAPHER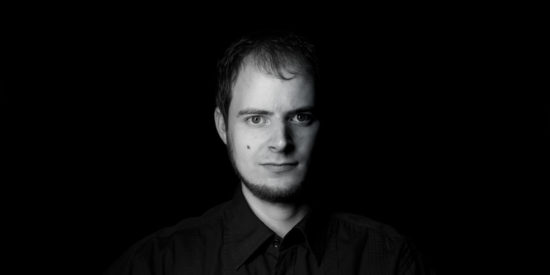 Daniel Schuhmacher is a 26-year-old, self-taught photographer from Germany, who has a love for nature and animals, and an infinite passion for taking pictures. In his travels, he finds himself always hunting for the best light, and he makes it his goal to photograph the places, the people and the things that he loves the most.
To comment on this story please join our PRIVATE TRAVEL & CONSERVATION CLUB. See details below.

---
HOW TO GET THE MOST OUT OF AFRICA GEOGRAPHIC:
Join our private travel & conservation club (mobile app and desktop) to enjoy significant benefits, including the best prices at Africa's top lodges and networking with others like you. Find out more here.

Subscribe to our weekly newsletter to enjoy more stories like this. Subscribe here.
Travel with us. Travel in Africa is about knowing when and where to go, and with whom. A few weeks too early / late and a few kilometres off course and you could miss the greatest show on Earth. And wouldn't that be a pity? Search for your ideal safari here, or contact an Africa Geographic safari consultant to plan your dream vacation.
---