Three generations of the Bolton family are teaming up for a campaign called One Land Love It Expedition 2015 (OLLI). The journey will follow the father and main cyclist, Wayne Bolton, who will be cycling 6,000km over 80 days between all 19 national parks managed by South African National Parks (SANParks). Funds raised will go towards caring for orphaned rhino calves and anti-poaching initiatives.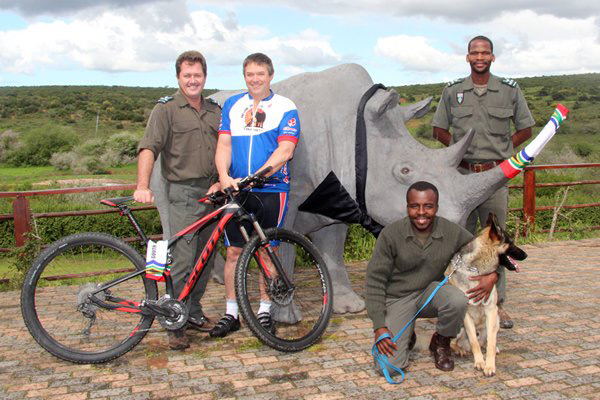 Wayne will be joined for some of the cycle legs by his children, Daniel (22) and Laura (19). Laura is representing the rhino orphans and feels "very excited to be part of this journey of joint custody for our heritage". Wayne's support crew will also consist of three relatives including his father and father-in-law, who will be tracking him around the country, carrying spares and preparing communities for his arrival. Having his family involved highlights the importance of a 'joint custody adventure' of sorts where we see a family of three generations working together as responsible citizens to make a difference.
The Sun Boardwalk managing director, Brett Hoppe, has expressed enthusiastic support for this initiative by offering to host the Black Tie Event as the main fundraiser for One Land Love It Expedition 2015 on Thursday, 29 October 2015 in Port Elizabeth. "Sun International's commitment to our natural heritage is integral to our business. This initiative by an ordinary family in our community deserves this kind of support from the Sun Boardwalk, and we encourage others to get involved with us and the Bolton's."
The glamorous Black Tie Event will be addressed by South Africa adventurers, Braam Malherbe, who is one of only two men to ever run the length of the Great Wall of China, and Vasti Geldenhuys, who paddled the Atlantic Ocean from South Africa to the USA. These two epic athletes highlight that ordinary people can achieve the extraordinary when people stand up and do something together.
Ashley Dowds, Wayne's cousin, will be the gracious host of the event. Ashley is no stranger to the corners of South Africa through the successful multi-season show, "Going Nowhere Slowly", and is a committed conservationist. Claire Venn, a local song writer will provide live music entertainment as guests enjoy the evening.
Tables of 10 for the event cost ZAR5,000 each (ZAR500 per person) and can be booked through nikki@oneland.co.za. There will also be a short but exciting auction to raise funds for beneficiaries with great lucky draw prizes.
Titus Chuene of the Nelson Mandela Bay Tourism (NMBT) says they have already booked their tables for the Black Tie Event and have committed their support to OLLI's Expedition. "NMBT is very excited about how this expedition is being carried out and organised by residents of Nelson Mandela Bay. These expeditions show our joint commitment to our natural heritage. This journey starts here with the Black Tie Event and more than this, it is ending here on the doorstep of Nelson Mandela Bay at our very own Addo Elephant National Park. There are so many things to like and support about this expedition and we are happy to be associated with it and give it our full support."
All funds raised will be distributed to the SANParks Honorary Rangers and Care for Wild Africa, a rhino sanctuary near Nelspruit.
The SANParks Honorary Rangers are volunteers who work to enhance the incredible work done by full time rangers and staff in SANParks. Proceeds will go towards procuring counter-poaching equipment for the SANParks Rangers Corps – the men and women on the ground. SANParks Commanding Officer Ranger Services, Major General (ret) Johan Jooste, who was brought in to oversee the overall anti-poaching operations in Kruger National Park, notes just how valuable these fundraising efforts are for the organisation: "As custodians of our wildlife we are so appreciative of people and organisations who choose to support established and effective initiatives such as ours. These funds help us access equipment to protect our wildlife and ensure that those that are injured by other means, natural and man-made, can be given appropriate care and rehabilitated."
Care for Wild Africa is currently caring for 25 orphaned rhinos. Each rhino costs on average about ZAR10,000 a month to maintain and rehabilitate. These orphans are nurtured by Petronel Nieuwoudt  and her team who selflessly devote themselves to the calves traumatised by the brutal poaching of their mothers.
On his expedition, Wayne will interact with various communities. These opportunities will bring focus and ideas as to how local communities can work with SANParks through their current programmes such as 'People in Parks' to promote tourism, nature and our beautiful land as a constructive income opportunity. For communities to support the efforts of our national parks is of paramount importance.
We invite the community to contribute to Wayne's adventure on his bicycle by donating through the official expedition website, or by contacting him on 082 456 8084.