Written by: Almero Klingenberg, Bushwise Field Guides Trainer
This specialised and beautiful small passerine bird can almost be guaranteed to be seen on a South African safari. They are found in abundance and they have a big attitude. 
These small birds are very aggressive and fearless, given their small size. They will display mobbing behaviour and routinely attack birds of prey when their nests or young are threatened. Their aero-acrobatics are something to behold!
The fork-tailed drongo will fly and catch insects in the air or take prey from the ground. On a game drive you will see them following big game, such as giraffe, buffalo and rhino. As these big animals move through the grass, they cause the insects to jump or fly up and – whoop – there is an easy meal for the drongo!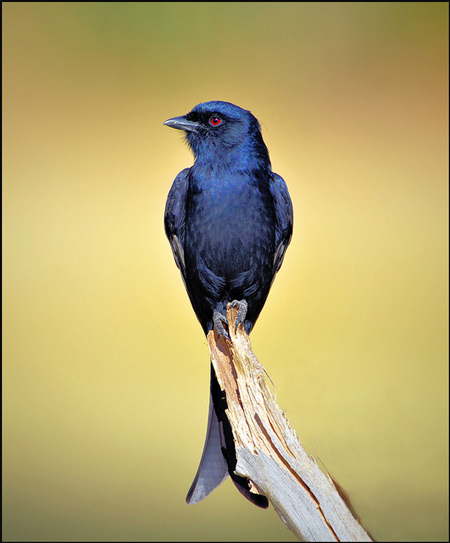 These birds can even sound fake alarms to get a free take-away meal. The fork-tailed drongo can also be seen around other species like smaller birds and dwarf mongooses. They wait for these smaller species to find food and then make use of deceptive mimicked alarms to steal the food! Animals like the dwarf mongoose will never ignore alarm calls, even if that means that they drop their insect catch and flee to safety.
Fixon, one of our past Bushwise students, tells a tale of how the fork-tailed drongo would follow them as young Shangaan boys while they herded their father's cattle. The young boys would whistle loudly and throw rocks next to the cattle to force them to move forward, and as the fork-tailed drongo came to know about this, it would mimic them. As the Shangaan boys left the cattle grazing in the veld, the fork-tailed drongo would fly up to the cattle and start mimicking the whistling sound of the Shangaan boys, thus scaring the cattle and getting them to move, forcing insects to jump and fly up by the stomping cattle. Yet again this wiry bird scores an easy take-away meal.