Written by: Dr. Gabriella Kiss PhD
South Africa has been suffering from one of the worst droughts in decades, as a result of having had the lowest rainfall since records began in 1904. I visited the Kruger National Park in mid-April 2016 and noticed that long parts of the Sand River were completely dry, while other parts only had very shallow water.
More and more dry riverbeds seemed to be appearing, and the quality of the water in the existing waterholes may well have also changed in the hot weather. However, in spite of the harsh living conditions created by the drought, nature has equipped elephants to be able to find water to survive. Elephants can use one or more methods to do so, depending on the conditions that they find themselves in, and one such method involves digging with their trunks to reach alternative water sources.
As a result of their large size, elephants have a huge impact on their environments and are considered a keystone species. Their habit of uprooting trees and undergrowth can transform savannah into grasslands, and when they dig for water during times of drought, they create waterholes that can be used by other animals. They can also enlarge waterholes so as to bathe and wallow comfortably in them.
An elephant's trunk is actually a long nose used for smelling, breathing, trumpeting, drinking, and also for grabbing things. The trunk alone contains about 100,000 different muscle fascicles and the elephant even has two finger-like features at the tip of its trunk that it can use to grab small items. It can also suck up water both to drink and to spray water on its body, and when underwater, the elephant uses its trunk as a snorkel.
Elephants can go up to four days without water but they can also use their trunks and tusks to dig wells if necessary.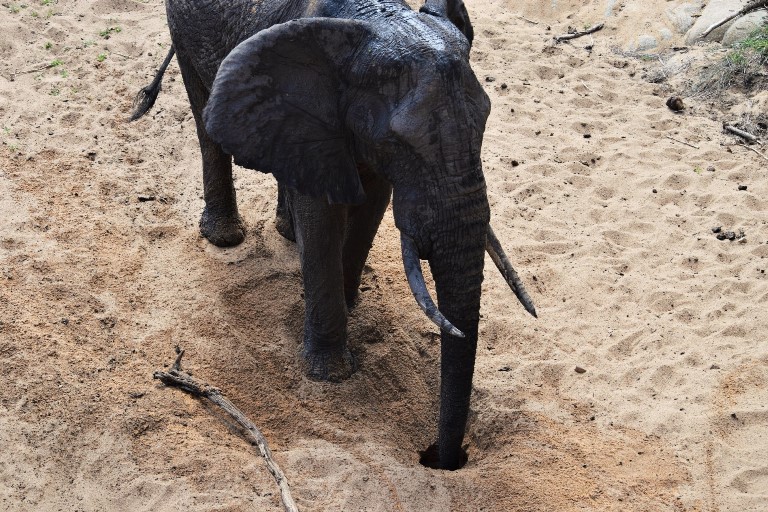 Elephants tend to stay near water sources but they can smell water from five kilometres away. These animals drink water by using their long trunks, and an adult elephant can drink about 200 litres of water per day, which can sometimes be drunk during a single visit to a water source. Each 'trunkful' of water may amount to between four and eight litres.