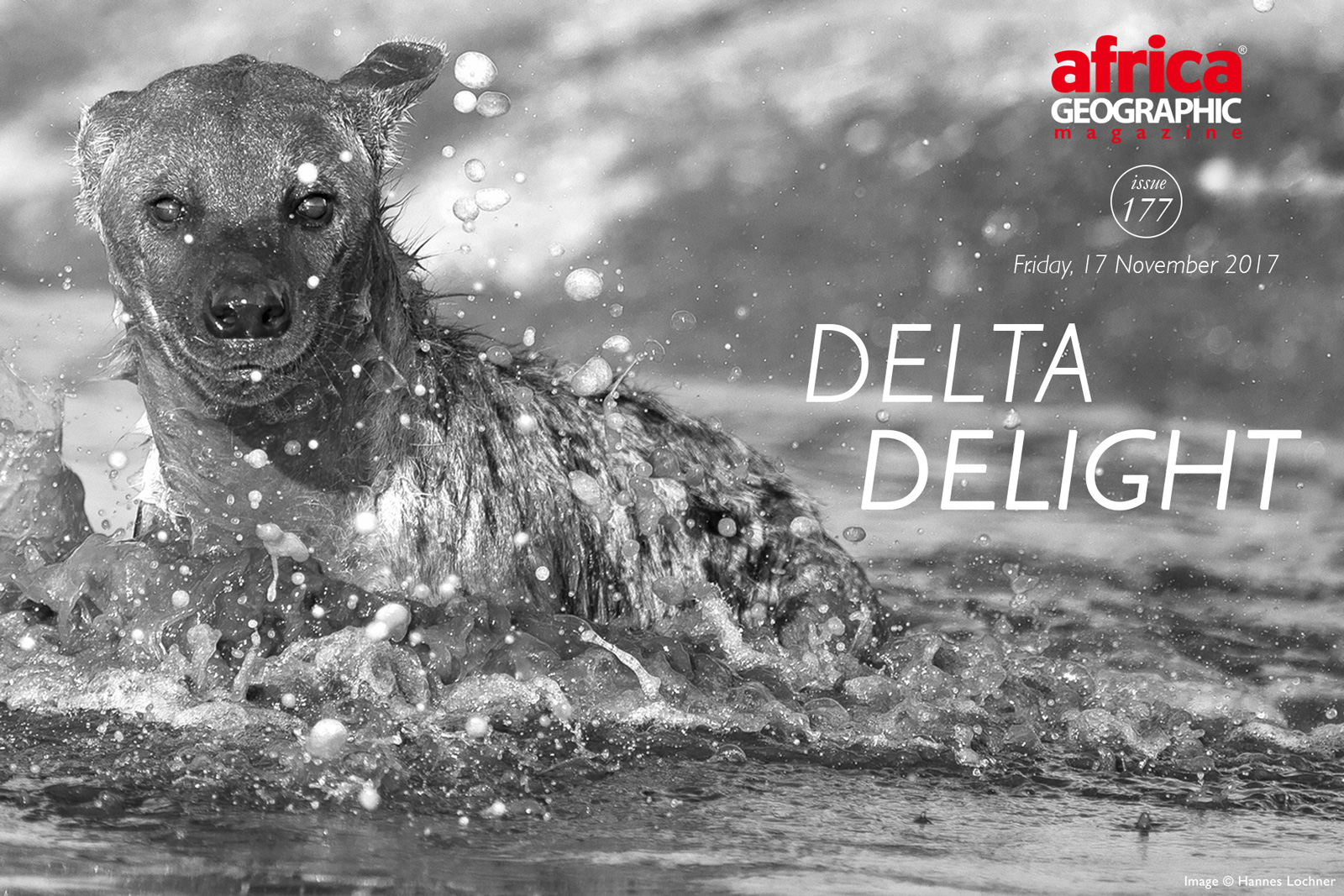 Delta Delight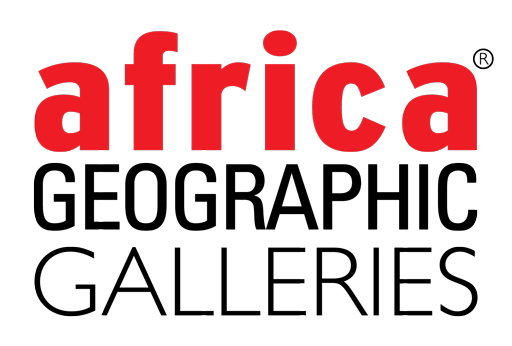 Hannes Lochner is a multi-award-winning professional wildlife photographer. The 'spirit of Africa' has always fascinated him – especially the Kalahari. He lived there for five years so he could gain an extensive knowledge of the region.
His ability to tell a story through photos is genuinely extraordinary. He is a master when it comes to assessing the ideal light conditions to take the perfect photo – capturing the essence of wildlife and landscapes.
Hannes has many accolades, including the coveted BBC's Veolia Wildlife Photographer of the Year award. Many of his photos and articles have been published in well-known international and local publications.
This gallery showcases a selection of awe-inspiring photos from his book, Planet Okavango – an evocative tribute to the wetland deltas of Botswana, its inhabitants, and its unique wonder.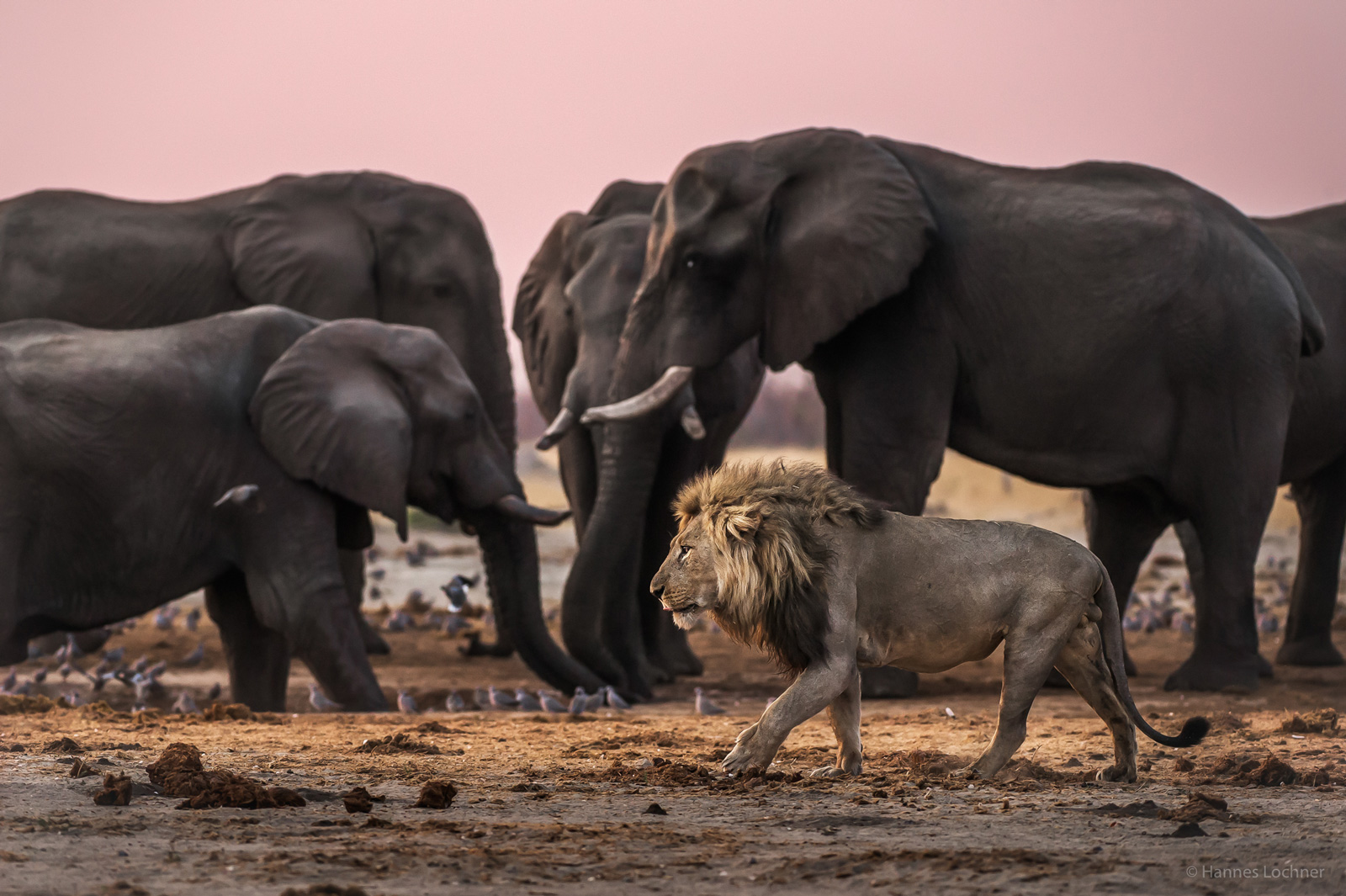 📷  Okavango Delta, Botswana © Hannes Lochner
Dry times
In the dry season, every animal needs to drink water. During this time of year, the predators take advantage of the weaker and smaller animals. Here a big male lion walks past a small elephant herd, making sure to safely keep his distance.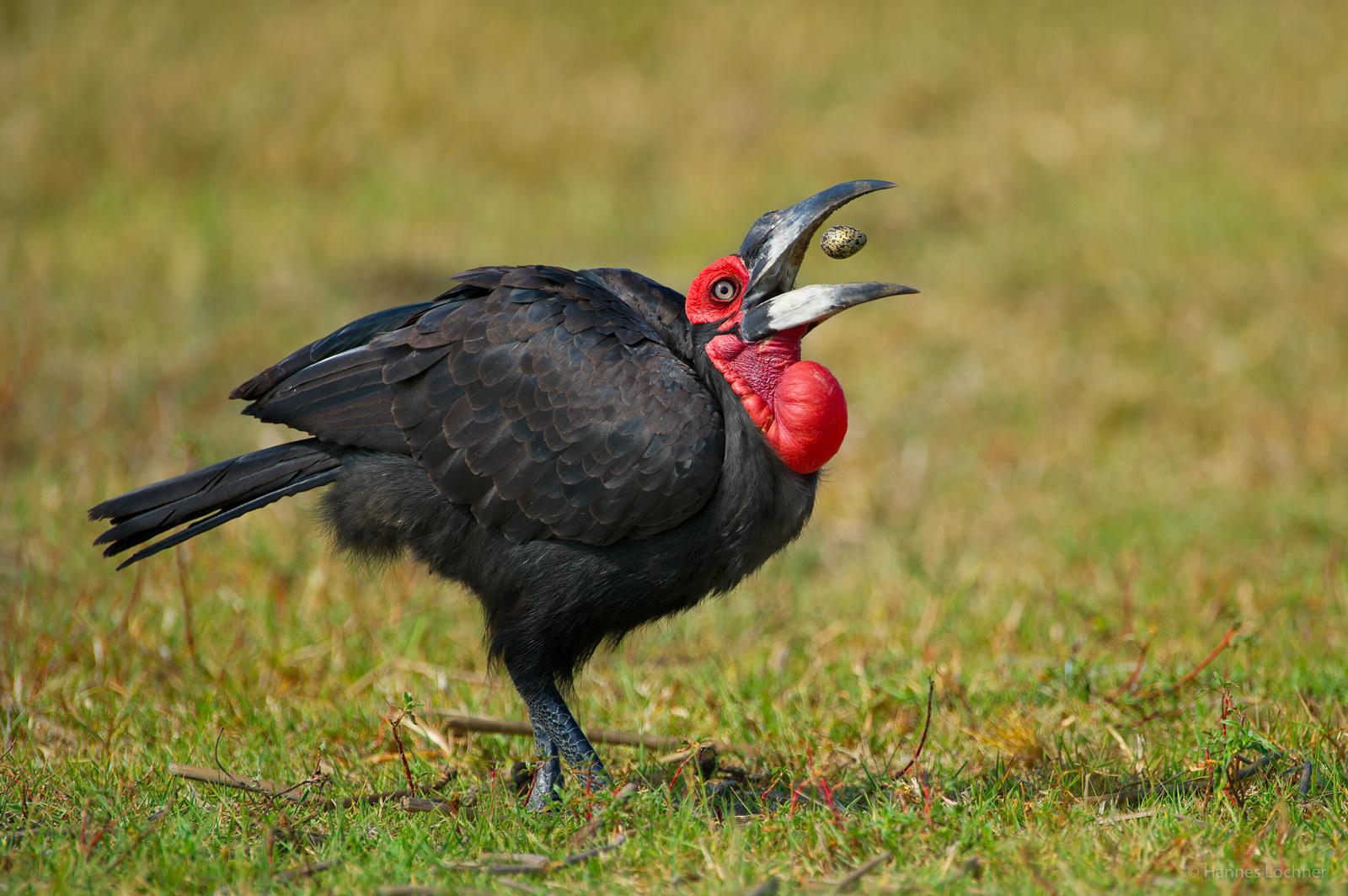 📷  Okavango Delta, Botswana © Hannes Lochner
Eggs for breakfast
A southern ground-hornbill throws a blacksmith lapwing's egg up before swallowing it. It finished off both eggs while the lapwings dive-bombed it to no avail.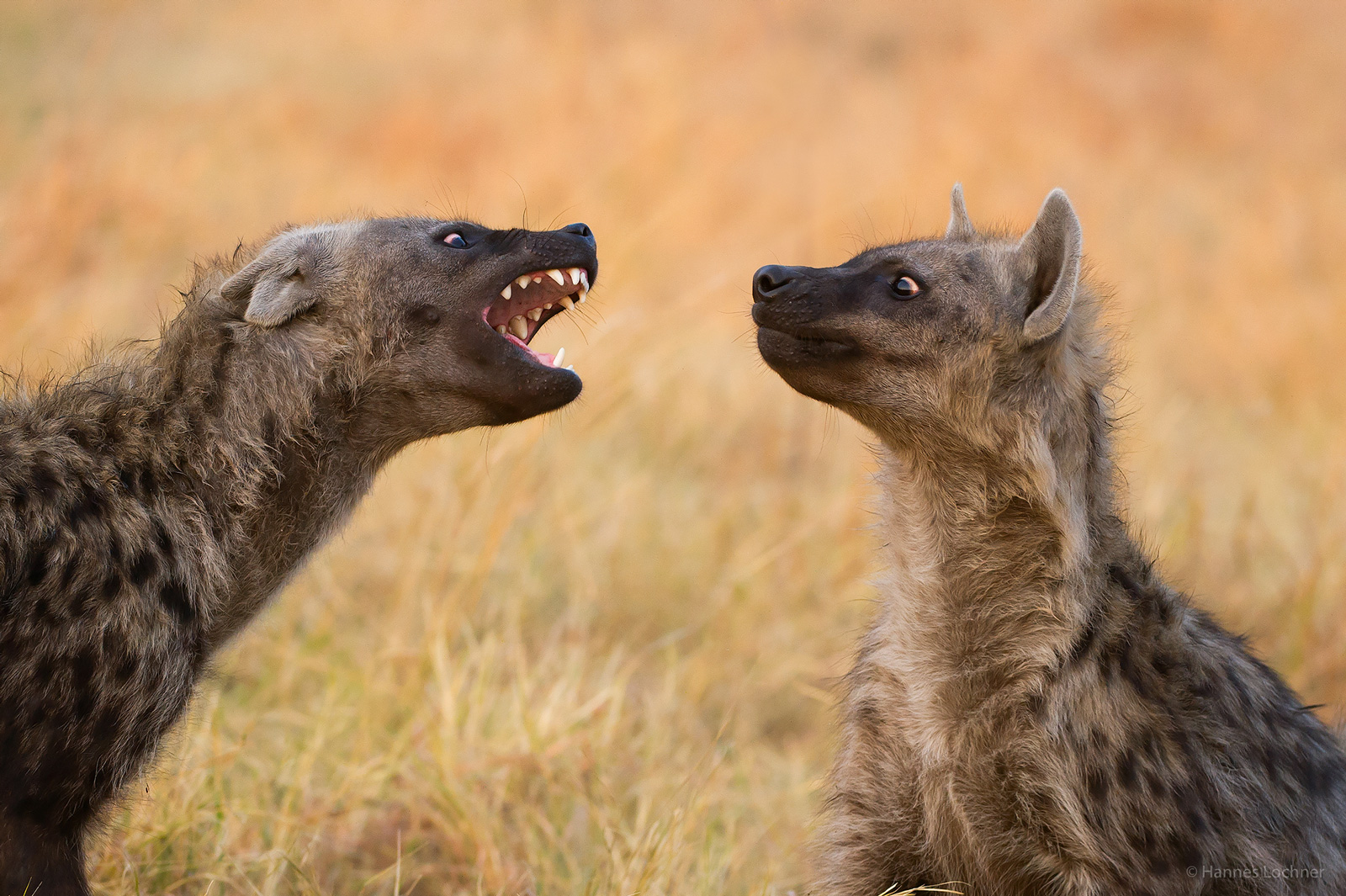 📷  Okavango Delta, Botswana © Hannes Lochner
The dentist
Two hyenas have a squabble over the remains of a leopard kill. Hyenas will scavenge and hunt when given the opportunity. They are accomplished hunters and get up to 75% of their food from their own kills. In the Okavango, the percentage may be even greater. They are renowned and highly effective scavengers and carrion can be detected by the smell from as far as 4 km downwind as well as the sounds made by other predators and scavengers.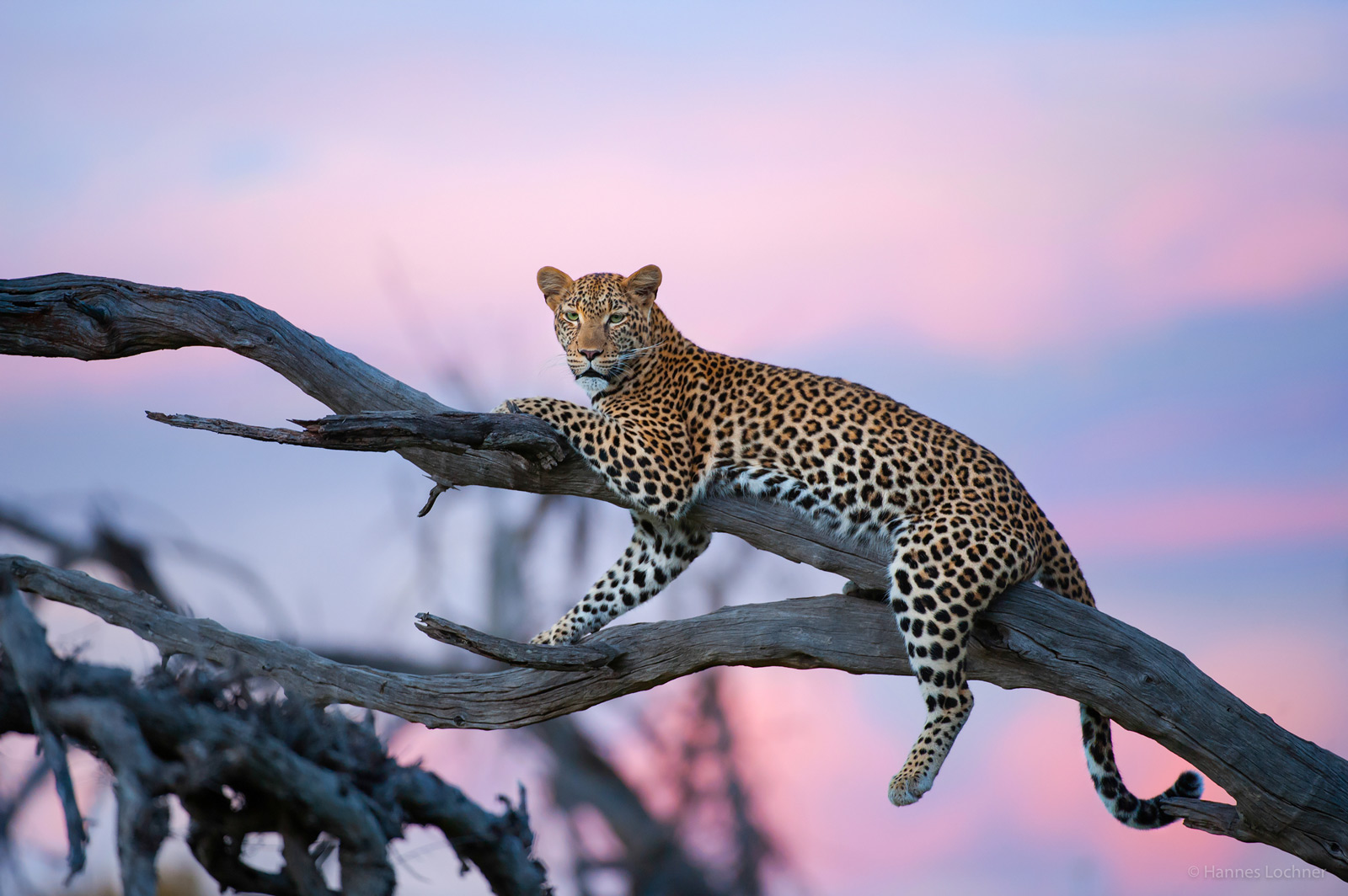 📷  Okavango Delta, Botswana © Hannes Lochner
Pink panther
The beautiful pastel shades of a summer cloud serve as an afternoon backdrop for a leopard on the lookout for possible prey. It is time to hunt.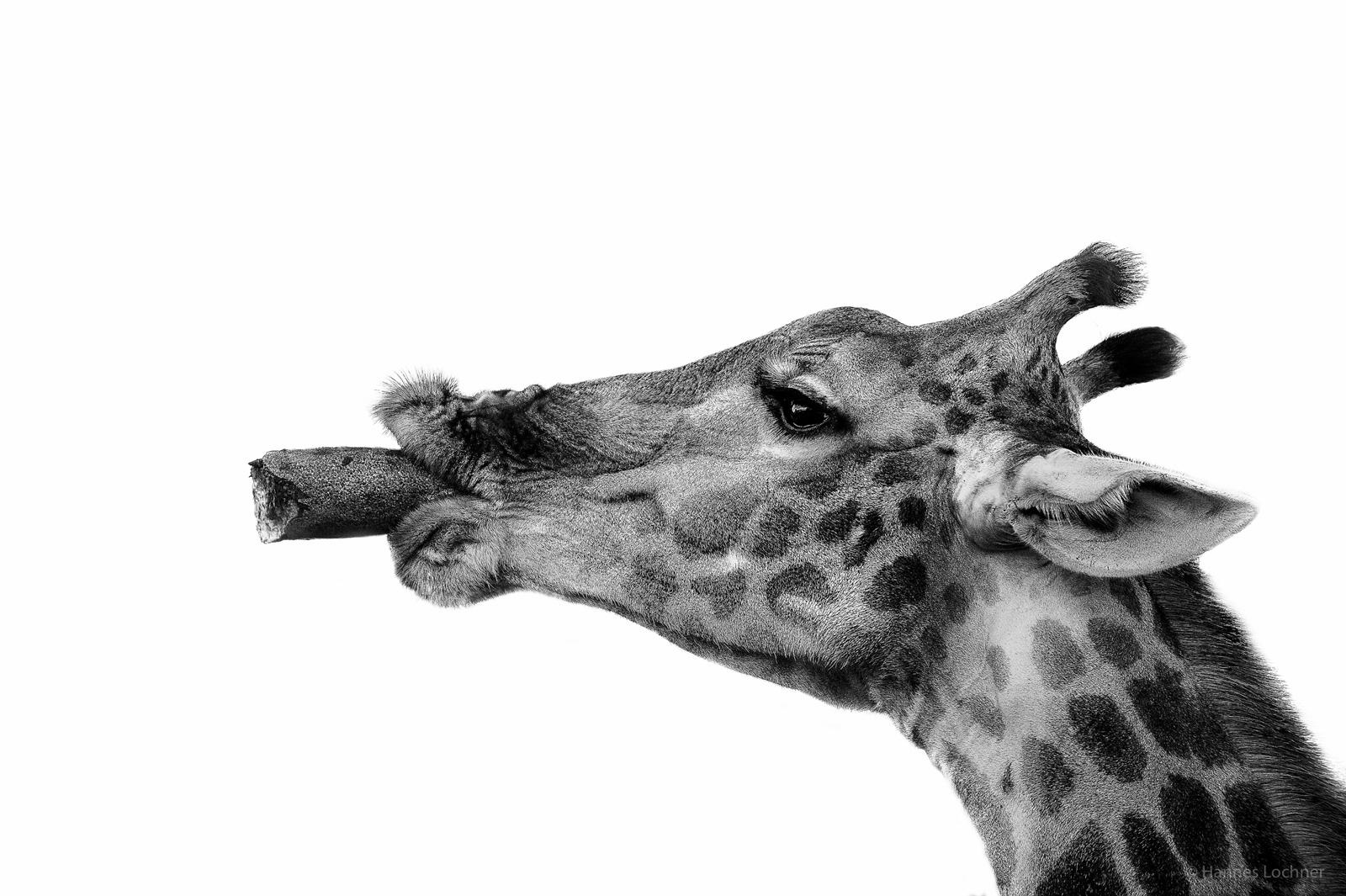 📷  Okavango Delta, Botswana © Hannes Lochner
Miss Castro
A giraffe nibbles and chews on a sausage tree fruit. It is eaten by several species of mammal, including baboons, bush pigs, elephants, giraffes, hippos, monkeys and porcupines. In short, everyone loves a vegetarian sausage.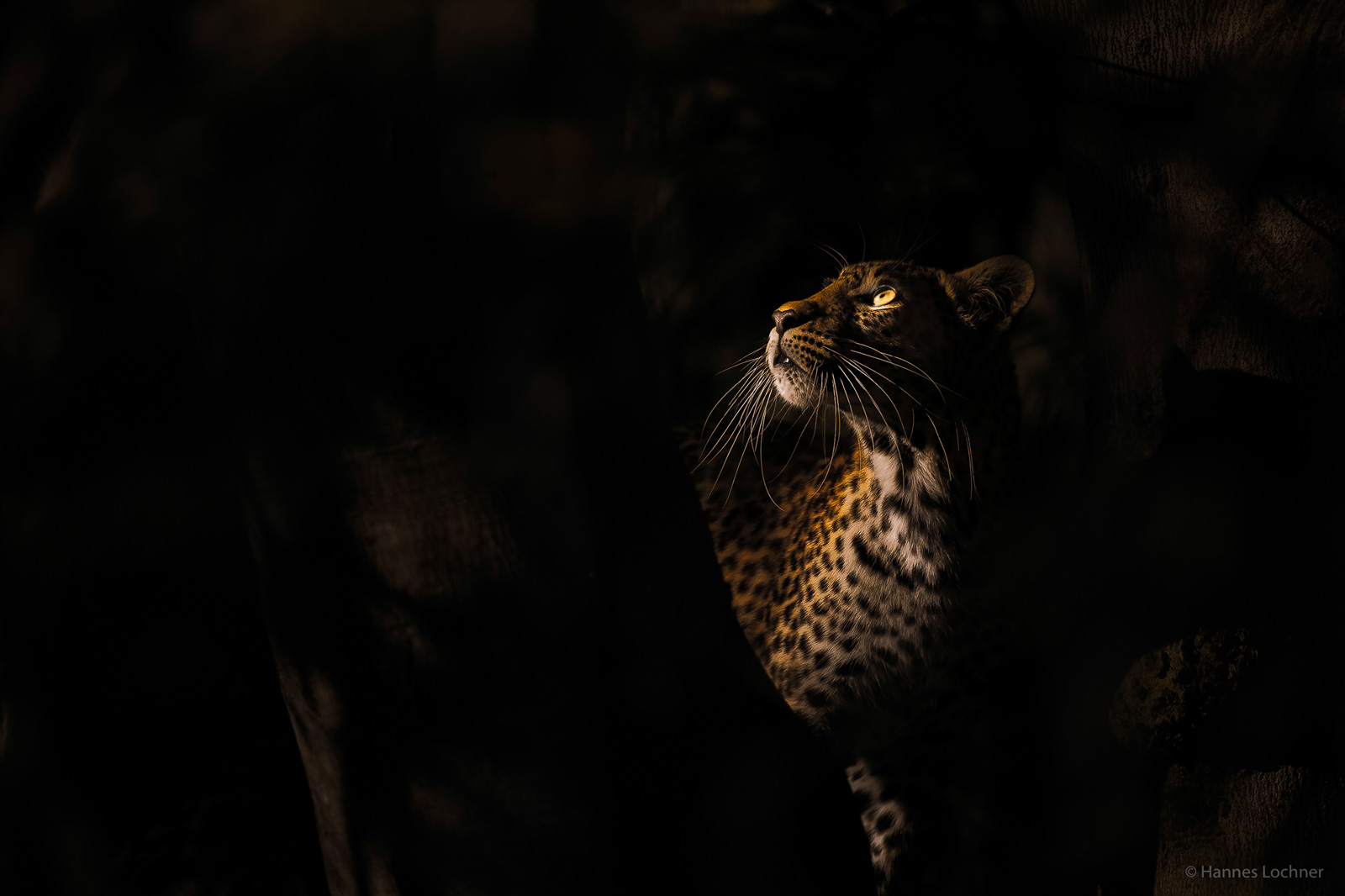 📷  Okavango Delta, Botswana © Hannes Lochner
Squirrel hunter
In the northern part of the Okavango Delta, a mother leopard with her two cubs are well known for hunting squirrels, even though the area where they normally hunt is covered with dense bush. When hunting, the cubs will drive the squirrels towards their mother – a great and successful collaborative hunting technique.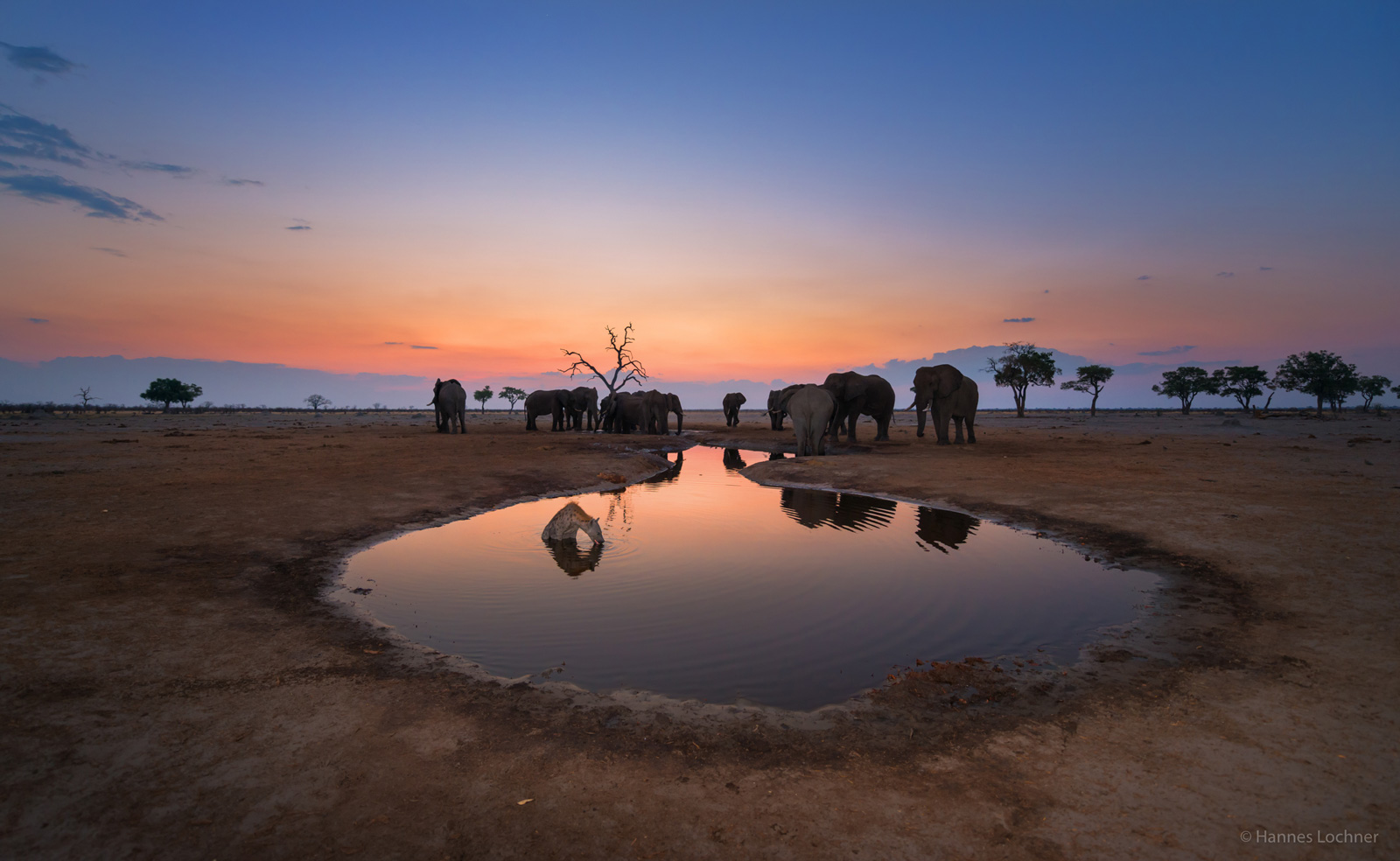 📷  Okavango Delta, Botswana © Hannes Lochner
Cooling off
A hyena cools off after a 40ºC day in the middle of summer. Temperatures can reach 45ºC in the shade in certain areas of the Delta. Hyenas also swim or soak their bodies to get rid of ticks.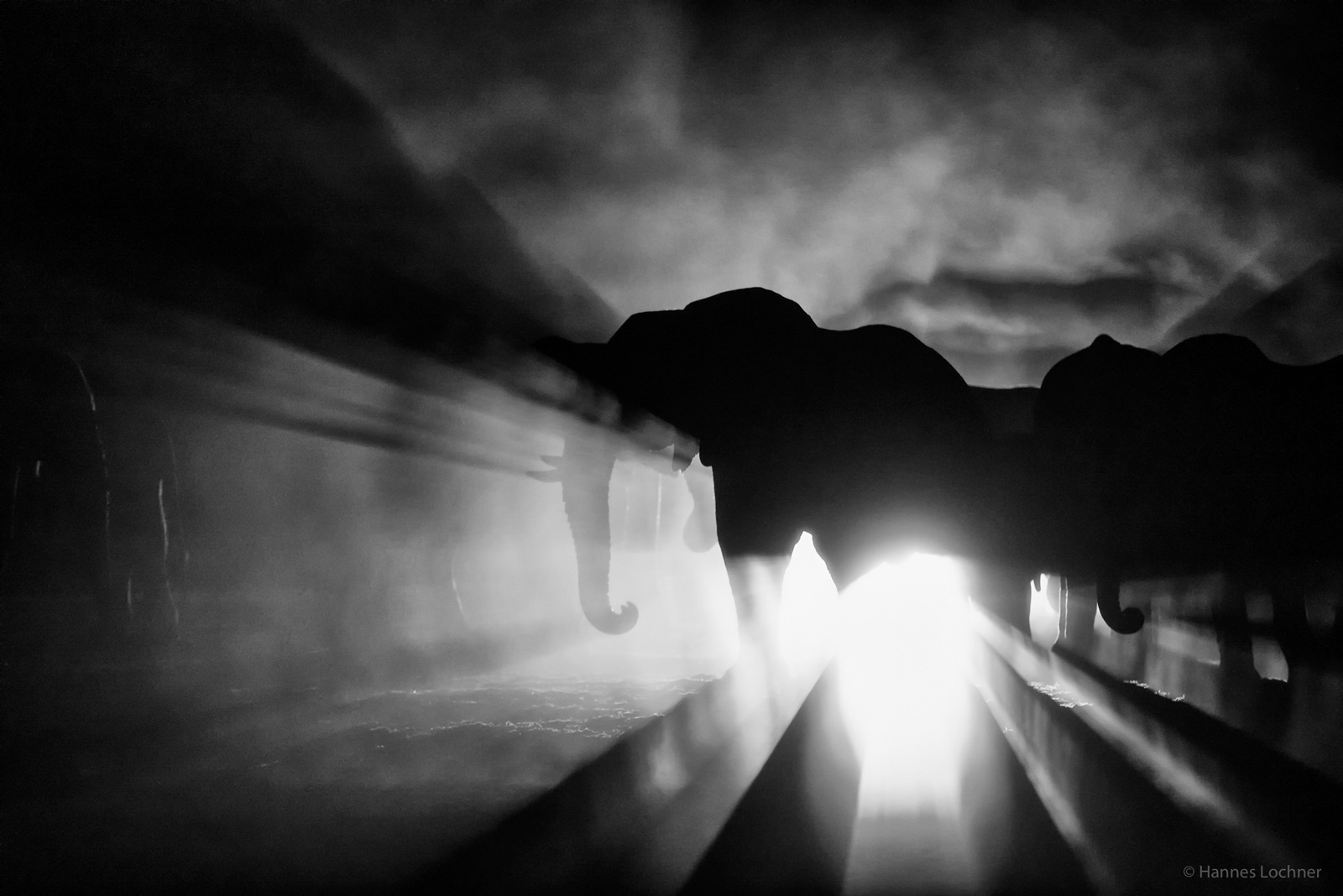 📷  Okavango Delta, Botswana © Hannes Lochner
Backlit
While we were driving back to camp, a herd of around 30 elephants started crossing the road ahead of us, kicking up a cloud of dust. Another vehicle approached from the other direction, and I took the opportunity to photograph the elephants with the headlights of the vehicle behind them.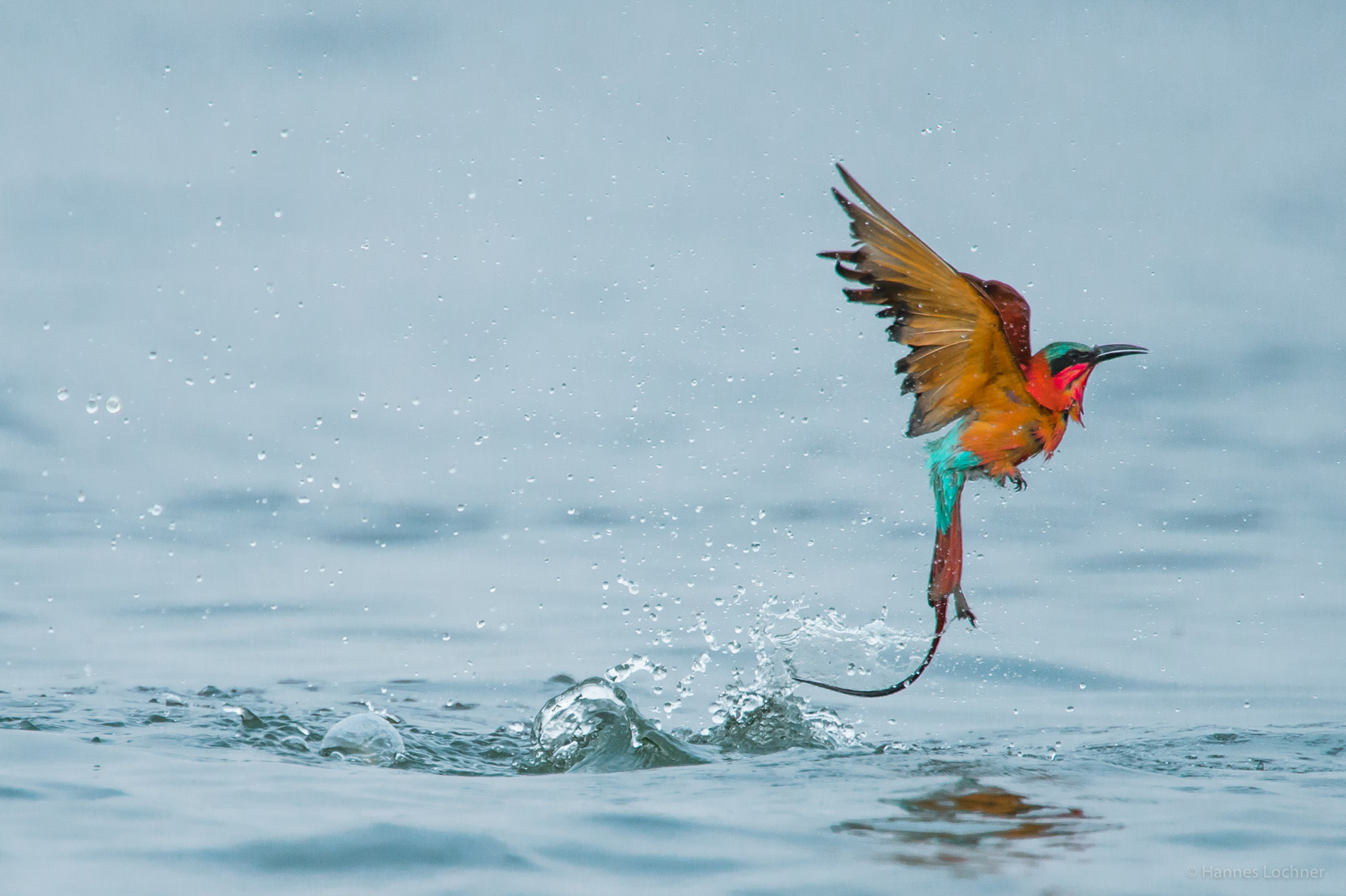 📷  Okavango Delta, Botswana © Hannes Lochner
Splash
Carmine bee-eaters flock in their thousands in the Delta. On most afternoons, the birds will have a quick dip in the river. They will do this once only and then sit on a nearby tree, drying and preening their feathers.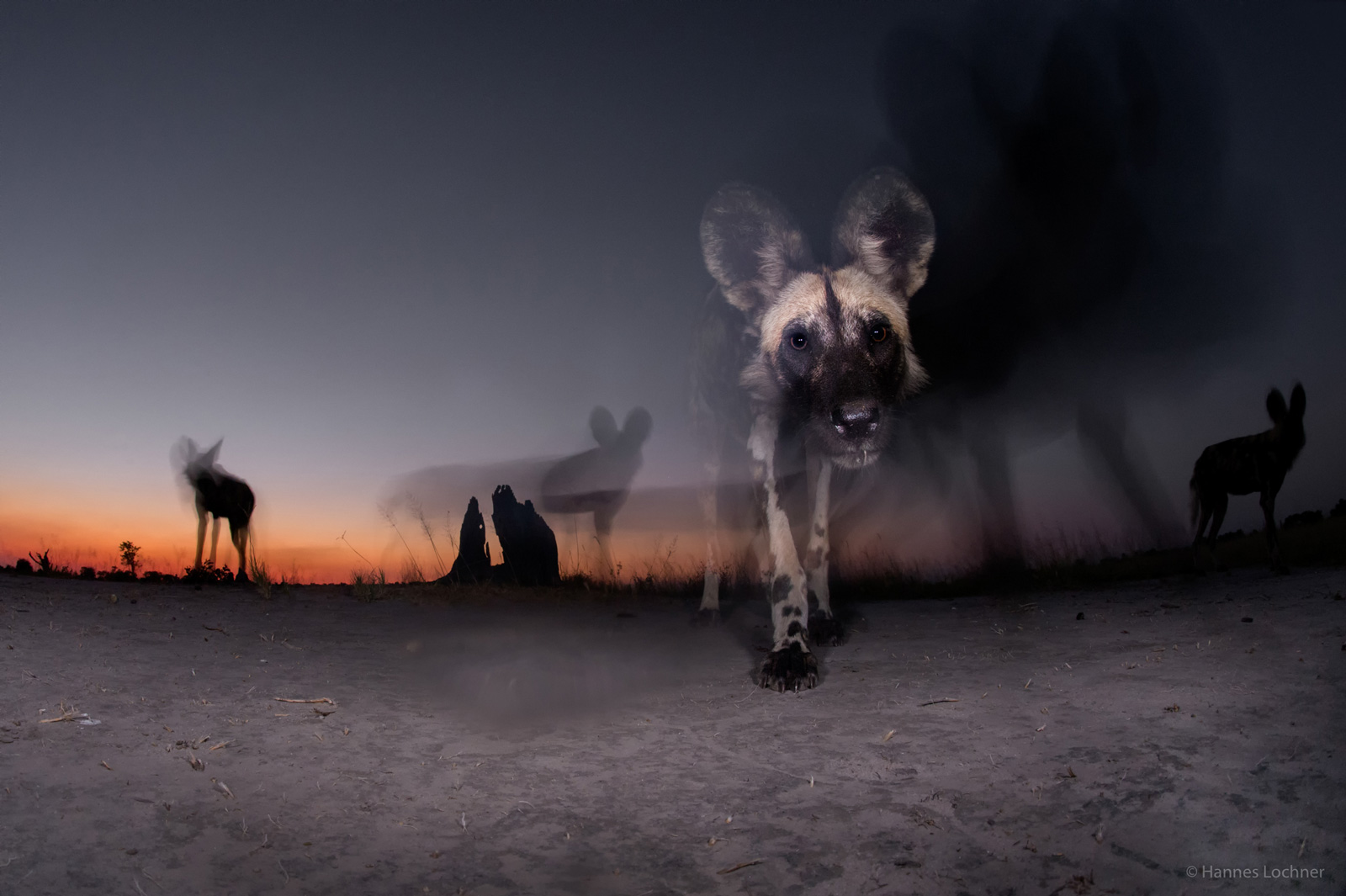 📷  Okavango Delta, Botswana © Hannes Lochner
Painted dogs
One of the most endangered species on Earth is the wild dog. The current population has been estimated at roughly 39 sub-populations, comprising of 6,600 adults, of which only 1,400 are fully grown. These populations continue to decline due to habitat fragmentation, human persecution and outbreaks of disease.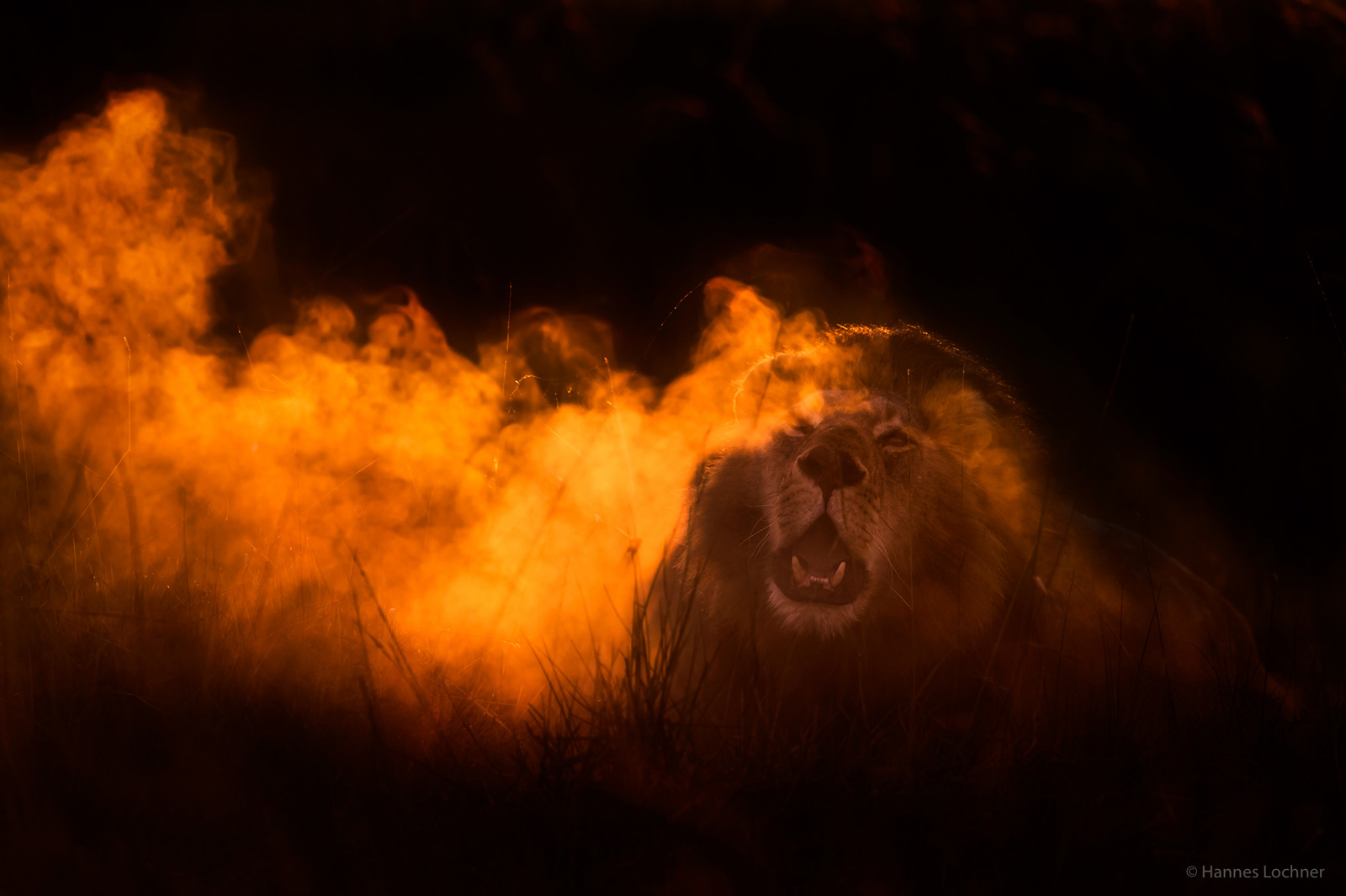 📷  Okavango Delta, Botswana © Hannes Lochner
Morning roar
Winter mornings in the Okavango Delta can get as cold as -2ºC. On this particular morning, I placed the lion between myself and the rising sun and was able to capture the steam – backlit by the sun – coming from his muzzle. This was a longtime dream composition of mine since my Kalahari days more than seven years ago. After two years in the Delta, I eventually managed to achieve this evasive goal. Patience makes all the difference.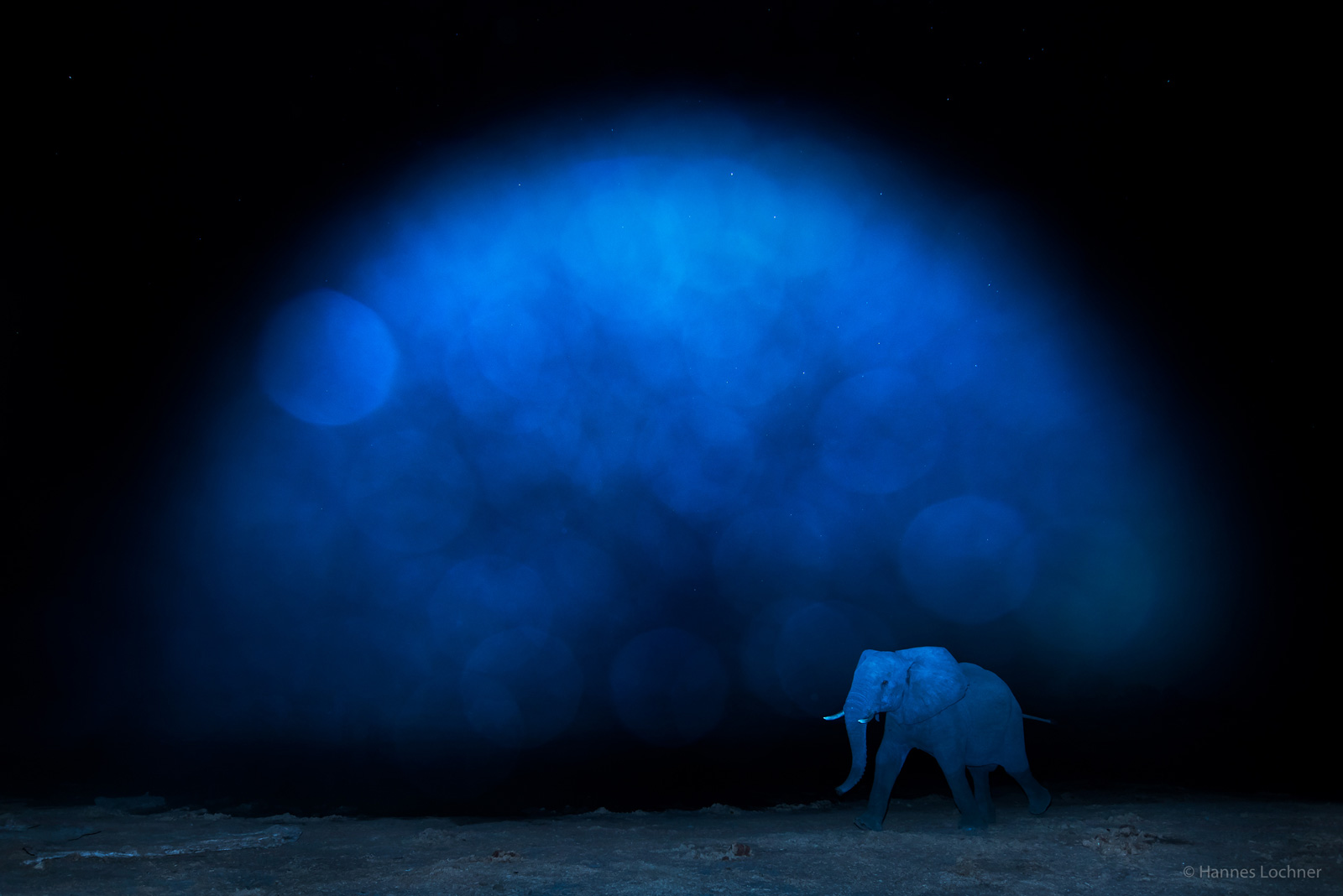 📷  Okavango Delta, Botswana © Hannes Lochner
Dusty halo
An elephant bull is chased by another from a small dam. Elephants get possessive over waterholes during the dry season, which can result in large bulls fighting, contesting residency. In this photo, the dust had formed a beautiful halo around the waterhole, where hundreds of elephants waited for a turn to drink.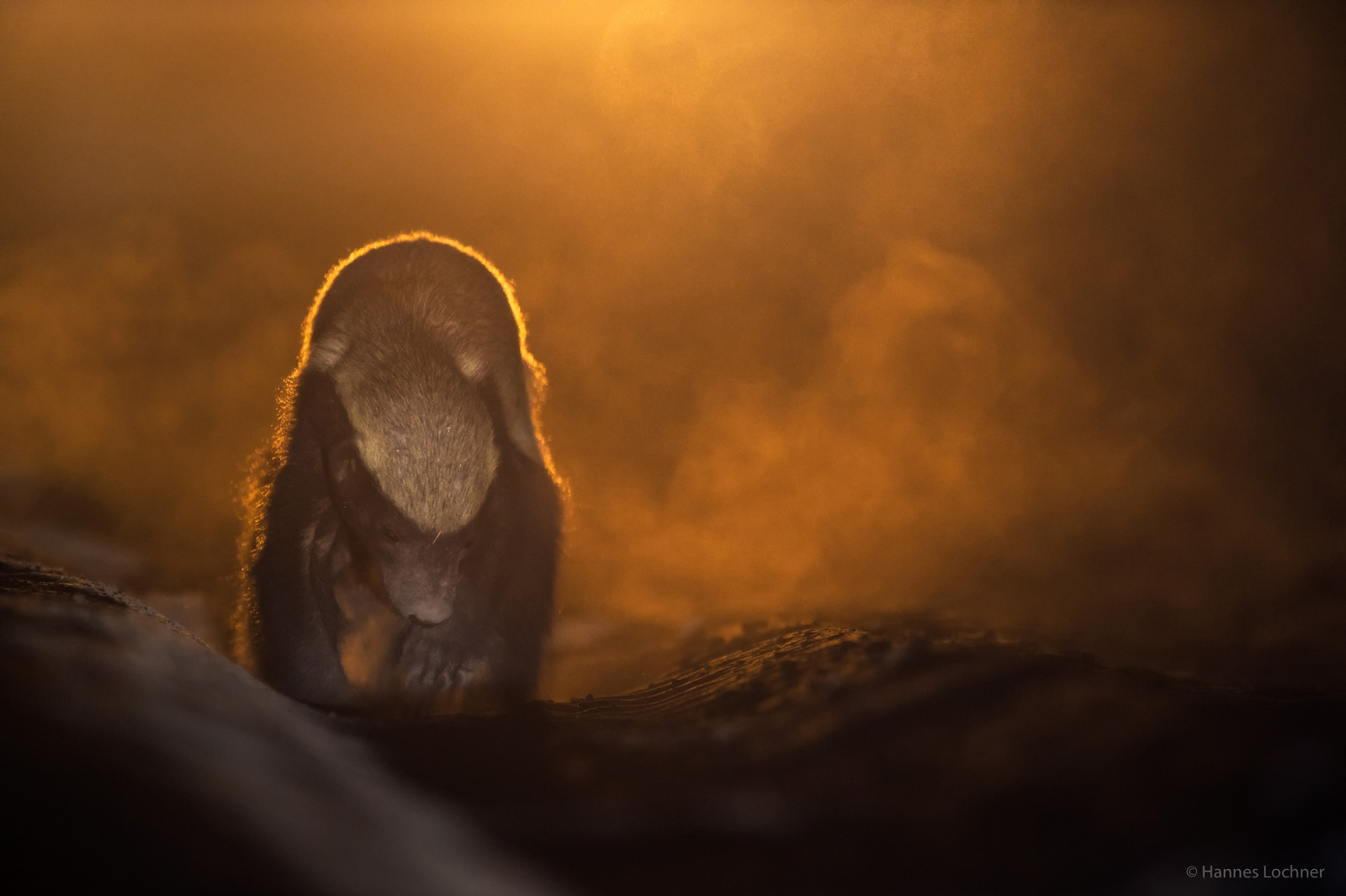 📷  Okavango Delta, Botswana © Hannes Lochner
Digging for gold
A honey badger digs in the sand for mice. They locate their prey predominantly by their acute sense of smell and catch most of their prey through digging – as many as fifty holes may be dug in a single foraging period.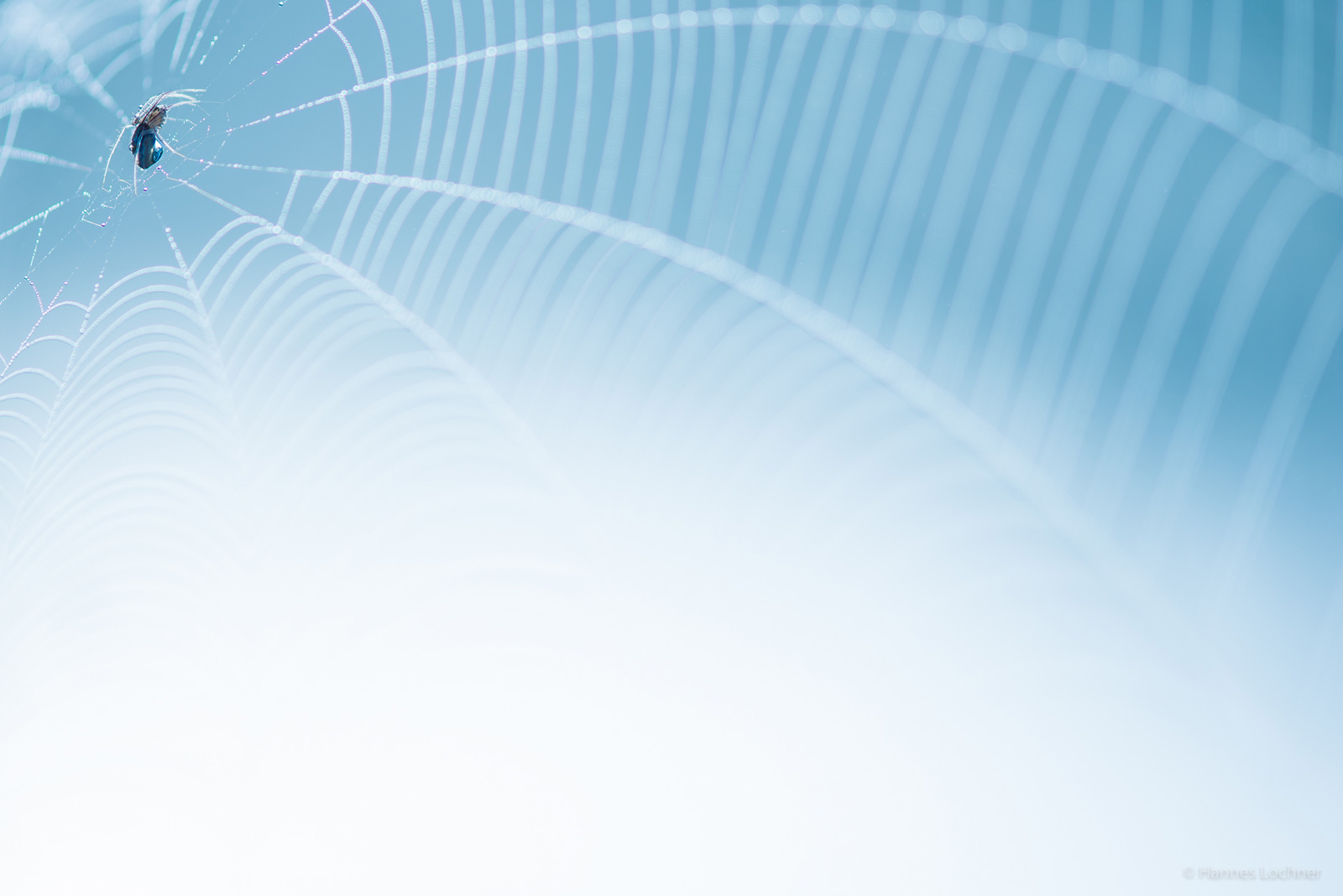 📷  Okavango Delta, Botswana © Hannes Lochner
Morning dew
A small orb spider collects water droplets to drink, formed on its web by fog in the early morning of the colder months in Moremi Game Reserve.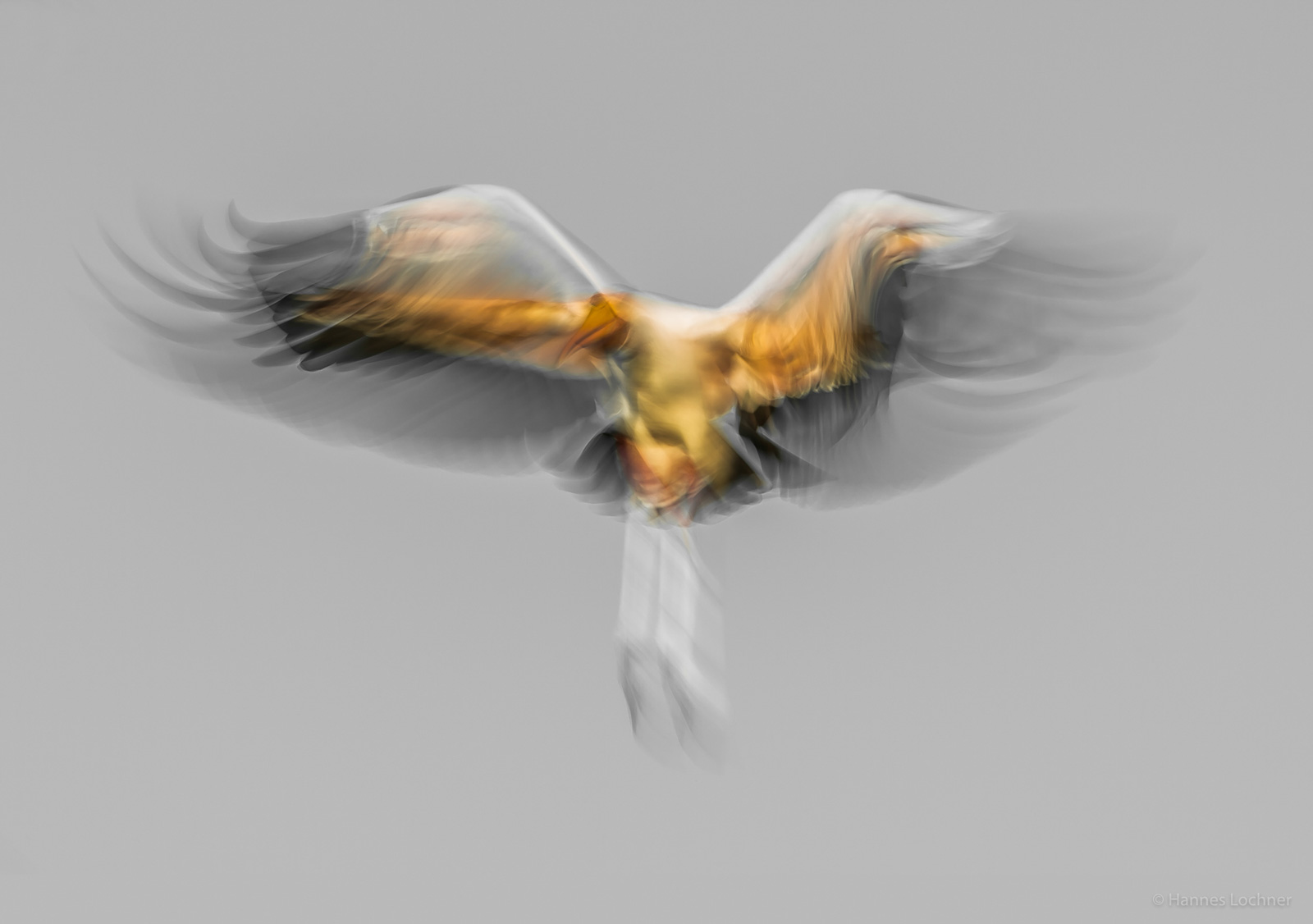 📷  Okavango Delta, Botswana © Hannes Lochner
Angel
A yellow-billed stork flies up to its nest. As with all stork species, male yellow-billed storks select and occupy potential nest sites in trees. They then display various behaviours to advertise themselves, after which females attempt to approach. One of these behaviours is display preening, in which the male pretends to strip down each of his extended wings with his bill several times on each side, but the bill does not effectively close around the feathers.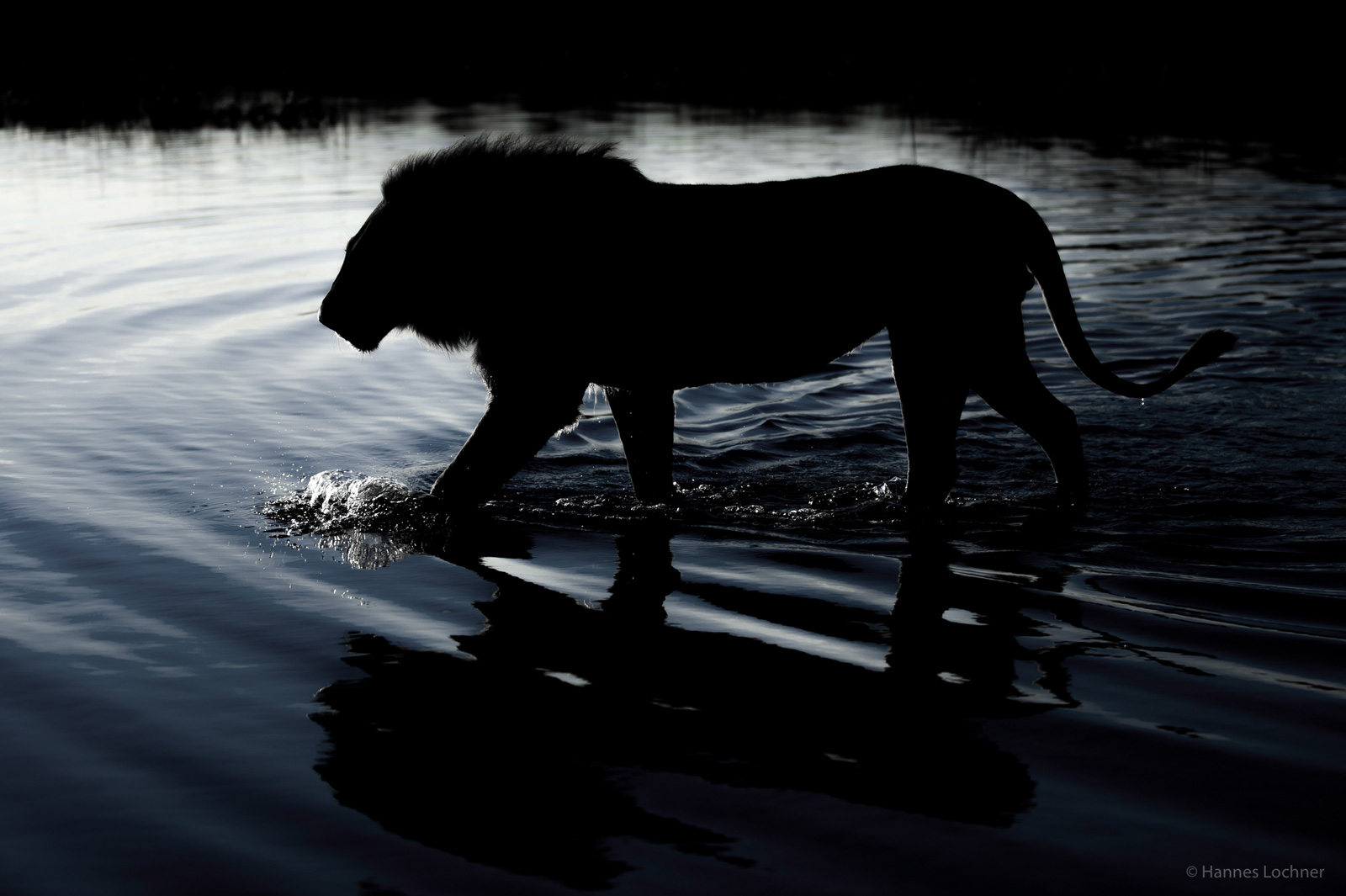 📷  Okavango Delta, Botswana © Hannes Lochner
Water lion
With so much water in the Okavango Delta during the months of plenty of June to September, lions have to adapt and move from island to island for prey. These lions are quite used to swimming, but huge crocodiles lurk in the waters and sometimes feline predators themselves become the prey of the fearsome reptiles.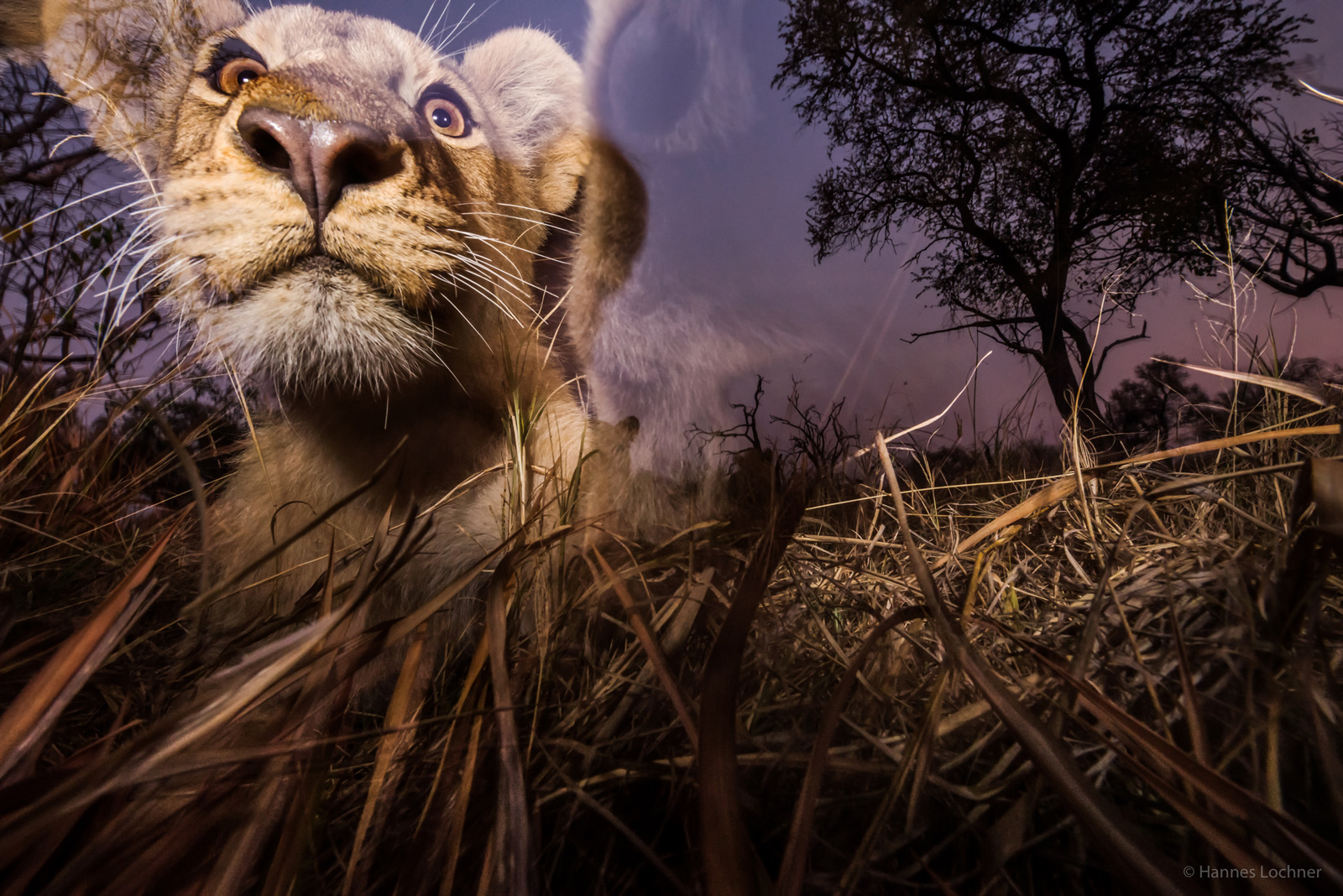 📷  Okavango Delta, Botswana © Hannes Lochner
Curiosity
Nine lions had caught a giraffe and spent over five days consuming it. Every evening they moved from the bush where the kill was to an open area to lie under the stars. I set up a hidden camera on the path and remotely triggered it. The grass was long and wet from the rain, so I tried to incorporate both the grass and the lion by pointing the camera upwards at a 50-degree angle. When a lion cub walked past the camera, and I triggered it from a safe distance.
For accommodation options at the best prices visit our collection of camps and lodges: private travel & conservation club. If you are not yet a member, see how to JOIN below this story.
To comment on this story: To protect you against trolls & misinformation, we only permit comments in our app. See how to DOWNLOAD OUR APP below.

---
HOW TO GET THE MOST OUT OF AFRICA GEOGRAPHIC:
Download our APP (mobile phone & desktop) to receive travel discounts, comment on our stories, make safe donations and network with others like you Find out more here.

Subscribe to our newsletter to receive our best stories in your inbox weekly and for travel discounts. Subscribe here.
Travel with us. Travel in Africa is about knowing when and where to go, and with whom. A few weeks too early / late and a few kilometres off course and you could miss the greatest show on Earth. And wouldn't that be a pity? Search for your ideal safari here, or contact an Africa Geographic safari consultant to plan your dream vacation.
---