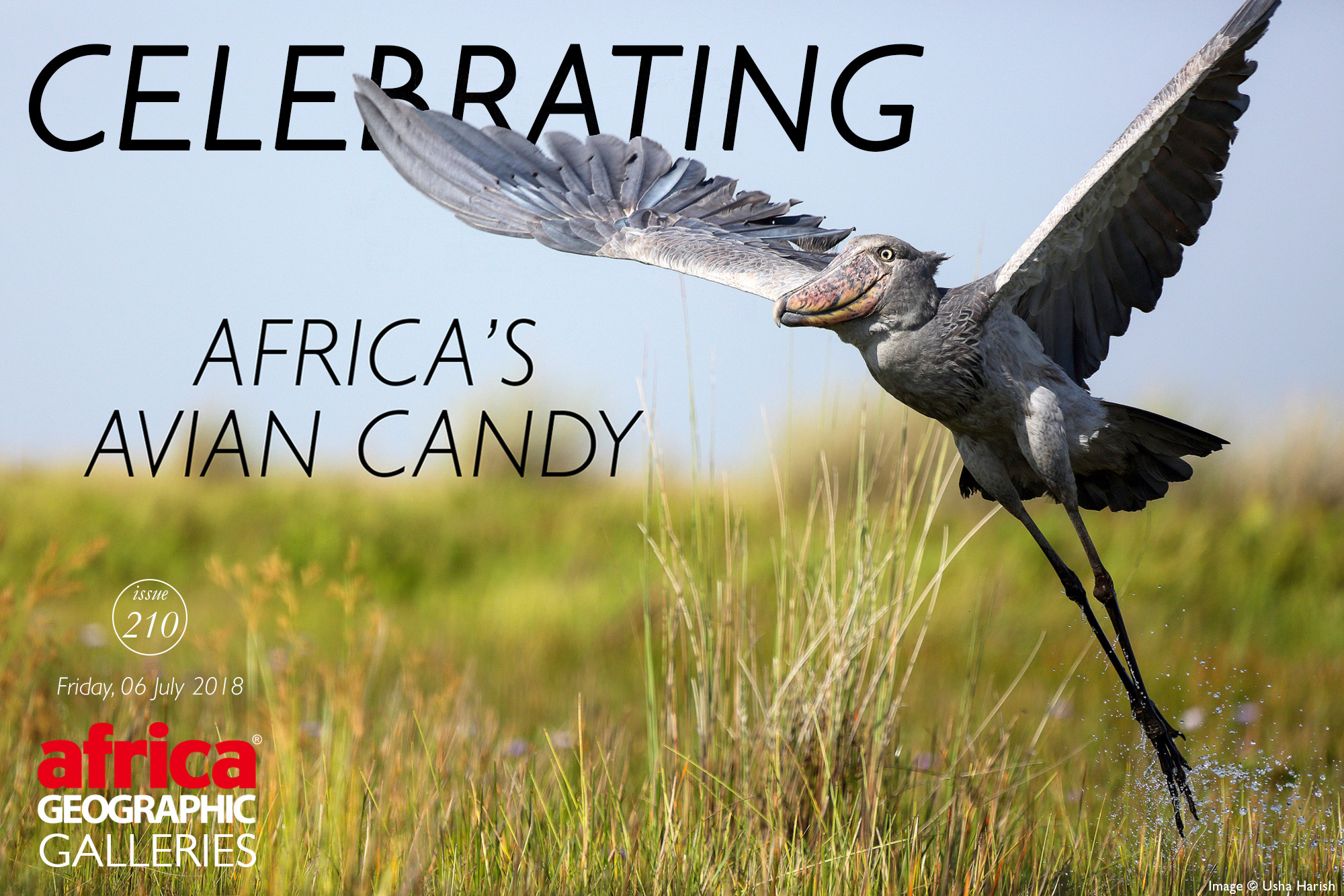 Celebrating Africa's Avian Candy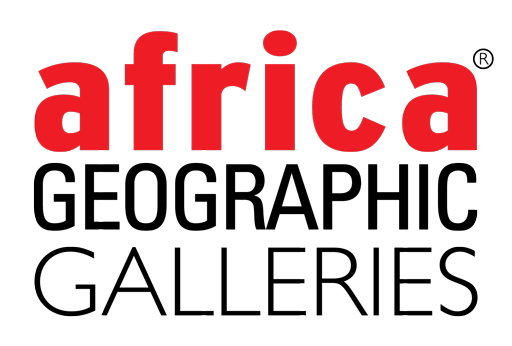 "Everyone likes birds. What wild creature is more accessible to our eyes and ears, as close to us and everyone in the world, as universal as a bird?" ~ David Attenborough
Birds may be ubiquitous and are often overshadowed by the celebrity wildlife stars like Africa's Big 5. But one thing is for sure – no matter their size, shape and colour, they will never cease to amaze and are incredibly beautiful to behold.
Found around the world, birds have adapted to life in the wilderness. From forest, jungles and the open bush, to deserts, high mountains and far out at sea, birds can be found everywhere!
Globally there are approximately 9,500 bird species, and of that almost 2,500 have been seen in Africa and its associated islands. We are now going to take some time out to admire and appreciate some of these African birds in our gallery, Africa's Avian Candy, which comprises of a selection of stunning photos, along with some interesting facts. And they're not just any photos; they're some of the special photos submitted during our Photographer of the Year 2016, 2017 and 2018 competitions.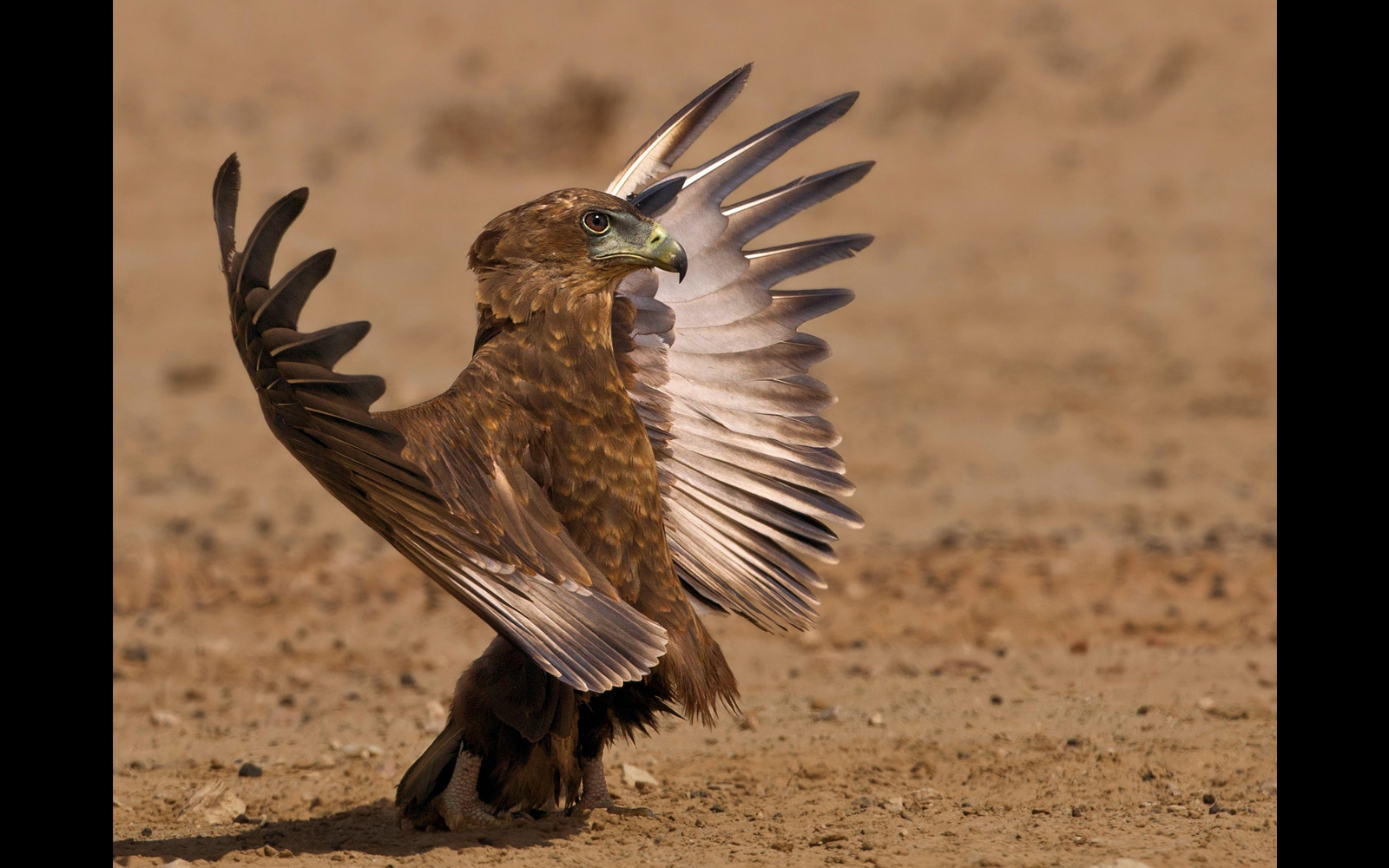 ?  A juvenile bateleur sunbathing in Kgalagadi Transfrontier Park, South Africa © Fanie Heymans (Photographer of the Year 2018 entrant)
Bateleur eagles can often be seen spending their time at waterholes during the heat of the day, frequently entering the water for a bath and then opening their wings to sunbathe. By exposing their wing feathers to direct sunlight, the oils in their feathers warm-up, which the bird then spreads over the feathers with its beak to improve aerodynamics.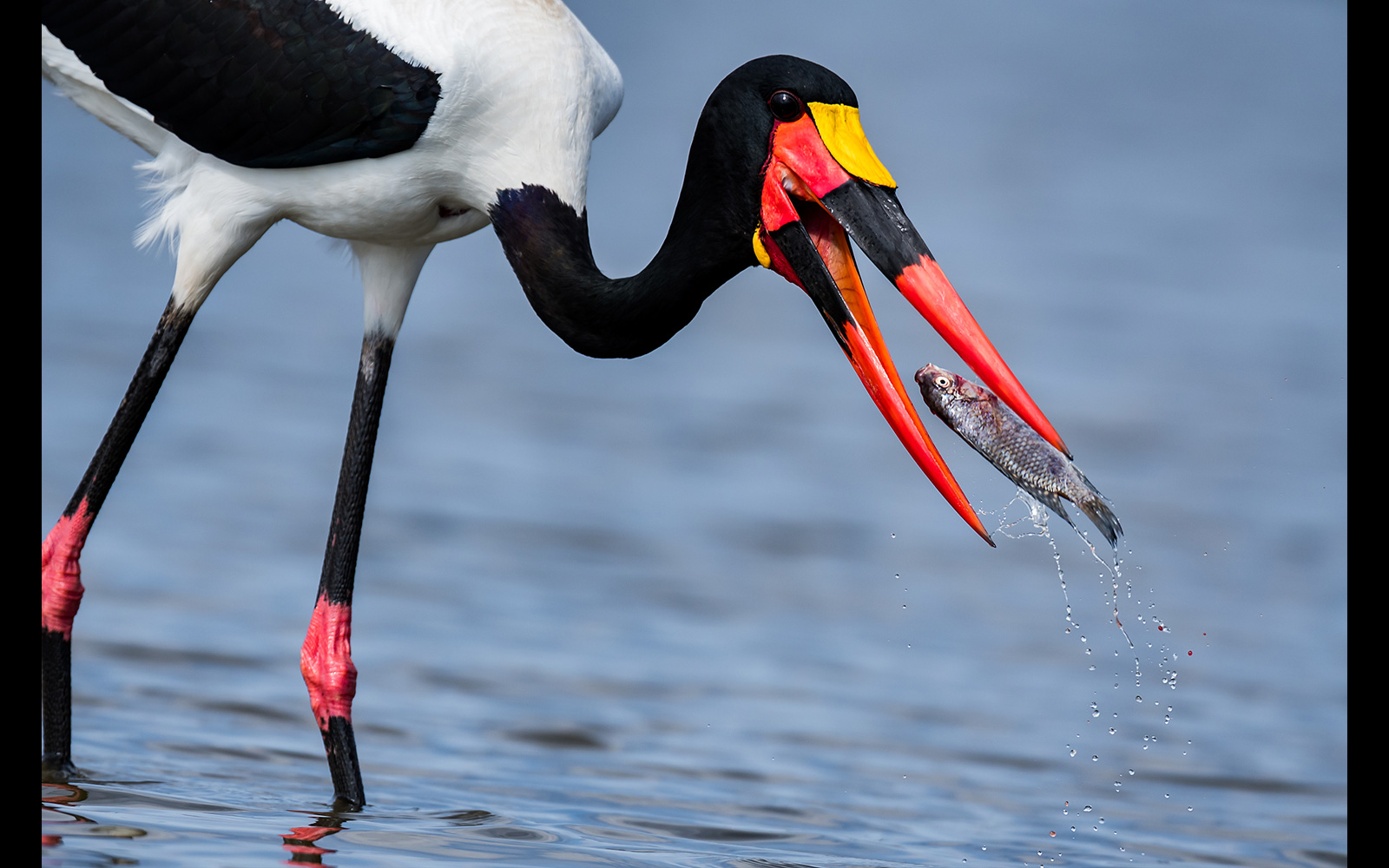 ?  Saddle-billed stork fishing in Lake Naivasha, Kenya © Matrishva Vyas (Photographer of the Year 2018 entrant)
Saddle-billed storks feed on a variety of aquatic species, such as fish, crustaceans (crabs, shrimps), and amphibians (frogs). The storks use their bills to stir up the water to flush out the fish, causing the water (and the fish) to become muddy, so often you will see them washing their fish before consuming them whole.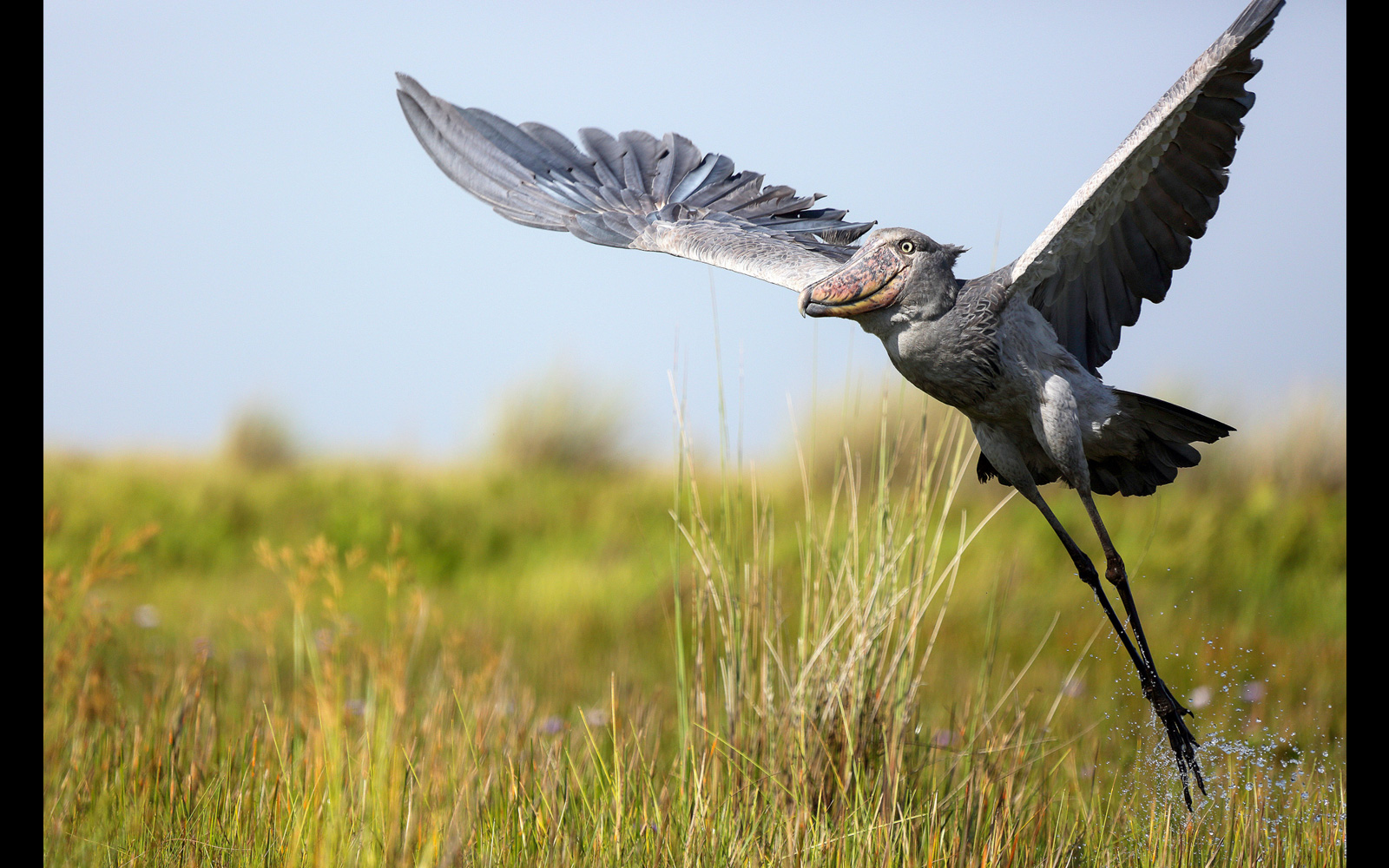 ?  "Protect my habitat" – a shoebill in Mabamba Swamps, Uganda © Usha Harish (Photographer of the Year 2018 entrant)
Shoebills
 may be big, but they can fly if they want to. Granted, they don't fly very far, and long flights are rare, but flying is no mean feat considering they can grow up to 1.5 metres tall and can weigh up to 7kg.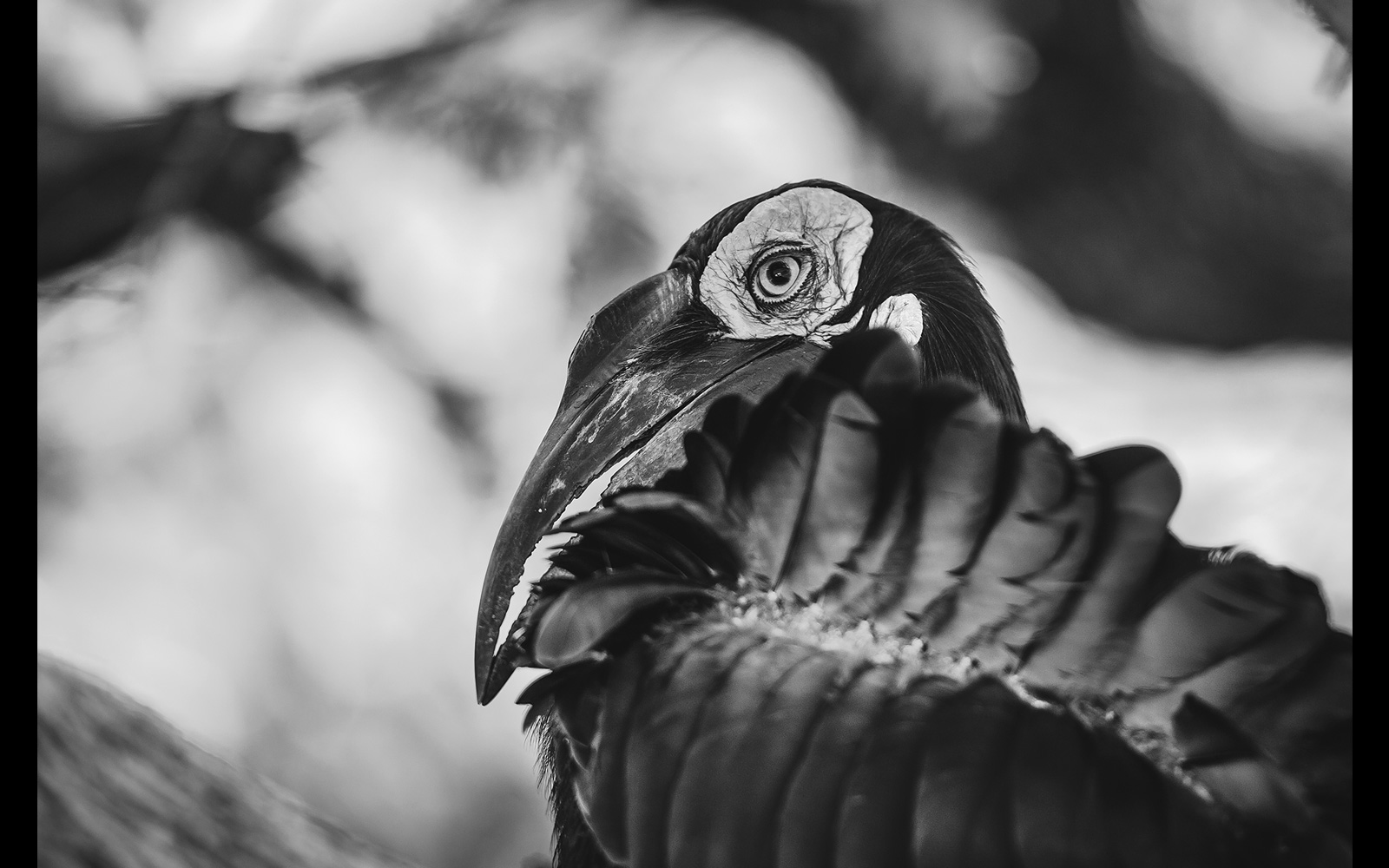 ?  "Perched in the wind" – a southern ground-hornbill's feathers are ruffled by the breeze in Kruger National Park, South Africa © Chantelle Melzer (Photographer of the Year 2018 Top 101)
In Africa, southern ground-hornbills are classified as 'Vulnerable' by the IUCN; however, those in South Africa are classified as 'Endangered' as only about 1,500 individuals live within the country. Loss of habitat, loss of nesting trees, electrocution from transformer boxers and even, in some cases, killed for use in traditional medicine, have all contributed to the rapid decline of these majestic birds.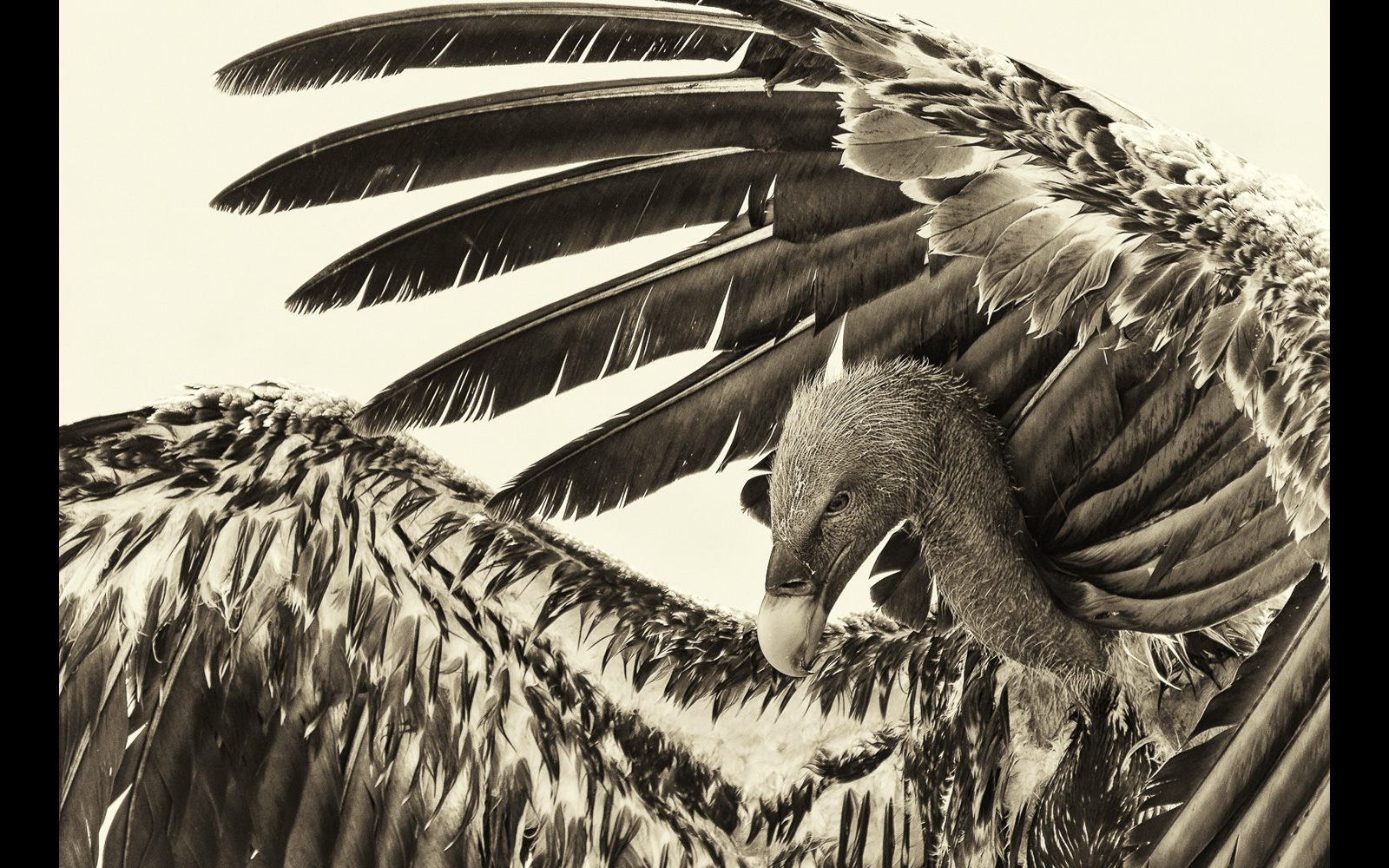 ?  A Rüppell's vulture in Maasai Mara National Reserve, Kenya © Sushil Chauhan (Photographer of the Year 2018 Winner)
"While waiting for over two hours in the hot equatorial sun for a migration crossing to happen, I decided to change my focus to a group of vultures that were feeding on a drowned wildebeest carcass. Fully fed, this beauty decided to dry off its wings in the sun, which produced this interesting image of a great raptor. These raptors face many problems, from loss of habitat, reduced breeding sites, and reduction in large ungulates (resulting in fewer sources of food), to death from poisoning, the witchcraft trade and collisions with power lines. They play such an important role in making sure that diseases such as rabies and anthrax do not spread, and they also help cycle nutrients back into the ecosystem. We must help conserve these amazing raptors at all costs." ~ Sushil Chauhan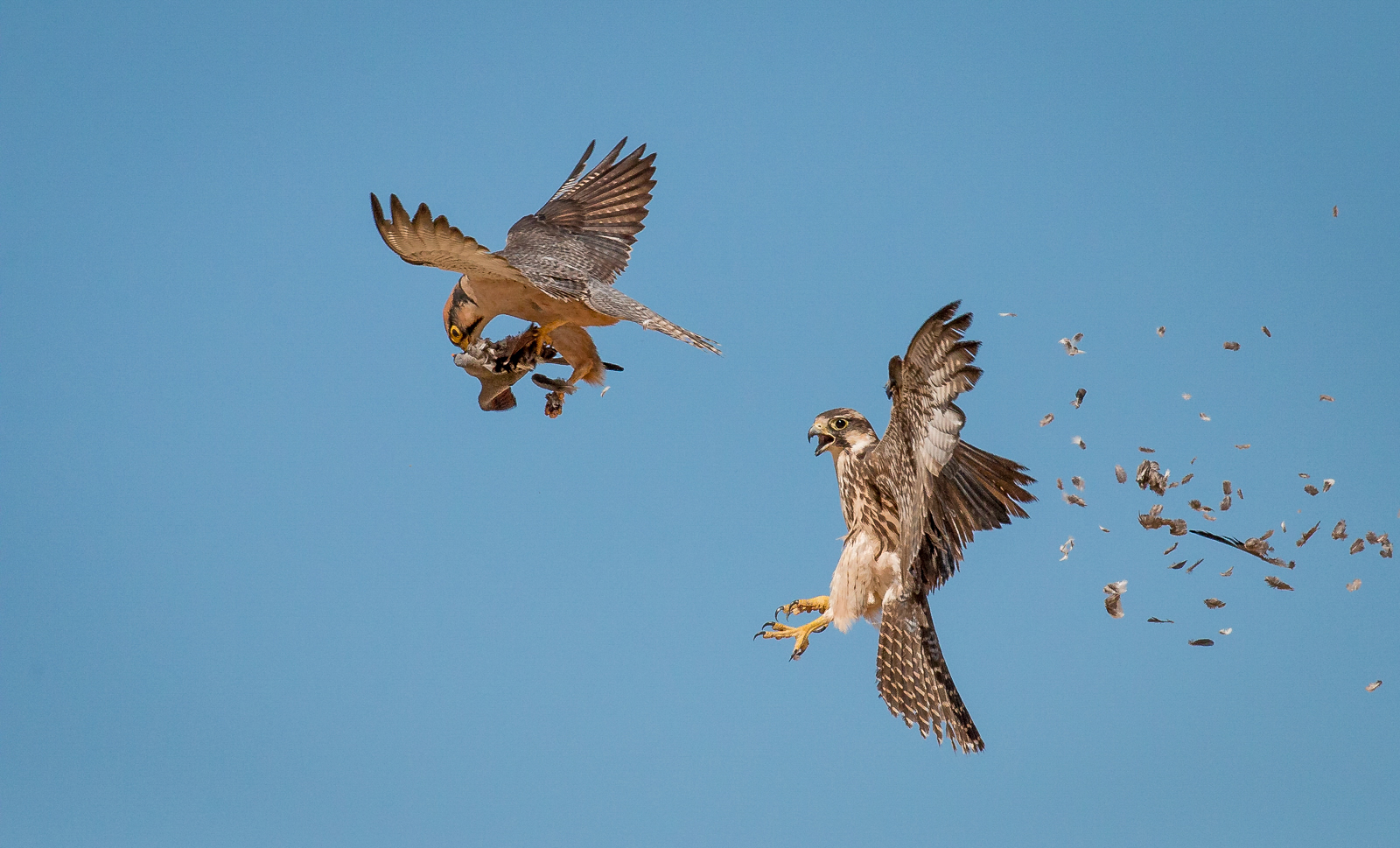 ?  "Disappointment in the air" in Kgalagadi Transfrontier Park, South Africa © Olli Teirilä (Photographer of the Year 2017 Finalist)
"Two lanner falcons, an adult and a juvenile were on the hunt at the Cubitje Quap waterhole in the Kgalagadi. From the nearby trees, they observed the smaller birds enjoying a drink. Now and then they would make their swoop, and on one of these swoops, the adult caught a Namaqua dove. The juvenile, with nothing to show for its efforts, attacked the adult, trying to steal its kill. Feathers flying, the adult held on to its prize and flew away while the juvenile was left to contemplate its disappointment in the air."~ Olli Teirilä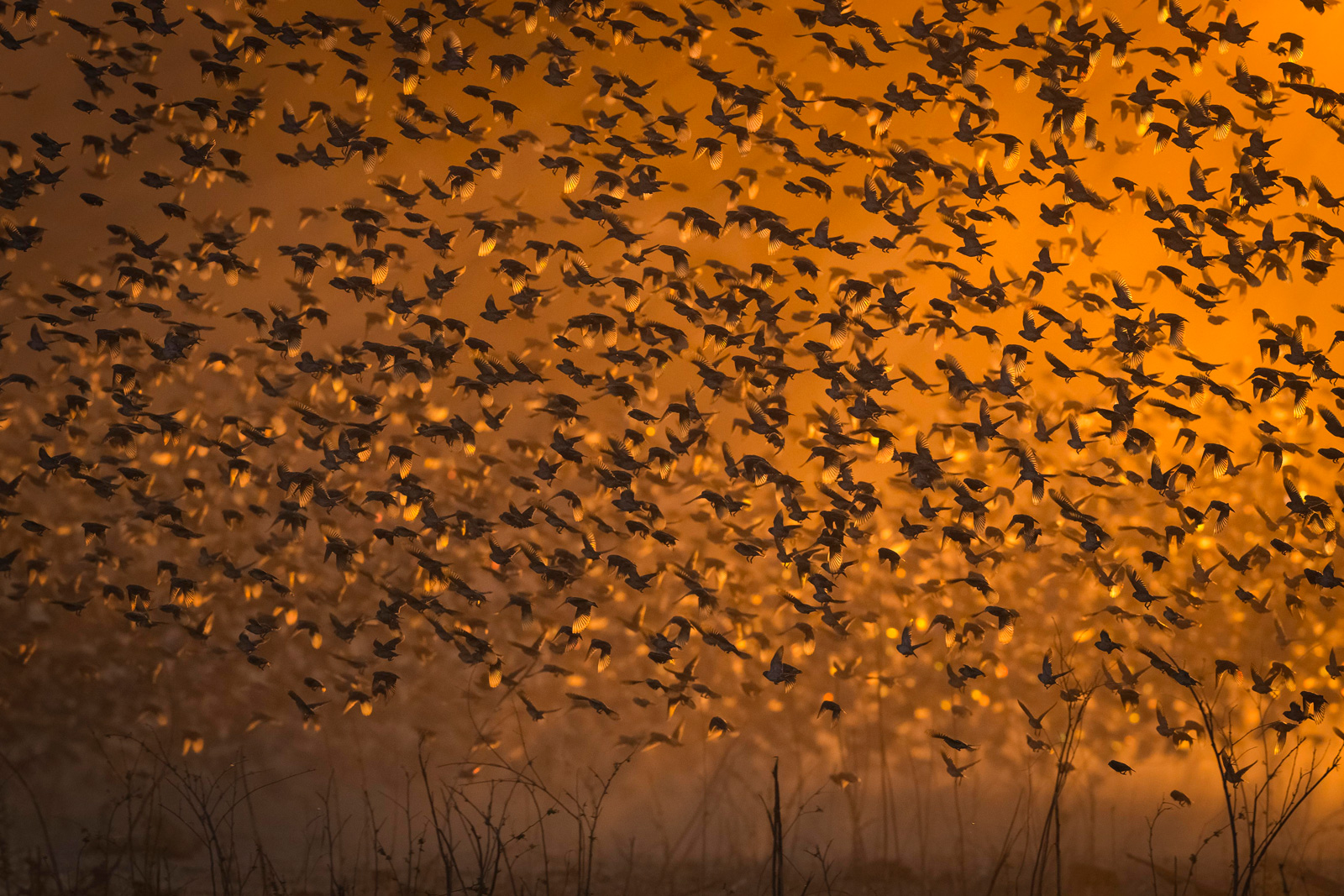 ?  Red-billed queleas searching for seeds in Mana Pools National Park, Zimbabwe © Jens Cullmann (Photographer of the Year 2017 Top 101)
Red-billed queleas form flocks which can contain thousands of birds. They are considered a major problem bird in some areas as they can cause a lot of damage to cereal crops. With the adult breeding population at approximately 1.5 billion pairs, red-billed queleas are the most common wild bird in the world.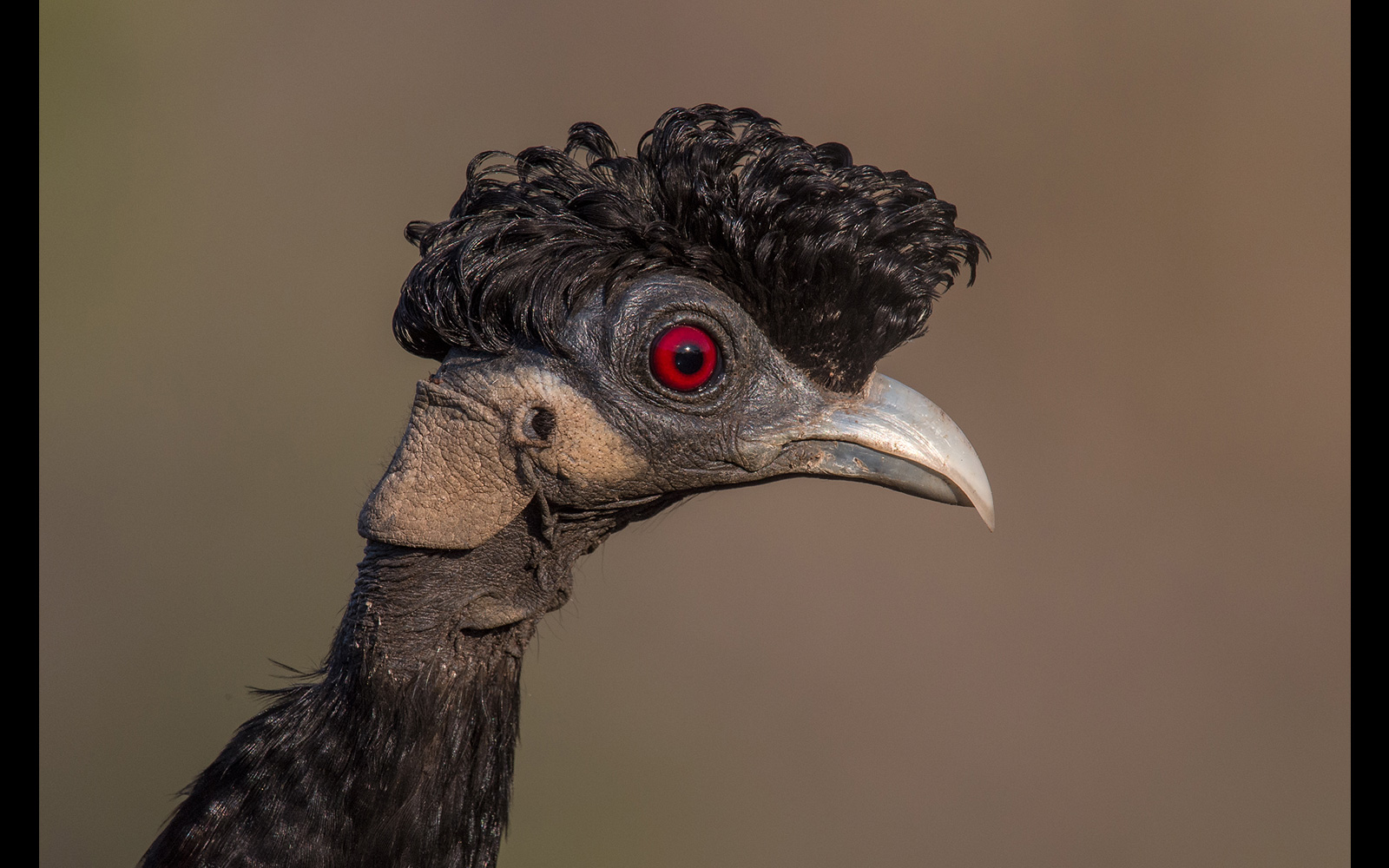 ?  Up close of a crested guineafowl in Zimanga Private Game Reserve, South Africa © Johan J. Botha (Photographer of the Year 2018 entrant)
Crested guineafowl are named because of the curly tufts on their head. They inhabit central parts of Africa, ranging throughout all the forest territories, as well as a handful of regions in southern Africa.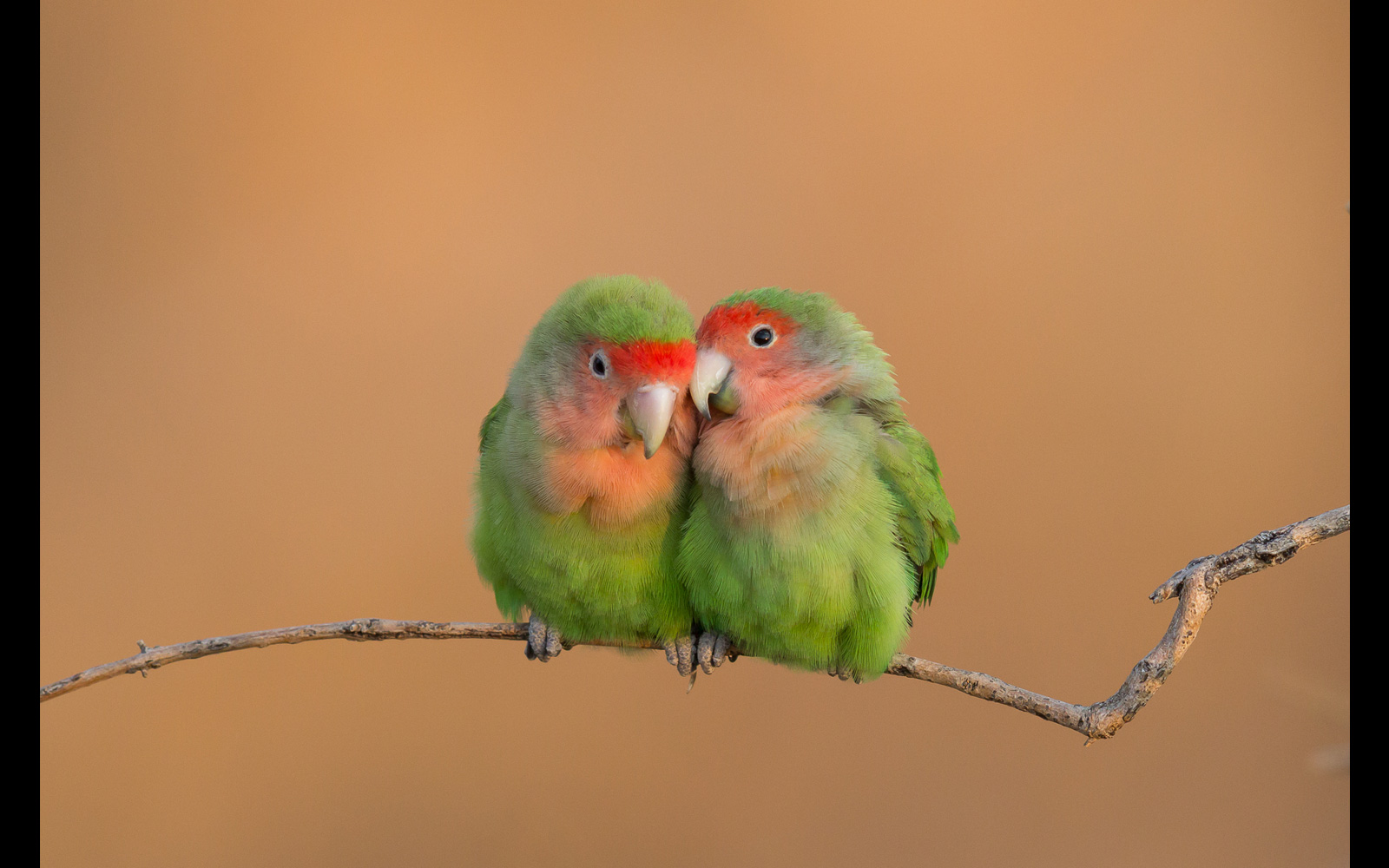 ?  Rosy-faced lovebirds canoodle in the Erongo mountain range, Namibia © John Davies (Photographer of the Year 2016 entrant)
Rosy-faced lovebirds are very social birds and will often congregate in small groups in the wild. They feed throughout the day and are very dependent on water. The plumage is identical in males and females, and their rapid flight shows the blue rump against their green back.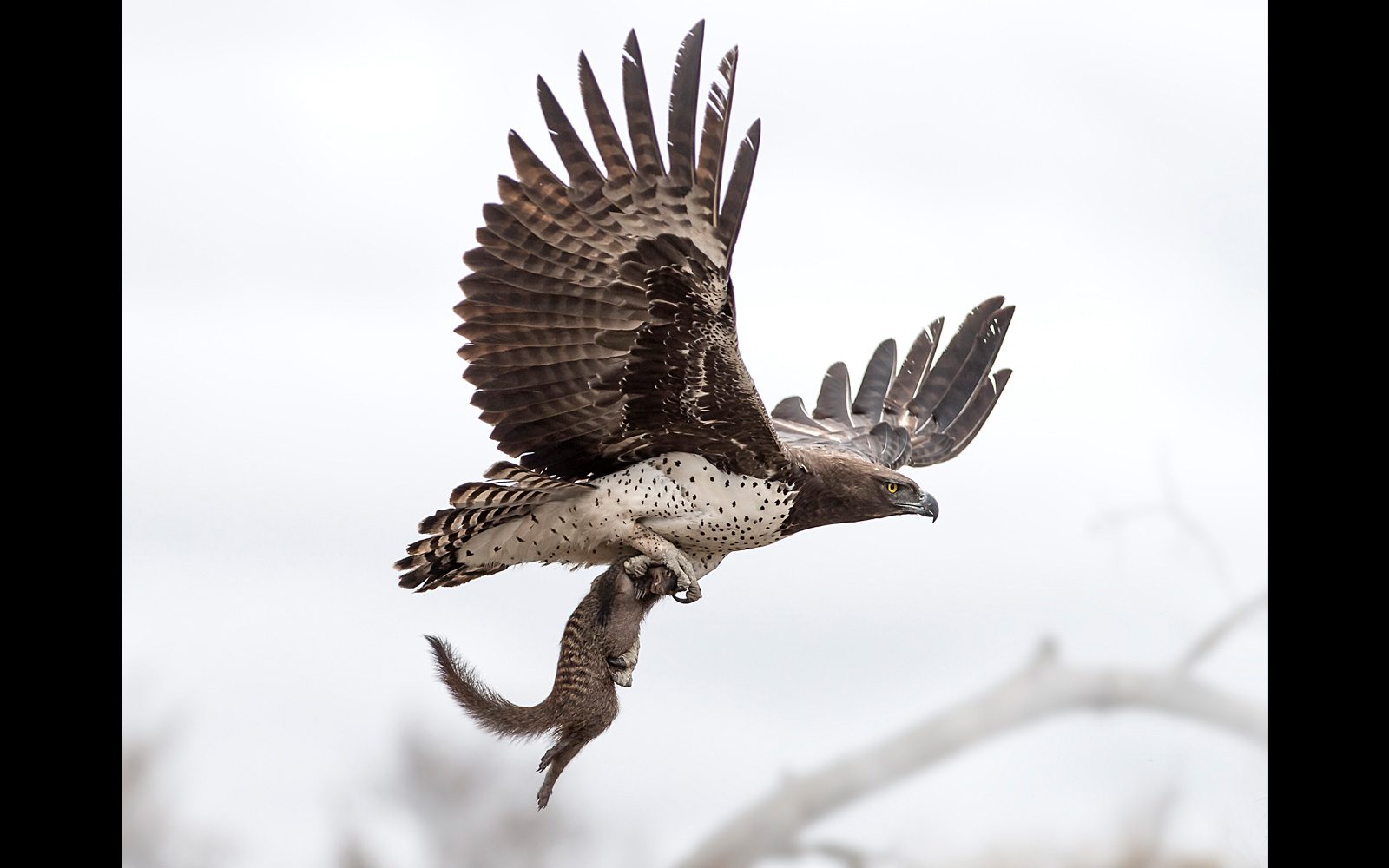 ?  A martial eagle with a banded mongoose in Singita, Sabi Sands Game Reserve, South Africa © Ross Couper (Photographer of the Year 2018 Finalist)
The martial eagle is the largest eagle in Africa, weighing in at almost 6.5kg. This bird is a powerful hunter with extremely keen eyesight and can spot potential prey up to five kilometres away.

?  A crested barbet in flight at Walter Sisulu National Botanical Garden, South Africa © Ernest Porter (Photographer of the Year 2016 entrant)
Crested barbets spend most of their time bouncing around on the ground foraging for food. They are not accomplished flyers, and when they do fly, it is only for a short period.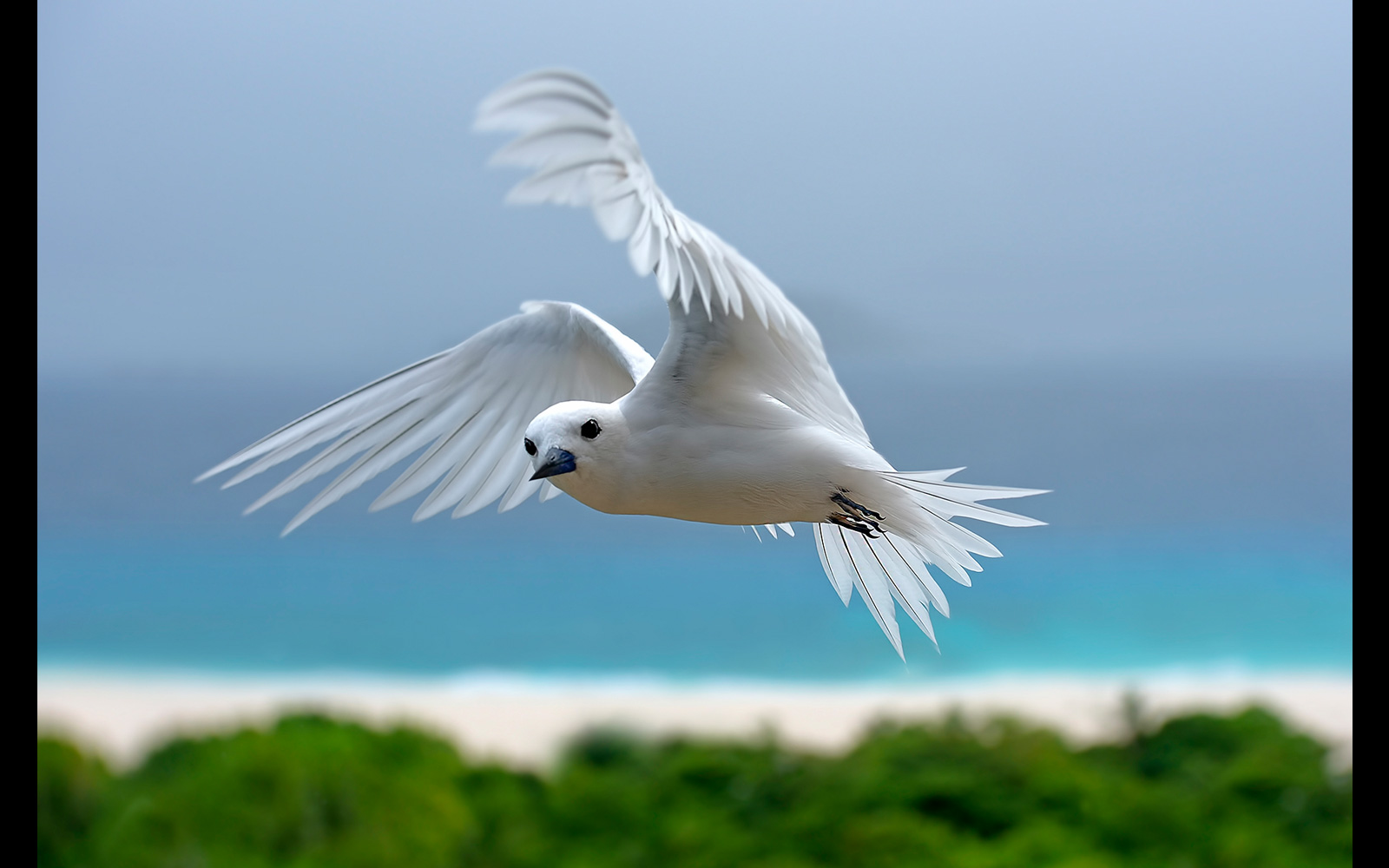 ?  A white tern in the Seychelles © Pierre Bassani (Photographer of the Year 2016 entrant)
The white tern is a beautiful bird seen on all the islands in Seychelles. This species is notable for laying its egg on bare thin branches in a small fork or depression – without a proper nest structure.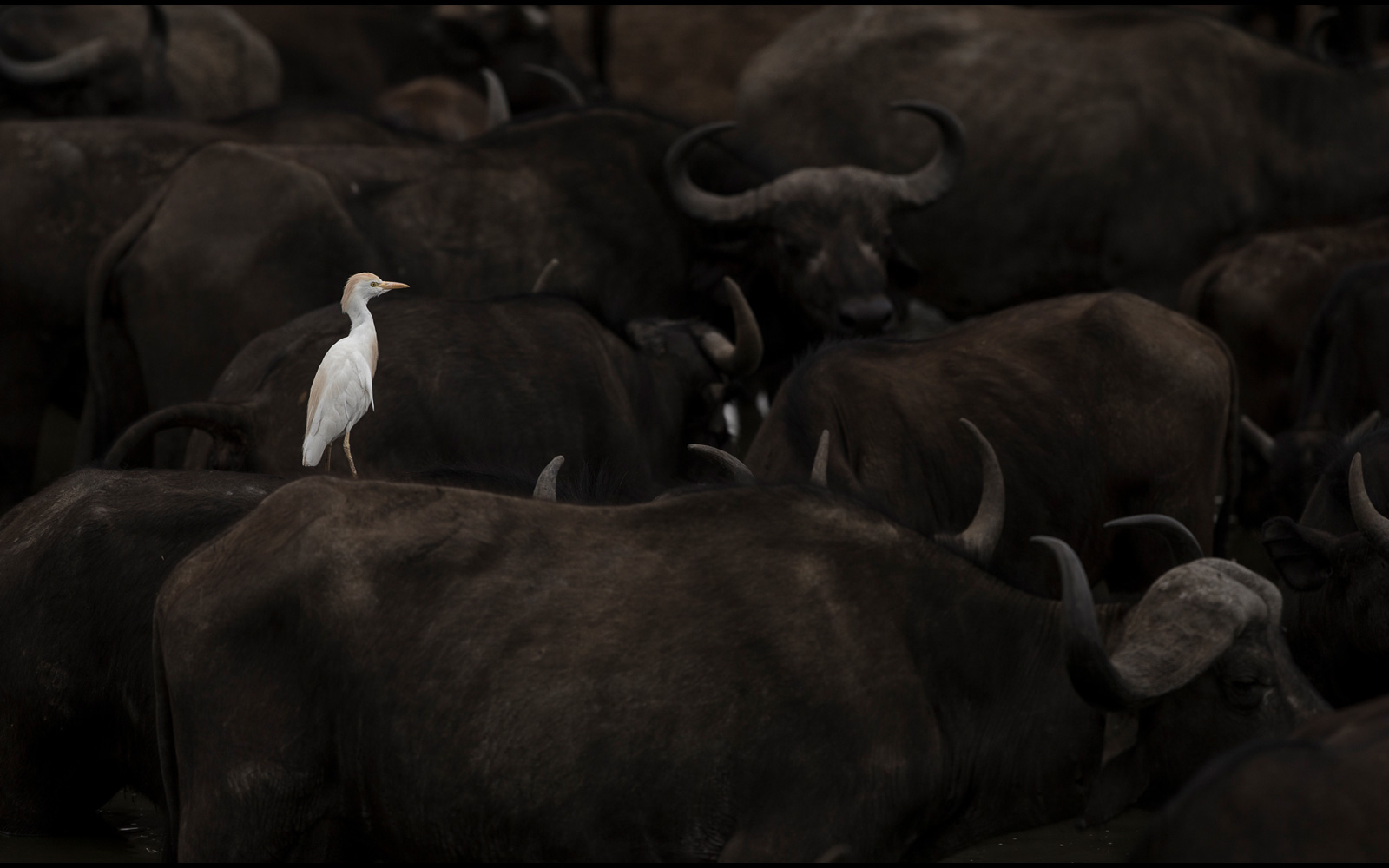 ?  "Symbiosis" in Nairobi National Park, Kenya © Jose Fragozo (Photographer of the Year 2018 entrant)
Egrets form symbiotic relationships with many hoofed animals, especially with African buffaloes. While the egrets eat the insects that live on the ungulates and are disturbed as they walk through the grass, the buffaloes on which they forage benefit from the removal of harmful parasites.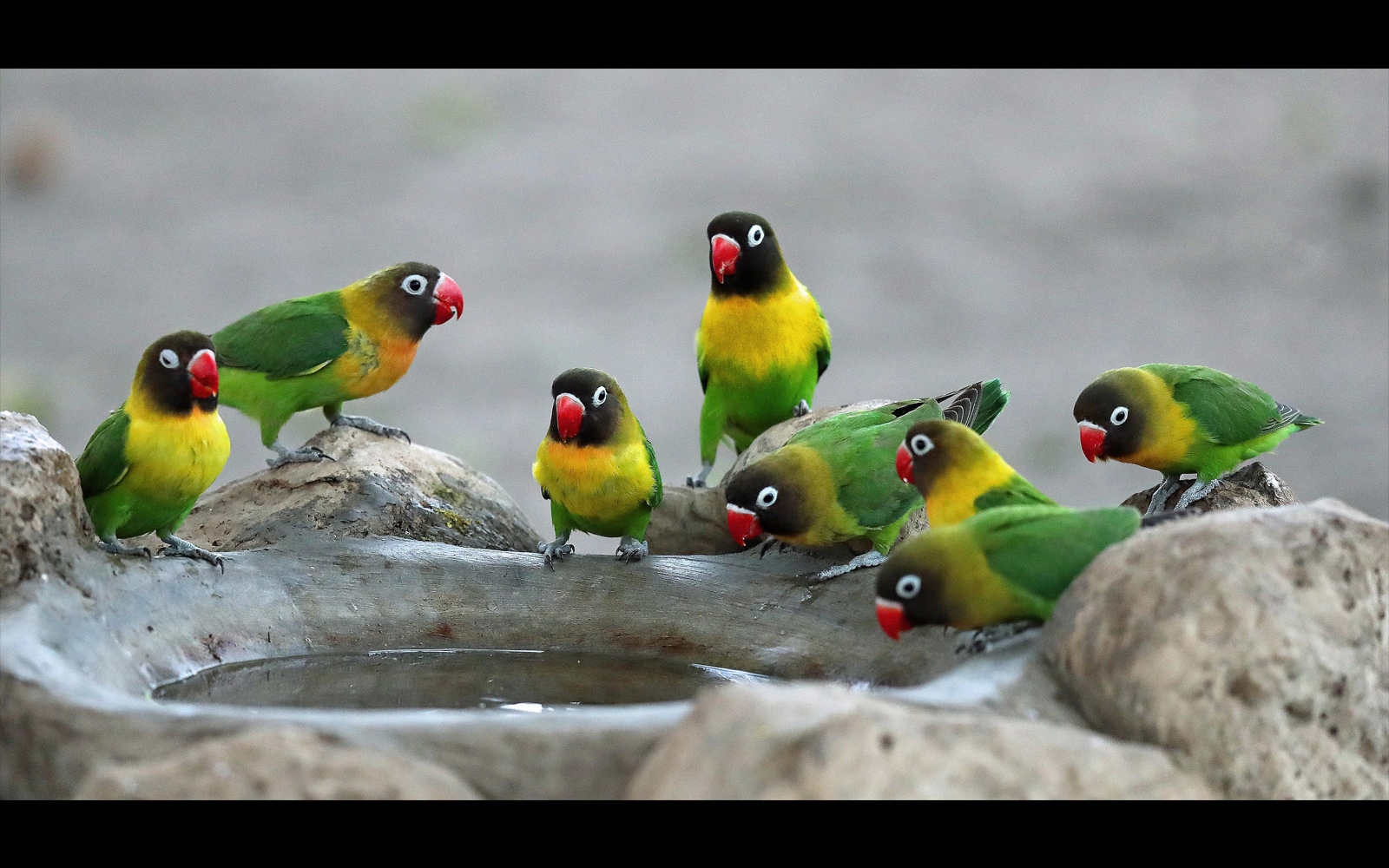 ?  Black-cheeked lovebirds in Little Chem Chem, Tanzania © Anthony Goldman (Photographer of the Year 2018 entrant)
Black-cheeked lovebirds inhabit deciduous woodland, where permanent supplies of water exist, as they require daily access to water. In the dry season, these birds may congregate in large flocks of up to 800 or more.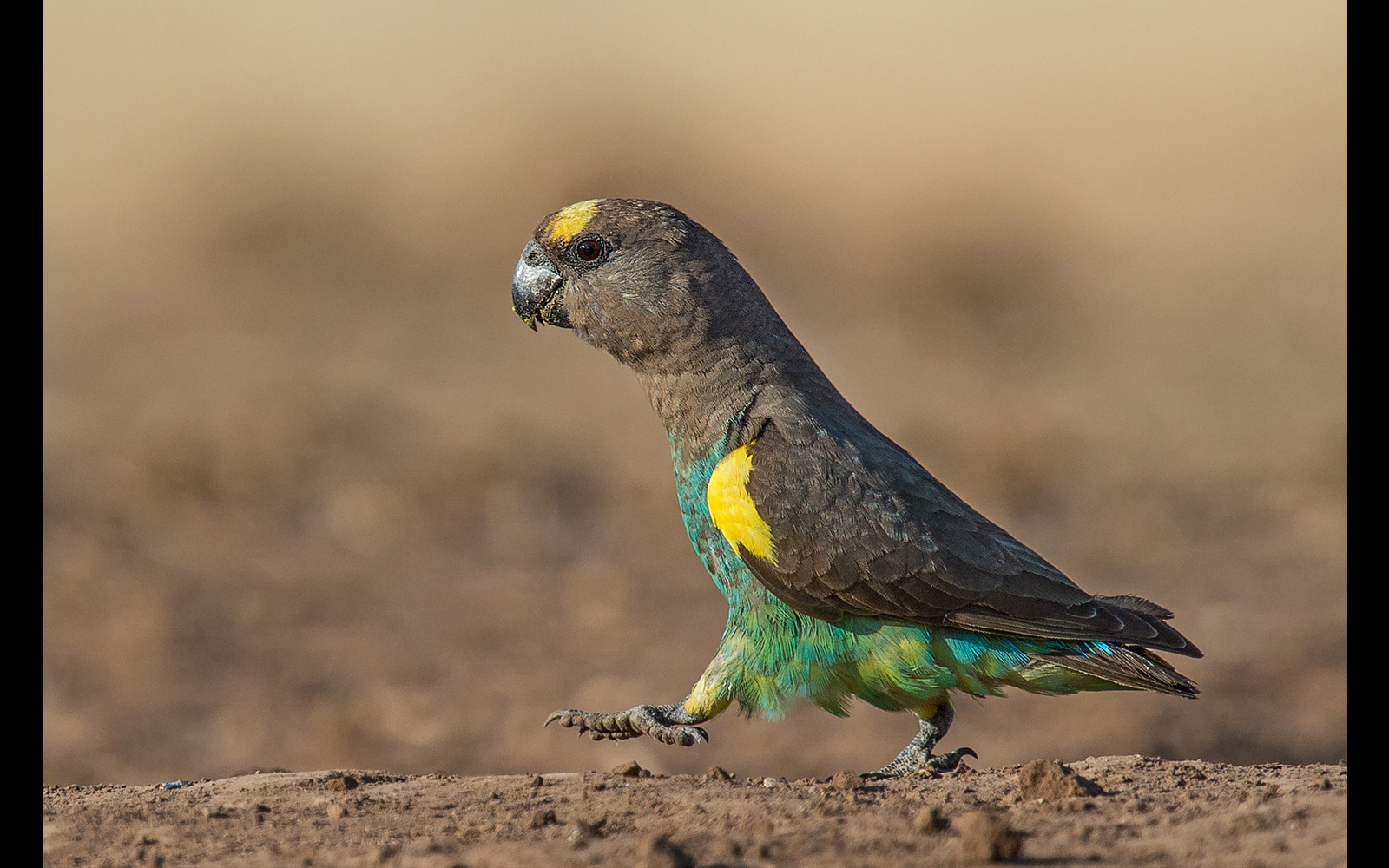 ?  A Meyer's (brown) parrot parades at a waterhole in Mashatu Game Reserve, Botswana © Johan J. Botha (Photographer of the Year 2018 entrant)
Meyer's parrots eat mainly seeds and nuts, husking small seeds and chewing on larger food items. It is the only bird in its distribution range capable of cracking pods and seeds of leguminous trees, so it benefits from a monopoly of this food type.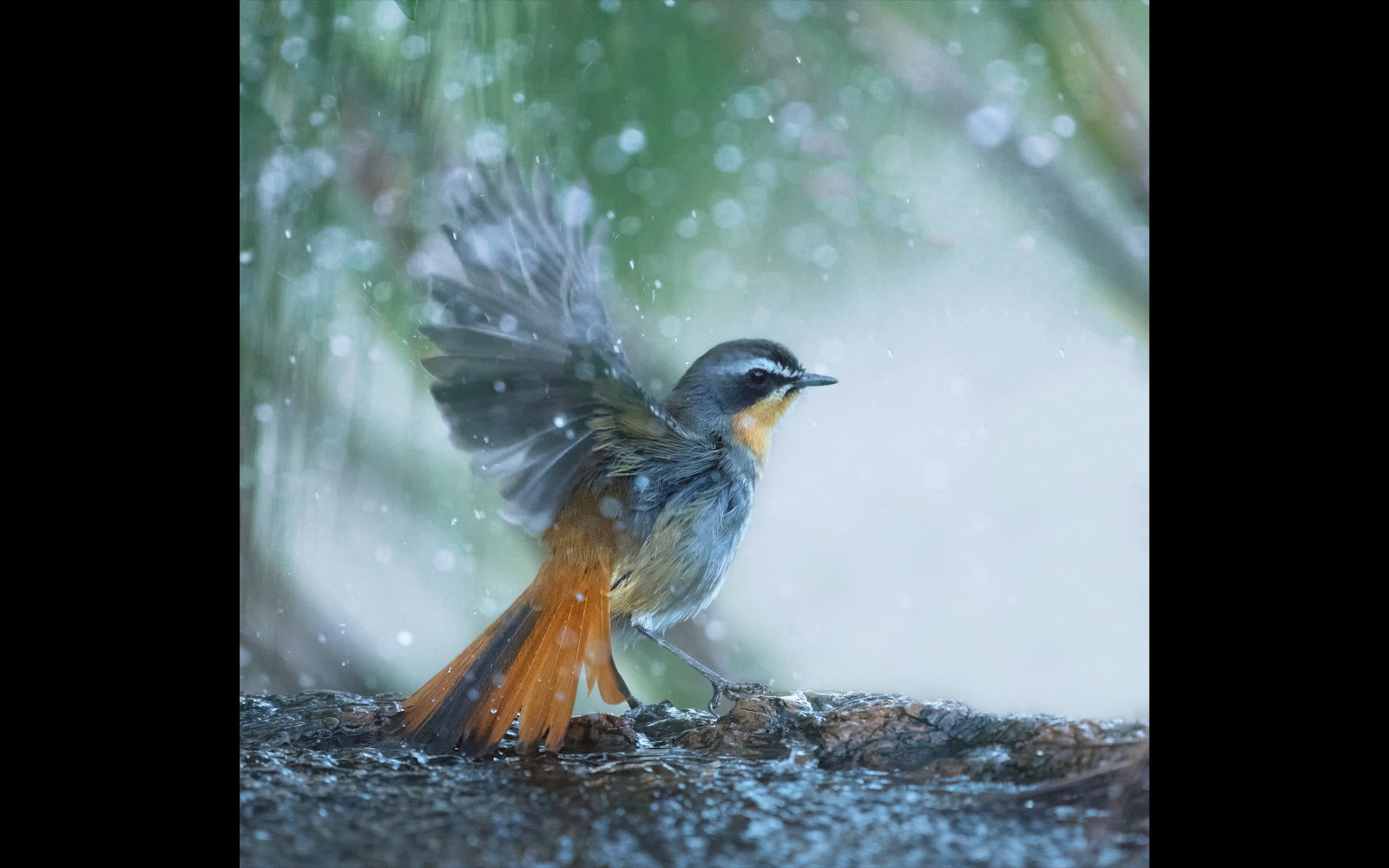 ?  A Cape robin-chat enjoys a bath in Cape Town, South Africa © Dionne Miles (Photographer of the Year 2017 Finalist)
Cape robin-chats occupy a variety of habitat types, generally preferring areas with quite dense undergrowth and scattered trees, bushes, rocks or other structures to use for perching, along with surface water for drinking and bathing. It is a common bird in gardens across much of its distribution, including in city centres such as in Cape Town.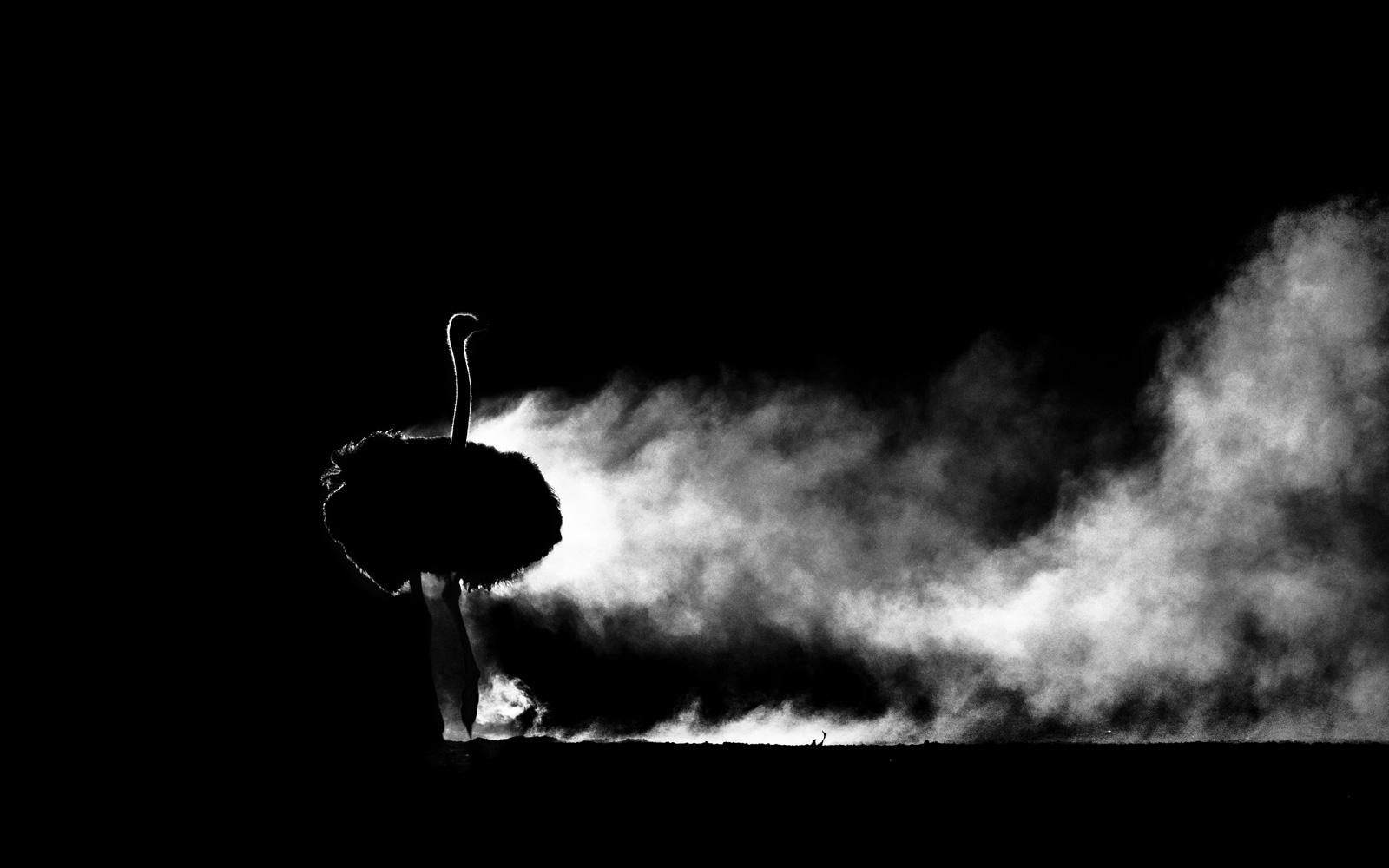 ?  An ostrich in the dust in Kgalagadi Transfrontier Park, South Africa © Andrea Galli (Photographer of the Year 2018 entrant)
The ostrich is the largest bird in the world. It also lays the largest eggs and can run up to 70km/h.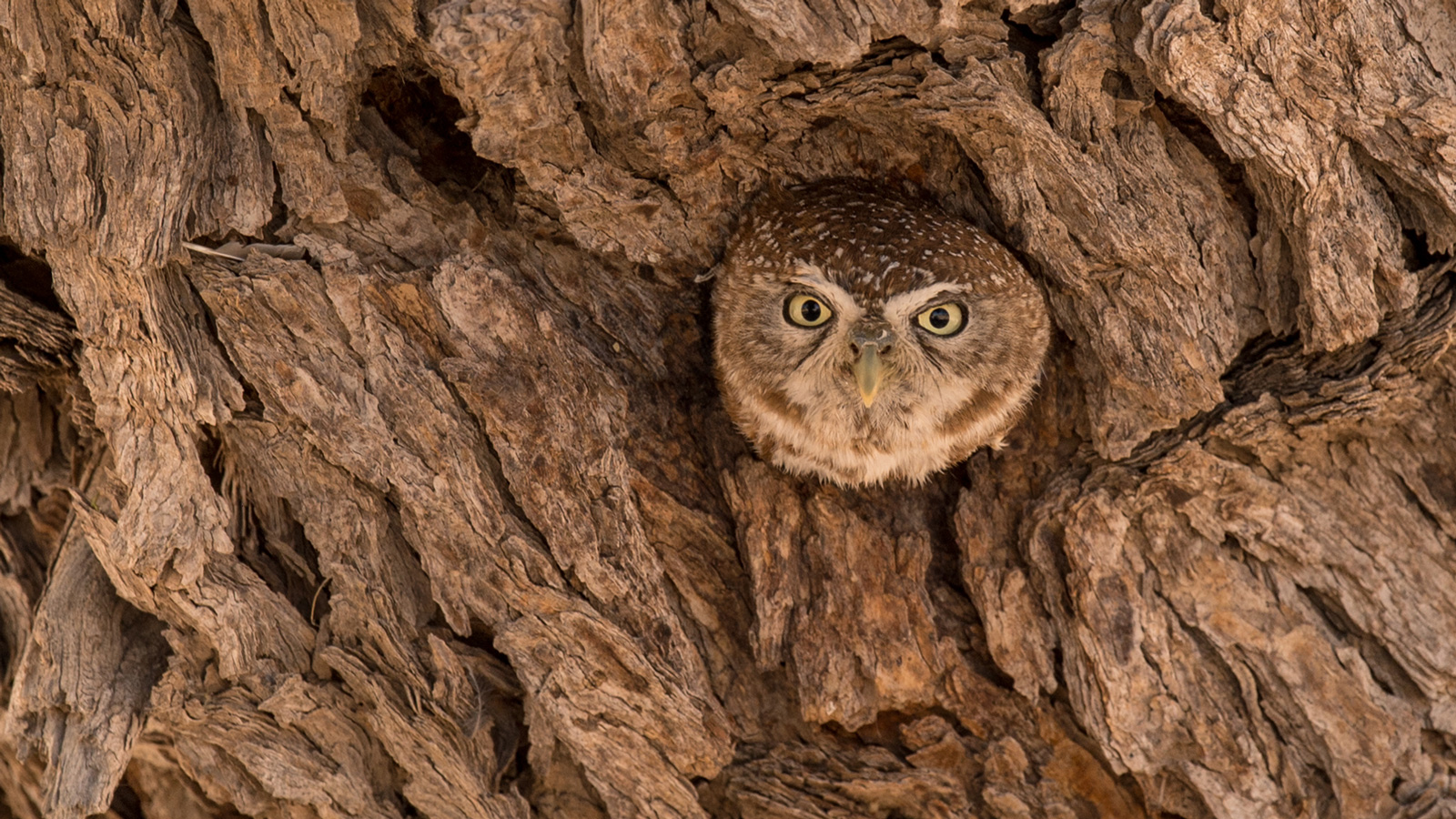 ?  "Peek-a-hoot!" in Kgalagadi Transfrontier Park, South Africa © Gerrie Rall (Photographer of the Year 2017 Top 101)
Pearl-spotted owls are one of southern Africa's smallest owls. They will breed from August to November, and possibly both parents incubate the eggs for up to 31 days. The female lays 2-4 eggs in a tree cavity, often made by woodpeckers or barbets. Incubation lasts 29 days, and the young fledge at 31 days and become independent a few weeks later.
To comment on this story: Login (or sign up) to our app here - it's a troll-free safe place 🙂.

---
HOW TO GET THE MOST OUT OF AFRICA GEOGRAPHIC:
Travel with us. Travel in Africa is about knowing when and where to go, and with whom. A few weeks too early / late and a few kilometres off course and you could miss the greatest show on Earth. And wouldn't that be a pity? Browse our famous packages for experience-based safaris, search for our current special offers and check out our camps & lodges for the best prices.
Subscribe to our FREE newsletter / download our FREE app to enjoy the following benefits.
---