EXTRACT FROM THE FOLLOWING THIRD PARTY SOURCE: News24 
State Security Minister David Mahlobo has allegedly been hanging out with a Chinese organised crime figure who traffics rhino horns and openly brags about bribing South African justice and immigration officials.
These claims are contained in a new documentary by Al Jazeera Investigates, which recently aired on the international news channel.
Video secretly recorded by an undercover investigator shows Guan Jiang Guang – a "businessman" and massage parlour owner in Mbombela – swiping through photographs on his phone that appear to show him and Mahlobo.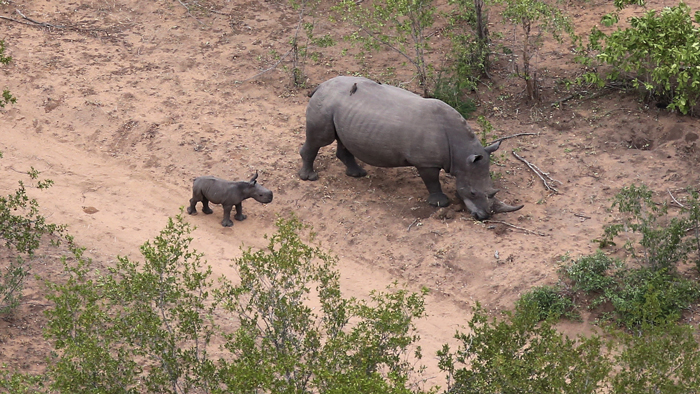 "He came to my massage parlour every week, or at least twice a month," Guan says. "I know him well … [He was] a guest at my home."
One of the photographs appears to show Mahlobo with a young woman, described by Guan as "one of my manicure girls".
Mahlobo, however, denies the claims. His spokesperson Brian Dube told Al Jazeera:
"The minister has indicated that he does not have any relationship with the gentleman and he has never been to his house or received any of his services at his house as claimed."
On Friday, Dube told City Press:
"In order for us to comment, we want the details of the photographs and video material purporting to show these allegations, as well as the details of the undercover investigator.
Failing which, we will not be in a position to comment and we will reserve our rights in this regard."
Mahlobo's alleged relationship with Guan is significant given the mandate of the State Security Agency, which he oversees, to provide government with critical intelligence on national security threats, including organised crime.
In a speech to delegates attending the recent meeting of parties at the Convention on International Trade in Endangered Species (Cites) in Johannesburg, President Jacob Zuma described wildlife trafficking for the first time as a "significant threat … to this country's national security".
Guan claimed that he met Mahlobo during the latter's tenure as head of the department of cooperative governance and traditional affairs in Mpumalanga. In 2014, Mahlobo replaced Siyabonga Cwele as minister of state security.
Recorded with a hidden camera, Guan claims that he employs illegal immigrants in his massage parlour and easily circumvents immigration laws.
"Everything in Africa is based on money. I give … two guys at the immigration department … about $70 (R1 005) each a month. They don't even investigate."
Guan said that shortly after he first came to South Africa, he was arrested and convicted of running an illegal "gambling den".
But that too was quickly dealt with by paying "under-the-table money" to officials in the department of justice. The bribe was "very cheap, a few thousand," he says on tape.
In the footage, Guan offers to help the undercover investigator obtain rhino horn, but warns him to "be careful".
"If a black guy comes to you and says he has horn, after you pay, they deliver and the police will arrest you. You will lose the horn and have to pay at least a R1 million fine."
In a subsequent meeting, Guan boasts that he has an "untouchable" source at Beijing Capital International Airport who has "absolutely no problem" smuggling rhino horn into China.
"He specialises in this business."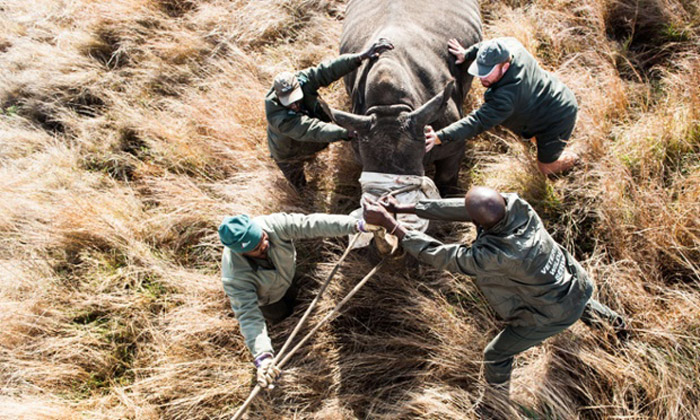 Guan proves true to his word. Weeks later, the Al Jazeera investigator meets Guan's contact in China's Fujian province. In a parked car at the side of a road, the contact shows him a 2.25kg rhino horn. The price: $27 000 a kilogram. In total, the horn would have cost nearly R900 000.
The role of Chinese nationals in the illicit rhino horn trade has grown markedly in recent years.
Even officials in the highest echelons of government are implicated.
Perhaps most disturbingly, the documentary alleges that members of a high-level delegation accompanying Chinese President Xi Jinping to South Africa last year for the Johannesburg summit of the Forum on China-Africa Cooperation bought rhino horn and "a lot of" ivory.
A number of cooks and guides who catered for the summit told investigators that delegates pressed them to find ivory and that demand for ivory chopsticks, ornaments, bracelets, pen holders and personalised seals was so great the supplier "sold out in two days".
The delegates had diplomatic immunity, which ordinarily would prevent customs and police officials from searching their luggage as they left the country.
Usually, in terms of the 1961 Vienna Convention on Diplomatic Relations, the "diplomatic bag" – a blanket term that refers to anything from an envelope to a shipping container – cannot "be opened or detained" by customs, police or government officials.
A diplomatic bag can only be searched "if there are serious grounds for presuming that it contains articles not covered by the [diplomatic] exemptions".
The Vietnamese embassy in Pretoria has been implicated on several occasions in the smuggling of rhino horn.
The Al Jazeera documentary examines evidence that high-ranking Vietnamese officials, including the country's ambassador to South Africa, Le Huy Hoang, have visited or have ties to a game farm in North West that is owned by a prominent Vietnamese businessman and alleged rhino horn kingpin, Michael Chu.
The Vietnamese embassy has not denied the claims.
Diplomatic involvement in the rhino horn trade also extends to North Korea's embassy in Pretoria.
In December last year, News24 reported that the department of international relations had asked a senior diplomat to leave South Africa after he and a taekwondo master were arrested in Mozambique with 4.5kg of rhino horn and close to $100 000 in cash.
Watch: The Poachers Pipeline
httpv://youtu.be/JMguWY99q6s
Response from Ministry of State Security
MINISTRY OF STATE SECURITY
_______________________________________________
Statement by State Security Minister David Mahlobo in Response to
Al Jazeera Documentary
13 November 2016
1.The Minister of State Security Mr David Mahlobo, MP, has noted with grave concern and disappointment the unfounded and slanderous allegations made against him in an Al Jazeera's documentary titled "'Al Jazeera Investigates: The Poachers Pipeline" as well as Sunday's publications within the country.
2. The documentary, aired on Al Jazeera on Sunday 13 November 2016, purports a linkage and the involvement of Minister Mahlobo in the illegal rhino horn trade. The basis of this "linkage" was said to be Mahlobo's visits to the local Mbombela Spa owned by a self-confessed criminal Guan Jiang Guang. At the time Minister Mahlobo visited the Spa he had no idea as to what Mr. Guang was involved in.
3.The Minister refutes these ludicrous allegations with all the contempt that they deserve and reserves his rights in respect of those making such false claims. Additionally, he strongly rebukes Al Jazeera and other local publications and broadcasters that reported on the story in the sensation seeking, unprofessional and reckless manner.
4. Guang apparently stated that he had some sort of friendship with Minister Mahlobo and that the Minister on some occasions attended to his private residence as well. This is not true. Minister Mahlobo is not a friend of Mr. Guang and has never visited him at his residence. The photo that appeared on Al Jazeera and in the Sunday papers is a photo taken when the Minister was being treated at a manicure table and Guang requested a photo to be taken. This is clear from the photo itself.
5. The flimsy and vague allegation made in the programme by Mr. Nigel Morgan that his company's contract was terminated by Kruger National Parks as a result of possible interference by Minister Mahlobo is rejected and will be dealt with in the appropriate forum.
6."It is extremely reckless and mischievous for an internationally renowned broadcaster like Al Jazeera to be broadcasting such misleading content despite our response" said Mahlobo.
7."They are basically linking the fact that I used to visit a Spa in Mpumalanga solely for the services that they render, to the illegal poaching of rhino horns by its owner – which I have also just been made aware of now through the aired broadcast," he said. "A number of my comrades, friends and high profile personalities visit the Mbombela spa, take photos with Guang's family and some of his staff. Are these individuals now also involved on the illegal rhino trade? People drop names of high profile individuals and take photos-does this mean friendship or connection? I don't think so", said the Minister.
8.Minister Mahlobo says this is tantamount to defamation and is appalled at being 'linked' to any activity and its syndicates and or individuals that are seeking to further deplete the country's endangered rhino population.
9.The Minister restated his position on this matter saying "I am not a friend of the guy, nor have I been ever to his home or have received any of his employees into my home. Finally my wife has no business relationship with the man or his employees."
10.Consequently this morning, Minister Mahlobo has initiated the following remedial actions to deal with some of the alarming claims made in the documentary:
a. Requested that Mpumalanga Police Commissioner to immediately investigate all allegations made against him in the documentary.
b. Requested that the Commissioner take action against Guan for illegal rhino poaching activity.
c. Requested the Commissioner to additionally look into claims by Guan that he employs illegal immigrants and circumvents immigration laws.
d. Finally, Minister Mahlobo has engaged a legal team to investigate possible defamation action against Al Jazeera, the publications, Mr Guang and Mr Morgan for defamation and the reputational damage that this documentary and the newspaper articles have caused to the State Security Ministry and his family.
11. Since his appointment Minister Mahlobo, working with other relevant Ministers has been at the forefront in fighting against environmental crimes. The Ministry further reiterates that it will continue to work tirelessly within the security services as part of the government's effort to curb transnational organized crime and bring to justice those involved including their syndicates.