EXTRACT FROM THE FOLLOWING THIRD-PARTY SOURCE: News24
Written by Simon Bloch
Brothers Dawie (49) and Janneman (47) Groenewald were released from police custody on Friday morning after posting bail of R50 000 and R10 000 each respectively in the Polokwane Magistrate's Court.
This came after an Interpol task team executed an international warrant for the brothers' arrest on Thursday, and hauled them before court to facilitate an extradition order.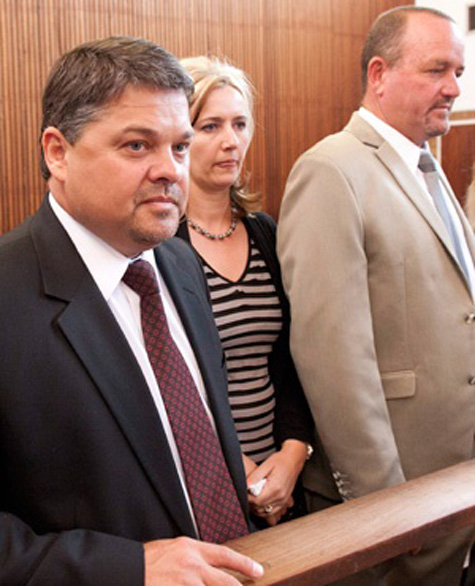 "We tried unsuccessfully to oppose bail, but did not succeed. The case was postponed to August 14 for further inquiry into whether or not they will be extradited," SAPS spokesperson Vish Naidoo told News24.
"Janneman Groenewald handed over his passport to the Interpol officer and Dawie Groenewald's passport was handed to investigators years ago," he added.
Dawie Groenewald's attorney, Hennie Erwee, told News24 he would be filing an urgent application in the North Gauteng High Court in Pretoria on Monday to set aside the warrants of arrest.
 "In terms of the extradition agreement between South Africa and the USA, and the applicable laws, it makes sense to finalise pending cases here before proceeding with any applications for extradition.
"I think it is totally premature, and that will form the basis of our application to set aside these warrants. And one of the points is that, in 2014, we already notified the authorities: 'Just don't come and arrest us. Please give us notice and we will come and hand ourselves over.' And despite that invitation, they just came and arrested a person," he said.
Charges
In South Africa, Dawie Groenewald, his wife Sariette, and nine others, including two vets and professional hunters, have faced a massive total of 1 872 charges since their arrest on World Rhino day, in September 2010.
Authorities excavated the carcasses of 26 rhino at the Groenewald's Musina farm, Prachtig, that were allegedly illegally hunted and dehorned without permits. To date, the group, known as the Musina Mafia, have managed to stave off prosecution through a number of postponements and delays.
The State's case was postponed to January 2018 after their last appearance a week ago in the North Gauteng High Court in Pretoria. Asked to comment on the Groenewald's latest arrest on Thursday, US Fish & Wildlife Service spokesperson Christina Meister said: "The service cannot comment on pending litigation."
The brothers face extradition to the US on charges stemming from US Department of Justice indictment unsealed in Montgomery, Alabama, in October 2014. That extradition request was made to the South African authorities three years ago, but was never executed by Interpol, until this week.
'Tricked by the Groenewalds'
As the owners of Valinor Trading CC (d/b/a Out of Africa Adventurous Safaris), Dawie and Janneman Groenewald, and their company Valinor Trading CC (d/b/a Out of Africa Adventurous Safaris) were charged with conspiracy, Lacey Act violations, mail fraud, money laundering, and structuring bank deposits to avoid reporting requirements.
"They allegedly conspired to sell illegal rhinoceros hunts in South Africa in order to defraud American hunters, money laundering, and secretly trafficking in rhino horns," the indictment reads.
"Between 2005 and 2010, nine American hunters paid up to $15 000 (R650 000) per animal for a total of 11 hunts, and were tricked by the Groenewalds into believing they were shooting legally at 'problem' rhino.
"As the hunting outfitters, the Groenewalds allegedly did not obtain the required hunting permits from the South African or local government," it reads.