Written by: Andrew Zaloumis
Chief Executive Officer of iSimangaliso Wetland Park, Andrew Zaloumis, reflects on an encounter with a buffalo late last month that left him and his wife seriously injured.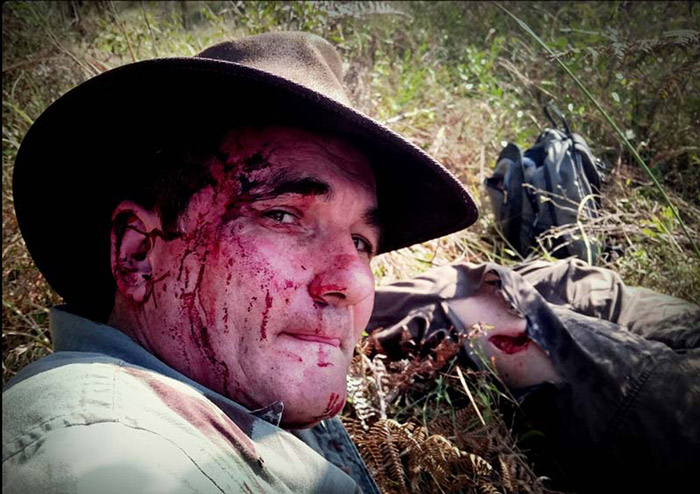 "Tracey and I recently had a (too) close encounter with a buffalo while working with a small group on the eastern shores of the iSimangaliso Wetland Park.
As operational park staff, we are trained and frequently required to walk in remote places, but the incident brought home a few important bush truths. The rapid response, extraordinary teamwork and collaboration between colleagues in iSimangaliso, Ezemvelo KZN Wildlife, local residents and medical personnel resulted in us being safely and swiftly attended to despite the inaccessibility of the area for vehicles. We are extremely grateful to as well as proud of everyone involved. The enormous number of messages, calls, gifts, prayers, well wishes and offers of assistance in many different ways, from community near and far, is truly appreciated.
In iSimangaliso we are privileged to have a variety of wild game, but they are exactly that – wild. Visitors are given the opportunity of experiencing the wonders of the park up close by alighting from their vehicles at designated points at their own risk if they wish to enjoy viewpoints, hides, picnic sites and boardwalks. These stunning areas have also been selected with game in mind and infrastructure and signage is in place to enhance game awareness.
However there is always the possibility of encountering animals anywhere within the park or St Lucia town, and any animal, in particular one that feels threatened, or is old, injured or has young offspring, must be considered dangerous. In our case, even my 40 years of walking, working and living in 'Big 5' areas did not help much.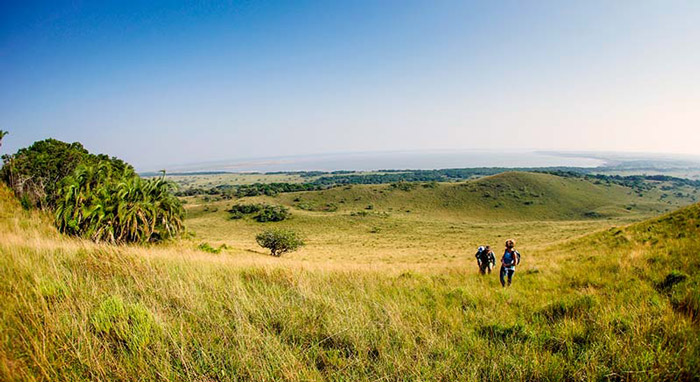 The area where we were working is only open to the public via a wilderness trail. The wind was blowing in the right direction and we were carefully scanning the landscape ahead when we had the misfortune of surprising an old dagga boy that was well screened by a cluster of deep green bushes.
It happened fast. I saw the blur of buffalo and shouted a warning over my left shoulder. I knew it was either face or flee. Instinctively I turned sideways to limit the damage. The tip of its left horn hooked into the side of my abdomen, cracking ribs and bruising my right kidney. It pulled its head up, twisting as the horn came out of my body and its boss connected a solid blow to the side of my temple leaving an imprint and deep cut. The impact catapulted me backwards. During all of this my collar bone also broke. As I hit the dirt it crossed my mind that it would be back, but strangely I accepted this calmly as a simple detail.
The next thing I knew I had walked up to Tracey and was telling her to stand up as we still had a walk to go and guests to take care of. Apparently I had been unconscious for some minutes. The rest of our party had already come out from behind their places of 'safety', and mobilised assistance.
I am told Tracey started running for help when the buffalo came up behind her, goring her left thigh and tossing her aside. Later we would find out she had fractured her L1 vertebra.
Dr Irene Coutsoudis was brought to the scene by Ezemvelo KZN Wildlife and iSimangaliso staff, and a medical rescue helicopter arrived. Tracey was attended to and airlifted to the hospital. Then it was my turn to have wounds cleaned. Being in a one man scrum with an old buffalo left me walking jauntily with stiff knees and marathon legs to the chopper that had returned from Empangeni. The final score in an innings that went on for seconds rather than minutes, stood rightly at 2 to the buffalo and 0 to humans.
My immediate recollection is one of a spiritual calmness in spite of loss of hearing in my right ear, which is still not quite right. The whole incident comes to me in parts; some of it I have only been able to reconstruct from the accounts of those who were with me during and after the encounter, and other parts are strangely vivid, like the closeness of the buffalo, the smells, the sudden split second quietness when there was nothing but the two of us, and then the sudden return to the world. It happened so quickly and yet so slowly. Someone was definitely watching over us that day. The buffalo had reacted exactly as any surprised animal might, by getting us out of its way and then by getting out of our way. We were indeed fortunate to have escaped relatively unharmed, and were abruptly reminded that the park is a wild place – the animals' territory – and any visit to their home should be undertaken with extreme caution, constant vigilance and a healthy respect.
Last week I was required to walk in the bush again to inspect a site, and I did so with some trepidation. Two old dagga boys that were some way off in the reed beds, sniffed the wind. We watched each other, animal and man, and then both moved off. It was good to be back.
iSimangaliso will continue to afford visitors the privilege of making their own decisions about walking within designated sites at their own risk, after satisfying themselves that they have carefully inspected the area for the presence of wild animals. We believe this is one of the highlights of a visit to a protected area and connects us more deeply to the land and all of its inhabitants. We remind all visitors not to feed or habituate animals in any way as this poses a danger, not only to them but also to future visitors.
Thank you all once more; we were hurt, but are mending well. Safe travels!"