We recently spotted the Kapanda lion pride quite early on a morning drive near Shenton Safaris Mwamba Bush Camp in South Luangwa National Park, Zambia. Since the pride had not been seen much this season, we were quite excited with the sighting.
The Kapanda pride tend to stay inland and away from the Mwamba-Kaingo pride which is the dominant pride in the area.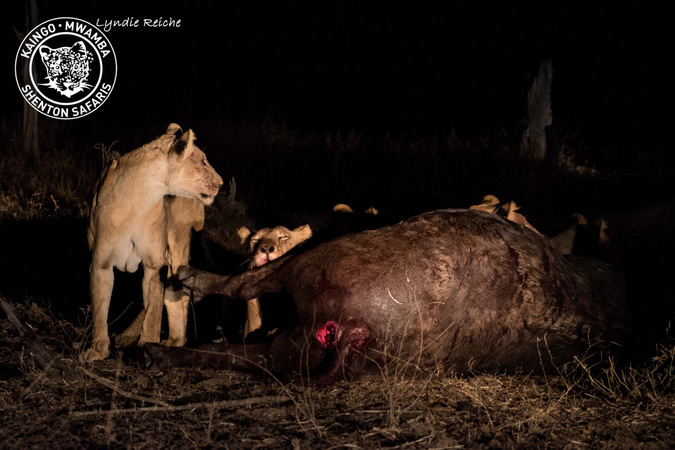 We observed the Kapanda pride a few times during the day but it was just after nightfall when we heard the unmistakable cries of a dying buffalo.
We all quickly jumped in the safari vehicle and made our way to the kill site, which we found quite easily. We came across a herd of around 300 buffalo where the Kapanda pride had already pulled down a male buffalo and were starting to feed.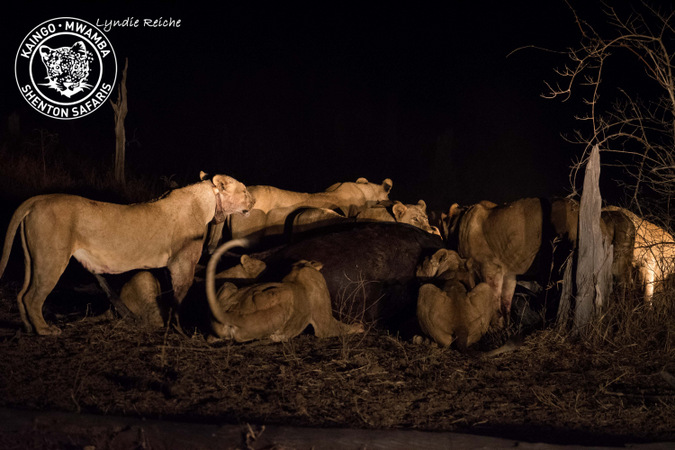 We alerted our other guides and guests about this sighting as we wanted to share in the excitement. Soon we were all settled down, witnessing the natural and wild scene before us, when suddenly more lions started to appear from all round us.
We realised that the Mwamba-Kaingo pride had joined the Kapanda's in their feast, making it approximately 30 lions feeding on the male buffalo. What a spectacular sight!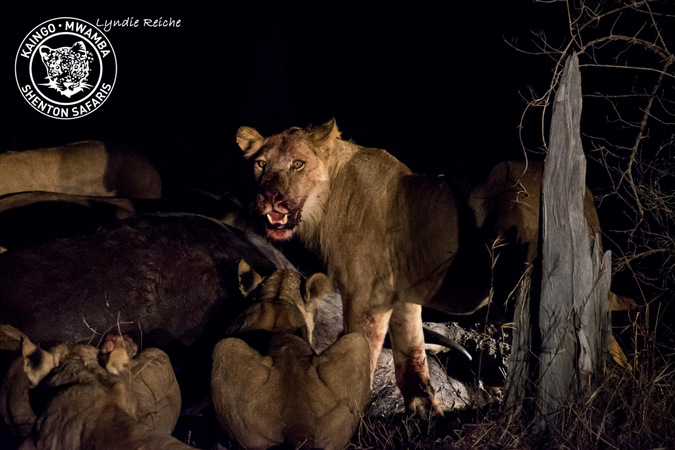 Four years ago the same event happened when the prides came together, but at that time the Kapandas were attacked by the Mwamba-Kaingo pride and unfortunately resulted in the Kapanda pride losing all of their cubs and were driven deeper inland.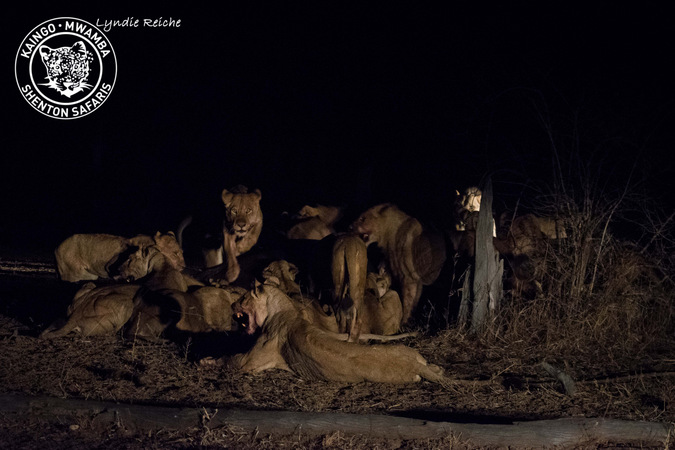 However, this time they were happily coexisting and sharing the buffalo meal.
Though the peace did not last long as out of the night the three Numbu Boys appeared, asserting their dominance which resulted in fights and lions scattering everywhere!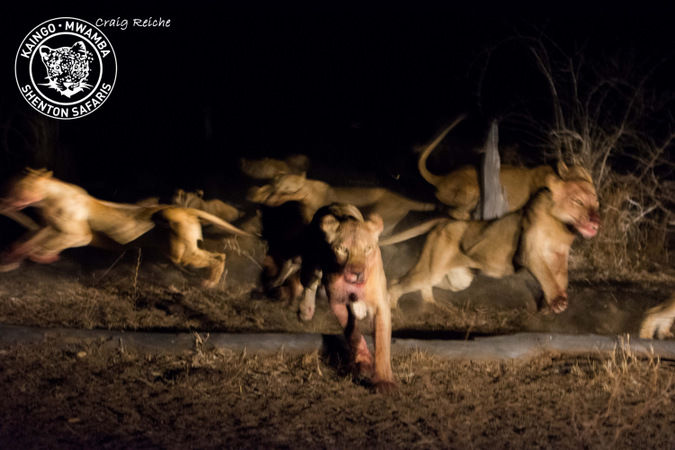 It was a wild night as the Kapanda pride ran for their lives.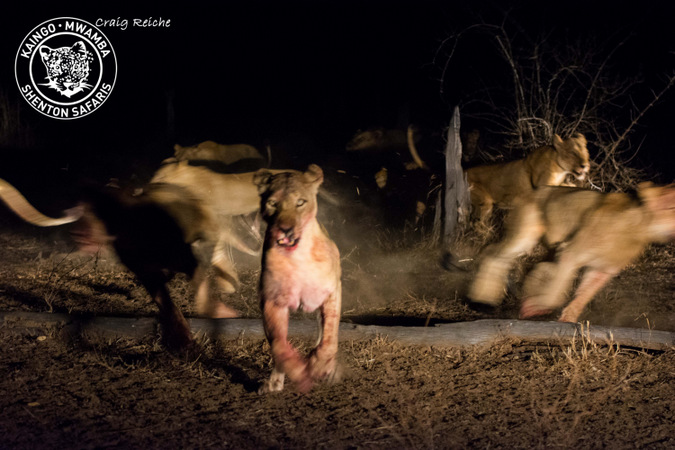 The Numbu Boys had vanquished the Kapanda pride who had retreated to about 200m away, looking quite dejected and quite obviously not being able to compete with the larger dominate Mwamba-Kaingo pride. Maybe the next day they would eat!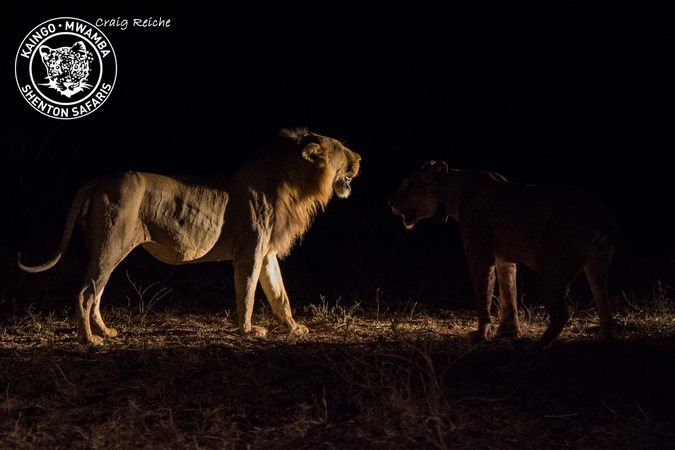 For the guests it was an incredible adrenaline rushed evening, with lots to talk about when enjoying a cup of coffee around the camp fire.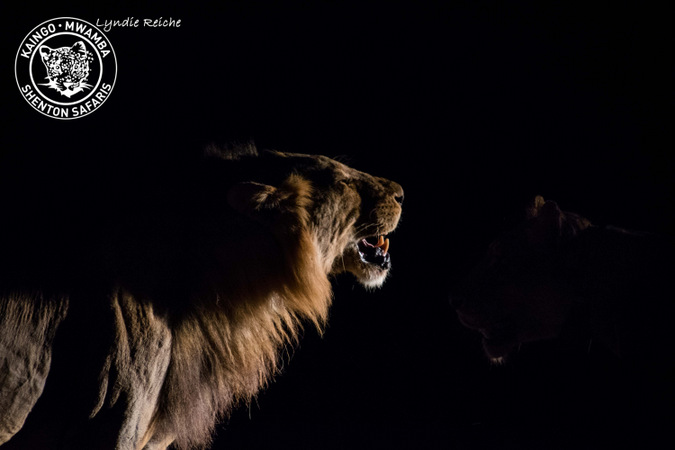 Subscribe to our newsletter.